Actress Lisa Banes in critical condition after hit & run
The driver did not stop but continued, luckily, she was relatively close to the hospital and she was able to be transported there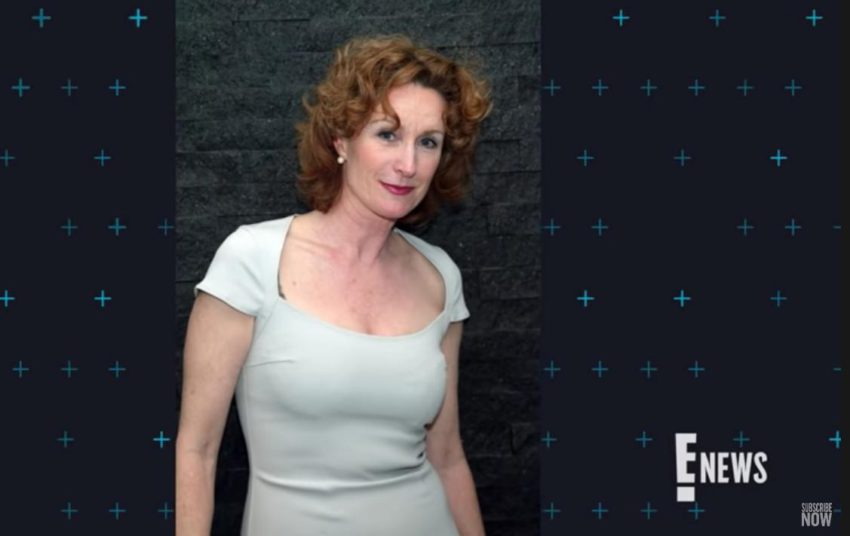 NEW YORK – Screen and stage actress Lisa Banes is in critical condition after a hit & run near the Lincoln Center on the Upper-Westside in Manhattan Friday, her wife Kathryn Kranhold told multiple media outlets on Saturday. Kranhold added that the 65 year-old actress is in the intensive care unit at Mount Sinai Morningside hospital with a traumatic brain injury.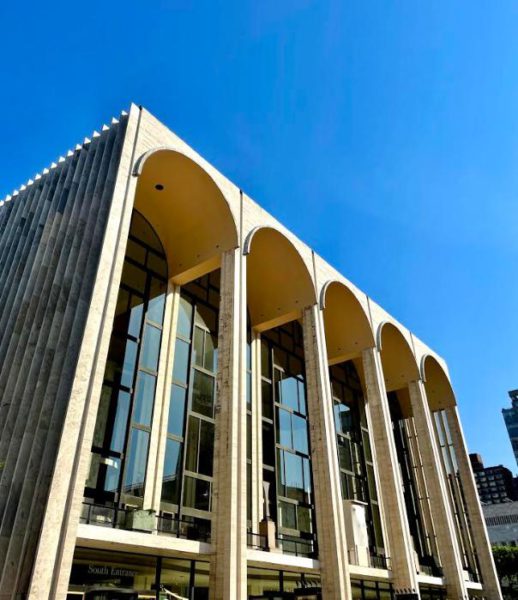 A spokesperson for the New York Police Department, (NYPD), said that Banes was crossing Amsterdam Avenue in the crosswalk at West 64th near the Juilliard School when she was struck by a scooter or a small motorcycle without a license plate operated by an unidentified male driver. Banes had the right of way but the NYPD added, "No one knows for sure. Some witnesses said it was a scooter. Some said it was a motorcycle with no plate, some even thought it was a motorized bicycle." He went on to say that NYPD investigators are actively pursuing the investigation.
The "Gone Girl" actress's manager David Williams told WNBC News 4 New York "The driver did not stop but continued, luckily, she was relatively close to the hospital and she was able to be transported there."
Jazz Jennings publicly opens up about her binge-eating disorder
"I have gained a substantial amount of weight. I suffer from binge-eating disorder, a disease in which I'm addicted to food"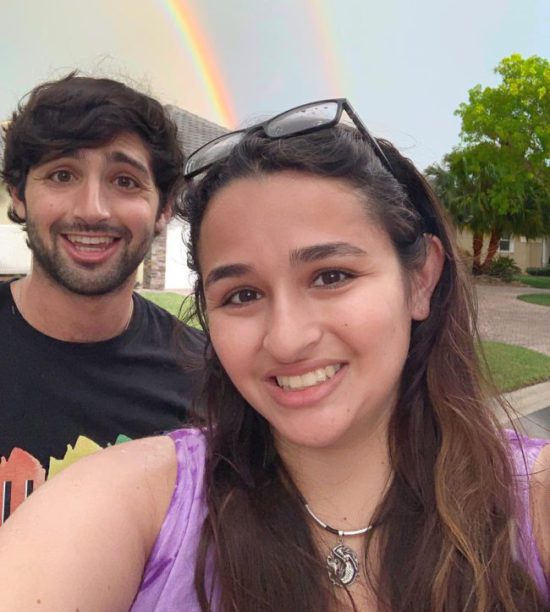 CORAL SPRINGS, Fl. – In an Instagram post Friday, prominent Trans youth activist, YouTuber and social media influencer Jazz Jennings revealed that she is battling an eating disorder. In a side by side photographic comparison Jennings showed her followers that she has in fact suffered a massive weight gain.
"I'm posting this photo because it's time for me to address my weight gain and hold myself accountable," she said, while sharing a picture of herself by the pool, wearing a sports bra and shorts.
Jennings wrote; "As many of you have noticed, over the past few years, I have gained a substantial amount of weight. I suffer from binge-eating disorder, a disease in which I'm not only addicted to food, but I eat it in large quantities.
My binging, along with an increased appetite I experience from some of the meds I'm on, has caused me to gain almost 100 pounds in a little less than 2 years.
I'm ready to change my ways; I've been saying I'm ready to turn over a new leaf, but I'm running out of trees now. I'm ready to take the initiative and create positive changes when it comes to my health."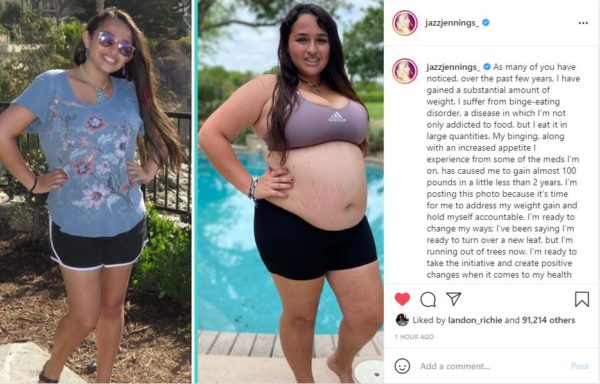 One of her twin older siblings, brother Sander, showed his unwavering support of his sister by commenting, "You are so resilient and can do anything you put your mind too. [sic] I believe in you and will be by your side every step of the way." She wrote back, "You're my teammate."
Stage and screen actress Lisa Banes has died after hit and run
The 65 year-old actress was admitted to the ICU at Mount Sinai Morningside hospital in New York with a traumatic brain injury.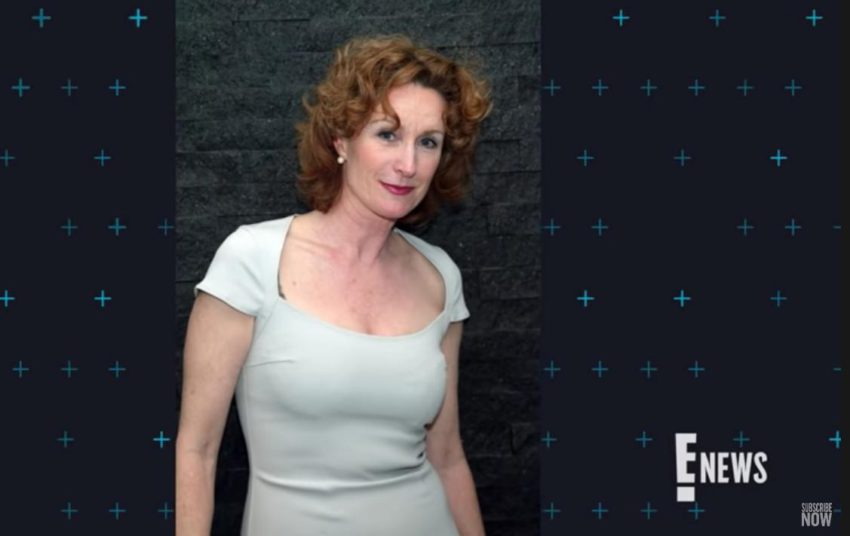 NEW YORK – Los Angeles resident and critically acclaimed actress Lis Banes died Monday at Mount Sinai Morningside hospital as a result of injuries she suffered stemming from a hit and run accident on June 4, after being struck by an electric scooter, a spokesperson for the NYPD confirmed.
The 65 year-old actress was admitted to the intensive care unit at Mount Sinai Morningside in New York with a traumatic brain injury. According to the NYPD, the actress was crossing Amsterdam Avenue at 64th Street, in a crosswalk near the Juilliard School, at Lincoln Center. The driver left the scene and no arrests have been made.
Banes's wife, Kathryn Kranhold, a contributing reporter for the Center for Public Integrity, had made a plea "to pray for Lisa" after the accident — and called for anyone with information about the accident to contact police.
"We are heartsick over Lisa's tragic and senseless passing. She was a woman of great spirit, kindness and generosity and dedicated to her work, whether on stage or in front of a camera and even more so to her wife, family and friends. We were blessed to have had her in our lives," her manager David Williams said in a statement released Tuesday.
Banes has appeared in numerous television shows and movies, including supporting roles in "Gone Girl" starring Ben Affleck in 2014 and "Cocktail" with Tom Cruise in 1988. On television, she's had roles on "Nashville," "Madam Secretary," "Masters of Sex" and "NCIS." NBC News Entertainment reported.
Anyone with information about Banes's death is asked to call the NYPD's Crime Stoppers hotline at 1-800-577-TIPS (8477), or for Spanish, 1-888-57-PISTA (74782). You can also submit a tip via the website or on Twitter, @NYPDTips. All calls are kept confidential.
Former American Idol runner-up says he's part of LGBTQ+ community
The singer-songwriter who was the second place finalist on season seven of American Idol had previously come out as gay in 2014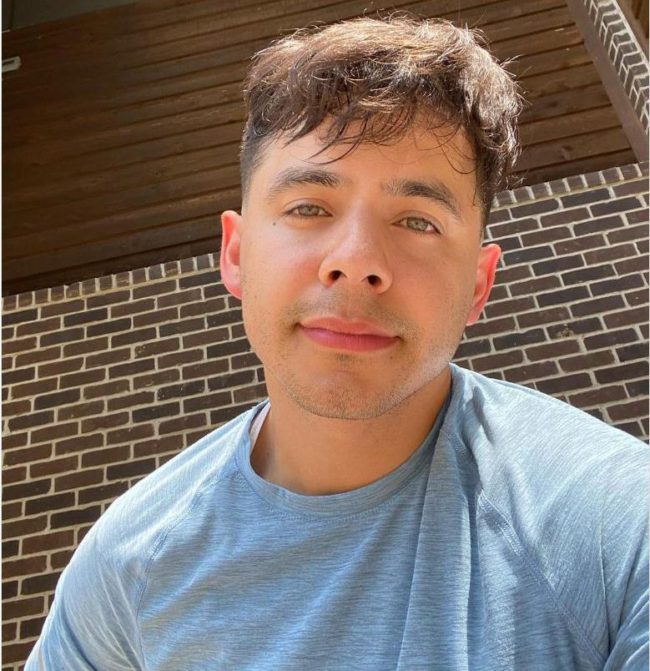 NASHVILLE, TN. – In an Instagram post Saturday, thirty year-old David Archuleta announced to his over 400 hundred thousand plus followers he's a member of the LGBTQ+ community. The singer-songwriter who was the second place finalist on season seven (2008) of Simon Cowell's American Idol franchise, had previously come out as gay in 2014.
A devout Mormon, who grew up in Murray, Utah, in suburban Salt Lake City and now lives in Tennessee wrote on his post; "I like to keep to myself but also thought this was important to share because I know so many other people from religious upbringings feel the same way," Archuleta wrote. "I've been open to myself and my close family for some years now that I am not sure about my own sexuality. I came out in 2014 as gay to my family. But then I had similar feelings for both genders so maybe a spectrum of bisexual."
Archuleta added, "There are people experiencing the same feelings of being LGBTQIA+, (I know that's a lot of letters that a lot of people don't understand, but there are a lot of unique experiences people feel and live that make them feel isolated and alone that are represented) who are wrestling to follow their beliefs that are so important to them, just as I have. Idk what to make of it and I don't have all the answers. I just invite you to please consider making room to be more understanding and compassionate to those who are LGBTQIA+, and those who are a part of that community and trying to find that balance with their faith which also is a huge part of their identity like myself."
The timing of Archuleta's announcement comes as Pride month is being celebrated around the world, and as as Pride Week comes to an end in his native Salt Lake City.
According to ABC NEWS 4 in Salt Lake City, the singer-song writer was last in Utah a couple of years ago then before that, almost a decade ago, which was when he said he was making the biggest announcement of his life at the time.
He had announced his plans to serve a full-time mission for The Church of Jesus Christ of Latter-day Saints. He later then served a religious mission in Chile for two years before returning home to Murray and then later on moving to Tennessee.
In his Instagram post, he shared in reflection of his Mormon upbringing and background, "Again I don't feel comfortable sharing it, but felt I needed to to bring more awareness to people in my same situation and let you know you're not alone. You can be part of the LGBTQIA+ community and still believe in God and His gospel plan."