Heat Alert; High Temperatures forecast for parts of LA County & SoCal
It is important that we check on others, in particular those who are especially vulnerable to the harmful effects of high temperatures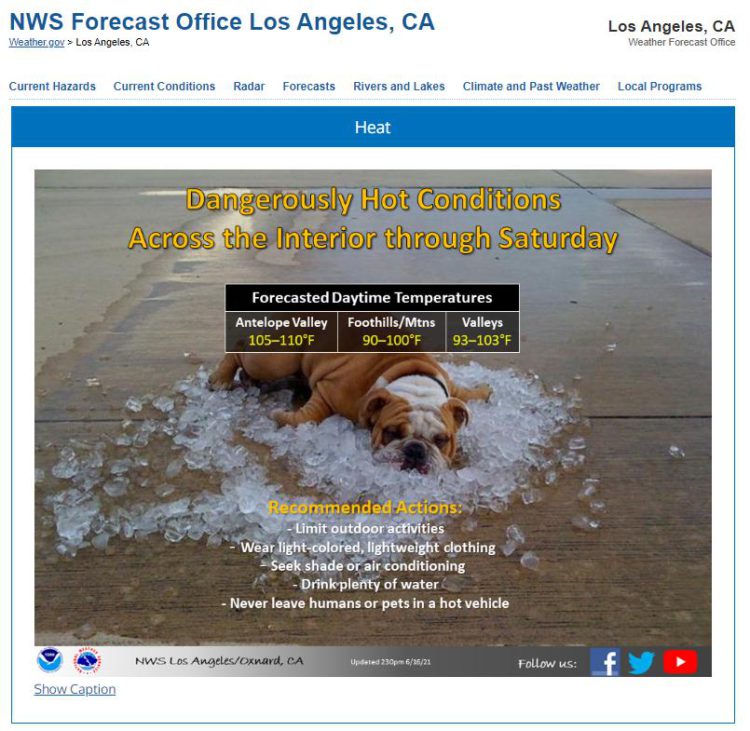 OXNARD – The National Weather Service has issued a heat watch and warning for interior segments of Sothern California including the Mojave Desert areas, Kern County, parts of Ventura and Los Angeles County, Palm Springs and the Inland Empire to the border, as well San Gabriel, San Bernardino, Riverside and the Coachella Valley.
The average daytime temperatures are expected to exceed 110 degrees Fahrenheit.
The Los Angeles County Health Officer has issued a Heat Alert as high temperatures have been forecast for the following areas:
East San Gabriel Valley – through Friday, June 18
Santa Clarita Valley – through Saturday, June 19
Antelope Valley – through Sunday, June 20
Public Health reminds everyone to take precautions to avoid heat-related illness, especially older adults, young children, outdoor workers, athletes, and people with a chronic medical condition who are especially sensitive to negative health impacts from extreme heat. Public Health offers the following recommendations during high temperature days:
Drink plenty of water and keep hydrated throughout the day.
If you must go out, plan your day to avoid going out during the hottest hours, and wear sunscreen. Wear lightweight, light-colored clothes, and wear a hat or use an umbrella.
Cars get very hot. Never leave children or pets in cars and call 911 if you see a child or pet in a car alone.
Beware of heat-related illness, like heat stroke and call 911 if you see these symptoms: high body temperature, vomiting, and pale and clammy skin.
Check on those at risk, like those who are sick, older adults, pregnant women, and children, and those who live alone.
If you are wearing a mask, avoid strenuous workouts wearing face coverings or masks not intended for athletic purposes.
Visit your power company's website or contact them by phone to determine if you are scheduled for a rolling power outage.
"While it is very important that everyone take special care of themselves, it is equally important that we reach out and check on others, in particular those who are especially vulnerable to the harmful effects of high temperatures, including children, the elderly, and their pets," said Muntu Davis, MD, Los Angeles County Health Officer. "High temperatures are not just an inconvenience, they can be dangerous and even deadly. But we can protect ourselves, our families, and our neighbors if we take steps to remain cool and hydrated. It is critically important to never leave children, elderly people, or pets unattended in homes with no air conditioning and particularly in vehicles, even if the windows are 'cracked' or open, as temperatures inside can quickly rise to life-threatening levels. If you have an elderly or infirm neighbor who is without air conditioning, check on them throughout the day."
County and City partners have planned ways to safely operate cooling centers during times of high heat. Residents who do not have access to air conditioning are encouraged to take advantage of these free cooling centers.
To find a location near you, visit https://ready.lacounty.gov/heat/ or call 211.
The health and safety of staff and visitors at cooling centers is priority. Public Health notes the following for cooling centers:
Staff and visitors are instructed to stay home if they do not feel well. Any person reporting or exhibiting signs of illness is advised to seek appropriate medical care.
Staff and visitors are required to wear a face covering at all times, regardless of COVID-19 vaccination status.
LA County Parks Winter Wonderland returns
Snow Days, Sled Rides, Toy Giveaways, Craft Villages, Teen Zone and More!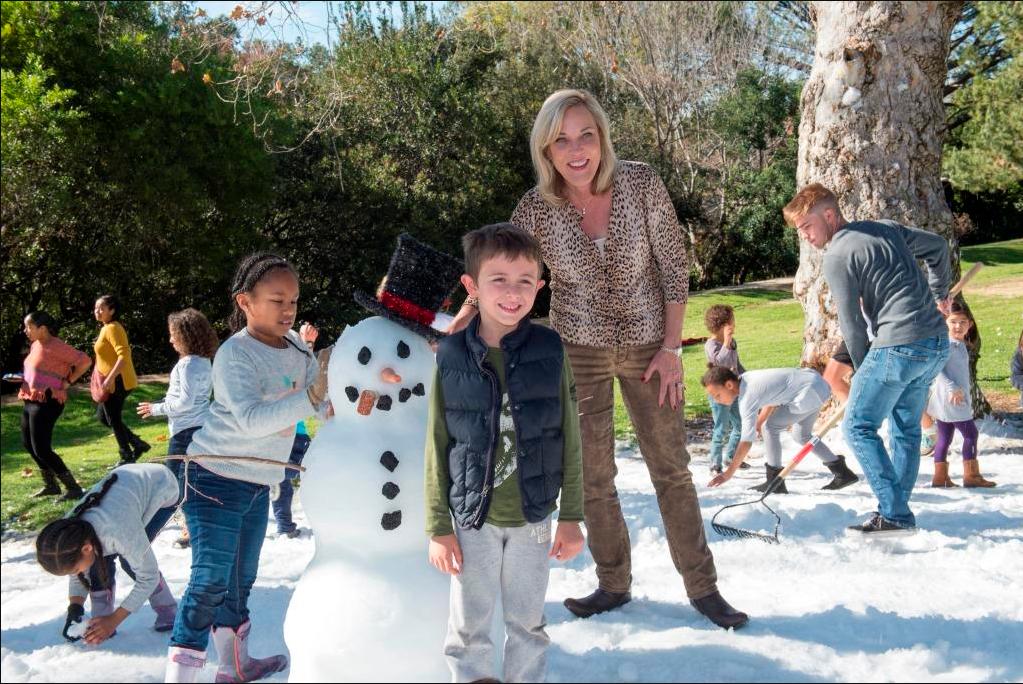 LOS ANGELES – It's Park Time L.A. County! Parks After Dark returns with an enchanting Winter Wonderland experience that will bring holiday cheer and 40 to 80 tons of snow to 34 L.A. County Parks in the month of December.
This holiday action packed celebration is for the entire family and is bigger and better than ever before, with more snow, more toys, more craft activities and more fun! All for free!
Parks After Dark Snow Patrol teams, staffed by passionate and dedicated Parks & Recreation personnel, are ready to transform local parks into wintry paradises complete with sled runs, photo opportunities, snack stations, holiday treats and a craft village where children can decorate their own holiday stocking! Families should plan to arrive early at their local park for a toy giveaway for ages 0-17, while supplies last.
New this year to the Winter Wonderland experience is a Teen Zone where young adults can enjoy their own space to hang out with their friends, create and design art, listen to music, silkscreen holiday shirts and make their own personalized Santa hat!
Also beginning this year, selected parks will double their fun with Mega Snow days, which will bring up to 80 tons of snow to Earvin "Magic" Johnson Park, Val Verde Park, Belvedere Park, El Cariso Park, Loma Alta Park, Ted Watkins Park, Roosevelt Park and Valleydale Park.
The L.A. County Parks Winter Wonderland is possible thanks to the generosity of Los Angeles Department of Social Services, Los Angeles County Department of Parks and Recreation, and the L.A. County Probation Department.
"Parks After Dark brings family, friends, neighbors and community together in their local park," County of Los Angeles Department of Parks and Recreation (DPR) Director Norma Edith García-González said. "The Winter Wonderland experience will provide youth and families a memorable snow day experience and much more to celebrate the joy of the holiday season. I am grateful to DPR Staff for all their work to bring 40 to 80 tons of snow to 34 parks this holiday season!"
Parks After Dark, launched in 2010, has proven to be a successful prevention and intervention program that provides multiple benefits to vulnerable communities, decreasing violence and crime, and increasing social cohesion and community well-being. In 2018, Parks After Dark was recognized by the National Recreation and Park Association, which presented L.A. County Parks and Recreation with is Best in Innovation award.
For more information on Parks After Dark Winter Wonderland, visit https://parks.lacounty.gov/winterpad
Locations, dates, and times for Parks After Dark Winter Wonderland are listed below:
Friday, Dec. 2
Col. Leon H. Washington Park – 8908 S. Maie Ave., Los Angeles (4-8 p.m.)
Mary M. Bethune Park – 1244 E. 61st St., Los Angeles – (4-8 p.m.)
Charter Oak Park – 20261 E. Covina Blvd., Covina – (4-8 p.m.)
Pamela County Park – 2236 Goodall Ave., Duarte – (4-8 p.m.)
Saturday, Dec. 3
Eugene A. Obregon Park – 4021 E. First St., Los Angeles – (12-4 p.m.)
City Terrace Park – 1126 N. Hazard Ave., East Los Angeles – (4-8 p.m.)
Earvin "Magic" Johnson Park – 905 E. El Segundo Blvd., Los Angeles (12-4 p.m.) (Mega Snow)
George Washington Carver Park – 1400 E. 118th St., Los Angeles – (4-8 p.m.)
Val Verde Community Regional Park – 30300 W. Arlington Rd., Val Verde
(12-4 p.m.) (Mega Snow)
Belvedere Community Regional Park – 4914 E. Cesar Chavez Ave., Los Angeles
(4-8 p.m.) (Mega Snow)
Friday, Dec. 9
Adventure Park – 10130 S. Gunn Ave., Whittier – (4-8 p.m.)
Sorenson Park – 11419 Rose Hedge Dr., Whittier – (4-8 p.m.)
Saybrook Park – 6250 E. Northside Dr., East Los Angeles – (4-8 p.m.)
Jesse Owens Community Regional Park – 9651 S. Western Ave., Los Angeles –
(4-8 p.m.)
Saturday, Dec. 10
El Cariso Community Regional Park – 13100 Hubbard St., Sylmar – (12-4 p.m.) (Mega Snow)
Loma Alta Park – 3330 N. Lincoln Ave., Altadena – (4-8 p.m.)
Helen Keller Park – 12521 S. Vermont Ave., Los Angeles – (12-4 p.m.)
Athens Park – 12603 S. Broadway, Los Angeles – (4-8 p.m.)
San Angelo Park – 245 S. San Angelo Ave., La Puente – (12-4 p.m.)
Bassett Park – 510 N. Vineland Ave., La Puente – (4-8 p.m.)
East Rancho Dominguez Park – 15116 S. Atlantic Ave., Compton – (12-4 p.m.)
Ted Watkins Memorial Park – 1335 E. 103rd St., Los Angeles – (4-8 p.m.)
(Mega Snow)
George Lane Park – 5520 W Ave L-8, Quartz Hill (4-8 p.m.)
Friday, Dec. 16
Ruben F. Salazar Park – 3864 Whittier Blvd., Los Angeles (4-8 p.m.)
William Steinmetz Park – 1545 S, Stimson Ave., Hacienda Heights – (4-8 p.m.)
Amigo Park – 5700 S. Juarez Ave., Whittier – (4-8 p.m.)
Amelia Mayberry Park – 13201 E. Meyer Rd., Whittier – (4-8 p.m.)
Saturday, Dec. 17
Stephen Sorenson Park – 16801 E. Avenue P, Lake Los Angeles (12-4 p.m.)
(Mega Snow)
Jackie Robinson Park – 8773 E. Avenue R, Littlerock – (4-8 p.m.)
Mona Park – 2291 E. 121st St., Compton (12-4 p.m.
Franklin D. Roosevelt Park – 7600 Graham Ave., Los Angeles – (4-8 p.m.)
(Mega Snow)
Rimgrove Park – 747 N. Rimgrove Dr., La Puente – (12-4 p.m.)
Allen J. Martin Park – 14830 E. Giordano St., La Puente – (4-8 p.m.)
Valleydale Park – 5525 N. Lark Ellen Ave., Azusa – (4-8 p.m.) (Mega Snow)