Pride rides
Two models offer strong, confident, inspiring styling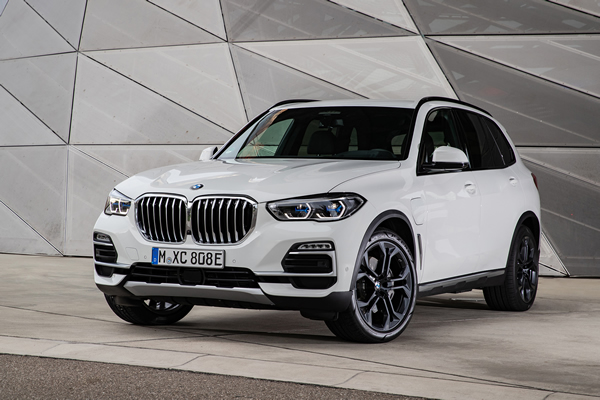 By JOE PHILLIPS
As usual, June is bustin' out all over, with Vice President Kamala Harris making history by joining in the festivities. But the fun doesn't have to end there. Two fine crossover SUVs show how easy it is to keep the party going indefinitely. I call them Pride rides—strong, confident and inspiring. 
BMW X5 XDRIVE 45E
$66,000
Mpg: 20 mpg (gas only), 50 mpg (electric and gas)
0 to 60 mph: 4.7 seconds
In 2015, back when Gus Kenworthy and Caitlin Jenner came charging out of the closet, BMW was making its own hoopla with the X5 xDrive 40e. This was the automaker's first plug-in hybrid, an engineering marvel that could shift seamlessly between EV and gas-engine mode. Ride and handling were as good as any traditional SUV. And despite a hefty curb weight, acceleration to 60 mph was a decent 6.2 seconds.
Fast forward to the X5 xDrive 45e, the next-gen model rolling into showrooms this year. Thanks to the pandemic, this debut has been more subtle. But the enhancements are quite substantial. The new engine—stronger and quieter than the previous model—helps this midsize SUV blast to 60 mph in just 4.7 seconds. Despite being over 400 pounds heavier, the updated X5 is actually nimbler. And the electric-only range is 31 miles, or twice as far as the old model. That's a good thing, because overall fuel economy is now 20 mpg versus 24 mpg. Luckily, most motorists drive only about 30 miles each day anyway. (Or at least they did prior to the pandemic.)
Inside, the cockpit design is minimalist chic, but with lots of standard features: faux-leather seats, panoramic roof, two 12.3-inch digital screens, and smartphone integration for both Android Auto and Apple CarPlay. All-wheel drive also is standard, even in electric-only mode. Along with all the latest safety gear, there's active cruise control with a stop-and-go function that can be used at speeds up to 130 mph (yo, for autobahn drivers, not those of us stateside). And during a much-needed weekend getaway with some freeway backups, the traffic-jam-assist feature worked its magic: I was able take my hands off the wheel and relieve a lot of driver fatigue and frustration as the vehicle drove itself. This also was a blessing for my partner, who didn't have to listen to me swear like a New York City taxi driver.
MERCEDES GLS 450
$76,000
Mpg: 20 city/24 highway
0 to 60 mph: 5.8 seconds
For a few more bells and whistles, there's the Mercedes GLS 450. This full-size SUV has acres of cargo room and can easily seat seven passengers. For a sportier vibe, you can swap out the second-row bench seat for two captain's chairs.
A robust six-cylinder engine comes standard and provides plenty of punch. The entry-level GLS handles just as effortlessly as the higher-end V8 model, which adds another $23,000 to the price tag. Both vehicles are smooth operators, with all-wheel drive and a sophisticated suspension that raises and lowers the chassis. There's even a clever pothole-sensing system to neutralize nasty bumps and enhance the feeling that this hulking SUV is floating on air. As with many BMWs and Mercedes, the GLS now comes with two huge 12.3-inch screens: one for the digital gauges and the other for the infotainment system.
Various pricey options abound, including five-zone climate control, a tablet to operate the infotainment system, and front and rear massaging seats that can be programmed to apply soothing relief to your back, tush or both. As if such amenities weren't enough, you can toss in heated and cooled cupholders, as well as a cabin fragrance system with choice of four aromas. Both Mercedes and BMW offer vibrant ambient lighting, with thin strips of interior lights illuminating the foot wells, door panels, dashboard trim, climate control vents, cupholders, speaker rims, center console and more. To tap into your inner rainbow, the GLS has a digital color wheel where you can choose from 64 lustrous hues. You can customize the lighting even further, selecting different colors to illuminate various parts of the interior at the same time. For me, calling up some funky mood lighting and a few rockin' Pride songs on the stereo is the perfect way to get the party started.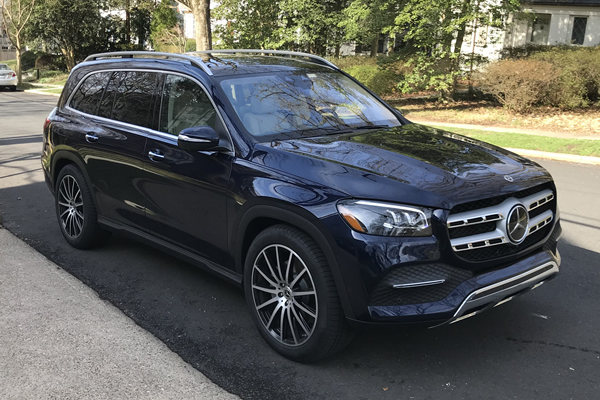 Standout SUVs: Jeep Compass, Subaru Crosstrek
Americans still prefer larger vehicles to sedans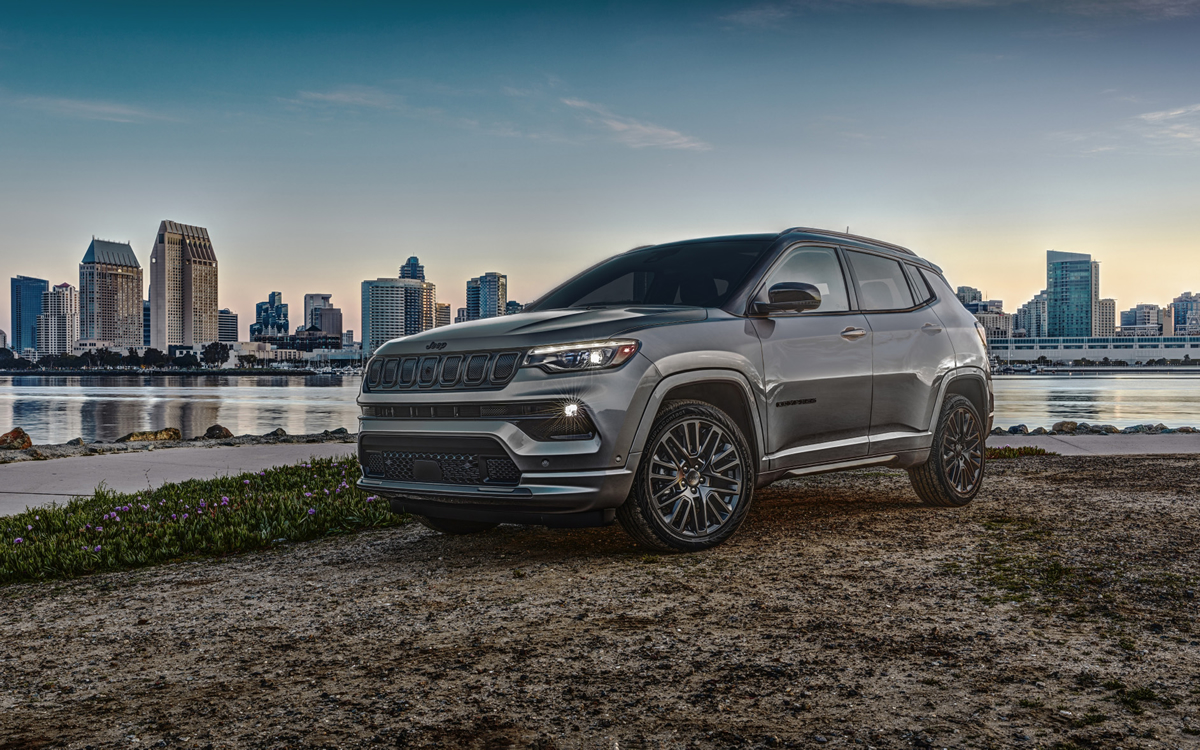 Last year Americans left many old-school chariots in the dust, buying twice as many SUVs as sedans. But while early pioneers like the Jeep Cherokee and Ford Explorer get props for leading the sport-ute charge, today there are more than 170 models. I recently test drove two newish SUVs that kinda-sorta remind me of my Pride bracelet: They make a statement, but at an affordable price.
JEEP COMPASS
$29,000
MPG: 24 city/32 highway
0 to 60 mph: 7.5 seconds
Cargo room: 27.2 cu. ft.
PROS: lots of amenities, good storage, all-wheel drive
CONS: some pricey options, stiff ride, bit noisy cabin
IN A NUTSHELL: Redesigned last year, the Jeep Compass gets a stronger engine for 2023. More power usually means reduced fuel efficiency, but mileage is up almost 10% from the previous model. Another plus: More stowage space, which had been sorely lacking. And all-wheel drive is now standard, so better traction and handling, especially on slick or gravelly terrain.
Despite having chiseled looks like the midsize Jeep Cherokee, the smaller Compass feels lighter and more limber. But while this compact SUV can handle light off-roading, the short wheelbase makes it hard to ignore potholes or speed bumps. In fact, I often had to slow down to a crawl to not seesaw jarringly over them. In other words, any Barbie or Ken wannabes with perfectly coiffed hair will want to stick to smoother surfaces when driving this vehicle.
The well-built cabin is much improved, with higher quality materials. The dash is covered in soft-touch leather—a nice touch—with a 7-inch digital instrument cluster and 10.1-inch touchscreen. Plenty of legroom and headroom in front, but tallish backseat passengers may feel a bit squished.
There are five trim levels, including the top-of-the-line Trailhawk, with more aggressive styling and solid off-road capability. I tested the mid-range Latitude Lux, which costs $5,000 more than the base model but comes with larger wheels, heated seats, and other niceties.
Notable tech features: smartphone integration, Wi-Fi hot spot, Bluetooth, wireless charging, voice recognition, remote start and nine-speaker Alpine stereo.
But it's the list of safety gear that rally wowed me, such as rearview camera, park assist, lane-departure warning, driver-attention monitoring, rear-seat passenger reminder, pedestrian and cyclist detection, blind-spot monitor, forward collision warning with active braking, and—whew!—so much more.
SUBARU CROSSTREK
$27,000
MPG: 28 city/34 highway
0 to 60 mph: 9.1 seconds
Cargo room: 20 cu. ft.
PROS: decent mileage, comfy seats, user-friendly cabin
CONS: poky base engine, so-so storage, plasticky dashboard
IN A NUTSHELL: With so much sport-ute competition these days, automakers seem to be revamping their SUV models each year (not every four to six years, as in the past). This time, the Subaru Crosstrek receives some nifty design flourishes and major cabin upgrades. Compared to the butch Jeep Compass, the curvier Crosstrek looks trés chic. Think boyish Buck versus trendy Eddie on "911."
Based on the nimble Impreza hatchback, the subcompact Crosstrek feels car-like and agile. Two engine choices, but opt for the more potent powerplant so it doesn't feel like you're just treading water. While the Crosstrek is smaller and slower than the Compass, the ride here is smoother and more composed. Higher ground clearance, tighter suspension and quick all-wheel drive system all help, as does a new direct-steering system. Plus, paddle shifters, which I only needed to use once or twice when merging into traffic, provide plenty of extra oomph.
The Crosstrek cabin, which is surprisingly quiet, offers good legroom for passengers in both the front and back. An optional 11.6-inch infotainment touchscreen is mounted vertically, similar to those iPad-like displays found in the Ford Mustang Mach-E and various luxury vehicles.
It says something when my biggest beef with the Crosstrek is the placement of the odometer reset button, which is only a smidge above the remote start button. Both buttons are completely obscured behind the steering wheel, so I was constantly reaching around and pressing the wrong one. A minor annoyance, to be sure. But if Subaru could fix this ergonomic annoyance, then I wouldn't have to listen to my husband claim that the problem is actually my own "user error."