Pride rides
Two models offer strong, confident, inspiring styling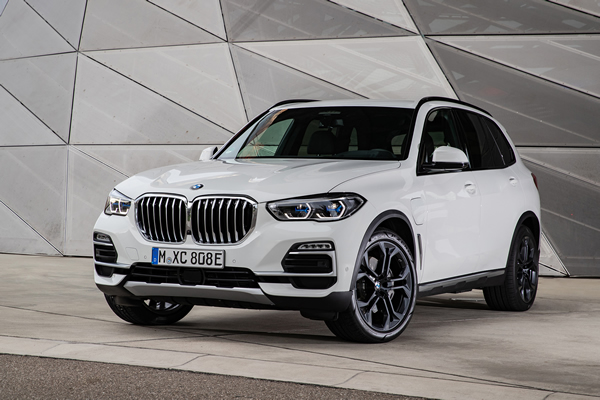 By JOE PHILLIPS
As usual, June is bustin' out all over, with Vice President Kamala Harris making history by joining in the festivities. But the fun doesn't have to end there. Two fine crossover SUVs show how easy it is to keep the party going indefinitely. I call them Pride rides—strong, confident and inspiring. 
BMW X5 XDRIVE 45E
$66,000
Mpg: 20 mpg (gas only), 50 mpg (electric and gas)
0 to 60 mph: 4.7 seconds
In 2015, back when Gus Kenworthy and Caitlin Jenner came charging out of the closet, BMW was making its own hoopla with the X5 xDrive 40e. This was the automaker's first plug-in hybrid, an engineering marvel that could shift seamlessly between EV and gas-engine mode. Ride and handling were as good as any traditional SUV. And despite a hefty curb weight, acceleration to 60 mph was a decent 6.2 seconds.
Fast forward to the X5 xDrive 45e, the next-gen model rolling into showrooms this year. Thanks to the pandemic, this debut has been more subtle. But the enhancements are quite substantial. The new engine—stronger and quieter than the previous model—helps this midsize SUV blast to 60 mph in just 4.7 seconds. Despite being over 400 pounds heavier, the updated X5 is actually nimbler. And the electric-only range is 31 miles, or twice as far as the old model. That's a good thing, because overall fuel economy is now 20 mpg versus 24 mpg. Luckily, most motorists drive only about 30 miles each day anyway. (Or at least they did prior to the pandemic.)
Inside, the cockpit design is minimalist chic, but with lots of standard features: faux-leather seats, panoramic roof, two 12.3-inch digital screens, and smartphone integration for both Android Auto and Apple CarPlay. All-wheel drive also is standard, even in electric-only mode. Along with all the latest safety gear, there's active cruise control with a stop-and-go function that can be used at speeds up to 130 mph (yo, for autobahn drivers, not those of us stateside). And during a much-needed weekend getaway with some freeway backups, the traffic-jam-assist feature worked its magic: I was able take my hands off the wheel and relieve a lot of driver fatigue and frustration as the vehicle drove itself. This also was a blessing for my partner, who didn't have to listen to me swear like a New York City taxi driver.
MERCEDES GLS 450
$76,000
Mpg: 20 city/24 highway
0 to 60 mph: 5.8 seconds
For a few more bells and whistles, there's the Mercedes GLS 450. This full-size SUV has acres of cargo room and can easily seat seven passengers. For a sportier vibe, you can swap out the second-row bench seat for two captain's chairs.
A robust six-cylinder engine comes standard and provides plenty of punch. The entry-level GLS handles just as effortlessly as the higher-end V8 model, which adds another $23,000 to the price tag. Both vehicles are smooth operators, with all-wheel drive and a sophisticated suspension that raises and lowers the chassis. There's even a clever pothole-sensing system to neutralize nasty bumps and enhance the feeling that this hulking SUV is floating on air. As with many BMWs and Mercedes, the GLS now comes with two huge 12.3-inch screens: one for the digital gauges and the other for the infotainment system.
Various pricey options abound, including five-zone climate control, a tablet to operate the infotainment system, and front and rear massaging seats that can be programmed to apply soothing relief to your back, tush or both. As if such amenities weren't enough, you can toss in heated and cooled cupholders, as well as a cabin fragrance system with choice of four aromas. Both Mercedes and BMW offer vibrant ambient lighting, with thin strips of interior lights illuminating the foot wells, door panels, dashboard trim, climate control vents, cupholders, speaker rims, center console and more. To tap into your inner rainbow, the GLS has a digital color wheel where you can choose from 64 lustrous hues. You can customize the lighting even further, selecting different colors to illuminate various parts of the interior at the same time. For me, calling up some funky mood lighting and a few rockin' Pride songs on the stereo is the perfect way to get the party started.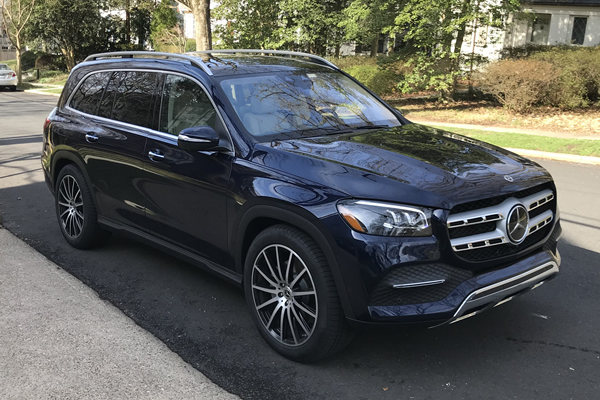 2022 AAA Car Guide – Going High-Tech often means going electric
Mustang Mach-E Takes Top Honors – Researchers: its got a dramatic new profile, is powerful, electric, quiet, quick, roomy & fun to fun drive
LOS ANGELES – New vehicle shoppers primarily want two things in their next ride – better fuel efficiency and more driver assist safety features. According to AAA, nearly 80% of drivers want automakers to focus on improving fuel economy.
And 76% want active driving assistance systems (ADAS), like automatic emergency braking, lane keeping assistance, and adaptive cruise control. Addressing these twin desires can be accomplished with the newest batch of EVs (electric vehicles), which are often the most technologically cutting-edge and the most fuel efficient.
Many of the world's major automakers have announced plans to dramatically increase electric vehicle production or phase out gasoline-powered vehicles entirely by 2035. The AAA Car Guide helps consumers navigate the changing automotive marketplace by ranking and rating the newest vehicles available for sale, including alternative fuel vehicles.
For the 2022 edition of the AAA Car Guide, the 2021 Ford Mustang Mach-E Premium AWD earned the overall top score. Researchers noted this Mustang has a dramatic new profile, is powerful, electric, quiet, quick, roomy and fun to fun drive. The AAA Car Guide provides consumers with reviews highlighting how many advanced driver assistance systems (ADAS) are included in the vehicle along with other criteria and information. All category winners for 2022 are electric, plug-in electric hybrid, or hybrid vehicles. In addition to being highly fuel efficient, the winners are also loaded with the latest in advanced driver assistance systems.
In 2021, electric vehicle sales rose to nearly 477,000, representing 3.3% of total vehicle sales – but a whopping 81.5% increase over 2020 sales. Of the 62 vehicles reviewed for the 2022 AAA Car Guide, six are electric.
"EV sales, while small, are growing, and the signs are everywhere that the future is electric," said Megan McKernan, manager of the Auto Club's Automotive Research Center that produced the guide. "And that future may arrive faster with consumer preferences changing because of factors such as high gas prices and the gradual phasing-out of gasoline-powered vehicles in some areas.."
The 2022 AAA Car Guide includes comprehensive reviews of each vehicle based on 12 criteria, including the number of ADAS safety features, fuel efficiency, emissions, braking, handling, ride quality, and acceleration. These vehicles are tested, scored, and placed in one of five vehicle categories by the Automotive Research Center (ARC) of the Automobile Club of Southern California, a member of the AAA federation of motor clubs.
"Our research is designed to eliminate the guesswork for consumers when they are looking to purchase a new vehicle," said McKernan. "The AAA Car Guide is an easy-to-understand resource that can help improve consumers' decisions when it comes to car buying."
Industry analysts forecast that the COVID-19 pandemic, the semi-conductor chip shortage, and the proliferation of EVs will affect the availability, types, and prices of new and used cars in 2022. For those in the market for newer used vehicles, the online AAA Car Guide website also contains links to the two prior editions in 2021 and 2020.
Each of the 2022 AAA Car Guide winners has numerous ADAS safety features and achieves high fuel efficiency by being hybrid or all-electric, generating a higher score. The highest scoring ranked by category are: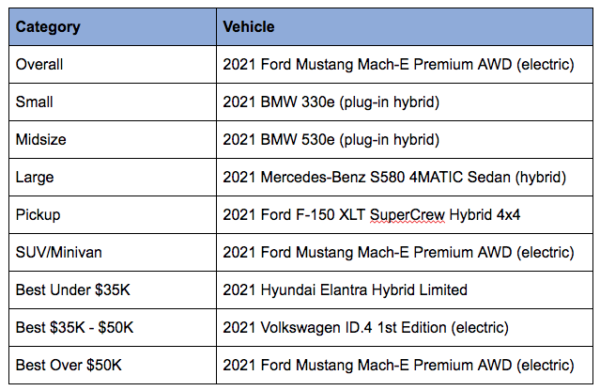 Winners, detailed evaluation criteria, vehicle reviews, and an in-depth analysis of the ADAS technology can be found at aaa.com/carguide.
The AAA Car Guide also contains detailed information about AAA's recent research on current automotive technologies and topics, such as advanced driver assistance systems (ADAS), gasoline quality, headlight effectiveness, and safely transporting a pet in the vehicle.
Chi-chi crossover SUVs
Say goodbye to barebones econoboxes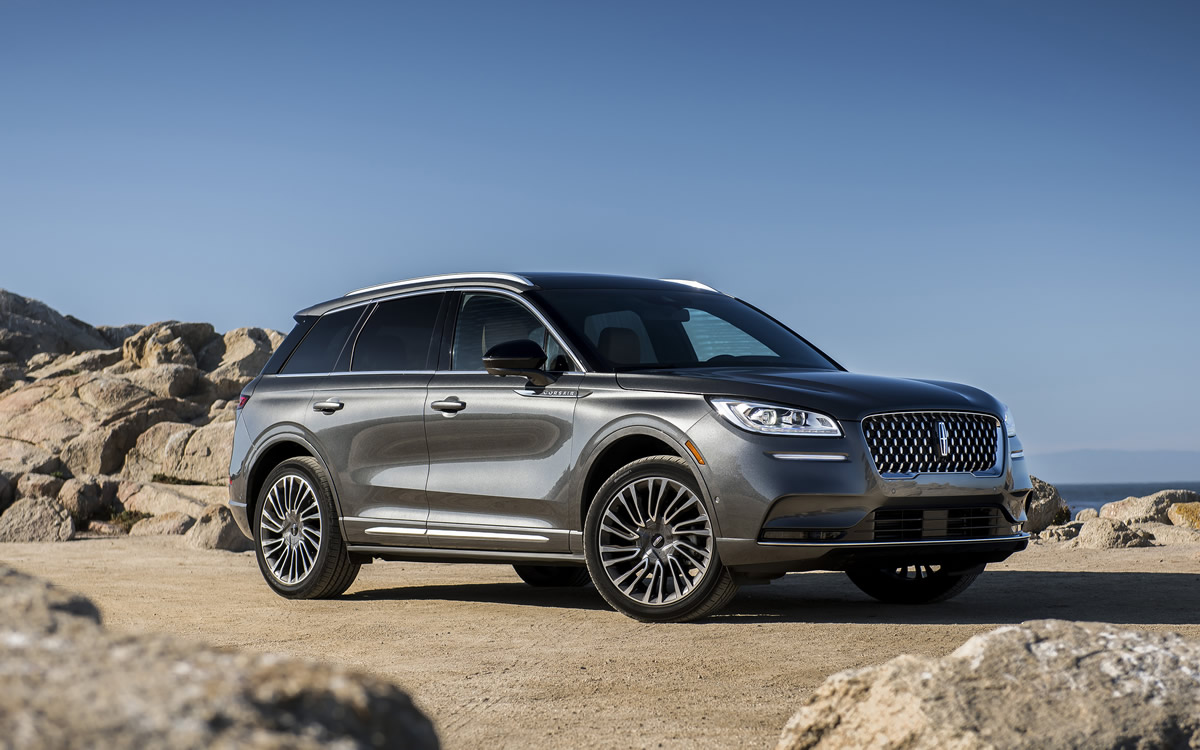 LINCOLN CORSAIR
$37,000
Mpg: 22 city/29 highway
0 to 60 mph: 6.1 seconds
Back in the day, Oldsmobile tried to rebrand itself with corny commercials featuring celebrity icons. Trouble was, not even William Shatner, Ringo Starr or even the automaker's catchy tagline—"Not Your Father's Oldsmobile"—could overcome the lackluster vehicle lineup. But not so with Lincoln. Hunky Matthew McConaughey has boosted sales of the luxury brand for eight years now. His quirky rhapsodizing of all things Lincoln is bolstered by increasingly stylish and innovative people pleasers.
This includes the Corsair, a compact SUV introduced just two years ago. As if tempting fate, this is the same name as the full-sized sedan and coupe produced back in 1958 by Ford's ill-fated Edsel division. But today, with chiseled features and space-age gizmos, this new Corsair is likely to be around for generations. Lincoln SUVs tend to emulate Lexus in styling and creature comforts. The Corsair looks sportier—think Audi Q5 or BMW X3—though without the grippy handling and tight cornering. But that's OK, because the result is a smooth and pampered ride—a big plus on long-distance trips.
Three trim levels, including a top-of-the line Grand Touring plug-in hybrid. I test drove the mid-level Reserve, with all-wheel drive and oodles of standard features: panoramic sunroof, hands-free liftgate, LED fog lamps, auto-fold side mirrors, 14-speaker Revel stereo and more. Tons of options, and those 24-way, perfect-posture seats are particularly fine. To avoid feeling dazed and confused with so many drivers emerging from the pandemic, there's also a head-up display and a Co-Pilot360 Plus package with surround-view camera and automated parking. Impressive crash-test scores are a bonus, as is the long powertrain warranty (six years or 70,000 miles). As for value, the Corsair is built on the same platform as the popular Ford Edge, which is priced just slightly less. Yet this Lincoln exudes all the flair and luxury of high-end vehicles costing so much more.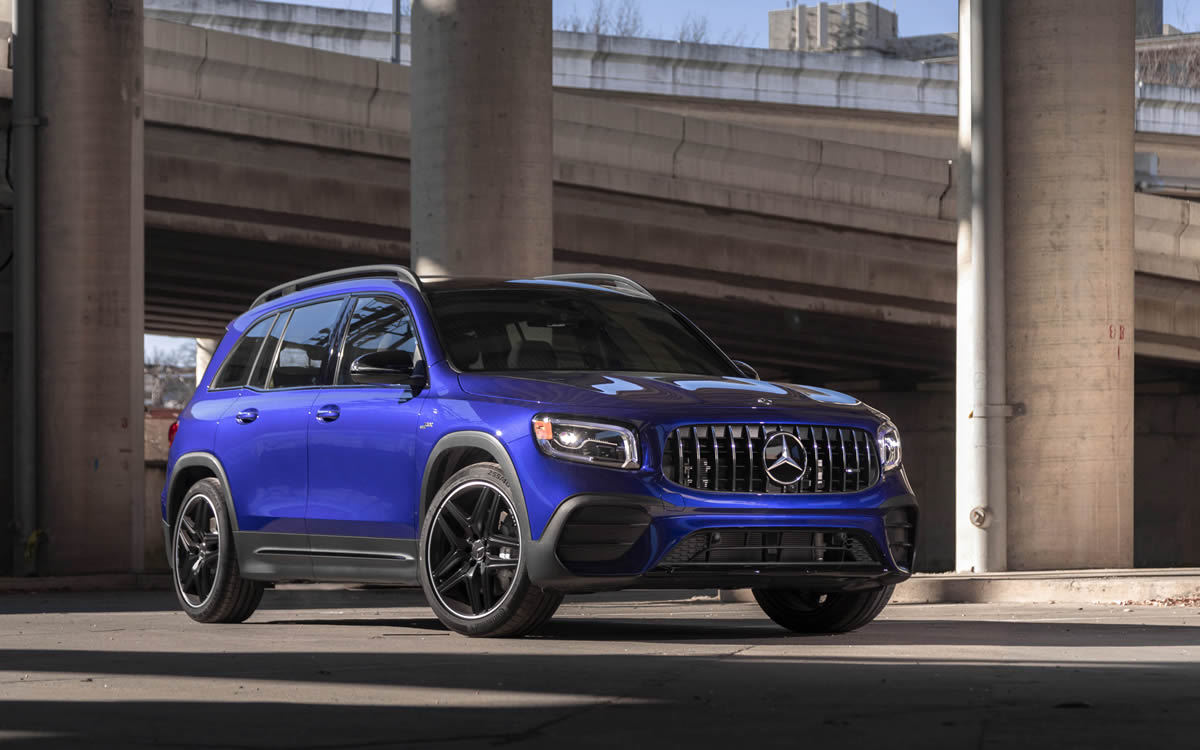 MERCEDES AMG GLB35
$51,000
Mpg: 21city/26 highway
0 to 60 mph: 4.9 seconds
Like Jon Hamm, the voice of Mercedes for over a decade, the renowned German automaker is well endowed with notable attributes. But while the actor's calming voice is in sync with the rich aura of a genteel Benz, that's not the case with the hellfire AMG GLB35 compact crossover. This sporty rabble-rouser—with plucky styling, screaming exhaust note and a fierce 302-horsepower turbo engine—is more in tune with, say, the grit and gumption of Megan Rapinoe.
Sure, the basic GLB is just fine, but this AMG high-performance model boasts brushed stainless-steel pedals, silver chrome paddle-shifters and a flat-bottom steering wheel. What's more, the crisp steering, lithe handling and taut braking tugged at my boy-racer heartstrings each time I slipped behind the wheel.
A tall cabin allows for plenty of headroom, and there's a decent amount of cargo space for such a small vehicle. But while a third seat can be ordered, I'm not sure anyone would want to perform the contortions necessary to sit there. Along with the sassy attitude, the GLB35 is still plenty classy. LED headlights and taillights come standard, as do rain-sensing wipers, dual-zone automatic climate control and ambient lighting that can be customized with choice of 64 colors. There are two large, 10.25-inch digital displays: one for the instrument cluster and the other a touchscreen for the infotainment system. And some $10,000 in options include panoramic sunroof, 12-speaker Burmester stereo, logo puddle lamps, real-wood trim and other goodies. Overall, the GLB35 is a rebel with a cause: part tuner car, part pocket rocket and, above all, nonstop excitement.
Smart rides for trying times
Two affordable options as supply dwindles and demand soars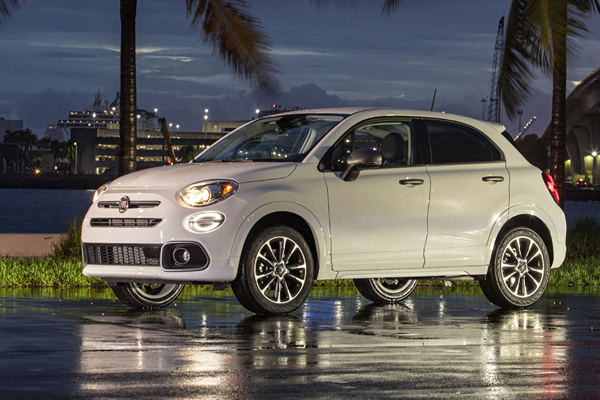 As if the pandemic, political discord and even cicadas weren't enough, now there's trouble brewing when trying to buy a new car. Parts shortages of computer chips, rubber, and other supplies mean new-vehicle inventory is down a whopping 40 percent. And with supply so low, demand is ratcheting up. So expect higher prices, along with fewer dealer and automaker incentives. But there are still opportunities out there. This includes opting for less popular models, such as coupes or sedans instead of hot-ticket SUVs and trucks. Or choosing niche models like the Fiat 500X or Mini Cooper Countryman. These two rather off-beat rides may lack the overall room and practicality of larger crossovers, but they perform nicely and are relatively affordable—at least for now.
FIAT 500X
$25,900
Mpg: 24 city/30 highway
0 to 60 mph: 8.7 seconds
Buying a Fiat is all about making a fashion statement, combining Italian flair with frugal pricing. The automaker's decision to reduce its lineup and focus on just one vehicle—the 500X subcompact crossover—only adds to the cachet. Everything about the 500X is charming, including the Lilliputian size, retro exterior and dazzling dashboard with interlocking display gauges. And the name of the base-model adds a bit of whimsy: Pop. There are three other trims—Sport, Trekking and Trekking Plus—but none of them is exactly racy or off-road ready.
Built on the same platform as the Jeep Renegade, the 500X handles fairly smoothly, at least on the freeway. The short chassis makes it difficult to glide over bigger bumps and potholes, and some body sway is noticeable on tight curves. With just 14 cubic feet of back-end cargo space, there's room only to haul some groceries and such. Still, the four-cylinder turbo engine is perky enough, and the standard all-wheel drive came in handy during a few unexpected downpours. The well-bolstered seats now have updated upholstery, and those funky circular headrests look like something from a Flash Gordon spaceship. There are a surprising number of safety features, including automated emergency braking, blind-spot monitor with rear cross-traffic alert, and lane-departure warning with lane-keeping assist. And warranty coverage is decent, though there is no complimentary scheduled maintenance. Sure, the 7-inch infotainment touchscreen seems tiny compared with larger displays in other crossovers. But those vehicles cost more, and at least the Fiat comes with smartphone integration and three USB ports. Options include a Beats stereo, heated seats, LED headlamps, front and rear parking sensors, and even a panoramic sunroof. Yes, there's plenty of personality here and also a decent number of amenities.
MINI COOPER COUNTRYMAN JCW
$42,400
Mpg: 23 city/31 highway
0 to 60 mph: 4.4 seconds
For a bit more room and a lot more vroom, there's the Mini Cooper Countryman. The base model starts at a very affordable $29,200. But the test vehicle that arrived for me to review was the souped-up JCW edition. While it's definitely pricey, this pocket rocket costs much less than high-performance crossovers from BWW or Mercedes. Yet it's just as blisteringly fast. The acceleration literally took my breath away, and the guttural exhaust rumble—which was downright primal—turned more than a few heads.
The Countryman is the largest vehicle in the Mini lineup, and for 2021 the exterior gets a tasteful refresh. This includes a flashier grille and bumpers, as well as the clever Union Jack design etched into the taillights. The JCW model boasts larger wheels, more form-fitting seats, rear spoiler and a sport-tuned suspension that helps transform this crossover into a tuner car. Along with keyless entry and power-folding mirrors, there's also a rear-view camera, ambient lighting and wireless charging. But while Apple CarPlay is available, Android Auto is not. As with the Fiat 500X, the high seating and deft placement of side pillars help with driver visibility. But the Countryman does offer a tad more legroom and rear cargo space. Either vehicle will do, though, if you're itching to toss in a few overnight bags to simply get away from it all.