One person dead after truck hits Wilton Manors Pride parade participants
Vehicle narrowly missed U.S. Rep. Debbie Wasserman Schultz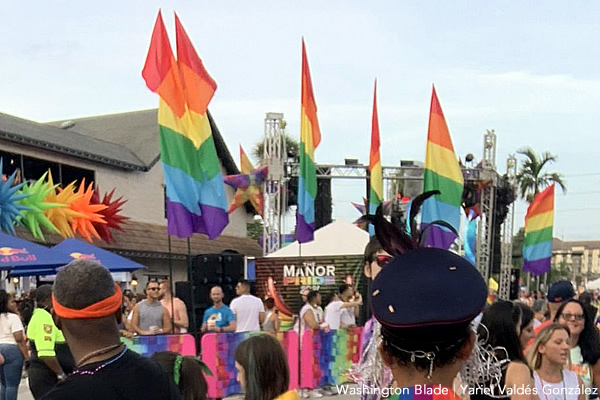 WILTON MANORS, Fla. — At least one person died on Saturday when a pickup truck ran over them during a Pride parade in Wilton Manors, Fla.
South Florida Gay News, WPLG and other South Florida media outlets reported the incident took place shortly before 7 p.m. after the Stonewall Pride Parade began on Wilton Drive.
Christian De La Rosa, a WPLG reporter, told his television station a white pickup truck that was lined up with other parade floats hit the accelerator and ran over two people. WPLG reported the vehicle narrowly missed U.S. Rep. Debbie Wasserman Schultz (D-Fla.), who was in a convertible participating in the parade.
"I want to thank our first responders for their heroic efforts as both police and emergency medical personnel stepped into action quickly," tweeted the congresswoman after the incident.
"We're praying for the victims and their loved ones as law enforcement investigates, and I am providing them with whatever assistance I can," she added. "I am so heartbroken by what took place at this celebration. May the memory of the life lost be for a blessing."
"This is a terrorist attack against the LGBT community," Fort Lauderdale Mayor Dean Trantalis told WPLG shortly after the incident took place, without any apparent confirmation. "This is exactly what it is. Hardly an accident. It was deliberate, it was premeditated and it was targeted against a specific person. Luckily they missed that person, but unfortunately, they hit two other people."
BREAKING: At least 2 people have been hit by a truck at the beginning of the @WiltonManorsCty #Pride parade. @delarosaWPLG was only yards away at the time. He spoke with @DeanTrantalis. @WPLGLocal10 pic.twitter.com/CRRmGz0a12

— Ian Margol (@IanMargolWPLG) June 19, 2021
Detective Ali Adamson of the Fort Lauderdale Police Department told reporters near the scene the "investigation is active and we are considering and evaluating all possibilities."
"We owe it to our community to conduct a thorough and complete investigation," she added.
Adamson confirmed her department is "working with" the Federal Bureau of Investigation, and is "evaluating all possibilities." The pickup truck's driver remains is in custody.
"We have to look at all the angles and that's what we are doing," said Adamson.
Fort Lauderdale Gay Men's Chorus President Justin Knight told WPLG reporter Liane Morejon that the two victims and the driver who struck them were members of his organization. Knight in his statement also said to his knowledge the incident "was not an attack on the LGBTQ community."
"We anticipate more details to follow and ask for the community's love and support," added Knight.
Florida state Sen. Shevrin Jones, who is openly gay, in a tweet said he is "heartbroken and in shock over what has happened at Wilton Manors Pride."
"Praying for and sending love to everyone there, including many friends," he said.
Washington Blade Senior News Reporter Lou Chibbaro, who is currently on vacation in Wilton Manors, was along the parade route when the incident took place.
The Stonewall Pride Festival had begun earlier in the day. Chibbaro said Pride organizers cancelled the parade.
The incident took place a week after the 5th anniversary of the massacre at Pulse, an LGBTQ nightclub in Orlando. Republican Florida Gov. Ron DeSantis earlier this month signed a bill that bans transgender athletes from participating in high school and college sports teams that correspond with their gender identity and vetoed funding that activists say would have funded programs for Pulse survivors and homeless LGBTQ youth.
"We are heartbroken by the news of loss of life and multiple injuries at Wilton Manors Pride tonight," said Equality Florida, a statewide LGBTQ advocacy group, in a series of tweets. "Our hearts go out to all those impacted. Our staff and volunteers at Pride are all safe and accounted for."
"We are, with the rest of the community, awaiting additional info on whether this was a tragic accident or an intentional act of hate," added Equality Florida.
Equality Florida also said "fears are heightened at a time when Gov. DeSantis and GOP legislators are fanning the flames of anti-LGBTQ hatred for political gain."
"We can't help but think of the awful bill passed this session enabling people to use vehicles as weapons against demonstrators. And, just days after the Pulse remembrance, we know dangerous rhetoric comes with real costs," said Equality Florida. "But let us await the full story and send hope and healing to those injured and grieving tonight."
The Blade will provide additional details as they become available.
Florida House committee passes "Don't Say Gay" bill
"LGBTQ people are your neighbors, family members, and friends. We are a normal, healthy part of society and we will not be erased"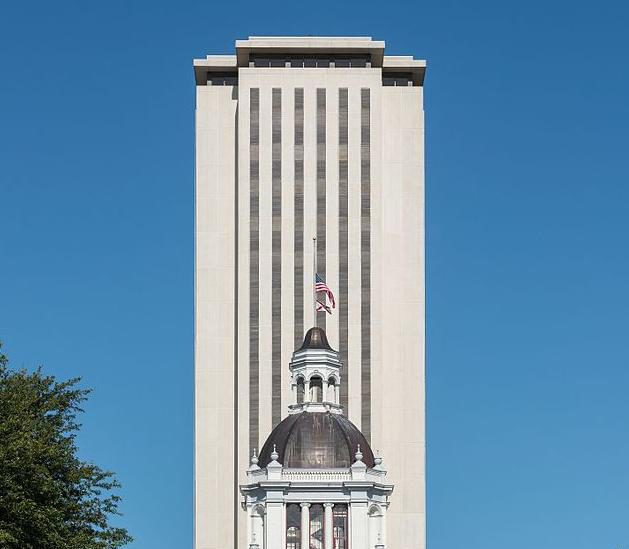 TALLAHASSEE – A Republican majority Florida House Education & Employment Committee passed HB 1557, the Parental Rights in Education bill, colloquially referred to as the "Don't Say Gay" bill advancing the measure to the full House.
HB 1557 and its companion Senate bill SB 1834, would ban classroom discussions about sexual orientation and gender identity in schools, erasing LGBTQ identity, history, and culture — as well as LGBTQ students themselves.
The bill also has provisions that appear to undermine LGBTQ support in schools and include vague parental notification requirements which could effectively "out" LGBTQ-identifying students to their parents without their consent.
"The Trevor Project's research has found that LGBTQ youth who learned about LGBTQ issues or people in classes at school had 23% lower odds of reporting a suicide attempt in the past year. This bill will erase young LGBTQ students across Florida, forcing many back into the closet by policing their identity and silencing important discussions about the issues they face," said Sam Ames, Director of Advocacy and Government Affairs at The Trevor Project. "LGBTQ students deserve their history and experiences to be reflected in their education, just like their peers."
In an email to the Blade, Brandon J. Wolf, the Press Secretary for Equality Florida noted; "Governor DeSantis' march toward his own personal surveillance state continues. Today, the Don't Say Gay bill, a piece of legislation to erase discussion of LGBTQ people from schools in Florida, passed its first committee and became another component of an agenda designed to police us in our classrooms, doctor's offices, and workplaces. Make no mistake — LGBTQ people are your neighbors, family members, and friends. We are a normal, healthy part of society and we will not be erased."
This will kill kids, @RonDeSantisFL. You are purposefully making your state a harder place for LGBTQ kids to survive in. In a national survey (@TrevorProject), 42% of LGBTQ youth seriously considered attempting suicide last year. Now they can't talk to their teachers? https://t.co/VtfFLPlsn3

— Chasten Buttigieg (@Chasten) January 20, 2022
The Trevor Project's 2021 National Survey on LGBTQ Youth Mental Health found that more than 42% of LGBTQ youth seriously considered attempting suicide in the past year, including more than half of transgender and nonbinary youth.
According to a recent poll conducted by Morning Consult on behalf of The Trevor Project, 85% of transgender and nonbinary youth — and two-thirds of all LGBTQ youth (66%) — say recent debates about state laws restricting the rights of transgender people have negatively impacted their mental health.
When asked about proposed legislation that would require schools to tell a student's parent or guardian if they request to use a different name/pronoun or if they identify as LGBTQ at school, 56% of transgender and nonbinary youth said it made them feel angry, 47% felt nervous and/or scared, 45% felt stressed, and more than 1 in 3 felt sad.
If you or someone you know needs help or support, The Trevor Project's trained crisis counselors are available 24/7 at 1-866-488-7386, via chat at TheTrevorProject.org/Get-Help, or by texting START to 678678.
'Beloved' 24 year-old Trans hairdresser murdered in Jacksonville, Florida
Her death marks at least the second violent death of a transgender or gender non-conforming person this year, less than a week into 2022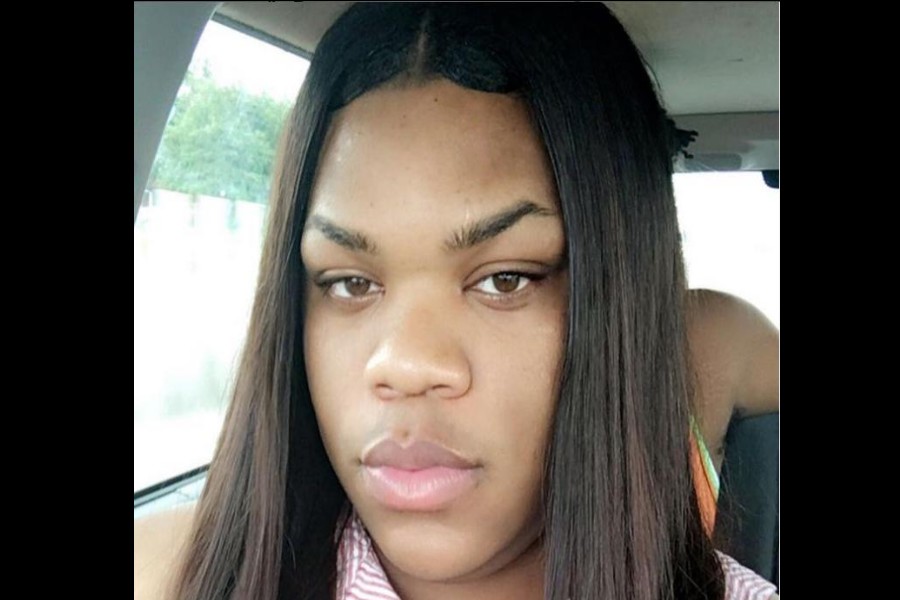 JACKSONVILLE – Police are actively investigating the shooting death of 24-year-old Duval Princess found unresponsive in a car at the Highland Square shopping center on Dunn Avenue in Jacksonville earlier this month.
Identified by police and family members in local media reports by her pre-transitioning name and gender, she was a well-known hairstylist specializing in wigs and weaves who was active in the LGBTQ+ community. According to friends who knew her, Princess was in the early stages of transitioning and identified as transgender.
An aunt, Raschel Campbell, told Jacksonville's CBS affiliate WJAX-TV News; "There's nobody who did not know Duval Princess."
WJAX reported: "Security video given to Action News Jax from a nearby business shows someone waiting at the corner of a business that morning. The car we are told Robinson is in pulls up, the person goes to the driver side window first, then walks to the passenger side door.
They appear to have a conversation and then again, the person goes back to the driver side. Shortly after, it appears as if the person hops into the passenger seat. Roughly 10 minutes go by and then there's a flash, which we opted not to show. Moments later the person is seen running away."
Family members told the station that according to messages, she was meeting up with someone known to her.
"I have never known a pain like this and we just want answers," Campbell said. "This was a senseless act of violence, it was a hate crime."
Police are asking anyone with further information is asked to contact investigators or call Crime Stoppers at 1-866-845-TIPS.
On social media, friends, family and clients of Princess are sharing fond memories of their times with her, noting that she was beloved, with one client sharing that she was "so sweet and genuine." Another said there was "never a dull moment when we linked."
The Human Rights Campaign noted:
"Her death marks at least the second violent death of a transgender or gender non-conforming person this year, less than a week into 2022. We say "at least " because too often these deaths go unreported — or misreported, as is the case of Princess. She was repeatedly misgendered and deadnamed in several media reports."
Prominent Florida LGBTQ+ activist's body found in landfill dump
Diaz-Johnston was the brother of former Miami mayor and Florida Democratic Party Chair Manny Diaz & he led the fight for marriage equality
TALLAHASSEE, FL — Police in Florida's capital city confirmed that the body of Jorge Diaz-Johnston, 54, who had been reported missing was found in a Jackson County landfill Saturday morning.
Diaz-Johnston was last seen alive Jan. 3 in Tallahassee, more than an hour from where his body was found, according to a missing person notice released by police. Detectives are investigating his death as a homicide, a police spokesperson said.
Diaz-Johnston, was the brother of former Miami mayor and Florida Democratic Party Chair Manny Diaz. As an LGBTQ advocate he led the fight for marriage equality, he and his husband were plaintiffs in an historic 2014 lawsuit that led to the legalization of same-sex marriage in Miami-Dade County.
. I am also so very grateful to the Tallahassee Police Department- with the support of Mayor Daley and City Manager Reed- who have worked tirelessly to locate and investigate the circumstances surrounding my brother's disappearance.

— Manny Diaz (@Manny_A_Diaz) January 13, 2022
ABC News reported at the time that a South Florida circuit court judge sided with Diaz-Johnston and five couples suing the Miami-Dade County Clerk's Office for refusing to issue marriage licenses to same-sex couples. Florida dropped its ban on same-sex marriage in 2015.
His husband wrote in a poignant Facebook post; "There are just no words for the loss of my beloved husband Jorge Isaias Diaz-Johnston. I can't stop crying as I try and write this. But he meant so much to all of you as he did to me. So I am fighting through the tears to share with you our loss of him."
"We are heartbroken to learn of the death of Jorge. He and his husband Don were two of the brave plaintiffs who took on Florida's anti-gay marriage ban and helped win marriage equality for all Floridians," Equality Florida said adding, "Our deepest condolences to Don and Jorge's extended family."
Detectives urge anyone who may have information to call 850-891-4200, or make an anonymous tip to Big Bend Crime Stoppers at 850-574-TIPS.
We are heartbroken to learn of the death of Jorge. He and his husband Don were two of the brave plaintiffs who took on Florida's anti-gay marriage ban and helped win marriage equality for all Floridians. Our deepest condolences to Don and Jorge's extended family. https://t.co/3keH43xpD9

— Equality Florida (@equalityfl) January 13, 2022