One person dead after truck hits Wilton Manors Pride parade participants
Vehicle narrowly missed U.S. Rep. Debbie Wasserman Schultz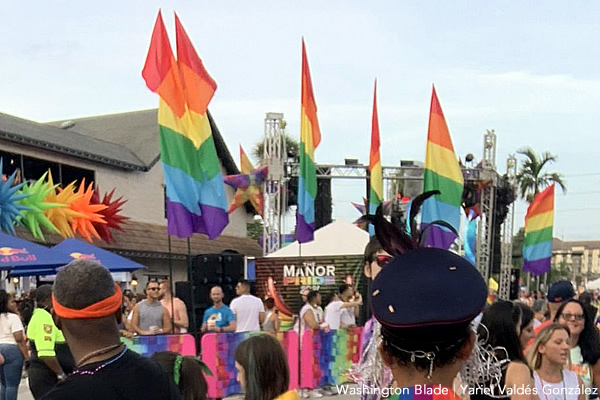 WILTON MANORS, Fla. — At least one person died on Saturday when a pickup truck ran over them during a Pride parade in Wilton Manors, Fla.
South Florida Gay News, WPLG and other South Florida media outlets reported the incident took place shortly before 7 p.m. after the Stonewall Pride Parade began on Wilton Drive.
Christian De La Rosa, a WPLG reporter, told his television station a white pickup truck that was lined up with other parade floats hit the accelerator and ran over two people. WPLG reported the vehicle narrowly missed U.S. Rep. Debbie Wasserman Schultz (D-Fla.), who was in a convertible participating in the parade.
"I want to thank our first responders for their heroic efforts as both police and emergency medical personnel stepped into action quickly," tweeted the congresswoman after the incident.
"We're praying for the victims and their loved ones as law enforcement investigates, and I am providing them with whatever assistance I can," she added. "I am so heartbroken by what took place at this celebration. May the memory of the life lost be for a blessing."
"This is a terrorist attack against the LGBT community," Fort Lauderdale Mayor Dean Trantalis told WPLG shortly after the incident took place, without any apparent confirmation. "This is exactly what it is. Hardly an accident. It was deliberate, it was premeditated and it was targeted against a specific person. Luckily they missed that person, but unfortunately, they hit two other people."
BREAKING: At least 2 people have been hit by a truck at the beginning of the @WiltonManorsCty #Pride parade. @delarosaWPLG was only yards away at the time. He spoke with @DeanTrantalis. @WPLGLocal10 pic.twitter.com/CRRmGz0a12

— Ian Margol (@IanMargolWPLG) June 19, 2021
Detective Ali Adamson of the Fort Lauderdale Police Department told reporters near the scene the "investigation is active and we are considering and evaluating all possibilities."
"We owe it to our community to conduct a thorough and complete investigation," she added.
Adamson confirmed her department is "working with" the Federal Bureau of Investigation, and is "evaluating all possibilities." The pickup truck's driver remains is in custody.
"We have to look at all the angles and that's what we are doing," said Adamson.
Fort Lauderdale Gay Men's Chorus President Justin Knight told WPLG reporter Liane Morejon that the two victims and the driver who struck them were members of his organization. Knight in his statement also said to his knowledge the incident "was not an attack on the LGBTQ community."
"We anticipate more details to follow and ask for the community's love and support," added Knight.
Florida state Sen. Shevrin Jones, who is openly gay, in a tweet said he is "heartbroken and in shock over what has happened at Wilton Manors Pride."
"Praying for and sending love to everyone there, including many friends," he said.
Washington Blade Senior News Reporter Lou Chibbaro, who is currently on vacation in Wilton Manors, was along the parade route when the incident took place.
The Stonewall Pride Festival had begun earlier in the day. Chibbaro said Pride organizers cancelled the parade.
The incident took place a week after the 5th anniversary of the massacre at Pulse, an LGBTQ nightclub in Orlando. Republican Florida Gov. Ron DeSantis earlier this month signed a bill that bans transgender athletes from participating in high school and college sports teams that correspond with their gender identity and vetoed funding that activists say would have funded programs for Pulse survivors and homeless LGBTQ youth.
"We are heartbroken by the news of loss of life and multiple injuries at Wilton Manors Pride tonight," said Equality Florida, a statewide LGBTQ advocacy group, in a series of tweets. "Our hearts go out to all those impacted. Our staff and volunteers at Pride are all safe and accounted for."
"We are, with the rest of the community, awaiting additional info on whether this was a tragic accident or an intentional act of hate," added Equality Florida.
Equality Florida also said "fears are heightened at a time when Gov. DeSantis and GOP legislators are fanning the flames of anti-LGBTQ hatred for political gain."
"We can't help but think of the awful bill passed this session enabling people to use vehicles as weapons against demonstrators. And, just days after the Pulse remembrance, we know dangerous rhetoric comes with real costs," said Equality Florida. "But let us await the full story and send hope and healing to those injured and grieving tonight."
The Blade will provide additional details as they become available.
Florida high school students beat back anti-LGBTQ+ yearbook censorship
Seminole County Public Schools board voted unanimously to put disclaimer stickers in the yearbook versus having white blackout stickers used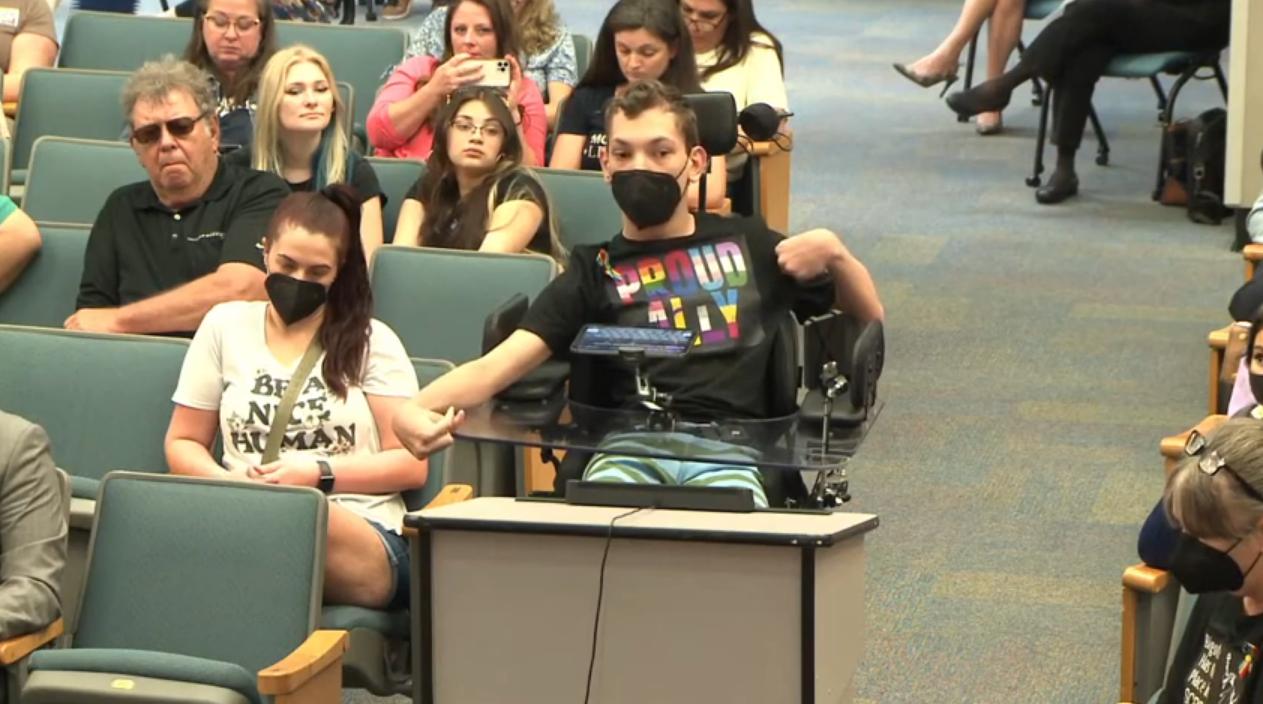 LONGWOOD, Fl. – Lyman High School students in Seminole County Florida will receive their complete yearbooks — without covered photos and captions that had sparked calls of protest and outrage.
Tuesday night, the Seminole County Public Schools board voted unanimously to put disclaimer stickers in the yearbook versus having white blackout stickers to cover the three pictures of the student led protest walk-out over the state's infamous 'Don't Say Gay' law which had not been passed at the time of the protest walkout.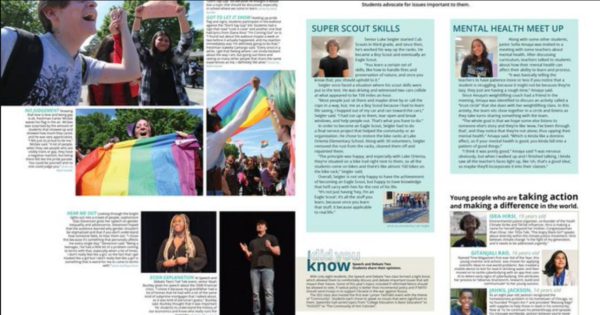 Lyman High School principal, Michael Hunter, had ordered the pictures covered with white black-out stickers and notified parents and staff earlier this week of his action justifying the decision as "ensuring the yearbook meets all aspects of Seminole County School Board policies, particularly as it pertains to non-school sponsored events contained in school publications."
The board voted to put disclaimer stickers in the yearbook instead.
Danielle Pomeranz, the yearbook's faculty adviser, told the board her students were only doing their job of documenting an important event that happened on campus. She said she thinks the yearbook can still be distributed to students by the end of the week, the Orlando Sentinel reported.
For the first time in a long time, Florida students are being listened to & supported by their elected officials. Committee hearings are often brutal for LGBTQ+ students but last night in Seminole County they got a beautiful lesson in government working for the and by the people. pic.twitter.com/IfxyzGA2RP

— Rindala رِندلى (@rindala_aj) May 11, 2022
The photos in question show students holding rainbow flags and a "love is love" sign. Accompanying captions include quotes from students sharing their views on the legislation and why they participated in the protest.
Superintendent Serita Beamon said the section didn't make clear that the protest was student led, and covering the content was viewed as the best way to comply with board policy and get the yearbook to students in a timely fashion.
At one point in the board meeting, J.J. Holmes, a disabled Seminole County high school student who types his own speeches using his nose delivered a message that had some people in the audience in tears. (Editor's note: J.J. Holmes speaks at the 57 minute mark, See video below)
"'Don't Say Gay' isn't even a law yet and you're already using it to target students of the LGBTQ+ community," Holmes said. "Tyler Clemente was 18-years-old when he jumped to his death from the George Washington Bridge. He was outed by another student for being gay," Holmes said.
SCPS School Board Meeting – 05-10-2022
FL students angered by censorship of yearbook pics of LGBTQ+ protest
"How are we going to erase such a diverse part of our community, our history of what makes our school so special"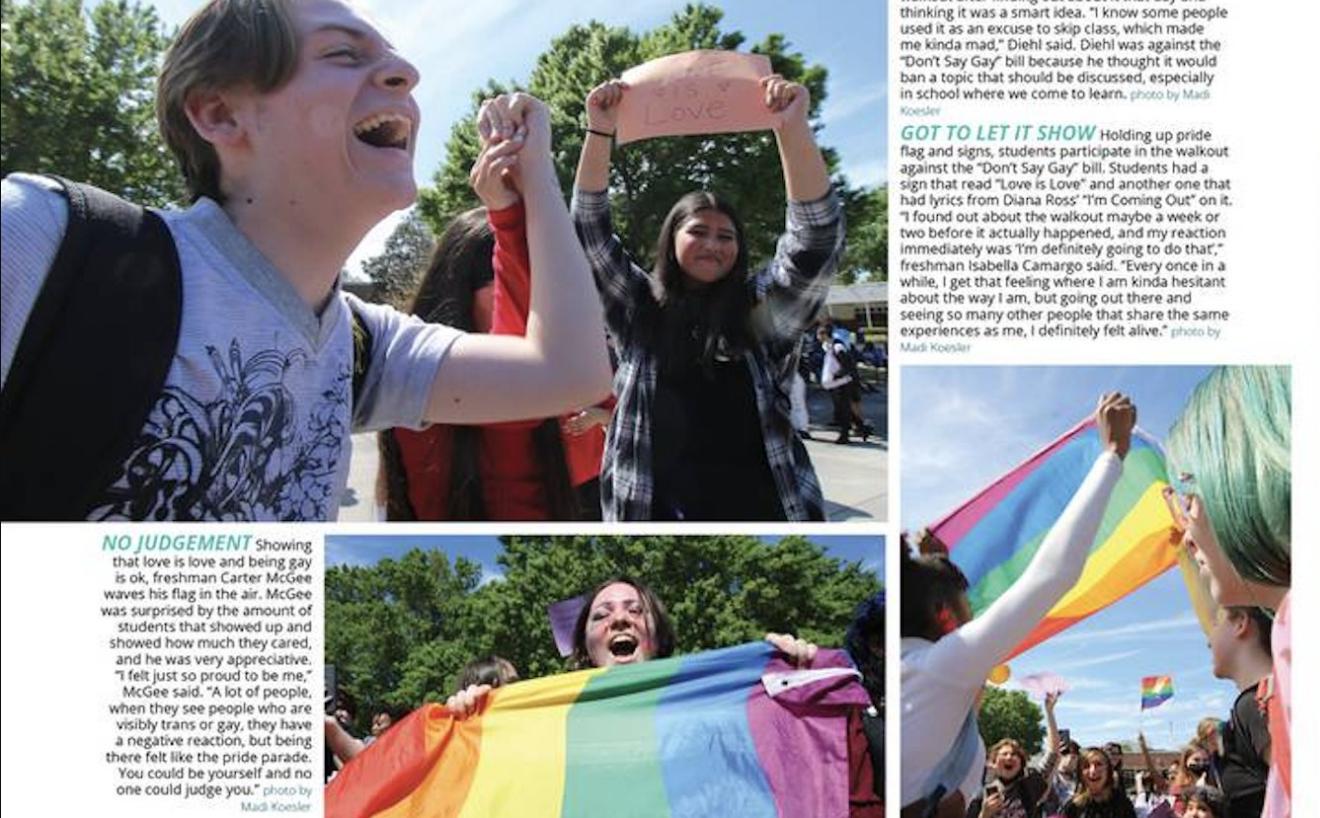 LONGWOOD, Fl. – Lyman High School administrators in Seminole County Florida on Monday held up the previously scheduled distribution of the school's yearbooks due to pictures of the student led walk-out over the state's infamous 'Don't Say Gay' law which had not been passed at the time of the walkout.
Seminole State College journalism major Madi Koesler, who is a volunteer and mentor to the student yearbook staff at Lyman, took to social media to spread the word that principal, Michael Hunter, had ordered the pictures covered with white black-out stickers. Koesler also launched a Change.org petition and the #STOPtheSTICKERS.
In a communication to parents on Monday Hunter wrote;
"Earlier today I announced that the distribution of the Lyman Yearbook would be delayed. The distribution is being delayed in order to assure the yearbook meets all aspects of Seminole County School Board policies, particularly as it pertains to non-school sponsored events contained in school publications," he said.
"Unfortunately, the pictures and descriptions that depicted this event did not meet school board policy and were not caught earlier in the review process. Rather than reprinting the yearbook at substantial cost and delay, we have elected to cover the material that is out of compliance with board policy so that yearbooks can be distributed as soon as possible. Our yearbook staff has done a wonderful job of capturing many aspects of our students' experience. Overall, the yearbook celebrates Lyman's history, diversity, and inclusivity. I look forward to everyone getting to see the yearbook and having the opportunity to enjoy it themselves," Hunter added.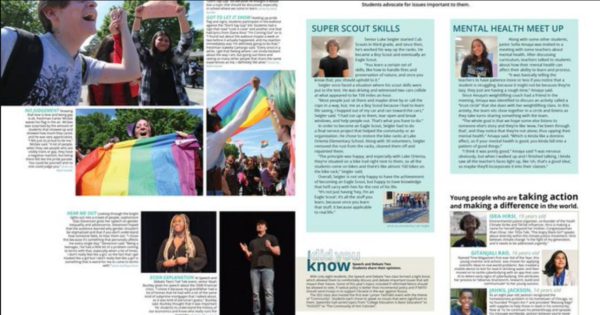 Pushback to the school's censorship included Florida lawmakers.
Wrote a letter to the Seminole County School Board since I won't be able to attend their meeting in person — just ridiculous that we even have to do this. If kids want to include pictures from a protest for #LGBTQ+ rights in THEIR YEARBOOK then let them! 🙄 #SayGay pic.twitter.com/zTjtYNI9bL

— Rep. Anna V. Eskamani 🔨 (@AnnaForFlorida) May 10, 2022
A Seminole County HS is literally COVERING UP school protests against #DontSayGay in their 2022 yearbook.

This censorship is a direct result of the law these students were protesting. #WeWillNotBeErased in this so-called "free state".

I SUPPORT THE STUDENTS!🏳️‍🌈#StopTheStickers pic.twitter.com/GZGNQTCYxE

— Rep. Carlos G Smith (@CarlosGSmith) May 9, 2022
The Student Press Law Center, a national non-profit organization that aims to protect press freedom rights for student journalists at high school and university student newspapers, also took aim at the censorship:
🧵 CENSORSHIP ALERT: Administrators of Seminole County Public Schools in Florida have prevented the distribution of @LymanJournalism yearbook because of a spread documenting the student walkout over the state's "Don't Say Gay" law. pic.twitter.com/9M3RxJOJjC

— Student Press Law Center (@SPLC) May 9, 2022
Local Fox affiliate WOFL Fox 35 in Orlando interviewed students at the high school:
"We were all very disappointed, confused, and trying to figure out what was going on," said Sara Ward, Lyman High School Yearbook Club member.
"We can't cover up something that meant so much to Lyman," said Skye Tiedemann, Lyman High School Yearbook Club member.
Fox 35 also reported that Lyman's Gay-Straight Alliance Club has a page dedicated to them that includes pride flags, but members said they still feel this move is an attack on their community.
Desmond Edwards, Lyman GSA Student noted:
"Lyman High school is dedicated to being historic, diverse, and inclusive. That's told in our announcements every single day," explained Edwards. "How are we going to erase such a diverse part of our community, our history of what makes our school so special."
I want to know why @SCPSInfo is covering up year book photos containing pride flags with stickers… pic.twitter.com/i30j5TUsln

— Will Larkins (@ProudTwinkie) May 9, 2022
Art teacher fired for discussing LGBTQ+ topics in Florida middle school
An art project by students drawing, coloring and creating flags expressing who they are led to the controversy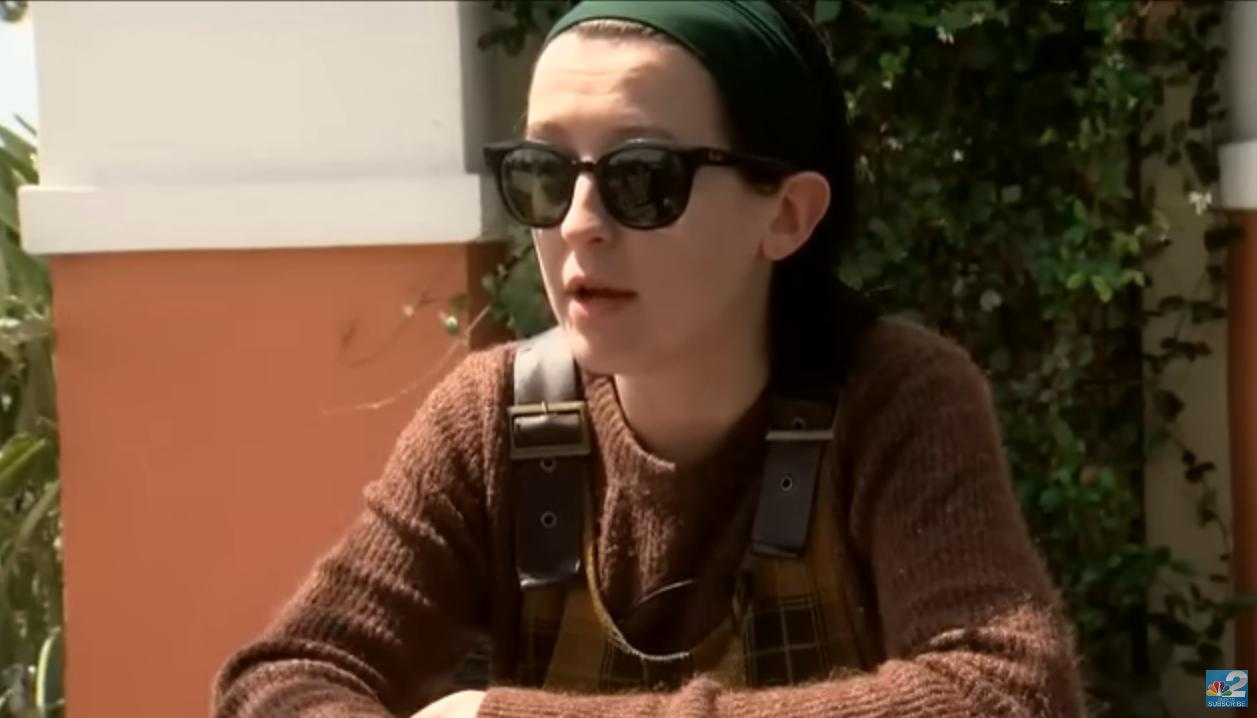 CAPE CORAL, Fl. – Casey Scott, a married self-identified pansexual Floridian, says she was fired from Trafalgar Middle School by Lee County Florida School District officials after discussing her sexuality answering a student's question.
In an interview with local NBC News affiliate WBBH News 2, Scott said that an art project by students drawing, coloring and creating flags expressing who they are led to the controversy.
That project led to a discussion centered on student sexuality. She pointed out that there were flags created by students, some of whom identified as non-binary, bisexual, and gay. When asked by students about her identity she said that she told them she was married and pansexual.
Scott told NBC2 that she hung the pictures on her classroom door and that's when school administrators reacted. "They said it would be in the best interest if I got rid of them now," she said.
She snapped pictures showing how she got rid of them by placing them in a recycle bin.
"I went over to the recycling bin. I grabbed all their flags and all the kids were staring at me. And I crumbled their flags in front of them," she explained.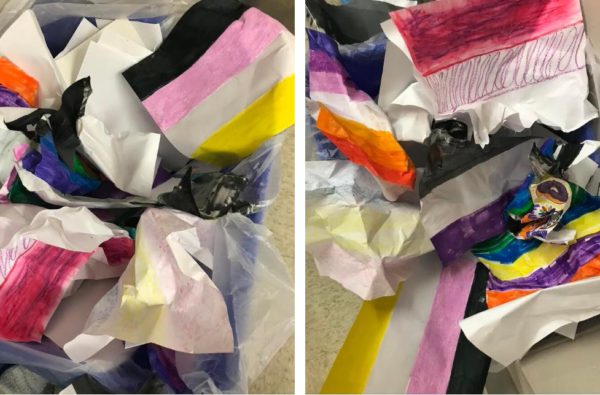 She told the station that first she was sent home and then later informed by the Lee County School District her contract was terminated.
School District officials showed NBC 2 complaints from parents who were concerned about the conversation and the artwork. The district also released handwritten accounts from students which described they were allowed to draw any type of flag they chose even creating flags expressing who they are.
The Teachers Union of Lee County spokesperson Kevin Daly told the station that Scott could legally be fired and he confirmed she did not belong to the teachers union.
"During that probationary period they can let you go without cause," Daly said.
Daly believes the firing could be a wake-up for all teachers when it comes to discussing LGBTQ issues.
"There is kind of a heightened state of where is the boundary? And what are employees supposed to do? Or allowed to do, when a topic comes up in discussion," Daly said.
The Lee County School District action firing Scott took place just days before Governor Ron DeSantis signed Florida's infamous 'Don't Say Gay' bill into law. But the school district has had a problematic relationship with its LGBTQ+ students previously.
In April of 2021, during a school board meeting as parents and students protested against a one-page flyer removed from schools that was outlining the rights of LGBTQ students, and the schools' trans-inclusive bathroom policy, The Daily News reported.
The flyer stated that "all students are allowed to access the restrooms that are consistent with their gender identity or be provided appropriate accommodation as requested."
As soon as the meeting started, a man who later identified himself as Ryan Monroe, stood up and started shouting, "No boys in the girls' room." His protest elicited applause from some in the room, but it also had him escorted out of the meeting by local law enforcement.
Outside of the board meeting anti-LGBTQ+ parents and supporters of their postion carried signs quoting the Bible ("Male and Female, Gen. 1:27") or stating that the board's "gender policy harms girls."
Member of the LGBTQ+ community and their supporters — some wearing T-shirts that read "Equality" or "Protect" — held transgender and LGBTQ Pride flags.
During the meeting, local resident Crystal Czyscon, whose son is trans, told board members that, "to remove this poster now — after it has already been put into place and while it is being used as the standard — would have a very negative impact." Czyscon said that the anti-transgender debate is already negatively affecting her son.
"He said to me, 'You know mommy, I hope that college helps me believe in school again,' because he's so discouraged, he's thinking about dropping out and playing video games."
A year later Czyscon speaking to NBC 2 expressed concern for the mental health of the Trans and nonbinary students in Scott's classes.
Czyscon believes that district officials made a mistake.
"I would like to see a statement from the school board recognizing they have to have a mental health counselor come in and speak with the children impacted by their actions toward this teacher," Czyscon concluded.
Cape Coral art teacher fired for discussing LGBTQ topics: