Fighting for LGBTQ rights in the Global South
Activists in Thailand and Lebanon forge ahead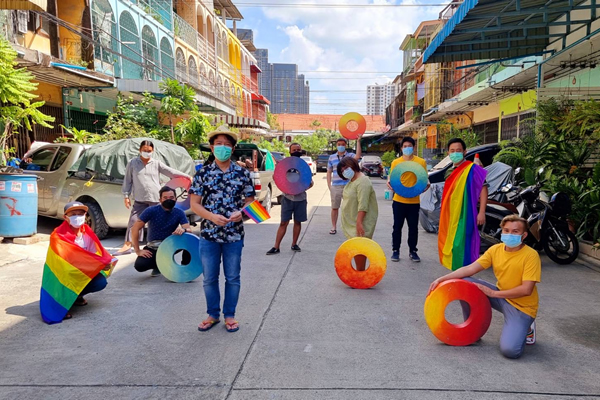 BANGKOK — The Global South presents unique challenges for LGBTQ activists and advocacy groups.
The Human Rights Council notes 29 countries have extended marriage rights to same-sex couples, and the majority of them are located in the Global North that comprises more developed countries in the Americas and Europe. Less than a handful of these countries — such as South Africa and Brazil — are in the Global South. Countries in the Global North, as a result, are more likely to harbor LGBTQ-friendly public sentiments compared to the Global South, which is rife with restrictive anti-LGBTQ laws.
This reality not only makes life tumultuous for both openly and closeted queer individuals in the Global South, the chances of encountering LGBTQ-friendly sentiments in these regions are also close to non-existent. Ensuring the fundamental human rights of the queer people who live in these regions are guaranteed is imperative for activists.
The Los Angeles Blade recently spoke with activists from Thailand and Lebanon about their advocacy work and also how they celebrated Pride in countries where LGBTQ identity is not widely acknowledged. 
Thailand
Midnight Poonkasetwattana is the executive director of the Asian Pacific Coalition on Male Sexual Health (APCOM), a non-profit organization located in Bangkok. The organization's work centers on addressing sexual health-related issues by collecting data on gay men and men who have sex with men in 35 countries across Asia and the Pacific.
"What we do in general is empowering communities on the ground to be able to speak their truth, and also participate meaningfully in country, regional, and global fora so they can have their voices and actually articulate what is it the needs of communities on the ground are," says Poonkasetwattana.
APCOM, by giving these communities the ability to articulate their concerns, creates and facilitates an environment where LGBTQ people's sexual and mental health needs are met, even though discrimination remains a barrier to accessing these services.
APCOM's work does not come without its challenges because of the prevalence of anti-LGBTQ laws in many Asian countries. Their work, however, usually continues undeterred because of their ability to work with local community organizations in the public health sector.
"There are some opportunities to work under public health, and we've been able to do that in certain places [like Afghanistan] where it's still difficult to talk about equality," says Poonkasetwattana. "When we talk about ensuring that those who are marginalized and most at risk to [contract] HIV are able to get prevention and treatment, [we focus on working] with community-based organizations."
APCOM, as a result, has been able to facilitate important conversations around HIV/AIDS, with the specific information about the use of necessary and appropriate language in web programming that recognizes people's different sexual identities and encourages direct conversations around drug use and sex work.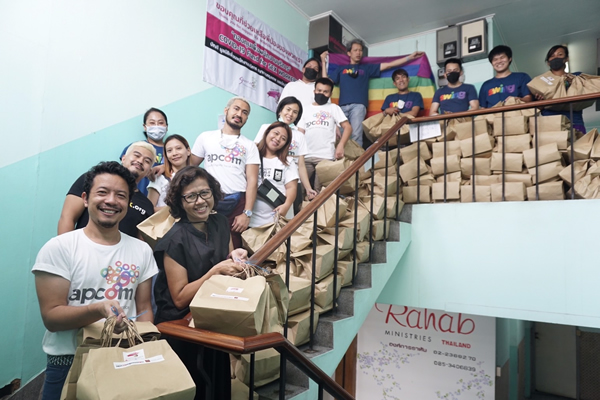 APCOM, in order to commemorate Asia's LGBTQ community's tenacity, began Pride month with a virtual discussion that the Australian Embassy in Thailand sponsored. The event, titled "Celebrating Pride Month 2021: LGBTQI Inclusion and the Effect of COVID-19," had two sessions.
The first session, "Voices from Thai LGBTQI: Launch of Khormoon Report," discussed COVID-19's impact in Thailand. The second, "COVID-19 Recovery and LGBTQI Inclusion: A Perspective from the Business Sector," focused on how Thailand's business sector practiced inclusion and how it will further propel LGBTQ advocacy.
As APCOM prepares to ease back into normalcy as the pandemic wanes, Poonkasetwattana will begin to prepare for the organization's HERO Awards (HIV, Equality and Rights), a fundraising gala that honors outstanding LGBTQ activists, HIV/AIDS service providers and allies from across Asia and the Pacific and also raises money for the HIV prevention and human rights work of APCOM.
Lebanon
Helem, whose executive director is Tarek Zeidan, is an LGBTQ advocacy organization in Beirut, Lebanon. Founded in 2001, this non-governmental entity works to improve the legal and social status of LGTBQ people in the Middle East and North Africa.
Lebanon is what Zeidan describes as a slightly safer place for queer people. Lebanon, compared to Egypt and Saudi Arabia and other countries in the Middle East, has emerged as a more inclusive and liberal place despite it being anything but a safe haven for queer people.
"When it comes to LGBTQ rights, Lebanon packs a punch way above its weight," says Zeidan. "Because, in a region which is notorious for LGBTQ rights violations, Lebanon has enjoyed, and here I use the word enjoy very loosely, a relatively safer and more inclusive sort of experience."
Helem in its many incarnations throughout its 21-year history has always had one main goal: React to whatever priorities and needs that queer people in the Middle East have.
Helem is structurally divided into three parts.
The first is the services department which does a lot of work to protect and assist LGBTQ people in crisis.
"We [offer] emergency intervention, case management, emergency cash, free mental health support, free medical aid, everything," says Zeidan. "Food security [also] acts primarily as the hub in which we gather a lot of data, particularly data on the locale, density, and type of human rights violations, as well as demographic information."
The second part of the organization is its community department.
Helem runs the largest non-commercial queer space in the Arab world that serves as a community center. This space is where the Zeidan guides localization work, community building, power building work, capacity building and vocational training.
"That's where we do our family support, youth outreach, and all of that sort of community building and integration time work," says Zeidan.
The final leg is the advocacy part or "bureau" that anchors on policy work, procedure, cultural change, public awareness, and legislation. Helem's advocacy work also focuses on criminalization that Zeidan describes as "getting more attention," even though it is not a central focus.
"In addition, criminalization, which is something we always do gets a lot of attention, but it's really not the central thing that we engage with," says Zeidan. "There are multiple ways in which you can guarantee LGBTQ rights and inclusion that don't necessarily pass through Parliament, or the Supreme Court, especially when those two are blocked. So in a nutshell, the central question that we ask is, what can we do in order to improve institutions to become LGBTQ inclusive? How do we improve the lives of LGBTQ people?"
Zeidan further mentions that this strategy makes way for avenues that are not necessarily within the traditional human rights view by extracting opportunities from both development and human rights frameworks.
When tackling the lack of employment within Arab LGBTQ communities, for example, Helem doesn't approach corporations that are more likely to be LGBTQ-inclusive. It instead identifies the industries that target LGBTQ people.
"We are more interested in targeting small and medium enterprises as locales for employment rather than big banks, because that's where most of the working class and low income queer people are, and that's where they get most of their livelihoods," says Zeidan.
Zeidan says he anticipates even more engagement with LGBTQ activism in the Middle East in the future.
"We're really excited about deciphering the question: What does regional activism really look like in the Middle East," says Zeidan. "This is a very complicated question."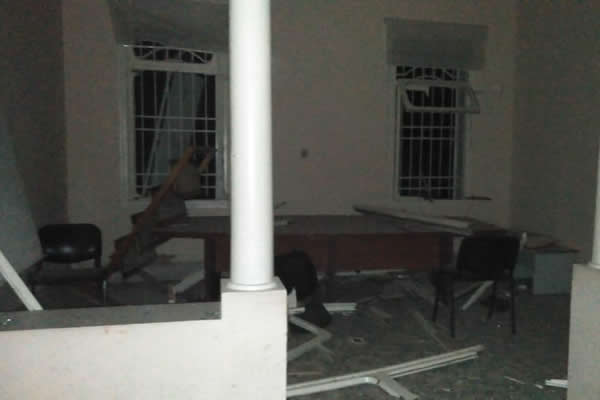 He further mentions this goal is complicated because the Middle East does not have a regional organization to which they can turn for advocacy. Africa, for example, has the African Commission on Human and People's Rights, but the Middle East does not have such a body.
Helem's modus operandi will therefore be engorged in trying to make sense of how to best liberate queer Arabs.
Cuba becomes latest country with marriage equality
Referendum took place amid continued government persecution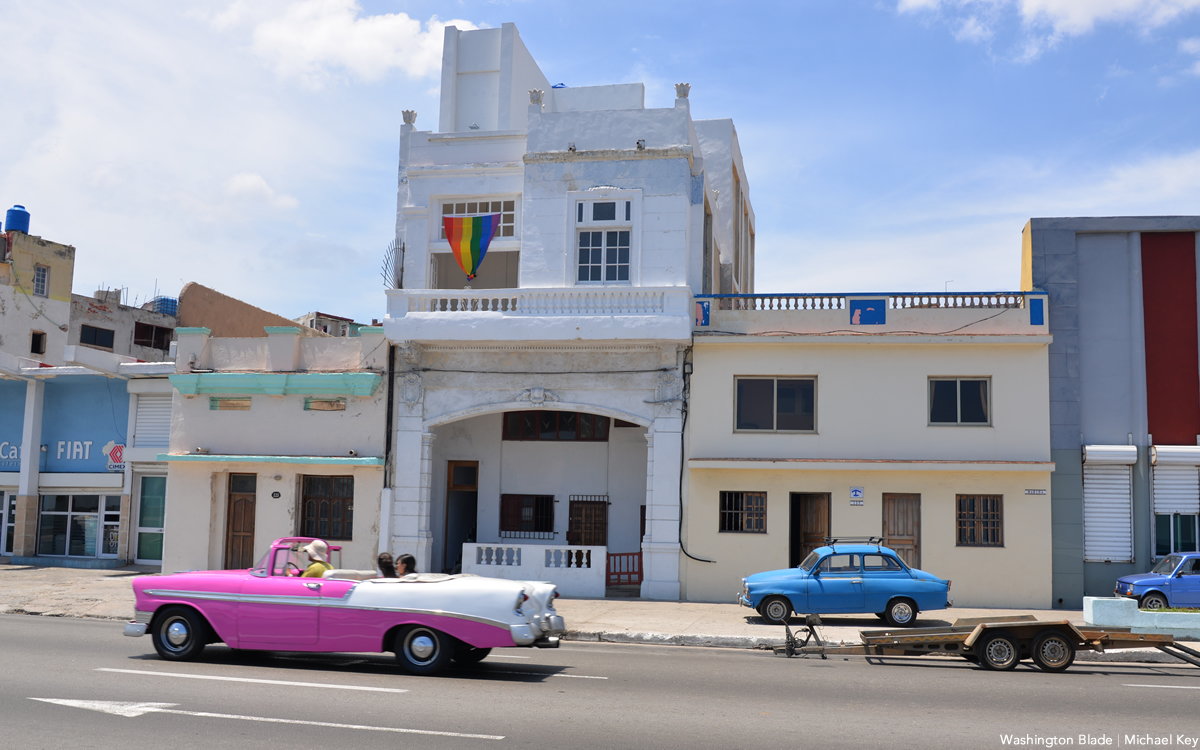 HAVANA — Cubans on Sunday approved a new family code that extends marriage and adoption rights to same-sex couples.
Gramna, the official newspaper of the Cuban Communist Party, on Monday reported 66.9 percent of Cubans who participated in the referendum voted in favor of the new family code.
"Sept. 25, 2022, is already a historic day," said Gramna. "The island has once again demonstrated that the revolution will never stop in its quest for more justice, independent of its adversaries. The road has never been easy, but it is very worthy."
Mariela Castro, the daughter of former President Raúl Castro who spearheads LGBTQ+ and intersex issues in Cuba as director of the country's National Center for Sexual Education, is among those who support the new family code. Mariela Castro on Sunday posted to her Facebook page a picture of her voting for it in Havana, the Cuban capital.
"I voted yes for Cuban families, for a socialist Cuba, for the world's most revolutionary and humanist family code, for a socialist state built upon rights and social justice that recognizes and protects all families," said Mariela Castro after she voted.
The Cuban government in the years after the 1959 revolution that brought Mariela Castro's uncle, Fidel Castro, to power, sent gay men and others to work camps. Cubans with AIDS were forcibly quarantined in state-run sanitaria until 1993.
Cuba joins Costa Rica, Colombia, Ecuador, Brazil, Argentina, Uruguay, Chile, Mexico City and several Mexican states that have extended marriage rights to same-sex couples. Puerto Rico, the U.S. Virgin Islands, Aruba, Curaçao, Bonaire, French Guiana, Guadeloupe, Martinique, St. Barthélemy, St. Martin, Sint Maarten, Sint Eustatius and Saba also have marriage equality.
Cuban government critics face harassment, arrest
Sunday's referendum took place nearly four years after Cuban voters overwhelmingly approved their country's new constitution. The government's decision to remove a marriage equality amendment that religious groups had publicly criticized sparked outrage among independent LGBTQ+ and intersex activists.
LGBTQ+ and intersex Cubans and others who publicly criticize the Cuban government also continue to face harassment, discrimination and arrest.
Maykel González Vivero, editor of Tremenda Nota, the Washington Blade's media partner in Cuba, is among the hundreds of people who were arrested during anti-government protests that took place across the country on July 11, 2021. The U.S. in 2019 granted asylum to Yariel Valdés González, a Blade contributor who suffered persecution in Cuba because he is a journalist.
Yoan de la Cruz, a gay man who used Facebook Live to livestream the first July 11 protest that took place in San Antonio de los Baños in Artemisa province. De La Cruz subsequently received a 6-year prison sentence, but he was released on house arrest in May.
Brenda Díaz, a Transgender woman with HIV who participated in a July 11 protest in Güira de Melena in Artemisa province, has been sentenced to 14 years in prison. The State Department has said it is "very concerned" about Díaz's health and well-being and urged the Cuban government to release her.
Giorgia Meloni: Italy's far-right anti-LGBTQ party leader wins
After years of activism she carved a space for herself in the Italian political arena & is now set to be Italy's first female prime minister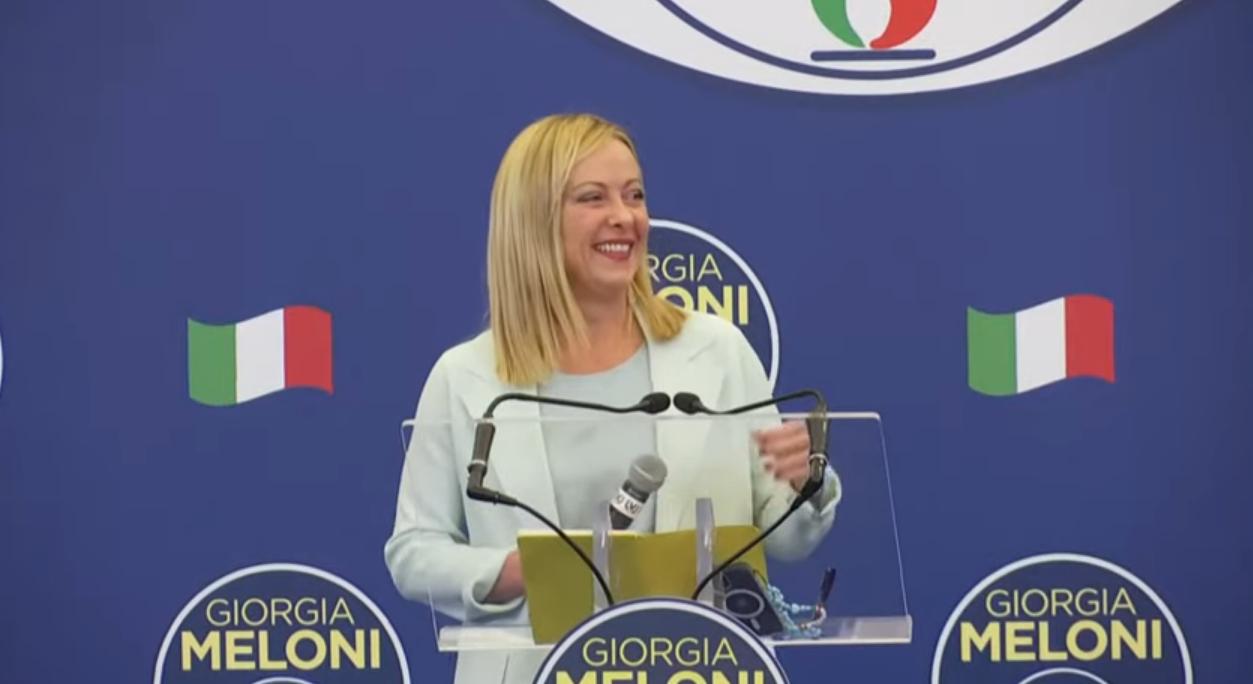 ROME – Italy's far-right leader Giorgia Meloni, head of the Brothers of Italy party, appeared to have won in Sunday's snap general elections according to exit polling. In a coalition with other right wing parties, Meloni's right-wing alliance now looks to have control of both houses, with a projected 42.2% of the Senate vote.
This will lead to her forming Italy's most right-wing government since World War Two and Meloni is now set to be Italy's first female prime minister. However, the final say will rest with Sergio Mattarella the President of Italy, a decision that is expected to take some time according to political observers in Rome familiar with the inner workings of the Italian government.
Turnout for Sunday's elections was dramatically low – 63.82% by the time polls closed – said Italy's interior ministry, almost 10 points down on 2018. Voting levels were especially poor in southern regions including Sicily.
Meloni's Facebook post made after the results had been announced translates to:
History we made today.
This victory is dedicated to all the militants, managers, supporters and every single person who – in these years – has contributed to the realization of our dream, offering soul and heart spontaneously and selflessly.
To those who, despite the difficulties and the most complex moments, have remained in their place, with conviction and generosity. But, above all, it's dedicated to those who believe and have always believed in us.
We won't betray your trust. We are ready to lift Italy up.
THANK YOU !
Meloni is seen as polarizing figure with some of her political stances and rhetoric on the European Union aligning her close to Hungary's nationalist leader Viktor Orban. However, Professor Gianluca Passarrelli of Rome's Sapienza University told the BBC he thought she would avoid rocking the boat on Europe and focus on other policies: "I think we will see more restrictions on civil rights and policies on LGBT and immigrants."
Meloni has long displayed antagonism and intolerance towards the LGBTQ+ community. She has stated that she perceives sees LGBTQ as menacing and threatening Western civilization.
The BBC noted that earlier this year she outlined her priorities in a raucous speech to Spain's far-right Vox party: "Yes to the natural family, no to the LGBT lobby, yes to sexual identity, no to gender ideology… no to Islamist violence, yes to secure borders, no to mass migration… no to big international finance… no to the bureaucrats of Brussels!"
As LGBTQ+ equity and equality rights are foundational to the European Union and its governing commission, some see Meloni as combatting the EU over LGBTQ+ issues in the same vein as Hungary's Orban.
On other issues Meloni doesn't claim to "oppose" Europe, but rather she outlines a model of integration that may or may not go down well in Brussels euronews reported.
"If we had an EU more like the one we imagine, we would have developed a more effective defence policy, invested in energy security and maintained short value chains to avoid reliance on third – often untrustworthy – countries for gas, raw materials, commodities, chips and other goods," she stated.
Greece urged to combat intolerance, Cypriot Pride parade goes on
Despite the national LGBTQ+ equality plan, LGBTQ+ pupils continue to face "intolerant and discriminatory attitudes and behaviours in school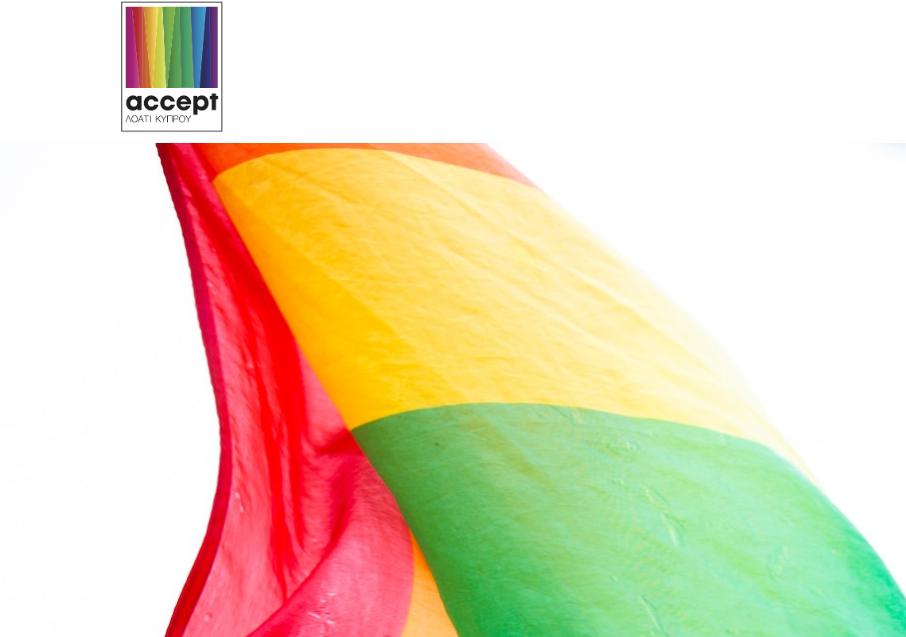 STRASBOURG – The European Commission against Racism and Intolerance (ECRI) released its overview report this week of efforts by the Grecian government of President Katerina Sakellaropoulou, to curb continued discrimination to LGBTQ+ pupils in the nation's schools and address intolerant hate speech in public especially by national media outlets.
The ECRI report congratulated the Greek governmental efforts as outlined in its 2020 National Action Plan against Racism and Intolerance, and acknowledged Greek broadcasters who have adopted use of a technical delay function, whereby the actual emission of "live" broadcasts is slightly delayed, permitting stations to stop hate speech from being broadcast.
However, the ECRI expressed concerns that Greece's equality body – the Greek Ombudsman – still lacks competence to provide legal representation to victims of discrimination or intolerance in court, to pursue strategic litigation or to bring cases before the courts.
The report also noted that despite the national LGBTQ+ equality plan, LGBTQ+ pupils continue to face "intolerant and discriminatory attitudes and behaviours in school, including from teachers."
Another area of concern for the ECRI was that intersex persons, notably children, sometimes face "serious forms" of discrimination and intolerance, including from medical professionals who reportedly often recommend abortion of intersex children to expecting parents, while medically unnecessary surgery on intersex children is also common.
Additional highlights included that ECRI founds that frequent hate speech – at times involving politicians and even state officials – targets migrants, as well as members of LGBTQ+ communities and Roma (Gypsies).
Although the Hellenic Parliament has made improvements, the ECRI report raises concerns over the ability of NGOs in Greece to assist migrants, which was put at risk by a 2020 Ministerial Decision introducing stricter registration and operation rules for NGOs active in the sectors of international protection, migration and relocation, or the social integration of migrants. 
The report's key findings and recommendations included:
· Provide teachers with appropriate training to address LGBTI-phobic intolerance and discrimination in schools.
· Take action to prevent intolerance and discrimination against intersex persons, including by prohibiting medically unnecessary sex-"normalising" surgery on young children and by developing guidelines and training on intersex equality rights for relevant professionals.
· Establish a comprehensive monitoring system for hate speech incidents (including online), accompanied by public awareness campaigns.
· Ensure that Roma are not evicted illegally and without proper notice or opportunity for rehousing in decent accommodation.
· Review the applications of recent registration rules to ensure that all relevant NGOs can provide suitable support services to migrants.
·         Introduce decisive measures to enhance the effectiveness of investigations into police misconduct, be it motivated by racism or LGBTI-phobia, followed by, where warranted, effective sanctions against perpetrators.
Cyprus LGBT+ pride marchers seek equal family rights
This past Saturday, Sept 24, hundreds of activists marched in the streets of the Cypriot capital of Nicosia in a push for equal rights irrespective of sexual orientation, Reuters reported.
"Marriage for all" was the slogan of a parade using the Cypriot vernacular "Gamos Gia Oullous" to emphasize how local mentalities morphed policies. Marriage of same-sex couples is not permitted in Cyprus, while same-sex civil partnerships with a limited set of rights are legal.
Activists say a lack of a family law framework for same-sex couples deprives them from the right to adopt children, or give equal parental rights to a couple in a same-sex civil partnership.
"It's virtually no-where, no discussion (at an official level) has started," Antonis Papageorgiou, vice-president of Accept-LGBTI, the organizers of Sunday's parade told Reuters.
LGBTQ+ activists are pushing the Cypriot government to finalize legal gender change recognition on state documents. Introduced in 2015 the measure approved by the executive has now gone to Parliament where it awaits final approval.
Papageorgiou told Reuters; "We simply cannot wait years for pieces of legislation to pass."