The Los Angeles Black AIDS Monument, a reflection
During the two intense waves of the AIDS crisis, the Black LGBTQ community often had to rely on each other in the face of government neglect.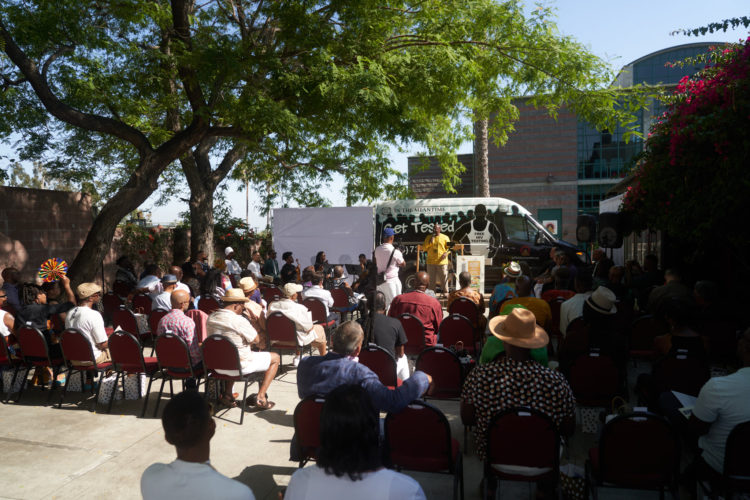 By Karen Ocamb | LOS ANGELES – Anyone remember when National HIV Testing Day was launched on June 27, 1995? There was no International AIDS Conference that year – apparently none was planned because of a supposed "slower pace of advancement" in finding treatments.
Meanwhile there were rumors about a scientific breakthrough that would take the Vancouver Conference by storm in 1996 – the miracle three-drug cocktail that changed AIDS from a possible death sentence into a chronic manageable disease. But, of course, you couldn't access the meds if you were tested. And there was a huge gap in access to care for people of color.
I thought of that on Sunday, June 27 as Noor Singh sounded the gong to announce the ceremony dedicating the Los Angeles Black AIDS Monument installed by In The Meantime Men's (ITMTM) group at the Carl Bean house at 2146 W. Adams. The house had once been a hospice where Morris Kight among many others died.
The AIDS Healthcare Foundation rescued it from the wrecking ball and turned it over to Jeffrey King for his ITMTM headquarters. Jeffrey's been saving lives and helping Black gay, trans and same gender loving people – especially Black gay youth – find wellness ever since.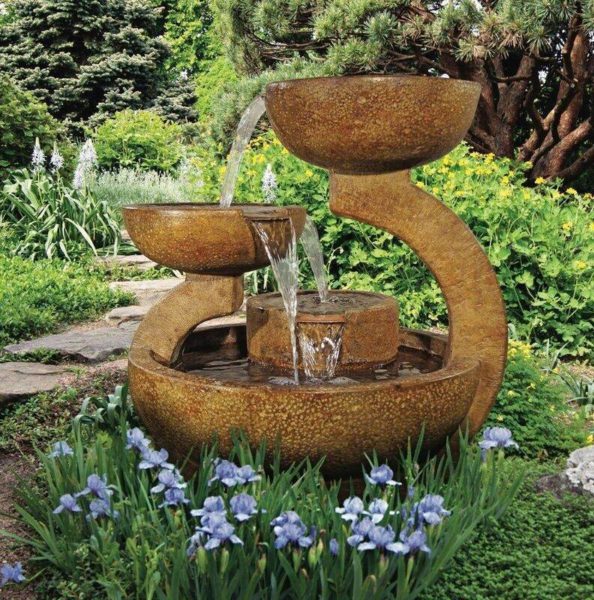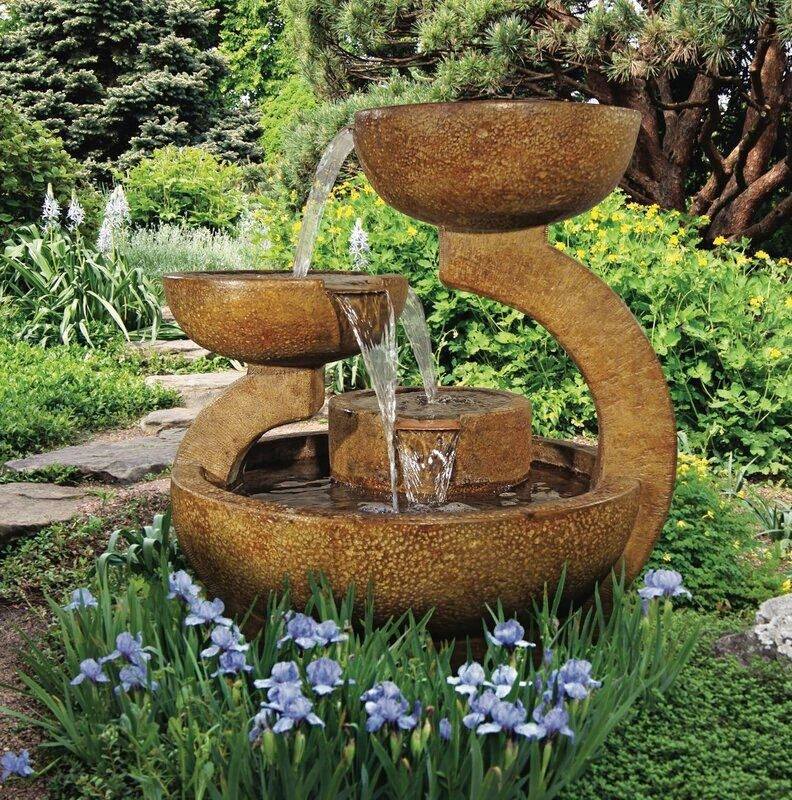 ITMTM's HIV Testing van provided the backdrop for the speakers, all of whom were poignant, down-to-earth and recognized that this was hallowed ground. The Black AIDS Monument itself is elegantly simple: an antique quad circle water fountain invites contemplation into the theme for the event and the Monument — pouring into each other.
During the two intense waves of the AIDS crisis, the Black LGBTQ community often had to rely on each other in the face of government neglect, lack of access to healthcare information, education, prevention material and funding. And often Black gay men with AIDS would be rejected by their own families and churches. There were exceptions: Rev. Chip Murray used to have condoms and AIDS prevention information in bowls at the door exits of the First AME Church and Holman United Methodist Church had Rev. James Lawson and Claudia Spears and her gregarious son, Kevin. Kevin died in 2002 and he is still sorely missed. His name was the first named called when Rev. Kelvin Sauls delivered the invocation.
The photo of Kevin with David Mixner at an event at Holman is still one of my most favorite photos, ever. You can feel the love.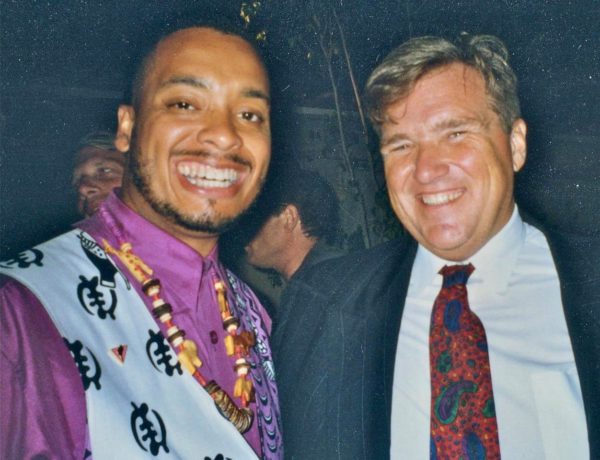 There was also a moment to think of Archbishop Carl Bean, who apparently is now in hospice care. One of my most precious memories of Carl Bean was in 1992, right after the LA riots. It was a frightening time when Blacks and Asians clashed, at times violently. But Rev. Carl Bean held a community meeting at the Unity Fellowship Church attended by numerous leaders who may have disagreed with each other outside – but during the service, everyone was friendly and respectful listening to his lively sermon before we went out into the streets to clean up.
As if to underscore LGBTQ intersectionality, commonality and friendship – Carl had invited Paul Kawata, executive director of the National Minority AIDS Council (NMAC) to fly in from Washington to participate. They were living symbols of the unity they preached about. The fountain is matched with an original sculpture from artist Nijel Binns.
The hand carved brown granite Egyptian-influenced Tekhen/ Obelisk has a bronze sculpture of the Sankofa Bird resting on top. The mythical bird is firmly planted but leaning forward with its left foot slightly extended, as if the bird is leading with its heart. But its head is turned backward, looking to the past for wisdom about how to move into the future. The quest for knowledge, then, balances the heart and the head, the past and the future in the present moment. And for those in love with symbolism, the fountain and the obelisk speak to the female and male in our human condition.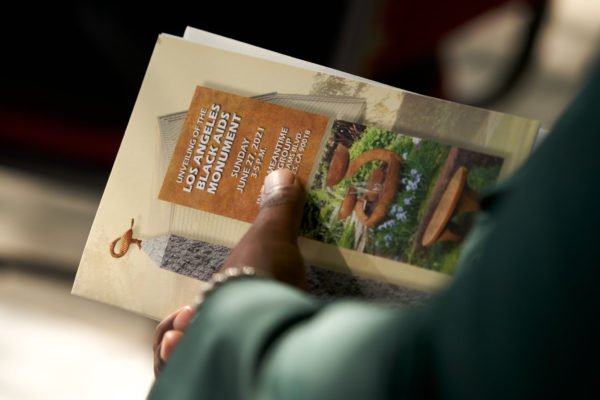 For Jeffrey and those who attended the ceremony the call is to remember the journeys of our Black brothers and sisters taken the ravages of AIDS – to contemplate, grieve and remember their names or their likeness or their dignity or their human frailty – but to remember they were here and now they're gone. All Black Lives Matter. Jeffrey says there are plans for a larger community welcoming in a few months. And there are plans for an online archive of lost loved ones and a special file for allies.
Editor's note: Please click on the embedded Facebook Post below to view Ocamb's pictures and where is also a link to Jeffrey King's Facebook Post for more photos from the event:
Let me contribute some photos now. In addition to Kevin Spears with David Mixner and Rev. Carl Bean and Paul Kawata, please find: ally Dorothy Height, ally Rep. Maxine Waters with LA City Councilmember Jackie Goldberg, Dr. Marjorie Hill, Nell Carter, Phill Wilson and Reggie Williams, Sgt Perry Watkins, Rev. Cecil "Chip: Murray with AIDS activist Mary Fisher, Jewel and Rue Thais-Williams meet Hillary Clinton at APLA in 1991, Steve Corbin, State Sen. Diane Watson and Charles Stewart at Catch One, a Black gay man with AIDS meets Hillary Clinton, young woman with AIDS and her baby at Rue's House, and finally Love TaShia Ashanti reading her poem at the ceremony:
Pouring Into Each Other: A Poem for J.K. & ITMT-By Love TaShia Asanti
wisdom seeks minds to teach
love searches for open hearts to nurture
water flows to a seed that needs to grow
healing medicine reaches for the wounded
we are that wisdom, love, water and healing
God's hand over our Mother earth
unconditional prayers spoken to the universe
sweet rain on the garden of humanity
and we must pour…
until hate becomes open communication
until competition becomes collectivism
we must pour!
until none of us are hungry, afraid, alone or without
let us pour until the water is free of old pain
until forgiveness washes over each other in waterfalls
until the day comes that we can see the us in them and the them in us
in every ocean, river, lake and pond
there is the proof of life being poured
just as in every soul
there is evidence of the Most High having poured into us
there is but one gift sufficient to return this blessing
us pouring into each other…
as this stone is placed
as the sankofa bird takes its rightful position
as the spirit of water is returned to the earth
let us venture to this monument to remember
that we must always pour
for wisdom
for love
for healing
and to ensure our collective tree continues to grow forever
amen…ase….aho!
[Debuted at the Installation of the Blacks AIDS Monument-06/27/2021]
The preceding article was originally posted to the Facebook page of journalist Karen Ocamb and is republished here by permission.
Queer parenthood: A transparent dive into surrogacy and hope
While it's been around for a while, surrogacy is still riddled with mystery, inaccessibility, and unpredictability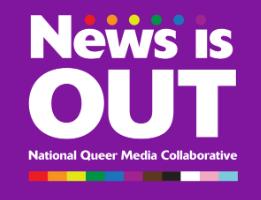 By Matthew Schueller | PORTLAND, Ore. – I feel extraordinarily lucky. As a kid, I never imagined my life could look like this. Growing up in the closet in the mid-Willamette Valley of Oregon, an area many consider to be the conservative Bible Belt of the Pacific Northwest, I didn't think it was possible for me to find love, let alone get married.
It's humbling to see now that I've proved myself wrong. It is truly contrary to what I thought my life would be like 10 years ago, so to be here now in the process of starting a family is absolutely ridiculous to me. It already feels like a miracle, so the fact that we can even attempt to bring life into this world as a gay couple blows my mind.
I've always wanted to have kids, but I didn't start seriously considering the possibility of surrogacy until I met Michael and our relationship became more serious. As I learned more about it and started looking into it more, I realized that it was the best path for us at the time. We started looking for an egg donor and surrogate mother at the beginning of 2021 when we officially made the decision to start the process.
That being said, we know it's still not that easy. While it's been around for a while, surrogacy is still riddled with mystery, inaccessibility, and unpredictability. What we quickly realized when we started to look at our options was that we didn't know the first thing about starting a family as a queer couple, and neither did most of our friends and family!
When we started researching online, we found a ton of different information (often conflicting) from a variety of sources. We didn't even know where to start, so we began calling up IVF clinics and surrogacy agencies.
We spent months researching the process and figuring out what exactly this might look like for us, how much it would cost, and how we should mentally prepare. I think that's what inspired us to start sharing. We saw a lot of couples online sharing their stories after the fact — after the babies had arrived and everything looked fantastic — but we didn't see many couples sharing their stories as it was happening. To us, the process of surrogacy looked like a mysterious black curtain where most of the details were not quite clear.
Our goal is to share the process of having kids as a gay couple as it's happening, the good and the difficult. We believe alternative paths to parenthood should be accessible to all queer couples, and we think that starts with shedding light on how these processes actually work. With knowledge, there's power. And since many of us in the LGBTQ+ community don't know the options available for family planning, we don't know where to start to enact change.
Many paths to parenthood are largely considered to only be attainable by the extremely privileged and wealthy — but we know that gender, sexuality, and income level should not determine whether or not someone can have a family, so why is that not considered true for queer couples?
There are a lot of big questions that have come up, so my husband, Michael, actually encouraged me to start a podcast with him to interview individuals who've experienced alternative paths to parenthood and experts who can provide insight and education. Thus, the birth of the "Who's Your Daddy?" podcast.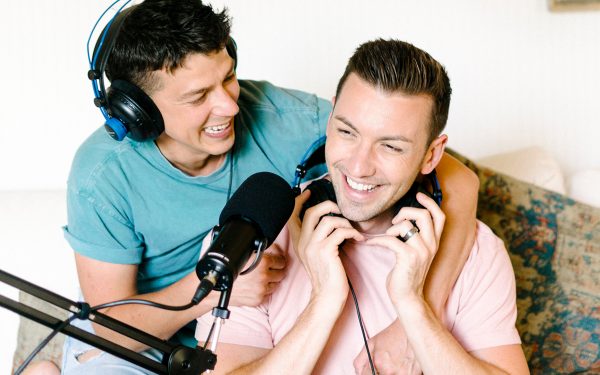 Over the last 19 months, we've found our egg donor, created embryos and actively sought our gestational carrier. While there have been many ups and downs, we are really excited for the next steps in hopefully finding our surrogate soon. The first difficult decision was trying to figure out where we would undergo the process. We interviewed quite a few surrogacy agencies and IVF clinics, and we connected well with a doctor in Texas. We just had a good feeling about it, so we went with our gut.
At the time, we didn't think much of where our egg donor or surrogate could be located: We thought it didn't really matter if they were far away from us. We were under the impression that pursuing surrogacy in Texas might be significantly cheaper than on the West Coast, and perhaps lead to a quicker matching time since there are just way more people in the Dallas area than in the entire state of Oregon.
Our minds changed. As the clinic progressed through egg donation and embryo creation, we started to feel the distance weighing on us. Not only did the importance of being physically close to where our surrogate would be located but also we began reflecting on how the state laws could impact us.
Just over the last year, Texas has taken sweeping action against access to abortion. So what does that mean for all those in the state considering being a surrogate? If pregnancy complications were to occur, how difficult would it be for a surrogate to access the needed medical care? It's unclear. It's understandable that the change in state law could cause concern for many considering becoming a gestational carrier and therefore limit the pool of people willing to carry in the state. 
Legal implications aside, we want to be there for the ultrasounds, doctor's appointments and of course the childbirth. Being far away from where our surrogate lives makes that difficult. Now, we recommend those considering surrogacy to look into your local laws, determine how those might impact you and then consider the closest reputable IVF clinics in your area before searching far away.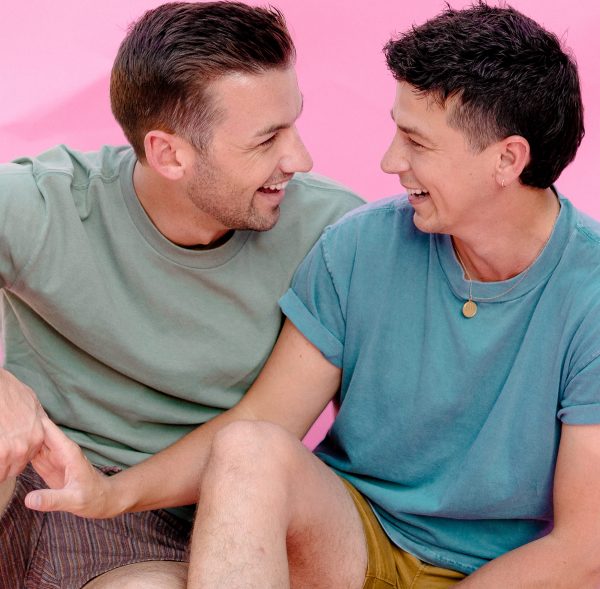 Our embryos were created last December. While 30 eggs were harvested, only five embryos made it to viability. I'm the genetic half of four of the embryos, while Michael is the genetic half to one.
It was a difficult experience. On one hand, we were incredibly happy that we were able to produce five viable embryos. On the other hand, we're extremely nervous.
Our goal starting out was to have twins, each of us the genetic father of one. With only having one embryo on Michael's side, that means there's just one chance at a transfer. If it were to fail, we're just not sure it's financially feasible to repeat the IVF process and try for more embryos.
So, we're hopeful. Optimism can be powerful here, so we look at this as having five embryos–five wonderful chances to have a baby. We might not end up with twins like we first sought to do, but if we've learned one thing from this entire journey, it's that we cannot control what we cannot control. Surrogacy and IVF are seriously unpredictable processes, and we're just hopeful to see what miracle biology will bring.
***************************************************************************************
The preceding commentary was previously published by News Out and is republished with permission.
Matthew Schueller is a content creator and registered nurse. He hosts the "Who's Your Daddy" podcast along with his husband, Dr. Michael Lindsay. You can follow @MichaelandMatt on Instagram, TikTok and YouTube.