Newsom asks Californians to voluntarily reduce water usage amid drought
"The realities of climate change are nowhere more apparent than in the increasingly frequent & severe drought challenges we face in the West."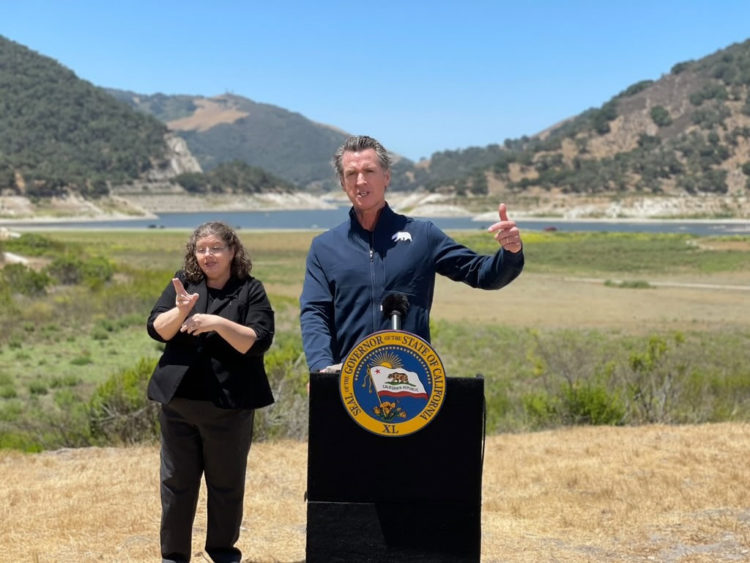 SAN LUIS OBISPO COUNTY – Amid intensifying drought and record-breaking temperatures across the Western United States, Governor Gavin Newsom today added nine counties to the regional drought state of emergency and called on Californians to voluntarily reduce their water use by 15 percent with simple measures to protect water reserves if drought conditions continue and to help maintain critical flows for fish and wildlife wherever possible.
The governor expanded his regional drought state of emergency to apply to 50 California counties, roughly 42% of the state population.
"The realities of climate change are nowhere more apparent than in the increasingly frequent and severe drought challenges we face in the West and their devastating impacts on our communities, businesses and ecosystems," said Newsom. "The entire state is in a drought today, and to meet this urgent challenge we must all pull together and do our part to reduce water use as California continues to build a more climate resilient water system to safeguard the future of our state. We're proud of the tremendous strides made to use water more efficiently and reduce water waste, but we can all find opportunities this summer to keep more water in reserve as this drought could stretch into next year and beyond."
Newsom signed an Executive Order Thursday, calling on all Californians to voluntarily reduce their water use by 15 percent compared to 2020 levels through simple actions such as reducing landscape irrigation, running dishwashers and washing machines only when full, finding and fixing leaks, installing water-efficient showerheads and taking shorter showers. These voluntary efforts complement specific local conservation mandates already in place in some communities experiencing acute water shortage conditions this summer.
State officials estimate an additional 15 percent voluntary reduction by urban water users from 2020 levels could save as much as 850,000 acre-feet of water over the next year for future use, or enough to supply more than 1.7 million households for a year.
The State Water Resources Control Board and the Department of Water Resources will monitor progress on voluntary conservation, reservoir storage, soil moisture and other metrics in the coming months to determine whether additional drought response actions are needed.
To help Californians take simple action to reduce water use by 15 percent, state agencies are partnering with local water suppliers to promote conservation tips through the Save Our Water campaign. The campaign and website were critical resources for Californians during the 2012-2016 drought and remain a trusted information source on using water wisely.
During the 2012-2016 drought, Californians responded to the call to conserve, with many taking permanent actions that continue to yield benefits. Statewide per capita residential water use declined 21 percent between the years 2013 and 2016 and today, the urban sector is using approximately 16 percent less on average statewide than in 2013. Building California's drought and climate resilience, local water suppliers and communities are also bolstering their drought planning and making forward-looking investments in water recycling, stormwater capture and reuse, groundwater storage and other strategies. Agricultural water users have made significant investments in irrigation efficiencies since the last drought. Despite those efforts, many agricultural producers are experiencing severe reductions in water supplies this year and are fallowing land in response.
At Lopez Lake in San Luis Obispo County today, Governor Newsom also signed a proclamation expanding the regional drought state of emergency to include nine additional counties where drought effects are increasingly severe or where state emergency response may be needed: Inyo, Marin, Mono, Monterey, San Luis Obispo, San Mateo, Santa Barbara, Santa Clara and Santa Cruz. This will enable state agencies to more quickly and effectively support drought response through actions such as expediting purchasing and contracting to complete projects that shore up water supplies.
While drought conditions exist across the state, the counties covered by the proclamations are experiencing severe impacts and are likely to benefit from these emergency actions. Following the initial emergency proclamation issued in April for the hardest-hit counties, and its expansion in May, today's executive action brings a total of 50 of the state's 58 counties under the drought state of emergency. The Governor has also directed state agencies to take further actions to preserve critical water supplies, address drought impacts and protect people, natural resources and economic activity.
In May Newsom proposed $5.1 billion in water resiliency investments over four years to bolster the state's emergency drought response, build regional capacity to endure drought and safeguard water supplies for communities, the economy and the environment. The Administration is working with the Legislature to finalize budget investments that will address drinking water challenges in small and disadvantaged communities, support Sustainable Groundwater Management Act implementation and multi-benefit land repurposing and fund projects that improve ecosystem health for native fish and other wildlife, among other priorities.
Actions by the Administration to address drought to date include:
Since the 2019 enactment of legislation to help provide safe and affordable drinking water to communities that lack it, the Water Board so far has provided interim drinking water solutions to 496 communities, provided planning assistance to another 164 communities and provided long-term solutions to 110 small water systems to make them more climate resilient.
State agencies in recent weeks have provided emergency support to several small communities and domestic well users with inadequate water supply problems.
In close coordination with a wide range of stakeholders, state agencies assessed the drought vulnerability of water suppliers and ranked the most vulnerable systems in need of support. The effort also gathered recommendations from stakeholders on ways to improve drought contingency planning.
Building on that assessment of drought vulnerability, the State Water Resources Control Board this year completed the state's first drinking water needs assessment in which it identified small water systems and domestic wells that are failing or at risk of failing to meet the state's drinking water standards.
State review of voluntary water transfers between water right holders has been made more efficient to facilitate the movement of water to places where it is needed most.
The Department of Water Resources (DWR) updated its Household Water Supply Shortage Reporting website, which tracks voluntarily reported supply issues by counties.
DWR installed a temporary emergency rock barrier across a channel in the Sacramento-San Joaquin Delta this summer to help slow the movement of saltwater and prevent contamination of water supplies for Delta agriculture and millions of Californians.
State regulators have modified reservoir operations and water quality regulations to conserve water supplies in key reservoirs.
With stakeholder input, the Administration in 2020 finalized a Water Resilience Portfolio, with more than 100 separate actions to be taken by state agencies to help California's diverse regions endure drought, flood and changing precipitation patterns.
For more tips on saving water, visit www.saveourwater.com.
Learn more about current conditions, the state's response and informational resources available to the public at the state's new drought preparedness website.
If Temecula school board won't do its job, state will says Newsom
"State will deliver the books — and we'll send the district the bill and fine them for violating state law"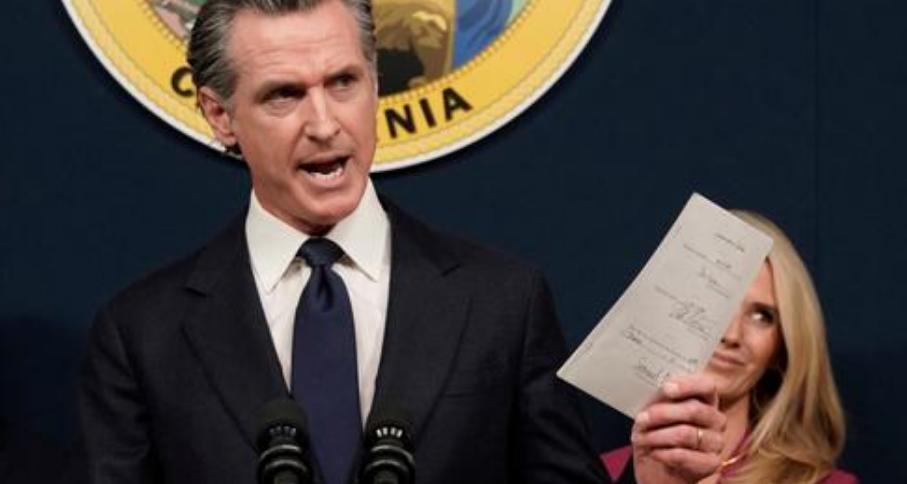 SACRAMENTO – Governor Gavin Newsom, joined by Superintendent of Public Instruction Tony Thurmond, Senate President pro Tempore Toni G. Atkins, Assembly Speaker Robert Rivas, and Assemblymember Dr. Corey Jackson today announced the State of California will begin the process of securing textbooks for students in the Temecula Valley Unified School District and enact legislation to fine school districts for failure to provide adequate instructional materials.
Elementary students in Temecula are slated to begin the school year on August 14, 2023, without enough textbooks for every student because of the school board's decision to reject a widely used social studies curriculum. 
"Cancel culture has gone too far in Temecula: radicalized zealots on the school board rejected a textbook used by hundreds of thousands of students and now children will begin the school year without the tools they need to learn," said Newsom. "If the school board won't do its job by its next board meeting to ensure kids start the school year with basic materials, the state will deliver the book into the hands of children and their parents — and we'll send the district the bill and fine them for violating state law." 
"I am glad to join in this action with Governor Newsom today and thank him for his leadership in calling for Temecula's school board to reverse course to prevent further harm to students," said State Superintendent Thurmond. "Inclusive education promotes the academic achievement and social development of our students.  School Districts should not ban books in California, especially as it harms students of color and LGBTQ+ youth.  AB1078 lays out the structure for today's action and I am proud to have sponsored this bill to protect our students from the harmful effects of book banning, exclusion of inclusive textbooks and discrimination." 
"Censoring learning materials based on bigotry and ignorance prevents our students from getting a good education," said Senate President pro Tempore Toni G. Atkins (D-San Diego). "Culture war extremism doesn't belong in the debate of how to teach our children and school districts should always put students first. That's why I'm pleased the Governor is stepping in to make sure the children in Temecula have textbooks to start the year, and I look forward to working with the Governor and the assembly on a clear legislative solution. We have a duty to help eliminate ignorance in all its forms."
"The antics of the Temecula Valley Unified School District are intolerable and damaging to its students' opportunities to grow, prosper, and succeed," said Assembly Speaker Robert Rivas. "Book bans betray the most basic of California's core values. I hope the members of the school board are able to reflect on their decisions and come to make better decisions for our children's futures."
"Book banning is not acceptable and will not stand in California," said Assemblymember Dr. Corey Jackson. "It is my honor to have the Governor's support of Assembly Bill 1078. This sends a clear message that such actions will not be tolerated. We stand united in our commitment to protect our students' access to diverse educational materials and ensure an inclusive educational environment. We will not go backward. We will meet this historical moment."
Temecula Valley Unified School District's current curriculum is outdated and in violation of state law. Students in the district are forced to use a textbook published in 2006. In the process of acquiring updated textbooks for students in grades one through five on May 16, 2023, school board President Joseph Komrosky asserted false claims about the instructional materials. The board voted by a 3-2 majority to reject the adoption of the new social studies curriculum that was recommended by teachers representing every elementary school in the district and overwhelmingly supported by parents and community members. The textbook, one of four standard programs approved by the state, is routinely and widely used across hundreds of school districts in California.
Following the school board's decision, Governor Newsom and state leaders wrote a letter to school districts statewide highlighting the legal obligations of districts and joined California Attorney General Rob Bonta in demanding information and answers from the board. The administration also began working with the Legislature and Superintendent Thurmond to advance AB 1078 (Jackson) to strengthen state law to ensure students in California have access to adequate instructional materials. Among other provisions, AB 1078 would:
Require a two-thirds supermajority vote for a school board to remove instructional materials or curriculum;
Establish a process for the California State Department of Education to purchase adequate standards-aligned instructional materials for a district, if the district has failed to provide them for students; and
Institute a funding penalty for school districts that do not sufficiently provide standards-aligned instructional materials.
California provides instruction and support services to roughly 5.9 million students in grades transitional kindergarten through twelve in more than 1,000 districts and over 10,000 schools throughout the state. Under Governor Newsom's leadership, education funding is at a record high in California, totaling $129.2 billion in the 2023-24 budget.
Governor Newsom released a video to Temecula parents that can be viewed here. 
Temecula's school board rejected a textbook used by thousands of students & now kids will begin the school year without the tools they need.

If the school board won't do its job, we'll get the book to kids & parents – then bill the district & fine them for violating state law. pic.twitter.com/gpN1TT7AVp

— Office of the Governor of California (@CAgovernor) July 13, 2023
Related: