Right-wing media spreads disputed story attacking trans-inclusive spaces
Police and the California Wi Spa have found no evidence that any trans woman was at the spa despite viral video


By Brianna January | WASHINGTON – Right-wing media — including Fox News and pundits from the Daily Wire — have obsessively covered a potentially fabricated story about a trans woman accessing the women's area of a spa. They used this story to attack trans-inclusive policies and nondiscrimination protections based on an unsubstantiated video, while credible reporting has found no evidence that the incident actually occurred. 
The story involved a June 24 video of a woman berating staff at a California spa for supposedly allowing an unidentified trans woman to access its facilities. However, the Los Angeles Blade reported that the event "may have been staged":
There is increasing doubt among law enforcement and staff at the Wi Spa whether there was ever was a transgender person there to begin with. Anonymous sources within the LAPD tell the Blade they have been unable to find any corroborating evidence that there was a transgender person present on that day.
Similarly, a source at the Spa told the Blade there's no record of any of its usual transgender clients on its appointments guest list on the day in question. Treatment at the Spa is by appointment only, and most of its transgender clients are well known to the staff.
Additionally, the Los Angeles Blade noted that the Instagram user who uploaded the video also posts "almost exclusively Christian memes, which begs the question why she chose to go to a high-end spa well known for being LGBTQ friendly."
After the story gained widespread attention online, anti-trans advocates staged a protest outside of the spa. According to NBC News, the crowd "included apparent QAnon supporters with T-shirts that mention the term 'Pedowood,' a baseless theory about a secret cabal of Satanist child abusers in government, entertainment and the media." Some fought with counter-protesters, and the event was declared an unlawful assembly by police.
For years, anti-LGBTQ media and groups have leveraged disinformation to smear the community and to oppose equal rights, including access to lifesaving medical care, use of public accommodations, and equal opportunity to play sports. Now, conservative outlets are using the California spa story to once again target trans people and attack nondiscrimination protections.
Right-wing media spread the evidence-free story to attack trans women
From June 28 through July 6, Fox News — which regularly attacks and misinforms about the trans community — discussed the story at least six times, despite there being no evidence that it actually occurred. Fox hosts and guests often misgendered trans women and leveraged the story to attack their access to public spaces.
On the June 29 episode of Fox News Primetime, host Jesse Watters and guest Mollie Hemingway of The Federalist falsely claimed that nondiscrimination measures for public accommodations lead to attacks on women. At one point during the segment, Watters admitted, "We don't know if this is some sort of stunt on behalf of the guy or the woman with the camera." Nevertheless, Hemingway continued to claim that this could "have horrific consequences for the entire civilization" and be dangerous to peoples' freedom.
JESSE WATTERS (HOST): What happens when politicians pass laws that allow biological men into the women's room? Well, now we know. Watch what happened at a spa in California this week when a biological woman complained to the staff that a biological man was letting it all hang out in the lady's room.
…
MOLLIE HEMINGWAY (THE FEDERALIST SENIOR EDITOR): Well, this is something that is playing out in scenes across the country as more and more people deal with changes in law and changes in the culture about whether or not we accept the reality that people are male or female, and that those biological distinctions are meaningful and significant. But it's a war on reality to be told that it doesn't matter if female-only spaces are opened up to people who are not women.
WATTERS: We don't know if this is some sort of stunt on behalf of the guy or the woman with the camera — we don't know.
…
HEMINGWAY: It's insanity, yes. Women should have women-only spaces. And it's important, you know, I noticed the woman said that young girls should not be subjected to seeing male genitalia. But no woman should be subjected against her will to seeing male genitalia. It's actually very important. It's important for both sexes to have single-sex spaces.
And as people — a lot of what is being done, I think people want to accommodate people who are struggling with this issue. But what it does is it redefines sex for everybody. And it affects everybody when you change the law or change words to mean things that they don't mean.
And it might sound dramatic, but these types of attacks on reality can actually have horrific consequences for the entire civilization. I mean, the whole reason we're here is because of the distinctions between the sexes: men and women. Men and women get together. They make babies. This is really important stuff, and we need to have that reality and be comfortable with that reality, and it's important that we not take that away or make that sound like something you can't say. If you can't acknowledge that truth, that is very dangerous for your ability to say anything, for you to be a free people, for you to have civilization, and so I applaud this woman for actually standing up for the reality and the truth that so many people who are in positions of power are afraid to say.
On July 6, the same program aired a segment featuring host Mark Steyn and anti-trans writer Abigail Shrier, both of whom used the story to attack the Equality Act and falsely claim it would allow men to access women's spaces. Shrier, citing only the video as evidence, claimed that the unidentified person in the bathroom "had a full beard" and that "this would have been indecent exposure in every state in America going back 150 years. That's a sex crime."
MARK STEYN (HOST): Abigail, what happened at this spa is going to be happening all across the land once Joe Biden's legislation passes.
ABIGAIL SHRIER (ANTI-TRANS WRITER): That's right. You know, the Equality Act now has already passed the House. It's in front of a 50-50 Senate. Joe Biden has already said he would sign it into law. And this grants any male who that identifies as female an all-access pass to women's rights and protective spaces. So, what happened at the Wi Spa, well, we can expect to happen if this passes in every state in America.
…
SHRIER: This was a Korean day spa. It's a place where women bring their young daughters. Girls as young as six were there. And this man who — biological male who exposed himself to these women, he had a full beard and he claimed a right to be there, according to the woman on the video. You know, the girls were very upset. The women were very traumatized, and, you know, this would have been indecent exposure in every state in America going back 150 years. That's a sex crime. But because of our crazy California laws, coming to you, America, he claimed he had a colorable claim that he had a right to be there.
During a June 28 segment on Tucker Carlson Tonight, host Tucker Carlson said the video of the spa client confronting staff "made my day," and guest Tammy Bruce claimed that her "transgender friends … are also appalled." She also lied that trans people do not worry about accessing bathrooms and claimed that the "gay political leadership" is leveraging trans people to fundraise and "keep people divided." (Fox also published a write-up of the exchange on its website.)
TAMMY BRUCE (FOX NEWS CONTRIBUTOR): Here's my concern. That's in California, and there's all kinds of rules and regulations which no doubt impact that business about who they can tell which room to use, or bathroom, or spa room. So that's a major problem, but my concern here is that the average transgender person, and I have perhaps more transgender friends than some of the people watching the program, and they are also appalled. This is not what anybody wants for somebody who is going through the complicated experience of changing their gender, that's a serious dynamic, and you don't need, the last thing you need or you're looking for is the confirmation of using a bathroom or walking in front of a bunch of women and girls to confirm your identity.
So, I think that the gay community in particular, certainly the transgender community, has got to tell that the gay political leadership to stop using us as this weapon to try to keep people divided. But the problem is, Tucker, when gay marriage was approved, and Americans were saying, OK, sure, let's do it. Suddenly, how are you going to raise money? Suddenly, there has to be another controversy. It's like, oh, no. Yeah, there's gay marriage, that's fine. But they still don't want you in the bathroom or in the spa.
I mean, this has got to stop because none of the transgenders want this. Nobody was worried about bathrooms. That's a jerk who goes to do that. That is not someone who is looking at their identity and handling situations appropriately.
The story and protests that followed were also briefly discussed in the July 5 edition of The Story with Martha MacCallum and the July 4 edition of Fox & Friends Weekend.
Right-wing outlets and figures online also used the spa story to fuel their attacks on trans-inclusive policies and to fearmonger about trans women:
On July 7, The Patriot Post republished a blog from Tony Perkins, leader of the extreme anti-LGBTQ group Family Research Council (FRC), attacking President Joe Biden and his support for trans-inclusive nondiscrimination policies.
And this is the "progress" Joe Biden wants to bring to every locker room in America? A wide-open door for men and boys to traumatize our daughters? In the name of tolerance, he's pushing schools to throw children's privacy to the wind and cast their lot with radical transgender policies like this one. If that makes you or your child uncomfortable, this president's response is "too bad." Even now, Biden's Office of Civil Rights is making it clear that in cases like the Wi Spa, where a naked man walks around in front of children in the women's locker room, he's the one who could file a complaint for harassment. And this administration would side with him every time.
The Christian Post published a June 29 article that claimed, "The footage is a real-life example of the concerns women's rights campaigners across the political spectrum and radical feminists have raised in recent years. They argue that it is impossible to simultaneously ensure legal protections on the basis of sex and gender identity."
OneNewsNow, which is part of the larger media apparatus of the extreme anti-LGBTQ group American Family Association, published a June 30 article that fearmongered about trans people in public spaces and cited the group's misleading campaign to boycott Target over its trans-inclusive restroom and dressing room policies.
The angry female customer's surprise and alarm is itself surprising since the controversy over transgenders is anything but new. To date the public has witnessed it in high school and college sports, in the U.S. armed forces, in corporate business, and in the courts.
This week, Nevada's Miss USA-sanctioned beauty pageant witnessed 21 females lose to a biological man who is now headed to the Miss USA contest.
Mississippi-based American Family Association grasped the public-safety issue more than five years ago, when the LGBT-friendly Target Corporation saw an opportunity to brag that its store policy allows transgenders to use the restrooms and changing rooms of their choice.
A second OneNewsNow article from July 7 about the spa protest cited FRC's Gary Bauer, who called the left "crazy" and claimed progressives hate America.
According to Bauer, what brings all of the far-left groups together is a hatred for religious faith and for the traditional nuclear family.
"The Left is crazy and they show it every day," he tells One News Now. "There's only one thing that unites them all: It's a hatred for America, a hatred for normalcy, and their desire to bring down this country because it's been built on Judeo-Christian values."
Other anti-trans outlets that spread the spa story include The Post Millennial, FaithWire, TheBlaze, RealClearPolitics, and The Daily Wire, which published two articles that earned more than 127,000 combined Facebook interactions. Additionally, The Daily Wire's anti-trans pundit Matt Walsh spread the story on Twitter, earning more than 35,000 likes, retweets, and comments.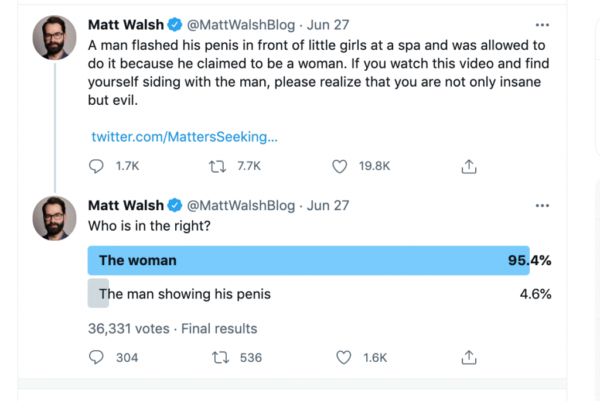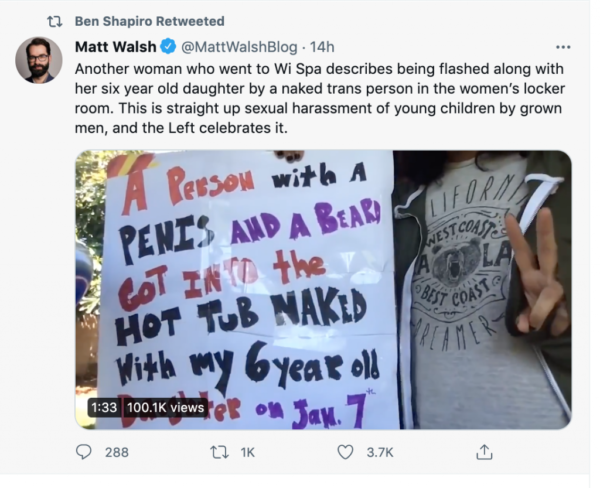 Additional research & reporting by Alex Paterson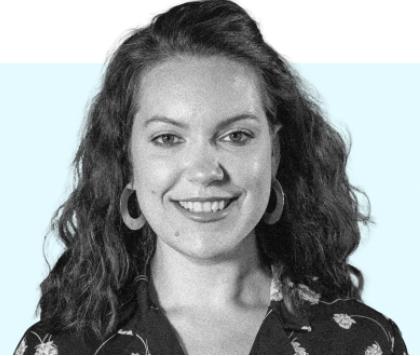 Brianna January is a researcher for the LGBTQ program at Media Matters. Brianna holds a Masters in Public Policy from the University of Maryland School of Public Policy and has a background in LGBTQ human rights and advocacy.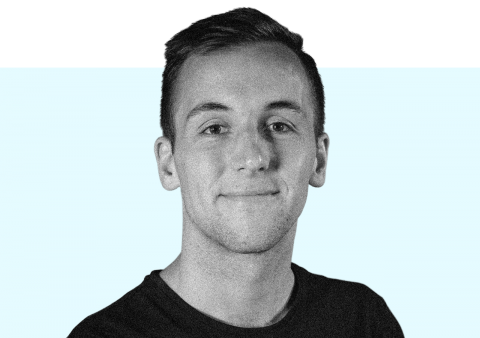 Alex Paterson is a researcher for the LGBTQ program at Media Matters, where he has worked since 2019. Alex holds a bachelor's degree in economics from Montana State University and has a background in LGBTQ advocacy, including previous work at the National LGBTQ Task Force and the U.S. Department of Health and Human Services.
The preceding article was originally published by Media Matters for America and is republished here by permission.
Alarming numbers of Texas Trans kids in crisis over litany of anti-Trans bills
"Under the guise of protecting children- Texas legislators are directly harming thousands of transgender & nonbinary youth"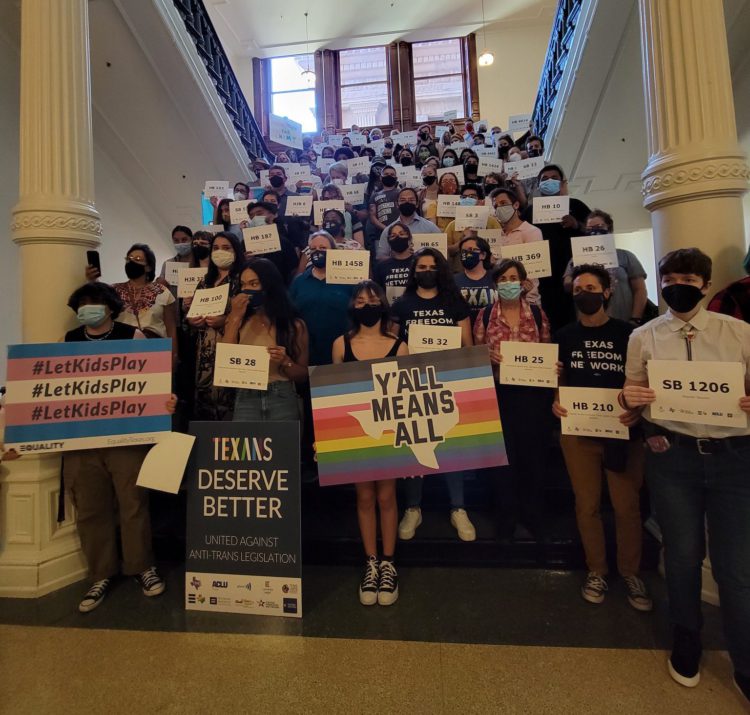 NEW YORK – The Trevor Project received nearly 4,000 crisis contacts from transgender and nonbinary youth in Texas in 2021, with many directly stating that they are feeling stressed and considering suicide due to anti-trans laws being debated in their state.
This new data comes during a year when Texas lawmakers have proposed nearly 70 anti-LGBTQ bills, including more than 40 bills that specifically target transgender and nonbinary youth — far more than any other state.
The Texas State Senate passed its anti-trans sports ban SB3 this week, and the companion bill HB10 is now moving forward in the Texas House.
Republican Texas Governor Abbott has prioritized SB 3 and called for a third consecutive special session of the legislature to consider this bill, which would ban transgender student-athletes from playing on sports teams consistent with their gender identity.
"The Trevor Project's crisis counselors have been hearing from transgender and nonbinary youth in Texas who are scared and worried about anti-trans laws being debated in their state — and some have even expressed suicidal thoughts. This is a crisis. We urge Texas lawmakers to consider the weight of their words and actions — and to reject HB10/SB3," said Amit Paley, CEO and Executive Director of The Trevor Project.
Between January 1 and August 30, 2021, The Trevor Project received more than 10,800 crisis contacts (calls, texts, and chats) from LGBTQ young people in Texas looking for support. More than 3,900 of those crisis contacts (36%) came from transgender or nonbinary youth.
Crisis contacts from LGBTQ young people in Texas seeking support have grown over 150% when compared to the same time period in 2020.
While this volume of crisis contacts can not be attributed to any one factor (or bill), a qualitative analysis of the crisis contacts found that:
Transgender and nonbinary youth in Texas have directly stated that they are feeling stressed, using self-harm, and considering suicide due to anti-LGBTQ laws being debated in their state.
Some transgender and nonbinary youth have expressed fear over losing access to sports that provide important acceptance in their lives.
"As a transgender young person in Texas, this new data from the Trevor Project is not surprising, but it's nonetheless harrowing and alarming to see this representation of the detrimental impact Texas Lege is having on our community — especially our kids. Lawmakers and proponents of bills like SB3 and HB10 should be alarmed by these statistics, too," Landon Richie a Trans youth activist and GenderCool Youth Leader from Houston told the Los Angeles Blade.
"Under the guise of protecting children and promoting fairness, Texas legislators are directly harming thousands of transgender and nonbinary youth, denying them the dignity, respect, and childhoods that they deserve. It's never an exaggeration to say that the passage — and merely debate — of these bills will cost lives," Richie added.
National mental health organizations like The Trevor Project and state LGBTQ equality groups including Equality Texas and Transgender Education Network of Texas (TENT) are raising concerns about the impact of such legislation on the mental health and wellbeing of transgender and nonbinary youth.
The Trevor Project's 2021 National Survey on LGBTQ Youth Mental Health found that more than half (52%) of transgender and nonbinary youth seriously considered suicide in the past year and 1 in 5 attempted suicide. Further, Trevor released a new research brief earlier this month on LGBTQ youth participation in sports, which found that a majority of LGBTQ young people (nearly 66%) do not actively participate in sports — with many citing fear of bullying and discrimination as a key factor for not participating.
If you or someone you know needs help or support, The Trevor Project's trained crisis counselors are available 24/7 at 1-866-488-7386, via chat at TheTrevorProject.org/Help, or by texting START to 678678.
2nd largest school district in Utah bans Pride & BLM flags as 'too political'
"We have to have a politically neutral classroom, and we're going to educate the students in the best possible way that we can"
FARMINGTON, Ut. – Administrators this week in the Davis School District, which is Utah's 2nd largest school district with 72,987 students, banned LGBTQ Pride and Black Lives Matter flags, saying they are 'politically charged.'
According to the Salt Lake City Tribune, Davis Schools spokesperson Chris Williams told the paper; "No flags fly in our schools except for the flag of the United States of America." Williams later walked that statement back adding a clarification that some of the Districts schools have flags from sports team or international countries which are considered "unrelated to politics."
"What we're doing is we're following state law," said Williams. "State law says that we have to have a classroom that's politically neutral."
Amanda Darrow, Director of Youth, Family, and Education at the Utah Pride Center in Salt Lake City, told multiple media outlets the school district is "politicizing the rainbow flag" which doesn't belong on a political list.
"That flag for us is so much more," said Darrow. "It is just telling us we're included in the schools, we are being seen in the schools, and we belong in these schools."
KUTV CBS2 News in Salt Lake City checked with the Utah State Board of Education. In an email, spokesman Mark Peterson said, "There is nothing in code that specifically defines a rainbow flag as a political statement so it would be up to district or charter school policies to make that determination."
The local Utah chapter of the American Civil Liberties Union also weighed in saying in a statement;
"Whether or not a school district has the legal ability to ban inclusive and supportive symbols from classrooms, it is bad policy for them to do so," the advocacy organization said in a statement. "Utah schools have an obligation to ensure that all students, regardless of their sexual orientation or gender identify, feel welcome inside a classroom. We urge school administrators and teachers to adopt policies that make all students feel safe and included."
Williams insisted the policy is not meant to exclude anyone and that all students are loved and welcomed – they just want to keep politics out of school he told the Tribune and KUTV.
"We have to have a politically neutral classroom, and we're going to educate the students in the best possible way that we can," said Williams.
A Utah based veteran freelance journalist, writer, editor, and food photographer weighed in on Twitter highlighting the negative impact of the Davis Schools decision on its LGBTQ youth.
Davis County school district has banned BLM & pride flags and other symbols saying they are politically charged.

This is why the number 1 killer of Utah kids is suicide, especially among LGBTQ youth. Nearly 52% say they have frequent suicidal ideation.https://t.co/twSZwWvWVl

— Kaz Weida (@kazweida) September 21, 2021
Davis County School District bans LGTBQ and BLM flags as 'too political'
Extremist Anti-LGBTQ legal org petitions Supreme Court in Colorado case
Lorie Smith said the law violated her freedom of speech and religious expression, forcing her to design wedding websites for same-sex couples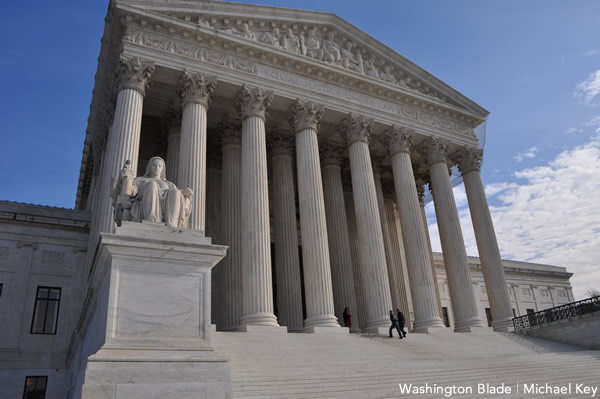 SCOTTSDALE, Az. – The Alliance Defending Freedom, (ADF)- listed by the Southern Poverty Law Center as an anti-LGBTQ extremist hate group, are appealing a July ruling by a three judge panel of the U.S. 10th Circuit Court of Appeals. The case stemmed from a Lakewood, Colorado based web designer, who sued to challenge Colorado's anti-discrimination law. ADF filed its appeal Friday, asking the U.S. Supreme Court to review that ruling.
Lorie Smith, claimed in court filings that the Colorado law violated Smith's freedom of speech and freedom of religious expression, citing that it would force her to design wedding websites for same-sex couples which violated her 'Christian' beliefs.
In its 2-1 ruling, the 10th Circuit panel said Colorado had a compelling interest in protecting the "dignity interests" of members of marginalized groups through its law.
In a statement issued by ADF, the Arizona based firm claimed; "The 10th Circuit issued an unprecedented decision in the case, 303 Creative v. Elenis, holding that Colorado's Anti-Discrimination Act both forced Lorie "to create websites—and thus, speech—that [she] would otherwise refuse," and also created a "substantial risk" of removing "certain ideas or viewpoints from the public dialogue," including Lorie's beliefs about marriage."
ADF added; "The lawsuit contends that Colorado Revised Statute § 24-34-601(2)(a) violates the First Amendment's Free Speech and Free Exercise clauses. The state law is the same one the commission twice used against Masterpiece Cakeshop cake artist Jack Phillips, who is currently being harassed by an activist attorney in a third lawsuit that also attempts to use Colorado's law against him. After a trial resulted in a decision against Phillips, ADF attorneys representing him and his shop have appealed that case to the Colorado Court of Appeals."
BREAKING: Web designer asks U.S. Supreme Court to reverse 'Orwellian' decision forcing her to express messages against her beliefs

Read more: https://t.co/acfLrZYzrs pic.twitter.com/3pj1QvtAVe

— Alliance Defending Freedom (@AllianceDefends) September 24, 2021
The Supreme Court in the Masterpiece Bakeshop case narrowly ruled in a 7–2 decision, the Colorado Civil Rights Commission had not acted employing religious neutrality. In the decision Associate Justice Anthony Kennedy, writing for the court majority on Monday, said it is "unexceptional" that Colorado law "can protect gay persons in acquiring products and services on the same terms and conditions that are offered to other members of the public," but at the same time, "the law must be applied in a manner that is neutral toward religion."
The high court however did not rule on the broader intersection of anti-discrimination laws, free exercise of religion, and freedom of speech, and whether a business can invoke religious objections to refuse service to LGBTQ people.
Colorado Solicitor General Eric Olson questioned whether Smith should even be allowed to challenge the law since she had not started offering wedding websites yet, the Associated Press reported.
But if she did, Olson said, her argument would mean she would refuse to create a website for a hypothetical same-sex couple named Alex and Taylor but agree to make the same one for an opposite-sex couple with the same names. He said that would be discrimination under the Colorado Anti-Discrimination Act, which prohibits discrimination on the basis of sexual orientation.
Judge Mark Beck Briscoe wrote in Monday's majority opinion (303 Creative, et al. v. Elenis, et al.) that "we must also consider the grave harms caused when public accommodations discriminate on the basis of race, religion, sex, or sexual orientation. Combatting such discrimination is, like individual autonomy, `essential' to our democratic ideals."
In his dissent, Chief Judge Timothy Tymkovich wrote that "this case illustrates exactly why we have a First Amendment. Properly applied, the Constitution protects Ms. Smith from the government telling her what to say or do.