Final California budget includes $3M for LGBTQ+ teacher training
"At a time when states across the country are attacking transgender kids, we are elated that California has taken this momentous step…"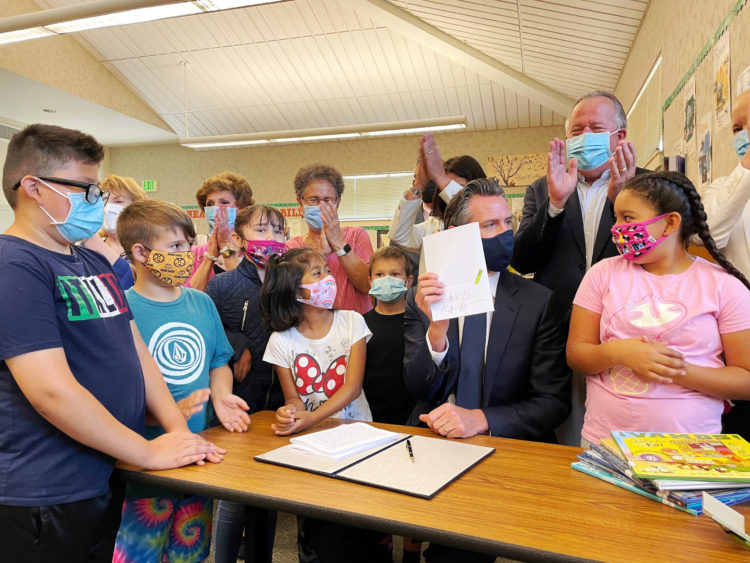 SACRAMENTO – Governor Gavin Newsom approved $3 million for the California Department of Education to develop an LGBTQ+ cultural competency training curriculum for public school teachers and staff on Monday. $2,402,000 of the funding request was included in AB 130, while the remaining $598,000 was approved in SB 129. The funding was requested by Equality California and supported by the Legislative LGBTQ Caucus.
The final budget allocation is a significant victory for the LGBTQ+ community and for Equality California, which has long advocated for such training, arguing that it is critical to ensuring teachers have the tools and training to support LGBTQ+ students, who face lower school completion rates, higher rates of depression and suicidal ideation and higher rates of youth homelessness. As many as four out of 10 youth experiencing homelessness in California identify as LGBTQ+.
In 2021 alone, state legislatures and governors across the country have introduced and enacted record numbers of legislation targeting transgender youth. According to Trevor Project's 2021 National Survey on LGBTQ Youth Mental Health, 42% of LGBTQ youth seriously considered attempting suicide in the past year, including more than half of transgender and nonbinary youth.
"There's no doubt that our schools must be a safe, supportive and welcoming for all students," said Equality California Executive Director Rick Chavez Zbur. "At a time when states across the country are attacking transgender kids, we are elated that California has taken this momentous step toward ensuring that public school teachers and staff have the tools and training they need to support LGBTQ+ students."
In 2018, State Superintendent of Public Instruction Tony Thurmond — then a member of the California Assembly — passed legislation sponsored by Equality California to require school districts to provide teachers and staff with LGBTQ+ cultural competency training, but the bill was vetoed by Governor Jerry Brown. The following year, then-Assemblymember Todd Gloria — who now serves as mayor of San Diego — authored similar legislation sponsored by Thurmond and Equality California, but the training mandate was ultimately stripped from the bill due to lack of funding.
"I am thankful to the Governor and the Legislature for prioritizing funding in the proposed budget for training and resources to support LGBTQ+ students," said Thurmond. "Creating positive learning environments starts with us making our schools safe and inclusive for all students."
The California Federation of Teachers and California Teachers Association — the state's two largest teachers unions — have strongly supported Equality California's proposals to ensure public school teachers and staff have the tools and training they need to support LGBTQ+ students.
"Our educators and classified school professionals are on the front lines every day, making sure every student feels safe, supported and ready to learn in school," said California Federation of Teachers President Jeff Freitas. "The $3 million allocation to develop LGBTQ+ cultural competency training for school workers will help ensure they have the tools they need to best support LGBTQ+ students. As the president of CFT, as a math teacher, and as a board member of Equality California, I am so grateful to Governor Newsom, Superintendent Thurmond and the Legislature for their dedication to our LGBTQ+ students, teachers and the community."
GLSEN's 2019 National School Climate Survey found that 52.4% of students reported that their teachers or other school staff made homophobic remarks, and 66.7% of students reported that their teachers or other school staff spoke negatively about students' gender expression. These remarks pose a risk of immediate harm to students' well-being. These statistics also suggest that students may be learning anti-LGBTQ+ language and perspectives from school personnel, perpetuating the societal cycle of anti-LGBTQ+ stigma that feeds the negative health, economic and other disparities that LGBTQ+ people experience.
Beyond remarks, a staggering 86.3% of LGBTQ+ students experienced harassment or assault based on their sexual orientation, gender expression, or other personal characteristics. Over half (56.6%) of these LGBTQ+ students never reported the harassment or assault to school staff for a variety of reasons, including a fear of escalation, a belief that school staff would not effectively intervene, shame, the involvement of school staff in the harassment or assault, or other concerns. When students did report incidents, 60.5% of them said that staff did nothing.
Governor Newsom announces new gun safety legislation
In 2021, Calif. was ranked as the #1 state for gun safety by the Giffords Law Center, seeing a 37% lower gun death rate than national average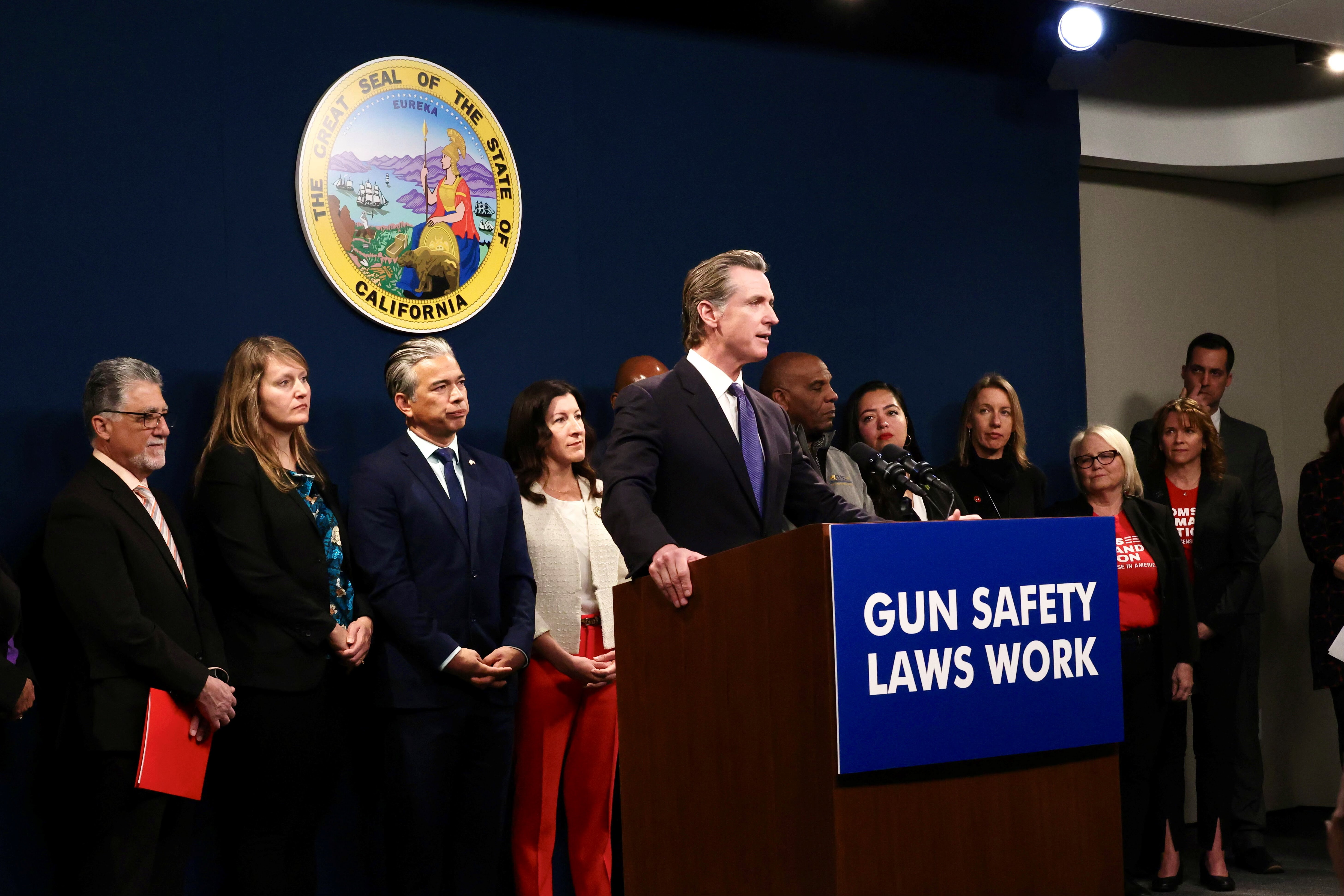 SACRAMENTO – In the wake of multiple mass shootings that took the lives of 19 Californians in just 72 hours last week, Governor Gavin Newsom, Attorney General Rob Bonta, and Senator Anthony Portantino (D-Burbank) announced new gun safety legislation to modernize and strengthen California's public carry laws.
"Only in America do we see the kind of carnage and chaos of gun violence that destroys our communities and our sense of safety and belonging," said Newsom. "America is number 1 in gun ownership and we far surpass every developed nation on Earth in gun deaths – it's not complicated. In California, we've passed common sense gun safety laws and they work: we have a 37% lower gun death rate than the national average. We're doubling down on gun safety and strengthening our public carry law to protect it from radical Republican attacks."
According to the Center for American Progress, efforts to weaken concealed carry laws across the country have increased violent crimes – with studies showing gun homicides increased by 22% in states that passed permitless carry laws and violent crimes with a firearm went up 29%.
Newsom signed a package of gun safety laws last year, making it easier for Californians to sue manufacturers of illegal assault weapons and those spreading them, allowing lawsuits against irresponsible gun industry members, strengthening prohibitions on ghost guns, as well as restricting marketing to minors. 
"The mass shooting incidents we have seen over recent weeks bring to light the need for stronger protections for our communities. The fact is, individuals who are not law-abiding, responsible citizens simply shouldn't possess firearms — and they especially shouldn't be allowed to carry a concealed weapon in public. When a gun is placed in the wrong hands, it is deadly," said California Attorney General Rob Bonta. "The Second Amendment is not a regulatory straightjacket — we must protect our communities. The time for thoughts and prayers has long passed, we need brave and immediate action by our leaders – here in California and beyond. We owe our community stronger protections. I urge our state leaders to quickly adopt SB 2. We can't afford to wait even one minute more."
Last June, the U.S. Supreme Court struck down a New York law, aspects of which mirrored California's public carry laws, and the legislation announced today – Senate Bill 2 by Senator Portantino – would make fixes necessary to update the standards and processes for obtaining a public carry permit in California.
Senate Bill 2 strengthens California's restrictions regarding public carry laws by:
Enhancing the existing licensing system – ensuring those permitted to carry firearms in public are responsible and law-abiding individuals;
Protecting children – setting a minimum age requirement of 21 years of age to obtain a CCW license;
Advancing stronger training requirements – ensuring proper handling, loading, unloading, and storage of firearms; and
Identifying certain sensitive public places – establishing safe community places where people should expect freedom from gun violence.
"In the wake of the recent tragedies in Monterey Park and Half Moon Bay and the continued threat of mass shootings, it's critical that California leads on the issue of gun safety and reform. I am proud to be working with Governor Newsom, Attorney General Bonta and activists on SB 2 to strengthen our existing public carry laws and ensure every Californian is safe from gun violence.  We must be diligent in addressing the gun violence epidemic in our country and public carry laws are a key component of this," said Senator Anthony Portantino.
California launched an 18-month campaign to promote gun violence restraining orders – "red flag laws" – that allow law enforcement, family, coworkers or friends to petition a court to temporarily remove weapons from people deemed dangerous to themselves or others. A study from the Violence Prevention Research Program at the University of California, Davis found that California's red flag law was used to stop 58 threatened mass shootings since 2016.
California's gun safety laws work. In 2021, California was ranked as the #1 state for gun safety by the Giffords Law Center, and the state saw a 37% lower gun death rate than the national average.
According to the CDC, California's gun death rate was the 44th lowest in the nation, with 8.5 gun deaths per 100,000 people – compared to 13.7 deaths per 100,000 nationally, 28.6 in Mississippi, 20.7 in Oklahoma, and 14.2 in Texas.
Moms Demand Action Founder Shannon Watts noted: "The Supreme Court's reckless Bruen decision opened up the floodgates for more guns in more places — but with this bill California once again renewed its commitment to being a national leader in the fight against gun violence. While the gun industry celebrated the ruling that put their profits over our safety, our grassroots army is proud to stand with our Gun Sense Champions in California to pass this critical bill and make our communities safer."
"Following the Supreme Court's egregious decision in the Bruen case, it is vital that the Golden State takes meaningful action to protect all Californians from the threat of gun violence. SB2 would do just this by updating and improving the state's already strong concealed carry license system, and ensure that loaded and concealed weapons are not allowed in certain sensitive places. With SB2, leaders in California are continuing their leadership in prioritizing the public health and safety of all its citizens," said Brady Campaign President Kris Brown, adding "Brady applauds Senator Portantino for introducing this important bill, and thanks Governor Newsom and Attorney General Bonta for their continued leadership on this issue, and urges the California legislature to pass it without delay."
Giffords State Policy Director Ari Freilich stated: "In the face of tragedy, California's leaders act. They've led the nation on gun safety reform and made California a much safer state than most. But today, grieving communities know all too well how much more work there is to do. California achieved an all-time record low gun fatality rate in 2019. But like the rest of the country, we have faced record spikes in gun sales and violence since the start of the pandemic and a flood of new weapons in public spaces as a result of the US Supreme Court's dangerous Second Amendment ruling last year. Passing SB (2) will strengthen communities' ability to respond to these threats by requiring stronger vetting and safety training to carry weapons in public and by designating vital community spaces like parks and playgrounds as off-limits to weapons throughout the state. We thank leaders like Governor Newsom, Attorney General Bonta, and Senator Portantino for their work and commitment to make all Californians safer and freer from violence."