Guest Viewpoint; It's Time for a New Generation of Democratic Leaders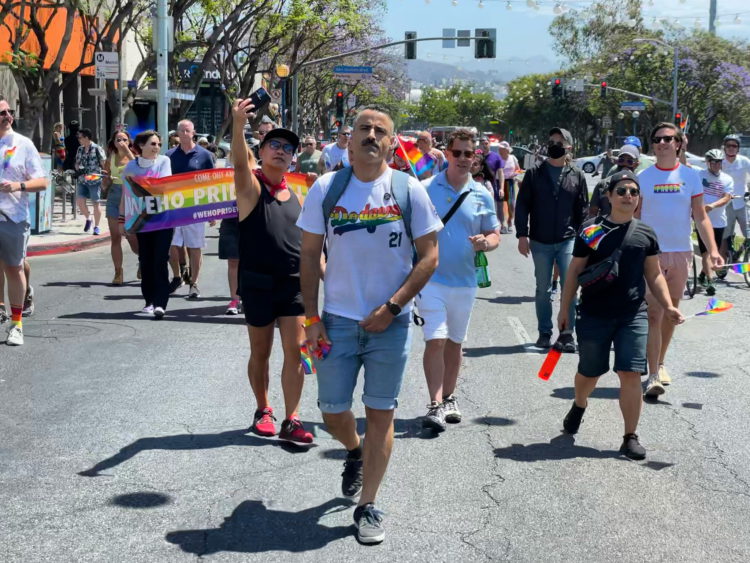 By Alex Mohajer | LOS ANGELES – Last month, I announced that I am running for President of the Stonewall Democratic Club, one of the nation's oldest feminist LGBTQ+ political advocacy organizations, based right here in Los Angeles County. If elected, I will be the first millennial and the first Iranian American to lead this organization in its storied history. Ours is a diverse and powerful community, one that has had to fight for every inch of recognition and rights that we have today.
And that fight is not over.
The world is a different place in 2021 than when I first joined the Stonewall Steering Committee in 2019, and the nation is at an inflection point. George Floyd's murder last May, the Capitol insurrection, an increasingly authoritarian GOP, the assault on voting and transgender rights, and an upcoming Supreme Court challenge that may curtail reproductive rights for women have revealed a country in crisis. We are being asked as an organization, as a party, and as a country to confront ways in which we have participated in systems and institutions that have failed to enfranchise marginalized members of our community.
For LGBTQ+ organizations, that means people of color and trans folks, to whom our namesake, "Stonewall," imputes upon us a unique responsibility. The rallying cries that have echoed throughout the history of our movement, "Stonewall means fight back" and "silence equals death," are more poignant now than ever.
We hear a lot of verbiage around diversity, equity, and inclusion lately, but in order to lead the party into the future, we have to be willing to have a healthy dialogue about our values and our priorities, to disrupt power structures that have not done enough for the most vulnerable among us. We have to be willing to pursue actual connections to the communities we seek to represent, rather than to wield power and connections as if they are qualifications.
The first step to any real growth is acknowledging where we have fallen short. We do not have time to sit on the sidelines or play by old rule books. The time for change is right now.
The paradigm is shifting. The country is changing. And the Democratic Party is evolving. If we want to remain viable as a movement, we have to meet the moment and be willing to pass the baton to new voices that are ready and able to lead. We need fresh ideas, a more inclusive perspective, and leaders that reject politics as usual. We can seek to cultivate our relationships with elected officials while holding them to account when needed. We can grow our community with an eye towards community-based coalition building outside of just West Hollywood. We can finally become a true rainbow coalition. But to do so will require moral clarity and courage, and above all, it requires change.
If the upset Democratic victories in Georgia and Arizona offer a political lesson, it's that enfranchising voices new to the process, voices that have been otherwise left behind, is the key to the success of our party and the country. And ultimately, it's the moral and just way forward.
Groups like the New Georgia Project and Fair Fight are doing it. They have been doing it. And at Stonewall, we can do it, too.
As president, I will seek to revive our focus on LGBTQ+ candidates and causes. In my first 60 days, I will form an Ad Hoc committee to review our existing bylaws line-by-line and propose a series of amendments that will ensure that we are transparent, inclusive, accessible, and provide for accountability. This will include the implementation of term limits, new Steering Committee positions, and a diversity task force.
We will honor the legacy of the Stonewall riots by standing unwaveringly with Black, Asian, and trans lives in the face of unprecedented assaults on those communities. We will expand our outreach efforts to trans, BIPOC, and young people all over Los Angeles County, and we will revitalize and recruit for our Leadership Training Program, which will not only foster and cultivate new leaders, but give them a seat at the table with an eye towards who will succeed us in the future.
We can truly make the LGBTQ+ community the most powerful voting bloc in the nation if we do the work to unite around our common goals. This race will be a test of our values, and I will be calling for a secret ballot on July 26th. I encourage Stonewall members to join us on Zoom and vote your conscience. Together, we can deliver the Democratic Party into the future.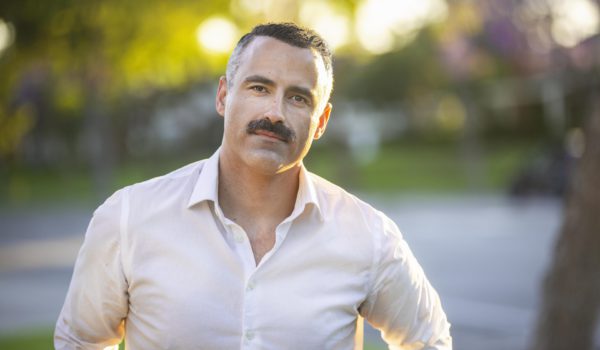 Alex Mohajer is a political organizer, activist and journalist with bylines at HuffPost, USA Today, and Medium.
He holds a B.A. from UC Berkeley and a J.D. from Chapman University School of Law.
Photo courtesy of Alex Mohajer
The views expressed are strictly those of the author and do not reflect the views or opinions of the publisher and staff of the Los Angeles Blade, or Los Angeles Blade Media LLC.
Publishing this article does not constitute endorsement by the publisher and staff of the Los Angeles Blade, or Los Angeles Blade Media LLC.
It's about visibility not 'labels' & it's about 'erasure' & LGBTQ+ identity
LGBTQ+ isn't a "label" it is a state of being that a human is born with and must be acknowledged, especially by an LGBTQ+ publication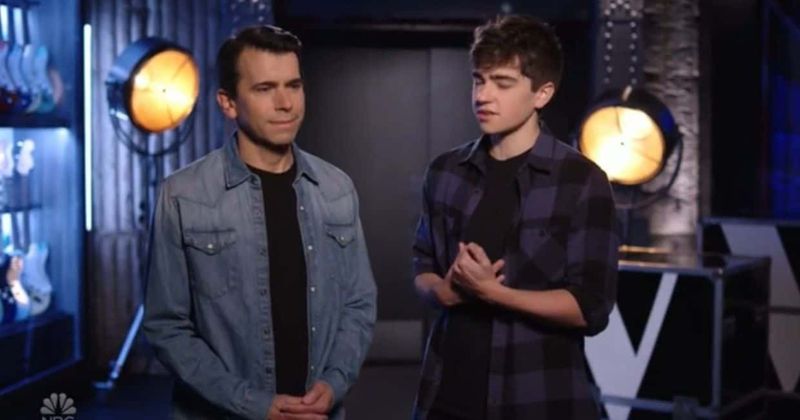 SANTA CRUZ – Nearly everyday there are comments posted to the Facebook page of this publication asking why the terms Lesbian, Gay, Bisexual, Transgender, Queer, or Out or openly LGBTQ et cetera are necessary in reporting a story or used in a headline.
The short and most obvious answer of course is that this news publication is about, written by, and published for the LGBTQ+ community, its allies and that's that. Sadly, in today's political environment and frankly echo chambers both left and right that message doesn't seem to resonate.
On Saturday this newspaper published a story about the people depicted above, a father and son musical duo who competed on NBC's 'The Voice.' Nothing special? Actually no, there was indeed something extraordinary, the son is Trans, and that fact was noted in the headline. There was a question raised by a commenter- why did the person being Trans matter?
In a single precise explanation, it is about visibility and for LGBTQ+ youth in particular that is a critical life altering reality. The youth need to be able to see themselves in other people, they need to be able to contrast and compare, and most assuredly they need that affirmation that their sexual identity or gender identity, or both, is validated.
While as Editor I'll delete hate filled vitriol and just plain internet trolling by those who hide behind their keyboards and pass judgements in a New York minute, but I have left the comments that ask why it is so necessary to "label" up because there is a need for those people to ask that question and then maybe have members of the community answer.
LGBTQ+ people, young, middle aged, even seniors need to read documentation that their stories are part of a greater community. There is not a difference for the LGBTQ+ community than there is for other minorities in this regard- Black, LatinX, Asian, First Nation, (Native American) and so forth. That documentation of these stories is validation and is also very much embracing the uniqueness that characterizes any grouping of humanity.
Yes, it IS important to say so and so is L,G,B,T, or Q+ and yes while inclusivity and full equality is very much the desired and longed for ultimate outcome, it would be a disservice to simply erase the essence of a person's being and the complexity of the human factor.
Removing the sexual orientation and or gender identity, simply because one wants to see a so-called level playing field when the reality is that the LGBTQ+ community is far from that playing field and certainly no where near any semblance of equal treatment?
That would be erasure. LGBTQ+ isn't a "label" it is a state of being that a human is born with and must be acknowledged, especially by an LGBTQ+ publication.
*******************
Brody Levesque is a veteran journalist and the Editor of the Los Angeles Blade.
The 10th anniversary of the official end to 'Don't Ask, Don't Tell'
The lives of 14,000 gay, lesbian and bisexual servicemembers were ruined by the time DADT officially ended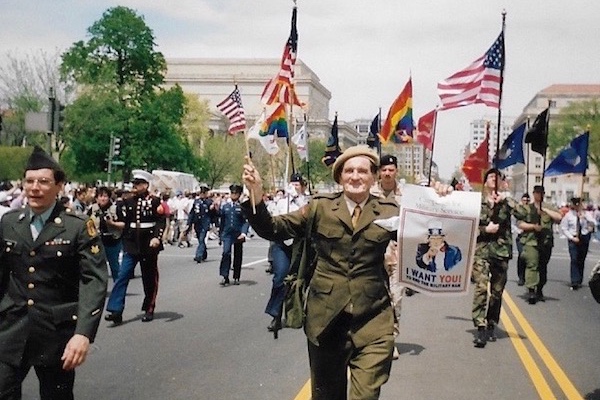 By Karen Ocamb | WEST HOLLYWOOD – Franklin Burch was ecstatic marching down the street waving a small American flag and an "Uncle Sam: I Want You" poster during the March on Washington for Lesbian, Gay, and Bi Equal Rights and Liberation. "Gays and lesbians have a right to serve," the 70-year old gay vet from Los Angeles told the Washington Post on April 25, 1993. "This is America, and we have these rights."
An estimated 700,000 LGBTQ and allies agreed, marching past the White House and pouring onto the Mall, many grasping for hope during the horrific Second Wave of AIDS. An idealistic optimism was palpable. Gays had voted en masse to elect Bill Clinton as President of the United States, ejecting the Reagan-Bush administration that ignored the deaths of a generation of gay men. Clinton had promised money for AIDS research and pledged nondiscrimination policies, including lifting the ban on gays and lesbians serving in the military.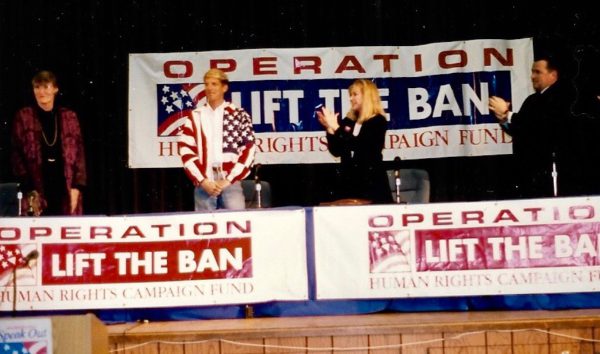 ANGLE's David Mixner, a Clinton friend from the anti-Vietnam War days, strenuously pointed out that the US military was America's largest employer, enabling gay people stuck in hateful environments to get out, get an education, see the world and serve their country. Not giving gays that opportunity was unfair, and therefore, unAmerican.
The March on Washington program opened with a stunning Robin Tyler-produced encapsulation of the moment – a sense of pride in our patriotism. To a recording of military theme songs, flag-bearing gays and lesbians who had been drummed out of the military marched onstage, accompanied by some active-duty military coming out publicly based on Clinton's promise.
Navy Petty Officer Keith Meinhold and Army Col. Margarethe "Grethe" Cammermeyer ended the procession, with Cammermeyer calling everyone to attention. The crowd – including me – stood at attention, too, tears streaming down our faces at the courage of our people to serve a country that still treated us as deviants.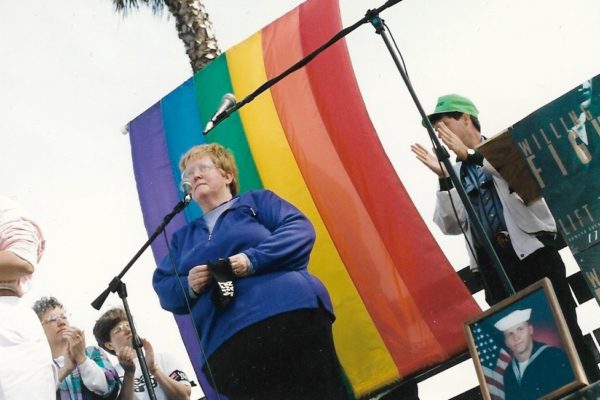 Then Dorothy Hajdys took the stage carrying a framed photo of her son, Petty Officer Third Class Allen Schindler, murdered six months earlier in a public toilet in Sasebo, Nagasaki, Japan by two shipmates. The coroner said Schindler's injuries were worse "than the damage to a person who'd been stomped by a horse." Schindler could only be identified by the tattoos on his arm. The March on Washington crowd gave Hajdys a 10-minute standing ovation. We knew the cost of freedom.
House Speaker Nancy Pelosi read a letter from Clinton, who didn't attend or send a video, as expected. "I stand with you in the struggle for equality for All Americans, including gay men and lesbians," Clinton wrote. "In this great country, founded on the principle that all people are created equal, we must learn to put aside what divides us and focus on what we share."
Liberal Democratic icon Senator Edward M. Kennedy spoke via an audio tape, comparing our March to the famous civil rights march of 1963. "We stand again at the crossroads of national conscience," Kennedy said.
But there were hints of a coming storm. Robin Tyler tore a Clinton telegram of apology on stage as unacceptable. "A Simple Matter of Justice" banner flapped in the background as beloved ally actress Judith Light said: "I am grateful to you, the gay and lesbian community, for the impact you are having on all of society. I am grateful for your teaching Colin Powell about equal opportunity. I am grateful for your teaching Sam Nunn about moving into the 20th Century. I am grateful for your teaching George Bush about the consequences of irresponsible neglect and misuse of power. And you are in the process of teaching President Clinton the importance of being a leader and the dangers of compromising with what is right and just."
But teaching doesn't equal lessons learned. Clinton betrayed us, agreeing to a Nunn-devised "compromise" on lifting the gay ban called "Don't Ask, Don't Tell, Don't Pursue." Democratic Sen. Sam Nunn and Republican John Warner evoked horrific "gay sexual predator" images as they went aboard a submarine to ask sailors how they'd feel lying in such proximity to a gay shipmate. The subtext was clearly an invitation to harass those suspected of being gay and lesbian. Witch hunts were sport.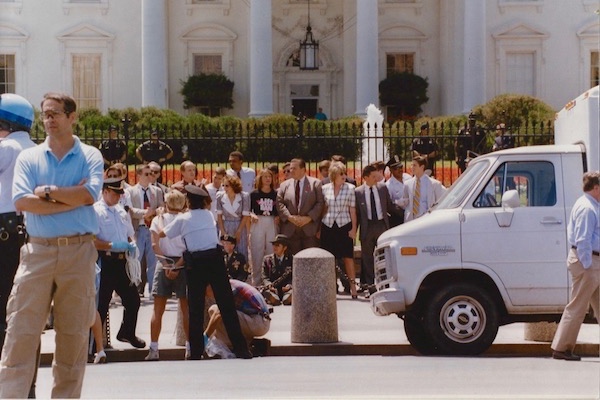 The cruelty of DADT went beyond the physical. If a buddy on the frontlines in Iraq or Afghanistan was killed by an improvised explosive device (IED), the gay servicemember could not share the fear, the pain, the trauma because letters back home were checked and psychiatrists and chaplains had to report gay-related confessions. The lives of 14,000 gay, lesbian and bisexual servicemembers were ruined by the time DADT officially ended a decade later, on Sept. 20, 2011.
Today, marking the 10th anniversary of the official repeal, the Veterans Administration concedes it is still catching up with all the damage governmental politics created. It's estimated that more than 114,000 LGBTQ servicemembers or those perceived to be LGBTQ were discharged between Franklin Burch's service in World War II and the repeal of DADT.
"Although VA recognizes that the trauma caused by the military's decades-long policy of discrimination against LGBTQ+ people cannot be undone in a few short months, the Biden administration and Secretary McDonough are taking the steps necessary to begin addressing the pain that such policies have created. LGBTQ+ Veterans are not any less worthy of the care and services that all Veterans earn through their service, and VA is committed to making sure that they have equal access to those services," writes Kayla Williams, a bisexual veteran and assistant secretary for public affairs in VA's Office of Public and Intergovernmental Affairs on the VA blog.
Clinton's betrayal broke our hearts and ruined lives. But amazingly, it did not stop us — which attorney C. Dixon Osburn, a civilian graduate of Georgetown University Law, recounts in his just released must-read book Mission Possible: The Story of the Repealing of 'Don't Ask, Don't Tell.' 
This is the stunning story of how Osburn and attorney Michelle Benecke, a Harvard Law graduate and former Army captain, founded Servicemembers Legal Defense Network to immediately help desperate servicemembers and work with nonprofit allies and law firms to challenge DADT in the courtroom and in the court of public opinion.
Mission Possible completes an important trilogy about LGBTQ people serving in the US military, next to Coming Out Under Fire, by Alan Bérubé and Randy Shilts' Conduct Unbecoming: Lesbians and Gays in the U.S. Military.
These books are not only LGBTQ history, but about our patriotism and what drives our private lives — and how government has intervened to block us at every step based on bias.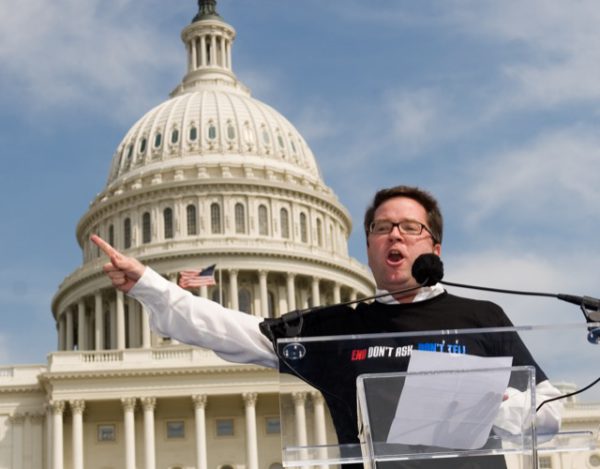 Mission Possible is also a book about endurance, ingenuity and triumph. If a united gay voting bloc and 700,000 people on the Mall and thousands more back home didn't give Clinton enough clout or backbone to keep his promise to lift the gay military ban – SLDN needed a smart, comprehensive strategy and a willingness and stamina to keep their eyes on the distant prize of repealing DADT. After educating an anti-military community and fighting a "graveyard mentality" that believed that lifting the gay ban was impossible, they had to figure out how to secure bipartisan support.
And there was bipartisan support, privately. "Party sticks with party, unless there's a breakthrough, Osborn says, noting that GOP Sen. Lisa Murkowski told him: "You have to create the moment so I can be with you."
With the discharge of the Arab linguists, DADT became less an issue of civil rights and more publicly an obstacle to national security. There are scores of nail-biting behind-the-scenes stories about how SLDN shifted the public and military consciousness from July 1993 to September 20, 2011, "when President Barack Obama, Secretary of Defense Robert Gates, and Admiral Mike Mullen, chairman of the Joint Chiefs of Staff, certified to Congress that implementing repeal of the policy would have no effect on military readiness, military effectiveness, unit cohesion, or recruiting and retention."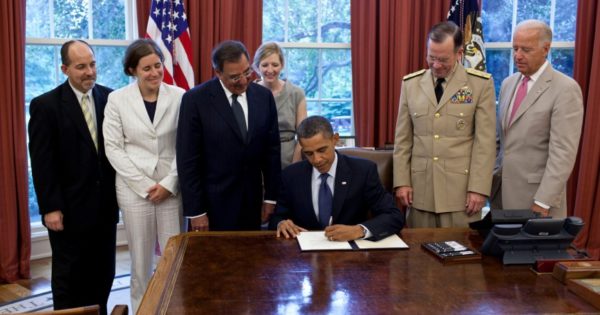 December 18, 2010 – on Osburn's birthday – the Senate finally voted to deliver more than 60 votes to overcome Republican Sen. John McCain's repeated and stubborn use of the filibuster to block repeal. There are echoes of political machinations of today.
There are crafty stories, as well, illustrating the absurdity of DADT. For instance, Army Sergeant Darren Manzella, Osburn writes, "was the epitome of the competent, well-regarded openly gay soldier who put a lie to the belief that his mere presence would weaken military readiness. He was out to his Army buddies and had even introduced them to his boyfriend." In 2006 at Fort Hood, he started getting anonymous emails and "calls warning him that he was being watched and to 'turn the flame down.'" He sought advice from his commanding officer which triggered an investigation, with which Manzella fully cooperated. The Army concluded he wasn't gay and told him to go back to work. He was subsequently deployed to Iraq, then Kuwait, unsure whether a new commander would discharge him. 
SLDN reached out to Manzella to see if he'd be willing to do a 60 Minutes interview, explaining the pros and cons if he went forward. He said yes, but how to do it knowing the Army wouldn't grant permission? SLDN communications director Steve Ralls came up with a plan. "Manzella signed up to run in the Army marathon in Kuwait. At a predetermined point, he veered off-course to a waiting car that whisked him to a hotel, where he changed into civilian clothes and met with correspondent Lesley Stahl. After the interview, he changed back into his running clothes, the crew doused him with sweaty water, and the car whisked him back so he could cross the finish line," Osburn writes. "Once the segment was broadcast, the Army could no longer pretend that Manzella wasn't gay, or that 'Don't ask, don't tell' was a law with an on-off switch. He was discharged six months later and became one of the many vocal advocates for repeal."
On December 22, 2010, President Barack Obama kept the campaign promise he made and signed the repeal of Don't Ask, Don't Tell. "For we are not a nation that says, 'don't ask, don't tell.' We are a nation that says, 'Out of many, we are one.' We are a nation that welcomes the service of every patriot. We are a nation that believes that all men and women are created equal. Those are the ideals that generations have fought for. Those are the ideals that we uphold today," Obama said. "And now, it is my honor to sign this bill into law."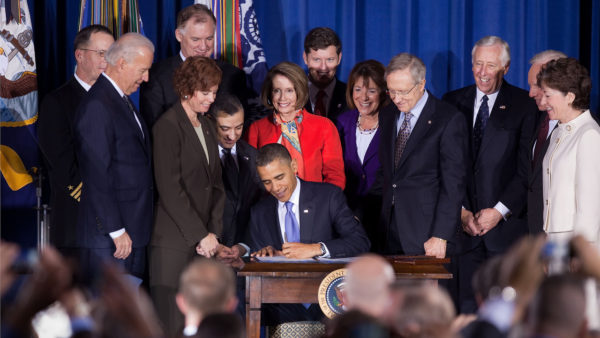 "There's been a lot of progress in the last 10 years – despite the last four," Osburn says. "It's all been teed up by SLDN." 
But we still are not fully first-class citizens, though we now have the right to serve and die for our country. The Equality Act is next.
********************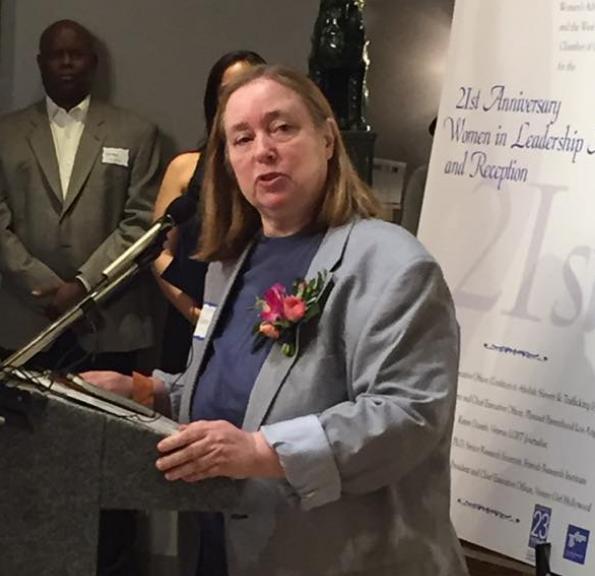 Texas abortion ban author: State can control private sex
The architect of the Texas law that bans abortion says the government should have the power to regulate your private sexual conduct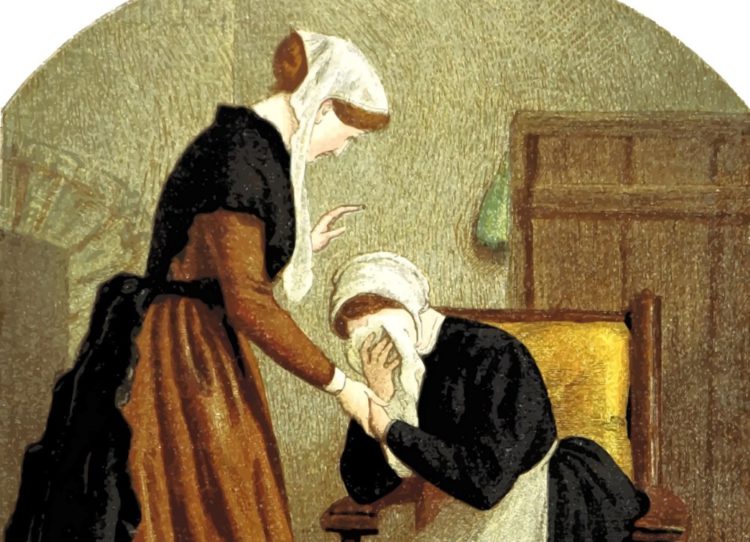 By James Finn | DETROIT, Mi. – Do you think your consensual adult sexual behavior in your own home is nobody's business but yours? Do you think The Scarlett Letter is a cautionary tale? Do you believe you enjoy the fundamental right to be free from state control of your sex life?
Jonathan Mitchell says you're wrong. The architect of the Texas law that bans abortion at about six weeks after conception (before many women even know they're pregnant) says the government should have the power to regulate your private sexual conduct.
Yes, really.
He and co-counsel Adam Mortara just spelled that out in an amicus brief to the U.S. Supreme Court, a friend-of-the-court filing in a Mississippi abortion case in which they urge the justices to overturn the landmark Roe v. Wade.
They don't stop with the high court's abortion-ban precedent. They take direct aim at privacy rulings that bar states from banning same-sex marriage or criminalizing private sex like same-gender sex, oral sex, and anal sex. They tell the court outright that people in the U.S. do not enjoy a fundamental right to private sex lives.
This is a remarkable argument from a legal duo who represent leading contemporary thought in the Republican Party, which has traditionally positioned itself as a champion of individual liberty. Many Republicans say they are loyal to the Republican Party because they want the state out of their private lives. I wonder how many of them understand the extent to which leading Republican thinkers urge more state control rather than less state control.
Mitchell's 'vigilante' provision is a clever trick but not a central problem
Mitchell is most well known for his "private right of action" innovation in the the Texas abortion ban, a clever legal trick that has so far impeded judicial review. His innovation, which he's been thinking about publicly since at least 2018, removes government actors from enforcement. No government actors means potential plaintiffs have nobody to sue. Nobody to sue means courts can't rule on the law one way or the other.
But as clever as his idea is, it's still a trick, and other clever people are working hard to bring cases that can be heard and ruled on. Court watchers say they will eventually succeed, that the justices will be forced to confront the central liberty infringement of the Texas law. Then what? Isn't the right to abortion too firmly embedded in legal theory and practice to be overturned now?
Overturning Roe has far-reaching liberty consequences
No women's rights are infringed, Mitchell and Mortara write in defense of the Mississippi abortion ban I cited above, because if women don't want children, they can always choose not to have sex. This argument would apply, they write, even if women's access to contraception were not assured, claiming a private sex life is not a fundamental liberty guaranteed by the Constitution.
They argue without apology for the right of the State to control women's bodies, but they don't stop there.
They acknowledge their legal reasoning leaves "gay sex" rights and same-sex marriage "hanging by a thread" and seem quite cheerful about that. They claim those rights are "lawless," and the court should not agonize over them. They don't say so out loud, but their arguments also imply that states should be free to bar or impose barriers to contraception.
'Outsider' Mitchell narratives lack context
Mitchell, 45, is often described as a political outsider, but that's not broadly true. He's a conservative ideologue who's spent almost two decades moving between government posts and prestigious law professorships at institutions like Stanford and the University of Texas at Austin. He was a law clerk to the late conservative Supreme Court Justice Antonin Scalia. (His co-counsel Adam Mortara clerked for conservative Justice Clarence Thomas, who never met an individual liberty he couldn't dismiss or state power he couldn't justify.)
Mitchell served as Texas solicitor general from 2010 to 2015. He served on Donald Trump's presidential transition team and was unsuccessfully nominated by Trump to head a federal agency.
He was short listed as a potential Trump Supreme Court nominee and has strong ties to the Federalist Society, which besides taking a constrictive view of human liberty, has long sought to overturn Roe. Mitchell's legal work has been funded by the Alliance Defending Freedom, which despite the name is mostly known for defending organizations that constrain individual freedom in the name of institutional religious privilege. The Alliance was at one time considered fringe in Republican circles but is now mainstream.
Mitchell is not an outsider. He sits at the center of Trumpian and post-Trump conservative ideology, a center that might surprise the large majority of Americans who, irrespective of party affiliation, value personal liberty more than Mitchell, Mortara, Justice Thomas, et al.
The Scarlett Letter and American Puritanism
In 1850, Nathaniel Hawthorne penned The Scarlet Letter: A Romance, a historical fiction novel now read by most U.S. students while still in high school. The novel is complex and has much to say about human failings, faith, religion, and redemption. But in the main, Americans read the novel as a cautionary tale, a rejection of Puritan anti-liberty practices, an indirect defense of individual liberty. We see protagonist Hester Prynne as a victim of neighbors who can't or won't mind their own business.
Americans hold personal liberty in such high esteem that the 2003 Supreme Court decision in Lawrence v. Texas shocked many of us. When the justices ruled that Texas could not enforce a criminal law against two men having sex in the privacy of their own bedroom, the typical reaction went something like, "Of course! Isn't private sex already a fundamental liberty? How could this ruling even have been necessary?"
That reaction takes us to the heart of constitutional liberty and privacy arguments. Most Americans, like me, believe the State should not have the power to deprive people of individual liberty without a truly compelling State interest. We believe that rights don't have to be enumerated in the Constitution to be protected. We believe individual liberty is presumed, not granted. We believe that without privacy, true liberty withers on the vine.
We believe the State has no business interfering in anyone's private sex life.
These are all principles that have at various times been held up by conservatives as virtues. I internalized these ideas as conservative when I was a child attending a very conservative private religious school. As a child in the 70s, I understood the Republican Party to stand for defending these liberty ideas.
When Jonathan Mitchell and Adam Mortara write that the State ought to have the right to control private sex lives, and when Republican thought leaders cheer them on, we had all better sit up and pay attention. Republicans especially should pay attention.
The Grand Old Party isn't what it used to be. Conservative values aren't what they used to be. Hester Prynne has a lot to teach us. The question is, will we pay attention before it's too late?
Do you really want to live in a country where politicians decide if and how you can have sex? I don't. Now, what are we going to do about it?
********************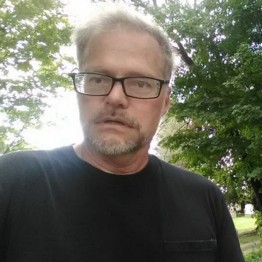 James Finn is a former Air Force intelligence analyst, long-time LGBTQ activist, an alumnus of Queer Nation and Act Up NY, a regular columnist for queer news outlets, and an "agented" but unpublished novelist. Send questions, comments, and story ideas to [email protected]
The preceding article was previously published at Prism & Pen– Amplifying LGBTQ voices through the art of storytelling, and is republished here by permission.