Editor of Blade's Cuba media partner released after violent arrest
Maykel González Vivero targeted during anti-government protests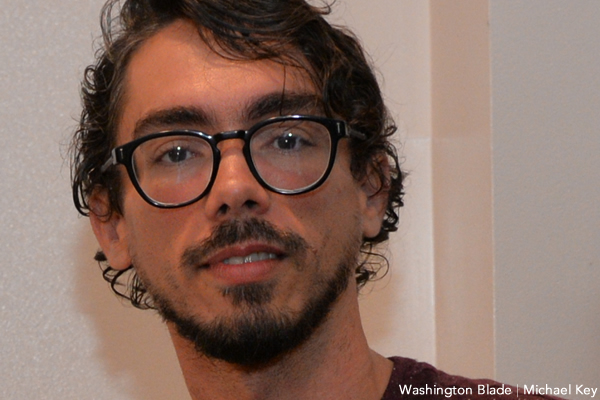 HAVANA — Cuban police have released the editor of the Los Angeles Blade's media partner on the island.
Tremenda Nota Director Maykel González Vivero in a series of tweets said riot police who claimed he was throwing rocks during an anti-government protest in Havana on Sunday violently arrested him.
A source early Wednesday confirmed that González has been released, but he cannot leave his home. The source did not provide any information about González's condition.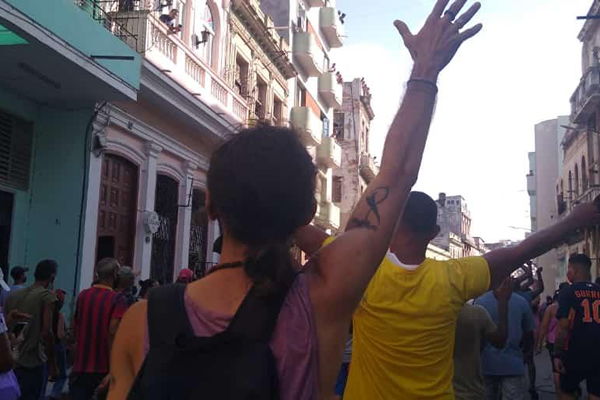 González is among the journalists who were arrested during Sunday's protests against mounting food shortages, the government's response to the pandemic and a worsening economic crisis that took place across Cuba.
"We condemn the government's violent repression of protesters, journalists and activists," tweeted Julie Chung, acting assistant secretary for the State Department's Bureau of Western Hemisphere Affairs, on Tuesday.
Today we think of Cubans who have never expressed themselves – bravery, patriotism, & pride shine through in their struggle for dignity & freedom after 62 years of authoritarian rule.

We condemn the government's violent repression of protesters, journalists, & activists.
~JC

— Julie Chung (@WHAAsstSecty) July 13, 2021
Cuban police have previously detained González, most recently in November 2020. The Interior Ministry in late 2019 banned him from leaving Cuba.
Internet blacked out for 4th day as violent protests continue in Iran
Protests by Iranians included women setting headscarves on fire in the streets resulted with harsh reaction from Iranian security services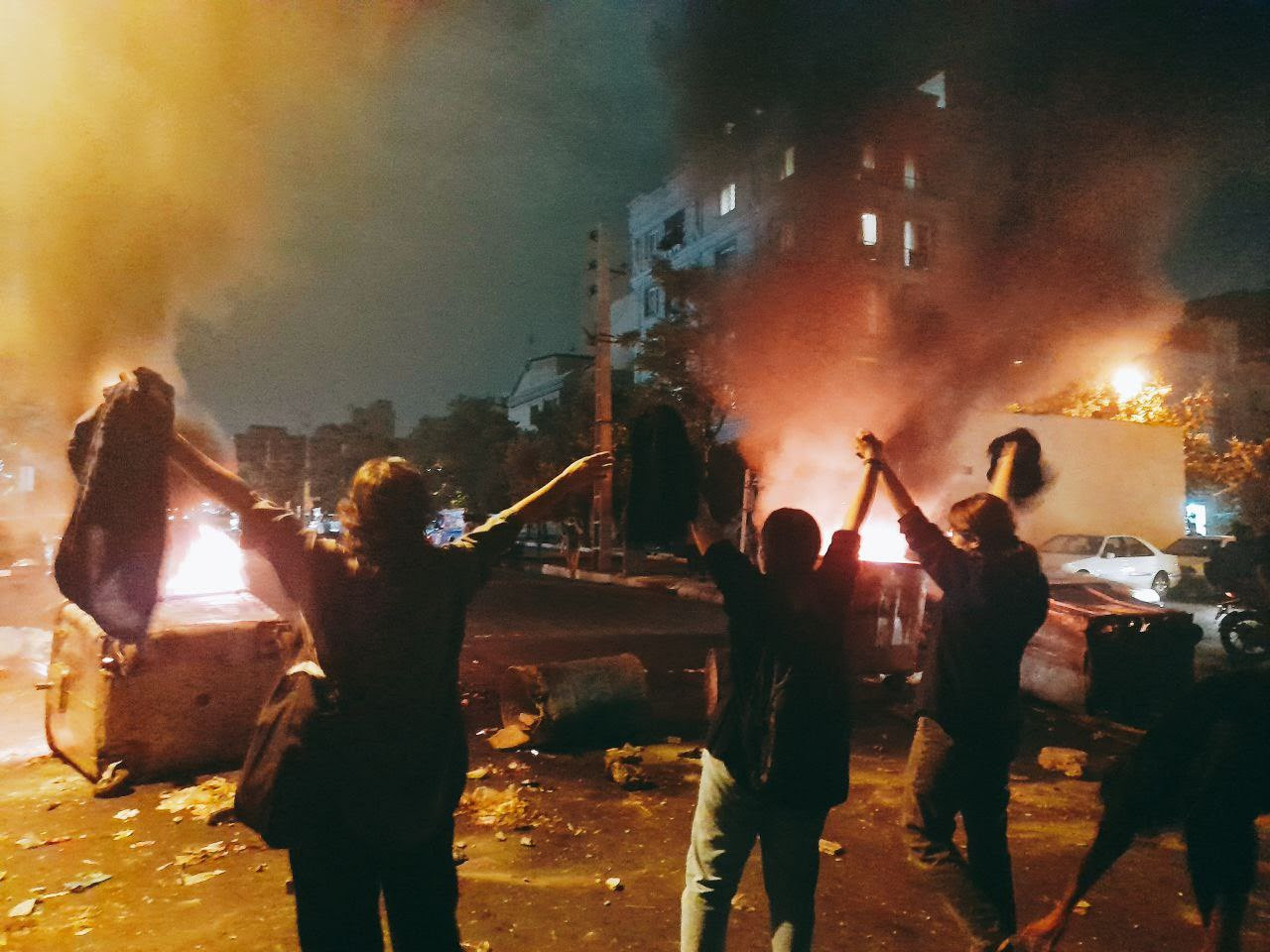 PARIS, France – For the fourth consecutive day the government of Iran has blocked internet access as tens of thousands across the Islamic Republic continue to protest the violent crack-down following the death of a 22-year-old Kurdish woman Mahsa Amini, who died in police custody after being arrested by Iran's "morality police" over a week ago.
London, UK-based news agency Iran International reported that Amini had traveled from a Kurdish region in Saqqez to the Iranian capital city of Tehran where there was a confrontation in the streets and she was arrested in her brother's car by the Islamic religious police.
Amini had been arrested for violating the nation's strict Islamic laws requiring women to wear head scarves known as hijabs by the notorious police units who enforce Iran's codes on hijabs and other conservative Islamic modes of dress and behavior.
Within twenty-two hours of her arrest she was taken to Kasra Hospital in northern Tehran where she died without regaining consciousness. According to her family members she was badly beaten by police in the prisoner transport van immediately after her arrest.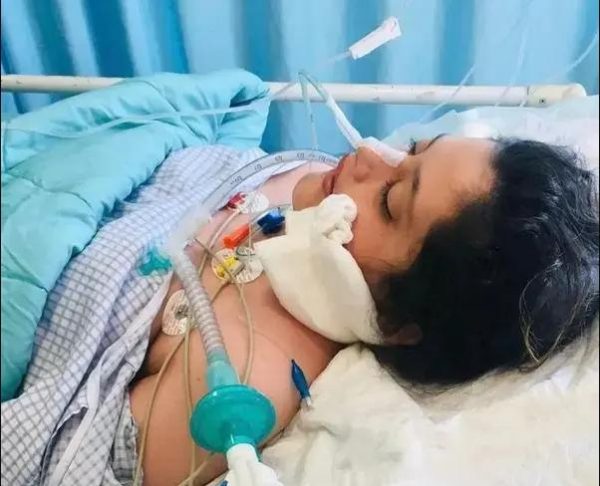 At hospital Amini was found suffering from "multiple blows" to the head and a hospital source told Iran International news agency additional her lungs were filled with blood when she was transferred to the hospital and it was clear that she "could not be revived."
The source emphasized that Mahsa's condition "was such that she could not be saved nor was surgery possible because her brain tissue was seriously damaged and it was clear that the patient was not injured by a single punch and must have received many blows to her head."
Her death on Friday, September 16 sparked protests that began to escalate, first in Tehran and then spreading across the country. Iran's President Ebrahim Raisi in an effort to quell the growing acts of dissent and protest promised Amini's family two days after her dying that her death would be investigated. Iran's chief justice, Mohseni Ejei, also promised a full investigation.
There were multiple international calls including the acting U.N. High Commissioner for Human Rights Nada Al-Nashif, who said in a statement; "Mahsa Amini's tragic death and allegations of torture and ill-treatment must be promptly, impartially and effectively investigated by an independent competent authority, that ensures, in particular, that her family has access to justice and truth."
The protests by Iranians outraged by Amini's death included some women setting their headscarves on fire in the streets. Reaction from Iranian security services has been harsh with thousands arrested and at least 54 who have died according to Iranian state media and human rights groups.
U.N. Commissioner Al-Nashif said the compulsory veiling laws remain of concern in Iran, where appearing in public without a hijab is punishable by imprisonment.
In recent months, the morality police have expanded street patrols, subjecting women perceived to be wearing "loose hijab" to verbal and physical harassment and arrest. The UN Human Rights Office has received numerous, and verified, videos of violent treatment of women, including slapping women across the face, beating them with batons and throwing them into police vans.
"The authorities must stop targeting, harassing, and detaining women who do not abide by the hijab rules," said Al-Nashif, calling for the repeal of all discriminatory laws and regulations that impose mandatory hijab.
Iran Human Rights and other sources report that at least 54 people have been killed by security forces in protests across Iran. In many cases, returning the bodies are made contingent on secret burials. Hundreds have also been injured or arrested.
Authorities have been dispersing demonstrators with water cannons and in some cases live ammunition. "The Iranian people are demanding rights that have been taken away from them by the Islamic Republic for more than 40 years. Now the Islamic Republic is responding to their peaceful protests with bullets," Mahmood Amiry-Moghaddam, Director Iran Human Rights told the Blade in an email adding: ""Condemnations and expressions of concern are no longer enough. The international community and anyone that adheres to human rights principles, must now support the Iranian people's demands."
With the Internet blocked by the government of Iran including banning use of mobile apps WhatsApp and Instagram two of the most popular social media services in Iran, information is being sent out through other channels.
In addition Signal, Google Play and the App Store are all down and their websites have been filtered. Internet disruptions have delayed information getting out about protesters that have been killed, wounded or arrested. As such, the number of deaths cited are protesters killed prior to September 23. True figures on the number of people injured and killed in the protests are unclear, but the tally is rising.
Wired magazine reported Iran started shutting the internet down on September 19 as protests around Amini's death gained momentum. Since then, multiple internet-monitoring organizations, including Kentik, Netblocks, Cloudflare, and the Open Observatory of Network Interference, have documented the disruptions. Mobile network operators, including the country's biggest providers—Irancell, Rightel, and MCI—have faced rolling blackouts, the groups say. Multiple mobile providers have lost connectivity for around 12 hours at a time, with Netblocks saying it has seen a "curfew-style pattern of disruptions."
Felicia Anthonio, who leads NGO Access Now's fight against internet shutdowns, says the group's partners have reported that text messages containing Amini's name have been blocked. "If you're sending a message containing that name, it doesn't go through," Anthonio says.
"Shutting down mobile internet service has become a go-to for the Iranian government when dealing with civil unrest," says Doug Madory, director of internet analysis at monitoring firm Kentik, who has been following the shutdowns. "People were using these services to share videos of the protests and the government's crackdown, so they became targets of government censorship."
Sources tell the Blade that anti-government demonstrators include LGBTQ activists standing in solidarity with women in the country.
The BBC and CBS reported in Tehran, marching demonstrators chanted "death to Khamenei" and "death to the dictator," referring to the country's supreme leader, 83-year old Ayatollah Ali Khamenei. Crowds of protestors pushed back against Iranian security forces, known as the "basij," with videos shared on social media showing uniformed officers running away as people cheered.
As protests continue to escalate and spread there is fear that Iran's Islamic Revolutionary Guard, (IRG) will step in with a massive crackdown. The IRG has already issued two statements this past week that condemned the protests as an organized conspiracy by enemies of Iran.
According to information obtained by Iran Human Rights from the victims' of police violence and having reviewed video evidence, security forces have been using disproportionate force and live ammunition to suppress peaceful protests in the last few days, a clear and gross violation of international law.
ABC News GMA- Protests in Iran turn deadly:
Zambia president reiterates opposition to LGBTQ+, intersex rights
Hakainde Hichilema made comments in response to anti-LGBTQ+ protest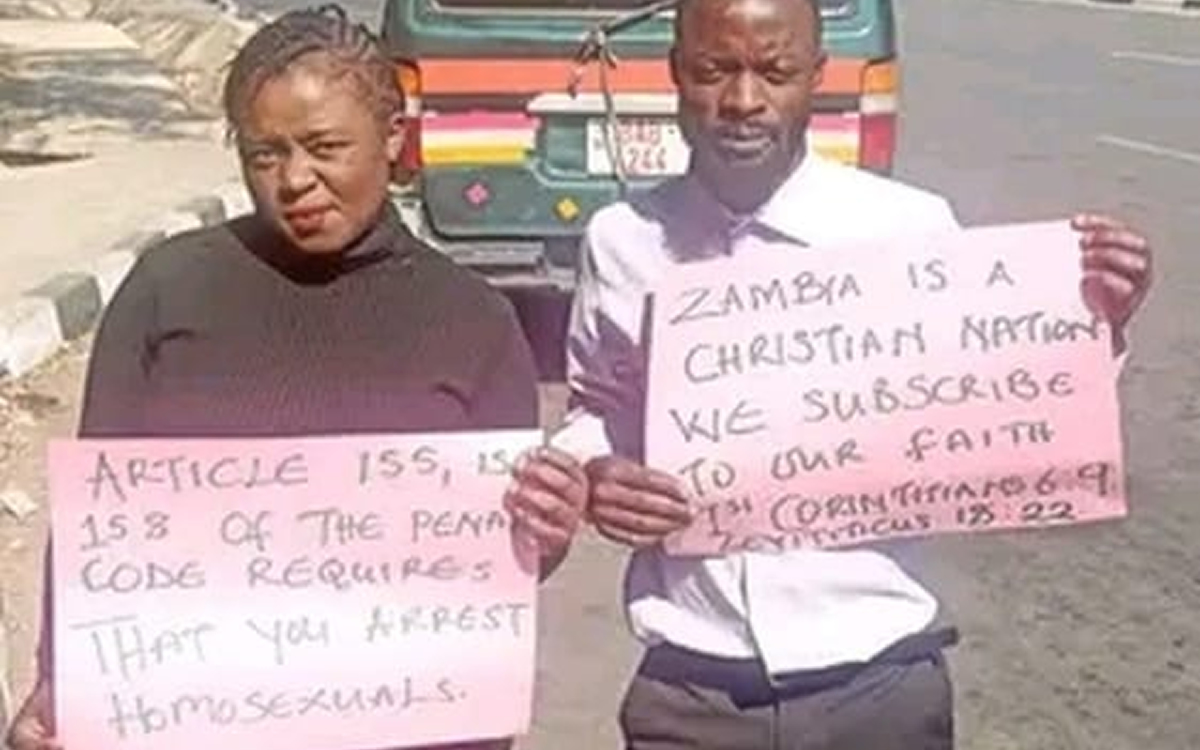 LUSAKA, Zambia — Zambian President Hakainde Hichilema on Monday reiterated his government does not support LGBTQ+ and intersex rights.
In a video posted to his Facebook page on Monday, Hichilema said Zambia is a country deeply rooted in Christianity and therefore does not support same sex relations. The president's remarks came after Dr. Brian Sampa on Sept. 15 held an anti-LGBTQ+ rights protest.
The police stopped Sampa's protest, which was to have taken place at the State House in Lusaka, the country's capital. Officers said he did not have the necessary permits and told him and the handful of other protesters to instead approach the country's Gender Ministry.
"Zambia is a Christian nation it's clear! We all agree, but sometimes we want to extract sections of our communities and say these are not Christians. Religion in diversity. Churches in diversity but one body of Christ and I want to say it is not right," said Hichilema in his video. "I have been following what is happening in the country and to say that the new dawn government is promoting lesbian rights or gay rights that is not right. We have said it before in opposition and now in government that we do not support gay, lesbian rights as a government."
"The records are there," he added. "The media houses carry those records from years back but now in the last recent days people are propagating in churches preaching about lesbian rights that is divisive you know, the new dawn government this and that it's not right let's focus on unity, let's focus on materiality, things that matter for this country, our children keeping them in school matters more than the peripheral petty side of a divisive behavior."
Sampa, meanwhile, has said he will be leading another anti-LGBTQ+ protest under the banner #BanNdevupaNdevu (#BanBeardonBeard) on Sept. 28. He said he plans to deliver a letter to the State House pertaining to what he labelled "the rise in unnatural acts like homosexuality."
"Our fight is non-political. It's for Zambians regardless of your color, creed, religion or political affiliation," said Sampa on Facebook. "The president needs to be making it clear to those ambassadors from some countries our stance about homosexuality. Here we chase ambassadors who support homosexuals because it's criminal under our constitution. The government has got power to end all this, but we are lacking political will against homosexuality. Use the law to the latter."
"Parents make time to talk to your children and visit them in boarding schools," he added. "Male boarding schools are no longer safe. The homosexuals are sodomizing children as they initiate them into this bad vice."
Sampa also posted to Facebook a picture of a bed with what appears to be human feces on sheets. Sampa said it was a result of too much anal sex and cautioned that heterosexuals should be concerned if their partner wants to engage in it.
"Before you join them no matter the amount they will offer you, remember this picture. This is a picture of a bed used by a person with fecal incontinence due to anal sex what you are seeing are feces leaking from the anus because the sphincter muscle is destroyed due to anal sex," he said. "This is an example of a male-to-male relationship. Don't be deceived; the anus is not a sexual organ. Would a normal person be happy to dip their penis in feces? Nobody enjoys the smell of feces unless there is some psychological problem."
"For ladies, how to know that you are dating a homosexual," added Sampa. "If the guy keeps demanding for anal sex make sure you report him to the police."
Zambia criminalizes same-sex sexual activity between men and between women. Sentences include a maximum penalty of 14 years in jail.
A court in 2019 convicted two gay men of engaging in same-sex sexual activity and sentenced them to 15 years in prison. They received a presidential pardon in 2020 amid international pressure, but reports of discrimination and violence against LGBTQ+ and intersex Zambians remain commonplace.
Daniel Itai is the Washington Blade's Africa Correspondent.
Biden notes LGBTQ+, intersex rights in UN General Assembly speech
President stressed 'fundamental freedoms' at risk around the world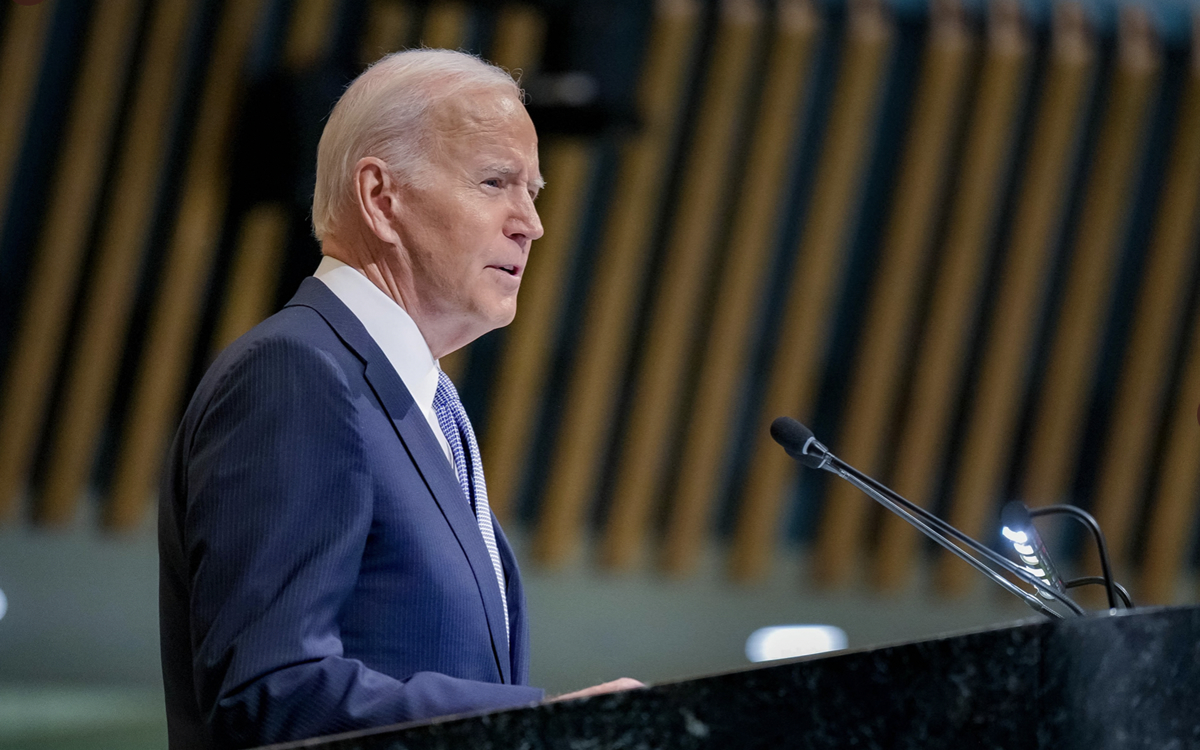 UNITED NATIONS — President Joe Biden on Wednesday reiterated his administration's commitment to LGBTQ+ and intersex rights abroad.
"The future will be won by those countries that unleash the full potential of their populations, where women and girls can exercise equal rights, including basic reproductive rights and contribute fully to building stronger economies and more resilient societies, where religious and ethnic minorities can live their lives without harassment and contribute to the fabric of their communities, where the LGBTQ+ community, individuals live and love freely without being targeted with violence, where citizens can question and criticize their leaders without fear of reprisal," said Biden in his speech at the U.N. General Assembly.
Biden specifically referenced the Universal Declaration of Human Rights the U.N. General Assembly ratified in 1948. Biden also noted "fundamental freedoms are at risk in every part of our world" with specific references to the Taliban's repression of women and girls in Afghanistan, the persecution of pro-democracy activists in Myanmar and human rights abuses against Uyghurs and other predominantly Muslim ethnic groups in China's Xinjiang province that now former U.N. High Commissioner for Human Rights Michelle Bachelet documented in a report her office released just before her tenure ended on Sept. 1.
Biden also sharply criticized Russia over its war against Ukraine.
"The United States will always promote human rights," he said.
Biden in February 2021 signed a memo that committed the U.S. to promoting LGBTQ+ and intersex rights abroad as part of his administration's overall foreign policy.
Secretary of State Antony Blinken on Monday spoke at a meeting of the LGBTI Core Group, a group of U.N. countries that have pledged to support LGBTQ+ and intersex rights. Jessica Stern, the special U.S. envoy for the promotion of LGBTQ+ and intersex rights abroad, was among those who were in attendance.