Newsom signs legislation to bolster state's film and television industry
The film & television industry provides 134,000 production-related jobs, 83,000 jobs in distribution & 643,000 jobs created by vendors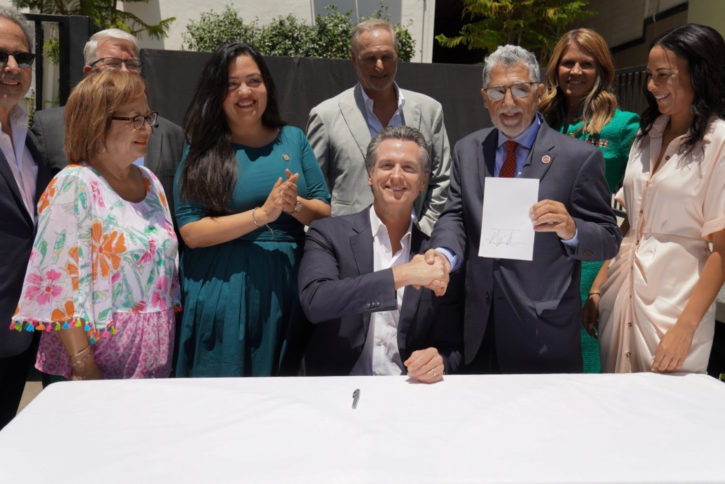 LOS ANGELES – In a boost for California's nation-leading economic recovery, Governor Gavin Newsom today signed legislation investing $330 million to expand the state's successful Film and Television Tax Credit Program, which works to retain and attract production jobs and economic activity across California – generating nearly $18 billion in production spending for the state to date.
Alongside film studio representatives, labor leaders and legislators, the Governor signed SB 144 – co-authored by Senator Anthony Portantino (D-La Cañada Flintridge), Assemblymember Wendy Carrillo (D-Los Angeles) and Assemblymember Autumn Burke (D-Inglewood) – today at historic Sunset Gower Studios in Hollywood. The legislation expands the current film credit program with a $180 million increase over two years and an additional one-time $150 million incentive to be used over multiple years for the construction of certified motion picture soundstages – building out studio infrastructure to keep pace with the growth in production. With new diversity workplan provisions and a pilot skills training program, the legislation creates expanded career opportunities for more Californians.
"California's iconic entertainment industry is a point of pride that creates important revenue and opportunity for workers, businesses and communities across the state," said Governor Newsom. "Today's investments ensure film and television production will continue to fuel the California Comeback through thousands of good jobs right here in the Golden State, training opportunities to increase access, and a focus on fostering diversity and inclusion for a workforce that better reflects our vibrant communities."
A key economic driver, the film and television industry in California provides more than 134,000 production-related jobs, over 83,000 jobs related to distribution and over 643,000 jobs created by related vendors and businesses. The Film and Television Tax Credit Program has provided $335 million to 48 projects since the start of the pandemic. Twenty-seven television series have relocated to California from other states and nations since the program's launch in 2009.
"These strategic investments reaffirm the Golden State's role as a leading player in the global entertainment industry – a vital sector that represents billions in wages and revenue for California workers and businesses," said Director of the Governor's Office of Business and Economic Development (GO-Biz) Dee Dee Myers. "The film tax credit program has already provided $335 million to support projects across the state since the start of the pandemic, lifting up local economies and helping drive our nation-leading recovery. With a forward-looking new incentive to modernize studio infrastructure, this package will help keep the cameras rolling in our state well into the future."
SB 144 requires recipients of both the existing film credit program and the new infrastructure incentive to provide aggregated data on the diversity of their workforce, including gender and racial background, and to submit a workplan to the California Film Commission identifying diversity goals.
"The bill Governor Newsom signed today builds on the success of California's Film & Television Production Tax Credit program and ensures that the film, television and streaming industry continues to be a vibrant part of California's economy," said Chairman and CEO of the Motion Picture Association Charles Rivkin. "SB 144 preserves both recurring and relocating television and streaming series, creates a new program that incentivizes private investment in construction of soundstages and establishes new benchmarks and commitments on diversity."
"I am incredibly grateful for Governor Newsom's leadership and for his commitment to the entertainment industry. He understands that it is a core economic driver for California and a big part of my district's vitality," said Senator Portantino. "Investing in new sound stage construction is a critical addition to our efforts to increase filming in our Golden State. Modernizing our studio infrastructure and achieving diversity goals will ensure that future entertainment careers will flourish in California and generations of people from across the country will continue to see our state as the entertainment capital of the world."
The legislation ensures the construction of new soundstages supports high road jobs by requiring prevailing wages and setting labor standards for construction and ongoing maintenance. Creating pathways for more Californians to access film and television industry jobs, the California Film Commission will implement a pilot program to provide technical skills training to individuals from underserved communities.
The Entertainment Union Coalition, which represents members of the Directors Guild of America, SAG-AFTRA, California IATSE Council, LiUNA! Local 724 and Teamsters Local 399, also welcomed the news "SB 144 enhances and improves the California Film and Television Tax Credit Program which since its inception has resulted in the creation of 156,000 below-the-line cast and crew jobs and has generated $18.4 billion in direct revenue for our State. SB 144 ensures that our members can remain working in California and that more productions will be able to shoot here for decades to come," a spokesperson said.
If Temecula school board won't do its job, state will says Newsom
"State will deliver the books — and we'll send the district the bill and fine them for violating state law"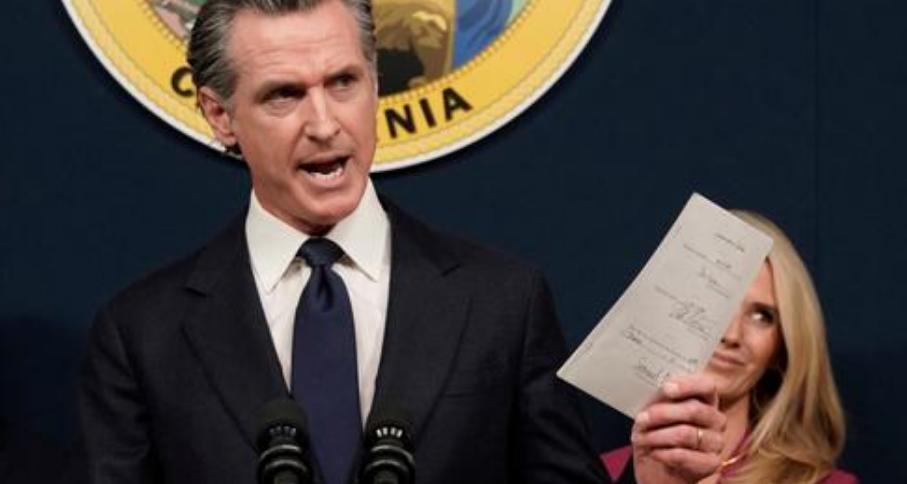 SACRAMENTO – Governor Gavin Newsom, joined by Superintendent of Public Instruction Tony Thurmond, Senate President pro Tempore Toni G. Atkins, Assembly Speaker Robert Rivas, and Assemblymember Dr. Corey Jackson today announced the State of California will begin the process of securing textbooks for students in the Temecula Valley Unified School District and enact legislation to fine school districts for failure to provide adequate instructional materials.
Elementary students in Temecula are slated to begin the school year on August 14, 2023, without enough textbooks for every student because of the school board's decision to reject a widely used social studies curriculum. 
"Cancel culture has gone too far in Temecula: radicalized zealots on the school board rejected a textbook used by hundreds of thousands of students and now children will begin the school year without the tools they need to learn," said Newsom. "If the school board won't do its job by its next board meeting to ensure kids start the school year with basic materials, the state will deliver the book into the hands of children and their parents — and we'll send the district the bill and fine them for violating state law." 
"I am glad to join in this action with Governor Newsom today and thank him for his leadership in calling for Temecula's school board to reverse course to prevent further harm to students," said State Superintendent Thurmond. "Inclusive education promotes the academic achievement and social development of our students.  School Districts should not ban books in California, especially as it harms students of color and LGBTQ+ youth.  AB1078 lays out the structure for today's action and I am proud to have sponsored this bill to protect our students from the harmful effects of book banning, exclusion of inclusive textbooks and discrimination." 
"Censoring learning materials based on bigotry and ignorance prevents our students from getting a good education," said Senate President pro Tempore Toni G. Atkins (D-San Diego). "Culture war extremism doesn't belong in the debate of how to teach our children and school districts should always put students first. That's why I'm pleased the Governor is stepping in to make sure the children in Temecula have textbooks to start the year, and I look forward to working with the Governor and the assembly on a clear legislative solution. We have a duty to help eliminate ignorance in all its forms."
"The antics of the Temecula Valley Unified School District are intolerable and damaging to its students' opportunities to grow, prosper, and succeed," said Assembly Speaker Robert Rivas. "Book bans betray the most basic of California's core values. I hope the members of the school board are able to reflect on their decisions and come to make better decisions for our children's futures."
"Book banning is not acceptable and will not stand in California," said Assemblymember Dr. Corey Jackson. "It is my honor to have the Governor's support of Assembly Bill 1078. This sends a clear message that such actions will not be tolerated. We stand united in our commitment to protect our students' access to diverse educational materials and ensure an inclusive educational environment. We will not go backward. We will meet this historical moment."
Temecula Valley Unified School District's current curriculum is outdated and in violation of state law. Students in the district are forced to use a textbook published in 2006. In the process of acquiring updated textbooks for students in grades one through five on May 16, 2023, school board President Joseph Komrosky asserted false claims about the instructional materials. The board voted by a 3-2 majority to reject the adoption of the new social studies curriculum that was recommended by teachers representing every elementary school in the district and overwhelmingly supported by parents and community members. The textbook, one of four standard programs approved by the state, is routinely and widely used across hundreds of school districts in California.
Following the school board's decision, Governor Newsom and state leaders wrote a letter to school districts statewide highlighting the legal obligations of districts and joined California Attorney General Rob Bonta in demanding information and answers from the board. The administration also began working with the Legislature and Superintendent Thurmond to advance AB 1078 (Jackson) to strengthen state law to ensure students in California have access to adequate instructional materials. Among other provisions, AB 1078 would:
Require a two-thirds supermajority vote for a school board to remove instructional materials or curriculum;
Establish a process for the California State Department of Education to purchase adequate standards-aligned instructional materials for a district, if the district has failed to provide them for students; and
Institute a funding penalty for school districts that do not sufficiently provide standards-aligned instructional materials.
California provides instruction and support services to roughly 5.9 million students in grades transitional kindergarten through twelve in more than 1,000 districts and over 10,000 schools throughout the state. Under Governor Newsom's leadership, education funding is at a record high in California, totaling $129.2 billion in the 2023-24 budget.
Governor Newsom released a video to Temecula parents that can be viewed here. 
Temecula's school board rejected a textbook used by thousands of students & now kids will begin the school year without the tools they need.

If the school board won't do its job, we'll get the book to kids & parents – then bill the district & fine them for violating state law. pic.twitter.com/gpN1TT7AVp

— Office of the Governor of California (@CAgovernor) July 13, 2023
Related: