Four Olympics, 13 years, and now a Gold Medal for Tom Daley
"I hope any young LGBT person out there can see that no matter how alone you feel right now, you are not alone. You can achieve anything."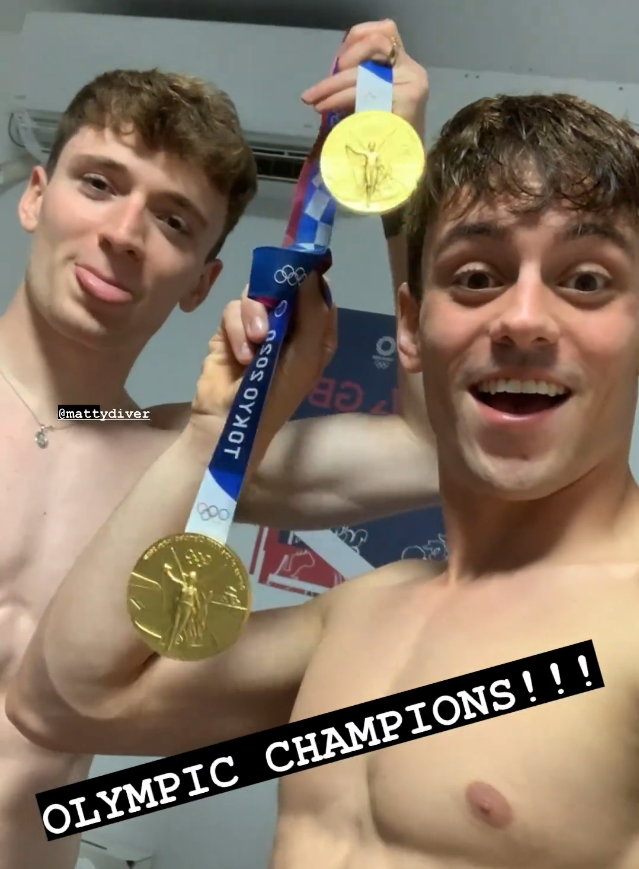 TOKYO – Standing there on the podium with tears forming in his eyes, a masked for Covid-19 British Olympic diver Tom Daley saw his dreams of Olympic Gold finally come true Monday. Watching a live-stream of the event intently, at the moment Daley secured his victory, Tom's husband, writer Lance Black and Tom's mother took in the results and jumped up screaming in joy.
Daley along with his British teammate diving partner Matty Lee won the gold with a score of 471.81 in the men's synchronized diving on Monday at Tokyo 2020 narrowly besting the defending champions, China's Cao Yuan and Chen Aisen by just 1.23 points.
"I still can't honestly believe what is happening," Daley told BBC Sport. "That moment, being about to be announced as Olympic champions, I was gone. I was blubbering."
😢

Mission accomplished.#TeamGB | @TomDaley1994 pic.twitter.com/ClyyTIm1ZP

— Team GB (@TeamGB) July 26, 2021
Daley tells young LGBTQ people: "You can achieve anything"
Later at a press conference, Daley, an openly gay athlete talked about the experience of being gay and at the games;
"In terms of out athletes, there are more openly out athletes at these Olympic Games than any Olympic Games previously. I came out in 2013 and when I was younger I always felt like the one that was alone and different and didn't fit. There was something about me that was never going to be as good as what society wanted me to be. I hope that any young LGBT person out there can see that no matter how alone you feel right now, you are not alone. You can achieve anything."
"I feel incredibly proud to say I am a gay man and also an Olympic champion."

Gold medal winner Tom Daley says he hopes his performance will inspire young LGBT people to realise "you can achieve anything".

Read more: https://t.co/9b5sr5kcZe pic.twitter.com/XCFyZR5S7A

— LBC (@LBC) July 26, 2021
They've done it!#GBR's Tom Daley and Matty Lee win the men's synchronised 10m platform final – a career first gold medal for four-time Olympian Daley!#Diving @TeamGB @fina1908 pic.twitter.com/iiwW5u4JTJ

— Olympics (@Olympics) July 26, 2021
Great Britain's Tom Daley, Matty Lee nail final dive to win gold | Tokyo Olympics | NBC Sports
San Diego runner celebrates the end of their trailblazing season
Nikki Hiltz came out as trans nonbinary this year and is aiming to compete in the next Olympic Summer Games scheduled for Paris in 2024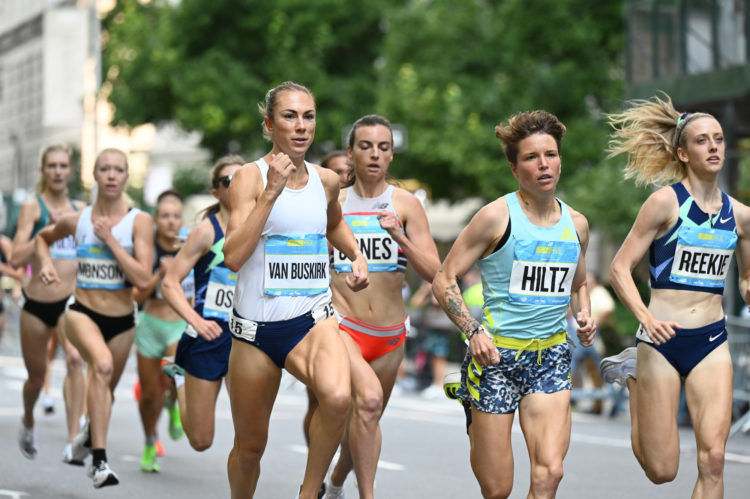 SAN DIEGO – Sunday marked the last race of 2021 for Santa Cruz native Nikki Hiltz, and they described their season on social media as "filled with ups, downs, and a whole lot of self discovery." Hiltz, who came out as trans nonbinary in March, reflected on all they've achieved.
Far from their home in San Diego, the 26-year-old Adidas sprinter finished second on Sunday in the New Balance 5th Avenue Mile in New York City, with a time of 4:23.0, just over a second behind first-place finisher Olympian Jemma Reekie of the United Kingdom. Shannon Osika of Ann Arbor, Mich. was right on Hiltz's heels to finish third.
"I think with any sport, especially running, you bring your whole self to the starting line," Hiltz told the Los Angeles Blade. "It's not like I'm bringing just the athlete part of Nikki; I'm bringing my whole identity."
Their coming out as trans nonbinary, they said, definitely impacted her performance.
"The closer I can be to myself and stay true to myself, the faster and the better I run, essentially," said Hiltz. "I am someone that runs with a lot of emotion and grit. And so when I'm at war with myself or when I wasn't out of the closet, it really shows on the track. And then when I'm at peace with myself and I'm living my most authentic life, that also really shows on the track." 
That's a wrap on the 2021 season! Here's some highlights in pics
1. Raced in my first Olympic Trials in ✌️ events
2. Ran a seasons best of 4:02 and celebrated this epic sub 4 performance!
3. PR'd in the 800 2:01.3
4. Ended the season w/ 2 road miles (a 4:21 PR and🥈at 5th Ave) pic.twitter.com/toHqPWCgqL

— Nikki Hiltz (@Nikki_Hiltz) September 12, 2021
Off the track, Hiltz has been exploring their passion for the LGBTQ community and their interest in pushing for equality and justice, much like out San Diego Loyals midfielder Collin Martin. As the Blade reported last week, Martin has joined Common Goal, a partnership with Adidas and soccer players around the world working toward ending gender inequality, combatting HIV/AIDS and other causes. He's also pledged 1% of his salary to Play Proud, a project aimed at improving LGBTQ+ inclusion in soccer.
"Within the past two years, I've really leaned into advocacy and fighting for things that I believe in," Hiltz told the Blade. "That has been really fulfilling when I have been injured or when COVID happened and I couldn't race."
Hiltz organized her own event for its second year this summer, a race in which all the proceeds benefited the Trevor Project.
"I put on a Pride 5k and that was so fun," they said. "Whether I had a good or bad performance, the highlight of every race this summer has been meeting and connecting with members of the Pride 5k family from across the country. They can always so quickly put everything into perspective. This community seriously means the world to me."
The Nikki Hiltz Pride 5K on July 17 in Mission Bay, San Diego, raised $42,270 for the Trevor Project, the largest national nonprofit dedicated to crisis intervention and suicide prevention services to LGBTQ youth.
"I think that's something I want to continue to do when my running career is over. I love running and I love the community and I love everyone that calls themself a runner."
Next up for Hiltz is to train for the Olympics. The next Summer Games are scheduled to be held in Paris in 2024, followed by Los Angeles in 2028. But they told the Blade that at age 26, they know they're not getting any younger.
"Professional middle distance runners usually retire early 30s-ish, 30 to 33, or they switch events and move up to the 5 or 10K or marathon event. But I think for me, you kind of go through Olympic cycles. So I think, if I were to retire, it would be in 2024 or 2028. And I think when I get to 2024, I'm going to reassess. 'Am I still happy doing this? Do I still love it?' And if it's anything less than, 'Yes!' Then I think it'll be time to retire."
For now, Hiltz is focused on celebrating the end of the 2021 season with their girlfriend, collegiate runner Emma Gee, a graduate student at Temple University and the first out LGBTQ athlete at Brigham Young University.
"I can't think of anyone better who has been more supportive throughout this whole journey," said Hiltz.
********************
The New Balance 5th Avenue Mile 2021
Out Soccer player & teammates promote inclusivity in San Diego
Collin Martin has staked out a new mission for himself to promote greater inclusion in his sport for LGBTQ people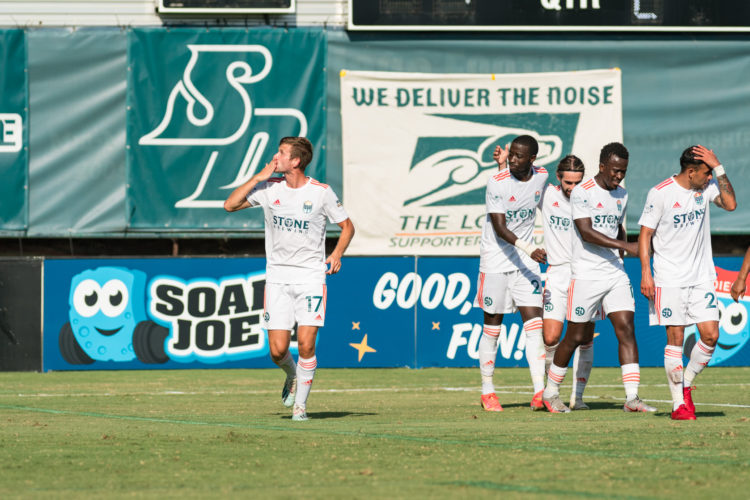 SAN DIEGO- On the last day of the 2020 season gathered around their coach, American soccer great Landon Donovan, the visibly angered players of the San Diego Loyals Major League Soccer team were ready to walk off the field that Autumn day. The reason was the homophobic slur that had been directed at their openly Out midfielder Collin Martin by a player on the opposing team.
ESPN reported what happened next; "The team was in agreement: Something needed to be done. They decided that if the offending player, Phoenix Rising's Junior Flemmings, wasn't removed from the game — by the ref, his coach or of his own volition — they would walk off the field."
The Loyals needed this game as a win to assure a slot in the second-tier of the upcoming championship playoffs and at the half-time mark San Diego was leading Phoenix 3-1. Martin had serious reservations about taking a hike over the homophobia telling ESPN in a later interview; "I just was like, 'No, we really should play this game,' because this is my nightmare. My sexuality having an impact on a soccer game? This is actually my nightmare."
After approaching the Phoenix team's head coach Rick Schantz who blew it off and allowed the offending player to play the second half of the game the Loyals followed through and walked off forfeiting the match and the coveted spot in the playoffs.
Since that game which propelled Martin into the harsh glare of publicity and garnered more fans, especially from the LGBTQ community for the team, Martin has staked out a new mission for himself to promote greater inclusion in his sport for LGBTQ people.
Loyals head coach Donovan, in an interview with ESPN, reflected on the moment last Fall that became a game changer for the normally taciturn midfielder.
"In the moment, [Martin hated the decision] and in probably the 24 hours after, he hated all the attention and what came from it," Donovan said. "But I think he was smart enough to realize the platform that had been created. That this was a unique opportunity to really — I don't say this lightly — move our society and the world forward in a positive way. I give him a lot of credit for taking all the uncomfortable attention that he didn't want and dealing with it so that he could help a lot of other people."
At the end of this past month of August, Martin joined Common Goal. The non-profit in partnership with athletic apparel giant Adidas and other football (soccer) players around the globe, is dedicated to creating a more thorough link between football players, managers, fans, organisations, brands, to join the global football community together on a team big enough and strong enough to take on the world's toughest opponents from HIV/AIDS to gender inequality to youth unemployment.
The Loyal midfielder will pledge 1% of his annual salary towards Play Proud — a project creating inclusive environments within football for LGBTQ+ communities.
And for the incident that started it all? ESPN reported that "Flemmings was later suspended for six games by the league, and he denied using an anti-gay slur toward Martin. But in a November (2020) interview with the Advocate, Martin talked about the conversations the two shared in the aftermath of that incident: "We had a long talk, and he apologized. At first during the game and shortly after, he didn't admit he said the slur, which was upsetting to me, but during our call, he admitted that the weeks following the incident were tough for him as well, and he said he was sorry."
Newsom signs legislation bolstering landmark college athletes bill
Newsom announced that he has signed legislation to accelerate implementation of California's Fair Pay to Play Act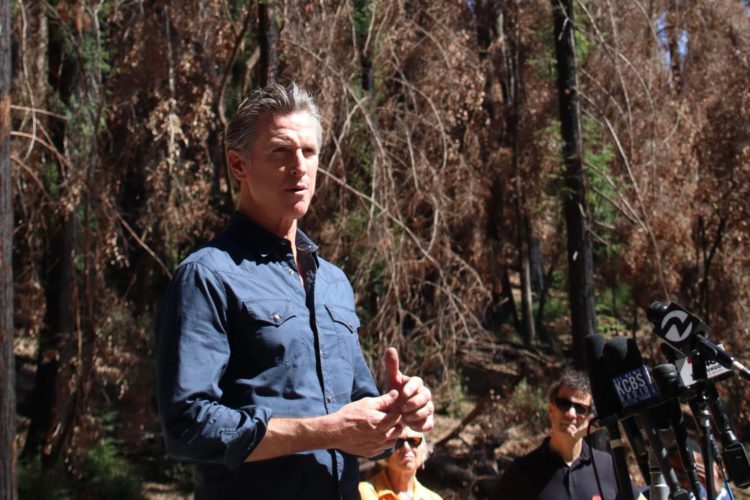 SACRAMENTO – Governor Gavin Newsom announced Tuesday that he has signed legislation by Senator Nancy Skinner (D-Berkeley) and Senator Steven Bradford (D-Gardena) to accelerate implementation of California's Fair Pay to Play Act, first-in-the-nation legislation signed by the Governor in 2019 to allow college student athletes to profit from their name, image and likeness.
The law inspired a wave of states across the country to take similar action to empower student athletes.
"California led the charge against the unjust power imbalance in college sports, launching a national movement and spurring long-overdue changes in this multibillion-dollar enterprise," said Newsom. "I'm proud to build on our leadership with today's legislation to expand and protect our college athletes' rights to reap the rewards from their sacrifices and success. I thank Senator Skinner and Senator Bradford for their tireless work to advance this fundamental matter of fairness and equity."
Under SB 26, the Fair Pay to Play Act will take effect on Sept. 1, 2021, ahead of the original January 2023 implementation date. This ensures that California students are protected under the Fair Pay to Play Act following new rule changes by the National Collegiate Athletic Association (NCAA) that allow colleges and universities to develop their own rules in states without name, image and likeness laws, or in states where laws are not yet in effect. SB 26 also expands the Fair Pay to Play Act to California Community Colleges and allows athletes to identify what school they attend as part of promotional materials.
Governor Newsom signed the Fair Pay to Play Act in 2019 alongside authors Senator Skinner and Senator Bradford, as well as NBA legend LeBron James, UCLA gymnast Katelyn Ohashi, WNBA star Diana Taurasi, former UCLA basketball player Ed O'Bannon and Rich Paul. SB 206 will allow all student athletes enrolled in public and private four-year colleges and universities in California to earn money from their name, image, or likeness. Student athletes will also be able to hire sports agents, and not lose their scholarships if they receive income for their work. The law includes safeguards to prevent college athletes from signing endorsement deals that conflict with their school's deal when they are participating in official team activities.
For full text of the bill, visit: http://leginfo.legislature.ca.gov.
Gavin Newsom signs California's 'Fair Pay to Play Act' with LeBron James & Mav Carter | THE SHOP 2019