Employees of statewide LGBTQ+ group Equality California form union
Employees at other progressive and LGBTQ+ nonprofit organizations, including the ACLU and Lambda Legal have formed unions in recent years.
LOS ANGELES – A supermajority of workers at Equality California, the nation's largest statewide LGBTQ+ civil rights organization, announced the formation of a union, Equality Unites, with the Communications Workers of America (CWA).
In a letter sent via email Thursday, the staff urged Executive Director Rick Chavez Zbur, who is leaving his post at the end of 2021, and Executive Director-designate Tony Hoang to voluntarily recognize their union, inclusive of all non-Director level employees.
The union organizers laid out issues that merit the need for the union and what is felt to be critical concerns including addressing employee hiring and retention — particularly among employees of color, trans, gender nonconforming and intersex people — salary, raise, and promotion transparency, guidelines around overtime and fair compensation, a healthy culture of feedback, and any decisions that impact their health, safety and lives.
Organizers also pointed out that the staff at the non-profit organization had exceeded all expectations and kept the organization afloat during the coronavirus COVID-19 pandemic. The organizers also want to ensure that all employees have a voice as the organization undergoes a change in and restructuring of leadership, as well as a shift in goals and mission.
"CWA Local 9003 is proud to welcome our newest bargaining unit, Equality Unites," said CWA Local 9003 President Marisa Remiski. "We are urging management to voluntarily recognize them and CWA Local 9003 as their Union. We look forward to working together!"
Late Thursday afternoon Executive Director Rick Chavez Zbur and Executive Director-designate Tony Hoang responded in a written statement;
"This morning, Equality California received notice from our employees that they intend to organize a collective bargaining unit and a request that we voluntarily recognize it. As a progressive civil rights organization, Equality California has always stood shoulder-to-shoulder with unions in support of workers' rights to organize and collectively bargain," the statement read.
"We remain fully committed to these pro-worker values, and we intend to support our employees' organizational efforts and voluntarily recognize a bargaining unit. We look forward to continuing to provide a supportive and equitable environment for all of our employees and to working collaboratively with them going forward," Zbur and Hoag added.
I'm proud of @eqca's history of standing shoulder-to-shoulder with Labor in support of workers' rights to organize. Workers' rights are #LGBTQ+ rights, and LGBTQ+ rights are workers' rights. I look forward to working with our staff collaboratively in their organizational efforts. https://t.co/1aeR5aBe3g

— Rick Chavez Zbur (@RickChavezZbur) July 30, 2021
Zbur and Hoang's voluntary recognition of the union is significant. Employers often resist efforts to unionize by forcing employees to vote or engaging in other practices to dissuade workers from organizing.
But the outgoing and incoming executive directors of the nation's largest statewide LGBTQ+ civil rights organization immediately made clear that they have no intent to do so, and instead will support the employees' efforts.
Employees at other progressive and LGBTQ+ nonprofit organizations, including the ACLU, Lambda Legal and the Center for Reproductive Rights, have formed unions in recent years.
Throughout the LGBTQ+ civil rights movement, labor unions have played an important role in advocating for LGBTQ+ Americans. In 2007, Pride at Work — an official constituency of the AFL-CIO — signed onto an amicus brief in support of marriage equality in In re marriage cases.
Unions like the Communications Workers of America, California Teachers Association, United Food and Commercial Workers, and more staunchly opposed California Proposition 8 and the Defense of Marriage Act (DOMA), which sought to prohibit marriage equality.
More recently, unions have played a crucial part in advancing protections for LGBTQ+ workers, including the overwhelming 90% of union support for the Equality Act (H.R. 5) and celebration of the historic Supreme Court decision in Bostock, which affirmed that LGBTQ+ workers are protected from discrimination under federal law.
Calif. Insurance Commissioner urges FDA end gay/bi blood donation ban
"This outdated, discriminatory guidance based in prejudice not in public health & is contributing to the national blood donation crisis"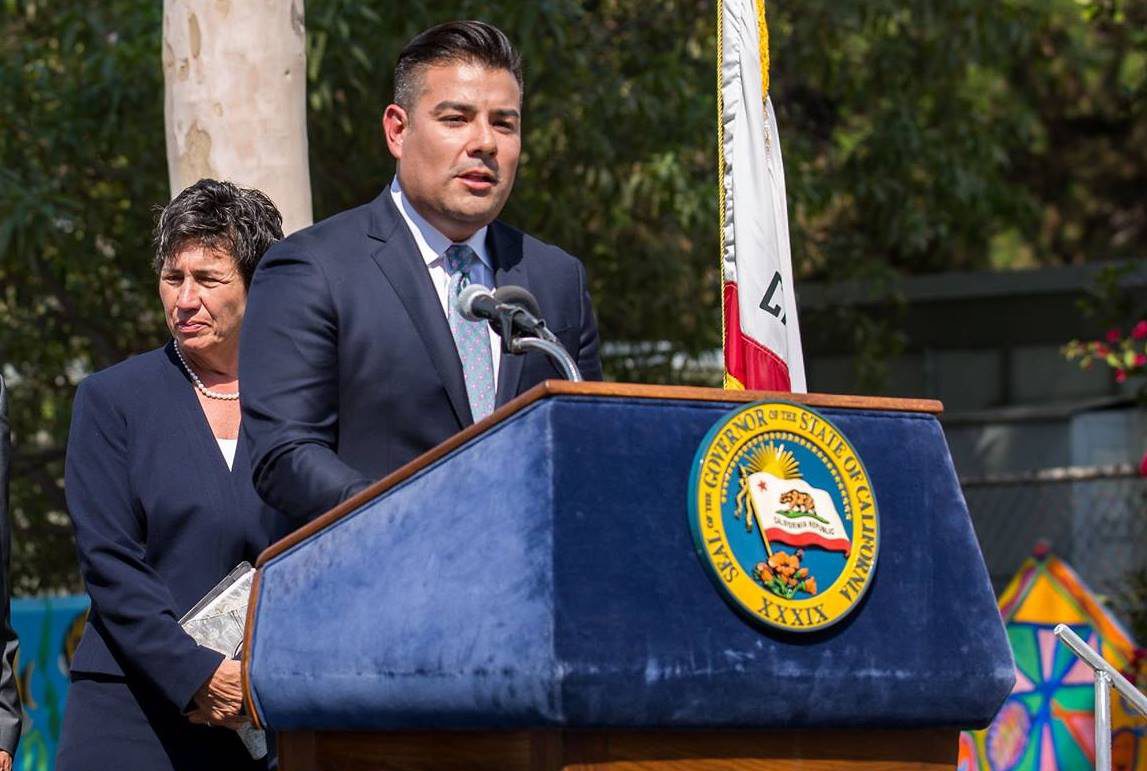 SACRAMENTO – California Insurance Commissioner Ricardo Lara is urging the U.S. Food and Drug Administration (FDA) to overturn a discriminatory blood donation ban policy carried over from the Trump administration.
On Monday, Lara sent a letter urging an end to the FDA's policy banning blood donations from gay and bisexual men. Currently the FDA requires that men who have sex with men must abstain from sex for three months before donating blood.
"This is outdated, discriminatory guidance based in prejudice – not in public health – and it is contributing to our current national blood donation crisis," said Insurance Commissioner Ricardo Lara in his letter to FDA's Acting Commissioner Dr. Janet Woodcock and U.S. Department of Health and Human Services Secretary Xavier Becerra. "I respectfully urge you to permanently lift the entire deferral period in order for a male donor who has had sex with another man from donating blood."
Research by the Williams Institute at the UCLA School of Law indicate that, if the outdated policy is lifted, up to 615,300 additional pints of blood per year—enough blood to help save the lives of more than one million people—can potentially be contributed by gay and bi men.
The FDA's original lifetime ban against gay and bi men was enacted in 1983 when little was known about the mechanisms of HIV transmission and the AIDS epidemic was concentrated primarily in the gay male community.
In 2015 the lifetime ban was partially lifted after the FDA announced that men who have sex with men would be able to donate blood following a year of abstinence. In April 2020 the one-year deferral period was reduced to three months to diminish the nation's urgent need for blood during the COVID-19 pandemic.
The United Kingdom announced in May 2021 that donors will no longer be asked if they are a man who has had sex with another man. Potential blood donors—regardless of their gender—will be asked, instead, of their most recent sexual activities. This year France and Greece announced their plans to abolish their longtime restrictions on blood donations from gay and bi men.
Calif. mother claims school manipulated child into changing gender identity
Konen gave the school permission to use the boy's name for attendance and tried to be supportive but noted it was difficult for her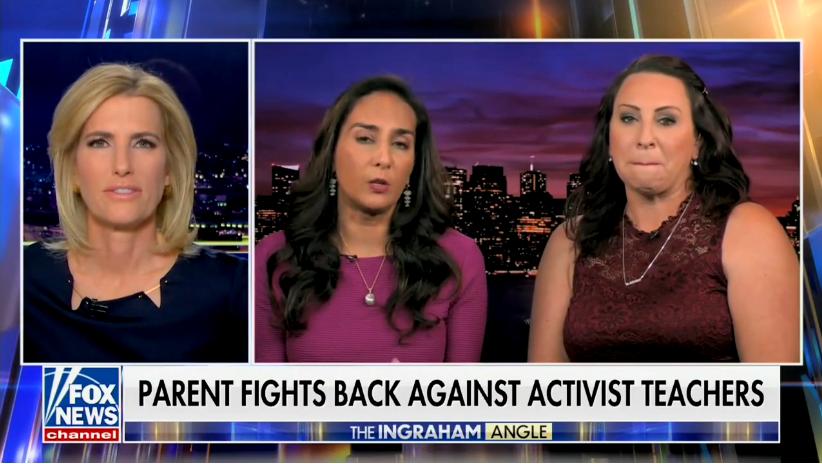 SPRECKELS, Ca. – A Northern California mother is claiming teachers in a small school district in the state manipulated her daughter into changing her gender identity and name in a legal claim.
The claim, filed by the ultra-conservative Center for American Liberty on behalf of the mother, alleged "extreme and outrageous conduct" by the Spreckels Union School District, leading Jessica Konen's 11-year-old daughter to change her gender identity and drive a wedge between them.
Specifically, the claim, a precursor to a lawsuit, names two teachers – Lori Caldera and Kelly Baraki – at Buena Vista Middle who, in addition to teaching, ran the school's Equality Club, later known as UBU (You Be You). Buena Vista is a part of the district.
It comes after Abigail Shrier, the author of a book widely criticized as anti-trans, quoted what the two educators said last year at the California Teachers Association's annual LGBTQ+ Issues Conference in a piece headlined "How Activist Teachers Recruit Kids." Caldera and Baraki spoke about the difficulty of running a Gay-Straight Alliance (GSA) in a socially conservative community.
After the article was published, the teachers were put on administrative leave, and the district hired a law firm to investigate, which is ongoing. The UBU club was suspended.
Spreckels is a town of about 400 people in the agricultural Salinas Valley, approximately 90 miles south of San Francisco.
According to the complaint, Konen's daughter began attending Equality Club meetings after being invited by a friend when she started sixth grade at Buena Vista. After attending one session, she decided it wasn't for her until Caldiera convinced her to come back. At the gatherings, Caldera and Baraki held LGBTQ-centered discussions and introduced students to different gender identities and sexualities.
During her time in the club, Konen's daughter began exploring her own gender identity and sexuality, choosing to wear more masuline clothes. At some point, she decided to change her name and pronouns, which she has since changed back to her original name and pronouns.
Konen said she was aware her daughter was bisexual but did not know she began using a male name and gender pronouns until she was called into the school when her daughter was in seventh grade. The meeting caught both Konen and her daughter by surprise – Konen's daughter had said she wanted to notify her mother, but she did not know the meeting was that day.
Konen gave the school permission to use the boy's name for attendance and tried to be supportive but noted it was difficult for her.
However, when Shrier's article was published and circulated around the small town, everything changed. At this time, Konen's daughter was again using a female name and pronouns.
In the leaked recording from the LGBTQ conference, Caldera and Baraki were discussing how they kept meetings private, among other things.
"When we were doing our virtual learning — we totally stalked what they were doing on Google, when they weren't doing school work," Baraki said. "One of them was googling 'Trans Day of Visibility.' And we're like, 'Check.' We're going to invite that kid when we get back on campus."
However, Caldera told the San Francisco Chronicle that the quotes were either taken out of context or misrepresented. According to Caldera, the stalking comment was a joke. She also defended their work, saying students lead the conversation and they provide honest and fair answers to their questions.
In addition, a spokesperson for the California Teachers Association criticized the group bringing the lawsuit forward, according to the Associated Press: "We are concerned about a political climate right now in which outside political forces fuel chaos and misinformation and seek to divide parents, educators and school communities for their own political gain, which is evident in this complaint. The Center for American Liberty is concerned with pushing its own political agenda through litigation and has filed multiple lawsuits against various school districts and communities."
New bill for Kids 12+ to get vaccinated without parental consent introduced
It's unacceptable for this vaccine to be excluded from the decisions California teens are already empowered to make about their bodies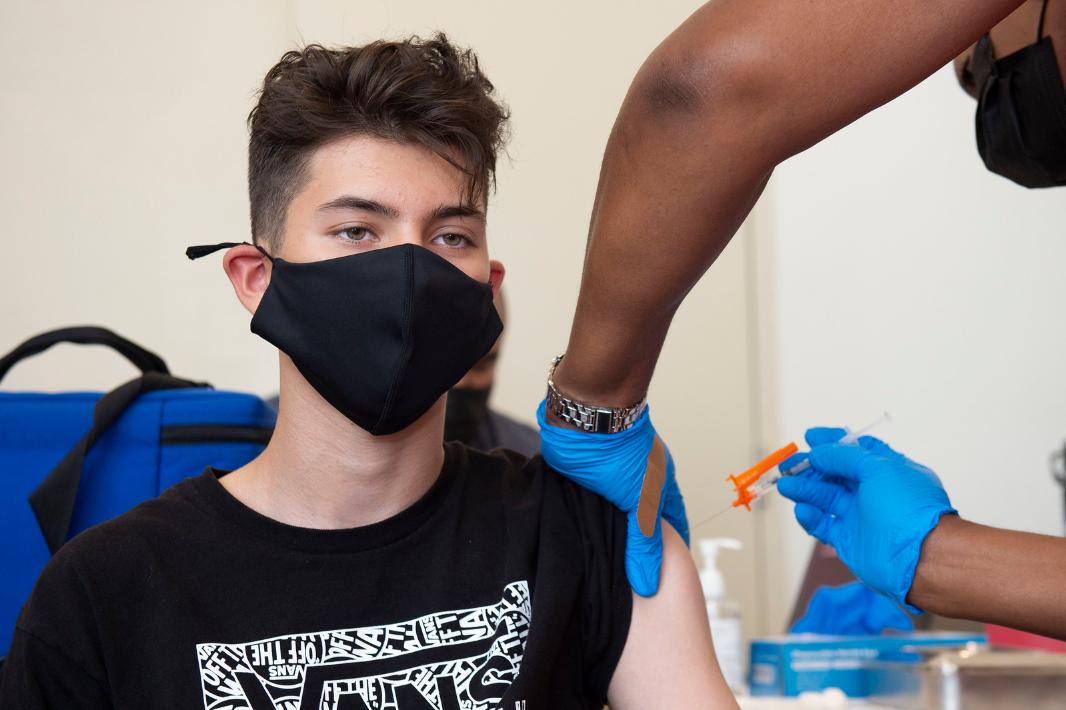 SACRAMENTO – Out Senator Scott Wiener (D-San Francisco) introduced Senate Bill 866 this past week which allows young people 12 years and older to get vaccinated without parental consent.
SB 866, the Teens Choose Vaccines Act, applies to all vaccines approved by the U.S. Food and Drug Administration (FDA) that meet the recommendations of the Advisory Committee on Immunization Practices (ACIP) of the Centers for Disease Control and Prevention.
Young people 12 and over are already allowed to make critical decisions about their bodies without parental consent, including getting the human papillomavirus (HPV) and hepatitis B vaccines, accessing reproductive healthcare and mental healthcare, among other health services. SB 866 would simply build on existing law to expand youth access to vaccines.
"Giving young people the autonomy to receive life-saving vaccines, regardless of their parents' beliefs or work schedules, is essential for their physical and mental health," said Senator Wiener. "COVID-19 is a deadly virus for the unvaccinated, and it's unconscionable for teens to be blocked from the vaccine because a parent either refuses or cannot take their child to a vaccination site. So many teens want to be vaccinated so that they can lead a more normal life — participating in sports or band, traveling, going to friends' homes — but they're prevented from doing so due to their parents' political views or inability to find the time. Unvaccinated teens also make schools less safe and threaten our ability to keep schools open. In states like Alabama and South Carolina, teenagers are already allowed to get vaccinated without parental consent. Young Californians should also have the right to keep themselves healthy and safe."
With the persistence of the COVID-19 pandemic and the widespread availability of highly effective and safe vaccines to treat serious COVID-19 illness, it's more important than ever that young adults be able to access vaccines. Over a quarter of young people ages 12 and 17 — nearly a million young people — remain unvaccinated. These low vaccination rates can have dire consequences for teens; a recent study found that almost all teenagers who needed intensive care for COVID-19 were unvaccinated, and all who died were unvaccinated.
Under existing law, young people ages 12 and 17 cannot be vaccinated without parental consent, unless the vaccine is specifically to prevent a disease that is sexually transmitted. This serves as a significant barrier to teen health in California, particularly in situations where parents and children hold conflicting views about vaccines.
Parental consent requirements for vaccines are also a barrier in cases where a child is experiencing medical neglect, or simply because working or otherwise busy parents are not available to take their children to medical visits. Low-income children may experience longer waits to get vaccinated because their parents may work longer hours — often without paid time off — and can't take them to get vaccinated as soon as they are eligible.
Young people age 12 and 17 can also get birth control and abortions, as well as medical treatment for sexually transmitted infections, drug and alcohol-related disorders, injuries resulting from sexual assaults and intimate partner violence, and mental health disorders – all without parental consent. In addition, various states already allow minors to access vaccines without parental consent, including Alabama, South Carolina, Washington, DC, Oregon, and Rhode Island.
This problem has implications far beyond the COVID-19 pandemic. Measles, for example, spreads efficiently among unvaccinated youth, whose parents have sadly chosen to block them from receiving a potentially life-saving vaccine. Measles was, at one time, considered eliminated in the United States. But vaccine misinformation and hesitancy has allowed it to spread once again.
Allowing young people to get vaccinated is critical not only for physical health, but for mental health, too. The United States Department of Health and Human Services found that adolescents ages 12-17 are seven times more likely to experience a new or recurring mental health issue after getting sick with COVID-19. And studies have found that school closures over the past couple of years have led to negative impacts on teens' mental health, and academic achievement, and have widened class-based academic disparities.
While school closures may have been necessary earlier in the pandemic when vaccines weren't widely available, we now have the tools to keep students and teachers healthy and in the classroom.
Senator Wiener is a member of the California Legislature's Vaccine Work Group. SB 866 is sponsored by ProtectUS, Teens for Vaccines, GenUP (Generation UP), and MAX the Vax. Senator Richard Pan (D-Sacramento) is a joint author of SB 866. Assemblymember Buffy Wicks (D-Oakland) is principal co-author of SB 866, and it is also co-authored by Assemblymembers Evan Low (D-Campbell), Akilah Weber (D-La Mesa), Laura Friedman (D-Glendale), Phil Ting (D-San Francisco), Cecilia Aguiar-Curry (D-Winters), and Senator Josh Newman (D-Orange County).
"In my view, this change in California policy is so important because it's not only for COVID, it's for all vaccines that protect us," said Nyla, 7th grade student in San Francisco. "I can't think of a good reason why laws shouldn't let people my age choose to lower our risk of getting really sick. And vaccines not only make us safer, they keep our friends and family safe, too."
"We appreciate Senator Wiener hearing teen voices in California and around the country," said Crystal Strait, Board Chair, ProtectUS. "Teens have the right to protect themselves from preventable death and disability. Under existing California law, minors 12 and older may independently consent to treatment for infectious diseases. It's just common sense that they should be able to consent to vaccines that will prevent serious illness in the first place. This bill is a natural extension of existing laws in place to prevent the spread of infectious diseases such as COVID."
"Ensuring students have fair and equitable access to COVID-19 vaccines is critical if we are to recover from this global pandemic," said Alvin, a college first year and the Executive Director of GenUP. "Receiving the COVID-19 vaccine is a matter of physical safety, potentially even concerning life or death. We need our students to be both safe and healthy on school campuses. Allowing students to self-consent to the vaccine will ensure all students, regardless of familial circumstances, will have the autonomy to protect their physical health and wellbeing. Let's keep our students healthy!"
"As a pediatrician who has specialized in the care of adolescents and young adults in the Department of Pediatrics at UCSF Benioff Children's Hospital for over 40 years, I am pleased to be here to join with young people and Senator Wiener to support the Teens Choose Vaccine Act," said Dr. Charles Irwin. "The Teens Choose Vaccine Act is an additional critical step for improving the lives of adolescents by enabling them to make healthy choices around essential vaccines that all young people should be able to get during the second decade of life without any barriers. Adolescence is a time of learning to assume increased responsibility for health care decision making for the rest of their lives. Laws should enhance access to care and not create barriers to getting essentia carel."
"I have been a registered nurse working at UCSF Benioff Children's Hospital in Oakland for the last 35 years," said Wendy Bloom, pediatric nurse. "I work in an outpatient infusion center now where we care for many very vulnerable, immunocompromised patients. Some are that way due to genetic diseases that make them vulnerable like Sickle Cell Anemia and some get medications that suppress their immune systems. Those children have cancer, rheumatological, gastrointestinal, neurological or endocrinology diseases. We care for children post-bone marrow transplant.
She continued: "I have on more than one occasion spoken with teens in these circumstances that want to be vaccinated for COVID-19. Many can't even go to school due to their state of vulnerability. I have tried to convince their skeptical parents that vaccinating them is so important to protect them. The teens totally understand it and want to get it but without parental approval they have no choice but to remain unvaccinated. I had one teenager tell me she really wanted it but felt helpless to convince her parent to allow it. Her dad could not be moved. Senator Wiener's bill is critical to help these teens."
"We know how important vaccines are for protecting the health of teens and their families and communities," said San Francisco Director of Health, Dr. Grant Colfax. "Our San Francisco teens have some of the highest COVID-19 vaccination rates in the state and nation with more than 90% fully vaccinated, and they are now getting boosted. This age group has been a critical part of our response to ending the pandemic. This legislation would help increase vaccination rates among young people 12 years and older across California."
"Teenagers are as essential to ending this pandemic as any other member of their community, and we're hearing loud and clear that they want to be part of the solution," said Assemblymember Wicks. "At this critical moment in our collective efforts to curb COVID, it's unacceptable for this lifesaving vaccine to be excluded from the decisions California teens are already empowered to make about their bodies, their health, and their future. I'm proud to co-author this bill that will right that wrong."