Olympic Silver Medalist Erica Sullivan Is 'Still The Same Gay Girl'
Ever since young lesbians have been stanning Sullivan on social, the University of Texas student has opened-up to the world about who she is.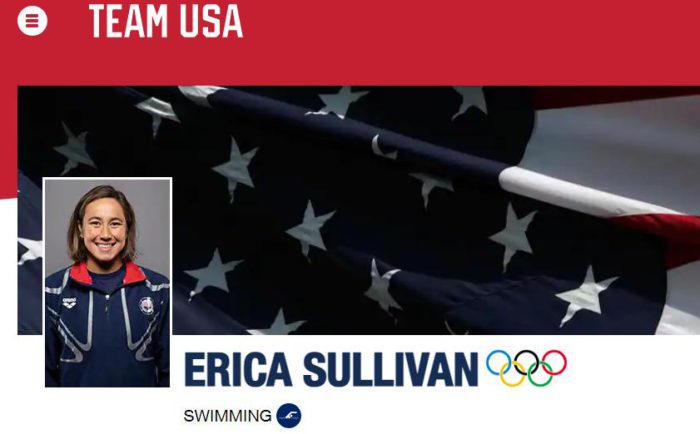 TOKYO – Erica Sullivan is a Japanese-American from Las Vegas and, at age 20, an Olympian attending her first-ever Summer Games. But that barely scratches the surface: This week, she won a Silver Olympic Medal. Not just any medal, mind you; she's the first-ever Silver medalist in the women's 1500-meter freestyle. 
Her big moment came on Tuesday in Tokyo, when Sullivan finished the 1500 in 15:41.41, 4.07 seconds behind Gold Medal winner and fellow American, Katie Ledecky.
"The last 24 hours have been a dream," Sullivan wrote on Instagram. "Thank you all from the bottom of my heart. Always for the people I represent," and she added a heart.
Make no mistake about who she represents: "Yes, I'm the gay one," says her Twitter bio. 
Whether it be a tweet, on Instagram or on TikTok, Sullivan proudly, frequently posts that she is the "only out gay swimmer" on Team USA. 
"Only gay USA swimmer. WHERE ARE THE GAYS" she tweeted in sharing an article about the record number of out LGBTQ Olympic athletes.
Only gay USA swimmer. WHERE ARE THE GAYS
https://t.co/exP6KkF8pw

— Erica Sullivan (@erica_sully) July 12, 2021
Ever since, young lesbians have been stanning Sullivan on social, as the University of Texas student has opened-up to the media and the world about who she is.
"This is kind of self-centered and cocky to say, and I'm sorry for that" Sullivan told reporters after winning Silver, "but I feel like I am the epitome of the American person, whereas I'm multicultural, I'm queer, I'm a lot of minorities in that sense. That's what America is. America is, to me, it's not being a majority. It's having your own start. The American dream is coming to a country to be able to establish what you want to do with your life."
Sullivan described having to train amid "duck poop" in Lake Mead, given that pools were shut down because of Covid-19. She also mentioned to the media: "If the women's soccer team, specifically Tobin Heath and Christen Press, would like to reach out, that would mean the world!"
What a change from just four years ago, according to Yahoo! News and Swimming World. Sullivan was dealing with the death of her father, coming out and mental-health issues. Her mother is a Japanese citizen living in the U.S., her late grandfather was an architect for some of the Olympic venues and her late father was a swimmer at the University of Wisconsin.
Sullivan is also a Swiftie, meaning she's a huge fan of Taylor Swift, which fellow fans have embraced.
📰| American Swimmer Erica Sullivan, silver medalist at the #Olympics #Tokyo2020 shares that she is a Swiftie!

"Love my queen Taylor Swift. She is releasing bops all year. She's been feeding us… I'm a reputation stan. I think people hate on the album for no good reason." pic.twitter.com/5OaB604zzj

— The Swift Society (@TheSwiftSociety) July 30, 2021
Headlines like, "All Hail Erica Sullivan, Olympic Silver Medalist, Swiftie, and Queer Icon" and "Lesbians, We Have A New Supreme And She's An Olympian Named Erica Sullivan" have only further enshrined Sullivan as a heartthrob for girls who like girls. 
Lauren Yapalater did a deep-dive into Sullivan's socials for Buzzfeed, revealing the swimmer "tweets about lesbian yearning movies just like the rest of us poor souls."
And then there's "The Question:"
"So many people have asked me if I'm single," she told Jill Gutowitz of Vulture, who Sullivan calls "the queen of Twitter lesbians."
"I'm like, I am still the same gay girl I was before all this. I've had a crush on the same girl for three years now. The yearning gets you every time."
Next up for Sullivan: back to school, and the pool,
"I deferred college for three years to train for these games," she told Gutowitz. "So, I'm going to Austin to continue my film career, my educational career, and my swim career. I'm gonna go another quad, I'm gonna try and go for 2024, that's the plan. But hopefully after that I can focus on my film career."
Carrying a Pride flag- protester interrupts World Cup game
Qatar's laws against gay sex and treatment of LGBTQ people were flashpoints in the first World Cup to be held in the Middle East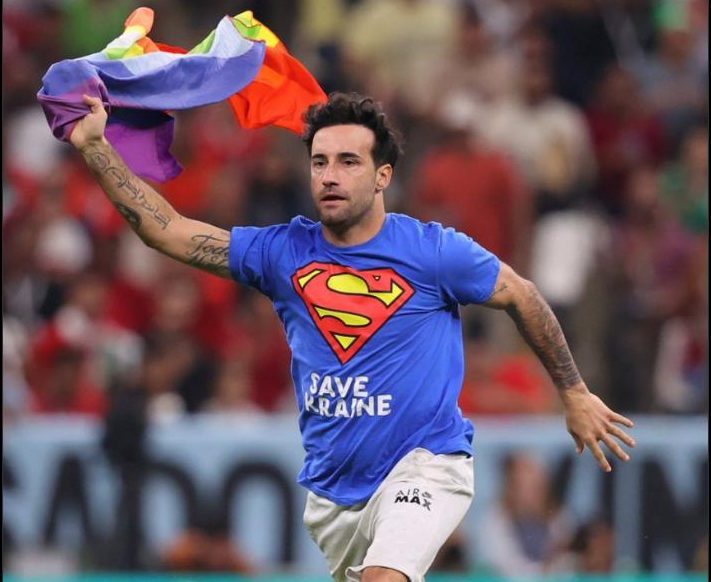 LUSAIL, Qatar – During a World Cup match between Portugal and Uruguay Monday, a lone protester ran across the field waving a LGBTQ+ Pride flag moments after the second half kickoff.
Video and still images show the man wearing a blue T-shirt emblazed with the Superman symbol and the phrase "SAVE UKRAINE" on the front and "RESPECT FOR IRANIAN WOMAN" on the back.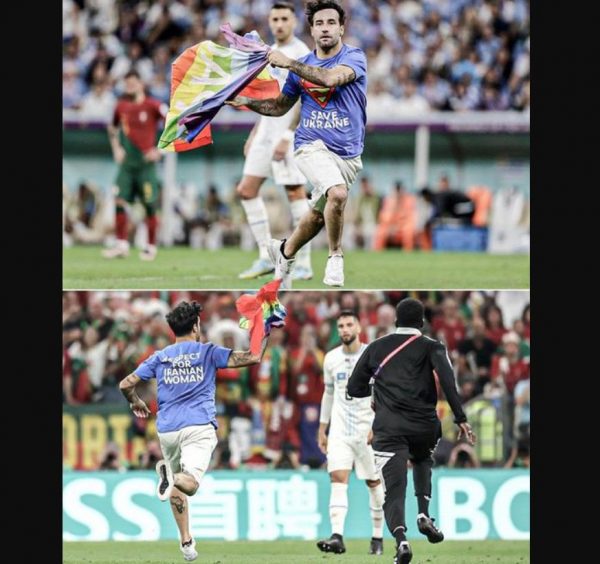 Qatari security personnel chased him down and then frog marched him off the playing field. Israeli Public Radio correspondent Amichai Stein tweeted video clips of the incident:
World Cup: A protester ran into the game holding a rainbow flag – with a 'Save Ukraine' and 'Respect For Iranian Women' shirt – @OrryLavie pic.twitter.com/s6dIcZLkQz

— Amichai Stein (@AmichaiStein1) November 28, 2022
FIFA had no immediate comment on the incident the Associated Press noted reporting that in the first week of the tournament in Qatar, seven European teams lost the battle to wear multi-colored "One Love" armbands during World Cup matches. Fans also complained they weren't allowed to bring items with rainbow colors, a symbol of LGBTQ rights, into the stadiums of the conservative Islamic emirate.
Qatar's laws against gay sex and treatment of LGBTQ people were flashpoints in the run-up to the first World Cup to be held in the Middle East. Qatar has said everyone was welcome, including LGBTQ fans, but that visitors should respect the nation's culture.