Hundreds participate in first-ever Cayman Islands Pride parade
Territory's governor, premier among marchers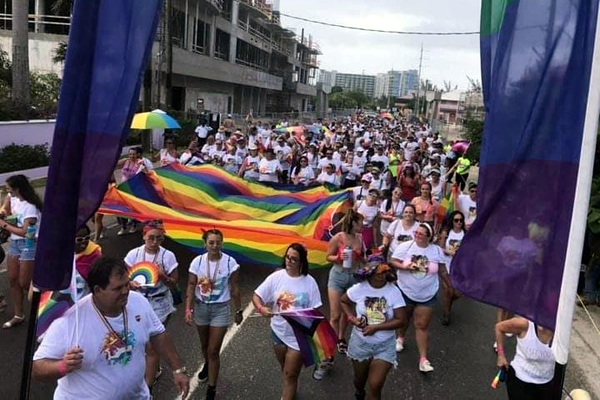 GEORGE TOWN, Cayman Islands — Upwards of 600 people participated in the first-ever Pride parade in the Cayman Islands that took place on Saturday.
Caymanian Gov. Martyn Roper, Premier Wayne Panton and opposition MP Barbara Conolly are among those who participated in the parade that the Cayman LGBTQ Foundation, a local advocacy group, organized.
Caymanian authorities required that all participants were vaccinated against COVID-19. Noel Cayasso-Smith, founder and president of the Cayman LGBTQ Foundation, on Monday told the Los Angeles Blade on Monday during a WhatsApp interview that his group did not allow alcohol in the parade and "discouraged" public displays of affections "in order to maintain a respectful event."
"This is the first time in history the Cayman Islands has ever been able to put on a Pride," said Cayasso-Smith. "I'm excited because we had no protesters. We had no negativity throughout the entire parade."
Cayasso-Smith said he and members of the Cayman LGBTQ Foundation decided to organize the parade, in part, because the pandemic has drastically reduced travel to and from the Cayman Islands. Cayasso-Smith noted hotels, condominium associations, restaurants, bars and local businesses all supported the event.
"Pride month came in and you know for every year I got really tired of seeing our Cayman people leaving to go to Atlanta, New York, San Francisco, Canada to enjoy themselves for Pride," he said, while noting the travel restrictions that remain in place because of the pandemic. "We thought it would be great to have our Pride here since we're in our own little bubble."
The Cayman Islands is a British territory that is located in the western Caribbean Sea between Jamaica and Cuba.
The Caymanian government in 1998 refused to allow a gay cruise ship with 900 passengers to dock. Religious officials in the British territories pressured authorities to prohibit an Atlantic Events vessel from visiting the territory.
Cayasso-Smith, who was born in the Cayman Islands, told the Blade that "growing up here has been very difficult for me as a gay person." Cayasso-Smith lived in the U.K. for 13 years until he returned to the Cayman Islands to help his family rebuild their home after Hurricane Ivan devastated the British territory in 2004.
"I decided to stay because I thought, you know, I should be able to live in my country as a free gay man where there's no laws restricting me from being who I am," said Cayasso-Smith. "I feel that as a gay man contributing to the island I should have the right to live free."
Caymanian Grand Court Chief Justice Anthony Smellie in 2019 struck down the territory's same-sex marriage ban. The Caymanian Court of Appeal a few months later overturned the ruling.
The territory's Civil Partnership Law took effect last September.
Immigration Equality condemns expulsion of Haitian migrants, asylum seekers
Prominent activist found dead in Port-au-Prince home in 2019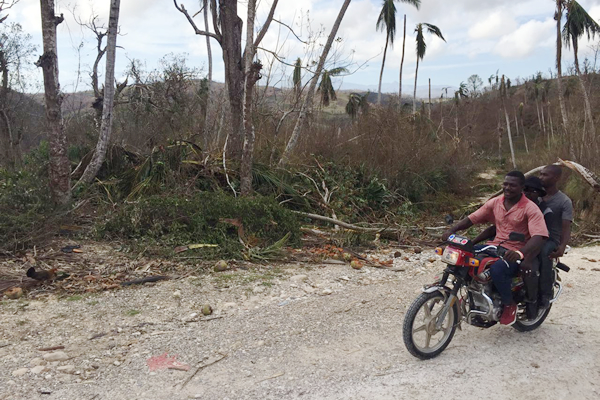 NEW YORK — Immigration Equality on Wednesday sharply criticized the Biden administration over the deportation of Haitian migrants and asylum seekers from the U.S.
"Over 10,000 Haitian migrants and asylum seekers are waiting at America's doorstep, but the Biden administration won't uphold their basic right to ask for protection," said Immigration Equality Legal Director Bridget Crawford in a press release. "This is blatantly illegal and morally reprehensible. Many of these people are asylum seekers who face grave danger if returned to Haiti. They have traveled thousands of miles to escape a country torn apart by devastating earthquakes and political turmoil."
The White House in recent days has been struggling to respond to the influx of Haitian migrants and asylum seekers in Del Rio, Texas, which is across the Rio Grande from Ciudad Acuña, Mexico. Pictures of U.S. Border Patrol agents on horseback chasing and whipping Haitians have sparked widespread outrage.
Title 42, a Centers for Disease Control and Prevention rule that closed the Southern border to most migrants and asylum seekers because of the pandemic, remains in place. The U.S. Department of Homeland Security has begun to deport Haitian migrants and asylum seekers from Texas.
Immigration Equality in its press release notes Charlot Jeudy, a member of Kouraj, a Haitian LGBTQ rights group, was found dead inside his home in Port-au-Prince, the country's capital, in 2019.
Violence and discrimination based on sexual orientation and gender identity remain commonplace in Haiti.
President Jovenel Moïse's assassination on July 7 and an 7.2 magnitude earthquake on Aug. 14 that left scores of people dead and displaced hundreds of thousands of others have caused additional turmoil in Haiti, which is the Western Hemisphere' poorest country.
A 7.0 magnitude earthquake that devastated Port-au-Prince and surrounding areas in 2010 killed an estimated 200,000 people.
Fondation SEROvie, a Haitian HIV/AIDS service organization, contributed to relief efforts after Hurricane Matthew caused widespread damage on the country's Tiburon Peninsula in 2016. Last month's earthquake struck in the same area.
"For LGBTQ people in particular, expulsion means returning to a society that rejects them. They are frequent targets of violence and sexual assault, including by the police," said Crawford. "The country is fundamentally unsafe for the queer and transgender community."
"Instead of welcoming Haitian asylum seekers as the U.S. should, the Biden administration is sending them back to life-threatening conditions," added Crawford. "We call on the administration to halt the deportation flights immediately and end Title 42 in its entirety. The disturbing images of border agents on horseback chasing down terrified Haitian migrants go against the administration's professed ideals. Shame on the Biden administration for embracing this xenophobic and illegal Trump-era policy and mistreating vulnerable migrants."
Draft of new Cuba family code has marriage equality provision
National Assembly expected to vote on proposal in December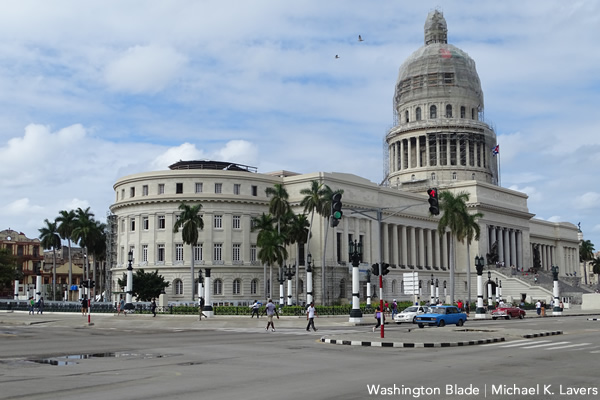 HAVANA — Cuba's Justice Ministry on Wednesday released a draft of a proposed new family code that would extend marriage rights to same-sex couples in the country.
Tremenda Nota, the Los Angeles Blade's media partner in Cuba, reported the proposed Article 61 of the new family code defines "marriage as a union of two people with legal aptitude who voluntarily agreed to enter into it in order to build a life together based on affection and love."
The Justice Ministry, according to Tremenda Nota, released the draft a week after a commission that has been charged with writing the new family code met with President Miguel Díaz-Canel and other officials.
Tremenda Nota reported the National Assembly is expected to vote on the new family code in December. The Associated Press noted a referendum on it would then take place.
"It protects all expressions of family diversity and the right of each person to establish a family in coherence with the constitutional principles of plurality, inclusion and human dignity," National Union of Jurists of Cuba Vice President Yamila González Ferrer told the Associated Press.
The draft's release comes nearly three years after the government removed an amendment from a draft of Cuba's new constitution that would have extended marriage rights for same-sex couples after evangelical groups on the Communist island publicly criticized it. Cuban voters in February 2019 overwhelmingly approved the new constitution without marriage equality.
Cuba would join Costa Rica, Colombia and a handful of other Latin American countries with marriage equality if the new family code draft becomes law.
Former President Fidel Castro in the years after the 1959 revolution that brought him to power sent gay men and others to work camps known by the Spanish acronym UMAP. His niece, Mariela Castro, the daughter of former President Raúl Castro who spearheads LGBTQ-specific issues as director of Cuba's National Center for Sexual Education (CENESEX), and Díaz-Canel both publicly support marriage equality.
Tremenda Nota Director Maykel González Vivero is among the hundreds of people who Cuban police arrested on July 11 during anti-government protests that took place in Havana and across the country. Luis Ángel Adán Roble, a gay man who was once a member of the National Assembly, is among those who have been banned from leaving the country.
AHF Donates SARS COV-2 viral sequencing machine to the Caribbean
"The current need and demand for genomic surveillance in the region has increased significantly, so we are extremely grateful"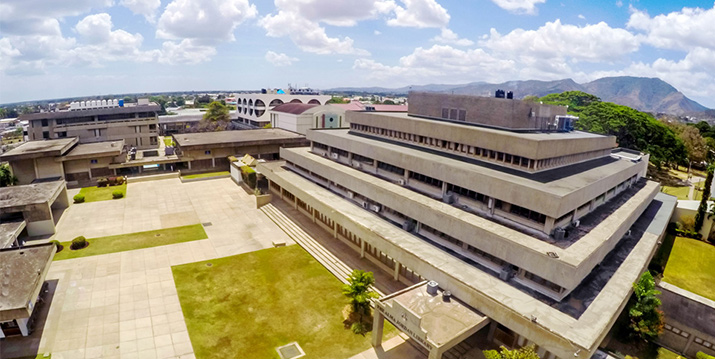 LOS ANGELES – The Los Angeles based AIDS Healthcare Foundation (AHF), the largest global AIDS organization, signed an agreement with the University of the West Indies (UWI), St. Augustine Campus, Trinidad and Tobago to provide a gene sequencing analyzer and reagents to expand the capacity of the university to test for new and emerging variants of the coronavirus.
This will improve the region's sequencing capacity and contribute to reducing testing turnaround times. Jamaica and many of the countries in the Region are now experiencing severe upsurges of Covid-19 caused by the Delta variant, with many hospitals exceeding capacity and others running out of oxygen. More recently five cases of the Mu variant were also identified in St. Vincent.
Dr. Kevin Harvey, the Caribbean Regional Director at AHF, in welcoming the agreement, noted that the machine is already on order and should be in place within the next two to three weeks. "The Mu variant has since been isolated in samples from Jamaica as well, making the timeliness of AHF's donation of the gene sequencing analyzer and reagents all the more critical," noted Dr. Harvey.
"Our COVID-19 IMPACT project, a UWI-led collaboration with CARPHA (the Caribbean Public Health Agency) and the Trinidad and Tobago Ministry of Health, established local capacity for virus whole genome sequencing in December 2020, and our laboratory at UWI has been carrying out genomic surveillance for SARS-CoV-2 variants for Trinidad and Tobago and 16 other CARPHA member states," said Dr. Christine Carrington, Professor of Molecular Genetics and Virology at the UWI.
"The current need and demand for genomic surveillance in the region has increased significantly, so we are extremely grateful for the AHF's support. The device they are providing is faster and can also do five times as many samples as the device we started off with, so it will help to increase our throughput."
Dr. Jorge Saavedra the executive Director of the AHF Global Public Health Institute at the University of Miami, highlighted the project as part of a larger initiative by AHF to improve the early detection of new variants to enable proper planning, and in some cases, expansion of existing genomic sequencing initiatives and implementation of mitigation measures in several of the countries served by AHF that can inform public policy. "AHF is also now in final negotiations to provide support to establishing genomic sequencing capacity in Jamaica to reduce the need for all samples to be sent to Trinidad and Tobago."
AHF has also previously provided similar support to Brazil, Uganda, Mexico, India, Argentina, and before the end of the year, will undertake other similar initiatives in Nigeria, Peru, Ukraine and Pakistan.