Biden names two more LGBTQ nominees for administration posts
The President went more than two months into his presidency without naming a single ambassador to send overseas there are still key vacancies.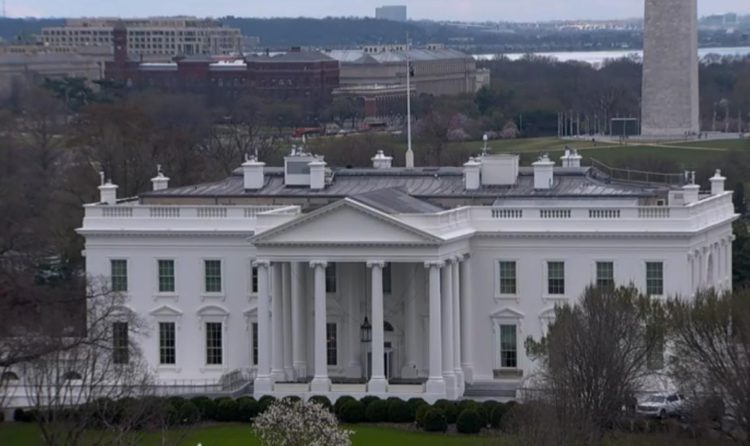 WASHINGTON – The White House Friday released a list of another ten nominees to serve in key roles it is forwarding to the U.S. Senate. Included in the list were two more LGBTQ persons as nominees including Scott Miller, Nominee for Ambassador to the Swiss Confederation and to the Principality of Liechtenstein and Todd Harper, Nominee for Chairman of the National Credit Union Administration.
Despite the pace having picked up on nominations, the President went more than two months into his presidency without naming a single ambassador to send overseas, there are still key vacancies among US ambassadorships. And while Biden has made nominations, the US does not have any confirmed ambassadors installed in key countries such as China, Canada, India, France or Israel, CNN reported.
Scott Miller, Nominee for Ambassador Extraordinary and Plenipotentiary to the Swiss Confederation and to the Principality of Liechtenstein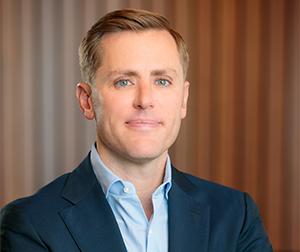 Scott Miller is an LGBTQ rights activist and philanthropist. As co-chair of the Gill Foundation's board of directors, Miller directs the foundation's national giving strategy to advance LGBTQ equality, including public education campaigns to ban conversion therapy and end discrimination against LGBTQ Americans.
Photo Credit: The Gill Foundation, Denver, Colorado
At the foundation, Miller also oversees local efforts to ensure equal opportunity for all Coloradans, including generous support for K-12 STEM education at numerous Colorado public schools. During the pandemic, Miller led efforts to provide over 5.6 million meals to tens of thousands of his fellow Coloradans to alleviate food insecurity.
Together Miller and his husband, Tim Gill, are among the top contributors to LGBTQ equality issues in the United States.  Previously, Miller served as an account vice president at UBS Wealth Management in Denver, Colorado.  Miller earned a Bachelor of Science degree with honors in business administration from the University of Colorado Boulder.  Upon graduation, he started his career as a management consultant for Accenture, followed by work as an event planner for global clientele.
"There is enormous power in LGBTQ people representing the United States abroad as ambassadors and Scott will ensure the advancement of equality is always on the diplomatic agenda. Much of his career has been dedicated to furthering LGBTQ rights and ending discrimination against the most vulnerable in America and we are fortunate he will soon have a global platform to push for these human rights issues. He will make a fantastic representative for our country," Mayor Annise Parker, President & CEO of LGBTQ Victory Institute said in an emailed statement.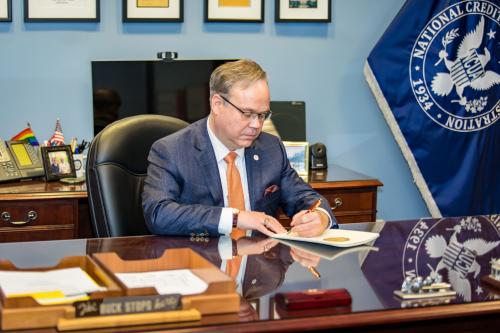 Todd Harper, Nominee for Chairman of the National Credit Union Administration
Todd Harper has specialized in financial services policy during his more than 25 years of government service and has led the NCUA Board as Chairman since January 2021. He also chairs the interagency Federal Financial Institutions Examination Council.
Mr. Harper joined the NCUA Board in April 2019 and is the first NCUA staffer to become a Board Member and Chairman. From 2011 to 2017, he led the agency's Office of Public and Congressional Affairs and served as the chief policy advisor to two NCUA Chairmen.
Previously, as staff director for the Subcommittee on Capital Markets, Insurance and Government Sponsored Enterprises in the U.S. House of Representatives, Mr. Harper contributed to the efforts after the financial crisis to enact the Dodd-Frank Wall Street Reform and Consumer Protection Act.
As legislative director to former Congressman Paul E. Kanjorski of Pennsylvania, he also worked on bipartisan legislation concerning credit union capital rules, terrorism risk insurance, auditing standards and subprime mortgage lending.
A member of the LGBTQ community, Mr. Harper earned an M.P.P. from Harvard University's Kennedy School of Government and a B.S. with high distinction in business analysis from Indiana University's Kelley School of Business.
Out Assemblymember Evan Low eyes South Bay House seat
Long considered a likely U.S. House candidate once a seat opened up, Low is widely expected to enter the 2024 race to succeed Rep. Anna Eshoo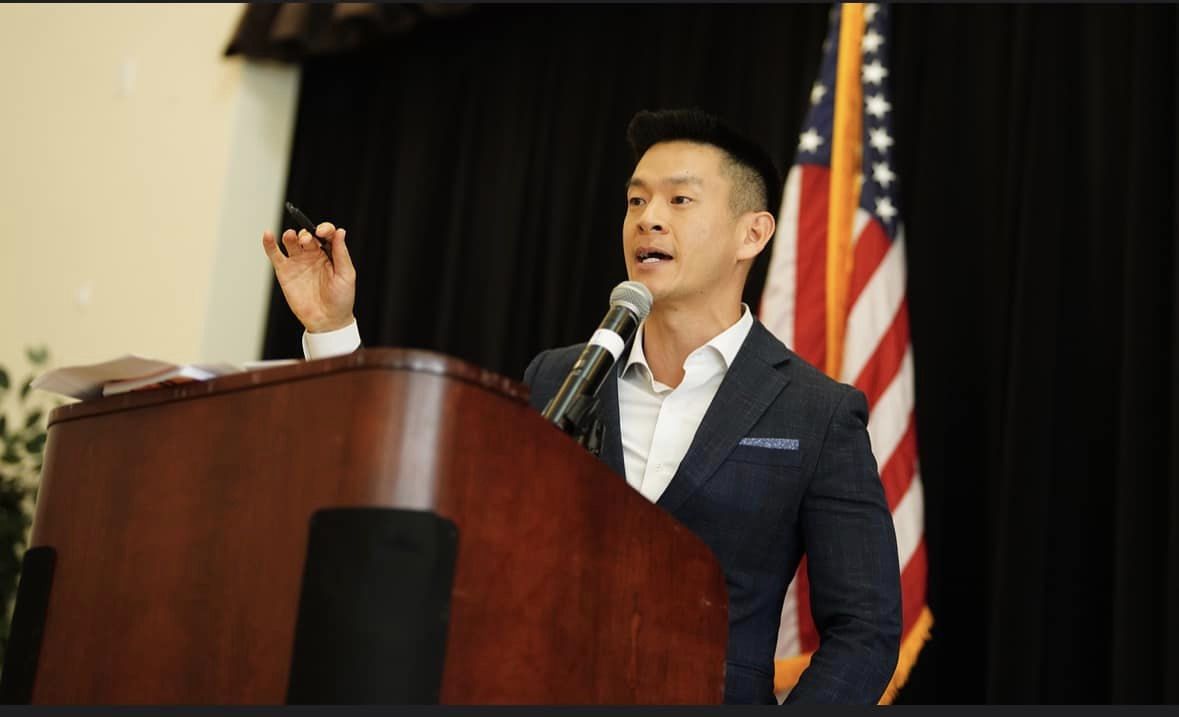 By Matthew S. Bajko, Assistant Editor | SANTA CLARA COUNTY, Calif. – With the news Tuesday that Congressmember Anna Eshoo (D-Palo Alto) will retire from the South Bay House seat she has held since 1993, it provides an opportunity to see the first LGBTQ person from the Bay Area be elected to Capitol Hill.
Long considered a likely congressional candidate once a seat opened up, gay Assemblymember Evan Low (D-Cupertino) is widely expected to enter the 2024 race to succeed Eshoo. Low, 41, told the Bay Area Reporter that he is interested in running for it but is not yet ready to make an official announcement.
"Any person who follows in her footsteps must commit themselves completely to upholding her incredible legacy. Today, I'm going to celebrate one of our valley's greatest public servants and a personal mentor to me. There are a lot of people in the community I need to talk to before I make a formal decision," Low, who has until early December to decide, wrote in a texted reply November 21.
Tuesday morning Eshoo released a video about her decision not to seek reelection next year in order to break the news to her constituents.
"As the first Democrat and first woman to ever represent this distinguished congressional district, no one could ever be prouder than me to carry our Democratic Party values," Eshoo wrote in an email to her supporters.
Eshoo's 16th Congressional District spans both San Mateo and Santa Clara counties. She had first sought a House seat six years after winning election to the San Mateo County Board of Supervisors but fell short in the general election of 1988 to Republican then-Stanford professor Tom Campbell.
When Campbell opted not to run for another term in 1992, and instead mounted an unsuccessful U.S. Senate bid, Eshoo ran again and won. She has long been a champion of LGBTQ issues in Congress and has enjoyed strong support from the LGBTQ community throughout her time in the House.
As the B.A.R.'s online Political Notes column reported last year, Eshoo ran her first TV ads since being elected to Congress for her 2022 candidacy. In it, she touted being an original co-sponsor of the Equality Act, the federal omnibus LGBTQ rights legislation adopted by the House in 2021. (It died when the U.S. Senate failed to vote on it.)
It is believed to be the first time a Bay Area congressmember highlighted their support of the Equality Act in a campaign commercial. In an interview Eshoo had told the B.A.R. she was proud to have that distinction.
"I have always believed there is one class of citizenship in our country and that is first class. So without the movement for equality and fullness of citizenship that can't happen," Eshoo had told the B.A.R. "I am very proud of that, so I wanted to highlight the Equality Act."
Eshoo also had the honor of being the first woman to serve as chair of the Democratic Party in San Mateo County, as she noted in her email to constituents. She also served as a member of the Democratic National Committee.
"I'm so proud of all we've achieved together and that the strength of our party rests on a strong foundation of clubs, caucuses, and county committees with our allies in Labor and other valued advocates. Our party continues to be strengthened by our diversity, and I'm confident this will continue because it is who we are," wrote Eshoo. "As the last year of my service in Congress lies ahead, be assured that I will continue to bring my tenaciousness and unswerving commitment to my work to strengthen our democracy, and our work together for a sweeping Democratic victory for the country we love so much."
In a statement he released reacting to Eshoo's news, Low called Eshoo "an icon" and a "personal hero" to him. He also praised her for being a "champion who leads this community with tremendous energy, grace, and grit."
He added that he is looking forward "to the many ways" the community can honor Eshoo for "her extraordinary service" over the years.
"We are so blessed to have her as our leader, gracefully navigating the complex issues in this valley of high expectations," stated Low. "Her public service has been noble and selfless, advancing quality healthcare access for all, immigration reform rooted in compassion and humanity, and stringent consumer protections unfettered by special interests."
As the B.A.R. reported last year, Low moved into the redrawn 26th Assembly District that includes Cupertino, Santa Clara, Sunnyvale, and parts of San Jose in order to avoid competing against his colleague Assemblymember Marc Berman (D-Palo Alto) for reelection to the state Legislature. Berman had been drawn into Low's former Assembly District.
Doing so required Low to vacate the 1,100 square foot condo in Campbell that he co-owns with his brother, a San Jose police officer. He moved into the Sunnyvale home of his father and stepmother.
Low grew up in San Jose, and his parents separated when he was 18. He graduated from San Jose State University and went on to win election to the Campbell City Council in 2006.
He was the first Asian American to serve on the governing body. Four years later he became the youngest openly LGBTQ+ mayor in the country at age 26.
He first won election to the state Assembly in 2014. He has strong ties to Silicon Valley's tech industry, which could benefit him in a House race as a source of support and financial donations to his campaign.
Low would be the second out candidate running next year for an open House seat in the Bay Area. Jennifer Kim-Anh Tran, Ph.D., a queer leader within the state's Vietnamese American community, is seeking to succeed Congresswoman Barbara Lee (D-Oakland), who is running for U.S. Senate rather than seek another House term.
Tran is the partner of Nenna Joiner, who owns several sex shops in the East Bay and a downtown Oakland nightlife venue. She is in a tough race to survive the March primary along with fellow Democrats BART board member Lateefah Simon and business owner Tim Sanchez, a U.S. Navy Reserves veteran who served in Afghanistan.
As the B.A.R. first reported in an online story November 17, there are now out House candidates in all three of the West Coast states. The 2024 election could thus see the California congressional delegation's LGBTQ contingent expand from its current two gay members, while those in Oregon and Washington state could see their first out members.
**************************************************************************************
The preceding article was previously published by the Bay Area Reporter and is republished with permission.
Help keep the Bay Area Reporter going in these tough times. To support local, independent, LGBTQ journalism, consider becoming a BAR member.