LGBTQ Blogger Joe Jervis; Hate group plans "National Walkout" over vax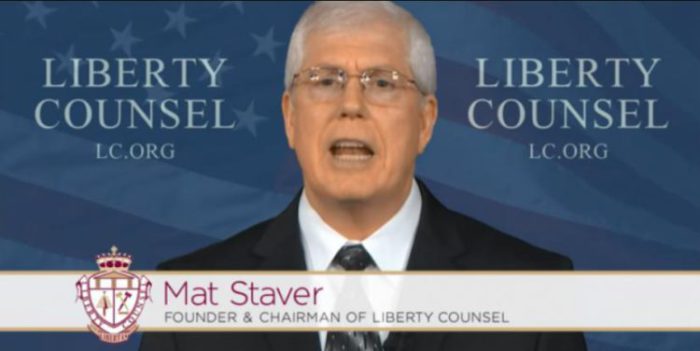 NEW YORK – As the Biden administration struggles to get more Americans vaccinated amid alarming case numbers of the highly contagious Delta variant of the coronavirus, which has health officials greatly concerned as new cases are spiking in forty states; Anti-vaccine proponents are engaging in a full court press to discourage Americans from getting vaccinated, many maintaining that the vaccine doses are experimental and have not be licensed by the FDA outside of emergency use.
One prominent anti-LGBTQ extremist Orlando, Florida group, which purports to hold 'Christian family values' Liberty Counsel, led by attorney Mat Staver has been a vocal opponent of coronavirus pandemic safety protocols and of vaccinations. Staver's group, listed by the Southern Poverty Law Center, (SPLC) as an extremist hate group, has been covered for years by New York City LGBTQ+ blogger Joe Jervis who publishes on his daily website, Joe.My.God.
Opposition to getting vaccinated are claiming that vaccines harm people and that Americans should have a choice, an idea that is gaining ground in conservative circles.
Against this backdrop, discussions are happening between the current vaccines two largest manufacturers, Moderna and Pfizer and the U.S. Food & Drug Administration, (FDA) as well as the Centers for Disease Control and Prevention, (CDC) over the potential need for boosters as Americans head into the winter months. Earlier this past week the FDA announced that it was accelerating the full approval process for the vaccines in an effort to stem the tide of rising cases of COVID.
On Friday, Jervis published an email from from Staver noting that the hate group plans a "National Walkout" over vaccines:
Join the movement to walk out and protest your place of employment and your school at noon your time zone on Wednesday, August 11. No one should be forced, coerced, or pressured to inject the COVID shots.

The federal Emergency Use Authorization law and the FDA, including the FDA Fact Sheets, state unequivocally that each person has the "option to accept or refuse" the shots. These shots are experimental and investigational and have not be licensed by the FDA. The Nuremberg Code also states that voluntary consent "is absolutely essential."

Healthcare workers have run to the frontlines. They are heroes. They should not be terminated for making a personal decision to refuse the shots.

Even if you are not being forced to get the COVID shots, please stand in solidarity with others who are being mandated. Stand with your friends, healthcare workers, veterans or those who serve our veterans, men and women of the military, students, and millions of others who are being forced to take the COVID shots or be terminated or removed from school.

Spread the word. Organize WalkOutWednesday in your area on August 11 at noon in your time zone. Employers, businesses, schools, medical facilities, or public places trying to force COVID shots on employees, students, or patrons must hear from you. Walk out at noon on August 11 and gather outside to peacefully protest these mandates.
As Jervis has previously reported, Staver has compared vaccine mandates to Nazism and claims the vaccine causes infertility, miscarriages, and brain damage. Last month Staver claimed that more people are dying from the vaccine every day than were killed on 9/11.
Jervis also published the Liberty Counsel email's 'suggested' phrases and artwork for the walkout.
RELATED: Moderna Says Booster Shot Likely Needed Before Winter
Obama rallies for Warnock as Walker goes transphobic in latest ad
"Tomorrow is the last day for early voting and then we need to get people out to the polls on Tuesday, which means we still got work to do"
ATLANTA – Former President Barack Obama held a rally with Sen. Raphael Warnock (D-GA) tonight in Atlanta as the Georgia election runoff for the U.S. Senate seat currently held by Warnock enters its final week.
Speaking to the enthusiastic crowd in the historic Pullman Yard, Obama urged supporters to continue pressing to secure Warnock's chances as early voting ends Friday ahead of next Tuesday's election.
"Now I know a lot of folks have been voting early over the last few days, that is a good thing. That is an encouraging thing. But — you knew there was a but —plenty of folks haven't voted yet. Tomorrow is the last day for early voting and then we need to get people out to the polls on Tuesday, which means we still got work to do," Obama said.
A spokesperson for the the Georgia secretary of state's office told the Blade that more than 1.1 million votes have been cast so far.
Warnock's Republican challenger meanwhile focused on his opposition to transgender rights. In a recent campaign ad, Herschel Walker is featured alongside cisgender former University of Kentucky swimmer Riley Gaines, who tied with University of Pennsylvania trans female swimmer Lia Thomas.
In the ad Gaines says she "worked so hard" at competitive swimming but she was "forced to compete against a biological male."  The ad also goes on to attack Warnock in the Chyron onscreen stating: "Raphael Warnock voted to allow biological men to compete in women's sports." That particular charge by Walker's campaign is factually incorrect as the U.S. Senate has not held any votes on the subject of transgender women in sports.
Politico's National political reporter Natalie Allison tweeted:
Herschel Walker is up with a new runoff ad about transgender athletes, featuring a swimmer who tied with Lia Thomas.

"My senior year, I was forced to compete against a biological male," Riley Gaines says in the ad for Walker's Senate campaign. pic.twitter.com/MlVxnJwkgB

— Natalie Allison (@natalie_allison) November 21, 2022
During the rally in Atlanta this evening Politico reported Warnock received roaring applause when he poked fun at Walker, something Obama also did, referencing a series of outlandish comments the retired football star has made over the course of his candidacy.
"We all know some folks in our lives who, we don't wish them ill will, they say crazy stuff … but you don't give them serious responsibility," Obama said.
"He was an amazing running back," Warnock said of Walker. "And come next Tuesday, we're going to send him running back to Texas."
Walker, who was raised in the Peach State and was a star player at the University of Georgia, lived the majority of his adult life in Texas before returning to run for Senate in 2021.
Politico also noted that Warnock, the pastor of the Atlanta church that Martin Luther King Jr. attended, tied the election to the long struggle of African Americans for equal rights, noting the crowd had gathered on the 67th anniversary of Rosa Parks refusing to get up from a bus seat in Montgomery, Alabama. Walker is also African American.