Independent review of HRC president caught up in N.Y. AG report
Although voices have emerged calling on David to resign other LGBTQ leaders have come to his defense- others say they're awaiting further info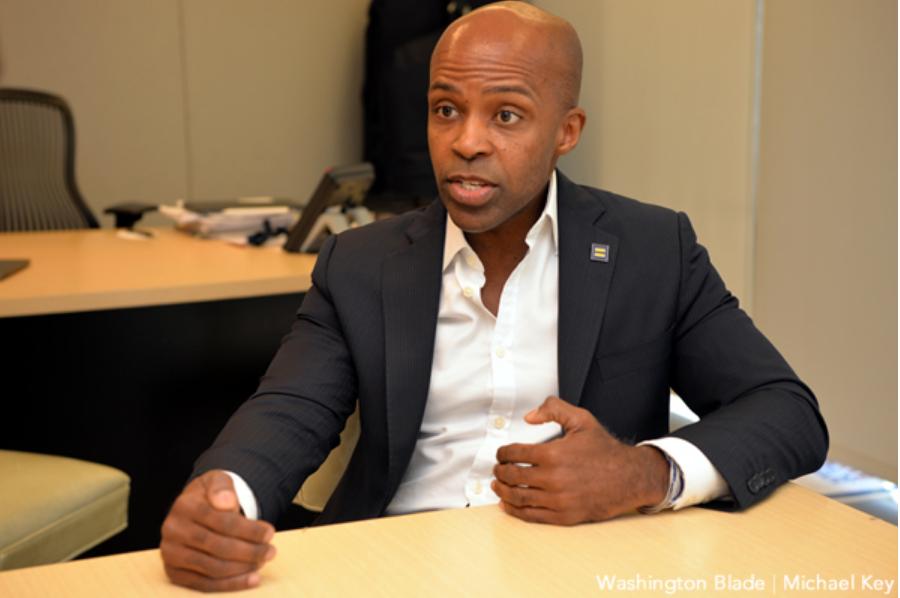 WASHINGTON – The nation's leading LGBTQ advocacy group has announced to staff an independent review of Alphonso David, president of the Human Rights Campaign, after he was ensnared in the damning report from the New York attorney general finding Gov. Andrew Cuomo violated the law by sexually harassing 11 women employees.
A pair of emails — one from the Human Rights Campaign board, the other from David — went out Monday morning and announced the independent review would be conducted by the Chicago-based Sidney Austin LLP that will take no longer than 30 days to complete. The emails were shared with the Washington Blade and a representative for the Human Rights Campaign confirmed the emails were accurate.
David, in his email, says he "fully endorse[s]" the review, reiterating he has joined calls for Cuomo to resign and denies any wrongdoing.
"One thing this horrible situation reminds us of is that discrimination, misconduct and abuse often thrive in darkness, and it makes me more determined than ever to continue fighting injustice and speaking up for those who need our voice," David writes.
A spokesperson from Sidney Austin LLP didn't immediately respond in time for this posting to comment on the nature of the review, who will conduct it or the timeline to reach benchmarks within that 30-day window.
The announcement comes nearly a week after New York Attorney General Letitia James issued the explosive report, which sent shockwaves through the LGBTQ community as many called on David to resign.
David has denied any wrongdoing from the start, and the Human Rights Campaign board stood by him by announcing on the day the report was issued the organization had renewed his contract for another five years.
Internally, things are tense for David as the organization suffers from high turnover and the movement is under strain as anti-transgender bills advance through state legislatures and the Equality Act is held up in Congress. According to a report in the Huffington Post, a recording of a one-hour staff meeting between David and staff on Wednesday revealed a tense question as they asked him about his role in the Cuomo affair. One staffer asked, "When are you resigning?"
Another LGBTQ advocate included in the report is already making moves. Roberta Kaplan, who successfully argued in 2013 against the Defense of Marriage Act and has taken cases of women accusing former President Trump of sexual assault, has stepped down from her role as a board member for "Time's Up," according to reports in the Associated Press and New York Times.
(Kaplan was described in the report as having reviewed and read a potential op-ed seeking to discredit one of the survivors of sexual harassment to see if it was OK to make public. The op-ed went unpublished.)
The emails on Monday from the HRC board recognize the distress David's inclusion in the report has caused the LGBTQ community. As noted in the email from the board and David, many people in the the LGBTQ community are survivors of sexual misconduct. Both emails, nonetheless, express a desire to continue forward.
"One thing we want to make clear, this investigation will in no way hinder the organization's continued pursuit of the critical work necessary to being equity and liberation to the LGBTQ+ community," the board writes in the email.
David in his email goes into detail about the findings in the report, maintaining he had no knowledge about any incident of sexual misconduct as described in the report and his inclusion in the report indicates no wrongdoing.
Although the report says David kept material from a personnel file on one of the accusers after he left Cuomo's office and, after being asked by Cuomo for a copy, assisted in returning it to them in efforts to distribute it to the media and discredit the alleged victim, David says he was "legally obligated" to provide the report and "was not involved" in its public dissemination. Why he had the material in the first place is not addressed in his email. David is quoted in the report as saying that was because he was involved in counseling the employee.
Another component of report indicates David said he'd help seek out names for the op-ed that would have sought to discredit the accuser, although he allegedly said he wouldn't sign the document. David, in his email, acknowledges he refused to sign it and says he "never agreed to circulate it."
David, however, doesn't in the email address a third component of the report finding he took part in discussions among Cuomo's staffers about calling another accuser and secretly obtaining a recording in an attempt to discredit her. David told the Blade that was because his role in the conversation was in his capacity as legal counsel.
Although voices have emerged calling on David to resign, other LGBTQ leaders have come to David's defense and others say they're awaiting further information before rending a judgment.
Elizabeth Birch, a former executive director of the Human Rights Campaign, said in an email to the Washington Blade she stands behind David.
"I have enormous respect for Alphonso David," Birch said. "No person who has endured sexual harassment should ever be silenced. I believe Alphonso when he states he did not participate in attempts to silence any of Governor Cuomo's accusers."
Meanwhile, the report is already hampering efforts to advance the legislative agenda for the LGBTQ movement and passage of the Equality Act, which was already all but dead in the U.S. Senate. Sen. Charles Grassley (R-Iowa) last week sent a letter to the Senate Judiciary Committee asking for inclusion of the AG report in the record, drawing on the ties between David and Cuomo's sexual misconduct to build the narrative from opponents of the Equality Act asserting it would be a threat to women's safety.
Kierra Johnson, executive director of the National LGBTQ Task Force, said in an email to the Washington Blade she is withholding judgment and her organization is "still processing the media related to the NY AG Cuomo investigation and report."
"It is imperative, albeit at times difficult, that we remain vigilant in finding and accepting the truth and implementing interventions that facilitate our ability to rebuild trust and keep the work moving forward," Johnson said. "These times require that we slow down, challenge ourselves to articulate and understand complexity and nuance, resist being reactive and lean into our values. We condemn sexual harassment and abuse, and we are in solidarity with the survivors' quests for justice."
Johnson, however added, the report makes clear Cuomo "should resign" because that would be "the right thing to do for NY and for survivors everywhere."
Newsom signs LGBTQ+ protections but vetoes trans youth bill
"These measures will help protect vulnerable youth, promote acceptance, & create more supportive environments in our schools and communities"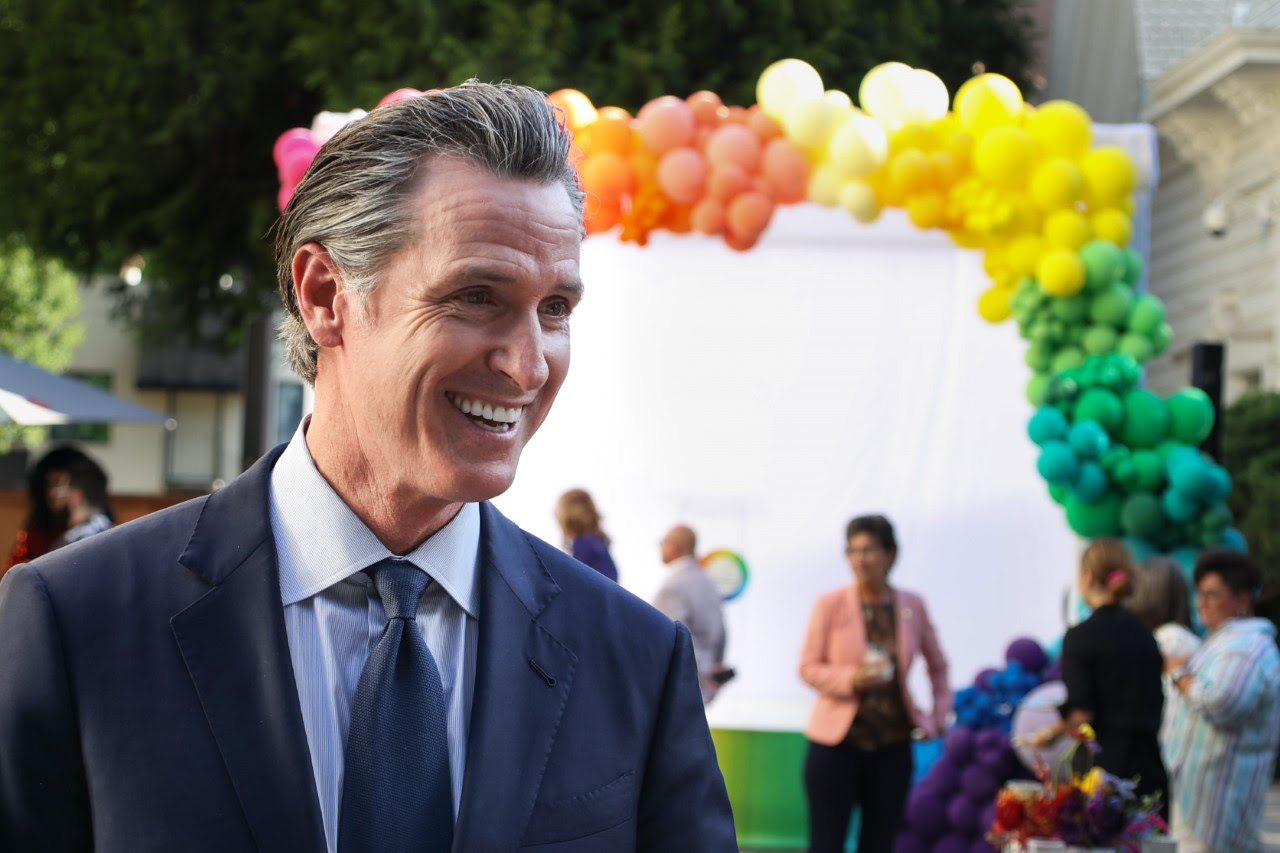 SACRAMENTO – California Governor Gavin Newsom signed several pieces of legislation on Saturday extending protection to the Golden State's LGBTQ+ community with the exception of a bill he vetoed Friday that would have required courts to consider whether a parent affirms their child's gender identity when making custody and visitation decisions.
"California is proud to have some of the most robust laws in the nation when it comes to protecting and supporting our LGBTQ+ community, and we're committed to the ongoing work to create safer, more inclusive spaces for all Californians," said Governor Newsom. "These measures will help protect vulnerable youth, promote acceptance, and create more supportive environments in our schools and communities. I thank Senator Eggman and the LGBTQ Caucus for their dedicated leadership and partnership in advancing our state's values of equality, freedom and acceptance."
Among the nine bills signed into law were:
AB 5- The Safe and Supportive Schools Act, sponsored by Assemblymember Rick Chavez Zbur (D-Los Angeles). This bill sets implementation timelines for required LGBTQ+ cultural competency training by public school teachers and staff.
AB 223- Change of gender and sex identifier, sponsored by Assemblymember Christopher Ward (D-San Diego).
Existing law authorizes a person to file a petition with the superior court seeking a judgment recognizing their change of gender to female, male, or nonbinary, including a person who is under 18 years of age. Existing law authorizes a person to file a single petition to simultaneously change the petitioner's name and recognize the change to the petitioner's gender and sex identifier, as specified.
This bill would require any petition for a change of gender and sex identifier or a petition for change of gender, sex identifier, and name filed by a person under 18 years of age, and any papers associated with the proceeding, to be kept confidential by the court. The bill would require the court to limit access to these records to specified individuals, including, among others, the minor, the minor's parents, and their attorneys.
AB 760– Public postsecondary education: affirmed name and gender identification, sponsored by Assemblymember Lori Wilson (D-Fairfield).
Commencing with the 2023–24 graduating class, existing law prohibits an institution from requiring a graduating student to provide legal documentation sufficient to demonstrate a legal name or gender change in order to have the student's chosen name listed on the student's diploma.
This bill, commencing with the 2023–24 graduating class, instead would prohibit an institution from requiring a graduating student to provide legal documentation sufficient to demonstrate a legal name or gender change in order to have the student's chosen name be the sole name listed on the student's diploma. The bill would authorize an institution to use a student's gender or legal name as indicated in a government-issued identification document only if it is necessary to meet a legally mandated obligation, but would otherwise require the institution to identify the student in accordance with the student's gender identity and affirmed name, as provided. To the extent that this requirement would impose a new duty on community colleges, the bill would impose a state-mandated local program.
AB 783– Business licenses: single-user restrooms, sponsored by Assemblymember Philip Ting (D-San Francisco). Requires cities, counties, and cities and counties to notify applicants for a business license or permit in writing of the requirement that single-user toilet facilities must be identified as all-gender toilet facilities.
AB 994– Law enforcement: social media, sponsored by Assemblymember Corey Jackson (D-Moreno Valley). With respect to an individual who has been arrested for any crime, this bill would require a police department or sheriff's office, upon posting a booking photo on social media, to use the name and pronouns given by the individual arrested. The bill would authorize a police department or sheriff's office to use other legal names or known aliases of an individual in limited specified circumstances.
This bill would also require that a police department or sheriff's office remove any booking photo shared on social media after 14 days unless specified circumstances exist. Because the bill would impose higher duties on local law enforcement, it would impose a state-mandated local program.
SB 372 – Department of Consumer Affairs: licensee and registrant records: name and gender changes, sponsored by Senator Caroline Menjivar (D-San Fernando Valley/Burbank). The bill would prohibit a board from publishing information relating to the licensee's or registrant's former name or gender online. Instead, the bill would require the board to post an online statement directing the public to contact the board for more information. For specified licensees or registrants, the board would be prohibited from posting enforcement records online, but would be required to direct post an online statement stating that the individual was previously subject to an enforcement action and directing the public to contact the board, as prescribed. The bill would provide that all records related to a request to update an individual's license or registration under these provisions are confidential and not subject to public inspection or disclosure.
SB 407 – Foster care: resource families, sponsored by Senator Scott Wiener (D-San Francisco). Existing law generally provides for the placement of foster youth in various placement settings. Existing law provides for the implementation of the resource family approval process and defines a resource family as an individual or family who has successfully met both the home environment assessment standards and permanency assessment criteria, as specified, necessary for providing care for a child placed by a public or private child placement agency by court order, or voluntarily placed by a parent or legal guardian. Under existing law, the resource family permanency standards include a family evaluation, including, but not limited to, interviews of an applicant, as specified, and a risk assessment.
This bill would require a resource family to demonstrate the capacity an ability and willingness to meet the needs of a child, regardless of the child's sexual orientation or orientation, gender identity, or gender expression, as specified.
SB 760 – School facilities: all-gender restrooms, sponsored by Senator Josh Newman (D-Fullerton). The bill would require the all-gender restroom to meet certain requirements, including, among other things, that it has signage identifying the bathroom facility as being open to all genders and is unlocked, unobstructed, and easily accessible by any pupil.
SB 857 – Advisory task force: LGBTQ+ pupil needs, sponsored by Senator John Laird (D-Santa Cruz). This bill will establish an advisory task force to identify LGBTQ+ pupil needs statewide and assist in implementing supportive initiatives.
We are thrilled that 6 of our priority bills and 2 of our endorsed bills were signed into law today! These bills protect and uplift LGBTQ+ foster youth and students in schools, as well as respect individuals' names.

We are hopeful our remaining 4 bills will be signed too! pic.twitter.com/Ch6VdQmTAo

— California Legislative LGBTQ Caucus (@calgbt) September 24, 2023
"This year the LGBTQ Caucus took up the important work of protecting our communities in the face of vile anti-LGBTQ+ rhetoric, discriminatory laws across the country, and hatred. I appreciate the Governor's partnership in signing some of our priority and endorsed legislation today, and hope we can continue to educate about the harm LGBTQ+ people will continue to face if we fail to act," said Senator Susan Talamantes Eggman, Chair of the California Legislative LGBTQ Caucus.
"While states across the nation are passing legislation that puts LGBTQ+ people and especially youth at risk, California is sending a clear message today — hate-filled attacks will not be tolerated and we will continue protecting and ensuring the safety of all members of the LGBTQ+ community," said Equality California Executive Director Tony Hoang. "We are thankful to our legislative partners for championing these important bills and to Governor Newsom for continuing to be such a strong ally in improving and protecting the wellbeing of the LGBTQ+ community as we face growing attacks from far-right extremists."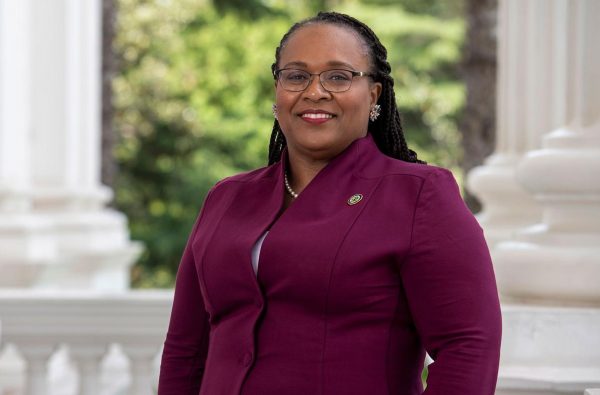 On Friday, Newsom vetoed AB 957 would have updated California law to clarify that, for the purposes of child custody and visitation decisions, a parent's affirmation of a child's gender identity or gender expression is an essential factor that must be considered in determining the best interest of the child by a judge.
That legislation had been sponsored by Assemblymember Lori Wilson, a Democrat who introduced the bill and has an adult son who came out as transgender when he was a teenager, criticized the governor's decision.
"I've been disheartened over the last few years as I watched the rising hate and heard the vitriol toward the trans community. My intent with this bill was to give them a voice, particularly in the family court system where a non-affirming parent could have a detrimental impact on the mental health and well-being of a child," Wilson said in a statement.
My Statement on Governor Newsom's Veto of AB 957 pic.twitter.com/bK1JhrW27z

— Assemblywoman Lori D. Wilson (@AsmLoriDWilson) September 23, 2023
"We are disappointed and disheartened by Governor Newsom's decision to veto AB 957, which would have helped to ensure that the unique needs of transgender and gender non-conforming youth are explicitly considered in child custody and visitation decisions," said Equality California Executive Director Tony Hoang.
"At a time where LGBTQ+ youth, specifically trans youth are facing higher rates of depression and suicide, reassurance and protection from our state is in dire need. Anti-LGBTQ+ extremists targeted this modest and straightforward legislation as part of their coordinated attacks on trans youth in California, and the failure to enact this bill bolsters their dangerous efforts. We are grateful to Assemblymember Lori Wilson for her unwavering commitment to the needs of transgender and gender non-conforming young people. Despite this setback, we will continue working with the Legislature and Governor Newsom to to protect the rights and dignity of the most vulnerable members of the LGBTQ+ community."
In his veto message, the governor explained:
"I appreciate the passion and values that led the author to introduce this bill. I share a deep commitment to advancing the rights of transgender Californians, an effort that has guided my decisions through many decades in public office.
That said, I urge caution when the Executive and Legislative branches of state government attempt to dictate – in prescriptive terms that single out one characteristic – legal standards for the Judicial branch to apply. Other-minded elected officials, in California and other states, could very well use this strategy to diminish the civil rights of vulnerable communities."