Outfest 2021 takes a step toward normal-ish returning with some caveats
"We're thrilled to be coming back in-person carefully and with intention to celebrate this amazing community, its stories and its resiliency"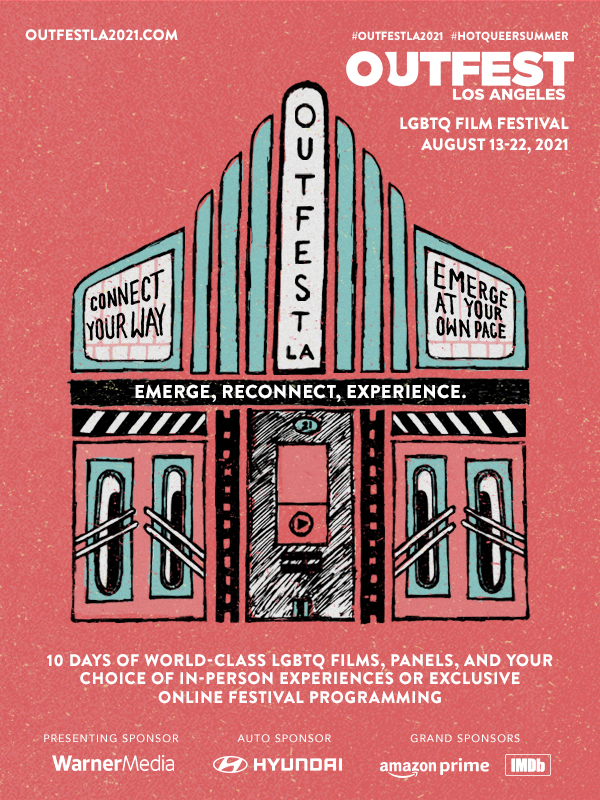 By Dan Allen | LOS ANGELES – With a return to its longtime home base at the DGA this year for the first time since 2018 — and its first real line-up of in-person screenings since 2019 — Outfest is thankfully returning to normal for 2021. Sort of.
In this pre-post-pandemic world, numerous safety precautions will make this Outfest unlike any before — and with any luck, ever again. Proof of COVID-19 vaccination will be required for all attendees. Masks will be required at all indoor screenings. Ticketing will be digital or online only. And the much-beloved congregating to schmooze in the DGA lobby before and after screenings will be discouraged.
But these days, we've all learned to focus on the positive — which in this case, means actual big-screen L.A. showings of some of the best and brightest in recent LGBTQ+ cinema from around the world, something that was sorely missed with last year's almost entirely virtual Outfest. "We're thrilled to be coming back in-person carefully and with intention to celebrate this amazing community, its stories and its resiliency and spirit with so many incredible films and special events," says Outfest Executive Director Damien S. Navarro.
For those still wary of IRL festing (especially as the Delta variant surges), nearly all of this year's Outfest films will also be viewable via streaming, either with individual tickets or a very affordable Virtual All-Access Pass — just $125, or free to Outfest members above the Cinephile level.
Outfest kicks off on Friday, August 13 with Everybody's Talking About Jamie, the film adaptation of the smash London West End musical, which follows young Jamie as he lets his true drag self shine. Drag legend Bianca del Rio and the film's stars Max Harwood, Lauren Patel and Jonathan Butterell are scheduled to appear at the Opening Night Gala, which this year takes place at the famed Hollywood Forever Cemetery.
Two big winners from the Tribeca Film Festival help headline this year's Outfest lineup. The Novice, winner of the Best U.S. Narrative Feature and Best Actress prizes at Tribeca 2021, tells the story of college freshman Dall, whose grip on reality starts to unravel as she climbs the ranks of her varsity rowing team. Socks On Fire, which took the Best Documentary Feature prize at last year's postponed-then-virtual-only Tribeca fest, is a hybrid doc that playfully examines how queer encouragement turned to banishment in a conservative Southern family. Socks on Fire is Outfest's Platinum Centerpiece with an August 14 screening at REDCAT, while The Novice serves as U.S. Centerpiece on August 18 at DGA Theater 1.
Other popular Tribeca selections appearing at this year's Outfest include the teen lesbian horror flick We Need To Do Something; the deeply personal trans man family documentary North By Current; and Being BeBe, a portrait of first-ever RuPaul's Drag Race winner BeBe Zahara Benet, which serves as the Documentary Centerpiece here with an August 21 screening at the Japanese American Cultural & Community Center, featuring a performance by BeBe herself.
From this year's Sundance Film Festival come several other great Outfest selections: NEXT: Audience Award winner Ma Belle, My Beauty, which traces the tricky South of France reunion of two women who were once polyamorous lovers; My Name Is Pauli Murray, an enthralling portrait of unsung civil rights icon Pauli Murray, from the same directing team (Betsy West and Julie Cohen) behind the wildly popular RBG (who was in fact a protege of Murray's); and the gripping Swedish thriller Knocking, in which Molly tries to maintain her sanity in a noisy new single apartment following a very difficult breakup.
More top narrative feature picks at this year's Outfest include the sexy Estonian historical romance Firebird, based on a true Cold War love triangle involving a young Soviet Air Force private and a handsome fighter pilot; Jump, Darling, wherein down-and-out drag queen Russell flees to the countryside to live alongside his sharp-tongued grandmother, played by Cloris Leachman in her last major film performance (the August 15 screening at DGA Theater 1 will include a celebrity memorial tribute to Leachman introduced by Cybill Shepherd, plus a pre-recorded intro by Leachman herself); the magical Turkish romance Love, Spells, and All That, in which childhood girlfriends Eren and Reyhan try to unentangle their present-day feelings from long-cast love spells; Boy Meets Boy, which follows Brit Harry and German Johannes as they meet on a Berlin dance floor and spend the next 15 hours wandering the city and falling in love; the Colombian drama Leading Ladies, which explores the various perspectives of five female friends and former lovers as they reunite for a dinner party; the film adaptation of James Andrew Walsh's play The Extinction of Fireflies, starring gay stage and screen darlings Drew Droege and Michael Urie; and the world premiere of The Sixth Reel, in which the iconic Charles Busch plays Jimmy, who vies with a gaggle of other classic movie freaks to capitalize on a newly uncovered lost reel from a Golden Era film.
Old Hollywood also makes an appearance in the fantastic selection of documentaries at Outfest 2021, in the guise of Jeffrey Schwartz's Boulevard! A Hollywood Story, which tells the little-known tale of how Gloria Swanson worked with a gay couple in the 1950s to bring Sunset Boulevard to the stage in musical form, until their love triangle unraveled the project. On a far more serious and timely note, a pair of documentaries, Crystal Diaries and Gemmel & Tim, examine the tragic deaths of Gemmel Moore and Timothy Michael Dean at the West Hollywood home of just-convicted businessman Ed Buck.
The potent Wojnarowicz: F**k You F*ggot F**ker (which screens for free on August 15) is a fiery look at New York City artist and activist David Wojnarowicz, who weaponized his work to wage war against the establishment's indifference to the HIV/AIDS plague. AIDS Diva: The Legend of Connie Norman is a loving portrait of trailblazing Los Angeles trans activist Connie Norman. And in yet another powerful doc about freedom fighters, The Legend of the Underground (screening for free on August 14) follows several bold and charismatic non-conformist youth in Nigeria as they fight against local anti-LGBTQ laws. Closing out the festival will be Fanny: The Right to Rock, a celebration of groundbreaking rock band Fanny, the first all-female rock band to release an album with a major label, who'll reunite for a very special performance after the screening at the Orpheum Theatre on Sunday, August 22.
Three excellent classic LGBTQ+ films will also be part of Outfest this year: Richard Glatzer and Wash West's Quinceañera — the first queer film to take home both the Grand Jury and Audience Awards at Sundance — will have a 15th anniversary screening; the restoration print of 1995's The Incredibly True Adventures of Two Girls in Love will have its world premiere; and the little-seen but landmark 1983 Spanish documentary Vestida de Azul will screen, tracking the daily lives of several trans sex workers in Madrid, as featured in the hit HBO Max series Veneno.
And lest we forget, of course Outfest's always-popular shorts programs will be back in force too, with 14 collections of short films including an especially timely new category: Postcards from 2020, nine LGBTQ+ shorts involving the pandemic and its fallout.
Outfest 2021 runs August 13–22. More info on tickets and passes, both IRL and virtual, can be found here.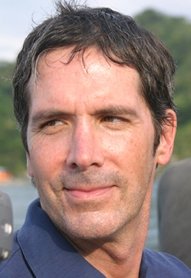 Dan Allen is a career journalist, editor and author whose specialties include travel, film, history, art, culture, and LGBTQ news and interests. He is a long time contributor to various media outlets including NBC News 'Out', the Los Angeles Blade, the Advocate, Out Traveler, and the Miami Herald among others.
Dan can be reached at danallen.ink
R.K. Russell's life, sport & bisexual awakening 
This Black queer former NFL player says he's fighting "for us all to be seen, whether it be in the pages or on the screen"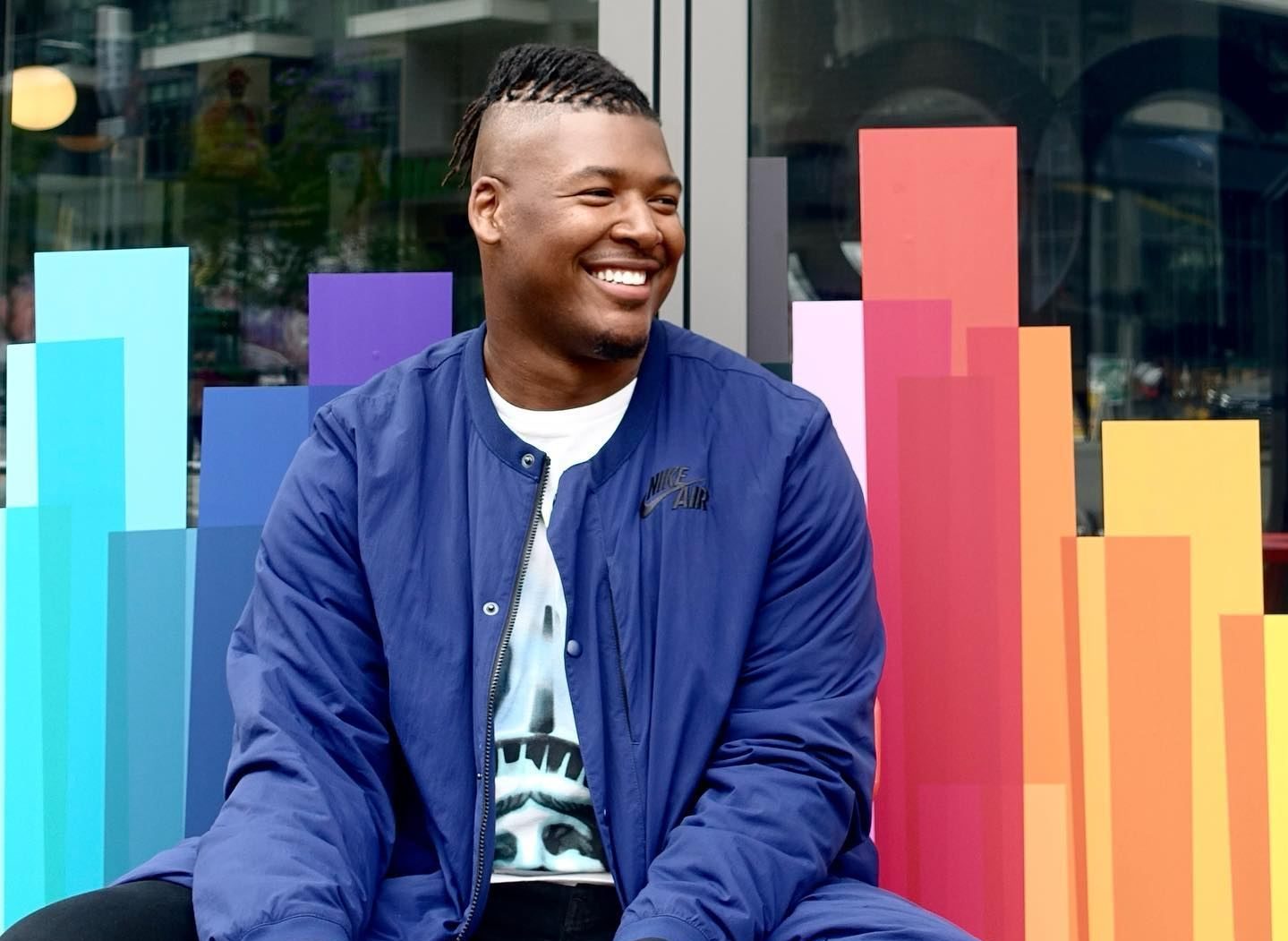 WEST HARTFORD, Conn. – He's tackled opponents on the gridiron, paved a path for out LGBTQ+ athletes and shared his unique voice in words and prose. Now R.K. Russell is celebrating the release of his long-awaited memoir, The Yards Between Us, as well as a Hollywood deal to bring his story to television viewers. 
It's something Russell told the Los Angeles Blade he never dreamed would be possible, even as a child.
"Grown me could barely imagine the book, let alone, little me," Russell said. "It is something I have not seen before, and something that doesn't really exist. Something that is so shocking even to me, this being my life. I think the reason that I continue to take these opportunities that come to use my platform and my voice and my talents, my gift, to not just tell these stories, but to hopefully champion other people in their story. To just fight for us all to be seen, whether it be in the pages or on the screen, everywhere people exist. We exist."
As the Blade reported in August 2019, Russell came out as bisexual in a feature for ESPN. The NFL defensive end was drafted by the Dallas Cowboys in 2015 and played a few seasons for the Tampa Bay Buccaneers and Buffalo Bills. After coming out as a free agent, Russell wasn't able to fulfill one of his dreams — to play professional football as an out and proud bisexual man. But at that time, he said all he was focused on was living his truth.
"It was a powerful time in my life," Russell told the Blade. "It was the first time I really felt that I was taking all this control and I wasn't just at the mercy of the NFL or waiting for that phone call, or at the mercy of friends, family, lovers. It was my decision and my moment and my truth. And I got to express it in a form that felt very genuine to me."
The Buffalo native called the experience "freeing."
"I didn't think I'd realize how much I had been proverbially holding my breath until that moment. And then it just felt like such an exhale. It's such a freeing thing, and the weight of the burden of that secret, of that shroud, or that shame," he said. "I just realized how heavy what I had been carrying for so long. So, definitely a powerful and freeing moment."
Having already told part of his story to ESPN, The New York Times and other news outlets over the years, there was a reason Russell felt it was important to write the rest of his story.
"That was just a very specific part of my life, and it showed me that maybe by sharing my whole story, my life and my journey and my truth and other parts could be just as impactful, if not more impactful," he said. As he set out to write the memoir, he said he first experienced imposter syndrome, until he came to a realization.
"The point that got me through was, 'What would little R.K. read that would have helped him? What was a book that didn't exist when he was young, and that he could have picked up and seen himself, or that people like him can pick up and see themselves? Or even people unlike him, to get a human connection to someone that does not look like them or doesn't play sports?' So, I think the huge, final push was, 'What would I have liked to have read as a child?' And hopefully that will help other people."
The Yards Between Us traces not only Russell's football career and his love for the game, for both men and for women, but also what it was like for him to keep his bisexuality secret and the tension between his private and public lives. As his weighs upon him, he's dealt a devastating loss, an event that leads to an all-enveloping darkness, until finally he recognizes, it's time to make a change.
Since coming out, he's found love with his boyfriend, Corey, grown closer to his mother and this September he'll mark four years sober.
Russell's memoir has won him accolades from LGBTQ+ readers, but not just them.
"I've also gotten a lot of support from people who aren't LGBTQ+ who see the value in the story, but also see the value in the intersections of it all. Because I don't just talk about being a bisexual, I talk about being a Black man. I talk about being a football player, defining masculinity and redefining masculinity. There's a lot of intersections that my story crosses. And I think for people to see all of these layers also coexisting in one person, that's important to see the bridges between these communities that at times can be put against each other, or it can be divided, to see them all exist within one person."
While all that sounds very serious, Sony Pictures Television sees comedy gold in exploring Russell's intersectionality of sports, race, sexuality and masculinity. His memoir is being adapted into a half-hour comedy series, as Deadline reported. Russell is co-writing and executive producing a half hour comedy series with Saeed Crumpler of "Flatbush Misdemeanors," alongside Gabrielle Union, who is a producer in her own right as well as wife to Dwyane Wade and stepmother to their 15-year-old trans daughter, Zaya Wade. As the Blade reported last month, the Wades left Florida because of its anti-trans policies and laws.
"She's fantastic. Amazing," said Russell. "If anyone wants to know what allyship looks like, Gabrielle Union and Dwyane Wade and their whole family, they're so amazing. "
Union, he said, recognizes the importance of representation. "It's important to have genuine representation, whether it be during Pride Month with companies and campaigns or in shows and books that our stories are coming from, that there are Black queer writers writing Black queer stories hopefully also in part started or acted by Black queer artists."
Long before he wrote a word of his memoir, Russell has been publishing his own poems, which he told the Blade was his "way to express life with words." He said he started writing poetry following the death of his stepfather.
"It was a way for me to kind of name grief, without naming it. I didn't have that vocabulary, that word at that time, but I was feeling it so intensely," he said.
One of Russell's poems, Tributes, was an effort at explaining bisexuality and his experiences. "'Bisexuality,' the word, means something slightly different to you, to me, or to someone else. I can talk about the experience in a way that is so varied and so broad and to me, so true and genuine." Below, an excerpt from that poem:
Love is freedom
and the freedom to love is a birthright,
or at least it should be.
These years fill my canvas
and I know too much of life to expect
only one color to leave its strokes across my heart.
Paint is intended to mix no matter the artist. —Tributes, by R.K. Russell