Meet Rev. Bos, first out lesbian Evangelical Lutheran bishop
'My spirituality and sexuality are intertwined'
GLENDALE – When the Rev. Brenda Bos was growing up as a good Christian girl in Chino in San Bernardino County, Calif., no one talked about being gay.
When after college Bos realized she is a lesbian, she was closeted about it with her family.
"After I began to see that I was lesbian, I decided my first partner would be this woman," Bos said in a telephone interview with the Blade. "But I figured I couldn't talk to God about it. It didn't feel so much as a sin as that God wouldn't want to hear about it."
On June 5, Bos, 56, was elected to serve a six-year term as bishop of the Southwest California Synod of the Evangelical Lutheran Church in America (ELCA). The ELCA is a mainstream, mainline, Protestant denomination.
Bos will take office as bishop on Sept. 1. Her installation will take place on Sept. 12. She will be the first openly lesbian bishop in the ELCA.
Some people know early on – as a college student or even as a teenager – that they want to go into the ministry.
This wasn't so with Bos.
"My family were Dutch immigrants," Bos said, "they bought a dairy farm."
When she was a teen, Bos was a theater geek. She did a lot of community theater and thought about going into acting.
"But people told me that acting was too frivolous," Bos said, "they thought I'd never be successful if I tried to have a career as an actor."
So Bos pursued what she calls an "adjacent profession" – broadcasting. She received a bachelor's degree in broadcasting from Pepperdine University in 1986.
Bos started out in broadcasting as an intern at MTM. She was there after the glory days of "The Mary Tyler Moore Show" and "Rhoda." But the studio was still producing "Hill Street Blues" and other respected shows.
Bos went on to work for 18 years in production on some of the most beloved shows on TV, including "The George Lopez Show," "Mad About You" and "The Golden Girls."
Bos knows that Blanche, Rose, Sophia and Dorothy (and the actors who played them) on "The Golden Girls" are gods to many queer folk.
Bos was a writer's assistant on the sixth season of the "The Golden Girls." "Every actor was at the height of their power," she said. "They knew who their characters were and how to emphasize the fabulous in each of them."
The studio audience would go nuts, Bos said, "there was so much joy. It was magnificent to see what comedy could be at its height."
While Bos engaged in her TV career, she was exploring her sexuality.
Her relationship with her first partner, a woman, lasted a year. "The pressure of being a closeted lesbian was too much," Bos said.
She met a man and became attracted to him. "I thought I wasn't gay," Bos said.
Seven years later, the woman who'd been her first partner came back into her life. She and Bos were together for 12 years.
It was difficult for her family when Bos came out to them. "They worried that if they accepted me, God would judge them," Bos said, "it took them a decade to accept that if God loves me, God loves them."
Bos is grateful that her family did the hard work that needed to be done so that they could come to terms with her sexuality.
Though Bos was back with her first partner, she couldn't imagine being a lesbian and being connected to the church. "I let church life lie," she said.
But Bos had always enjoyed thinking about God. She liked to talk about God in a way that made God accessible. Bos thought she might have a gift for not being judgmental or dogmatic.
Bos volunteered at a church and the people there liked her. But it went badly when she came out to the pastor.
"They said 'you're gifted, but we can't use you in leadership, there's no place for you,'" Bos said. It was devastating to her.
Though the people at that church didn't see that Bos had a gift for talking about God, others did.
One day, Brenda was at work on a TV show when a woman on the crew named Jenna collapsed and died. She'd been training for a marathon and had an unexpected heart defect.
Many people asked Bos — though she wasn't a minister — to conduct the memorial service for Jenna.
Somehow, she knew she was the right person for that job at that moment. "I talked about how much God loved Jenna, and how she was in heaven," Bos said, "people talked about their own faith as well as Jenna's."
People told Bos that she was in the wrong line of work and that she should be a pastor.
"I'm an atheist," someone at the service said to Bos, "but this was such a sacred thing."
Bos started to feel that being in TV production was too much of a rat race – that she wanted to try to enter the ministry.
In 2007, she was rejected by a seminary because she came out in her application.
After that rejection, "in a drunken stupor – my partner was out of town," Bos said, "I Googled churches that were LGBTQ-welcoming."
She saw that the ELCA was listed as a welcoming denomination.
Bos was accepted by the Claremont School of Theology in 2009. In that same year, the ELCA began ordaining openly LGBTQ pastors.
She earned a master's of divinity degree from Claremont in 2011. In 2013, Bos received a Certificate of Advanced Theological Studies from Pacific Lutheran Theological Seminary.
While in seminary, Bos was a bridge pastor to a congregation at Faith Lutheran Church in Canoga Park, Calif., and a student pastor at a church in Danville, Calif. She was the first of eight vicars (interns) at St. Paul's in Santa Monica, Calif.
From 2014-2019, Bos was pastor of Christ Lutheran Church in San Clemente, Calif. She was ordained in 2014 at her home congregation, St. Matthew's Lutheran Church in North Hollywood, a LGBTQ welcoming church.
Since 2019, Bos has served as the assistant to the bishop for rostered leadership in the Southwest California Synod. In this position, she's been providing support to clergy who are on leave, become disabled or in spiritual crisis.
Bos lives with her wife Janis, a licensed clinical social worker. They have an adult son and two dogs named Santos and Knight.
"My spirituality and sexuality are intertwined," Bos said, "it's what makes me the whole person that I am."
She doesn't believe that God has any gender. "I can understand how back in the day, we assigned God the pronoun 'he'," Bos said.
But, as our understanding of what it means to be non-binary grows, Bos said, our imagination about God expands. "It might make some uncomfortable," she said, "but to me it makes sense to think of God as 'they.'"
God has a sense of humor, Bos said. After all, "God's best ideas are laughter, sex, and food," she added.
Governor Newsom announces new gun safety legislation
In 2021, Calif. was ranked as the #1 state for gun safety by the Giffords Law Center, seeing a 37% lower gun death rate than national average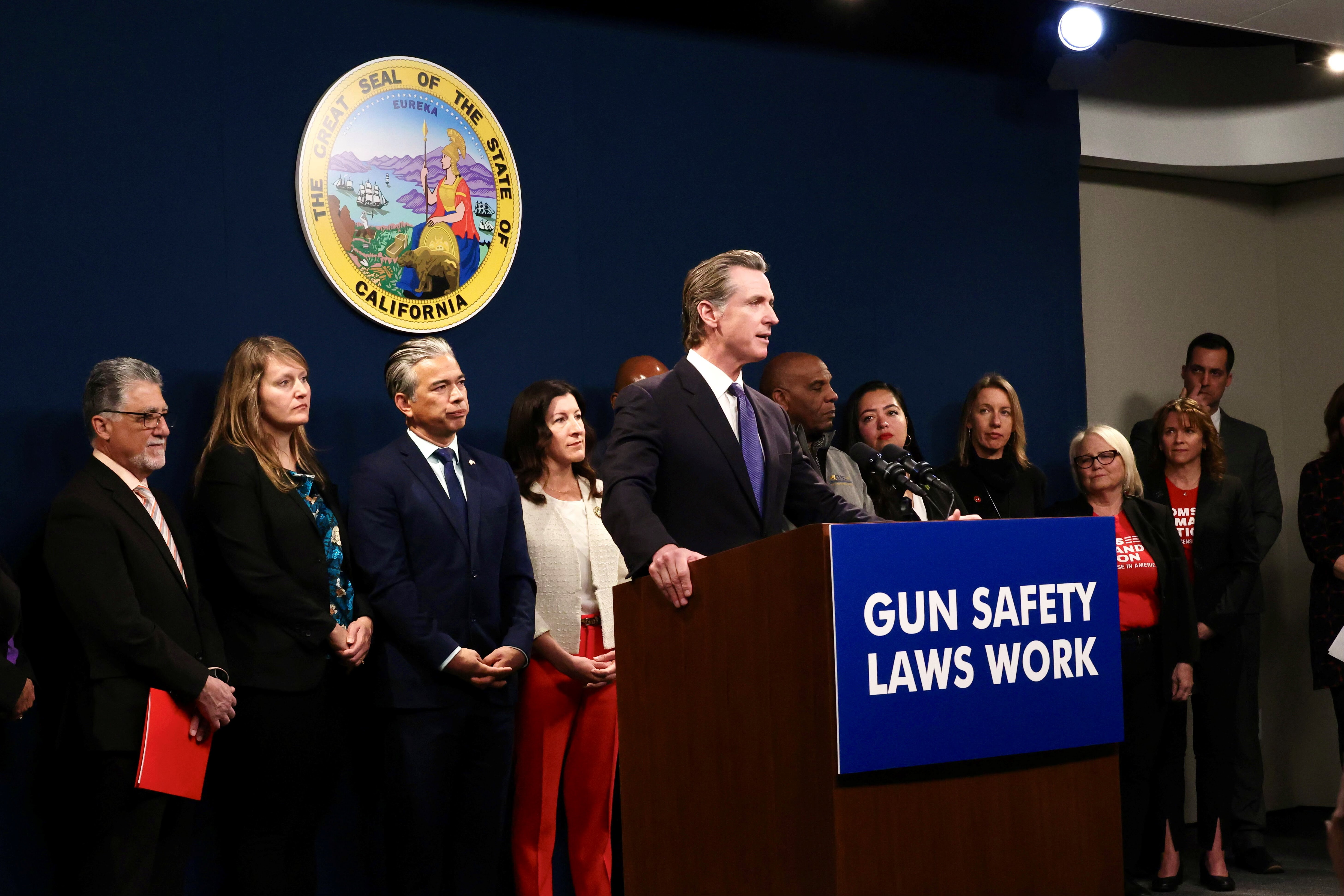 SACRAMENTO – In the wake of multiple mass shootings that took the lives of 19 Californians in just 72 hours last week, Governor Gavin Newsom, Attorney General Rob Bonta, and Senator Anthony Portantino (D-Burbank) announced new gun safety legislation to modernize and strengthen California's public carry laws.
"Only in America do we see the kind of carnage and chaos of gun violence that destroys our communities and our sense of safety and belonging," said Newsom. "America is number 1 in gun ownership and we far surpass every developed nation on Earth in gun deaths – it's not complicated. In California, we've passed common sense gun safety laws and they work: we have a 37% lower gun death rate than the national average. We're doubling down on gun safety and strengthening our public carry law to protect it from radical Republican attacks."
According to the Center for American Progress, efforts to weaken concealed carry laws across the country have increased violent crimes – with studies showing gun homicides increased by 22% in states that passed permitless carry laws and violent crimes with a firearm went up 29%.
Newsom signed a package of gun safety laws last year, making it easier for Californians to sue manufacturers of illegal assault weapons and those spreading them, allowing lawsuits against irresponsible gun industry members, strengthening prohibitions on ghost guns, as well as restricting marketing to minors. 
"The mass shooting incidents we have seen over recent weeks bring to light the need for stronger protections for our communities. The fact is, individuals who are not law-abiding, responsible citizens simply shouldn't possess firearms — and they especially shouldn't be allowed to carry a concealed weapon in public. When a gun is placed in the wrong hands, it is deadly," said California Attorney General Rob Bonta. "The Second Amendment is not a regulatory straightjacket — we must protect our communities. The time for thoughts and prayers has long passed, we need brave and immediate action by our leaders – here in California and beyond. We owe our community stronger protections. I urge our state leaders to quickly adopt SB 2. We can't afford to wait even one minute more."
Last June, the U.S. Supreme Court struck down a New York law, aspects of which mirrored California's public carry laws, and the legislation announced today – Senate Bill 2 by Senator Portantino – would make fixes necessary to update the standards and processes for obtaining a public carry permit in California.
Senate Bill 2 strengthens California's restrictions regarding public carry laws by:
Enhancing the existing licensing system – ensuring those permitted to carry firearms in public are responsible and law-abiding individuals;
Protecting children – setting a minimum age requirement of 21 years of age to obtain a CCW license;
Advancing stronger training requirements – ensuring proper handling, loading, unloading, and storage of firearms; and
Identifying certain sensitive public places – establishing safe community places where people should expect freedom from gun violence.
"In the wake of the recent tragedies in Monterey Park and Half Moon Bay and the continued threat of mass shootings, it's critical that California leads on the issue of gun safety and reform. I am proud to be working with Governor Newsom, Attorney General Bonta and activists on SB 2 to strengthen our existing public carry laws and ensure every Californian is safe from gun violence.  We must be diligent in addressing the gun violence epidemic in our country and public carry laws are a key component of this," said Senator Anthony Portantino.
California launched an 18-month campaign to promote gun violence restraining orders – "red flag laws" – that allow law enforcement, family, coworkers or friends to petition a court to temporarily remove weapons from people deemed dangerous to themselves or others. A study from the Violence Prevention Research Program at the University of California, Davis found that California's red flag law was used to stop 58 threatened mass shootings since 2016.
California's gun safety laws work. In 2021, California was ranked as the #1 state for gun safety by the Giffords Law Center, and the state saw a 37% lower gun death rate than the national average.
According to the CDC, California's gun death rate was the 44th lowest in the nation, with 8.5 gun deaths per 100,000 people – compared to 13.7 deaths per 100,000 nationally, 28.6 in Mississippi, 20.7 in Oklahoma, and 14.2 in Texas.
Moms Demand Action Founder Shannon Watts noted: "The Supreme Court's reckless Bruen decision opened up the floodgates for more guns in more places — but with this bill California once again renewed its commitment to being a national leader in the fight against gun violence. While the gun industry celebrated the ruling that put their profits over our safety, our grassroots army is proud to stand with our Gun Sense Champions in California to pass this critical bill and make our communities safer."
"Following the Supreme Court's egregious decision in the Bruen case, it is vital that the Golden State takes meaningful action to protect all Californians from the threat of gun violence. SB2 would do just this by updating and improving the state's already strong concealed carry license system, and ensure that loaded and concealed weapons are not allowed in certain sensitive places. With SB2, leaders in California are continuing their leadership in prioritizing the public health and safety of all its citizens," said Brady Campaign President Kris Brown, adding "Brady applauds Senator Portantino for introducing this important bill, and thanks Governor Newsom and Attorney General Bonta for their continued leadership on this issue, and urges the California legislature to pass it without delay."
Giffords State Policy Director Ari Freilich stated: "In the face of tragedy, California's leaders act. They've led the nation on gun safety reform and made California a much safer state than most. But today, grieving communities know all too well how much more work there is to do. California achieved an all-time record low gun fatality rate in 2019. But like the rest of the country, we have faced record spikes in gun sales and violence since the start of the pandemic and a flood of new weapons in public spaces as a result of the US Supreme Court's dangerous Second Amendment ruling last year. Passing SB (2) will strengthen communities' ability to respond to these threats by requiring stronger vetting and safety training to carry weapons in public and by designating vital community spaces like parks and playgrounds as off-limits to weapons throughout the state. We thank leaders like Governor Newsom, Attorney General Bonta, and Senator Portantino for their work and commitment to make all Californians safer and freer from violence."