Meet Rev. Bos, first out lesbian Evangelical Lutheran bishop
'My spirituality and sexuality are intertwined'
GLENDALE – When the Rev. Brenda Bos was growing up as a good Christian girl in Chino in San Bernardino County, Calif., no one talked about being gay.
When after college Bos realized she is a lesbian, she was closeted about it with her family.
"After I began to see that I was lesbian, I decided my first partner would be this woman," Bos said in a telephone interview with the Blade. "But I figured I couldn't talk to God about it. It didn't feel so much as a sin as that God wouldn't want to hear about it."
On June 5, Bos, 56, was elected to serve a six-year term as bishop of the Southwest California Synod of the Evangelical Lutheran Church in America (ELCA). The ELCA is a mainstream, mainline, Protestant denomination.
Bos will take office as bishop on Sept. 1. Her installation will take place on Sept. 12. She will be the first openly lesbian bishop in the ELCA.
Some people know early on – as a college student or even as a teenager – that they want to go into the ministry.
This wasn't so with Bos.
"My family were Dutch immigrants," Bos said, "they bought a dairy farm."
When she was a teen, Bos was a theater geek. She did a lot of community theater and thought about going into acting.
"But people told me that acting was too frivolous," Bos said, "they thought I'd never be successful if I tried to have a career as an actor."
So Bos pursued what she calls an "adjacent profession" – broadcasting. She received a bachelor's degree in broadcasting from Pepperdine University in 1986.
Bos started out in broadcasting as an intern at MTM. She was there after the glory days of "The Mary Tyler Moore Show" and "Rhoda." But the studio was still producing "Hill Street Blues" and other respected shows.
Bos went on to work for 18 years in production on some of the most beloved shows on TV, including "The George Lopez Show," "Mad About You" and "The Golden Girls."
Bos knows that Blanche, Rose, Sophia and Dorothy (and the actors who played them) on "The Golden Girls" are gods to many queer folk.
Bos was a writer's assistant on the sixth season of the "The Golden Girls." "Every actor was at the height of their power," she said. "They knew who their characters were and how to emphasize the fabulous in each of them."
The studio audience would go nuts, Bos said, "there was so much joy. It was magnificent to see what comedy could be at its height."
While Bos engaged in her TV career, she was exploring her sexuality.
Her relationship with her first partner, a woman, lasted a year. "The pressure of being a closeted lesbian was too much," Bos said.
She met a man and became attracted to him. "I thought I wasn't gay," Bos said.
Seven years later, the woman who'd been her first partner came back into her life. She and Bos were together for 12 years.
It was difficult for her family when Bos came out to them. "They worried that if they accepted me, God would judge them," Bos said, "it took them a decade to accept that if God loves me, God loves them."
Bos is grateful that her family did the hard work that needed to be done so that they could come to terms with her sexuality.
Though Bos was back with her first partner, she couldn't imagine being a lesbian and being connected to the church. "I let church life lie," she said.
But Bos had always enjoyed thinking about God. She liked to talk about God in a way that made God accessible. Bos thought she might have a gift for not being judgmental or dogmatic.
Bos volunteered at a church and the people there liked her. But it went badly when she came out to the pastor.
"They said 'you're gifted, but we can't use you in leadership, there's no place for you,'" Bos said. It was devastating to her.
Though the people at that church didn't see that Bos had a gift for talking about God, others did.
One day, Brenda was at work on a TV show when a woman on the crew named Jenna collapsed and died. She'd been training for a marathon and had an unexpected heart defect.
Many people asked Bos — though she wasn't a minister — to conduct the memorial service for Jenna.
Somehow, she knew she was the right person for that job at that moment. "I talked about how much God loved Jenna, and how she was in heaven," Bos said, "people talked about their own faith as well as Jenna's."
People told Bos that she was in the wrong line of work and that she should be a pastor.
"I'm an atheist," someone at the service said to Bos, "but this was such a sacred thing."
Bos started to feel that being in TV production was too much of a rat race – that she wanted to try to enter the ministry.
In 2007, she was rejected by a seminary because she came out in her application.
After that rejection, "in a drunken stupor – my partner was out of town," Bos said, "I Googled churches that were LGBTQ-welcoming."
She saw that the ELCA was listed as a welcoming denomination.
Bos was accepted by the Claremont School of Theology in 2009. In that same year, the ELCA began ordaining openly LGBTQ pastors.
She earned a master's of divinity degree from Claremont in 2011. In 2013, Bos received a Certificate of Advanced Theological Studies from Pacific Lutheran Theological Seminary.
While in seminary, Bos was a bridge pastor to a congregation at Faith Lutheran Church in Canoga Park, Calif., and a student pastor at a church in Danville, Calif. She was the first of eight vicars (interns) at St. Paul's in Santa Monica, Calif.
From 2014-2019, Bos was pastor of Christ Lutheran Church in San Clemente, Calif. She was ordained in 2014 at her home congregation, St. Matthew's Lutheran Church in North Hollywood, a LGBTQ welcoming church.
Since 2019, Bos has served as the assistant to the bishop for rostered leadership in the Southwest California Synod. In this position, she's been providing support to clergy who are on leave, become disabled or in spiritual crisis.
Bos lives with her wife Janis, a licensed clinical social worker. They have an adult son and two dogs named Santos and Knight.
"My spirituality and sexuality are intertwined," Bos said, "it's what makes me the whole person that I am."
She doesn't believe that God has any gender. "I can understand how back in the day, we assigned God the pronoun 'he'," Bos said.
But, as our understanding of what it means to be non-binary grows, Bos said, our imagination about God expands. "It might make some uncomfortable," she said, "but to me it makes sense to think of God as 'they.'"
God has a sense of humor, Bos said. After all, "God's best ideas are laughter, sex, and food," she added.
Newsom urges more aggressive response to ongoing drought
Governor warned if there's not significant reduction in water use this summer, the state could be forced to enact mandatory restrictions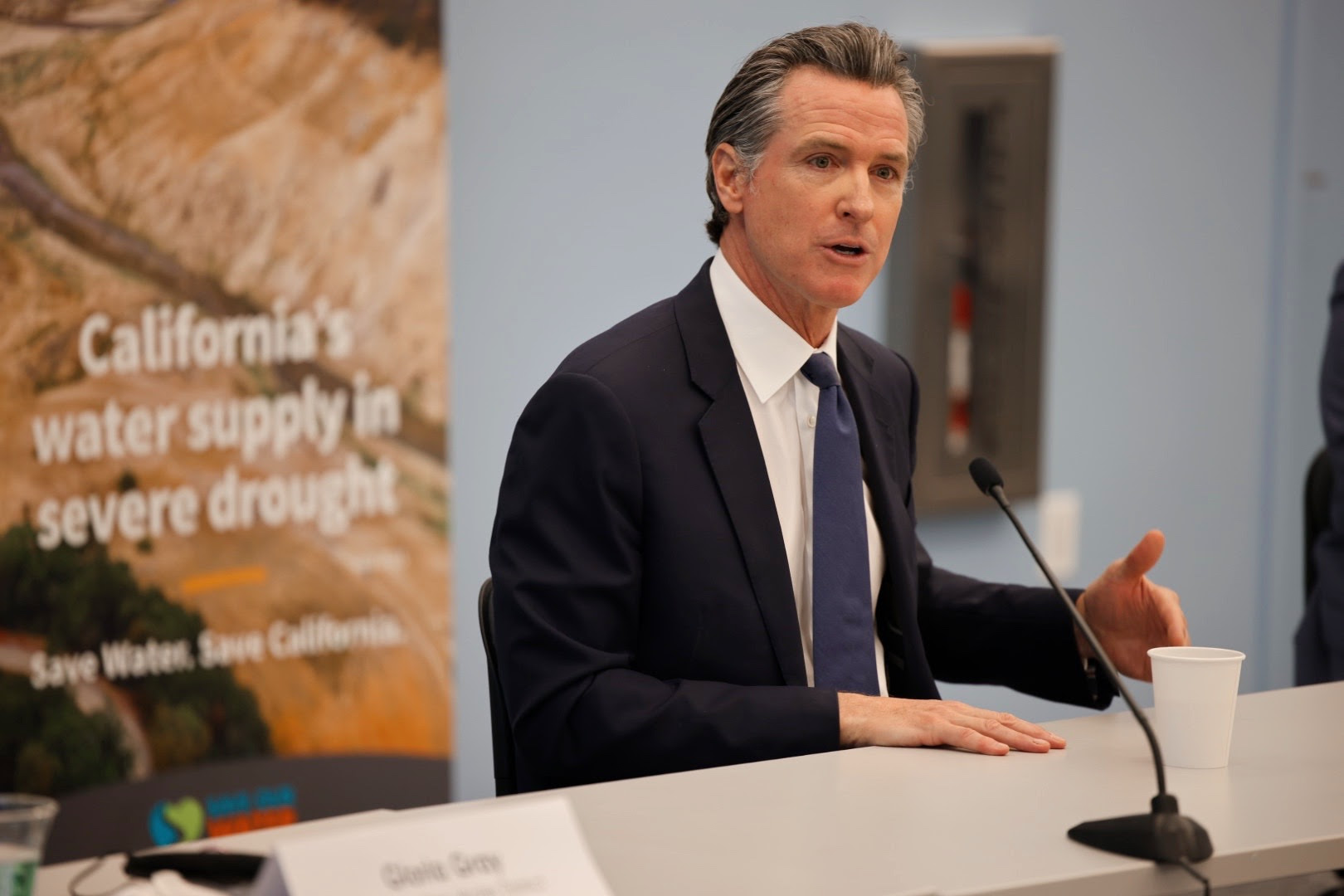 SACRAMENTO – Governor Gavin Newsom convened leaders from the state's largest urban water suppliers on Monday, which cover two thirds of Californians, and water associations imploring them to take more aggressive actions to combat drought and better engage their customers to ensure all Californians are doing their part to save water. 
After the last drought, local water agencies pushed for greater flexibility on water conservation and drought response based on regional needs and water supplies, arguing that tailored local approaches would be more effective than statewide mandates. Governor Newsom has embraced this localized approach, but voiced concerns today given recent conservation levels around the state, and called on water agencies to step up efforts to reduce water use amid extreme drought conditions.
Governor Newsom warned that if this localized approach to conservation does not result in a significant reduction in water use statewide this summer, the state could be forced to enact mandatory restrictions.
The Governor will reconvene these same agencies in the next two months to provide an update on their progress.
"Every water agency across the state needs to take more aggressive actions to communicate about the drought emergency and implement conservation measures," said Governor Gavin Newsom. "Californians made significant changes since the last drought but we have seen an uptick in water use, especially as we enter the summer months. We all have to be more thoughtful about how to make every drop count."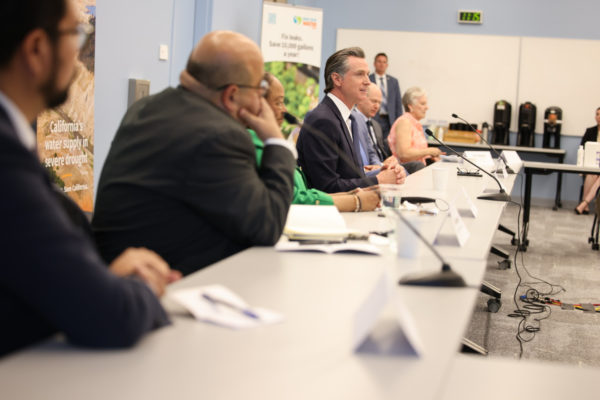 The Governor also called upon local water agencies to submit water use data more frequently and increase transparency in order to more accurately measure whether California is meeting water conservation goals. In addition, the Governor called on local water agencies to increase education and outreach efforts to Californians on the urgency of the crisis.
In July 2021, Governor Newsom called on Californians to voluntarily reduce their water use by 15%. At the end of March 2022 after the state failed to meet its 15% goal, the Governor issued an Executive Order calling on local water agencies to escalate their response to the ongoing drought. Tomorrow, at the Governor's direction, the State Water Resources Control Board will vote on a statewide ban on watering of non-functional turf in the commercial, industrial and institutional sectors as well as regulations requiring local agencies to implement water use restrictions amid the possibility that water supplies may be up to 20% lower due to extreme weather. Currently, local water agencies have implemented restrictions on about half of California's population. If the Board's regulations are approved, every urban area of California will be covered by a local plan to reduce water use.
Banning watering of decorative lawns would save between 156,000 acre-feet and 260,000 acre-feet per year, the equivalent of water used by 780,000 households in a year.
The climate crisis has resulted in the western United States experiencing one of the most extensive and intense droughts on record. January through March were the driest first three months in the state's recorded history, the state's largest reservoirs are currently at half of their historical averages, and the state's snowpack is just 14 percent of average.
The Governor's California Blueprint proposed this year would invest an additional $2 billion for drought response, which includes $100 million in addition to a previous investment of $16 million this fiscal year for a statewide education and communications effort on drought. These investments build on the previous $5.2 billion three-year investment in the state's drought response and water resilience through the California Comeback Plan (2021).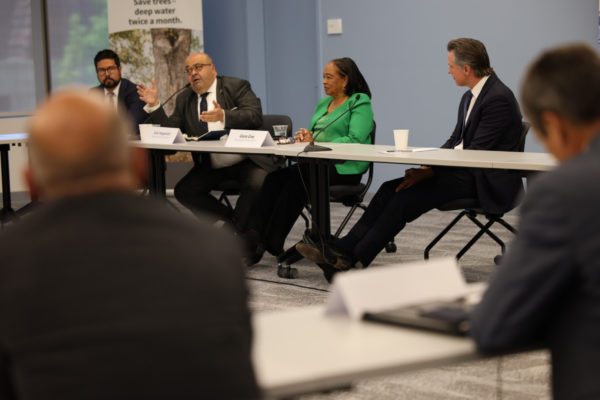 California's master water plan, the Water Resilience Portfolio, is a comprehensive vision to build water resilience containing more than 142 separate detailed actions to be taken by state agencies to ensure that California's water systems can cope with rising temperatures, shrinking snowpacks, rising sea levels and more intense and frequent periods of drought. In March 2021, the Administration released the 2012-2016 Drought Report, which contains lessons learned by state agencies during the last drought.
The state is calling on Californians to take immediate action to avoid a crisis, including:
Limiting outdoor watering – cutting back by even just one day a week can save you up to 20% more water.
Taking shorter showers. Going to a 5 minute shower to save up to 12.5 gallons per shower when using a water-efficient shower head.
Taking showers instead of baths – a bath uses up to 2.5 times the amount of water as a shower.
Using a broom instead of a hose to clean outdoor areas to save 6 gallons of water every minute.
Washing full loads of clothes to save 15-45 gallons of water per load.
More water saving tips can be found at www.saveourwater.com. For the latest on drought, please visit drought.ca.gov.
California readies 3,000 miles of network infrastructure
Newsom announced that California is one step closer to delivering affordable high-speed internet service to communities throughout the state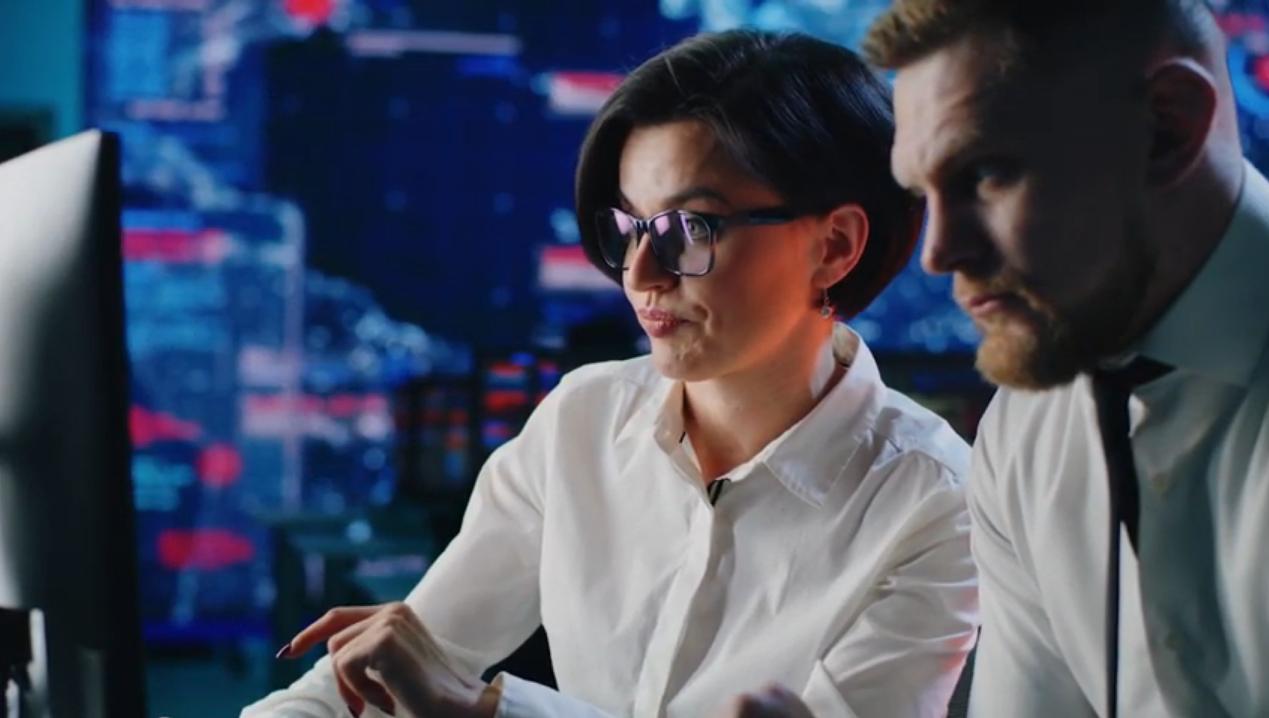 SACRAMENTO – Governor Gavin Newsom announced that California is one step closer to delivering affordable high-speed internet service to communities throughout the state on Friday, awarding new contracts that will supply the materials necessary for building 3,000 miles of broadband infrastructure.
The California Department of Technology, as part of the state's Middle-Mile Broadband Initiative, awarded contracts to two vendors totaling nearly $225 million that will allow the state to purchase enough optical fiber and materials to construct 3,000 miles of the network.
"Delivering broadband to all is essential to California's success," said Governor Newsom. "Access to high speed internet can mean the difference between launching a successful career and being without work. Once constructed, this network will be the largest in the world – and our action today will make the promise of broadband for all a reality."
California is strengthening broadband connections to improve access to education, health services and employment opportunities throughout the state. The Middle-Mile Broadband Initiative is the first step to creating an open-access, middle-mile network that will build infrastructure to bring high-speed broadband service to unserved and underserved communities, regardless of technology used, on equal economic and service terms.
675,000 underserved Californians would gain access to high-speed internet across the state with new broadband network

The action today is one part of a comprehensive and long-term approach to tackling the broadband infrastructure deficiencies still impacting rural and low-income communities, bringing the state closer to achieving affordable, high-speed broadband internet service for all communities. Construction on the middle-mile network is expected to be completed by December 2026.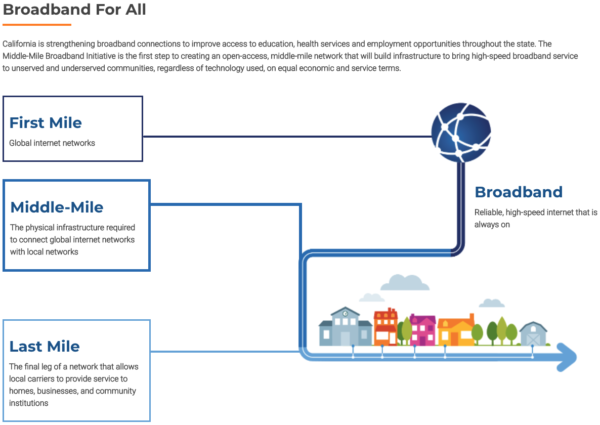 Middle-mile network refers to high-capacity fiber lines that carry large amounts of data at higher speeds over longer distances between local networks. It is the physical infrastructure required to connect global internet networks with local networks and is an essential component of the state's Broadband for All efforts.

Supply chain issues and nationwide broadband projects have created competition to secure necessary materials. The state's Invitation For Bid (IFB) was a proactive step to ensure supplies will be available at a pre-negotiated price when they are needed. The state has the ability to add an indefinite amount of materials as needed to complete construction over the next four years.

As a result of the competitive process, the state is guaranteed to have conduit, vaults, optical fiber and construction hardware readily available for the next four years as construction begins in earnest.

Government Operations Secretary Amy Tong said purchasing the material for the network is a critical first step to make sure California has the supplies it needs for construction of the middle-mile network in the coming years.

"This fiber will be the backbone of the middle-mile network, which will bring access to unserved and underserved Californians so they can participate equally in digital society," Tong said.

Russ Nichols, acting director of the California Department of Technology and chair of the Middle Mile Advisory Committee, said the projects will begin soon.

"With this milestone in place, we can continue our planning with Caltrans to begin installing the fiber as soon as possible," Nichols said.

Last year, the Governor signed historic legislation allocating $6 billion for achieving Broadband for All, including $3.25 billion for the middle-mile network and this year's revised budget proposes an additional $1.1 billion to support the project as it moves into construction.

The 2021 legislation included:
$3.25 billion to build, operate and maintain an open access, state-owned middle-mile network.
$2 billion to set up last-mile broadband connections that will connect homes and businesses with local networks. The legislation expedites project deployment and enables Tribes and local governments to access this funding.
$750 million for a loan loss reserve fund to bolster the ability of local governments and nonprofits to secure financing for broadband infrastructure.
Creation of a broadband czar position at the California Department of Technology, and a broadband advisory committee with representatives from across state government and members appointed by the Legislature.
In 2020, the state mobilized companies, business leaders and philanthropists through public-private partnerships to facilitate distance learning at school districts in need across the state. The effort helped connect students lacking high-speed internet or an appropriate computing device at home with donated mobile hotspots, laptops, Chromebooks, tablets and other devices.
Newsom gets second booster dose, urges eligible Californians to get theirs
California's vaccination strategy has saved tens of thousands of lives and prevented even more cases and hospitalizations
BAKERSFIELD – Amid rising COVID-19 cases across the country, and following the U.S. Food and Drug Administration's emergency authorization of a booster dose for healthy 5- to 11-year-olds, Governor Gavin Newsom today received his second Moderna booster at a clinic in Bakersfield, and encouraged all eligible Californians to get boosted to keep their immunity strong against COVID-19.
The second booster dose of the Pfizer-BioNTech or the Moderna vaccine is available to all Californians 50 and older, as well as those who are immunocompromised or received the Johnson & Johnson vaccine.
"Vaccines have saved tens of thousands of lives in California, and with COVID-19 still prevalent, we can't afford to let our guard down," said Newsom. "The best protection against serious illness and hospitalization is getting vaccinated and boosted. I encourage all eligible Californians to get your second booster – for you, for your family, for your friends, for your community."
Under the Newsom Administration's SMARTER Plan, the state maintains operational readiness to continue the fight against COVID-19 and respond quickly, including the ability to administer 200,000 vaccinations and 500,000 tests per day. The California Blueprint includes another $2.4 billion for COVID response, which ensures California will be on the best possible footing against future waves.
According to a study analyzing California's pandemic response, COVID-19 vaccines prevented an estimated 1.5 million coronavirus infections, nearly 73,000 hospitalizations, and almost 20,000 deaths in California.
The Governor received his booster shot at Clinica Sierra Vista, one of hundreds of health clinic locations around the state where people can receive their free vaccine and booster. The Governor was joined today by California Health and Human Services Secretary Dr. Mark Ghaly and community and local leaders who have supported vaccine equity efforts in the region. To date, Clinica Sierra Vista has administered nearly 100,000 COVID-19 vaccination doses.
"Vaccines remain the best protection against hospitalization and death from COVID-19. Our state, like much of the nation, is beginning to see an increase in COVID-19 transmission. Fortunately, thanks to California's robust vaccination efforts, we are seeing relatively low hospitalization rates," said Dr. Mark Ghaly, California Health and Human Services Secretary. "This underscores the efficacy and importance of staying up to date on your COVID-19 vaccines. Californians age 50 and over are encouraged to get their additional booster dose to keep their immunity strong and strengthen their protection against COVID-19."
According to the California Department of Public Health, the statewide test positivity rate is 5 percent as of Tuesday, about double the positivity rate a month prior, with some regions seeing positivity rates as high as 9 percent. Unvaccinated people are 4.8 times more likely to get COVID-19 than fully vaccinated individuals who are boosted. Unvaccinated people are also 6.5 times more likely to be hospitalized than boosted individuals, and 7.8 times more likely to die than boosted individuals.
California's response to COVID-19 has led the nation with the lowest COVID death rate among the country's most populous states. More than 8 in 10 Californians have received at least one dose of the vaccine and more than 15.5 million Californians have received their first booster dose, representing 59.1 percent of those eligible for a booster. Additionally, 22 percent of eligible Californians have received their second booster dose.
The state's Vaccinate ALL 58 campaign continues to focus on driving vaccine efforts in lower-income and non-English speaking communities with cultural competency and in-language outreach and education. Its community-based organization network, in partnership with philanthropy, is now standing at over 700 organizations and supports outreach and appointment assistance efforts.
Clinica Sierra Vista is a comprehensive health care organization serving the primary medical, dental, and behavioral health needs of about 200,000 people in Kern and Fresno counties. With the continued support of federal, state, and local governments, they have been able to reach out to thousands of new patients, offering comprehensive programs tailored to the needs of those they serve over a vast geographical region in the heartland of California.