SOGI data collection ordered by New Mexico Governor Lujan Grisham
To address inequities that LGBTQ+ New Mexicans experience in interactions with state government, we must have info about where those occur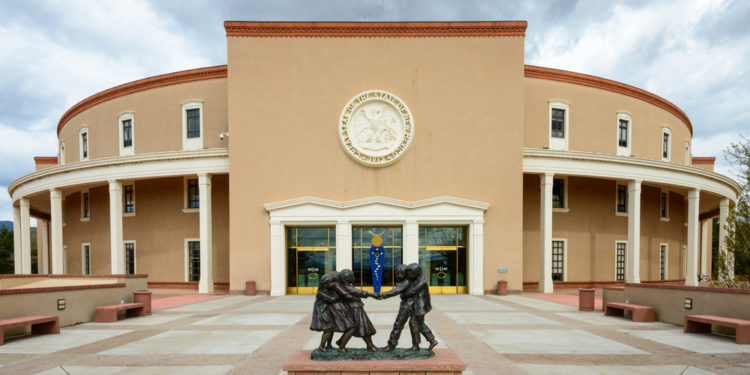 SANTA FE – New Mexico Democratic Governor Lujan Grisham issued an Executive Order for State Agencies and Departments to begin collecting Sexual Orientation and Gender Identity Data Monday.
Grisham's order will instruct State Agencies and Departments to ask questions about Sexual Orientation and Gender Identity on forms and applications when other demographic data is collected.
For decades Human Services and Health Department offices and staff have been collecting demographic information to help identify, and bridge gaps in services for New Mexicans who experience inequities. This data has helped to identify and address disparities in health and education based on age, race, and gender.
"If we want to solve a problem, we first need information about what's causing it," said Governor Grisham. "If we are to address inequities that LGBTQ+ New Mexicans experience in their interactions with state government, we must first have the information about where those breakdowns are occurring. This voluntary mechanism for demographic analysis is a tool the state of New Mexico can and will use to improve its service to traditionally underserved New Mexicans. I'm proud to have the chance to initiate that process."
Out Lesbian New Mexico State Senator Carrie Hamblen, (D) and State Representative Brittney Barreras, (I-D12) championed legislation during the 2021 session, SB 316, which had passed through to the House from the Senate but had not received a vote prior to the end of the session. Governor Lujan Grisham took then undertook the Executive action until the measure is passed by the legislature.
"Including the demographic information for the LGBTQ+ community on all state forms demonstrates an acknowledgement of our community," said Senator Hamblen. "I'm grateful this executive order will put into place the representation that is overdue and to start compiling necessary data that will be used to determine resources and services that are desperately needed and deserved."
"I'm honored to have worked on this policy with Equality New Mexico and Senator Hamblen this last session," said Rep. Barreras. "By finally collecting this data we will have the tools to bridge gaps in services for our LGBTQ siblings across the state."
"We are beyond grateful to Senator Hamblen for championing this issue in the previous session, and appreciative to Governor Lujan Grisham for taking Executive action rather than waiting another year for the Legislature." said Marshall Martinez, Executive Director of Equality New Mexico. "Not only is New Mexico leading the nation with this executive action, but we are finally taking a step to true equity for LGBTQ New Mexicans, starting with the data needed to create better policy."
Under the order, information that is voluntarily provided about sexual orientation and gender identity may only be used for demographic analysis, coordination of care, quality improvement of government services, conducting research and guiding policy and funding decisions. Protections about individual identification are likewise written into the order, as well.
A spokesperson for Equality New Mexico noted that the New Mexico Department of Health has been asking questions about Sexual Orientation and Gender Identity for decades, in the context of STI and HIV Prevention and Treatment.
"Asking these questions in other contexts also says to Queer to and Trans New Mexicans that we honor and affirm their identities, not only as it relates to our sexual activity but in the context of our whole lives. Being a member of the LGBTQ Community is an identity, and it doesn't just exist in certain situations, it's beyond time for New Mexico to honor our identities in the multiple facets of our lives; beyond time we collect these data – so we can create better policies and help LGBTQ New Mexicans thrive."