Law firm's investigation of HRC head seen as conflict of interest
A Human Rights Campaign representative responded with a series of bullet points essentially denying any conflict of interest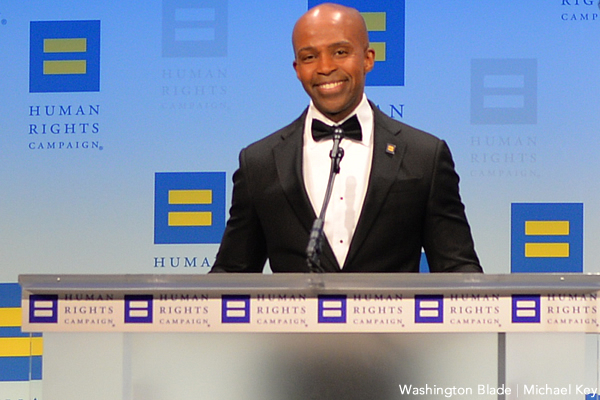 WASHINGTON – After a damning report on sexual misconduct allegations that forced Andrew Cuomo to resign as governor of New York and that ensnared the Human Rights Campaign president for having a potential role in the cover-up, the nation's leading LGBTQ group has arranged for a law firm to conduct an independent review of its president's role in the scandal — but legal experts see a conflict of interest looming over the process.
Sidley Austin LLP, the law firm chosen to conduct the review, has a self-described "long standing pro-bono relationship" with the Human Rights Campaign and was chief among its legal partners announced in October 2019 for a new direction to litigation in LGBTQ advocacy, which was an engagement Alphonso David undertook when he took the helm as HRC's president.
In fact, Sidley issued a news statement hailing its participation in the agreement with the Human Rights Campaign and six other law firms, which Sidley described as an "alliance" designed to "help shape state and federal laws, regulations and policies and the application of constitutional principles."
"We're looking forward to working with the Human Rights Campaign on strategic litigation that will take on discriminatory measures targeting LGBTQ people," Carter Phillips, partner at Sidley, is quoted as saying in the statement. "HRC is a long-standing pro bono client and this next stage of collaboration reinforces Sidley's deep commitment to advocating for diversity and equality."
As a result of the 2019 announcement, which was brokered soon after David took the helm of the Human Rights Campaign, some legal experts see a conflict of interest that undermines the perception of impartiality in Sidley's ongoing review and could color any finding of no wrongdoing, which would arguably be in the interests of all parties involved in the review.
Brenner Fissell, a law professor who teaches legal ethics at Hofstra University in Long Island, N.Y., told the Blade the independent review Sidley is undertaking "appears less than credible."
"This is not even a relationship where they engaged them once," Fissell said. "Sidley in the press release calls HRC a long-standing pro bono client, and they're also doing PR for them. I mean, they're really inextricably connected, right?"
The scandal with the Human Rights Campaign president began when New York Attorney General Letitia James issued her report finding Cuomo violated the law by sexually harassing as many as 11 women on the job. David, who before taking over as Human Rights Campaign president was counselor to the governor of New York, was named nearly a dozen times in the report.
David has continued to deny wrongdoing. However, the findings indicate after his tenure as counselor to Cuomo, he kept the personnel file of an employee accusing the governor of sexual misconduct, then assisted in returning that file to Cuomo staffers seeking to leak it to the media in an attempt to discredit her. (A representative has disputed the characterization of material David kept as a personnel file, saying it was memorandum on an internal employment matter David kept because he, in part, worked on it.)
Further, the report finds David allegedly said he would help find individuals to sign their names to a draft op-ed that sought to discredit the survivor but went unpublished, although he wouldn't sign the document himself. Also, the report indicates David was involved in the discussions about secretly calling and recording a call between a former staffer and another survivor in a separate effort to smear her.
In response, David said he agreed to help with only one version of the letter that was more positive in nature and his part of the discussion about recording a survivor was limited to his role as counselor.
Although the Human Rights Campaign board has stood by David and announced on the day after the report came out it has renewed his contract for another five years, last week it announced an independent investigation to resolve the matter. The investigation would be conducted by Sidley and last no longer than 30 days. David has publicly endorsed the review.
But the pre-existing close relationship between Sidley and the Human Rights Campaign has left some legal observers questioning the merits of the investigation.
Fissell said no ethical rules are in place for conducting independent investigations per se, especially because Sidley has never represented David before as a client. As a result, Fissell said there is likely no technical violation of ethics rules over conflict of interest in this scenario.
The only real framework for independent investigations that could be a model of the review for this situation, Fissell said, is found in the handbook for the U.S. Securities & Exchange Commission. Among the factors considered in such investigations, Fissell said, is whether outside counsel conducting the review had previously done work for a company or if management previously engaged such counsel.
"If you had previously engaged such counsel, that makes it less independent," Fissell said. "So the answer to your question is, this is not good if you want to do a truly independent investigation."
Fissell also questioned why 30 days was selected as the time limit for the investigation, which he said seems artificial and could limit findings.
Sidley didn't respond to repeated email requests from the Blade for answers to a series of written questions on the independent investigation and its pre-existing relationship with the Human Rights Campaign, including whether or not Phillips, the attorney quoted in the news statement would participate in the ongoing review.
A Human Rights Campaign representative, however, responded to similar inquiries from the Blade with a series of bullet points essentially denying any conflict of interest and standing by the decision to charge Sidley with the investigation.
The representative in the bullet points said the Human Rights Campaign chose Sidley "because of its vast experience in internal investigations and reviews" and is "grateful that Sidley has always represented us on a pro bono basis, including in this matter."
"Sidley has not represented HRC on any matter related to any of the issues in the current internal investigation that Sidley is conducting," the representative said.
The Human Rights Campaign representative said Sidley is one of many firms that has worked for the LGBTQ organization, but has "never represented Alphonso David on any matter." In conducting the investigation, the representative said Sidley reports to an independent Board of Directors for the Human Rights Campaign.
Michael Frisch, an ethics counsel and adjunct professor at Georgetown Law School, told the Blade a law firm being charged with conducting an investigation for an entity after having a previous relationship with it is "always potentially a problem."
"When any outside entity is retained to conduct an independent review, it has to be truly independent," Frisch said. "To me, if you're going to conduct an independent inquiry. Your bonafides to give independent advice in a report is always subject of concern, and one should be above reproach in those situations."
Frisch, asked if the potential for a conflict is present in Sidley's investigation of the Human Rights Campaign president, said he couldn't directly opine on that without knowing all the details about the situation.
"You analyze any conflict of interest from the point of view of is there a substantial risk that the lawyers' advice will be colored by some interest, other than the client who's getting the advice," Frisch said. "The magic language in the rule is substantial risk of material limitation, that's essentially the test. Every client is entitled to independent advice."
Asked if a law firm like Sidley could take any internal steps to mitigate the appearance of conflict of interest while continuing to conduct an independent investigation, Frisch said those options, such as walls or ethical screens, aren't in play here.
"Those kinds of mechanisms to defeat conflicts don't sound like they're applicable in this kind of situation because it doesn't really sound like client-client conflicts," Frisch said. "A report is not like litigation in that there are parties and opposing counsel and things of that nature that you would have obligations to."
Frisch concluded: "So that's where I kind of get back to the key is is it a truly independent report, and if the drafters of the report are compromised by other interests, that always leaves the report open to criticism on that basis."
A representative for David, who previously pushed back on conclusions of wrongdoing by David based on the report, didn't respond to a request for comment for this article. Meanwhile, David's mention in the AG report continues to leave the nation's leading LGBTQ group in turmoil. Amid reports staffers have called on David to resign, lesbian tennis legend Martina Navratilova — who has previously come under fire for views against transgender women in sports — publicly called for David's resignation in a podcast interview with the progressive news outlet Raw Story.
Last week, David posted to his Twitter account an open letter from "colleagues and friends" in support of him. Days later, the Blade was forwarded an open letter from "Real HRC Staffers" addressing a separate "communication" that went out from other employees calling for David's resignation. The open letter asserts David is being unfairly maligned and calls for signatures in support of his presidency.
"It is disheartening to see how the leadership of a Black queer man is being criticized by and vilified in the media and within our own organization at a time of racial reckoning in America and globally," the letter said. "Worse, is to witness the scapegoating of Alphonso and others who are now being made to answer for the behaviors of powerful white men."
Fissell, meanwhile, told the Blade the Human Rights Campaign would be better suited going elsewhere for a law firm to conduct the investigation if it wanted real answers about its president in the Cuomo affair.
"If they're truly committed to demonstrating that they want to have an independent investigation, they would find someone else," Fissell said.
Black & LGBTQ+ inclusive wall mural cited for multiple code violations
The idea was to make a mural that addressed pending legislation in Tallahassee that would affect the rights of minorities & the LGBTQ+ people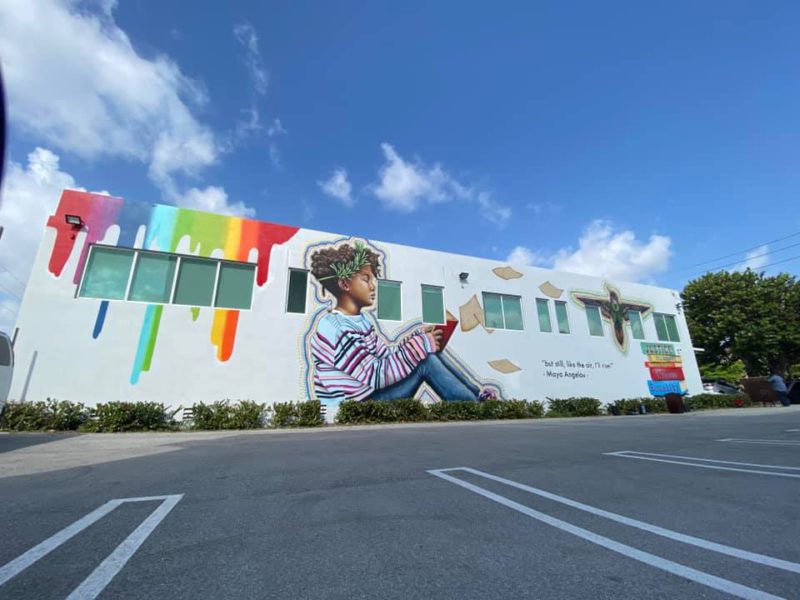 MIAMI SPRINGS, Fl. – A colourful wall mural in Dade County has attracted the ire of municipal authorities who say the mural, which includes a child of color reading a book, a verse from a Maya Angelo poem, and an LGBTQ Pride rainbow symbol, violates building codes.
The United Teachers of Dade union has been cited by Miami Springs for code violations after it unveiled the mural on its office building the Miami Herald reported this past week.
"If you do not see the word mural on an ordinance this does not mean it's allowed, means you should make an inquiry with the Building & Zoning department first and present your mural," Miami Springs Councilwoman Jacky Bravo said in an email to the Herald. "We are not talking about a small stamp on the wall. Seems like they took a blind eye on this one, and unfortunately has caused an issue to be dealt with."
The Herald reported that was it unveiled last March, and was titled 'Rise' to send a message to lawmakers in Florida's capitol in Tallahassee as a series of laws were being introduced that negatively impacted the minority and LGBTQ+ communities in the state.
Today, we unveiled "RISE", an art mural that depicts the importance of #publiceducation and its crucial role to ensure a functioning #Democracy; it symbolizes the resilience of our community and their continuous fight for #justice and #equality. Stop by UTD and check it out ! pic.twitter.com/hfS94WoYhl

— United Teachers of Dade (@UTD_AFT1974) March 19, 2021
Luis Valle, a Miami-based artist who was commissioned by the United Teachers of Dade union to paint the mural told the paper, "The idea was to make a mural that addressed pending legislation in Tallahassee, at the time, that would affect public schools, as well as the rights of minorities and those in the LGBTQ+ community. It is about inclusivity for all people and all cultures."
Although the UTD Union had submitted and paid for a permit, the Miami Springs City Code Compliance Department, which requires permits be obtained before work commences, had already issued a "notice of violation" on March 25 to the union site's property owner, UTD Building Corp., for violations that included:
–improper size of wall sign
–improper placement and/or width of wall sign
–improper construction of sign
–failure to comply with applicable color palette
"Failure to correct the violations by the time due shall cause this case to be set for hearing before the code compliance board and may result in fines, costs and/or a lien levied against you and the property," the notice said. "Fines imposed shall not exceed $250 per day for a first-time violation."
The city gave UTD until April 24 to correct the violations, according to the notice. Potential fines, as of Oct. 13, could run as high as $43,000 the Herald noted.
Currently discussions are ongoing. "UTD reviewed all the codes before contracting our mural artist in order to perform our due diligence," United Teachers of Dade President Karla Hernandez-Mats said in an emailed statement to the Herald on Oct. 11. "Additionally, we spoke to a former council member to double check our findings and that individual also concluded that the Miami Springs City Codes did not address this topic."
"The art piece is not a sign for the building or our organization; it has no logo or company name on it because it is an artistic expression in the form of a mural with no other intent," Hernandez-Mats' added.
Attempts by the Miami Herald to reach Miami Springs Mayor Maria Mitchell, and City Council members had been unsuccessful by this past Thursday afternoon, however the next Miami Springs City Council meeting is at 7 p.m. on Monday, Oct. 25.
Vermont high school homecoming halftime show turns into a 'drag show'
"The crowd was decked out in LGBTQ+ affirming clothing- the stands were completely packed. It was just so heartwarming to see"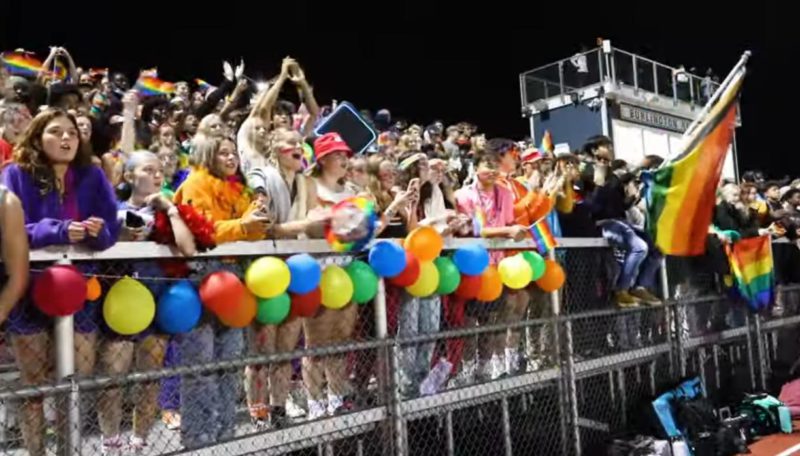 BURLINGTON, Vt. – A quintessential annual Fall time-honored tradition held across America's on high school football fields are homecoming games. This year a mix of students and faculty members Burlington High School, along with some participants from South Burlington High School, added a touch of 'drag' to the halftime show.
"Things went amazing," Ezra Totten, student leader of the Gender Sexuality Alliance at Burlington High School, told the Associated Press, speaking about Friday night's event. "The stands were completely packed. It was just so heartwarming to see."
The school's principal, its Athletic Director, and other staff were fully supportive with Andrew LeValley, an English teacher and GSA adviser, the faculty member who created the idea along with a boost from Burlington High Athletic Director Quaron Pinckney suggested that the show be held at the homecoming game's halftime.
Pinckney, who is Black, told the AP that the school gave him the space to "uplift my voice" and that he was able to reciprocate and "uplift the voices of another marginalized group and share a space in the athletics realm that doesn't normally get shared."
The crowd was decked out in LGBTQ+ affirming clothing, costumes and waving Pride flags raucously cheering as the 'drag ball's' performers paraded and danced to show support for LGBTQ+ students and the larger LGBTQ+ community. They commenced the halftime show with a runway-style event while they lip-synced to singer Todrick Hall's "Rainbow Reign."
Burlington High School's halftime drag show
LGBTQ+ Non-profit will build 8 homes for LGBTQ youth in Western states
Encircle is a non-profit organization with the mission to bring the family and community together to enable LGBTQ+ youth to thrive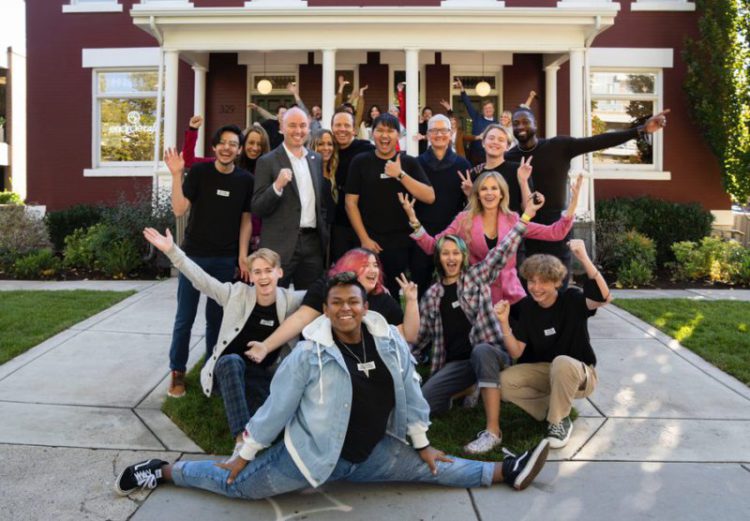 SALT LAKE CITY – A Utah-based non-profit announced Wednesday that the organization has raised more than $8 million dollars to build eight new homes in four Western states to provide services for LGBTQ youth.
Encircle, which provides mental health services for LGBTQ youth, will build the new homes with locations in Arizona, Idaho, Nevada and Utah. The new homes are dedicated for providing safe spaces, resources and preventing teen suicide. The organization currently has locations in Salt Lake City, Provo and St. George, Utah, and recently construction has begun on locations in Heber, Logan and Ogden, as well as in Las Vegas, Nevada.
The fundraising efforts had kicked off this past February with donations from NBA Basketball's Utah Jazz team owners Ryan and Ashley Smith and Apple CEO Tim Cook, the first openly gay CEO of a Fortune 500 firm. The lead singer of Imagine Dragons Dan Reynolds and his wife, recording artist Aja Volkman, and retired NBA superstar and Jazz part-owner Dwayne Wade, whose 14-year-old daughter Zaya is Trans, all partnered together to give a total of $4 million.
In a press conference Wednesday, "Encircle's mission is very personal to me because I see myself in so many of these young people," Apple CEO Cook told reporters. "It's not easy when you're made to feel different or less than because of who you are or who you love. It's a feeling that so many LGBTQ people know far too well."
Proud to support @encircle2gether's life-saving work providing resources to LGBTQ+ youth in Utah & surrounding states. Great to be with @GovCox, @AbbyPalmerCox, @RyanQualtrics, Ashley Smith, @DwyaneWade, and @stephylarsen as we celebrate the opening of Encircle's first cafe. pic.twitter.com/E6nN23Uc4m

— Tim Cook (@tim_cook) October 13, 2021
Encircle executives and the group of celebrities were joined by Utah Republican Governor Spencer Cox who praised Encircle's efforts.
"What Encircle has done is provided that piece of acceptance, even if — especially if — there is no acceptance anywhere else," the governor said. "There is a place where they can go where they can feel loved."
Wade, reflecting on being the parent of a Trans child, "I stand here as a proud parent of a beautiful daughter that's a part of the LGBT-plus community," he said. "I don't have all the answers. I don't know everything, but I'm willing to listen."
Today is what it's all about. Thank you @encircle2gether for your commitment to the LGBTQ+ community! https://t.co/jisSsqbYfc

— DWade (@DwyaneWade) October 13, 2021
Encircle is a non-profit organization with the mission to bring the family and community together to enable LGBTQ+ youth to thrive.
On its website the non-profit lists its current support services including its new café which is open "Monday through Friday between 3-8 PM folks ages 12-25 are welcome to just drop-in, hang out and enjoy our safe space. Friendship Circles, its weekly groups [which] allow you to tell your story and connect with peers in a safer space facilitated by our community, and LGBTQ affirming therapy."