Gdańsk & Częstochowa Poland's LGBTQ marches had heavy police guard
In Gdańsk officials estimated there were approximately 3,500 participants protected by nearly 1,000 uniformed police & security forces.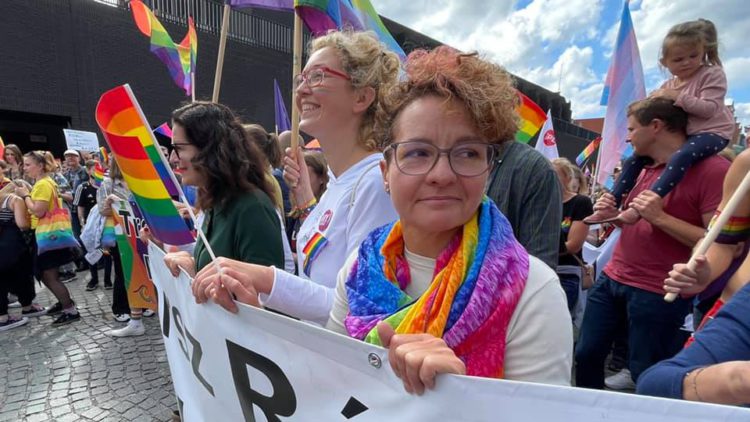 CZESTOCHOWA, Poland – Two separate LGBTQ Equality marches known as marsze równości were held Saturday under a heavy police presence in the southern city of Częstochowa and the Baltic seaside port city of Gdańsk.
Polish media outlet RMF24, Agence France-Presse along with the Associated Press reported no major incidents or violence at either march, unlike previous year's marches where clashes with anti-LGBTQ+ Polish nationalist, far right, conservative and catholic protesters had disrupted the marches and there were injuries inflicted. The local governments had increased their police presence to forestall incidents which would have led to violent counter protests.
In Gdańsk officials estimated that there were approximately 3 and a half thousand people, mostly young people under the age of thirty protected by nearly a thousand uniformed police and other security forces. The march in Częstochowa, which is home to a revered sacred monastery in this heavily Catholic country saw approximately 200 LGBTQ marchers.
Śląscy #policjanci zabezpieczali wydarzenia w #Częstochowa. Zadaniem mundurowych było zapewnienie bezpieczeństwa pielgrzymom przebywającym na #JasnaGóra i uczestnikom odbywającego się zgromadzenia. Wydarzenia przebiegły spokojnie. #służba #policja #bezpieczeństwo @PolskaPolicja pic.twitter.com/JgrMywZgTa

— Policja Śląska 🇵🇱 (@PolicjaSlaska) August 21, 2021
The Częstochowa march on Saturday was a stark difference from the city's first ever LGBTQ march in July of 2018, which was called off along half of its planned route due to the counter-protests by right-wing anti-LGBTQ extremists.
The Gdańsk march was kicked off today with a speech by the city's mayor, Aleksandra Maria Dulkiewicz, a lawyer, who has been the city's mayor since March 11, 2019. She addressed the marchers saying;
"Gdańsk is a rainbow today. The rainbow is a symbol that connects heaven and earth. I believe that today, during this march, there will be more to unite us than to divide us. We are all human, we all have the full right to freedom, to free elections, to democracy, to the rule of law. Let us be equal whether we have a boyfriend or girlfriend, whether we are married or not, whether we believe in God or not, whether we go to church or not," said Dulkiewicz who added, "I believe that Gdańsk will show today that we can respect ourselves, because respect for other people is the most important."
The 26-year-old head of a regional far-right youth organization in Opole, southwestern Poland, Bartlomiej Czuchnowski, who had traveled to the Częstochowa march to protest told the Associated Press; "This is a clear provocation, because LGBT circles have always been anti-Catholic, anti-Christian, you can even say. So their march in this direction, into the heart of the Polish nation, into the heart of Polish Catholicism, is an open provocation."
A LGBTQ activist from Czestochowa, Monika Radecka, said each time she sees growing support for the human rights marches but added "still there is a large group that does not support them."
"Whatever we, LGBT people, do is interpreted as a provocation," Radecka told the AP.
The march in Gdańsk, in addition to the mayor, was also attended by Gdańsk City councilors, the Irish ambassador to Poland Emer O'Connell and the seaside resort city of Sopot's vice-mayor Magdalena Czarzyńska-Jachim, who told the assembled marchers,
"Beloved, I am here because my friends are here with their families, with partners, with female partners. It's wonderful that we are here together. I especially wanted to bow my head to the parents of transgender, non-binary and LGBT children. When I look at their daily struggle, the way of the cross, when they support their children, I am ashamed of my country. I don't want such a Poland anymore – she said."
From Russian State Television Outlet RUPTLY on 8 July 2018- Poland: Right-wing protesters stop Czestochowa's first ever LGBT parade:
Dutch Constitution to be amended banning LGBTQ+ discrimination
Enshrining the rights of LGBTQ people is a "historic victory for the rainbow community," said advocacy group COC Nederland
AMSTERDAM – The Upper House of the States General of the Netherlands, the supreme bicameral legislature of the kingdom voted to amend Article 1 of the Constitution of the Kingdom of the Netherlands, expanding it to prohibit discrimination against someone because of a disability or sexual orientation. 
In a 56­–15 vote in the Eerste Kamer, [the Dutch Senate] the proposal for amendment passed and is now headed to King Willem-Alexander for his Royal assent and the Dutch government. Once approved it will be published in the Staatscourant, the official government publication that formally announces new laws in the kingdom.
LGBTQ+ advocacy groups and activists celebrated the vote. Enshrining the rights of LGBTI people in the constitution is a "historic victory for the rainbow community," said advocacy group COC Nederland. The Dutch LGBTQ+ rights group was founded in 1946 and is considered the oldest existing LGBTQ+ organization in the world.
Dutch media outlet NL Times noted that Article 1 states that everyone in the Netherlands "shall be treated equally in equal circumstances." The following sentence goes on to explicitly mention several examples, including "religion, belief, political opinion, race or sex." That list will now be expanded.
The procedure for such an adjustment takes years because it has to be voted on several times. With the Senate's vote, that process has now been completed.
The change was the result of an initiative from coalition party D66 and left wing opposition parties PvdA and GroenLinks that has developed over the course of twelve years. "You can rightly call this day historic!" said D66 Member of Parliament Alexander Hammelburg, who helped defend the law in the Senate.
"A disability, or who you fall in love with, should never be a reason to be excluded," said PvdA member Habtamu de Hoop.
NL Times also reported that since 2004, COC has advocated anchoring the rights of homosexuals, bisexuals, transgender and intersex people in the Constitution. This has already happened in countries such as Sweden, Portugal, Malta, Mexico and South Africa.
An association representing people with physical and mental disabilities, or chronic illnesses, also called it a "historic" day. "Adding the disability basis to Article 1 is historic news," said Ieder(in) director Illya Soffer. "The government is given an additional task to permanently improve and strengthen the position of people with a disability. Not only in legislation, but also in practice," Soffer continued.