Newsom signs legislation bolstering landmark college athletes bill
Newsom announced that he has signed legislation to accelerate implementation of California's Fair Pay to Play Act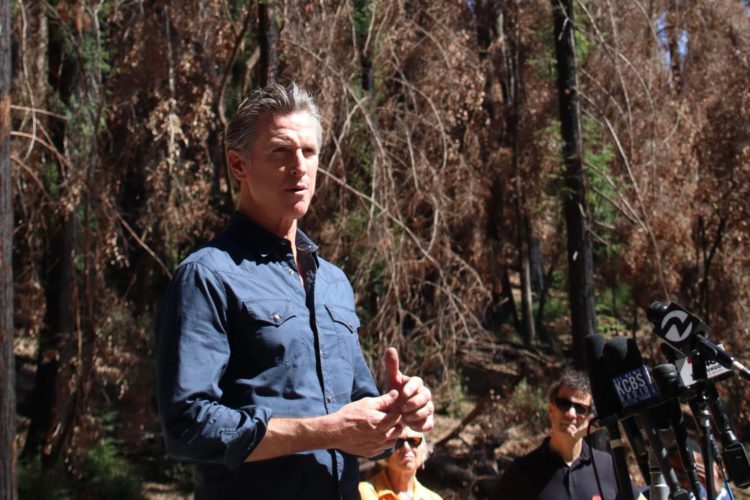 SACRAMENTO – Governor Gavin Newsom announced Tuesday that he has signed legislation by Senator Nancy Skinner (D-Berkeley) and Senator Steven Bradford (D-Gardena) to accelerate implementation of California's Fair Pay to Play Act, first-in-the-nation legislation signed by the Governor in 2019 to allow college student athletes to profit from their name, image and likeness.
The law inspired a wave of states across the country to take similar action to empower student athletes.
"California led the charge against the unjust power imbalance in college sports, launching a national movement and spurring long-overdue changes in this multibillion-dollar enterprise," said Newsom. "I'm proud to build on our leadership with today's legislation to expand and protect our college athletes' rights to reap the rewards from their sacrifices and success. I thank Senator Skinner and Senator Bradford for their tireless work to advance this fundamental matter of fairness and equity."
Under SB 26, the Fair Pay to Play Act will take effect on Sept. 1, 2021, ahead of the original January 2023 implementation date. This ensures that California students are protected under the Fair Pay to Play Act following new rule changes by the National Collegiate Athletic Association (NCAA) that allow colleges and universities to develop their own rules in states without name, image and likeness laws, or in states where laws are not yet in effect. SB 26 also expands the Fair Pay to Play Act to California Community Colleges and allows athletes to identify what school they attend as part of promotional materials.
Governor Newsom signed the Fair Pay to Play Act in 2019 alongside authors Senator Skinner and Senator Bradford, as well as NBA legend LeBron James, UCLA gymnast Katelyn Ohashi, WNBA star Diana Taurasi, former UCLA basketball player Ed O'Bannon and Rich Paul. SB 206 will allow all student athletes enrolled in public and private four-year colleges and universities in California to earn money from their name, image, or likeness. Student athletes will also be able to hire sports agents, and not lose their scholarships if they receive income for their work. The law includes safeguards to prevent college athletes from signing endorsement deals that conflict with their school's deal when they are participating in official team activities.
For full text of the bill, visit: http://leginfo.legislature.ca.gov.
Gavin Newsom signs California's 'Fair Pay to Play Act' with LeBron James & Mav Carter | THE SHOP 2019
Las Vegas Raiders head coach resigns after homophobic emails surface
The emails were discovered in a workplace misconduct investigation into the Washington Football Team the New York Times reported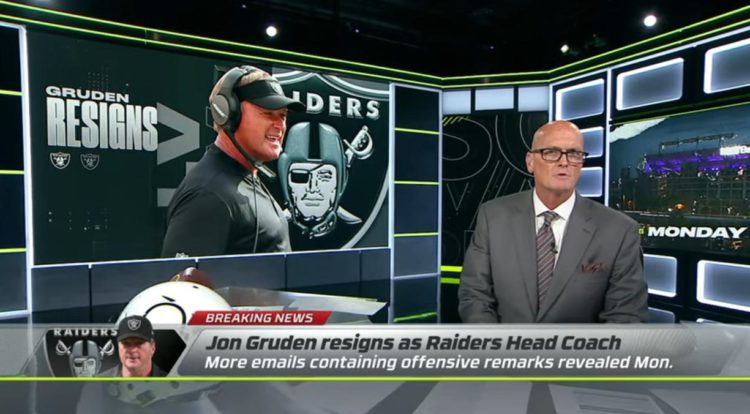 LAS VEGAS – The head coach of the Las Vegas Raiders, Jon Gruden resigned his post Monday after an article in the New York Times reported that he frequently used misogynistic and homophobic language directed at Commissioner Roger Goodell and others in the National Football League, (NFL).
The emails were discovered in a workplace misconduct investigation into the Washington Football Team the Times reported, but ended up costing Gruden his job when they also showed Gruden denounced the drafting of a gay player and the tolerance of players protesting during the playing of the national anthem among other issues.
In a statement released by the team late Monday, Gruden said; "I have resigned as Head Coach of the Las Vegas Raiders. I love the Raiders and do not want to be a distraction. Thank you to all the players, coaches, staff, and fans of Raider Nation. I'm sorry, I never meant to hurt anyone."
The sequence of events started last Friday when the Wall Street Journal reported that Gruden used a racist term to describe NFL union chief DeMaurice Smith in a 2011 email to the Washington team's former executive Bruce Allen.
According to the Associated Press, Gruden apologized for his "insensitive remarks" about Smith, saying they were made out of frustration over the 2011 lockout. But the latest emails sent from between 2011-18 when Gruden was an analyst for ESPN show his use of derogatory language went well beyond that.
A league source confirmed the accuracy of the emails to the Associated Press and said they were sent to the Raiders last week. The person spoke on condition of anonymity because the league hasn't made the emails public.
The New York Times and the Associated Press both noted that Gruden used a gay slur to insult Goodell and said he was "clueless" and "anti-football." He also said Goodell shouldn't have pressured the Rams to draft "queers," a reference to Michael Sam, who was the first openly gay player drafted by an NFL team.
Gruden's abrupt resignation was announced live on the Colts/Ravens "Monday Night Football" broadcast when the NFL ran multiple LGBTQ-inclusive advertisements, including one featuring an NFL logo wrapped in the colors of the Trans Flag and Rainbow Flag Gay City News Editor Matt Tracy reported.
Raiders owner Mark Davis issued a statement which only said that he accepted Gruden's resignation. In a separate statement the Raiders announced that special teams and assistant head coach Rich Bisaccia will serve as Interim Head Coach of the Las Vegas Raiders, effective immediately.
"Coach Bisaccia will meet with the media at the regularly scheduled media availability on Wednesday," the team said.
According to ESPN and the Associated Press, Bisaccia has been a special teams coordinator in the NFL for 19 seasons with the Raiders, Chargers, Dallas and Tampa Bay. He has no head coaching experience but his elevation will allow other assistants in the Raiders organization such as defensive coordinator Gus Bradley to stay in their current roles.
Jon Gruden resigns as Raiders head coach | SC with SVP
SF 49ers first LGBTQ+ in-person Pride watch party since pandemic hit
The San Francisco 49ers NFL team invites fans to come out for football and to celebrate National Coming Out Day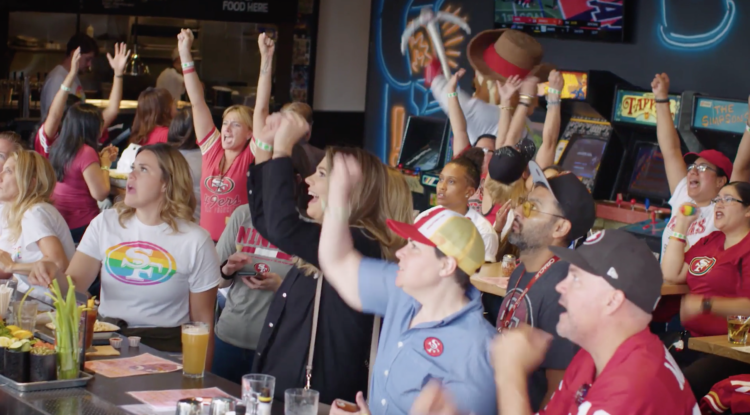 SAN FRANCISCO – For the first time since COVID-19 impacted the world of sports, the Bay Area's most ardent LGBTQ+ football fans gathered to watch the 49ers, together.
49ers Pride, the first-ever fan club in the NFL created with the purpose of engaging and including members of the LGBTQ+ community and allies, hosted the free watch party at District Six San Francisco Sunday, open to all ages.
In addition to the opportunity to enjoy food together and watch the game on several giant LED screens, the organizers offered giveaways of 49ers merchandise and held raffles at the end of each quarter of the divisional game against the Arizona Cardinals. Additional entertainment included music by DJ Cisco and a drag queen halftime show.
49ers Pride is also marking National Coming Out Day at the event, which is Monday.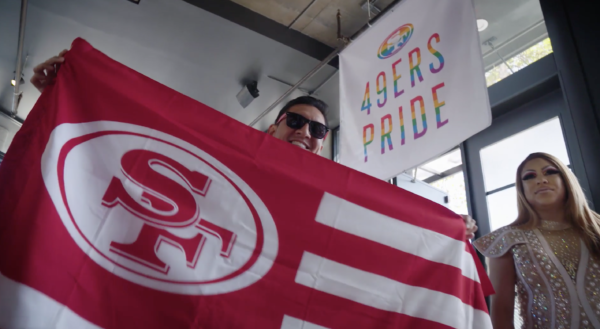 As the Los Angeles Blade reported in June, 49ers Pride celebrated Pride Month by releasing the NFL's first-ever genderless retail line. The team pledged 100% of its proceeds from shop49ers.com benefited local LGBTQ+ groups. And as it turned out, the 49ers led all NFL teams in Pride-related merchandise sales this summer.

For details on the watch party, go to the 49ers site or EventBrite.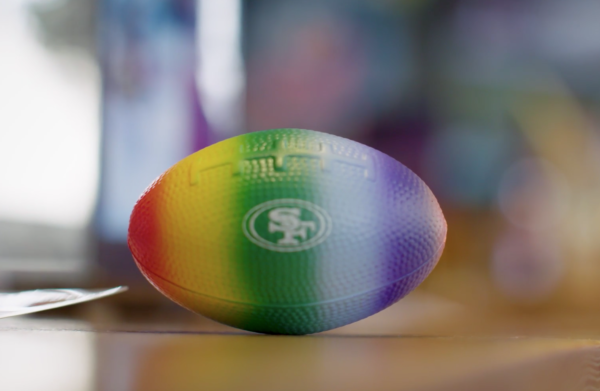 New Zealand University names Trans athlete "sportswoman of the year"
Hubbard's participation had provoked controversy as she had prepared for competing as the world's first out transgender woman Olympian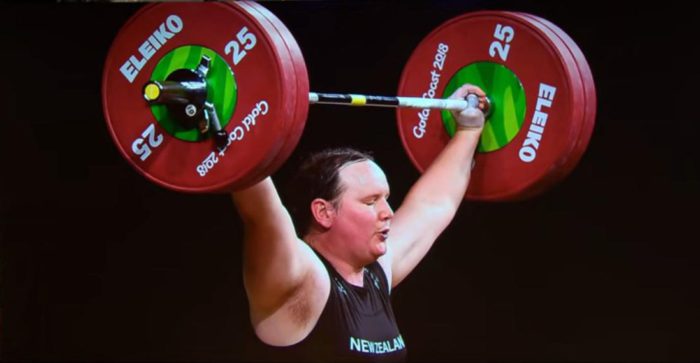 DUNEDIN, New Zealand – Olympic weightlifter Laurel Hubbard was named "sportswoman of the year" at the prestigious 113-year-old University of Otago and OUSA Blues and Golds Awards event this past week.
The 43-year-old Queenstown, South Island, native was the first openly transgender woman to compete in an Olympics when she competed in the women's 87kg weightlifting event at the 2021 Tokyo Games.
In a statement to the local newspaper, the Otago Daily Times, Hubbard said she was ''grateful for all of the support and kindness received from the teaching staff and students at Otago University.''
''It is not possible for athletes to complete at the Olympic level without the encouragement and aroha [a Māori word meaning "love"] of friends, family and supporters.
''This award belongs to everyone who has been part of my Olympic journey,'' she told the paper.
Hubbard's participation at the Tokyo Games had provoked controversy as she had prepared for competing as the world's first out transgender woman Olympian. The director of medicine and science for the International Olympic Committee, Dr. Richard Budgett, directly addressed those who had attacked and mocked the New Zealander and claimed she shouldn't be competing with cisgender women, saying "everyone agrees that trans women are women."
"To put it in a nutshell," he said, "the IOC had a scientific consensus back in 2015. There are no IOC rules or regulations around transgender participation. That depends on each international federation. So Laurel Hubbard is a woman, is competing under the rules of her federation and we have to pay tribute to her courage and tenacity in actually competing and qualifying for the Games."
Otago University Students' Association president Michaela Waite-Harvey told the Otago Daily Times that the Blues awards aim to highlight Otago students excelling in their chosen sport.
''We could think of no-one more worthy of sportswoman of the year than Laurel Hubbard who represented Otago and New Zealand incredibly well at this year's Tokyo Olympics.''