Human Rights Campaign Board fires HRC president Alphonso David
"They had decided to end Mr. David's role "effective immediately, for violations of his contract with the Human Rights Campaign."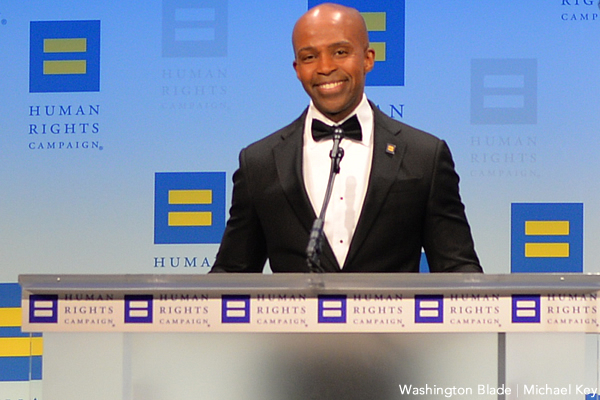 WASHINGTON – Following a joint meeting of the boards of the Human Rights Campaign and its affiliated Human Rights Campaign Foundation late Monday evening, Alphonso David, the president of the Human Rights Campaign, was summarily fired for cause.
In a statement, the co-chairs of the board, Morgan Cox and Jodie Patterson, said they had decided to end Mr. David's role "effective immediately, for violations of his contract with the Human Rights Campaign."
They added: "Yesterday and today, Mr. David released a statement that included significant untruths about the investigation and his status with the organization. At H.R.C., we are fighting to bring full equality and liberation to L.G.B.T.Q.+ people everywhere. That includes fighting on behalf of all victims of sexual harassment and assault."
Mr. David did not immediately respond to a request for comment by media outlets.
The Blade's White House reporter Chris Johnson had reported earlier Monday that following a tweeted statement on Sunday from David declaring an independent review found no wrongdoing on his behalf in the scandal on sexual misconduct forcing New York Gov. Andrew Cuomo for resign, the board co-chairs of the nation's have responded by disputing that account.
After the HRC board email became public on Monday, David issued a subsequent statement on Twitter, asserting the board had told him Friday evening upon asking him to consider the review was, in fact, complete.
"The facts are that I was contacted by the board co-chairs late Friday night," David wrote. "They told me that the Sidley Austin review was complete, but they would not provide the report to me or anyone. They gave me a deadline of 8 am the next morning to tell them whether I would resign. They didn't offer a shred of evidence of any wrongdoing on my part when I asked repeatedly."
Legal experts had doubted the validity of a review Sidley Austin on the basis it was among the legal firms agreeing in 2019 to help with the Human Rights Campaign entering into litigation to advance LGBTQ rights, an agreement David spearheaded upon taking the helm of the organization.
The findings from New York Attorney Letitia James on Cuomo names David nearly a dozen times. Among other things, the report indicated after his tenure as counselor to Cuomo, he kept the personnel file of an employee accusing the governor of sexual misconduct, then assisted in returning that file to Cuomo staffers seeking to leak it to the media in an attempt to discredit her.
(A representative has disputed the characterization of material David kept as a personnel file, saying it was memorandum on an internal employment matter David kept because he, in part, worked on it. David has said he was legally required to return to the material.)
Further, the report finds David allegedly said he would help find individuals to sign their names to a draft op-ed that sought to discredit the survivor but went unpublished, although he wouldn't sign the document himself. Also, the report indicates David was involved in the discussions about secretly calling and recording a call between a former staffer and another survivor in a separate effort to smear her.
In response, David said he agreed to help with only one version of the letter that was more positive in nature and his part of the discussion about recording a survivor was limited to his role as counselor.
Statement from Morgan Cox and Jodie Patterson, Human Rights Campaign and Foundation Board Chairs pic.twitter.com/mxUGEFSstn

— Human Rights Campaign (@HRC) September 7, 2021
High Court to hear case of school prayer but not anti-LGBTQ web designer
The Justices added five new cases including the case of a fired former Bremerton, Washington assistant high school football coach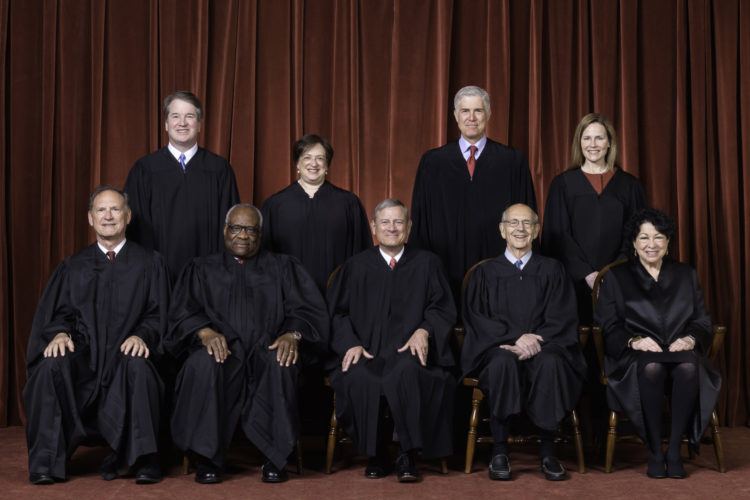 WASHINGTON – After their private conference on Friday, the Justices of the U.S. Supreme Court added five new cases to this term including the case of a former Bremerton, Washington assistant high school football coach removed for refusing to halt his practice of praying at mid-field after games.
The court however declined to hear the case of a website designer who refused to create custom sites for same-sex weddings.
SCOTUSblog senior reporter Amy Howe reported "the case of the football coach involves Joseph Kennedy, a practicing Christian whose religious beliefs require him to "give thanks through prayer, at the end of each game." When he began his job as an assistant coach at Bremerton High School, a public school in Washington state, he initially prayed alone after games, but over time some of his players – and eventually a majority of the team – joined him. One parent complained that his son, a player on the team, felt like he had to join in the prayer, even though he was an atheist, or face a loss of playing time."
Bremerton School District officials had attempted to accommodate Kennedy after warning him to stop the prayers as District officials clarified that they did not want to violate the Constitution's establishment clause, which prohibits the government from favoring one religion over another.
The district offered Kennedy the ability to pray after the crowd had left the stadium or in a private space both options that he refused. Kennedy had retained counsel and the legal team indicated that they would pursue father legal action.
According to media accounts he then prayed publicly with his players at two more games after which he was placed on administrative leave. After a review which included a recommendation by the head football coach that he be terminated, Kennedy was let go and then filed a federal lawsuit alleging that Bremerton School District had violated his First Amendment rights and federal civil rights laws.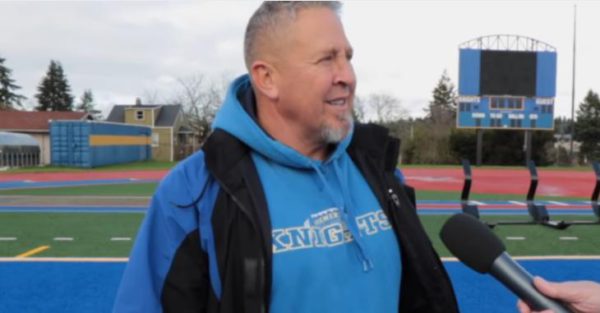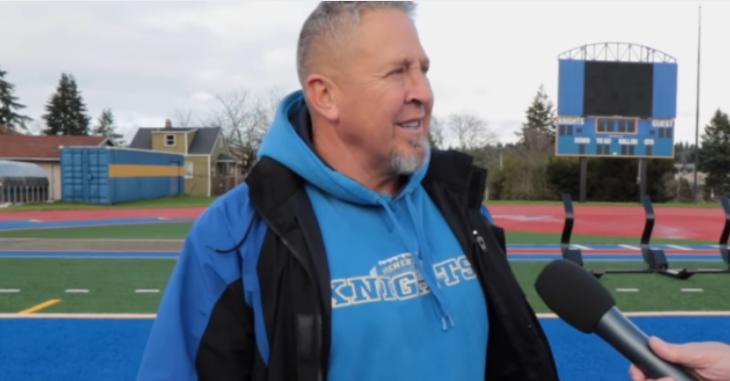 "Kennedy came to the Supreme Court in 2018 seeking to get his job back while litigation continued. The court turned him down, but Justice Samuel Alito penned a statement regarding that denial that was joined by Justices Clarence Thomas, Neil Gorsuch, and Brett Kavanaugh. Alito wrote that Kennedy's free-speech claim raised important issues, and he suggested the case may warrant review in the future," SCOTUSblog reported.
Ultimately, the U.S. District Court rejected Kennedy's argument ruling against him and the case was then heard by a 3 judge panel of the U.S. Court of Appeals for the 9th Circuit, which upheld that decision. The 9th Circuit turned down a petition for an En banc (full) review by the entire 9th Circuit.
Kennedy returned to the Supreme Court in September 2021, telling the justices that the 9th Circuit's ruling used "imagined Establishment Clause concerns to inflict real Free Exercise Clause damage," he argued adding; "The religious expression of hundreds of thousands of teachers in the Ninth Circuit is now on the verge of extinction," he contended. Moreover, Kennedy added, the ruling's "chilling effects elsewhere around the country are palpable, as the Ninth Circuit essentially held" Kennedy's "efforts to publicize the denial of his constitutional rights against him."
The school district countered that whether Kennedy has the right to a "brief, quiet prayer by himself while at school" "is entirely beside the point" – particularly when, the district insisted, "every word of that description is wrong." The dispute before the court, it stressed, is "about a school district's authority to protect students when its employee does not work with it to find a reasonable accommodation." A ruling for Kennedy, the school district warned, would require the Supreme Court "to overturn decades of settled law under both the Free Speech and Establishment Clauses," SCOTUSblog reported.
The Justices declined to take up a case on appeal from the U.S. Court of Appeals for the 10th Circuit, 303 Creative LLC v. Elenis, brought by The Alliance Defending Freedom, (ADF)- listed by the Southern Poverty Law Center as an anti-LGBTQ extremist hate group.
The case stemmed from a Lakewood, Colorado based web designer, who sued to challenge Colorado's anti-discrimination law. ADF filed its appeal last Fall asking the U.S. Supreme Court to review that ruling.
Lorie Smith, claimed in court filings that the Colorado law violated Smith's freedom of speech and freedom of religious expression, citing that it would force her to design wedding websites for same-sex couples which violated her 'Christian' beliefs.
In its 2-1 ruling, the 10th Circuit panel said Colorado had a compelling interest in protecting the "dignity interests" of members of marginalized groups through its law.
In a statement issued by ADF, the Arizona based firm claimed; "The 10th Circuit issued an unprecedented decision in the case, 303 Creative v. Elenis, holding that Colorado's Anti-Discrimination Act both forced Lorie "to create websites—and thus, speech—that [she] would otherwise refuse," and also created a "substantial risk" of removing "certain ideas or viewpoints from the public dialogue," including Lorie's beliefs about marriage."
ADF added; "The lawsuit contends that Colorado Revised Statute § 24-34-601(2)(a) violates the First Amendment's Free Speech and Free Exercise clauses. The state law is the same one the commission twice used against Masterpiece Cakeshop cake artist Jack Phillips, who is currently being harassed by an activist attorney in a third lawsuit that also attempts to use Colorado's law against him. After a trial resulted in a decision against Phillips, ADF attorneys representing him and his shop have appealed that case to the Colorado Court of Appeals."
Colorado Solicitor General Eric Olson questioned whether Smith should even be allowed to challenge the law since she had not started offering wedding websites yet, the Associated Press reported.
But if she did, Olson said, her argument would mean she would refuse to create a website for a hypothetical same-sex couple named Alex and Taylor but agree to make the same one for an opposite-sex couple with the same names. He said that would be discrimination under the Colorado Anti-Discrimination Act, which prohibits discrimination on the basis of sexual orientation.
Judge Mark Beck Briscoe wrote in the majority opinion (303 Creative, et al. v. Elenis, et al.) that "we must also consider the grave harms caused when public accommodations discriminate on the basis of race, religion, sex, or sexual orientation. Combatting such discrimination is, like individual autonomy, `essential' to our democratic ideals."
In his dissent, Chief Judge Timothy Tymkovich wrote that "this case illustrates exactly why we have a First Amendment. Properly applied, the Constitution protects Ms. Smith from the government telling her what to say or do.
Glenn Youngkin sworn in as 74th governor of Virginia
The newly sworn-in Republican Governor backed a Loudoun County teacher who opposed trans student guidelines
RICHMOND – Republican Virginia Gov. Glenn Youngkin took office on Saturday amid concerns that he will seek to curtail LGBTQ rights in the state.
"Today we gather not as individuals, not as Republicans and Democrats," said Youngkin after his swearing in. "Today we gather as Virginians."
Former Gov. Ralph Northam and U.S. Sen. Tim Kaine (D-Va.) are among those who attended the ceremony that took place at the State Capitol. Terry McAuliffe, who Youngkin defeated in the general election, did not attend because of a COVID-19 scare.
Youngkin during his campaign against McAuliffe expressed support for Tanner Cross, a gym teacher at a Leesburg elementary school who was suspended from his job after he spoke out against Virginia Department of Education guidelines that are designed to protect transgender and non-binary students. Youngkin has also said he does not support allowing trans children to play on sports teams that are consistent with their gender identity.
Youngkin on Thursday named Elizabeth Schultz, an anti-LGBTQ former member of the Fairfax County School Board, to his administration.
"We will remove politics from the classroom and focus on the essentials," said Youngkin in his inaugural speech, without specifically mentioning LGBTQ students.
He added "parents should have a say in what is taught in schools."
Youngkin has also expressed his opposition to marriage equality, but stressed it is "legally acceptable" in Virginia and would "support that" as governor.
Lieutenant Gov. Winsome Sears and Attorney General Jason Miyares also took office on Saturday.
Winsome, a former member of the Virginia House of Delegates, is the first woman and first female of color elected lieutenant governor. Miyares, a former House member whose mother was born in Cuba, is Virginia's first Latino attorney general.
Youngkin in his inaugural speech noted "the people of Virginia just elected the most diverse leadership" in the state's history. Youngkin's first executive order ends "the use of" so-called "critical race theory" (which is not taught in Virginia schools) and other "divisive concepts" in Virginia's public schools.
The General Assembly's 2022 legislative session began on Wednesday.
Republicans control the House by a 52-48 margin. Democrats have a 21-19 edge in the Virginia Senate.
South Dakota Senate committee advances anti-Trans youth sports bill
"Every child deserves to be lifted up and supported by their leaders and their government, not targeted and dehumanized"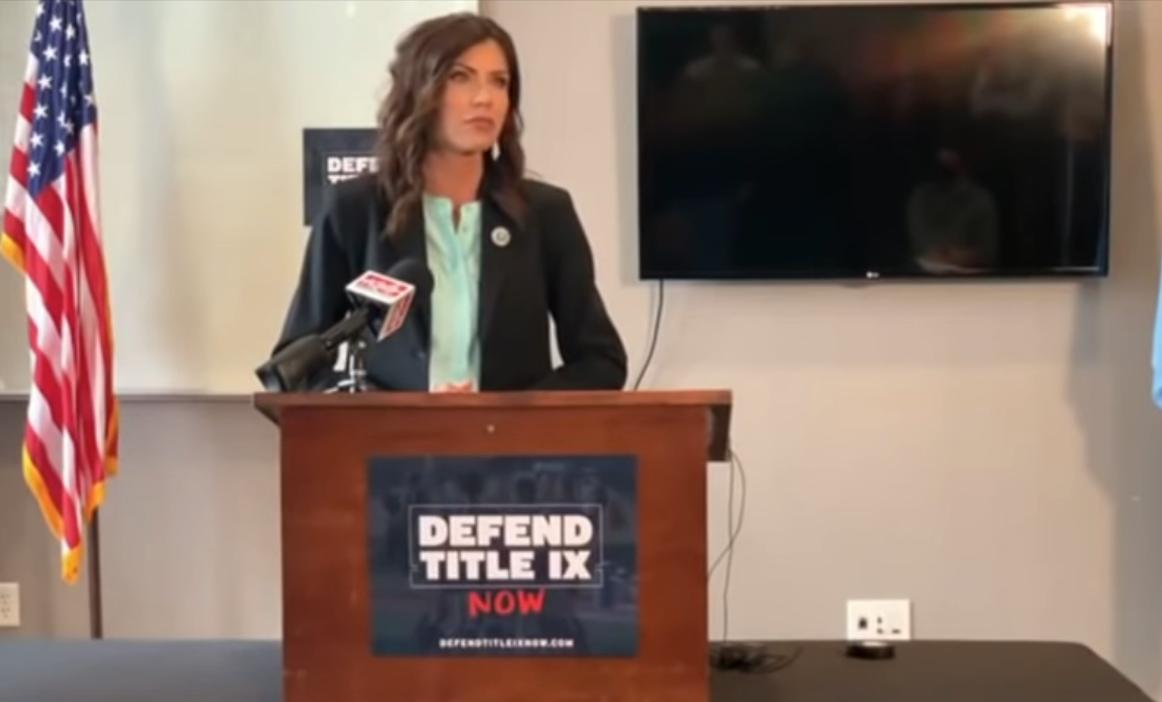 PIERRE – The South Dakota Senate State Affairs Committee voted to advance Senate Bill 46, legislation that would ban transgender women and girls from competing on the sports teams that match their gender identity.
Noem's bill, S.B. 46, is one of three anti-trans that South Dakota has introduced in early 2022 – coming off a year that saw unprecedented legislative attacks on the trans community, especially in sports.
In a press release, Noem alluded to her anti-trans sports bill working similarly to Texas' ban on abortions after six weeks, which attempts to circumvent the U.S. Supreme Court's landmark decision in Roe v. Wade by allowing citizens to enforce the law with lawsuits.
"The legislation I am proposing includes the ability for a parent to hold schools accountable in court," she said. "Parents will be able to sue to play, not to pay."
It is still unclear if the tactic will be able to successfully evade courts striking down the law. The Supreme Court refused to block Texas' abortion ban but did say that abortion providers have the right to sue.
At the end of last year, Noem introduced a bill that would have codified two of her anti-trans executive orders – one focusing on K-12 schools and the other taking aim at college sports.
She wrote the orders shortly after vetoing an anti-trans sports bill from the state legislature, fearing the National Collegiate Athletic Association (NCCA) would take the state to court over the bill. Otherwise, Noem praised the proposal, even saying she was "excited to sign" it before changing her position.
The South Dakota High School Activities Association still allows trans student-athletes to compete. In addition, the NCAA supports trans people participating in sports.
"Senate Bill 46 attempts to solve a problem that does not exist while slamming the door shut for transgender student athletes to fully participate in their school communities," said Jett Jonelis, ACLU of South Dakota advocacy manager. "Transgender students participate in sports for the same reasons other young people do: to challenge themselves, to stay fit and healthy and to be a part of a team. Trans students' humanity, dignity, and ability to be full members of their school communities should never be up for debate like this."
Senate Bill 46, which was introduced on behalf of Republican Governor Kristi Noem, is intended to inflame a political reaction, not protect fairness in women's sports the ACLU and LGBTQ+ activists contend. The state has not seen any issues with transgender women or girls competing in sports. The South Dakota High School Activities Association already has a policy in place for transgender athletes. Likewise, the NCAA also has clear policies on the inclusion of transgender student-athletes and their participation in intercollegiate athletics.
"If Gov. Noem really wanted to protect fairness in women's sports, she would tackle the actual threats to women's sports such as severe underfunding, lack of media coverage, sexist ideologies that suggest that women and girls are weak, and pay equity for coaches," Jonelis said. "It's obvious that this discriminatory legislation is about solving problems that don't exist."
On Thursday in advance of the committee's vote, Governor Noem released nationally televised 30 second ad that while not directly using the lexicon in referring to the Trans community, she claims that she wants to protect girls' and women's sports.
The advert commences with: "In South Dakota, only girls play girls' sports. Why? Because of Gov. Kristi Noem's leadership. Noem has been protecting girls' sports for years and never backed down."
In South Dakota, only girls play girls' sports.

Watch my new ad that debuts during prime time news programs across the country tonight about my bill that will give South Dakota the strongest law protecting female sports in the nation! pic.twitter.com/0bREmXz8eh

— Kristi Noem (@KristiNoem) January 13, 2022
National advocacy groups were quick to respond to the governor's ad and Senate Bill 46.
"Fairness should never mean exclusion. We can promote girls' sports and transgender inclusion at the same time. Blanket bans that block transgender students from participating in school sports remain unfair and unnecessary," Sam Ames, director of advocacy and government affairs at the Trevor Project, said in a press release. "A recent poll by the Trevor Project found that 85 percent of transgender and nonbinary youth said recent debates around anti-trans bills have negatively impacted their mental health — and nearly 1 in 3 feels scared."
"This ad is not just discriminatory, it erases transgender people and dehumanizes them, putting a target on the back of an already vulnerable community," said Joni Madison, interim president of the Human Rights Campaign. "Doing so on a national stage — in a brazen attempt to score political points with her base — makes these attacks especially egregious. In fact, it's South Dakota's women and girls that Governor Noem is attacking.
"Prohibiting transgender girls from participating in school athletics alongside their peers is a radical political talking point — one that Noem is using to advance her national political ambitions, but which does not serve South Dakota's best interests. At stake is the safety of transgender young people, who are facing increased discrimination in their communities, last year leading to the highest incidence of fatal violence against transgender and gender-nonbinary people on record. Noem's ad resorts to attacking children in service of a divisive and discriminatory political agenda.
"Every child deserves to be lifted up and supported by their leaders and their government, not targeted and dehumanized. Legislators must reject this divisive bill to avoid tarnishing South Dakota's reputation and hurting kids in service of Governor Noem's selfish political gamesmanship."