Activists reflect on Black Trans Lives Matter movement
Blade speaks with Alex Santiago, Jasmyne Cannick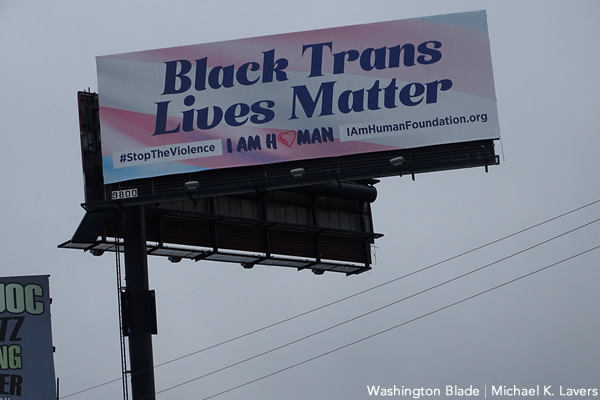 ATLANTA — The world came to a standstill last year as a video surfaced online that showed then-Minneapolis police officer Derek Chauvin murdering George Floyd. The video went viral and sparked numerous protests against racism and police brutality in the U.S. and around the world as many people felt it a potent time to relay their frustrations with and to their governments.
For the LGBTQ community, these protests brought to light the need for human rights for transgender individuals as the murders of people like Tony McDade in Florida and Nina Pop in Missouri reawakened the flame within the Black Trans Lives Matter movement.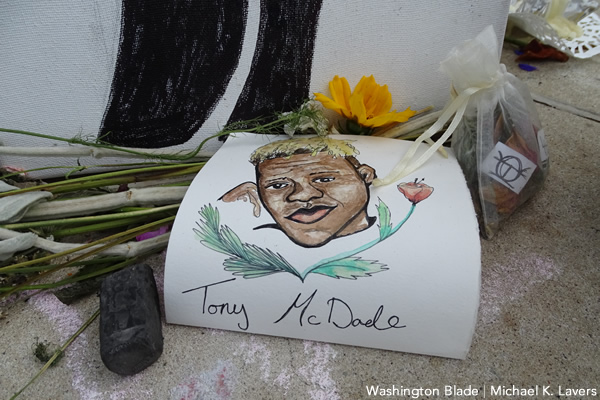 The Los Angeles Blade more than a year later spoke with Alex Santiago, executive director of the I Am Human Foundation in Atlanta, and Jasmyne Cannick, a Democratic political strategist and journalist in Los Angeles, to reflect on last year's Black Trans Lives Matter movement, how far it has come, and what's in store for the future.
Uplifting voices often silenced
Participating in the Black Lives Matter protests was an easy decision for Santiago. He is a member of the Legendary House of Garcon, a ballroom house headquartered in D.C.
Although the house is composed mostly of LGBTQ members, Santiago still felt the need to center trans voices and experiences by visually representing them during Black Lives Matter marches.
"[I decided that] when I go I'm going to have signs that say 'Black Trans Lives Matter.' After talking to a couple of the people in the house, they said it was a great idea. So, they got these t-shirts made that incorporated the trans colors [baby blue, baby pink and white]," says Santiago.
Out of the 250 people in the Legendary House of Garcon, 175 showed up to D.C. from other states to march in solidarity with Black trans people. Santiago says that from what he was told, his was the largest group of activists representing Black trans lives at protests.
"At first I thought people were going to look at us crazy, like, 'Why are you separating yourselves or being exclusive?'. But, we got a great response from the general population that was there that day. It was a good day," says Santiago.
Cannick, who was in Los Angeles during the protests, lent her efforts to platforming pertinent issues. She identifies herself as an ally and a "friend" to the LGBTQ community.
"I'm active in the LA community and everybody knows me. So, whenever something happens, someone is hurt, someone is killed or someone needs to get the word out about something that's going on particularly as it relates to the trans community, I'm always asked to get involved, and I do," says Cannick.
Over the past year, she reported on multiple LGBTQ issues including the trial of Ed Buck, a Democratic political fundraiser who was convicted in the deaths of two gay Black men who he injected with methamphetamine in exchange for sex.
What happened to the BTLM movement and what needs to change?
The nature of many social movements is that as the intense emotion surrounding them fades, people's fervor for change wanes as well. This is especially true with allies who are not directly linked to the cause.
"Fatigue and frustration at the relatively slow pace of change to a growing backlash on the right against efforts to call out systemic racism and white privilege — has led to a decline in white support for the Black Lives Matter movement since last spring, when white support for social justice was at its peak," US News reports about the Black Lives Matter movement.
Cannick believes this is the same for the Black Trans Lives Matter movement. She says Americans allow the media to dictate how it behaves and responds to issues. Thus, when stories "fall out of our media cycles … they fall out of our memories."
"I think that's not going to change, and that's a psychological thing, until we learn how to not let the media necessarily dictate our issues," says Cannick.
She suggests that individuals remain plugged into their communities by "doing anything to make sure they keep up with an issue" including following the "right people" on social media and setting up Google alerts for any breaking news.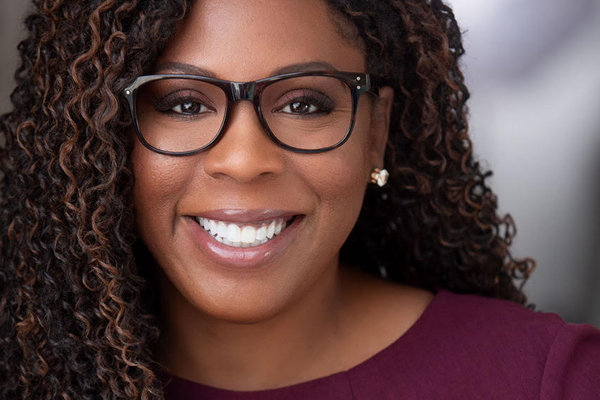 Santiago also echoes Cannick's sentiments.
"We wait until something happens before we do something. And, I don't want to be retroactive; I want to be proactive. I want people to see me when things are going well [and when they're not going well]," says Santiago.
Upon returning to his home in Atlanta after the D.C. protests, Santiago contacted a billboard installation company and paid for a billboard labelled, "Black Trans Lives Matter" to be displayed on University Avenue near downtown Atlanta. He says that the billboards got attention and helped to spread much-needed awareness. Following this success, he is now in the process of installing a new billboard labelled, "Black, Trans and Visible. My life Matters."
"Unless you're in people's faces or something drastic happens, people forget. Unless you're living it, people forget," says Santiago.
As time progresses, both Santiago and Cannick nest hope for the Black Trans Lives Matter movement. However, this hope can only persist when crucial steps are taken to ensure Black trans individuals around the country are protected, most importantly through legislation.
The New York Times reports there are close to 1,000 elected LGBTQ officials in the U.S., with at least one in each state except Mississippi.
"We need to have more legislation. We need more voices in power like the council Biden has right now," says Santiago.
"You know that [Biden] has a lot of trans people and Black trans people [involved], and a part of that's a positive step in the right direction, but we need that times 10," says Santiago.
He believes that political representation should extend to local governance where ordinary Black trans individuals can be trained to assume leadership roles.
Cannick's focus is on the Black community.
"[Trans women] are usually murdered by Black men. If we ever expect that to change, we need to start talking about that," says Cannick.
She's open to having conversations that put people, including her as a cis-identifying woman, in uncomfortable and awkward spaces.
She hosts a podcast titled "Str8 No Chaser" and recently aired an episode, "Why Are Black Men Killing Trans Women," where she discussed with three Black trans women about the gender and sexuality dynamics within the Black community and their perils.
Suspended prosecutor files suit against Florida Governor Ron DeSantis
"What's happening here is, he's trying to throw out a free and fair election," Warren said on CNN early Wednesday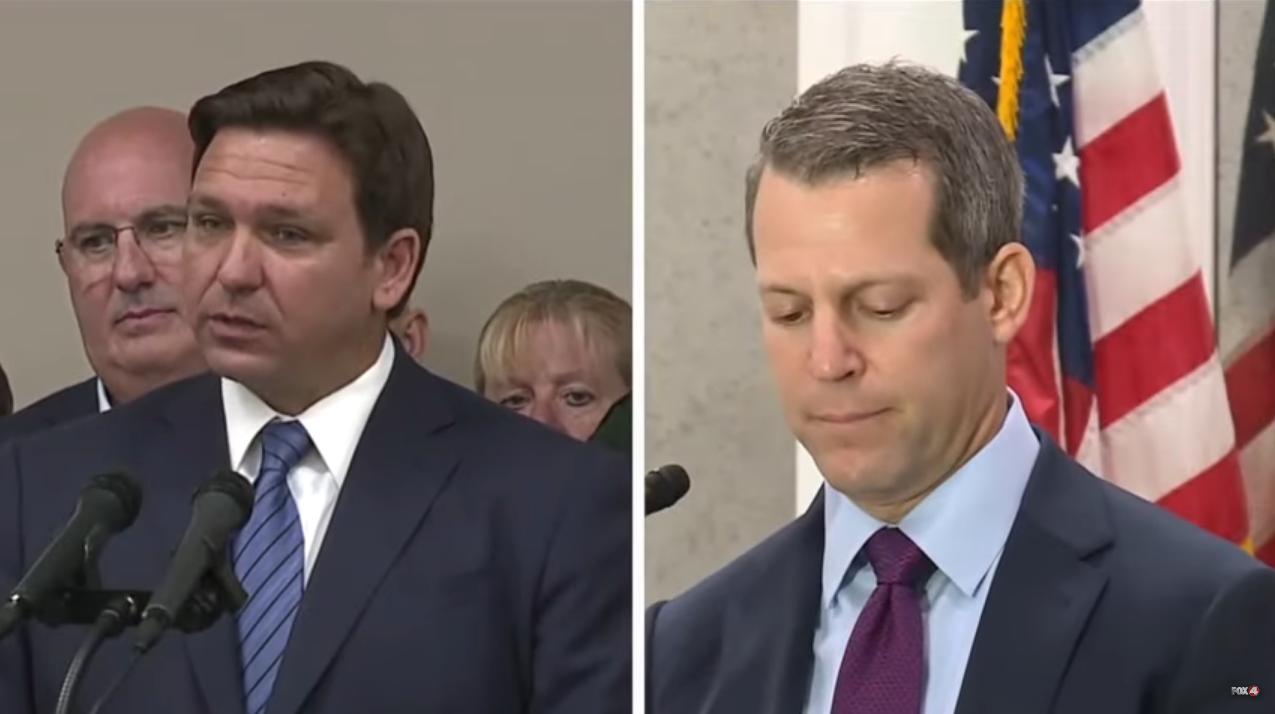 FORT MYERS, Fl. – Hillsborough County State Attorney Andrew Warren, an elected Florida prosecutor removed from office by Republican Governor Ron DeSantis for signing a national pledge to not prosecute women and doctors for violating Florida abortion statues or families seeking treatments for transgender minors, filed suit Wednesday in United States District Court for the Middle District of Florida.
Governor DeSantis' office issued a statement two weeks ago saying: "We are suspending Soros-backed 13th circuit state attorney Andrew Warren for neglecting his duties as he pledges not to uphold the laws of the state."
DeSantis's move, per a clause in the state's constitution, would have the effect of removing Warren from office.
"DeSantis's Order does not identify any actual conduct by Warren related to his official duties involving alleged criminal activity for seeking gender-affirming healthcare or abortion," the lawsuit said. "DeSantis's Order does not identify any other conduct by Warren or other reason sufficient to justify a suspension."
"What's happening here is, he's trying to throw out a free and fair election," Warren said on CNN early Wednesday. "Even my 8-year-old understands this."
Warren described the pledge circulated by prosecutors around the country as "a value statement," not a definitive decision on how he might handle any particular case. He also noted that Florida's new ban on abortions after 15 weeks of gestation has been ruled unconstitutional and that the state doesn't even have a law against hormone treatments for transgender minors.
"The First Amendment protects the right of elected officials to speak out on matters of public controversy, and in fact, it does so because it's so important that the voters who choose these elected officials know where they stand on these issues," Jean-Jacques Cabou, a lawyer for Warren, said in a phone interview with Fox affiliate WFTX-TV, Fox 4 News Cape Coral.
Prosecutors announce hate crime charges in attack on gay teenage couple
A 17-year-old was charged with assault, the 19-year-old was charged with criminal mischief & both youths with hate crime enhancements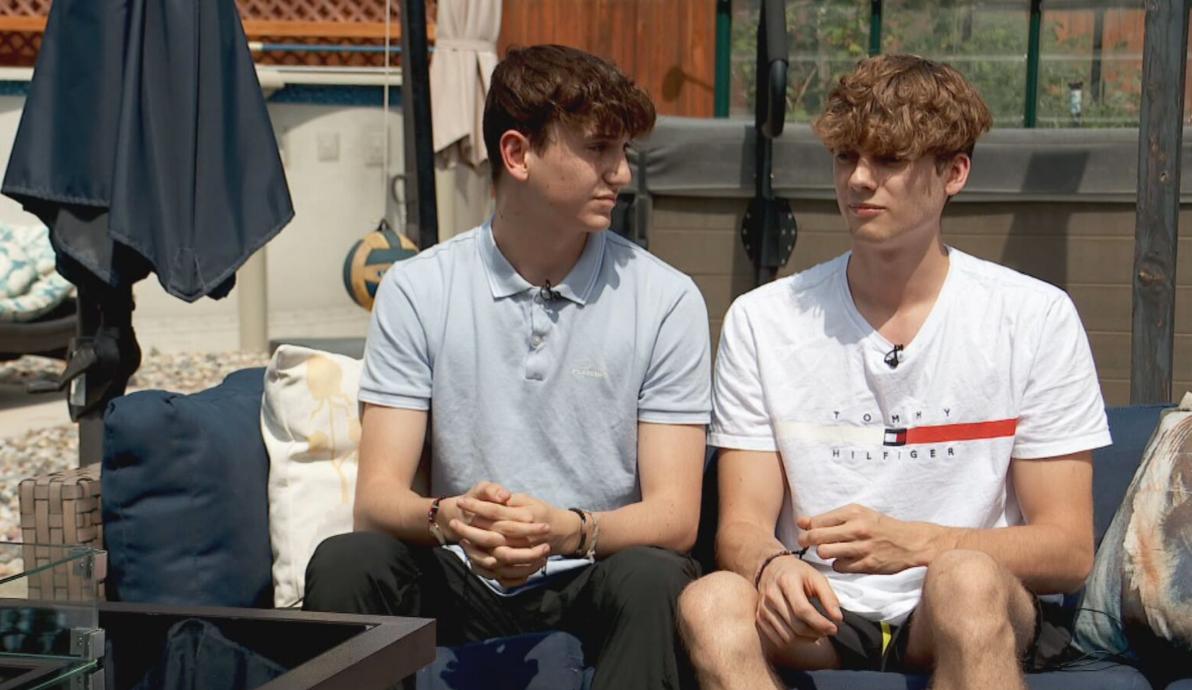 SANDY, Ut. – Christian Peacock and his boyfriend Jacob Metcalf were standing at the end of Peacock's driveway in this suburban Salt Lake City town hugging and quietly chatting in "a long goodbye for the night," two weeks ago when a Nissan-Infinity sedan with five young male occupants rolled by slowing down and one of them yelled "Fuck you, faggots."
Minutes later the Infinity returned and one of the young males got out and continued act aggressively using homophobic epithets and then when Christian Peacock stepped in to protect his boyfriend, he was punched sending him to hospital that left him with a mild concussion and brain swelling.
Earlier this week the Salt Lake City Tribune reported that a 17-year-old boy has been charged with allegedly punching Peacock sending him to hospital.
Sgt. Greg Moffitt with the Sandy Police Department told media outlets that the 17-year-old suspect's friend, Hayden Perry Stowell, 19, also faces charges, after he went back and allegedly vandalized the LGBTQ Pride flags displayed in front of the Peacock home in retaliation for his friend's arrest.
Prosecutors have added hate crime enhancements added to both of their other court charges.
The Tribune reported that the 17-year-old was charged in juvenile court with assault, a third-degree felony; and initiating a riot, a second-degree felony.
Stowell has been charged in 3rd District Court with retaliation against a witness, a third-degree felony; and criminal mischief, a class A misdemeanor.
The charging documents for the 17-year-old say he told police he approached the couple and "clearly targeted" them due to their sexual orientation, the Tribune reported.
He allegedly also told officers that he didn't like that Peacock and Metcalf were displaying physical affection openly in their driveway. The 17-year-old refused to identify anyone who was in the car with him at the time of the attack, the charges state.
A witness later identified Stowell as also one of the occupants of the car during the attack on Peacock.
Peacock's boyfriend had recorded portions of the incident which was later posted to social media. According to the Tribune, Jocelynn, 19, Peacock's sister grabbed her phone and started taking pictures of the alleged assailant and the others in the car. She also chased the car down the street and captured the license plate number. She then shared both on her Instagram and Snapchat pages.
One of her friends recognized the car and knew the person who drove it and gave Jocelynn the kid's address. Jocelynn went there and spoke to the mother of that boy.
"Do you know what your son has done?" she asked, according to Peacock and Metcalf, who went with her.
The Salt Lake Tribune and other media outlets in the Salt Lake region generally do not identify minors who have been charged with crimes, unless they have been charged and bound over for trial in adult court.
The case could become a test of the state's new hate crime law, which hasn't been used extensively since it was put in place in 2019 after a Latino father and son were attacked at their tire shop, the Tribune noted.
A community group had put up Pride flags to show support for Peacock and his boyfriend Metcalf in their neighborhood but surveillance footage taken two weeks after the attack — shows Stowell, the suspected vandal, outside the victim's home, according to the Sandy Police Department.
Stowell allegedly pulled out the flags, which were found "strewn about" the front yard and the street, police said, and at least one flagpole was broken, the Tribune reported adding that Stowell allegedly "ripped down the pride flags" 12 hours after his 17-year-old friend was booked into juvenile detention in connection with the July 30 assault, charging documents state, noting that the suspected vandal's "only clear purpose" was to "further intimidate and harass" the victim's family.
Both the teenage victim and his sister have been "struggling with anxiety and fear since the assault on July 30, 2022," charging documents note, "and with the continued intimidation they felt by the damage to their flags."
An attorney for the Peacock and Metcalf families sent KUTV 2News a statement Tuesday afternoon:
"There can be no place in Utah for hate crimes. We appreciate the swift and continuing efforts of the Sandy Police Department, Sim Gill, and the District Attorney's Office to investigate and prosecute the hate crimes that targeted our family. We also thank our friends and neighbors in Sandy, including Mayor Monica Zoltanski, for standing by us and making clear that hate crimes will not be tolerated in Sandy."
Boston Children's Hospital targeted by anti-LGBTQ+ violent threats
Anti-LGBTQ LibsofTikTok, which has often promoted the "groomer" label attacking the LGBTQ community, spread the lies about Children's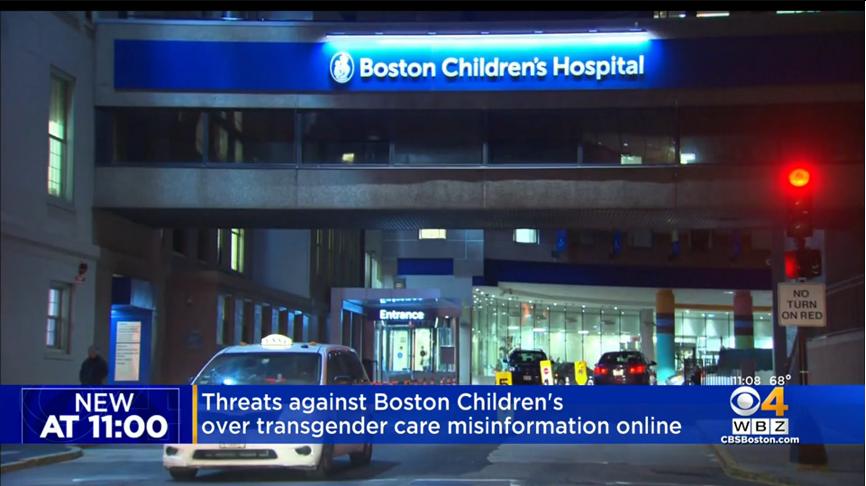 BOSTON – Anti-LGBTQ+ far right extremists are targeting Boston Children's Hospital threatening its employees and medical staff after falsehoods and disinformation spread online recently about the healthcare facility's treatment of transgender youth.
In a statement posted online, a spokesperson for Boston Children's wrote: "In response to commentary last week critical of our Gender Multispeciality Service (GeMS) Program, Boston Children's Hospital has been the target of a large volume of hostile internet activity, phone calls, and harassing emails including threats of violence on our clinicians and staff fueled by misinformation and a lack of understanding and respect for our transgender community."
The statement notes that the false information, with special attention being cast on the lies that Boston Children's was performing hysterectomies (transgender gender care related) on minors. The age of consent for that gender-affirming procedure is 18.
"We condemn these attacks in the strongest possible terms, and we reject the false narratives upon which they are based," the hospital continued. "We are working with law enforcement to protect our clinicians, staff, patients, families, and the broader Boston Children's Hospital community and hold the offenders accountable. We will continue to take all appropriate measures to protect our people."
August 16, 2022
Journalist Martha Bebinger with WBUR,  Boston's NPR news station, noted the campaign started last week with criticism of a video posted on the hospital's website about hysterectomies. Several conservative social media accounts shared posts about the video on Twitter. The hospital performs hysterectomies on patients 18 and older, but not on children as some of the posts claimed.
The social media account LibsofTikTok, which has often promoted "groomer" discourse that falsely linked LGBTQ teachers and parents to pedophilia, began to make a variety of false claims. One allegation included the lie about Children's offering gender-affirming hysterectomies to children under 18 years old.
Surgeons at Boston Children's have said they would consider performing other procedures, including phalloplasty, or penis construction, on 17-year-old male transgender patients. But hospital staff say that hasn't happened because no 17-year-old has met required legal and other criteria.
Conservative journalist and anti-LGBTQ+ activist Christopher Rufo, who has helped incite white Christian nationalist right-wing uproar over the critical race theory being taught in the nations' secondary schools and also fabricated a story that queer theory was also being taught to kindergarteners up through high school, took aim at Boston Children's in a tweet Wednesday.
Yes, American doctors are performing "vaginoplasties" on minors—castrating young males and creating artificial vaginas out of their penile tissue.https://t.co/LzLsZpeeRU pic.twitter.com/6NgBGitZZh

— Christopher F. Rufo ⚔️ (@realchrisrufo) August 17, 2022
Then adding to the far-right extremist pile-on, Media Matters for America reported Wednesday that anti-Trans pundit Matt Walsh also attacked the hospital.
The Daily Wire's Matt Walsh falsely accused Boston Children's hospital of putting "every toddler who has ever been born…on a path to sterilization and butchery before they can even talk." Two days later, the hospital's staff was deluged by violent threats. pic.twitter.com/uoyb35VPM6

— Media Matters (@mmfa) August 17, 2022
Christina Buttons, a Nashville-based radical anti-LGBTQ far-right journalist for the Canadian anti-LGBTQ conservative publication, the Post Millennial, which features other transphobic writers, attacked NBC News reporter Brandy Zadrozny on Twitter over her reporting on Boston Children's.
God help me, I know I shouldn't bother, but just quick before I log off: the "evidence" for this lie, that a children's hospital is performing genital surgery on minors, actually shows that the center provided ZERO of these surgeries on minors.https://t.co/elQ7nF1dCU https://t.co/478VyUsx4U pic.twitter.com/L6BP11HHDc

— Brandy Zadrozny (@BrandyZadrozny) August 17, 2022
A spokesperson for Twitter told the Blade Wednesday afternoon that the company support team was looking into the reports of harassment.
NBC's Brandy Zadrozny reported: Anti-trans activists also targeted the individual doctors who appeared in the YouTube videos from Boston Children's Hospital, leaving vulgar and harassing comments on their social media accounts and flooding their online pages with negative reviews. Some hospital staff have since made their social media profiles private.
This isn't the first time that far-right activists have targeted doctors and medical institutions — or even Boston Children's Hospital.
Lee Leveille, co-director of Health Liberation Now, a trans rights advocacy group that investigates the effects of policy on trans health, said the hospital was also a target in May 2021 for providing gender-affirming care amid a similar wave of targeted harassment on medical facilities.
"The original organized network that jump started the clinic protests has been slowing down a bit and is more decentralized," Leveille said over email. "Local pockets will still operate here and there, but they're less connected to a central organized push than the original ones. Now we're seeing new faces rallying the cause — including the likes of Matt Walsh and Libs of TikTok."
A spokesperson for the Boston Police said the department is aware of the threats and is working with Boston Children's staff.