San Diego runner celebrates the end of their trailblazing season
Nikki Hiltz came out as trans nonbinary this year and is aiming to compete in the next Olympic Summer Games scheduled for Paris in 2024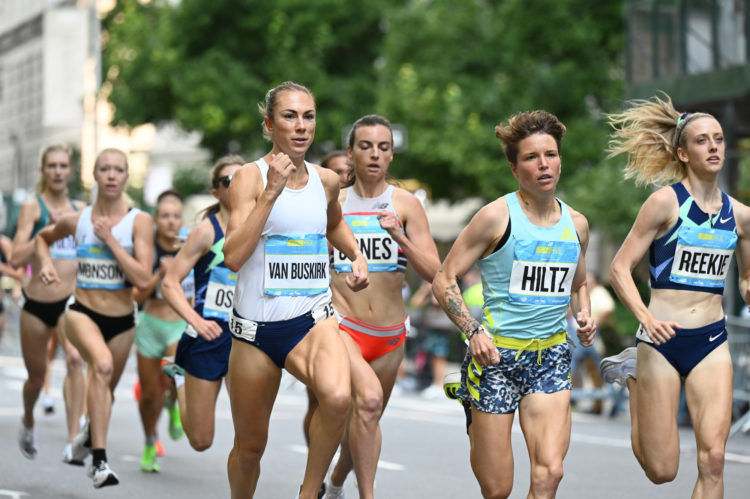 SAN DIEGO – Sunday marked the last race of 2021 for Santa Cruz native Nikki Hiltz, and they described their season on social media as "filled with ups, downs, and a whole lot of self discovery." Hiltz, who came out as trans nonbinary in March, reflected on all they've achieved.
Far from their home in San Diego, the 26-year-old Adidas sprinter finished second on Sunday in the New Balance 5th Avenue Mile in New York City, with a time of 4:23.0, just over a second behind first-place finisher Olympian Jemma Reekie of the United Kingdom. Shannon Osika of Ann Arbor, Mich. was right on Hiltz's heels to finish third.
"I think with any sport, especially running, you bring your whole self to the starting line," Hiltz told the Los Angeles Blade. "It's not like I'm bringing just the athlete part of Nikki; I'm bringing my whole identity."
Their coming out as trans nonbinary, they said, definitely impacted her performance.
"The closer I can be to myself and stay true to myself, the faster and the better I run, essentially," said Hiltz. "I am someone that runs with a lot of emotion and grit. And so when I'm at war with myself or when I wasn't out of the closet, it really shows on the track. And then when I'm at peace with myself and I'm living my most authentic life, that also really shows on the track." 
That's a wrap on the 2021 season! Here's some highlights in pics
1. Raced in my first Olympic Trials in ✌️ events
2. Ran a seasons best of 4:02 and celebrated this epic sub 4 performance!
3. PR'd in the 800 2:01.3
4. Ended the season w/ 2 road miles (a 4:21 PR and🥈at 5th Ave) pic.twitter.com/toHqPWCgqL

— Nikki Hiltz (@Nikki_Hiltz) September 12, 2021
Off the track, Hiltz has been exploring their passion for the LGBTQ community and their interest in pushing for equality and justice, much like out San Diego Loyals midfielder Collin Martin. As the Blade reported last week, Martin has joined Common Goal, a partnership with Adidas and soccer players around the world working toward ending gender inequality, combatting HIV/AIDS and other causes. He's also pledged 1% of his salary to Play Proud, a project aimed at improving LGBTQ+ inclusion in soccer.
"Within the past two years, I've really leaned into advocacy and fighting for things that I believe in," Hiltz told the Blade. "That has been really fulfilling when I have been injured or when COVID happened and I couldn't race."
Hiltz organized her own event for its second year this summer, a race in which all the proceeds benefited the Trevor Project.
"I put on a Pride 5k and that was so fun," they said. "Whether I had a good or bad performance, the highlight of every race this summer has been meeting and connecting with members of the Pride 5k family from across the country. They can always so quickly put everything into perspective. This community seriously means the world to me."
The Nikki Hiltz Pride 5K on July 17 in Mission Bay, San Diego, raised $42,270 for the Trevor Project, the largest national nonprofit dedicated to crisis intervention and suicide prevention services to LGBTQ youth.
"I think that's something I want to continue to do when my running career is over. I love running and I love the community and I love everyone that calls themself a runner."
Next up for Hiltz is to train for the Olympics. The next Summer Games are scheduled to be held in Paris in 2024, followed by Los Angeles in 2028. But they told the Blade that at age 26, they know they're not getting any younger.
"Professional middle distance runners usually retire early 30s-ish, 30 to 33, or they switch events and move up to the 5 or 10K or marathon event. But I think for me, you kind of go through Olympic cycles. So I think, if I were to retire, it would be in 2024 or 2028. And I think when I get to 2024, I'm going to reassess. 'Am I still happy doing this? Do I still love it?' And if it's anything less than, 'Yes!' Then I think it'll be time to retire."
For now, Hiltz is focused on celebrating the end of the 2021 season with their girlfriend, collegiate runner Emma Gee, a graduate student at Temple University and the first out LGBTQ athlete at Brigham Young University.
"I can't think of anyone better who has been more supportive throughout this whole journey," said Hiltz.
********************
The New Balance 5th Avenue Mile 2021
Las Vegas Raiders head coach resigns after homophobic emails surface
The emails were discovered in a workplace misconduct investigation into the Washington Football Team the New York Times reported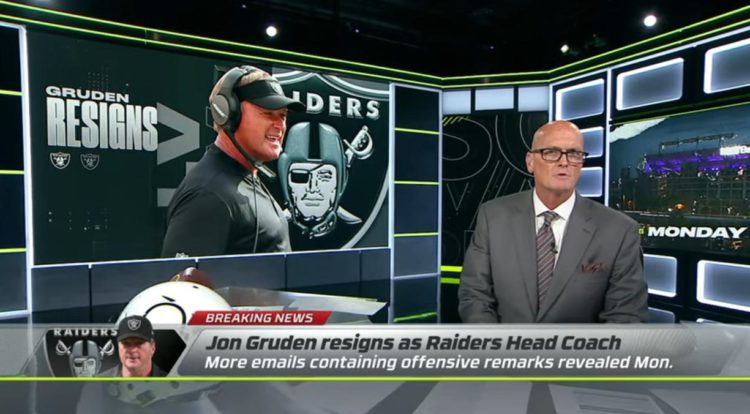 LAS VEGAS – The head coach of the Las Vegas Raiders, Jon Gruden resigned his post Monday after an article in the New York Times reported that he frequently used misogynistic and homophobic language directed at Commissioner Roger Goodell and others in the National Football League, (NFL).
The emails were discovered in a workplace misconduct investigation into the Washington Football Team the Times reported, but ended up costing Gruden his job when they also showed Gruden denounced the drafting of a gay player and the tolerance of players protesting during the playing of the national anthem among other issues.
In a statement released by the team late Monday, Gruden said; "I have resigned as Head Coach of the Las Vegas Raiders. I love the Raiders and do not want to be a distraction. Thank you to all the players, coaches, staff, and fans of Raider Nation. I'm sorry, I never meant to hurt anyone."
The sequence of events started last Friday when the Wall Street Journal reported that Gruden used a racist term to describe NFL union chief DeMaurice Smith in a 2011 email to the Washington team's former executive Bruce Allen.
According to the Associated Press, Gruden apologized for his "insensitive remarks" about Smith, saying they were made out of frustration over the 2011 lockout. But the latest emails sent from between 2011-18 when Gruden was an analyst for ESPN show his use of derogatory language went well beyond that.
A league source confirmed the accuracy of the emails to the Associated Press and said they were sent to the Raiders last week. The person spoke on condition of anonymity because the league hasn't made the emails public.
The New York Times and the Associated Press both noted that Gruden used a gay slur to insult Goodell and said he was "clueless" and "anti-football." He also said Goodell shouldn't have pressured the Rams to draft "queers," a reference to Michael Sam, who was the first openly gay player drafted by an NFL team.
Gruden's abrupt resignation was announced live on the Colts/Ravens "Monday Night Football" broadcast when the NFL ran multiple LGBTQ-inclusive advertisements, including one featuring an NFL logo wrapped in the colors of the Trans Flag and Rainbow Flag Gay City News Editor Matt Tracy reported.
Raiders owner Mark Davis issued a statement which only said that he accepted Gruden's resignation. In a separate statement the Raiders announced that special teams and assistant head coach Rich Bisaccia will serve as Interim Head Coach of the Las Vegas Raiders, effective immediately.
"Coach Bisaccia will meet with the media at the regularly scheduled media availability on Wednesday," the team said.
According to ESPN and the Associated Press, Bisaccia has been a special teams coordinator in the NFL for 19 seasons with the Raiders, Chargers, Dallas and Tampa Bay. He has no head coaching experience but his elevation will allow other assistants in the Raiders organization such as defensive coordinator Gus Bradley to stay in their current roles.
Jon Gruden resigns as Raiders head coach | SC with SVP
SF 49ers first LGBTQ+ in-person Pride watch party since pandemic hit
The San Francisco 49ers NFL team invites fans to come out for football and to celebrate National Coming Out Day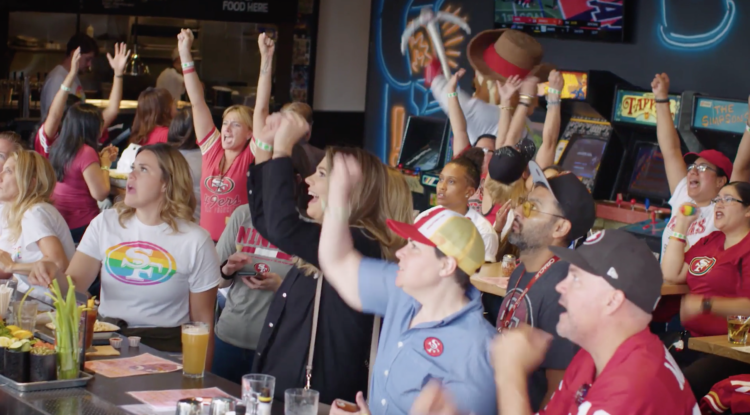 SAN FRANCISCO – For the first time since COVID-19 impacted the world of sports, the Bay Area's most ardent LGBTQ+ football fans gathered to watch the 49ers, together.
49ers Pride, the first-ever fan club in the NFL created with the purpose of engaging and including members of the LGBTQ+ community and allies, hosted the free watch party at District Six San Francisco Sunday, open to all ages.
In addition to the opportunity to enjoy food together and watch the game on several giant LED screens, the organizers offered giveaways of 49ers merchandise and held raffles at the end of each quarter of the divisional game against the Arizona Cardinals. Additional entertainment included music by DJ Cisco and a drag queen halftime show.
49ers Pride is also marking National Coming Out Day at the event, which is Monday.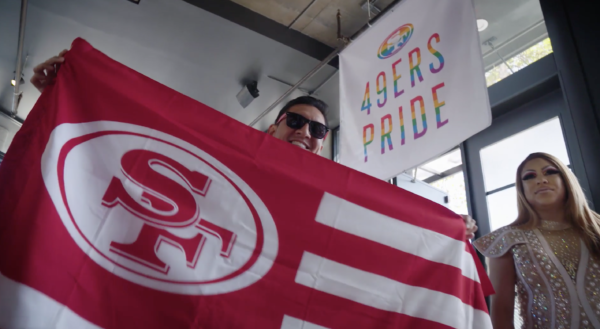 As the Los Angeles Blade reported in June, 49ers Pride celebrated Pride Month by releasing the NFL's first-ever genderless retail line. The team pledged 100% of its proceeds from shop49ers.com benefited local LGBTQ+ groups. And as it turned out, the 49ers led all NFL teams in Pride-related merchandise sales this summer.

For details on the watch party, go to the 49ers site or EventBrite.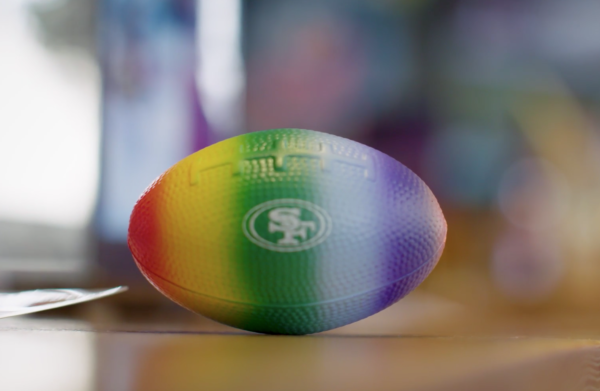 New Zealand University names Trans athlete "sportswoman of the year"
Hubbard's participation had provoked controversy as she had prepared for competing as the world's first out transgender woman Olympian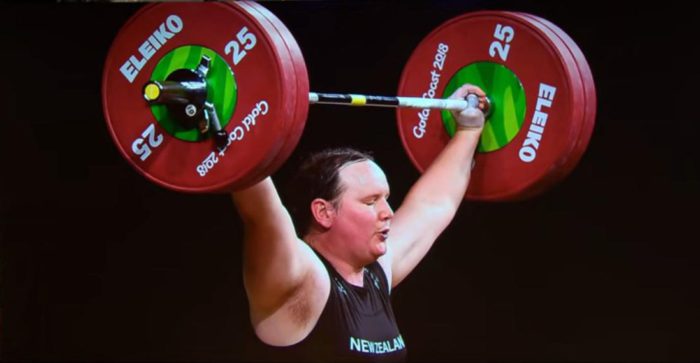 DUNEDIN, New Zealand – Olympic weightlifter Laurel Hubbard was named "sportswoman of the year" at the prestigious 113-year-old University of Otago and OUSA Blues and Golds Awards event this past week.
The 43-year-old Queenstown, South Island, native was the first openly transgender woman to compete in an Olympics when she competed in the women's 87kg weightlifting event at the 2021 Tokyo Games.
In a statement to the local newspaper, the Otago Daily Times, Hubbard said she was ''grateful for all of the support and kindness received from the teaching staff and students at Otago University.''
''It is not possible for athletes to complete at the Olympic level without the encouragement and aroha [a Māori word meaning "love"] of friends, family and supporters.
''This award belongs to everyone who has been part of my Olympic journey,'' she told the paper.
Hubbard's participation at the Tokyo Games had provoked controversy as she had prepared for competing as the world's first out transgender woman Olympian. The director of medicine and science for the International Olympic Committee, Dr. Richard Budgett, directly addressed those who had attacked and mocked the New Zealander and claimed she shouldn't be competing with cisgender women, saying "everyone agrees that trans women are women."
"To put it in a nutshell," he said, "the IOC had a scientific consensus back in 2015. There are no IOC rules or regulations around transgender participation. That depends on each international federation. So Laurel Hubbard is a woman, is competing under the rules of her federation and we have to pay tribute to her courage and tenacity in actually competing and qualifying for the Games."
Otago University Students' Association president Michaela Waite-Harvey told the Otago Daily Times that the Blues awards aim to highlight Otago students excelling in their chosen sport.
''We could think of no-one more worthy of sportswoman of the year than Laurel Hubbard who represented Otago and New Zealand incredibly well at this year's Tokyo Olympics.''