New films feature gay superhero, Tammy Faye, and feel-good drag
Cumberbatch takes on another gay role in 'Power of the Dog'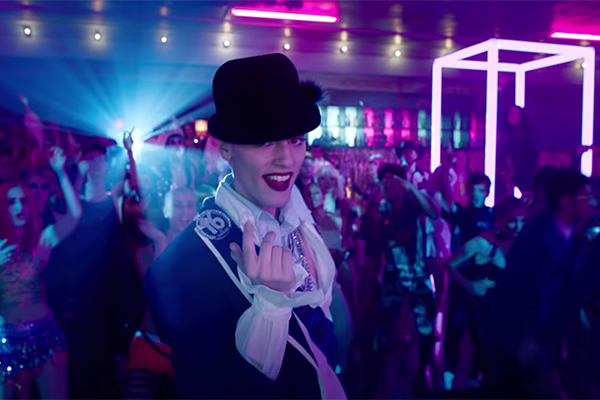 It's fall again, and that means it's time to look forward to the things we love about this time of the year – and no, I'm not talking about pumpkin spice. I'm referring, of course, to the new movies headed our way, and there are quite a few this year that should be of interest to LGBTQ+ viewers. Fortunately, as usual, the Blade is here to help you plan your own must-see list for the season with the help of our handy guide below.
Giddy Stratospheres (Sept.14): If you're a movie fan who also has a taste for musical nostalgia, this gritty love letter to the indie music scene of the 2000s from writer/director Laura Jean Marsh is definitely for you. Shot entirely during lockdown in the UK, it follows a pair of indie kids and best friends (Jamal Franklin and Marsh herself) as they party their nights away on a quest for the ultimate in hedonistic euphoria and excitement. If memories of donning boots, ripped tights, and eyeliner for a night at the club aren't enough, there's also a fabulously queer leading character and soundtrack featuring a smorgasbord of retro hits from the likes of Franz Ferdinand, The Futureheads, The Walkmen, Le Tigre, The Rapture, Art Brut, The Cribs, Black Wire, The Rocks, Theoretical Girl, Pink Grease and more. Available via VOD now.
Everybody's Talking About Jamie (Sept. 17): Delayed due to COVID but finally here is this bubbling and buzzy film version of the hit West End musical by Tom MacRae, inspired by a 2011 television documentary, in which a gay 16-year-old named Jamie New (Max Harwood) overcomes teasing, bullying, and a complicated home life to realize his dream of becoming a drag queen – with help from a loyal best friend (Lauren Patel), a supportive mom (Sarah Lancashire), and an aging drag mentor named Loco Chanel (Richard E. Grant). Translated to the screen by original stage director Jonathan Butterell and adapted into a screenplay by MacRae himself, it's won early praise by critics for its "infectious" spirit and is probably the odds-on favorite to be the feel-good queer movie of the season. With Shobna Gulati, Ralph Ineson, Samuel Bottomley, Sharon Horgan, and Charlotte Salt, it also features a cameo from Roy Haylock (better known as Bianca Del Rio, of course), who played the role of Loco Chanel onstage. VOD and streaming on Amazon Prime.
The Eyes of Tammy Faye (Sept. 17): Like the now-classic documentary of the same name, this much-anticipated biopic is an intimate look at the extraordinary rise, fall and redemption of televangelist Tammy Faye Bakker, who with her husband Jim Bakker created the world's largest religious broadcasting network before financial improprieties, scheming rivals, and scandal toppled their carefully constructed empire. Legendary for her indelible eyelashes, her idiosyncratic singing, and her eagerness to embrace people from all walks of life, she went on to become an unlikely but beloved LGBTQ icon, vocally supporting the community and helping to reduce stigma around AIDS through the platform afforded by her celebrity. Directed by Michael Showalter, it stars Jessica Chastain as Tammy Faye, with Andrew Garfield as Jim and a supporting cast including Cherry Jones, Fredric Lehne, Louis Cancelmi, Sam Jaeger, Gabriel Olds, Mark Wystrach, and Vincent D'Onofrio. In Theaters.
On the Fringe of Wild (Oct. 13)
In this Canadian import set in the early 2000s, a sensitive and shy small town teen named Peter runs away from his homophobic father during a hunting trip designed to "make him a man." Lost in the cold Ontario wilderness, he meets Jack – another teen on the run from his toxic family – and a romance buds between them as they hide away in a secluded cabin; when they are inevitably pulled back into the real world, they're forced to confront their sexuality, their mental health, and the oppressive home life that threatens to drive them apart. Directed by Emma Caralfamo from a bleak but hopeful screenplay by Sorelle Doucet, it features trans actor Harrison Browne as Peter and Cameron Stewart as Jack, with Mikael Melo, Andrew Bee, Audrey Nesbitt, Bernadette Medhurst, Andrea Pavlovic, and Adam Jenner in support. VOD.
Eternals (Nov. 5)
Marvel Studios gets a jump on the holiday blockbuster rush with the long-awaited (and long-delayed) release of this new addition to their comics-to-screen franchise, an epic and ensemble-centered action fantasy that introduces, among other characters, Brian Tyree Henry's Phastos – the first openly gay superhero to be depicted in a Marvel film. It even promises an onscreen kiss between Tyree and Haaz Sleiman, who portrays Phastos' husband. We'll take a wait-and-see attitude on whether or not it's a blink-and-you'll-miss-it moment. Directed by Oscar winner Chloé Zhao, it has an all-star cast that includes Gemma Chan, Richard Madden, Kit Harrington, Salma Hayak, Kumail Nanjiani, Lauren Ridloff, Barry Keoghan, Don Lee, and Angelina Jolie.
Isaac (Nov. 16):
Coming from Spain is this debut feature from writer/directors Angeles Hernández and David Matamoros, adapted from a stage play by Antonio Hernández Centeno and centered on two friends named Nacho and Isaac, who had an intense relationship as teens and meet again by chance after 20 years. Nacho, now financially successful and trying to have a baby with his wife Marta, proposes an arrangement with struggling entrepreneur Denis and his partner Carmen: If they will provide the "surrogate belly" for Marta's pregnancy, he will give them the money they need to open their gourmet restaurant. The deal, of course, opens the door for a lot of resurfaced feelings that forces the two men to discover themselves at the risk of losing the apparent stability they now have. Starring Pepe Ocio and Iván Sánchez (who won the Best Actor prize for his performance as Nacho at the 2020 Malaga Film Festival), it also features Maria Ribera, Erika Bleda, and Nacho San José. VOD.
The Power of the Dog (Nov. 17):
Squeaking in just before the holiday season is this adaptation of the 1967 Thomas Savage novel by the same name, directed by renowned filmmaker Jane Campion and starring screen heavyweights Benedict Cumberbatch and Kirsten Dunst. Set in 1925 Montana, it's a character-driven drama in which a brutal but charismatic rancher (Cumberbatch) finds his life disrupted when his brother (Jesse Plemons) brings a new wife (Dunst) and son (Kodi Smit-McPhee) home to the ranch. At first cold and cruel, he begins to take his new step-nephew under his wing, and a relationship begins to form that opens up memories of a buried past and awakens him to the possibilities of love. On the one hand, it's garnered predictable controversy over the casting of the straight-identifying Cumberbatch in a high-profile queer role (his second after playing Alan Turing in "The Imitation Game") – but on the other, it's one of the best-reviewed upcoming films on the slate so far. In addition, Campion is a cinematic master whose work here won her the Silver Lion for directing at this year's Venice Film Festival, so it's worth taking that into consideration before you decide to give this one a pass. In theaters.
Check out final season of 'Grace and Frankie' — it ends well
Groundbreaking show highlights queer, straight elders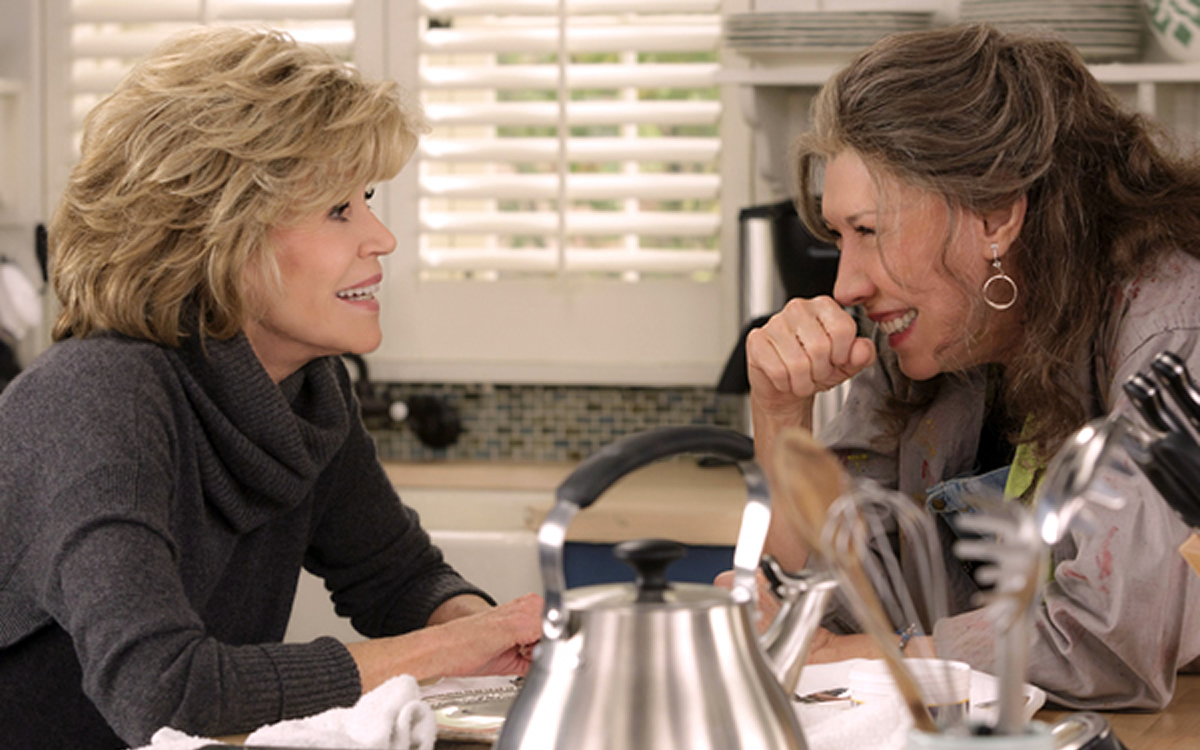 They make up a fake Jewish holiday (M'Challah) to avoid seeing their friends, lie to their kids about killing their bunny, obsess over playing John Adams in a (very gay) community theater production of the musical "1776" and create vibrators that glow in the dark. Their children sell their house out from under them and make them wear panic alerts.
These people might well creep you out in real life.
But, thankfully, they're the funny and engaging characters on "Grace and Frankie," the series, whose seventh and final season has recently dropped on Netflix.
The show, starring Lily Tomlin, 82, (Frankie) and Jane Fonda, 84, (Grace) as two hetero elders whose husbands (Martin Sheen, 81 as Robert and Sam Waterston, 81, as Sol) leave them to marry each other, is, deservedly, Netflix's longest-running series.
In 2019, there were 54.1 million people in the United States over 65, according to a Administration for Community Living of the U.S. Department of Human Services report. Elders, the study says, are expected to make up 2l.6 percent of this country's population by 2040.
There are nearly three million (2.7 million) LGBTQ people over aged 50 in the U.S. and 1.1 million queer elders 65 and older in this country, according to a 2017 Movement Advancement Project and SAGE report.
Yet aside from "Transparent," few TV series (broadcast, cable or streaming) have featured, let alone, been centered around, older queers.
"Grace and Frankie" is the rare series that's focused on the lives of elders (hetero and queer). Unlike some shows that showcase older people, it's been mostly entertaining, even thought provoking, rather than dull or didactic throughout its run.
Set in San Diego, "Grace and Frankie" throughout its seasons has told the story of how Frankie and Grace have created a life of their own as Robert and Sol have entered a new chapter of their lives as a same-sex couple.
Frankie, Grace, Robert and Sol, who are in their 70s, are affluent. Robert and Sol are successful divorce lawyers. Grace has run a flourishing cosmetics company. Frankie is a new-agey artist who teaches art to ex-convicts.
When Robert and Sol say that they're leaving them to wed each other because same-sex marriage has become legal in California, Frankie says she's done a fundraiser for that.
The beach house where Grace and Frankie live is breathtakingly gorgeous. Yet these characters encounter the indignities and dilemmas of aging from learning about social media to coming out in late life to memory loss to end-of-life decisions.
Grace and Frankie run up against the condescension that older women often face. Yet though these are serious concerns, "Grace and Frankie" hasn't been a downer.
In one episode, as I've written before in the Blade, Grace and Frankie, though they're practically jumping in front of his face, can't get a store's sales clerk to notice them. Because he's paying so much attention to a young woman. Frankie gives up and steals a pack of cigarettes. If "you can't see me," Frankie says, "you can't stop me."
In season two, their friend Babe (Estelle Parsons), who is terminally ill, tells Frankie and Grace that she wants them to help her end her life. Though it's difficult emotionally for them, the women give their friend Babe a good-bye party that's joyous without being maudlin.
Robert and Sol deal with Robert being in the early stages of dementia. This narrative is touching, but not sappy. Though you should have a tissue in hand for Robert and Sol's elevator moment in the show's finale.
Like many old people, the characters have their ups and downs in relating to their adult children. These off-spring from Brianna (June Diane Raphael), a 21st century Cruella de Vil, to Bud (Baron Vaughn), the often wrong-headed "good son," would try any elder's soul.
The main pleasure of "Grace and Frankie" is watching Tomlin and Fonda. The two forces of nature, friends since their "9 to 5″ days, make you laugh and cry with the BFFs Grace and Frankie.
TV series, like everything, have to end. Check out "Grace and Frankie." It ends well.
New trailer gives first glimpse into new 'Queer as Folk'
The highly-anticipated return looks poised to make some welcome improvements as it reinvents the beloved series for a new era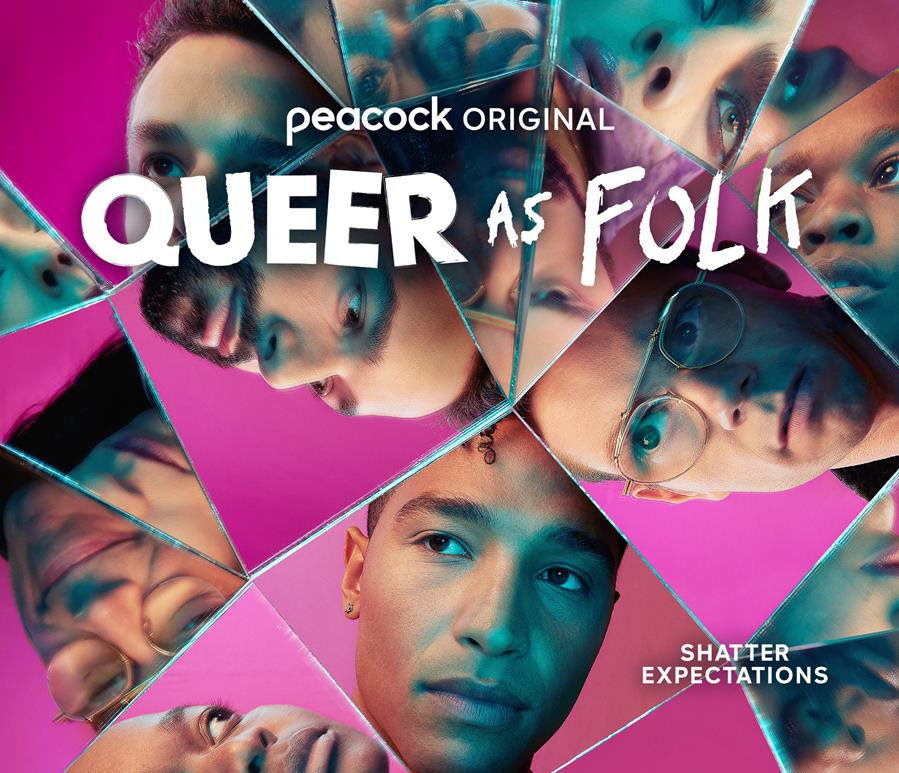 HOLLYWOOD – Depending on who you ask, the soon-to-be-dropped reimagining of "Queer as Folk" could well be the biggest LGBTQ television event – or the biggest mistake – of the year.
The groundbreaking original British version of the series, created and written by Russell T. Davies in 1999 (decades before his recent triumph with "It's A Sin" introduced him to a new generation of queer viewers), has already had an American adaptation in 2000, and each of these installments has its own legion of fans – many of whom have expressed their qualms (to put it mildly) over the entire idea of a new reboot.
That, however, hasn't stopped Davies from joining forces with writer/director/creator Stephen Dunn ("Closet Monster") to executive produce one for Peacock. 
Shade from old-school fans aside, the highly-anticipated return of the franchise looks poised to make some welcome improvements as it reinvents the beloved series for a new era. This time, the story promises to deliver a much more diverse assortment of characters than the group of predominantly white gay men featured by its predecessors, with a story centered on a group of LGBTQ friends in New Orleans as their lives are transformed in the aftermath of a recent tragedy.
The new iteration also scores points by employing queer actors to portray all its queer roles – resulting in an impressive lineup of names on its cast list including Ryan O'Connell ("Special"), Johnny Sibilly ("Pose"), Devin Way ("Grey's Anatomy'), Jesse James Keitel ("Alex Strangelove"), Fin Argus, Candace Grave, Benito Skinner, and Juliette Lewis, and even Kim Cattrall as a "martini-soaked, high society Southern debutante with trailer park roots." 
Of his reason for getting on board a new adaptation of his show, Davies says, "I'm very proud of what we achieved in 1999, but in queer years, that was a millennium ago! As a community, we've radicalized, explored, opened up, and found new worlds – with new enemies and new allies – and there was so much to be said.
Stephen pitched a brand new version of 'Queer as Folk' with so much imagination, insight, and crucially, joy, that I simply couldn't resist. I thought it was about time the title belonged to a whole new generation. The 2022 show is more diverse, more wild, more free, more angry – everything a queer show should be."
As for Dunn, he explains, "I wanted to create a new groundbreaking version of this show for this moment. Our new 'Queer as Folk' is set in New Orleans — one of the most unique queer communities in North America – and I am immensely proud that the new series is comprised of an electric ensemble of fresh characters that mirror the modern global audience.
If there's one person who is able to see 'Queer as Folk' and feel less alone, or who now feels more supported and seen, our job is done. In the true spirit of the original, our show doesn't shy away from the harsh realities of our community, but above all else, the series is about people who live vibrant, vital, unapologetically queer lives." 
Jacklyn Moore, who co-wrote the new series with Dunn and Executive Produced alongside him and Davies, adds, "I believe deeply in the power of storytelling to make people feel seen, but all too often I feel as though queer and trans representation in art is limited to extremes. We are either shown as saintly heroes bravely surviving a bigoted society or two-dimensional queer-coded villains that feel airdropped in from some previous era. With 'Queer as Folk,' we aimed to depict queer characters who live in the messy middle. People who are complicated. Who are funny and caring and flawed and sometimes selfish, but still worthy of love. Still worthy of narrative. As a trans woman, I'm excited to take steps to move past telling stories that seem to just be arguing for our basic humanity. My hope is that Queer as Folk is one such step."
We're sure we speak for the rest of the eagerly-waiting fans when we say that we all hope that, too. We can all find out together when Peacock begins streaming the new "Queer as Folk" on June 9.
Queer as Folk | Official Trailer | Peacock Original
Omar, Netflix's Elite, & Queer Palestinian representation
With valid critiques of Elite aside, the show provides a monumental step forward in combating both racism and homophobia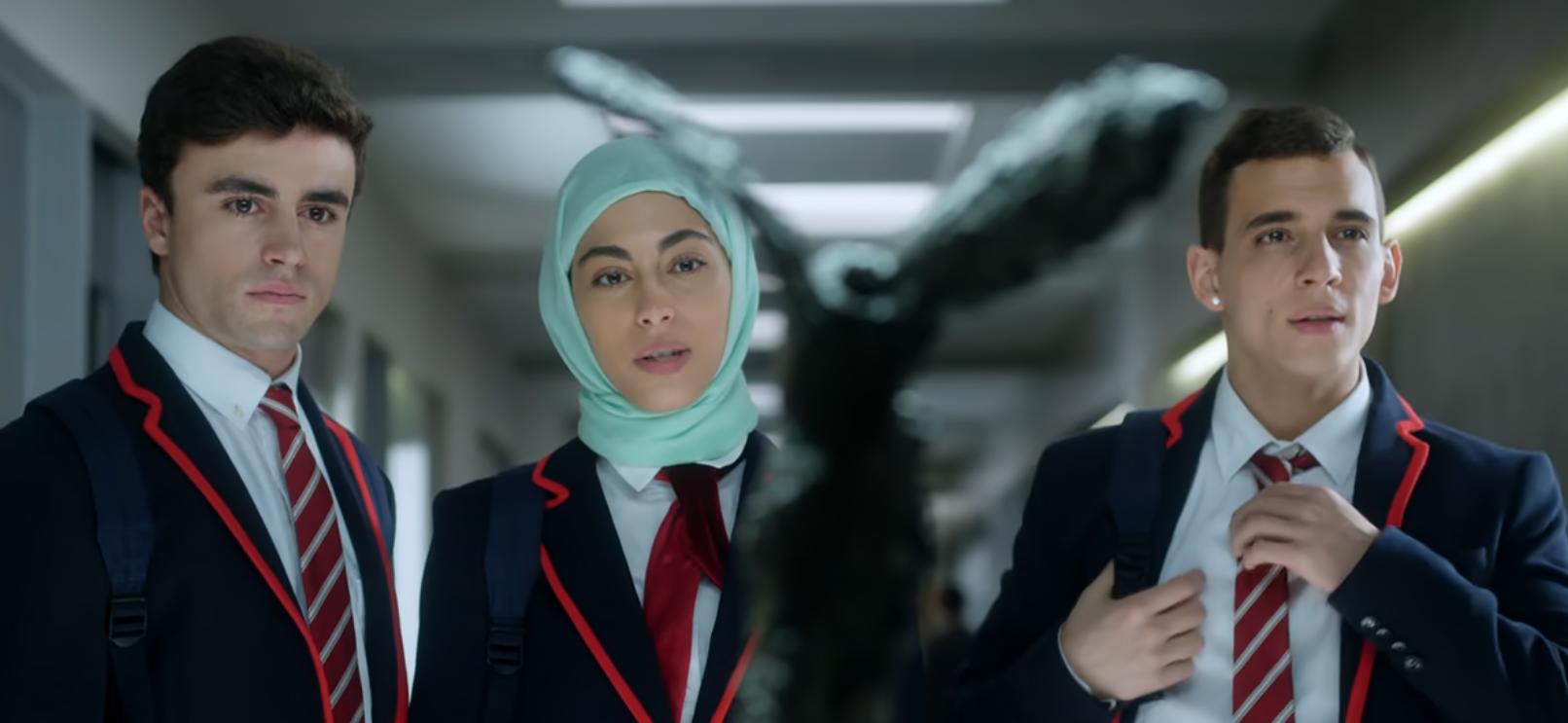 By Sa'ed Atshan | ATLANTA – Elite, the Spanish Netflix original series released in 2018, has now become a worldwide sensation. Created by Carlos Montero and Dario Madrona, Elite follows the lives of teenagers and classmates at Las Encinas, a fictional private school for wealthy children from Spain and other countries.
There are several students from lower socio-economic backgrounds on full scholarships, and the series explores their intersecting experiences in the community. Over the course of the five existing seasons, taboos are boldly displayed on screen: from racy sexuality, to rape, abortion, drugs, alcohol, crime, murder, and corruption.
While this may be too much for many viewers, the provocative themes, attractive actors, love triangles, extensive scenes of partying, compelling cinematography, and the psychological thriller aspects of the series have galvanized fans in Europe and beyond. Merely a month after its release, Netflix revealed that Elite was streamed by over 20 million accounts. It has since secured a 97% rating on Rotten Tomatoes and has become one of the most successful shows globally.
Alongside the superficial elements of this show lies a thoughtful and nuanced exploration of the central characters' inner worlds and the profound issues with which they grapple. This includes the salience of class and inequality in society, the power of education for social mobility, immigration, racism, and xenopohobia, the role of law in attaining or evading justice, feminism and the struggle for women's rights, the prevalence of internalized and external homophobia, the command of technology, social media, and surveillance on our lives, and the effects on young people of having to grow up and mature too quickly.
I was particularly captivated by the character of Omar, played by a Spanish actor with the same first name: Omar Ayuso. While many of the characters who appear in the earlier seasons do not return, Omar is present for all five seasons thus far, becoming central to the overarching narrative.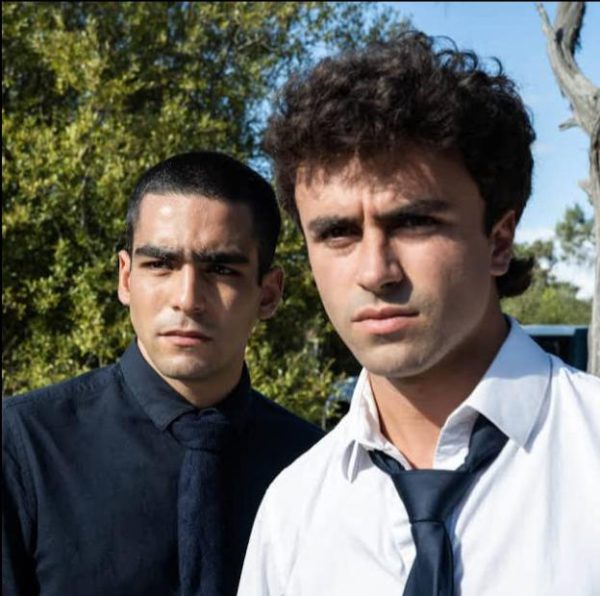 His Palestinian background is emphasized in the script and on screen and this is huge for the mainstreaming of Palestinians in Western popular media. Omar's gayness is also clearly highlighted, bringing queer Palestinian lives to the screen in a formidable manner.
While Omar Ayuso was not one of the most experienced actors and is not the most talented of the actors in this series, his character undergoes a transformation that is powerful and compels audiences. His dark features are handsome, with a signature unibrow, and his attire becomes more and more colorful and expressive, and his bodily comportment more comfortable, as he grows more secure in his own skin.
We learn that Omar comes from the Shanaa family and is the son of Palestinian Muslim immigrants to Spain who own a small grocery store outside of Madrid. One of his sisters ran away from home to escape their conservative parents and his other sister, Nadia, is also a central character in Elite.
Omar and Nadia's father is overbearing. Like their mother, Nadia wears the hijab. The mother is soft-spoken and unassuming in many ways, yet Nadia is a force to be reckoned with who aspires to balance pleasing her family with being true to herself. Nadia is brilliant and academically-driven, earning a scholarship to Las Encinas, even as Omar is distracted initially with drug-dealing and working for his family's business.
After coming out as gay to himself, his family, and the broader community, he movies out and severs ties with his parents, secures work as a bartender, and receives a scholarship to attend Las Encinas. Omar embraces his sexuality and finds a way to lead a life that feels authentic.
Elite challenges the Islamophobia of Spanish and Western societies, representing both the homophobia that Omar must endure alongside the racism that he experiences as an Arab in Europe. Spain's long history with the Moors, the Inquisition, and modern migration from North Africa has made its relationship to the Middle East and Islam quite fraught.
The show does not romanticize Omar's Palestinian immigrant family and it captures the even more dramatic delinquencies of many Spanish and European families. The audience cannot help but juxtapose how Omar's parents desperately try to preserve notions of tradition, ethics, and honor from their homeland of Palestine amidst a broader landscape of decadence and moral decay in Western contexts.
Omar disavows elements of both the former and latter, while embracing elements of each, and he emerges as a moral compass in the show. His integrity and compassion are palpable and at one point he articulates an aspiration to become a social worker in the future.
The love that Omar shares with his serious boyfriend, Ander, is beautifully portrayed as well. Though they certainly grapple with their own set of challenges, the chemistry and soulfuness between them is one of the highlights of the show.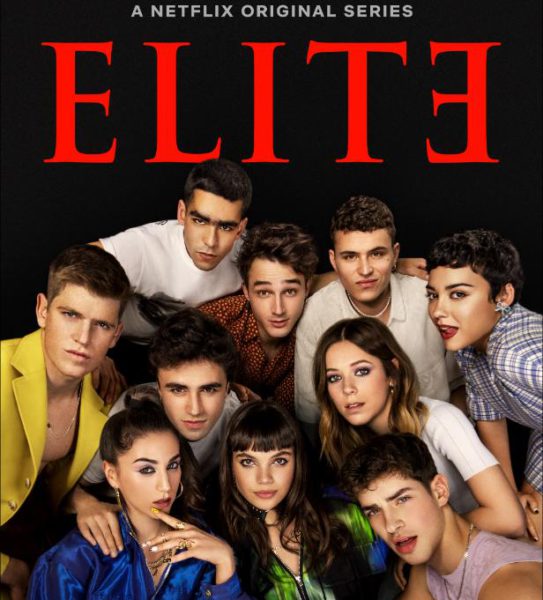 After Netflix posted a romantic photo of Omar and Ander on their Instagram page, it was met with homophobic comments, and Netflix laudably responded simply with a chain of rainbow emojis.
With valid critiques of Elite aside, the show provides a monumental step forward in combating both racism and homophobia. Netflix has done the global queer Palestinian community right by developing the character of Omar in this manner. Whether or not he appears in season six is yet to be announced, but even if not, he will have already captured countless hearts and minds.
********************************
Sa'ed Atshan is Associate Professor of Anthropology at Emory University and author of Queer Palestine and the Empire of Critique (Stanford University Press, 2020)