Immigration Equality condemns expulsion of Haitian migrants, asylum seekers
Prominent activist found dead in Port-au-Prince home in 2019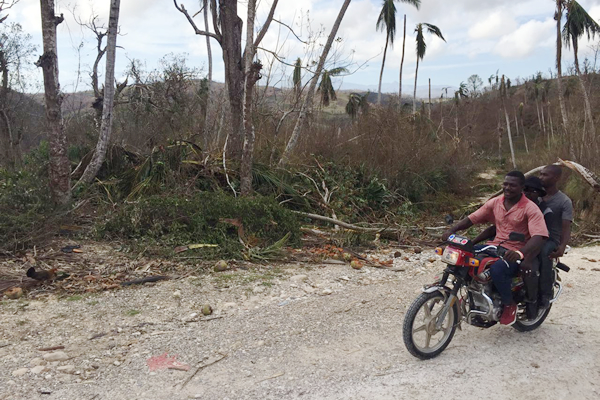 NEW YORK — Immigration Equality on Wednesday sharply criticized the Biden administration over the deportation of Haitian migrants and asylum seekers from the U.S.
"Over 10,000 Haitian migrants and asylum seekers are waiting at America's doorstep, but the Biden administration won't uphold their basic right to ask for protection," said Immigration Equality Legal Director Bridget Crawford in a press release. "This is blatantly illegal and morally reprehensible. Many of these people are asylum seekers who face grave danger if returned to Haiti. They have traveled thousands of miles to escape a country torn apart by devastating earthquakes and political turmoil."
The White House in recent days has been struggling to respond to the influx of Haitian migrants and asylum seekers in Del Rio, Texas, which is across the Rio Grande from Ciudad Acuña, Mexico. Pictures of U.S. Border Patrol agents on horseback chasing and whipping Haitians have sparked widespread outrage.
Title 42, a Centers for Disease Control and Prevention rule that closed the Southern border to most migrants and asylum seekers because of the pandemic, remains in place. The U.S. Department of Homeland Security has begun to deport Haitian migrants and asylum seekers from Texas.
Immigration Equality in its press release notes Charlot Jeudy, a member of Kouraj, a Haitian LGBTQ rights group, was found dead inside his home in Port-au-Prince, the country's capital, in 2019.
Violence and discrimination based on sexual orientation and gender identity remain commonplace in Haiti.
President Jovenel Moïse's assassination on July 7 and an 7.2 magnitude earthquake on Aug. 14 that left scores of people dead and displaced hundreds of thousands of others have caused additional turmoil in Haiti, which is the Western Hemisphere' poorest country.
A 7.0 magnitude earthquake that devastated Port-au-Prince and surrounding areas in 2010 killed an estimated 200,000 people.
Fondation SEROvie, a Haitian HIV/AIDS service organization, contributed to relief efforts after Hurricane Matthew caused widespread damage on the country's Tiburon Peninsula in 2016. Last month's earthquake struck in the same area.
"For LGBTQ people in particular, expulsion means returning to a society that rejects them. They are frequent targets of violence and sexual assault, including by the police," said Crawford. "The country is fundamentally unsafe for the queer and transgender community."
"Instead of welcoming Haitian asylum seekers as the U.S. should, the Biden administration is sending them back to life-threatening conditions," added Crawford. "We call on the administration to halt the deportation flights immediately and end Title 42 in its entirety. The disturbing images of border agents on horseback chasing down terrified Haitian migrants go against the administration's professed ideals. Shame on the Biden administration for embracing this xenophobic and illegal Trump-era policy and mistreating vulnerable migrants."
Jamaican man attacked after using gay dating app
Victim's penis partially severed before he was set on fire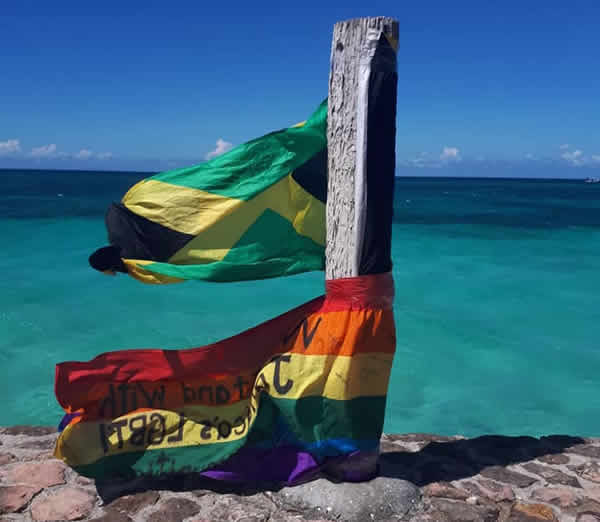 MONTEGO BAY, Jamaica — An 18-year-old Jamaican man remains hospitalized in critical condition after he was targeted on a gay dating app.
The Jamaica Gleaner reports the victim on Oct. 11 went to a neighborhood in Montego Bay, a resort city that is the capital of Jamaica's St. James Parish, to meet the man with whom he was speaking.
The newspaper reports the man and two other men abducted the victim, robbed him and partially severed his penis before they set him on fire. Officials said the three men took his cell phone and used his bank card to withdraw money from his account.
"He is a very lucky young man because although they left him in a critical condition, he managed to make his way to a security checkpoint in the community where they assisted him to the hospital, where he was admitted in critical condition," a local police officer told the Jamaica Gleaner.
The Jamaica Gleaner reported a 43-year-old man in St. James Parish disappeared in January 2020 after he went to meet someone with whom he had spoken on a gay dating website. Authorities later found the man's body, and two men have been charged with his murder.
Violence against LGBTQ Jamaicans remains commonplace. Consensual same-sex sexual relations also remain criminalized in the country.
J-FLAG, a Jamaican LGBTQ rights group, has condemned the latest attack.
"Like all well-thinking Jamaicans at this time, JFLAG is outraged at the recent attack on an 18-year-old man in St. James," tweeted J-FLAG on Sunday. "His attackers must be brought to justice."
‼️TRIGGER WARNING‼️

This is not the time for victim-blaming nor slut-shaming. Justice is our only focus at this time. We appeal to community members, allies and every other Jamaican who may have information to make a report to the police. pic.twitter.com/Lmz6lYAY5s

— Equality Jamaica (@EqualityJa) October 17, 2021
Samantha Power meets with Dominican LGBTQ activists
Meeting took place in Santo Domingo on Oct. 7
SANTO DOMINGO, Dominican Republic — U.S. Agency for International Development Administrator Samantha Power on Oct. 7 met with LGBTQ activists in the Dominican Republic.
Diversidad Dominicana Executive Director Rosanna Marzán, Amigos Siempre Amigos Director Leonardo Sánchez, Sirana Dolis of Movimiento de Mujeres Dominico Haitianas (MUDHA) and Bridget Wooding of the Caribbean Migration and Development Observatory (OBMICA) are among those who met with Power in Santo Domingo, the Dominican capital. Power in a tweet said she also met with human rights activists who are working to "restore legal documentation" for the more than 100,000 Dominicans of Haitian descent who live in the country.
"So glad to meet these activists fighting at (sic) local and national level for equality and dignity for all," tweeted Power.
I spent time this morning w/ Dominican human rights advocates working to strengthen #LGBTQ+ protections and restore legal documentation for 100,000+ Dominicans of Haitian descent. So glad to meet these activists fighting at local & national level for equality and dignity for all. pic.twitter.com/8VNTIg9sRy

— Samantha Power (@PowerUSAID) October 7, 2021
Marzán told the Los Angeles Blade the meeting with Power was "very good."
Me reuní con defensores de DD. HH., los cuales trabajan para fortalecer la protección de las personas #LGBTQ+ y recuperar la documentación de +100,000 dominicanos de ascendencia haitiana. Feliz de haber conocido estos activistas que luchan por igualdad y dignidad para todos.

— Samantha Power (@PowerUSAID) October 7, 2021
The Dominican Republic borders Haiti on Hispaniola.
The Dominican House of Representatives in June approved a bill that would remove sexual orientation from the country's Penal Code. The Dominican Senate has yet to consider the measure that has sparked outrage among the country's LGBTQ activists.
Power traveled to the Dominican Republic two months after Haitian President Jovenel Moïse's assassination.
A 7.2 magnitude earthquake on Aug. 14 left scores of people dead and displaced hundreds of thousands of others in Haiti's Tiburon Peninsula. Immigration Equality is among the groups that criticized the Biden administration last month over the deportation of Haitian migrants and asylum seekers from Texas.
James "Wally" Brewster was the U.S. ambassador to the Dominican Republic from 2013-2017. He is one of six openly gay men who represented the U.S. abroad during the Obama administration.
Cuban president meets with LGBTQ activists in Havana
Havana gathering took place months after anti-government protests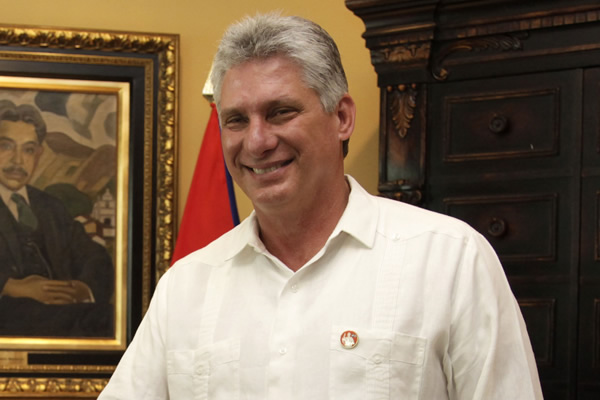 HAVANA — Cuban President Miguel Díaz-Canel on Friday met with more than a dozen LGBTQ activists.
Tremenda Nota, the Los Angeles Blade's media partner in Cuba, reported the meeting took place at Havana's Palace of the Revolution. Francisco Rodríguez Cruz, a gay man living with HIV who writes under the pen name Paquito el de Cuba, and Malú Cano, coordinator of Transcuba, a transgender organization that is affiliated with the National Center for Sexual Education (CENESEX), are among those who participated.
"I see it as a political will to advance the recognition of the rights of LGBTIQ+ people, an outstanding debt that the revolution has always had with us," Cano told Tremenda Nota.
The Cuban government tweeted pictures of of the meeting. Rodríguez in a blog post notes CENESEX Director Mariela Castro, the daughter of former President Raúl Castro, was sitting next to Díaz-Canel.
#AHORA: Presidente @DiazCanelB recibe en el Palacio de la Revolución a representantes de la comunidad #LGBTI.
"Gracias por aceptar esta invitación", les dice, y los convida al diálogo para "construir entre todos el país que queremos y perfeccionar el Socialismo". pic.twitter.com/D9FQzVw6r9

— Presidencia Cuba (@PresidenciaCuba) October 8, 2021
Former President Fidel Castro, who was Mariela Castro's uncle, in the years after the 1959 revolution that brought him to power sent gay men and others to work camps known by the Spanish acronym UMAP. The Cuban government until 1993 forcibly quarantined people with AIDS in state-run sanitaria.
Mariela Castro and Díaz-Canel both publicly support marriage rights for same-sex couples. Friday's meeting took place less than a month after Cuba's Justice Ministry released a draft of a proposed new family code that would allow gays and lesbians to tie the knot.
Yoan de la Cruz, a gay man from San Antonio de los Baños in Artemisa province who live-streamed the first of a series of anti-government protests that took place across Cuba on July 11, and hundreds of others who participated in the demonstrations remain in custody.
14ymedio, an independent website founded by Yoani Sánchez, a prominent critic of the Cuban government, earlier this week reported the country's attorney general is seeking an 8-year prison sentence for De La Cruz. 14ymedio also notes Cuban authorities continue to hold De La Cruz "somewhat incommunicado" in a prison east of Havana.