West Hollywood's new mayor & mayor pro tempore take office
In their speeches after they took their oaths, both women laid out their visions looking towards the future of the City

WEST HOLLYWOOD – In a ceremony conducted virtually due to the ongoing coronavirus pandemic in the greater Southland, just prior to the nitty gritty of the city's business being conducted, the city council installed its new mayor and mayor pro tempore this past Monday.
Swearing in WeHo's new Mayor Lauren Meister, was former West Hollywood City Councilmember John Heilman, and administering the oath of office to newly designated Mayor pro tempore Sepi Shyne, was Melahat Rafiei the principal and founder of Progressive Solutions Consulting, a premier political consulting and fundraising firm based in Long Beach, California and also the Secretary of the California Democratic Party.
Meister, was first elected to the City Council on March 3, 2015 and re-elected for her second term on March 5, 2019.
Shyne, elected to her first term on the City Council November 2020, also managed to set a mark in history as the first openly lesbian Iranian woman to serve and with her election giving the city Council a female-led majority.
In their speeches after they took their oaths, both women laid out their visions looking towards the future of the City.
Mayor Meister in her remarks noted;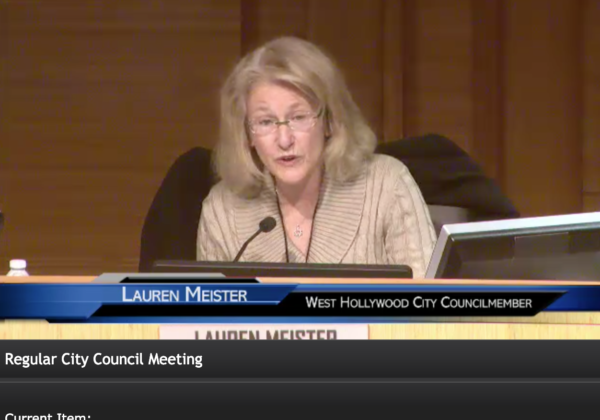 Today is kind of bittersweet. It is the second anniversary of Spike's passing but it is also the beginning of the Jewish holiday, Sukkot, the season of rejoicing. According to Chabad, "it's a festival — laden with unique mitzvahs, quality time with our community and family, all with an extra-large serving of joy." I'm hopeful that my swearing in on this festive day is a good omen!
I want to thank everyone for their well wishes and support. I want to thank my family for their love, encouragement, and unlimited patience. Thank you to my colleagues for your vote of confidence as I take on the role of Mayor for the second time.
I also want to thank my former Council colleague, John Heilman, for swearing me in as your mayor tonight. It means a lot to me.
When I was installed as Mayor back in April 2016, I spoke about renewing the community spirit that helped form this great city nearly 37 years ago, which John and others were a big part of.
As a community, we gathered as one after 9/11, we mourned the tragedy of the Pulse Nightclub mass murder, we celebrated marriage equality, and we marched, stood up to, and survived a challenging national political climate.
I have lived in this city over 30 years, and over the years, I have witnessed many stages in our city's maturity – I have seen issues divide our city. I have seen the east side pitted against the west side, businesses pitted against residents, tenants pitted against landlords.
But I have to say, that after being elected to Council, the drama that seemed to plague every Council meeting with a controversial topic… the theatre – and a lot of it was theatre – seemed to dissipate.
Now, however, we're seeing a divisiveness that I haven't seen in a while, and it's disturbing. It's disturbing because we are still one small city and one community – a community comprised of people from all walks of life, a community with young people and older people; a community with businesses and workers. All must be valued; none should be discounted. A rainbow flag is not just six colors or 10 colors – if it truly represents our community, then it is an infinite number of colors. Putting people into categories, labeling them, disparaging them, does not serve this community.
I'd like to say, today, that my goal as Mayor is to solve our three biggest issues: homelessness, housing affordability, and making our city safer.
As Mayor, I'd like to strengthen our neighborhoods, encourage economic diversity, and further initiatives to protect our renters and our small businesses. I'd like to make West Hollywood a premier green city by increasing our urban forest and embracing biodiversity. I'd like to find a companion care center close to home for our lost, found, and abandoned animals.
And, importantly, I'd like for West Hollywood to be the most prepared and resilient city in the country – for whatever emergency or disaster strikes – whether it be earthquake, drought, pandemic, or recession.
But none of this can happen if we don't work together and focus on the city's recovery from this pandemic. None of this can happen, if we don't focus on keeping people healthy and getting people vaccinated. And none of this can happen if we, as a council, don't make recovery our number one priority.
So, in the coming weeks, I will be bringing forward a proposal requesting that the city manager arrange several team-building workshops for council, designed to help foster communications among council members, to clarify council's role, and to identify priorities and common goals. The objective of the workshops will be to transform our new council and our new city manager into an effective, problem-solving team.
Now, I come full circle to why I asked my former colleague, John Heilman, to swear me in today as Mayor. As many of you know, John and I did not agree on every issue, and in fact, before I was on Council, I was probably one of Council's most vocal critics. But, once we were colleagues, we learned to work together, respect each other, and most importantly, acknowledge that we both cared about the best interests of the city, even when we didn't agree.
So, I appreciate that John was a part of my swearing in today because, to me, it symbolizes hope… that there's hope that people with different perspectives can work together effectively for the city they love. And, as your mayor, I'm confident this is something that we – Council, residents, businesses, and other community members – can achieve in the months to come
Then mayor pro tempore Shyne spoke;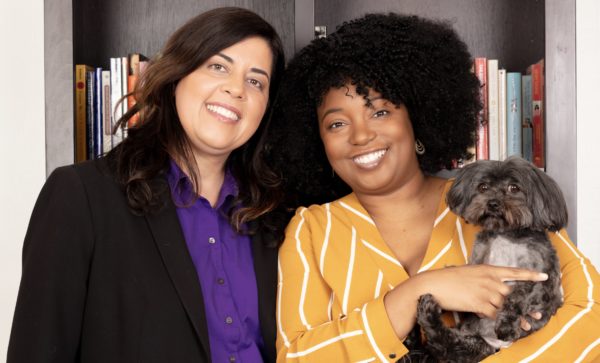 Thank you to my colleagues for electing me to serve as Mayor Pro Tem. Thank you to all of our residents, community members, colleagues and staff and my wife, family and friends who have been so supportive over the past 9 months that I have served in office. Thank you to my dear friend Melahat Rafiei for swearing me in and for your support. Thank you to outgoing Mayor Horvath for your leadership and taking up the reigns when we asked you to serve a much longer term during the pandemic as Mayor and thank you to our new Mayor Meister for your leadership. I am honored to serve in this new leadership position with you.
Serving on this Council these past 9 months has been the honor of my life and serving as your Mayor Pro Tem is a responsibility I take very seriously. West Hollywood has always been on the forefront of making history and we did it once again this evening.
When my parents and I fled Iran when I was 5 to escape the oppressive Islamic regime and the war between Iran and Iraq, I never imagined that one day I would be sworn in as the first Iranian, first woman of color and first Lesbian to serve as Mayor Pro Tem of West Hollywood.
When kids in kindergarten bullied me throwing things and using anti-middle eastern slurs, I never ever imagined that one day, I would be sworn in as Mayor Pro tem of West Hollywood.
When fellow high school students verbally gay bashed and stalked me for being a lesbian, I never imagined that one day, I would be sworn in as Mayor Pro Tem of West Hollywood.
In college, when my girlfriend and I were thrown out of a coffee shop by a police officer and the coffee shop manager for holding hands, I made up my mind to go to law school, learn the law and stop that from ever happening to others and that is what I did. But, even then, I never imagined that one day, I would be sworn in as Mayor Pro Tem of West Hollywood.
The reason I never imagined serving in elected office is because growing up, I truly did not see anyone that looked like me, grew up like me and loved like me in elected office. But since November 2020 and especially now, I know that another little Middle Eastern, Brown, immigrant girl who may be queer can now imagine herself in elected office because now she does see herself. And that is one of the most powerful reasons why representation truly matters.
I wanted to serve on the City Council to represent the people of our amazing city and to bring your voices and more equity to City Hall. The people wanted progressive change.
In the past 9 months, I have delivered on that mandate. I have had countless conversations and virtual and in person meetings with residents, workers and stakeholders to discuss how we can make West Hollywood better. I have had the honor to serve on our Laurel House, Homelessness, Event and Pride Subcommittees with my colleagues as well as now representing West Hollywood as the Chair on the Westside Cities Council of Governments.
I have initiated, co-sponsored and passed 34 council items which I am so proud to say have nearly all had unanimous council support. Some of the ones I want to highlight tonight are:
The creation of the Social Justice Task Force that is now successfully appointed and working on policy recommendation for us to help address systemic racism;
The creation of business roundtables, grants for the most vulnerable small businesses, and the creation of the Business Recovery Task Force;
Incentives for LGBTQ people, BIPOC, women and local residents to start small businesses in our city;
An ordinance strengthening our Tenant Harassment Ordinance and providing further protections for our renters;
The Multi Stall Gender Neutral Bathroom Ordinance which will ensure our Transgender and Non-Binary family, same sex parents of opposite sex children and people with disabilities that have an opposite sex caretaker have equal and safe access to bathrooms;
The development of a Citywide Behavioral Health Crisis Response Unit that will reduce law enforcement response to homelessness and in other areas the unit serves in order to provide solutions from experts that work;
Several items that direct staff to study or update our zoning code related to affordable housing and capacity, bring our codes up to date with newer type housing developments being proposed so there are standards in place rather than loopholes;
An Initiative to highlight Pet-Friendly businesses and develop "Pet Week" in West Hollywood, which includes a special day dedicated to our beloved Felines; and
Making sure that Recovery includes Everyone by expanding Protections and Wage Equity for Hotel Workers, including panic buttons, the Right of Recall and Retention, overtime consent, Public Housekeeping training and excessive workload compensation.
For the next year and four months, I look forward to working with Mayor Meister to ensure efficiency and continued good leadership. I look forward to continue being accessible to constituents. I am excited about the Business Recovery Task Force, which will soon be formed to ensure we have a 5 year blueprint for business success, recovery and diversification. I look forward to continuing to pass items that help our residents, small businesses and workers. Items that create more affordable housing, bring more equity to all, bring more transparency and ethics to our government, create a more healthy environment to combat our climate crisis, have more community-based solutions to strengthen our community safety, help get our unhoused neighbors the housing and services they need as well as focusing on our City's recovery.
West Hollywood is truly one of the best cities to live, work and play in and I am so grateful to be your new Mayor Pro Tem.
Connie Norman Transgender Empowerment Center for Los Angeles opens
First facility of its kind nationwide serving Trans and Non-Binary individuals and communities of, by and for Trans and nonbinary individuals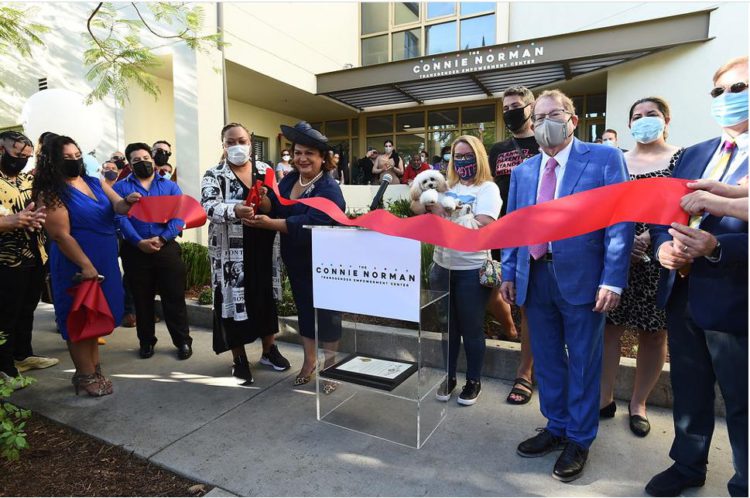 WEST HOLLYWOOD – In a location that once housed the Aids Healthcare Foundation's Linn House, a hospice for people dying from AIDS, the first facility of its kind nationwide serving Trans and Non-Binary individuals and communities of, by and for Trans and nonbinary individuals opened Friday, September 10.
Named for and dedicated in honor of Connie Norman, known as the 'AIDS Diva,' a fearless Transgender and AIDS activist who died of the disease in 1996.
The Connie Norman Transgender Empowerment Center, will serve as a home for several Trans-led organizations including FLUX, a national division of the Aids Healthcare Foundation and the Unique Woman's Coalition (UWC). The center will focus on building capacity, advocacy and overall health and wellness of the Transgender and Non-Binary communities.
The 20,000 square-foot building has been repurposed to function as a sort of 'WeWork' space for Trans-led organizations to have a place to do their work, grow and be affirmed.
"Named after a Diva like Connie Norman, supported by an institution like AHF and led by two respected Trans orgs like the UWC and FLUX—this is historic! An entire building where trans people are at the helm, making decisions and innovating," said Queen Victoria Ortega, Founder and International President of FLUX. "We are committed to making sure our community has a voice. Now, we have this incredible building as a home for those voices. I believe that great things are going to happen here, really great things!"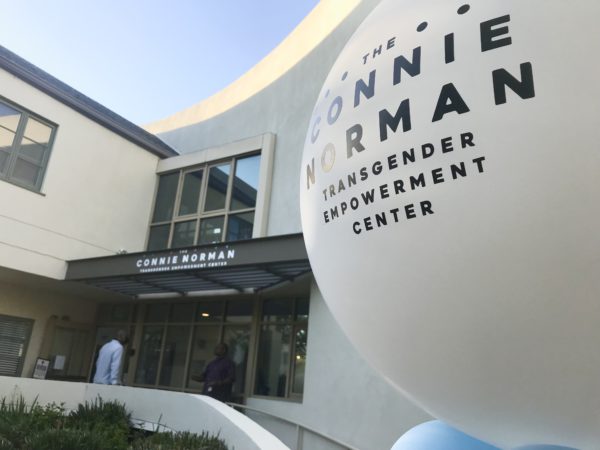 Norman was a force to be reckoned with according to Los Angeles based filmmaker Dante Alencastre's 2020 documentary film AIDS Diva: The Legend Of Connie Norman, which was released 25 years after Norman's death.
In a short bio published by FLUX the group noted, "Connie Norman (1949 – July 15, 1996) was an AIDS and gay and transgender rights activist with ACT UP/LA. Beginning in 1991, she was the host of the first daily commercial talk radio show about gay issues in Los Angeles, and also co-hosted a television show. After her death from AIDS, ACT UP scattered her ashes on the White House lawn.'
Veteran LGBTQ journalist and the former Editor of the Los Angeles Blade, Karen Ocamb membered the formidable Norman in a March 31, 2021 commentary piece published to mark Trans Visibility Day.
"It was the late '80s and I was still new to "gay" journalism so I followed standard reporter practice of mingling with the crowd, getting a sense of what was going on, then asking to speak with the organization's spokesperson. […]
For a bit I was stuck in my transition from old mainstream to LGBTQ/AIDS thinking. Luckily, Connie decided to educate me anyway. She invited me to her home — which she shared with her gay husband (who I recognized from 12 Step rooms) and LOTS of cats – and sat me in front of a video of her teaching a class of students about what it meant to be transsexual or transgender. […]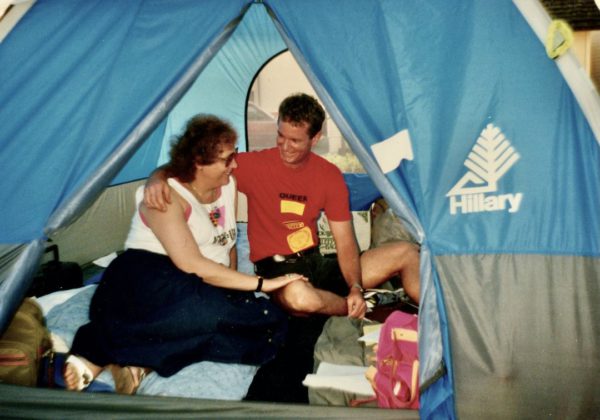 Connie was so generous with so many people- she made so many of us feel warm and loved and supported.
Curiously, after the video ended, Connie's friend Harry Hay and his partner John Burnside (who turned out to be relative neighbors in WeHo) showed up and educated me about gays being Nature's third sex. It was an amazing night. Connie was so generous with so many people. Most importantly for me – aside from being a reliable source of information so I could do my job properly — she smiled when she saw me. She made so many of us feel warm and loved and supported."
"When Connie Norman was living her final days at AHF's Chris Brownlie Hospice, she bequeathed her childhood teddy bear to me, asking that I please help look after her Trans sisters and brothers she was leaving behind. I can think of no better way to honor that request than with this Connie Norman Transgender Empowerment Center that we dedicate today," said Michael Weinstein, president of AHF and a good friend of Norman's.
Norman's teddy bear will also now take up residence at the new facility in a commemorative plexiglass display case. In addition, September 10th 2021 will also be known as Connie Norman Transgender Empowerment Day via proclamation by the City of West Hollywood.
The facility will also be home to a food bank opening onsite Monday, September 13th (12 noon- 2:00 pm). A 'Clothing Closet' to assist Trans and other individuals will also open onsite in the future and an AHF Healthcare Center serving the needs of Trans and nonbinary patients is set to open in 2022.
Photo Gallery of opening ceremonies provided by film producer John Johnston
West Hollywood's 2021 Rainbow Key & Etheridge Awards ceremony
The City of West Hollywood held a joint ceremony of the annual Rainbow Key Awards and Etheridge Award on Thursday, August 19, 202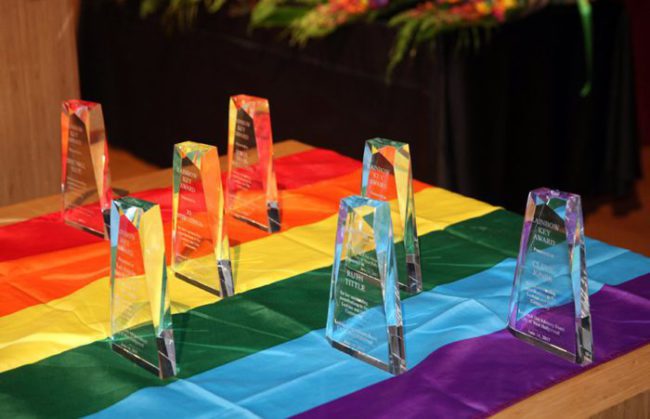 WEST HOLLYWOOD – The City of West Hollywood held a joint ceremony of the annual Rainbow Key Awards and Etheridge Award on Thursday, August 19, 2021, and recognized people and groups who have made outstanding contributions to the gay and lesbian community.
Masters of Ceremony Billy Francesca and Jackie Steele emceed the evening commencing with the 2021 Etheridge Award presented to legendary LGBTQ+ rights activist and outgoing CEO of the Los Angeles LGBT Center and the former CEO of the National Gay and Lesbian Task Force, Lorri L. Jean, for her relentless advocacy and tireless efforts on behalf of the LGBTQ+ community.
This year's Rainbow Key Awards were conferred to Dante Alencastre, local documentary filmmaker and LGBT community activist; Grace Baldridge, local musician and composer; Jeff Consoletti, principal of JJLA and producer of LA Pride; Sophie B. Hawkins, Grammy-nominated singer-songwriter, multi-instrumentalist, writer, actor, and painter; NiK Kacy, a gender-non-binary trans-masculine fashion designer and host of the annual Equality Fashion Week; Troy Masters, publisher, Los Angeles Blade, Los Angeles' LGBTQ+ newspaper; Paulo Murillo, editor in chief and publisher of WeHo Times; and Dr. Adrian Ravarour, founder of San Francisco-based Vanguard, who is also a priest and spiritual artist.
Rainbow Key Awards and Etheridge Award:
West Hollywood Mayor Horvath passes baton to Lauren Meister
This will be the second term Meister has served as the City of West Hollywood's mayor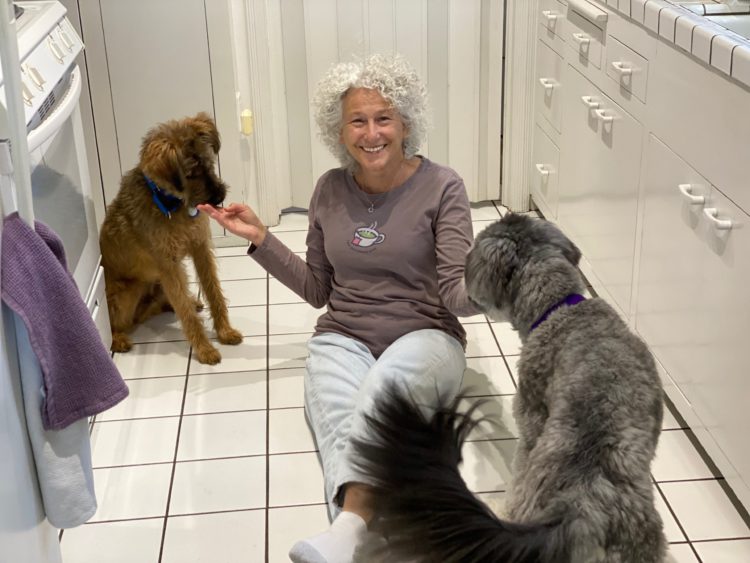 WEST HOLLYWOOD – The City changed its top leadership Monday evening as the council unanimously voted for Mayor Pro Tem Lauren Meister to become the new mayor and Councilmember Sepi Shyne to take over as Mayor Pro Tem. Both women are set to assume their roles on September 20, 2021.
Both women had been nominated by Mayor Lindsey Horvath, who has served since 2019, and is a declared candidate in the race for the seat for the 3rd Los Angeles County Supervisorial District of Los Angeles County, which includes West Hollywood. The current Supervisor Sheila Kuehl is retiring at the end of this term.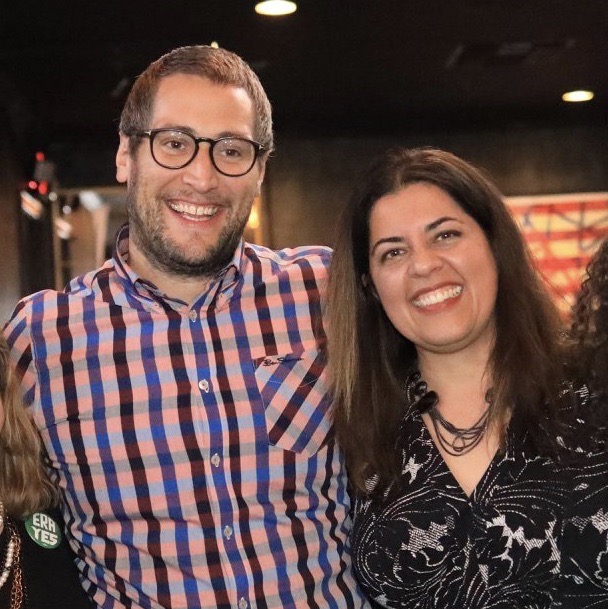 "It's the first time in history a woman has nominated two women" for the positions, Horvath remarked. "I'm very excited to be handing off this baton."
This will be the second term Meister has served as the City's mayor.
The terms of both mayor and Mayor Pro Tem will last until January 2023 — a year and four months — in an action taken by council in order to re-align their terms of office with the beginning of a calendar year.