A conversation with Bruce LaBruce
Filmmaker still pushing boundaries after 30 years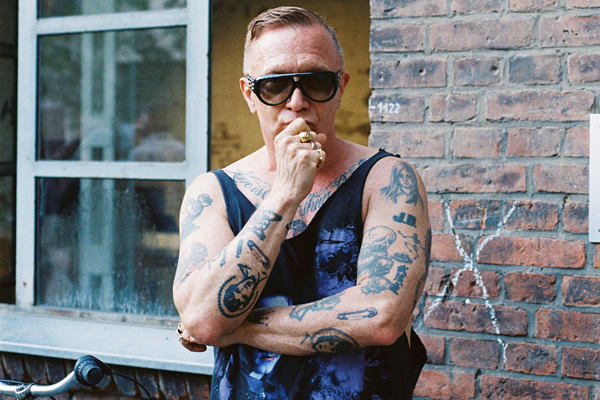 Bruce LaBruce, one of the few filmmakers that has been able to build a career moving back and forth between directing porn and independent cinema, is still interested in shocking his audiences.
Once known for incorporating explicit scenes of gay and fetish sex into his movies, he's produced a body of work over the past three decades that deliberately pushes the boundaries of our taboos and pulls the rug out from under our most solid assumptions about sex and sexuality. His movies subvert familiar Hollywood tropes in narratives that blend a campy, melodramatic style with depictions of hardcore, frequently unconventional sex, and even if he's taken a slightly tamer approach in some of his more recent work – including his latest, "Saint-Narcisse," which was released earlier this month and features a complicated story about twin brothers separated at birth who fall in love with each other when they reunite as adults – it doesn't mean his films are any less transgressive.
When the notorious Canadian iconoclast sat down to speak with the Blade last week, we talked with him about the challenge of staying on that edge.
BLADE: In your earlier films, audiences were shocked by the sexual depictions you included. Does it surprise you that nowadays the same things can be seen on Netflix or HBO?
BRUCE LABRUCE: It's true that when you see erect penises on "Euphoria," or what have you, it's taking TV to a level that nobody perhaps could have anticipated – or maybe it was inevitable, really. But even though there's a certain amount of extreme and explicit content allowed, when you shift to the bigger context it's still not seen as OK. Society has this weird schizophrenia where that kind of explicitness, even the idea of porn, is accepted, to a degree – but in cinema, at least in mainstream theatrical films, there's almost a de-sexualization. Certainly, all those superheroes are shockingly asexual. I think it's partly because the audience for a lot of that stuff is kids – and the culture in general is a bit infantile in this era.
BLADE: How has that changed your approach to filmmaking?
LABRUCE: For one thing, I'm deliberately making more mainstream films, like "Saint-Narcisse," that are kind of like wolves in sheep's clothing. On the surface they reference popular genres, like mystery and romantic comedy, and they pay homage to '70s cinema – and there's a certain, maybe not "light-heartedness" but a camp element to the style as well.
And the explicitness is not as important as the implications of what the film is about. Like in "Saint-Narcisse," the plot about this attraction between twin brothers opens up into Freud's idea of "family romance," and how these sexual tensions that he talks about within the nuclear family lead people to so much guilt and self-loathing, because they think there's something morally wrong about them for having these sexual impulses, which are really just natural. Obviously, there are taboos in place, as there should be, but whether there needs to be so much guilt and self-torture about having those kinds of impulses is another question.
BLADE: Your movies have always centered on these taboo expressions of sexuality.
LABRUCE: The idea of trying to humanize taboo sexuality and fetishes runs through all my work. You're not sick or morally corrupt because you have a fetish, you're just a living, breathing human that happens to have this extreme impulse. It's actually quite often a real worship, a devout kind of respect and appreciation, even a spiritual appreciation of the object of desire.
And there are so many ideological gay-themed films that insist on presenting only "positive" representations of homosexuality. I've always been against that, against any kind of prior censorship or pressure to conform to ideals of representation – I mean, who determines what is a "good" gay?
I prefer making something that really isn't even classified as a "gay" film, more a film that talks about the ambivalence of sex and the ambiguities of sexual representation. I've always depicted characters that don't have a fixed sexual identity, they're somewhat fluid, and it's more about human sexuality in general, rather than being a "gay" film – or a film that presents gay characters that are reassuring and fixed in their gay identity. You know, assimilated, or at least well-behaved and domesticated.
BLADE: Your films certainly challenge those kinds of politically correct notions of queer behavior.
LABRUCE: There is a fear anymore of representing things because of political correctness, of being called out or "cancelled" or whatever, which I really do think is the enemy of art and cinema. The artist should be able to express themselves without second-guessing everything they do, and without censoring themselves. It's always been that if you disagree with someone or if you think their film is offensive, then you have many ways of expressing that to them – you can walk out of their film, you can confront them at a Q&A, you can have a dialogue on the internet – but more and more it's become a black-and-white conversation where you're either on the right side or the wrong side. That's extremely challenging for a filmmaker nowadays.
BLADE: Your work has always stirred up controversy, though. And yet, you've managed to weather all that and become a respected cinema artist. How did you pull that off?
LABRUCE: There's a kind of irony in my movies – I see it more as ambiguity, really, or a camp sensibility that I have – that allows for a lot of interpretation, and you don't always know where a film stands or what the intention is behind it. It's ambiguous – even to me, you know? I think that's a much more productive way of approaching cinema, because then it's a dialogue with the audience – you're not telling them "this is the way it needs to be" because of social pressures. It's something that is open to interpretation.
BLADE: There's also a kind of absurdity in your films, where things sometimes go to extreme levels that make us see how ridiculous a lot of these moral strictures can be when we look at them from a different perspective. Is that something you try to do?
LABRUCE: It's setting up a kind of politically correct scenario and then taking the piss out of it. It's the difference between fantasy and reality. Our sexual imagination can be very dark and complicated and disturbing sometimes, and instead of making people feel guilt-ridden or tortured by the fact that they have these thoughts, I want my films to be a kind of collective unconsciousness, where people can work these things out rather than acting on them in real life.
That's the function of porn, after all.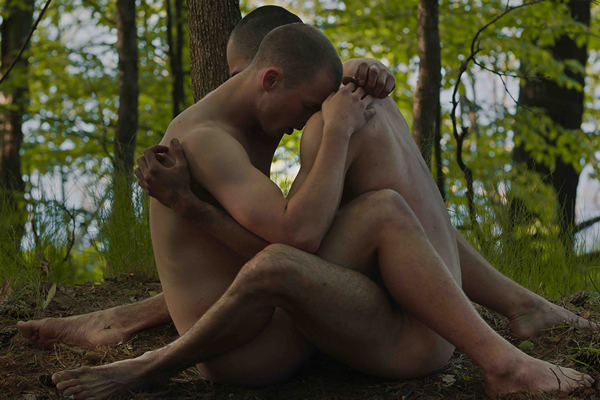 With masterful remake, Spielberg tells a whole new 'Story'
A skillfully constructed work of art that engages emotions at every level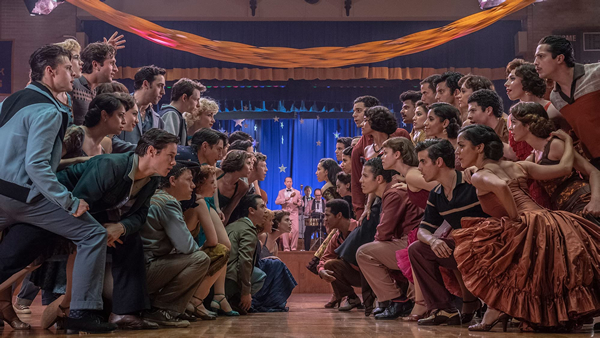 If you had reservations about the news that Steven Spielberg was remaking "West Side Story," you aren't alone. After all, with Hollywood's track record for producing abysmal remakes of classic movies, it's probably wise to be skeptical when a new one comes along.
That said, you can now rest assured that your skepticism is unfounded.
From its very first shot, in which Spielberg pays unabashed homage to the opening moments of "Citizen Kane" while establishing almost everything we need to know about the setting of the story we are about to see, "West Side Story" immediately dissipates any concern about the master director's ability to deliver the blend of theatrical and cinematic artistry it deserves. With unparalleled fluency in the visual language of storytelling, he pulls us briskly into the conflict between the Jets and the Sharks – two teen street gangs, white and Puerto Rican, respectively, at war over territory in a Manhattan slum – and sets the stage for a retelling of Shakespeare's "Romeo and Juliet" in which a family feud is exchanged for racism as the basis for a tale of young love thwarted by ancient hate.
For those unfamiliar, the plot centers on the romance of Tony (Ansel Elgort) and Maria (Rachel Zegler) – which is a problem because Tony is best friend to Riff (Mike Faist), leader of the Jets, and Maria is the sister of Bernardo (David Alvarez), leader of the Sharks. Despite the concerns of those around them – including Bernardo's shrewd and strong-willed girlfriend, Anita (Ariana DeBose) – the couple's forbidden love endures even as the rival gangs plan to wipe each other out once and for all, setting into motion a tragic chain of events that will shatter the entire community.
Spielberg's reverent remounting of the classic musical drama – conceived for Broadway in 1957 and first translated to film in an Oscar-winning classic directed by Jerome Robbins and Robert Wise – achieves what doubters assumed would be impossible: a new rendering that succeeds in bringing a deeper, more contemporary sensibility to the material while leaving it essentially unchanged. A substantial amount of the credit for this goes to Pulitzer-winner Tony Kushner, whose literate and pitch-perfect adaptation of Arthur Laurents' stage script fills in some of the story's blank spots and expands its scope to illuminate the complicated economic and social issues that lie at its core.
Characters are fleshed out with more detailed back stories that bestow them with greater dimension and humanity; Tony, for instance, is on parole after a stint in prison for nearly killing a rival gang member in a fight, and we find out that Riff's dad was as much of a hoodlum as he is. Additionally, the minor role of "Anybodys," a female Jet originally depicted as a "tomboy" who is ridiculed and excluded by her gang mates for being a girl, is here given an embellished presence, which, aided by a powerful performance from Iris Menas, leaves little doubt she is struggling with gender identity at a time when there were no words for such things.
In a similar expansion, we find out that the neighborhood is set to be demolished ahead of the construction of Lincoln Center and the high-dollar housing that surrounds it, definitively planting the film in the same period as the original work while bringing forward the impact of urban upheaval and gentrification on the low-income and marginalized communities they continually displace.
With flourishes like these, Kushner's screenplay brings "West Side Story" into the present day without removing it from the world that gave birth to it, emphasizing the connections and parallels between the two eras and reminding us just how relevant this American classic continues to be.
Similarly, the supremely talented cast is instrumental in reframing the story for a more evolved age – and not just because all the Latino roles are played by Latino performers this time around. Each of the young stars gives a heartbreakingly authentic performance, with DeBose's Anita a particular standout who commands the screen in every scene she's in (as she should!), and Zegler, a screen newcomer, providing a Maria who is as bold and self-possessed as she is luminous and delicate. But perhaps the film's most magnificent performance comes from Rita Moreno, the original movie's Anita, who here takes on the rewritten (and re-gendered) role of a neighborhood shopkeeper who serves as Tony's surrogate parent; she imbues the character with a combination of warmth and hard-won wisdom, and her presence brings an element of having come full circle, a touch of nostalgia that links the film to its heritage and lingers with us long after the credits roll.
The same can be said of the much-revered score by Leonard Bernstein and Stephen Sondheim (RIP, genius), which is here preserved and performed almost completely intact. Some of the songs are reordered within the story, and some of the singing is done by different characters than the ones we're used to, but arranger David Newman and conductor Gustavo Dudamel succeed in delivering a rousing and passionate rendering of the show's classic music – bolstered by the outstanding vocals of its cast, none of whom required the kind of dubbing that was standard practice when "West Side Story" graced the screen the first time around.
As for Spielberg, it's hard to imagine another director who could pull this off. He pulls from his vast sea of cinematic influences to create a larger-than-life, skillfully constructed work of visual art that handles the spectacular and the intimate with equal deftness and engages our emotions at every level. He frequently references the classic films he loves, weaving nods to them into a tapestry that acknowledges his debt to the great filmmakers who came before him yet firmly asserts his own mastery of the medium. He even asserts his self-assuredness by invoking fond memories of the classic 1961 version, from the subtle but unmistakable emulation of its color palette and lighting choices in key scenes to the more obvious echoes of Jerome Robbins' original choreography in the dancing – brilliantly restaged by Spielberg and choreographer Justin Peck in a style that emulates the athletic movement of the original's dance sequences while leaping to heights of its own.
Yet despite all this deference to the past, Spielberg's rendition of "West Side Story" excels and excites because it feels so firmly rooted in the here and now. His intention is to learn from the past, not dwell in it, and he challenges us at every turn to see the story with a contemporary – and sometimes uncomfortable – perspective. Most provocative, perhaps, is his choice not to use subtitles when characters are speaking Spanish; with that one, simple touch, he aims straight at the heart of the divisive turmoil in our culture today, thereby using a 64-year-old musical written by three gay men as it was always meant to be used – as a powerful condemnation of bigotry and hatred in a world that has seen enough killing.
Spielberg's vision honors, even celebrates the beloved original film, yet simultaneously reiterates it into something thrillingly new. Even the most rigid purist can't ask for a more faithful adaptation than that.
Toxic masculinity gets its comeuppance in 'Power of the Dog'
Cumberbatch, Dunst shine in unforgettable anti-Western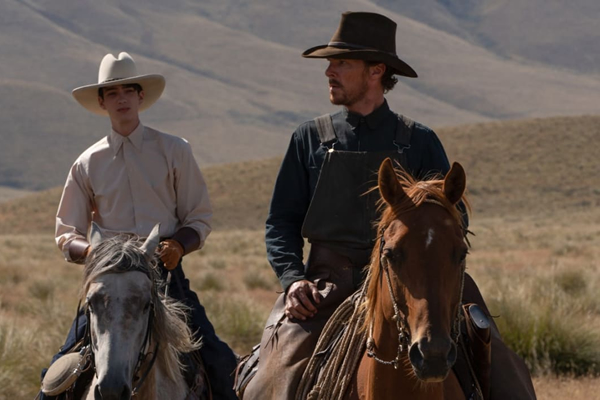 Say what you will about the Western being a tired genre, but when it comes to tracing shifts in the American cultural identity over long stretches of time, there's still nothing quite like it.
Take, for example, "The Power of the Dog," the newest effort from acclaimed New Zealand filmmaker Jane Campion, now playing in theaters (and on Netflix) and topping the best-of-the-year lists of critics across the U.S. Set against the expanse of the American frontier of a century ago, it leans into time-worn tropes that have become wrapped up in our nation's self-image, much the same as the great classic Westerns have done since the first flickering images of cowboys began to appear on screens in the very dawn of cinema history.
Some of these tropes, of course, have come to be seen as toxic. The way that Western movies have perpetuated racism by equating "Cowboys vs. Indians" to "Good vs. Evil" is perhaps the most clear-cut example; almost as obviously "problematic" is a presentation of manhood in which physical prowess is held up as the ideal, while emotional sensitivity or intellectualism are devalued as tell-tale signs of weakness. With 2022 right around the corner, outmoded and tone-deaf assumptions such as these make it easy to understand why many people think of the Western as an out-of-touch and irrelevant form of cinematic expression that deserves to be retired, once and for all.
Yet as Campion's visually eloquent, quietly subversive adaptation of Thomas Savage's 1968 novel reminds us, Westerns have a way of reflecting our changing attitudes. Just as "The Searchers" or "Little Big Man" challenged our stereotyped ideas about indigenous people, "The Power of the Dog" forces us to confront our acceptance of the rough-and-rugged cowboy as a paragon of masculinity and suggests he might have just been an overbearing bully, all along.
The cowboy in this case is Phil Burbank (Benedict Cumberbatch), who along with his brother George (Jesse Plemons) owns a lucrative cattle ranch in 1925 Montana. He's the embodiment of the "alpha" mentality, presiding over his life and business with absolute authority; when George marries a widow (Kirsten Dunst) and brings her home – along with her son Peter (Kodi Smit-McPhee), a young man with aspirations of becoming a surgeon – he browbeats the newcomers to his household and treats them with open contempt. He takes particular delight in tormenting Peter, whose slight build and effeminate manner make him an easy target for ridicule, but an awkward encounter in the woods sparks a change of heart; he decides to take his new nephew under his wing, hoping to turn him into a "real man" and perhaps reconnect with a tender side of his own nature he has long kept buried.
A reading of that brief synopsis is enough to make it clear that Campion's movie plays on other tropes besides those found in Westerns. Traditional queer narratives in American culture inevitably lead us to expect an "unexpected" romance between these two initially antagonistic men, and a subsequent blossoming that will allow the hardened rancher to undergo a heartwarming transformation not unlike that of the Grinch.
But "Power of the Dog" is not that kind of queer narrative, just as it's not the kind of Western where gunslingers resolve their conflicts with a climactic showdown on a dusty street. It leaves little doubt that romance – or some stunted, self-loathing version of it, at least – is on Phil's mind once he hits upon the possibility of it; but it's also keenly aware that men like Phil, who hide their own presumed desires under a mask of reflexive intolerance and are only willing to explore their secret side if they can maintain plausible deniability, are a big part of the reason why gay men – or anybody else who has been repeatedly lumped together in the category of "other" and turned into social outcasts or worse – have been subjected to so much bigotry and abuse for so very long.
To be sure, he's a product of his time and place – but where a film from a different era might have given him the benefit of the doubt and helped him to find the redemption we've been conditioned to think he deserves, this one is not ready to let him get off scot-free. It doesn't matter if he's queer – he's also a narcissistic tyrant who maintains his own assumed superiority by terrorizing and belittling those around him (his nickname for his brother is "Fatso," which tells you all you need to know) to keep them submissive and docile. The days when such individuals got a pass for their bad behavior feel very much like a thing of the past in a world still reeling from the influence of Trumpism and other such movements, and Campion's movie works its leisurely way to a conclusion that seems designed to make an example of its charismatic but unsavory central figure. Compassion is afforded, but it's the kind of compassion that might be expressed by putting a wounded animal out of its misery.
Campion's writing and direction of this deceptively pastoral period drama is as flawless as might be expected from a filmmaker of her caliber; she blends the awe-inspiring landscape (stunningly photographed by Ari Wegner, with New Zealand's breathtaking natural beauty doubling for the Wyoming badlands) with the quietly jarring strains of Jonny Greenwood's superb score to reinforce the roiling tensions below the placid surface of the story, and shrewdly trusts our own preconceptions to keep us from seeing the obvious indications of an ending that is being set up for us right in plain sight.
The cast, too, is uniformly outstanding. Cumberbatch turns in a powerhouse performance that's as boldly unsympathetic as it is unforgettable, carrying himself with a ramrod-straight bearing that is just affected enough to suggest he's not all that he seems but defies you to call him out on it; deservedly, he's high on the list of likely Best Actor contenders for the next Oscars. Also award-worthy are Plemons, whose quiet underplaying of the good-hearted George helps him steal almost every scene he's in, and Smit-McPhee, whose Peter exudes a refreshingly contemporary understanding and wisdom while retaining just enough enigma to keep us guessing about his motives. Rounding out the main ensemble, Dunst earns both our sympathy and respect in a role that might easily have been overshadowed in the hands of a lesser actress.
"Power of the Dog" is unquestionably a great film, assembled by a proven master at the peak of her powers and augmented by impressive performances – but does that mean the Western still has something to offer in a world more "woke" than it was in the heyday of the genre? For all its artistry, it tells a subtle story – and a bleak one, at that, albeit one that leaves us with a somewhat conflicted sense of satisfaction. It's likely to leave some viewers cold – especially fans of a genre known for action, adventure, and the reinforcement of traditional values. In this way, perhaps it's better characterized as an "anti-Western."
Whatever label you decide put on it, it deserves your attention.
'Passing' is one of the year's best films
Brimming with intense racial and sexual tension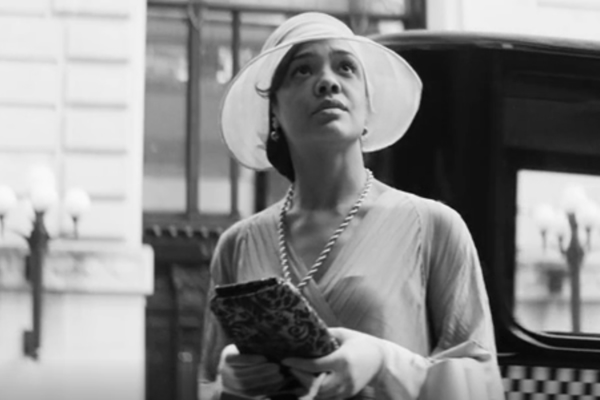 You wouldn't think a quiet, 138-minute film centered on two women's friendship, where the joking use of a racial epithet is more shocking than a gunshot, would imprint its images and ambiguities in your head. But that's what "Passing," director Rebecca Hall's debut movie of the 1929 novel of the same name by Nella Larsen, does. It's now in limited theatrical release and streaming on Netflix.
"Passing," produced and written as well as directed by Hall, takes place in 1920s Harlem. It tells the story of Irene Redfield (Tessa Thompson) and Clare Kendry (Ruth Negga), two light-skinned Black women who were childhood friends.
They haven't seen each other for years. Clare was raised by an alcoholic father. After he died, she was sent to live with her white racist aunts. She escapes from them, passes as white and marries John (Alexander Skarsgard), a white banker. They have a daughter. John has no idea that Clare is Black or that his daughter is biracial. Clare lives well. The couple travel. Their daughter goes to a school in Switzerland. Clare is good at passing. But John hates Black people.
Irene lives in a lovely townhouse with her handsome husband Brian (Andre Holland), who is Black and a doctor, and their charming sons. A maid helps her to clean and maintain the elegance of her home. She does volunteer work for the (fictional) Negro Welfare League.
Unlike Clare, Irene doesn't pass as white. Except, occasionally. As she does, on the warm day, when she and Clare unexpectedly encounter each other at a posh Manhattan hotel after not having seen each other since their youth.
Clare is there because John has business in New York, and Irene, hot after a day of shopping, has stopped by for a refreshing spot of tea. Irene, at this moment, is like Clare, passing as white. Because, she knows, through unwritten Jim Crow, that she would be turned away if the establishment's staff knew she was Black.
"Passing," which is in black and white, is luminous! Hall has said in interviews that she shot it in black and white to reflect the films of the 1920s and 1930s. Hall has succeeded brilliantly. "Passing" is visually stunning.
The racial and sexual tension in "Passing" is stunning in a different sense.
As Clare and Irene sit, sipping tea and catching up, John, Clare's husband comes by. At first glance, he seems like a nice, if clueless, white guy. Until, not realizing Clare is Black (thinking her complexion is olive), he jokingly greets her with a racial slur.
The epithet is as jarring as an unexpected snake hiss. As a moviegoer, you're laughing and crying inside as you watch Irene laugh at John's racial slur until she cries.
The story in "Passing" is told from Irene's perspective. Often, we watch Clare and Irene gaze intently at each other. It feels as if they are attracted to each other.
But, true to the spirit of the novel on which the film is based and with the time in which "Passing" is set, whether or how they were intimate isn't made explicit.
At times, Irene believes that Clare could be having an affair with Brian.
Despite the ambiguity, it is clear, though, that Irene and Clare have an intense friendship.
"Passing" won the U.S. Narrative Feature Jury Award at the 33rd LGBTQ film festival New Fest, "Variety" reported. The honor is well deserved.
It is highly likely that Thompson and Negga will receive well-earned Oscar nominations for, respectively Best Actress and Best Supporting Actress.
Nella Larsen, an acclaimed Harlem Renaissance writer, and "Passing" languished in obscurity for decades, after the novel was published to critical acclaim.
Hall's film makes Larsen's work from nearly a century ago come alive in our time on the screen. See "Passing." It's one of the best films of the year.