Biden nominates coordinator for global HIV/AIDS & adds team members
The coronavirus pandemic- a top priority for health officials is clouding potential assessment of the Ending the HIV Epidemic Initiative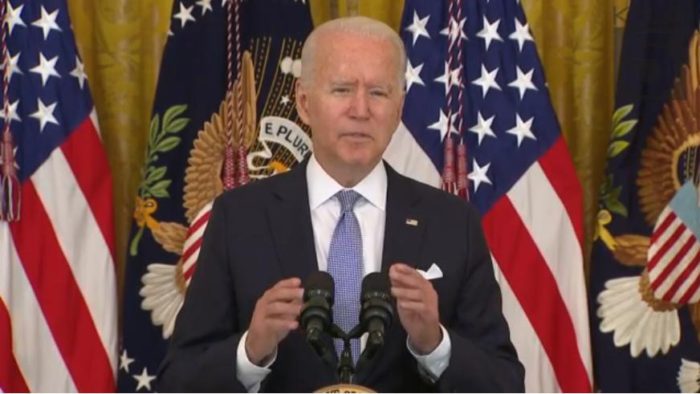 WASHINGTON – With the goal of beating HIV by 2025 domestically and a pledge for a renewed effort to fight the disease globally, President Joe Biden has put in place officials charged with making that happen.
The White House kicked off the week with the announcement that John Nkengasong, who has served as a top official on global health at the Centers for Disease Control, would be nominated as ambassador-at-large and coordinator of U.S. government activities to combat HIV/AIDS globally at the State Department.
Meanwhile, leadership within the Presidential Advisory Council on HIV/AIDS, otherwise known as PACHA, was restructured in August as the Biden administration has continued the Ending the HIV Epidemic Plan health officials started in the previous administration.
Carl Schmid, who served as co-chair of PACHA during the Trump years, no longer holds that position, and has been replaced by Marlene McNeese, a woman of color and deputy assistant director of the Houston Health Department. John Wiesman, former secretary of health for Washington State, will continue to serve as co-chair.
McNeese is among eight new members of PACHA. The others are:
Guillermo Chacón, president of the Latino Commission on AIDS;
Tori Cooper, director of community engagement for the Transgender Justice Initiative at the Human Rights Campaign;
Raniyah Copeland, CEO of the Black AIDS Institute;
Leo Moore, medical director for clinic services at the Los Angeles County Department of Public Health;
Kayla Quimbley, national youth HIV and AIDS Awareness Day ambassador for Advocates for Youth;
Adrian Shanker, founder and executive director of Bradbury-Sullivan LGBT Community Center; and
Darrell Wheeler, senior vice president for academic affairs at Iona College in New Rochelle, N.Y.
The changes underscore the new approach to HIV/AIDS Biden promised during his presidential campaign. Among them is beating HIV/AIDS domestically by 2025, which is five years earlier than the plan under the Ending the HIV Epidemic initiative that began in the Trump administration. Whether or not Biden will meet that ambitious goal remains to be seen.
Winnie Byanyima, executive director of UNAIDS, hailed the nomination of Nkengasong to the global AIDS position upon news of the announcement.
"John Nkengasong's vast experience in combatting HIV, combined with his position as Africa's leading disease expert fighting Ebola, COVID-19 and more, position him extremely well to guide the United States' global contribution towards ending the AIDS pandemic," Byanyima said. "Today, the HIV and COVID-19 pandemics are colliding in communities throughout the world, and the threat of a resurgent AIDS pandemic is very real. We need the kind of bold thinking and commitment he has brought throughout his career."
While the global AIDS appointment will have a role in international programs, such as PEPFAR and U.S. participation in the Global Fund to Fight AIDS, Tuberculosis & Malaria, the PACHA appointments will focus on both domestic and global perspectives.
Schmid, executive director of the HIV+Hepatitis Policy Institute, said despite the change in leadership he will maintain his role as head of the subcommittee on the Ending the HIV Epidemic initiative.
"It's good," Schmid said."They appointed a lot of African-American community, Latino community [members] and they said they'll rotate co-chairs," Schmid said. "I think it's good that they put on new blood, and new leadership."
Schmid has been a vocal skeptic about Biden being able to meet his goal to beat HIV by 2025 — as opposed to the 2030 target set by the previous administration — but said the realignment in PACHA was "not at all" related to that.
"I think I was replaced because the Biden administration wanted the leadership of PACHA to be more representative of the current epidemic in the United States," Schmid said.
Schmid, however, refused to back down from his prediction that Biden won't be able to make his 2025 goal a reality.
"I think you will find wide agreement within the HIV community that it is not feasible to end HIV by 2025," Schmid said. "There is just too much work to do and change to happen."
The new appointments will add to the cadre of Biden appointees engaged on HIV/AIDS, including Harold Phillips, who was appointed in June to lead the White House Office of National AIDS Policy after that position remained vacant for the entirety of the Trump administration.
'Too early' to gauge effort to beat HIV domestically
The focus of the appointees on the domestic front will be the Ending the HIV Epidemic initiative, a plan heavily focused on PrEP as a means of preventing HIV in an effort to reduce new incidents of infections by 90 percent within 10 years. The program was launched in 2019.
Although Congress has appropriated money for the initiative, and just last week, the Department of Health & Human Services distributed $48 million to HRSA centers as part of the effort, experts say not enough data is available to tell to whether or not the program has been effective.
Jennifer Kates, senior vice president and director of global health & HIV policy at Kaiser Family Foundation, said data isn't yet available on whether new incidents of HIV are reduced because the latest data is from fiscal year 2019.
"From the perspective of the timeline of the goals of the initiative, it's too early, we wouldn't know that anyway, but just even given the context and what's happened since it started, I just don't know how you'd evaluate it," Kates said. "What I do believe is important though, is the idea of dedicated new funding. It was the first new funding provided to HIV for years that's been channeled to local jurisdictions [and] has the potential to catalyze new and better responses, but we don't know yet that's happened."
The coronavirus pandemic, which has been the top priority for health officials around the world, is also obfuscating any potential assessment of the Ending the HIV Epidemic Initiative.
Daniel Bruner, senior director of policy at the D.C.-based Whitman-Walker Institute, said the coronavirus has "dramatically impacted medical care," including HIV/AIDS efforts.
"The pandemic has also necessitated substantial shifts in federal, state, and local resources into COVID prevention, diagnosis and treatment," Bruner said. "Therefore, it is premature to draw any conclusions about the EHE initiative's effectiveness. The federal government has emphasized its continuing commitment to the EHE initiative, and Whitman-Walker also remains committed to that work."
White House condemns Oklahoma ban on abortions starting at fertilization
"Roe has been the law of the land for almost 50 years, and basic fairness and the stability of our law demand that it not be overturned"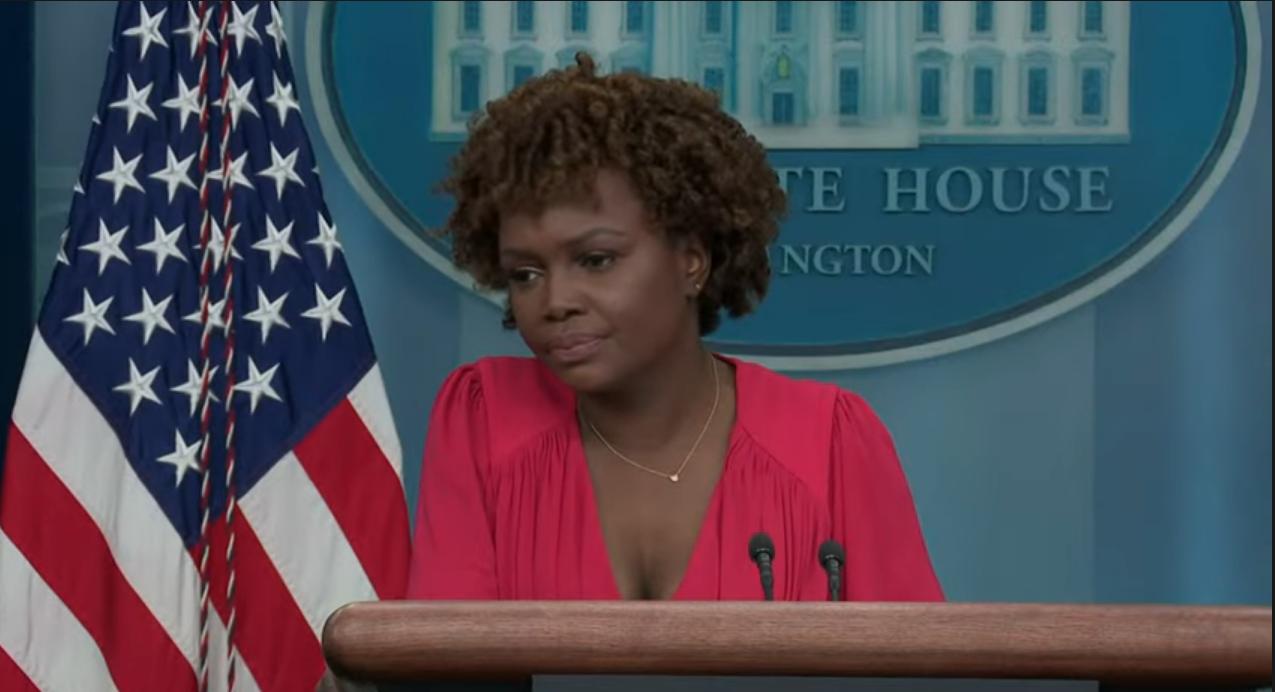 WASHINGTON – White House Press Secretary Karine Jean-Pierre issued a statement Thursday night condemning the Oklahoma Abortion Bill passed earlier in the day banning nearly all abortions starting at fertilization, which would make it the nation's strictest abortion law.
The New York Times noted that the bill is modeled on one that took effect in Texas in September, which has relied on civilian instead of criminal enforcement to work around court challenges. But it goes further than the Texas law, which bans abortions after about six weeks of pregnancy.
"The President believes that women have the fundamental right to make their own reproductive health choices. Roe has been the law of the land for almost 50 years, and basic fairness and the stability of our law demand that it not be overturned.  Today's action by the Oklahoma legislature is the most extreme effort to undo these fundamental rights we have seen to date.  In addition, it adopts Texas' absurd plan to allow private citizens to sue their neighbors for providing reproductive health care and helping women to exercise their constitutional rights," Jean-Pierre said.
"This is part of a growing effort by ultra MAGA officials across the country to roll back the freedoms we should not take for granted in this country.  They are starting with reproductive rights, but the American people need to know that other fundamental rights, including the right to contraception and marriage equality, are at risk.  The President is committed to standing up for these constitutional rights, and for protecting Americans' fundamental freedoms," she added.
The bill subjects abortion providers and anyone who "aids or abets" an abortion to civil suits from private individuals. It would take effect immediately upon signature by Republican Governor Kevin Stitt, who has pledged to make Oklahoma the most anti-abortion in the nation.
Oklahoma One Step Closer To Banning Abortions At Conception:
Biden administration uses IDAHOBiT to highlight LGBTQ+ rights support
WHO on May 17, 1990, declassified homosexuality as mental disorder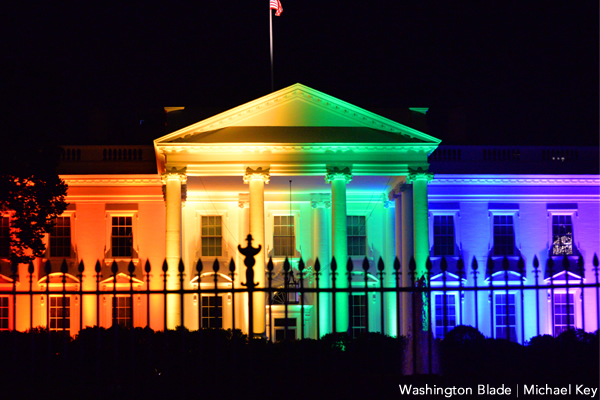 WASHINGTON — The Biden administration on Tuesday publicly acknowledged the International Day Against Homophobia, Biphobia and Transphobia.
"Jill and I stand in support and solidarity with lesbian, gay, bisexual, Transgender, queer and intersex (LGBTQI+) people in the United States and around the world," said President Biden in a statement the White House released. "We join with Americans across the country to reaffirm our commitment to the ongoing work of upholding human dignity for all people and advancing equality globally."
Biden in his statement noted there "has been much progress" since the World Health Organization on May 17, 1990, declassified homosexuality as a mental disorder. Biden also highlighted "we continue to witness disturbing setbacks and rising hate and violence targeting LGBTQI+ people in the United States and around the world."
"This is wrong," he said. "LGBTQI+ people are entitled to all the rights, opportunities, and protections that belong to every human on this planet. LGBTQI+ people are an essential part of families and communities—teachers, first responders, public officials, doctors, lawyers, front-line workers and friends who enrich and strengthen every single country."

"And make no mistake: Hateful legislative attacks against members of our own LGBTQI+ community cannot be tolerated in America or anywhere else," added Biden. "They spur discrimination and can stoke violence. And they are rooted in the same ignorance and intolerance that we see around the world. Hate is hate—and all of us have a responsibility to speak out against hate wherever we find it."
Secretary of State Antony Blinken on Tuesday issued his own IDAHOBiT statement.
"The United States affirms today, on the International Day Against Homophobia, Biphobia, Interphobia and Transphobia (IDAHOBIT), that the human rights of lesbian, gay, bisexual, Transgender, queer and intersex (LGBTQI+) persons are the same human rights to which all persons are entitled," said Blinken. "As enshrined in Article 1 of the Universal Declaration of Human Rights, '[a]ll human beings are born free and equal in dignity and rights.'"
Bliken further noted that "too many LGBTQI+ persons live under the shadow of discrimination, violence and fear."
"Global data makes clear that the dehumanization of LGBTQI+ persons is systemic, pervasive, and often violent," he said. "Homophobia, biphobia, interphobia and transphobia are deeply entrenched in societies across the world, including here in the United States. Countless persons are at extreme risk for being themselves."
Biden shortly after he took office in 2021 issued a memorandum that committed the U.S. to promoting LGBTQ rights abroad.
The administration last June appointed Jessica Stern as the special U.S. envoy for the promotion of LGBTQ+ rights abroad.
The U.S. Senate earlier this year in a bipartisan vote confirmed Chantale Wong, the U.S. director of the Asian Development Bank, as the first openly lesbian American ambassador. The State Department on April 11 began to issue passports with "X" gender markers.
The State Department on April 28 released a report that details the federal government's implementation of Biden's foreign policy memo.
"We remain committed to ending this intolerance. Everyone deserves to live with respect, dignity, and safety," said Blinken in his IDAHOBiT statement. "The United States affirms that all LGBTQI+ individuals, couples, and their families are valid and valuable."
Biden in his statement also referred to the report.
"By openly reporting on our own progress, the United States hopes to inspire other governments to take similar action to address the needs of their LGBTQI+ communities," he said.

"To the LGBTQI+ community, my administration sees you," added Biden. "We stand with you. And we will continue to defend human rights and dignity, at home and around the world."
Spanish Prime Minister Pedro Sánchez, Cuban President Miguel Díaz-Canel and Council of Europe Human Rights Commissioner Dunja Mijatović are among the other world leaders who have publicly acknowledged IDAHOBiT.
Victor Madrigal-Borloz, the independent U.N. expert on LGBTQ+ rights, and other U.N. human rights experts in a statement they released on Monday highlighted the plight of LGBTQ+ people who have been forcibly displaced from their homes.
"With the number of forcibly displaced persons continuing to rise, States, businesses and humanitarian and civil society organizations must invest in developing human rights-based policies and programs that take into full account the intersectional dimensions of forced displacement and sexual orientation and gender identity, fostering stronger collaboration and coordination among all actors responsible for the protection of displaced LGBT individuals," reads the statement.
Advocacy groups around the world also commemorated IDAHOBiT.
"Today I want to thank my incredible team of Insight public organization who still works for LGBTQI+ people in Ukraine, saving life's (sic) of our community during the war," tweeted Olena Shevchenko, chair of Insight, a Ukrainian LGBTQ+ rights group. "We are here for equality."
Today I want to thank my incredible team of Insight public organization, who still works for LGBTQI + people in Ukraine, saving life's of our community during the war!#IDAHOBIT2022 We are here for equality pic.twitter.com/wOMholwaOv

— Olena Shevchenko (@InsightOlena) May 17, 2022
Sexual Minorities Uganda in a tweet said IDAHOBiT "is a significant day for the LGBTIQ+ community because it serves as a reminder of the ongoing violence and prejudice that our communities face."
"The struggle for equality still continues," added SMUG.
The 17th of May (IDAHOBIT) is a significant day for the LGBTIQ+ community because it serves as a reminder of the ongoing violence and prejudice that our communities face. The struggle for equality still continues. 🌈
Happy IDAHOBIT22 #ourbodies #ourlives #ourrights pic.twitter.com/h5moRos4VH

— Sexual Minorities Uganda | SMUG (@SMUG2004) May 17, 2022
Pride House Tokyo in Japan also acknowledged IDAHOBiT.
May 17th is the International Day Against Homophobia, Transphobia & Biphobia (IDAHOTB or "YES to Diversity Day" in Japan). 32 years ago in 1990, the World Health Organization removed "homosexuality" from the list of mental disorders & finally stopped being considered a disease. pic.twitter.com/rQK6pn65b5

— Pride House Tokyo(プライドハウス東京)🏳️‍🌈 (@PrideHouseTokyo) May 17, 2022
WNBA players back petition for Biden to 'prioritize' Brittney Griner's release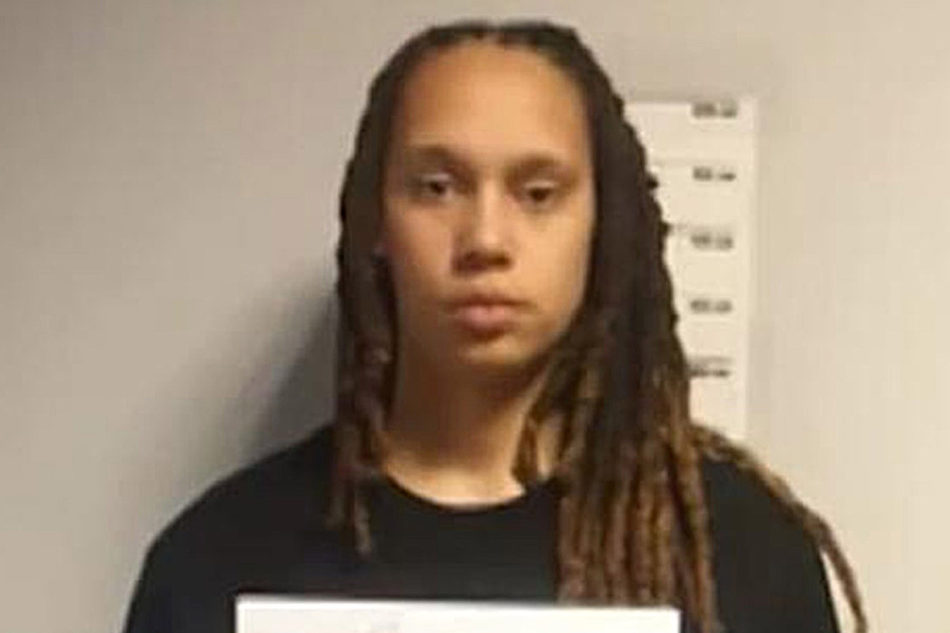 WASHINGTON — The Women's National Basketball Players Association has endorsed a petition that urges the Biden administration to "prioritize" WNBA star Brittney Griner's release.
"It is imperative that the U.S. government immediately address this human rights issue and do whatever is necessary to return Brittney home quickly and safely," reads the Change.org petition that Tamryn Spruill, a freelance journalist and author, created.
"The WNBPA and its members proudly join Tamryn Spruill, the creator of this petition, in demanding that lawmakers prioritize Griner's return," it continues. "White House and Biden adminsitration, we ask that you take action today—doing whatever is necessary—to bring Brittney Griner home swiftly and safely."
More than 135,000 people have signed the petition.
Spruill on Saturday in a tweet said the WNBPA, a union that represents WNBA players, partnered with them and Change.org "in demanding that our elected officials work urgently to gain BG's swift and safe release."
A new phase in the Brittney Griner/Change.org petition is underway! @TheWNBPA has partnered with me and @Change in demanding that our elected officials work urgently to gain BG's swift and safe release.

Details here:https://t.co/AHtb1DYcSI#WeAreBG

— Tamryn Spruill (@tamrynspruill) May 14, 2022
Griner — a center for the Phoenix Mercury and a two-time Olympic gold medalist who is a lesbian and married to her wife — was taken into custody at Moscow's Sheremetyevo Airport in February. Russian officials said customs inspectors found hashish oil in her luggage.
The State Department earlier this month determined Russia "wrongfully detained" Griner. A Russian court on Friday extended her detention for another month.
"The Russian system wrongfully detained Ms. Griner," then-White House Press Secretary Jen Psaki told reporters on Friday during her last White House briefing. "We take our responsibility to assist U.S. citizens seriously. And we will continue to press for fair and transparent treatment for all U.S. citizens when they are subject to legal processes overseas."

"Now, because the State Department recategorized her as wrongfully detained, it means that our Special Presidential Envoy for Hostage Affairs — it's quite a title but a well-deserved one — is going to be overseeing this case and leading the effort," added Psaki. "Because it's a deliberative process and we know from experience of bringing other Americans home, we're just not going to detail what those efforts look like at this point in time."
Griner faces up to 10 years in prison.