Florida lawmakers introduce bills to ban 'Gay/Trans panic defense'
If signed into law the bill would take effect July 1 of 2022 making Florida the 16th state to ban the use of "gay/trans panic defense"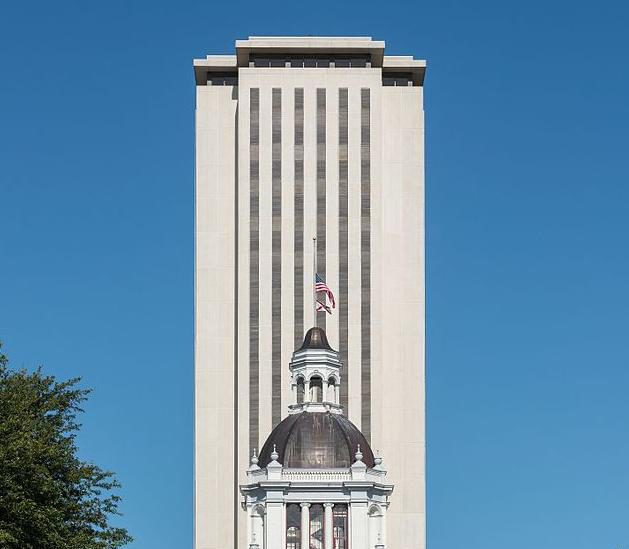 TALLAHASSE – Florida Democratic lawmakers Tuesday introduced a set of companion bills that would ban use of a legal defense strategy colloquially referred to as the "gay/trans panic defense" in criminal cases.
Introduced into the House by Out State Rep. Carlos Guillermo Smith, (D) who represents Orlando and the Senate by Senate Minority Leader Lauren Book, (D) who represents parts of Broward County, HB 205 and SB 374 contain nearly identical language that reads:
"Gay and Transgender Panic Legal Defenses; Prohibits individuals from using nonviolent sexual advance or specified perceptions or beliefs about another individual as defense to criminal offense, to excuse or justify conduct of individual who commits criminal offense, or to mitigate severity of criminal offense.'
"As a survivor of hate violence, I understand how gay or trans 'panic defense' can be used as a legal strategy to justify or excuse violence against the LGBTQ community," said Smith in a statement to Florida Politics.
"It happened to me. The continued use of panic defense in legal proceedings perpetuates anti-LGBTQ bias and shifts blame onto the victims of violent crimes rather than their perpetrators, which is why Florida must follow the lead of several states who passed laws prohibiting its use in court," he added.
"The Gay and Transgender Panic Defense is the epitome of institutionalized homophobia and transphobia in our legal system," said Jon Harris Maurer, the Public Policy Director for Equality Florida in a statement to the Blade.
"Shifting blame from a violent perpetrator to an LGBTQ person because of their sexual orientation or gender identity is shameful victim-blaming. Florida must join the 15 states that have already eliminated this twisted legal defense," Maurer added.
If signed into law, the bill would take effect July 1 of 2022 and would make Florida the 16th state to ban the use of "gay/trans panic defense"
Democratic lawmakers push to ban 'gay/trans panic defense'

Story: @byJasonDelgadohttps://t.co/mb1H37HJYd #FlaPol pic.twitter.com/f5dA3cyczT

— Florida Politics (@Fla_Pol) September 29, 2021
Florida county's school policy critics say "essentially targets LGBTQ+ kids"
"Sending out a parent notification could be seen as placing a target on a student's back," said Lauren Kelly-Manders, a Tallahassee resident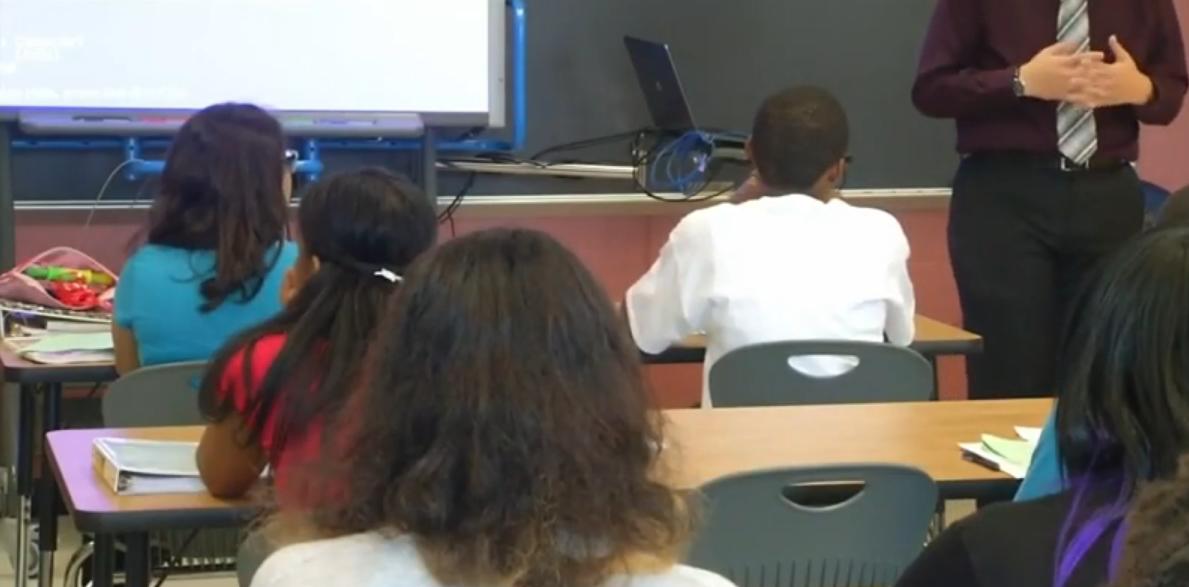 TALLAHASSEE – The Leon County School Board this week unanimously approved its "LGBTQ Inclusive School Guide" after a rancorous and at times heated debate Tuesday. At the heart of the new policy are guidelines that critics charge will harm LGBTQ+ youth in the school system.
The Tallahassee Democrat newspaper reported what drew the most debate was a provision that a school will notify parents — by form — if a student who is "open about their gender identity" is in a physical education class or on an overnight trip. 
Some teachers and students during the Tuesday night meeting said the policy will "out" LGBTQ+ students — revealing their sexual orientation or gender identity without their permission. 
While the policy language does explicitly say a student's sexual orientation, gender identity or expression "should not be shared with others without their input and permission,"  advocacy groups and activists claim that in "real world" application the policy's danger to Outing LGBTQ+ kids remains regardless.
Los Angeles-based writer and actor Benjamin Siemon took to Twitter angrily noting that the policy "essentially paints these children as sex offenders that require warnings."
This school board in FL voted that if an LGBTQ child is in a P.E. class or attending an overnight trip that ALL the parents in their class will receive a notification about it, which essentially paints these children as sex offenders that require warnings. https://t.co/g1bE4df2bS

— Benjamin Siemon (@BenjaminJS) June 30, 2022
Supporters of the school board's new policy included the Leon County chapter of Mom's for Liberty, a national far-right anti-LGBTQ+ activist group which has sought to ban LGBTQ+ books and curriculum nationwide. But the sticking point for the group is the provision doesn't go far enough.
According to the Tallahassee Democrat, Sharyn Kerwin, head of the Leon County chapter of Mom's for Liberty and who also served on the advisory committee to the School board as it crafted the new policy, told board members and the audience Tuesday: "Any attempt to withhold information from a parent or try to influence a child in a knowing way is against Florida law."
Kerwin and other parents argued that the Parental Rights in Education bill, HB 1557, colloquially referred to as the "Don't Say Gay" law requires school administrators to notify parents and many in the audience Tuesday citing biblical verses maintained discussions about sexual orientation have no place in schools.
Opponents charge that this policy will effectively weaponize bigotry and target LGBTQ+ kids, especially trans youth.
Critics of the notification policy say the district's language is equating "gender identity" with LGBTQ sexuality. They note that even someone who is "straight" expresses themselves via their clothing choices or appearance and can be "open about their gender identity," the Tallahassee Democrat noted.
"Sending out a parent notification could be seen as placing a target on a student's back," said Lauren Kelly-Manders, a Tallahassee resident. 
In the end, even with the policy approved, none were happy with the outcome as one side claiming not enough consideration was given to parental rights and opponents charging this will simply increase bullying of LGBTQ+ kids.
"Normally when we have something on the agenda, we have a group that's for, and a group that's against," school board Vice Chair Alva Striplin noted adding, "Well, tonight we had everyone against."
The school board voted to approve the guide unanimously 4-0.  According to the Tallahassee Democrat school board members will schedule another meeting to revisit the guide in six months to adjust the policy if needed. 
Florida 'Don't Say Gay' law goes into effect, negative impact already felt
LGBTQ youth, already at higher risk of depression, anxiety, & suicide than their peers, report their mental health being negatively impacted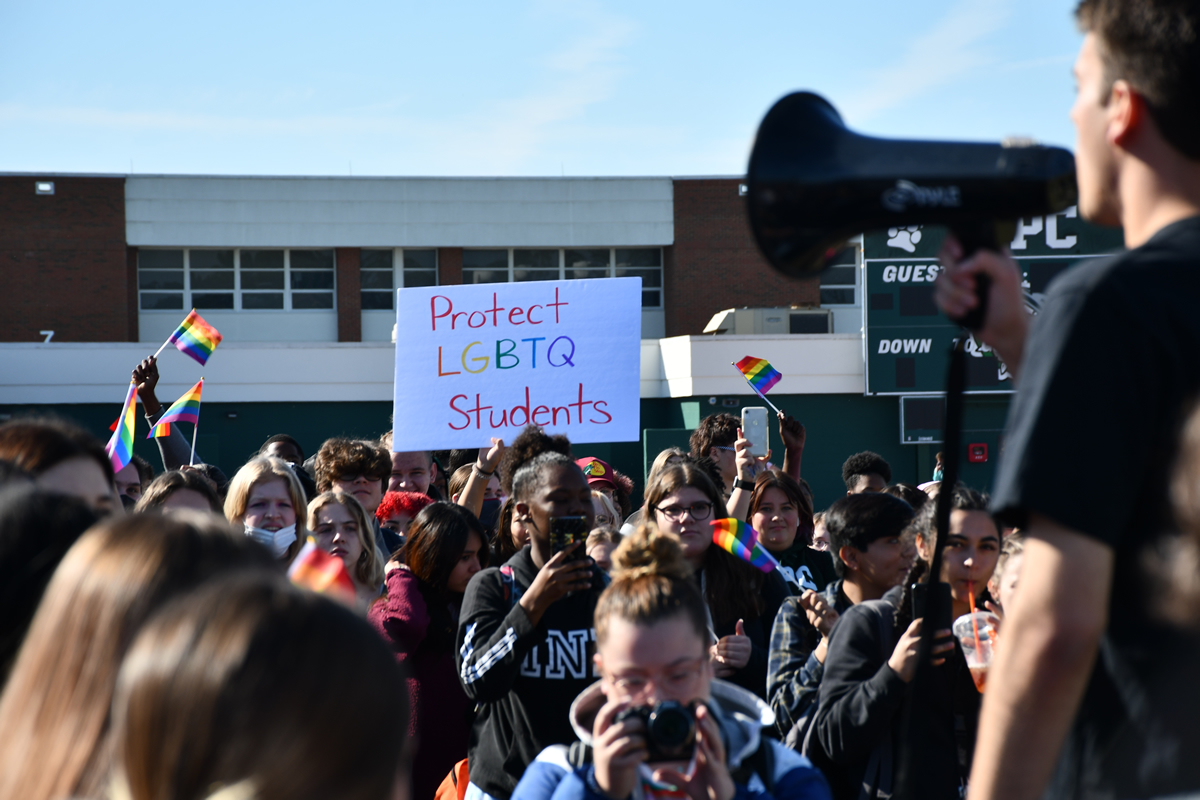 TALLAHASSEE – Florida's HB 1557, known as the Don't Say LGBTQ law, took effect today. The law, which bans classroom instruction on sexual orientation and gender identity in grades K-3 and restricts that instruction in grades 4-12, will immediately begin impacting efforts to make Florida classrooms more inclusive.
But its impacts have already been felt for months. Educators and school staff have shared the chilling effects they are experiencing across the state. Books with LGBTQ characters are being pulled from shelves. Rainbow "safe space" stickers are being peeled from classroom windows. LGBTQ educators are being asked to avoid speaking about their families. As the law officially goes into effect, these impacts will escalate.
In the same district, teachers in queer relationships are being advised to remove any family portraits. Staff can't even wear rainbow clothing.

We always knew what this was about, silencing LGBTQ+ people.

— Jack Petocz (@Jack_Petocz) June 28, 2022
"Since the inception of this hateful policy, lawmakers have assured the public that it would not lead to censorship or erasure of LGBTQ people," said Joe Saunders, Equality Florida Senior Political Director. "But our community has always known the truth. The Don't Say LGBTQ law has always been fueled by anti-LGBTQ animus and designed to further stigmatize the LGBTQ community, ban books about us, erase us from classrooms, and force us back into the closet. It is a bigoted and dangerous law that is making Florida less safe for students and families, and we will work tirelessly to see it repealed."
Throughout the legislative process, lawmakers scoffed at the suggestion that HB 1557 would have negative impacts on the LGBTQ community, even as they refused to clarify its dangerously vague language and prevent the eventual law from doing harm.
A bipartisan contingent of lawmakers offered up dozens of amendments to the bill, attempting to narrow its overly-broad scope and clarify the most vague components. These amendments came after assertions from their colleagues that the bill's intent was narrow. However, those reasonable amendments were rejected by bill sponsors Representative Joe Harding, Senator Dennis Baxley, and their allies, leaving its language broad and discriminatory.
As a result, the chilling effects were swift and sweeping. Across the state, censorship of LGBTQ lives began in earnest and has continued until today. In Palm Beach County, School Superintendent Mike Burke began by circumventing the district's material review process to remove multiple books featuring LGBTQ characters, citing concern about the implications of the Don't Say LGBTQ law. He followed the move in recent weeks by issuing guidance to educators across the district for them to remove books currently being challenged and place them "in a classroom closet" and scour their shelves for other titles that may include LGBTQ characters or mention topics like racism or oppression.
Growing up, I spent countless nights trying to change who I am. Praying to God I could wake up different, what I had preconceived as "normal."

Today, "Don't Say Gay" goes into effect, but I'll keep proudly expressing my identity, so no child feels lesser than or not worthy. ❤️ pic.twitter.com/3LzAIAjg1i

— Jack Petocz (@Jack_Petocz) July 1, 2022
Districts statewide have taken drastic steps in response to the Don't Say Gay law. Graduation speeches have been scrubbed of references to LGBTQ advocacy. Yearbook pages have had images of Don't Say LGBTQ walkouts blacked out. Conservative religious activists have successfully initiated challenges to dozens of books in multiple school districts. Rainbow-colored COEXIST banners and Pride flags have been stripped from school walls.
In total, LGBTQ+ equality rights advocacy group Equality Florida has received over 50 complaints of censorship aimed at the LGBTQ community since the bill was signed into law in March.
I wrote an OP ED for @nytopinion about my experience growing up gay and non-binary and how the #DontSayGay bill would effect people like me. https://t.co/UPjmtExjnu

— Will Larkins☮️ (@ProudTwinkie) March 12, 2022
Most recently, Orange County Public Schools garnered national attention after reports emerged that during seminars designed to discuss the potential implementation of the Don't Say LGBTQ law, school administrators were advised to begin removing rainbow "safe space" stickers from classroom windows, ask LGBTQ educators to remove family photos from their desks, and avoid talking about their loved ones at work for fear of running afoul of the new law. While exactly what advocates for equality had warned of, the revelation shocked educators across the district, who took to the next board meeting to express their deep concerns and demand written clarification.
All of these chilling effects come as LGBTQ youth, those already at higher risk of depression, anxiety, and suicidal ideation than their peers, report their mental health being negatively impacted by anti-LGBTQ policies and the debates that surround them. And they come amidst a surge in online harassment against LGBTQ people nationwide and threats of violence against LGBTQ spaces and Pride celebrations fueled by the dehumanizing anti-LGBTQ+ rhetoric launched by the DeSantis Administration in defense of the Don't Say LGBTQ bill.
In March, the governor's spokeswoman Christina Pushaw took to Twitter to traffic in age-old, anti-LGBTQ tropes to rescue the mired legislation, tropes that have since been parroted by Fox News hosts, right-wing influencers, and have exploded into the digital harassment and threats of violence running rampant across the country.
Equality Florida hosted a virtual press conference with lawmakers and those directly impacted on Friday morning. Those who have been impacted by the Don't Say LGBTQ law can share their stories at freetosaygay.org.
White House Press Secretary Karine Jean-Pierre released a statement as Florida's "Don't Say Gay" Law took effect Friday:
Today, some of Florida's most vulnerable students and families are more fearful and less free. As the state's shameful "Don't Say Gay" law takes effect, state officials who claim to champion liberty are limiting the freedom of their fellow Americans simply to be themselves. Already, there have been reports that "Safe Space" stickers are being taken down from classrooms. Teachers are being instructed not to wear rainbow clothing. LGBTQI+ teachers are being told to take down family photos of their husbands and wives—cherished family photos like the ones on my own desk.
 
This is not an issue of "parents' rights." This is discrimination, plain and simple. It's part of a disturbing and dangerous nationwide trend of right-wing politicians cynically targeting LGBTQI+ students, educators, and individuals to score political points. It encourages bullying and threatens students' mental health, physical safety, and well-being. It censors dedicated teachers and educators who want to do the right thing and support their students. And it must stop.
 
President Biden has been very clear that every student deserves to feel safe and welcome in the classroom. The Department of Education will be monitoring this law, and any student or parent who believes they are experiencing discrimination is encouraged to file a complaint with the Department's Office for Civil Rights. Our Administration will continue to fight for dignity and opportunity for every student and family—in Florida and around the country.
CDC: Meningococcal Disease outbreak investigation in Florida, 7 deaths
Gay & bisexual men urged to get vaccinated if living in Florida, or talk to their healthcare provider about vaccination if traveling to state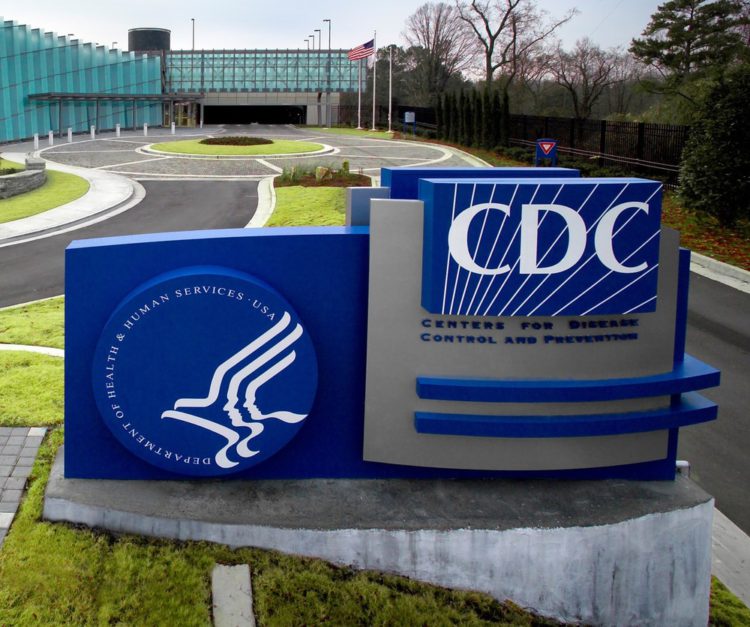 ATLANTA – The Centers for Disease Control and Prevention (CDC) said on Thursday that the agency is continuing its collaboration with the Florida Department of Health to investigate one of the worst outbreaks of meningococcal disease among gay and bisexual men in U.S. history.
At least 24 cases and 7 deaths among gay and bisexual men have been reported so far a CDC spokesperson noted.
In response to this outbreak, CDC is recommending gay, bisexual, and other men who have sex with men get a meningococcal vaccine if they live in Florida, or talk with their healthcare provider about getting vaccinated if they are traveling to Florida. CDC is also emphasizing the importance of routine vaccination for people with HIV.  
"Getting vaccinated against meningococcal disease is the best way to prevent this serious illness, which can quickly become deadly," said José R. Romero, M.D., Director, National Center for Immunization and Respiratory Diseases. "Because of the outbreak in Florida, and the number of Pride events being held across the state in coming weeks, it's important that gay and bisexual men who live in Florida get vaccinated, and those traveling to Florida talk to their healthcare provider about getting a MenACWY vaccine." 
The CDC recommended that gay and bisexual men traveling to Florida should ask their health care provider about getting the vaccine https://t.co/tNltrEbptl

— CBS News (@CBSNews) June 23, 2022
People can find a meningococcal vaccine by contacting their doctor's office, pharmacy, community health center, or local health department. Insurance providers should pay for meningococcal vaccination for those whom it is recommended for during an outbreak. In Florida, anyone can get a MenACWY vaccine at no cost at any county health department during the outbreak.
Seek medical attention right away if you have symptoms of meningococcal disease. Symptoms can appear suddenly and include high fever, headache, stiff neck, nausea/vomiting, or a dark purple rash. Symptoms can first appear as a flu-like illness, but typically worsen very quickly. People spread meningococcal bacteria to others by sharing respiratory and throat secretions (saliva or spit). Generally, it takes close or lengthy contact, such as kissing or being near someone coughing, to spread these bacteria.
Meningococcal disease can affect anyone and can be deadly and includes infections of the lining of the brain and spinal cord (meningitis) and bloodstream. Keeping up to date with recommended vaccines is the best protection against meningococcal disease.
More information about the outbreak and vaccine is available at Meningococcal Disease in Florida, 2022 | CDC.