Newsom signs 'Free Britney' conservatorship reform bill
The "Free Britney" bill, was partly inspired by a documentary that detailed the tragic conservatorship of pop star Britney Spears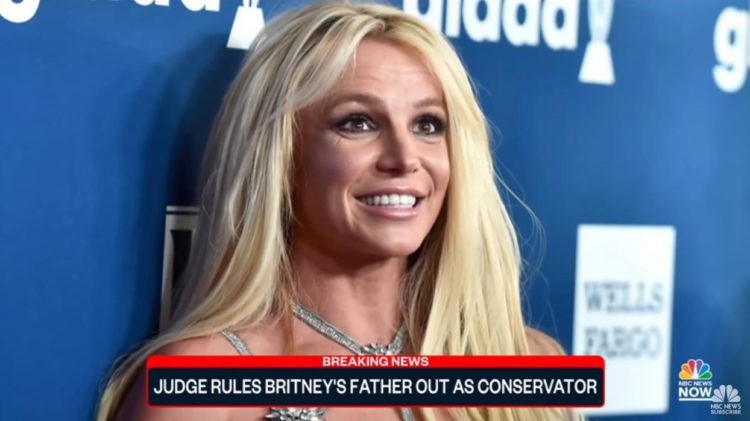 SACRAMENTO — Governor Gavin Newsom signed Assemblymember Evan Low's bill AB 1194 into law on Thursday, paving the way for an unprecedented study of California's broken conservatorship system as well creating reforms that will help prevent the abuse of people who can no longer protect themselves.
Assemblymember Low (D-Silicon Valley), who has an oversight role of fiduciaries as Chair of the Committee on Business and Professions, introduced AB 1194 along with co-authors Senator Ben Allen (D-Santa Monica) and Senator John Laird (D-Santa Cruz) to create a comprehensive set of reforms that will ensure California conservators are held to the highest standards.
AB 1194, which some have referred to as the "Free Britney" bill, was partly inspired by a documentary that detailed the tragic conservatorship case of pop star Britney Spears.
"California's conservatorship system is failing people from every walk of life, whether they are a global superstar whose struggles unfortunately play out in public or a family unsure of how to take care of an elderly parent," said Assemblymember Low, who also serves as Chair of the California Legislative LGBTQ Caucus. "This bill saw unanimous, bipartisan support throughout the process because it's painfully clear that we can and should do better. I want to thank my co-authors, Senator Allen, and Senator Laird, for their leadership on this issue, and I'm grateful to Gov. Newsom for his compassionate approach toward helping California's conservatees."
The bill, which will go into effect in 2024, calls for a formal review of the state's conservatorship system after previous reforms never ended up being implemented due to the 2008 economic recession and budget cuts.
In 2006, the Omnibus Conservatorship and Guardianship Reform Act made it far more expensive for California's conservators, conservatees, and the court system to establish and maintain conservatorships. However, many of the reform efforts were defunded due to the economic recession in 2008. In many ways, the conservatorship system is now in worse shape than it was before the Reform Act took effect.
AB 1194 also calls for a study of California's conservatorship system, which would then need to be delivered to the Legislature no later than Jan. 1, 2024. The bill would also change the law by giving conservatees more control over who acts as their counsel.
"This is probably the most consequential civil restriction we have in our court system," Senator Allen said. "At the very least, those potentially entering conservatorships should have the right to select a conflict-free attorney of their choice to represent them in court."
AB 1194 will create a process for the courts to report all investigations to the Professional Fiduciaries Bureau, which is overseen by the Department of Consumer Affairs, which is overseen by the Committee on Business and Professions.
"Too often articles in the media reveal widespread abuse of vulnerable elders and dependent adults by conservators and deficiencies in the courts' oversight of conservatorships," Senator Laird said. "Governor Newsom's signature of Assemblymember Low's AB 1194 works toward a safer and more just future for those living under conservatorships, and I am a proud co-author of this important bill that will hold conservators to the highest standard."
AB 1194 will also:
Require professional fiduciaries to be more transparent about their fees, including posting rates on their websites.
Prohibit a guardian or conservator from being compensated from the estate for any costs or fees that they incurred in unsuccessfully defending their services in court, unless they are found to have acted in good faith.
Prohibit a guardian or trustee who is not a trust company, or an employee of such a guardian or conservator, to hire or refer business to an entity in which they have a financial interest.
Impose sanctions on a professional fiduciary's license if a breach of duty causes serious financial, physical, or mental. The civil penalty can be as high as $10,000 for each separate act of abuse, payable to the estate of the conservatee.
Revoke a professional fiduciary's license if the person knowingly, intentionally, or willfully violates a legal duty or breaches a fiduciary duty through gross negligence or gross incompetence.
Enable the court to better review the appropriateness of a conservatorship and investigate allegations of physical or financial abuse of a conservatee by a conservator.
RELATED: Britney Spears' Father Removed From Conservatorship, Judge Says
Newsom & LGBTQ Caucus lift up California's fight for equality 
Governor joins LGBTQ Caucus 20th anniversary Pride celebration, announces signature of AB 1741 to honor victims of transphobia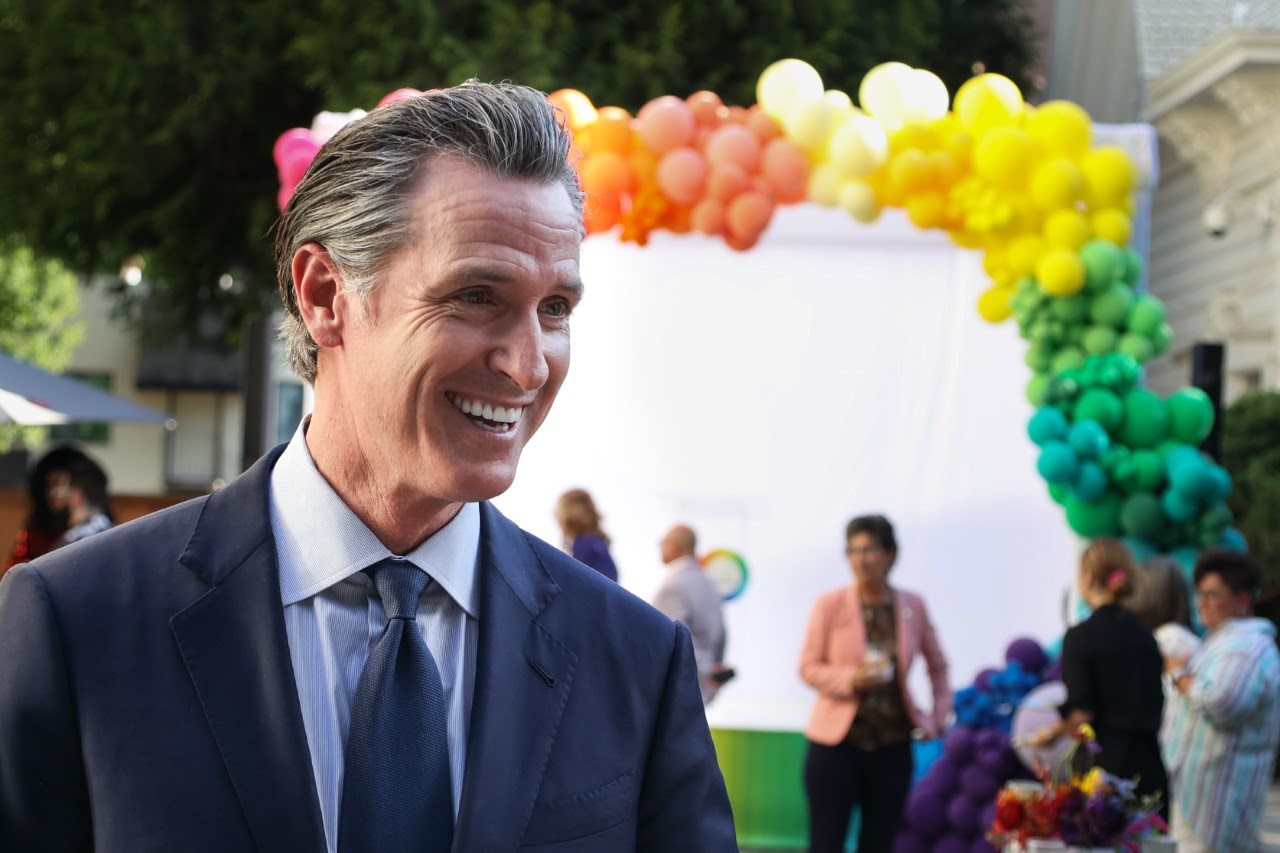 SACRAMENTO – Governor Gavin Newsom and First Partner Jennifer Siebel Newsom today joined members of the California Legislative LGBTQ Caucus at the historic Governor's Mansion for the Caucus's 20th anniversary Pride celebration and to highlight California's leadership on LGBTQ rights.
"In California, we fight for and celebrate our LGBTQ community's right to live their lives out loud," said Governor Newsom. "I'm proud to stand with our LGBTQ Caucus today and lift up their commitment to advancing equality, freedom and acceptance. As we push back on the forces of hate that seek to undo our progress, California will continue to lead the way to a better, fairer future for all."
"I'm so proud to live in California where we understand the value of diversity and support and embrace everyone who lives here," said First Partner Siebel Newsom. "We're committed to supporting members of the LGBTQ community to live as their most authentic selves and will fight to safeguard the policies that protect those rights. Alongside the Governor and the LGBTQ Caucus, I encourage us all to continue to lead with California's values of respect, equality, kindness, and acceptance because that's the California Way and the best way forward."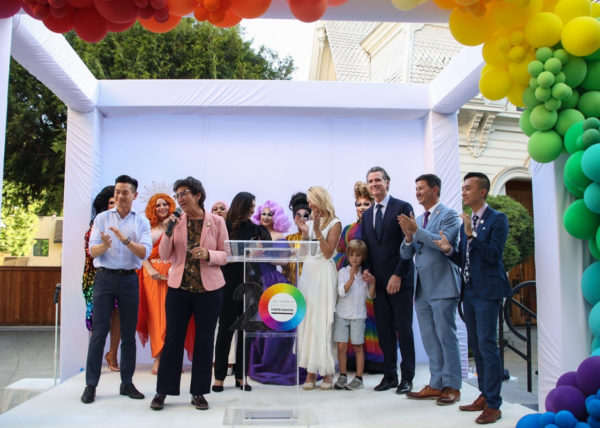 Governor Newsom today announced that he has signed AB 1741 by Assemblymember Evan Low (D-Campbell), an LGBTQ Caucus priority bill that designates November 20 as "Transgender Day of Remembrance" to honor those who have been killed as a result of transphobia. The Governor also signed AB 421 by Assemblymember Christopher M. Ward (D-San Diego), which makes technical changes to the procedures for changing gender and sex identifiers on official documents, such as a marriage certificate.
California was the first state in the country to officially form a caucus of openly-LBGTQ state legislators and continues to lead in advancing policies that create safer, more inclusive communities. Governor Newsom has signed a number of measures to advance these efforts, including AB 493 to develop a training program for educators to better support LGBTQ youth; SB 932, which ensures comprehensive data collection to understand how COVID-19 is impacting the LGBTQ community; AB 2218 to establish the Transgender Wellness and Equity Fund to provide grants for programs focused on trans-inclusive health care; AB 1094 to collect data on an individual's sexual orientation or gender identify in cases of violent death to help inform prevention efforts; and SB 1255 to end the practice of insurance companies discriminating against individuals because of their HIV status.

In 2020, the Governor appointed Justice Martin Jenkins to serve as the first openly gay man on the California Supreme Court, and this year appointed Sacramento County Superior Court Judge Andi Mudryk, the first openly transgender person to serve on the state's judicial bench. Shortly after taking office, the Governor launched a new initiative to pardon people who were prosecuted in California for being gay.
EDD recovers $1.1 billion in Unemployment Insurance funds
Recovery follows EDD's recent thwarting of 47,000 potentially fraudulent claims worth up to $560 million across California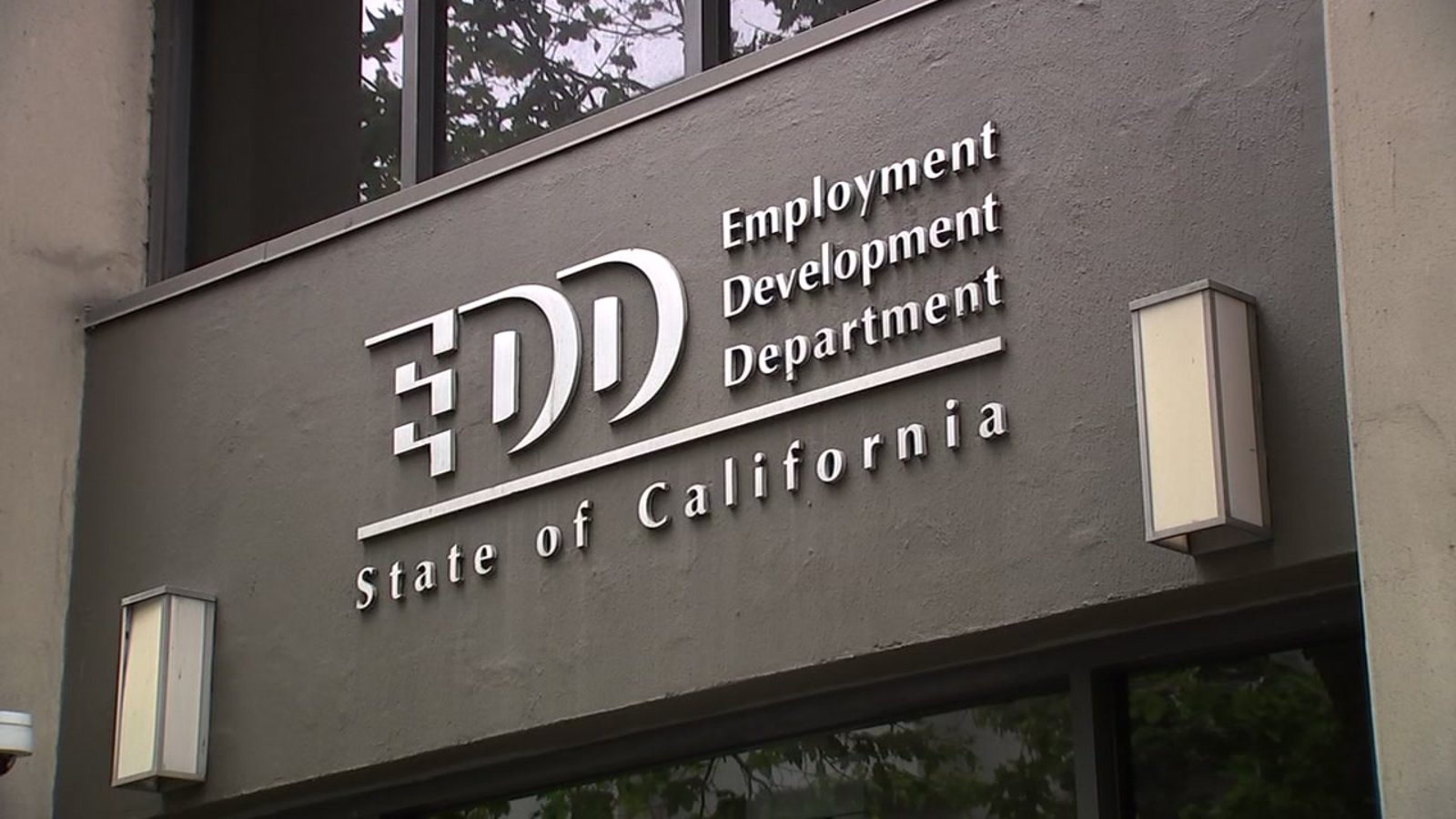 SACRAMENTO – In another major step toward continuing to investigate fraudsters and recover unemployment insurance funds, the California Employment Development Department (EDD) today announced it has recovered $1.1 billion in unemployment insurance funds.
The recovered funds were located on approximately 780,000 inactivated benefit cards. Most of the recovered funds will return to the federal government because the fraudulent claims are from the emergency federal Pandemic Unemployment Assistance program, which was the primary target of fraud nationwide.
"Fraudsters and criminal organizations ripped off California, along with every other state, during one of the worst crises in history – we're taking aggressive action to return that money to the taxpayers," said Governor Newsom.
In July 2021, California hired McGregor Scott as EDD Fraud Special Counsel. Scott aids the state's work with law enforcement to combat fraud—including supporting state, federal, and local investigations and prosecutions. Working with EDD, he has leveraged his experience to deliver leads and evidence to aid prosecutions and strengthen ongoing investigations.
"We will continue working with law enforcement to put fraudsters behind bars and recover every stolen dollar that we can," Scott stated.
Today's billion-dollar recovery furthers the monumental efforts of EDD and the California Governor's Office of Emergency Services to investigate and prosecute criminals who defrauded federal emergency unemployment benefit programs. Within the past 15 months, ​​total investigations, prosecutions, and dollars seized in the counties reporting information to the state include:
Total investigations – 1,525
Arrests – 467
Money seized – $3,474,448
Convictions – 162
Other actions California has taken to strengthen its fraud fighting include:
Stopping over $125 billion in attempted fraud by deploying a new identity verification system, ID.me, in 2020 and partnering with Thomson Reuters to help detect and prevent UI and PUA fraud.
Setting up the 1099-G call center to help victims of identity theft deal with any tax related questions—work that answered 24,000 calls. Fraud can be reported by selecting Form 1099G in Ask EDD or calling 1-866-401-2849.
Working with Bank of America to issue chip-enabled debit cards that enhance security and to strengthen fraud-prevention strategies.
Working with the California Office of Emergency Services Fraud Task Force on over a thousand active investigations, arrests, and prosecutions across California.
Creating law enforcement investigative guides and offering technical assistance to law enforcement partners who are working fraud investigation cases.
Setting up designated regional contacts for each division of the state and working with any agency that needs assistance with an unemployment insurance fraud case.
Continuing to issue consumer scam alerts throughout the pandemic that warn about cell phone and email phishing schemes designed to steal personal information.
EDD runs one of the nation's largest public benefit systems. Over 20 million people filed over 60 million unemployment, disability insurance, and paid family leave claims over the past decade. EDD prepared, printed and mailed 45 million documents to customers through the most recent fiscal quarters. EDD was mailing nearly 600,000 documents a day during the height of the pandemic.
Newsom proclaims Juneteenth day of observance
"This Juneteenth, I urge all Californians to reflect on the ongoing cause of freedom for Black Americans" – Gov. Gavin Newsom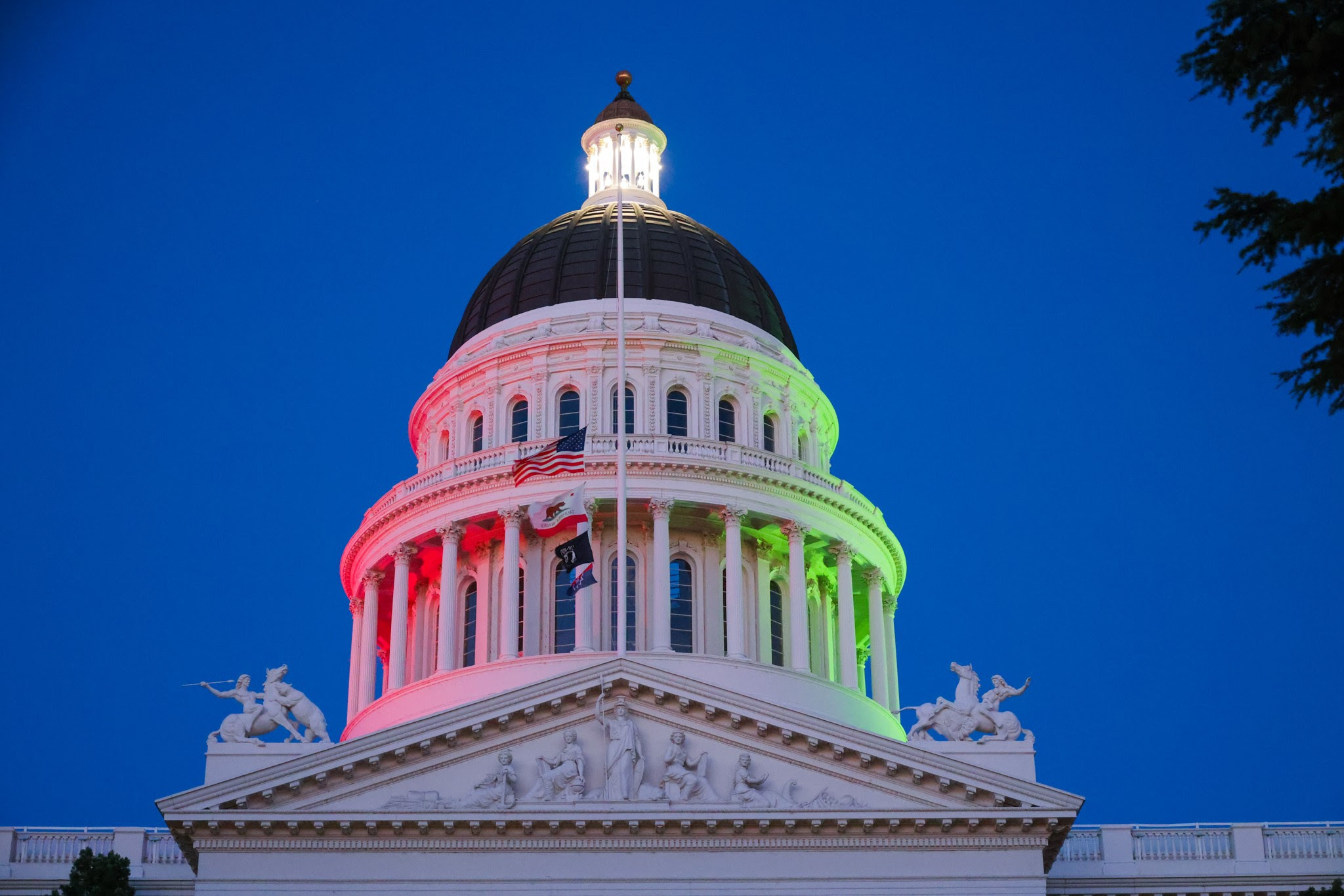 SACRAMENTO – Governor Gavin Newsom today proclaimed June 18, 2022, as "Juneteenth National Freedom Day: A Day of Observance" in the State of California.
PROCLAMATION
America does not only celebrate our independence on July 4. On June 19 each year, we look back to this day in 1865, on which Union General Gordon Granger led troops into Galveston, Texas, to announce the end of the Civil War and the insidious institution of slavery. Thousands of enslaved people in Texas – among the last to learn of their independence – tasted hard-won freedom for the first time.

Over the next several decades, African-Americans who journeyed out of the South seeking better lives brought Juneteenth celebrations with them. The thousands who settled in California, especially in Los Angeles and the San Francisco Bay Area, taught our state that America's struggle for independence did not end in 1776 or 1865, but continues to this day.

This Juneteenth, I urge all Californians to reflect on the ongoing cause of freedom for Black Americans – remembering that, though General Granger's announcement in 1865 called for "absolute equality," that vision was, and remains, far from complete.

With the Juneteenth flag proudly raised over the State Capitol, let us celebrate how far we have come and take stock of how far we must go, and honor all those who have lived and died in pursuit of a more perfect union.

NOW THEREFORE I, GAVIN NEWSOM, Governor of the State of California, do hereby proclaim June 18, 2022, as "Juneteenth National Freedom Day: A Day of Observance."
IN WITNESS WHEREOF I have hereunto set my hand and caused the Great Seal of the State of California to be affixed this 17th day of June 2022.
GAVIN NEWSOM
Governor of California
ATTEST:
SHIRLEY N. WEBER, Ph.D.
Secretary of State