Wyoming DA may charge librarians with obscenity over LGBTQ+ books
Investigators haven't contacted library officials about the case, leaving them unsure which books got the library in potential legal trouble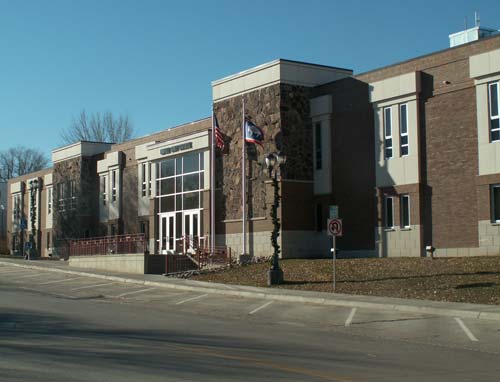 GILLETTE, Wy. – The culture wars over LGBTQ+ visibility, inclusion, LGBTQ+ materials and library books has now gotten librarians at the Campbell County Public Library facing the potential for criminal proceedings by Campbell County Wyoming, County Attorney Mitchell Damsky.
A spokesperson for Sheriff Scott Matheny confirmed that a report filed on Sept. 29 by county residents Hugh and Susan Bennett, had alleged that a crime has been committed at the local library and that the Bennett's brought in several books they alleged contained obscene material, accusing leadership at the Campbell County Public Library of promoting obscenity.
According to journalist Ryan Lewallen, the News Director for Gillette-based County 17 News, the County Attorney declined to comment on an ongoing criminal issue, though Damsky confirmed the report has been received by his office and is currently being reviewed by his three brightest attorneys.
"I don't know what's going to happen," Damsky told County 17 News. "Like I said, I have my best minds working on it right now and they'll decide on whether or not it's going to be charged."
The books that have fired up local outrage included "This Book is Gay" by Juno Dawson, "How Do You Make a Baby" by Anna Fiske, "Doing It" by Hannah Witton, "Sex is a Funny Word" by Corey Silverberg, and "Dating and Sex: A Guide for the 21st Century Teen Boy" by Andrew P. Smiler.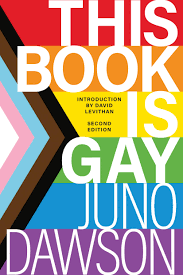 Susan Sisti, a local pastor with the Open Door Church located in Gillette, has been leading the fight to have the LGBTQ+ books removed from the Campbell County Public Library
"It's really easy to go into the library and look around a little bit and find a filthy book that should not even be in a public library," said Sisti. "These books are absolutely appalling."
Sisti has been working with Hugh and Susan Bennett who filed the initial criminal complaint, the Casper Star-Tribune reported Friday.
"It's very challenging to imagine how a child who's sexually immature, physically immature, if there's any reasonable purpose for exposing them to sexual behavior that's far beyond their physical and mental and emotional and intellectual abilities to understand," Hugh Bennett told the Star-Tribune adding that he viewed the books as "hard-core pornography to children."
This Book is Gay, Sisti pointed out, includes illustrations of male and female genitalia and descriptions of oral and anal sex.
But child access to all kinds of material on the internet might be pertinent to the case, suggested the County Attorney. "What 9-year-old kid today can't access Pornhub or whatever they want, you know what I mean?" Damsky said.
According to Lewallen at County 17 News, the criminal complaint report filed by Bennett references Wyoming Statute § 6-4-302 (c) (ii), which alleges the library, through dissemination, is promoting obscene material.
"Obscene material, per W.S. § 6-4-301, is defined as that which the average person would find encourages an excessive interest in sexual matters, depicts or describes sexual conduct in a patently offensive way, and lacks serious literary, artistic, political or scientific value."
The battle over the books has "gotten contentious and out of hand" when it may have been resolvable by putting the books among material for adults, said Damsky.
"Personally, as a parent, I find the material to be just inappropriate for children and disgusting. But as a lawyer I'm sworn to uphold the Constitution and that's why we are dealing with it with a fine-toothed comb," Damsky told the Associated Press and multiple other media outlets.
Investigators haven't contacted library officials about the case, leaving them unsure which books got the library in potential legal trouble, the library's executive director, Terri Lesley told the AP.
In all, the library has been working through 35 recent complaints about 18 books, she said, a situation she said appeared to be quite unusual for a public library.
"It's unexpected," Lesley said. "We are trying to be the force of reason, trying to work through these things using the policy we have in place — review these books and do our due diligence."
This is not the first anti-LGBTQ protest and controversary for the library. This past July magician Mikayla Oz, who has performed hundreds of shows including many comprised of family audiences across the Midwest, was scheduled to perform four in Campbell County, including one sponsored by the Campbell County Public Library System.
Oz was forced to cancel after she and the library received numerous threats received from members of the community.
"You ain't fucking welcome in Gillette," a community member wrote in one email Oz received. "If you come here there's going to be issues," another told her in a phone call, she said.
The reason for the outage is that Oz is a transgender woman from Iowa. This community outrage was also coupled with the library's Pride Month book display in June according to journalist Nick Reynolds from the WyoFile.
The outrage — first at the books, and then at Oz's magic show — caught many by surprise, particularly given what little promotion the show (which was funded without the use of any taxpayer dollars) received, and that it had nothing to do with sex, gender or LGBTQ topics. Library staff involved said they never gave Oz's gender any thought prior to booking her.
"[Gender identity] is not something that we would ask about," said Terri Leslie, executive director of the Campbell County Library System. "We can't imagine having a questionnaire for somebody's sexual orientation. So that's just not something that we knew. What we did know was that she does a good job, that the kids love her, and that it sounded like a great family event."
There is a long legacy of anti-LGBTQ bigotry in Gillette. Its former mayor, representative in the State legislature and United States Senator, Michael Bradley 'Mike' Enzi was a longtime detractor of the LGBTQ community.
Among his numerous anti-LGBTQ positions, he supported legislation in the state senate to declare all same-sex marriages, including those conducted outside of the state, void in Wyoming. He supported the Boy Scouts exclusion of gay scouts and leaders and supported legislation to end federal aid to schools which prohibited the Boy Scouts due to their refusal to admit gay members.
Enzi supported fellow Republican and former U.S. Senator Rick Santorum's position regarding the U.S. Supreme Court ruling in Lawrence v. Texas, which Santorum argued was wrong and that sodomy laws must be upheld.
Then, he voted against the Matthew Shepard and James Byrd Jr. Hate Crimes Prevention Act although he had expressed condolences to the Shepard family at the time of the murder of Matthew Shepard.
The region around Gillette and a majority of its people still reflect that anti-LGBTQ attitude of Enzi and many others a local person with knowledge of the ongoing cultural war in Campbell County who requested anonymity told the Blade Saturday:
"They won't give an inch- no compromises cause they think all LGBTQ+ people are sinners and deviants and the 'Gay Agenda' is a threat to the American way of life and must be shut down forever."
University of Wyoming graduates boo U.S. Senator for anti-trans remarks
"My reference to the existence of two sexes was intended to highlight the times- times in which the metric of biological sex is under debate"
During her speech delivered to the University of Wyoming's College of Arts and Sciences and the College of Education commencement Saturday afternoon, Republican U.S. Senator Cynthia Lummis told graduates that "the existence of two sexes, male and female" was a "fundamental scientific truth."
The audience's immediate reaction to her transphobic remarks were loud expressions of disapproval including jeering, boos, and demands she leave the podium.
The senator's remarks came in the latter third of her twenty-minute address which had primarily focused on the critical need for teachers and in the fields of agriculture and other endeavors she noted were Wyoming hallmarks.
In a statement released by her office Sunday, a spokesperson noted that Lummis was apologizing to those who felt "un-welcomed or disrespected" by the comments.
"My reference to the existence of two sexes was intended to highlight the times in which we find ourselves, times in which the metric of biological sex is under debate with potential implications for the shared Wyoming value of equality," the statement read.
"I share the fundamental belief that women and men are equal, but also acknowledge that there are biological differences and circumstances in which these differences need to be recognized. That being said, it was never my intention to make anyone feel un-welcomed or disrespected, and for that I apologize. I have appreciated hearing from members of the University of Wyoming community on this issue, and I look forward to continuing this dialogue."
Dr. Jenni Tabler, an Assistant Professor in the University of Wyoming's Sociology Program in the College of Arts and Sciences tweeted, pointing out the graduate's reactions along with the fact that the UW campus community had recently lost a Trans student to suicide, making the senator's remarks more hurtful.
The university's president also issued a statement Sunday expressing support for all members of the UW campus and community:
May 15, 2022
To the UW community:
On Saturday, the university celebrated spring 2022 commencement with a series of events that showcased the best of what makes us special: our students, our staff, our faculty and our ability to openly embrace and debate complex issues. One of our speakers made remarks regarding biological sex that many on campus take issue with. While we respect the right of all to express their views, from students to elected officials, we unequivocally state that UW is an institution that supports and celebrates its diverse communities that collectively make us the wonderful place that we are.
Thank you to the many students and families who celebrated with us this weekend. We welcome the incredible individuality and intellect of all our dynamic and diverse students and never want you to feel otherwise.
Sincerely,
Ed Seidel, President
Being overtly anti-trans at graduation in the same year we lost a trans student to suicide (even if she was oblivious) is beyond cruel.

— Jenni Tabler, PhD (@jenni_tabler) May 14, 2022
Hi 👋. If you are interested in the response of our university. There is a lot of reflection required to support students and the broader state. But we are also people. I'm just a person who lost a student this year. I want all my students to feel seen and to live and thrive. pic.twitter.com/otSXPcc0WE

— Jenni Tabler, PhD (@jenni_tabler) May 16, 2022
Senator Cynthia Lummis' remarks are at the 50:11 time mark:
Wyoming bar sold "We shoot fuck'n faggots" T-Shirts
The executive director of Wyoming Equality had approached the bar's owner requesting he cease sales of the T-shirt but he refused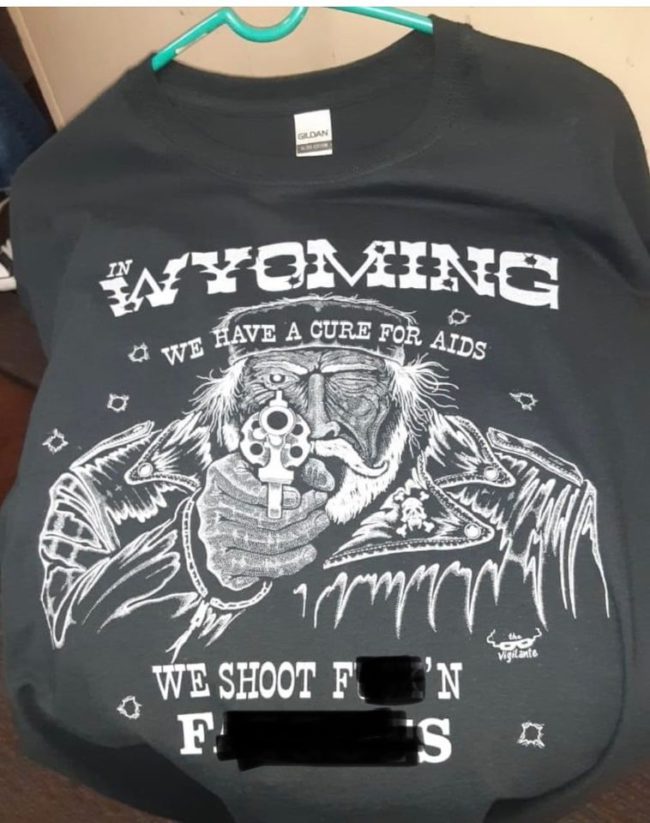 CHEYENNE – The Casper-Tribune newspaper and Wyoming Equality reported Monday that a bar in the Wyoming capital city was selling T-shirts that depict a caricature of a hard-core bearded motorcycle rider pointing a revolver at the viewer. "In Wyoming we have a cure for AIDS," it reads. "We shoot fuck'n faggots."  
According to the Tribune, Sara Burlingame, the executive director of Wyoming Equality, had approached the bar's owner requesting he cease sales of the T-shirt but he refused. On the group's Facebook page Burlingame wrote:
"We are sad to say that we failed to convince a local bar to pull these shirts from circulation. We hoped that they would choose to stop selling them when they realized the harm it did to the LGBTQ community and those living with AIDS.
We are not sharing the name of the business because we do not want them to gain notoriety/ sell more shirts off the pain of our community. It is a sad day. Wyoming Equality understands that…this sucks. And we'd all rather spend our summer getting ready for Rendezvous, spending time with family and friends and recuperating from a hard year.
But let's do what we do best and pull together. If you have the capacity we are asking folks to promote this message:+ please don't share the name of the establishment- you'll only drive business to them+ please don't protest the business (see above)"
The state's Republican Governor Mark Gordon released a statement condemning the unnamed bar;
"It's incredibly disheartening to learn that any business would offer a product for sale with a message like this. This hurtful rhetoric is not reflective of our state's values, and does nothing but promote hate and division."
The editor and publisher of a local Cheyenne newspaper, The Cheyenne Post in an article late Monday afternoon, identified the bar as the the Eagle's Nest bar at 1101 Lincolnway in Cheyenne. Bar owner Ray Bereziuk told the paper on Monday afternoon that his bar has stopped selling the shirts. He said that he is "in the bar business, not the apparel business," and that he would not be reordering the shirts.
The discovery that a Cheyenne bar was selling a violent, homophobic T-shirt drew a strong rebuke Monday from community and state leaders. https://t.co/CzROWYoMvQ

— Casper Star-Tribune (@CSTribune) July 13, 2021