Newsom launches ​​Governor's Council on Holocaust & Genocide Education
"We find ourselves in a moment of history where hate pervades the public discourse -But in California we are offering an antidote…"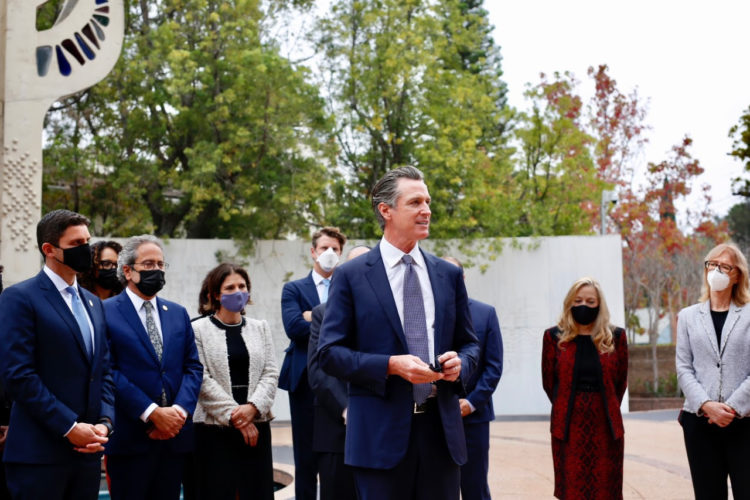 LOS ANGELES – Governor Gavin Newsom announced the launch of the Governor's Council on Holocaust and Genocide Education during a visit to the Museum of Tolerance in Los Angeles on Wednesday.
The newly created Council will be tasked with identifying instructional resources to teach students across California about the Holocaust and other acts of genocide and provide young people with the tools necessary to recognize and respond to on-campus instances of anti-Semitism and bigotry.  
"We find ourselves in a moment of history where hate pervades the public discourse," said Newsom. "National surveys have indicated a shocking decline in awareness among young people about the Holocaust and other acts of genocide. But in California, we are offering an antidote to the cynicism that this is how things are, and responding to that hate the best way we know how – with education and empathy."
State Senator Henry Stern, Attorney General Rob Bonta and State Superintendent of Public Instruction Tony Thurmond will serve as Co-Chairs of the Council. Also serving on the Council as members are Assemblymembers Adrin Nazarian, Jose Medina, James Ramos and Rebecca Bauer-Kahan, and Senators Scott Wiener, Connie Leyva, and Susan Rubio. Based on community feedback, the Council will also include academics, advocates and community organizations reflecting the wide diversity of communities impacted by genocide throughout history.
"As we continue to confront the stain of bigotry and anti-Semitism in California and across the country, it is imperative that we come together to develop tools to combat hate across our society, including in education," said Attorney General Rob Bonta. "The Governor's Council will ensure California schools are positioned to protect our communities and recognize the trauma of the past. I am honored to join in this endeavor as co-chair."
The Council will be responsible for developing a volunteer speaker's bureau of individuals – such as Holocaust survivors – that can engage teachers and students in conversation about the lessons of genocide, providing best practices and resources to support schools throughout the state that are dealing with acts of bigotry or discrimination, and hosting educational events and seminars for educators, students and other interested parties.
"I applaud Senator Stern for his leadership to create this important educational opportunity," said State Superintendent of Public Instruction Tony Thurmond. "Education has the power to be a great equalizer and to help us grow, understand, and find a pathway to healing. It is the way to build inclusive and welcoming school environments. This is why, at the California Department of Education, I have created the Education to End Hate Initiative and why I am so proud to co-sponsor Senator Stern's bill; now we look forward to partnering in the implementation of the $10 million that has been allocated for the Anti Bias Education Grant program in the state budget."
Governor Newsom has long made the eradication of discrimination and hate a priority. Working with the Jewish Caucus and Legislature, the Newsom Administration successfully secured millions of dollars in this year's budget to ensure that future generations of Californians never forget the lessons of past genocides, including millions of dollars to develop curriculum resources related to Holocaust and genocide education, for the Holocaust Museum LA, the Tauber Holocaust Library and Archives, and the Museum of Tolerance for a new exhibit focused on anti-Semitism.
On top of those investments, Governor Newsom's budget allocated $110 million for a multi-year grant program to fund support services for victims and survivors of hate crimes and their families and to facilitate hate crime prevention measures and priorities, including:
$10 million to fund the Anti-Bias Education Grant Program to prevent and address racism and bias in all California public schools and promote inclusivity
$5 million to support a peer social media network project for children and youth, with an emphasis on K-12 students who have experienced bullying, or who are at risk of bullying based on race, ethnicity, language, or country of origin, or perception of such
$10 million to the Department of Fair Employment and Housing to fund grants for hate crime hotlines
$10 million for the Museum of Tolerance in Los Angeles to create a new exhibit on anti-Semitism
$2.5 million for expansion of the Holocaust Museum LA
$2 million to contract with nonprofits who have subject matter expertise in Holocaust and genocide education to develop curricular resources and provide professional development for teachers
$1 million for the renovation of the Tauber Holocaust Library and Archives operated by Jewish Family and Children's Services Holocaust Center in the Bay Area
Gender neutral toy section in retail stores bill signed by Newsom
California now becomes the first state to require big box stores and large retailers to set aside areas with a gender neutral section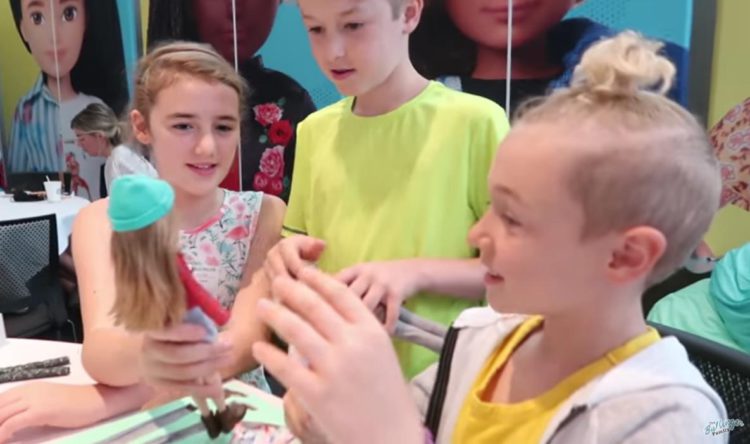 SACRAMENTO – A law that designates display of products like toys and childcare items in gender-neutral ways was signed Saturday by Governor Gavin Newsom. California now becomes the first state in the nation to require big box stores and large retailers to set aside areas with "a gender neutral section with a reasonable selection of items regardless of whether they have been traditionally marketed for either girls or for boys."
AB 1084 is co-authored by Assemblyman Evan Low, who chairs the California Legislative LGBT Caucus, and Assemblywoman Cristina Garcia, who chairs the California Legislative Women's Caucus.
The new law addresses what LGBTQ+ advocates have been championing to address more open acceptance of diversity and inclusion of gender models outside of the more rigid 'traditional' established societal models that LGBTQ advocacy groups have said are archaic and harmful to healthy development for LGBTQ+ youth.
"I'm incredibly grateful to Gov. Gavin Newsom for signing AB 1084, which will bring California law up to speed with what many retailers have already realized: We need to stop stigmatizing what's acceptable for certain genders and just let kids be kids. My hope is this bill encourages more businesses across California and the U.S. to avoid reinforcing harmful and outdated stereotypes," Low said in an emailed statement.
"We need to stop stigmatizing what's acceptable for certain genders and just let kids be kids," Low added. "My hope is this bill encourages more businesses across California and the U.S. to avoid reinforcing harmful and outdated stereotypes."
The California Retailers Association declined to comment on the bill after its passage last month. Formal opposition has come from a number of conservative groups. State Sen. Melissa Melendez, a Republican from Lake Elsinore, voted against the bill, the Associated Press reported, saying she would "recommend we let parents be parents."
"Unlike the author, I actually have children, five of them to be exact, and I can tell you it is very convenient for parents," she said. "I don't think parents need the government to step in and tell them how they should shop for their children."
The law, which does not include clothes solely applies to toys and "childcare items," which include hygiene and tooth products. Retail companies with at least 500 employees are affected, however, small businesses are exempt.
In 2015, Minneapolis based Target Corporation with 1,914 stores across the United States, announced it would stop using some gender-based signs in its stores.
While AB1084 requires large department stores to comply, penalties for not doing so would be light. Starting in 2024, prosecutors could seek fines of up to $250 for first offenses and up to $500 for second offenses. Those would be civil, not criminal, penalties. Stores could also end up having to pay for reasonable attorney's fees and costs.
RELATED: Ballinger Family, OMG YES A Gender Neutral DOLL!!!
Related coverage from ABC7 News Los Angeles:
Newsom vetoes Recovery Incentives Act, the meth & overdose crisis bill
So many people across California are dying from meth overdoses, disproportionately LGBTQ people and people of color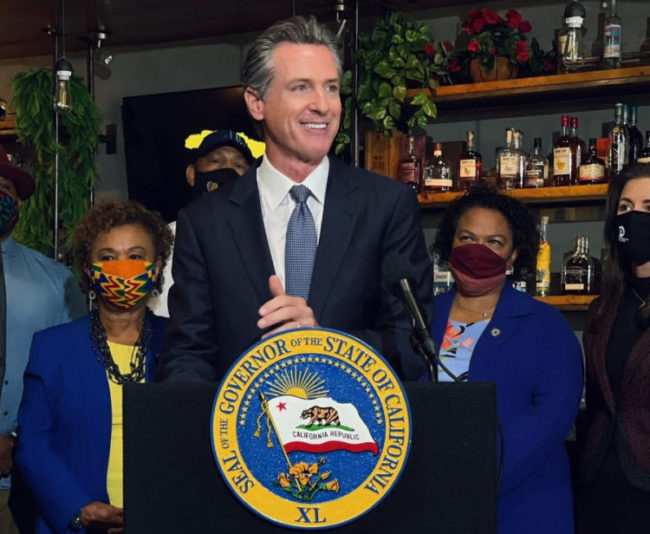 SACRAMENTO – California Governor Gavin Newsom announced Friday night that he had vetoed Senator Scott Wiener's (D-San Francisco) legislation, Senate Bill 110, — which passed with unanimous and bipartisan support in both houses of the California State Legislature — aimed at confronting the growing methamphetamine addiction crisis facing California.
In an text message to the Blade after learning of the governor's veto, Wiener said;
"I'm deeply disappointed that the Governor has chosen to veto SB 110. So many people across California are dying from meth overdoses, disproportionately LGBTQ people and people of color. And they're dying right now. Time is of the essence. We know from more than a decade of data and experience that contingency management is highly effective in helping people stop using meth. Contingency management is a proven tool, and we don't need pilot programs to tell us that. SB 110 would have made clear that contingency management is legal and would have allowed its implementation across the state. This veto is a setback in our effort to confront this epidemic."
The Recovery Incentives Act aimed to legalize the substance use disorder treatment known as "contingency management," and authorize Medi-Cal to cover it. Contingency management has proven to be the most effective method of treatment for methamphetamine addiction, and is frequently used as a treatment program by the Veterans Affairs Administration.
This intervention program gives those struggling with substance use disorder financial rewards if they enter substance use treatment programs, stay in the program, and get and remain sober. This positive reinforcement helps people reduce and even fully stop substance use.
"The meth crisis is devastating the LGBTQ+ community, and every day that we fail to act means more lives lost to this urgent, preventable epidemic. We are deeply disappointed by today's veto, but we are committed to expanding access to this important program. We look forward to working with Senator Wiener to do so," Equality California's Executive Director-designate Tony Hoang said.
In his veto message the governor noted:
This bill would require Medi-Cal substance use disorder services to include contingency management services as an optional benefit under the Drug Medi-Cal organized delivery system, subject to utilization controls. Given the promise of contingency management as a treatment for stimulant use disorders, the 2021-22 Budget includes funding to support a pilot
contingency management Medi-Cal benefit from January 2022 through March 2024.
The Department of Health Care Services has sought federal approval for this pilot project and will work expeditiously to implement it once it is authorized. The outcomes and lessons learned from the pilot project should be evaluated before permanently extending the Medi-Cal benefit. As such, this bill is premature, and I am returning it without my signature.
California first state requiring ethnic studies credit for high school diploma
America is shaped by our shared history-much of it painful & etched with woeful injustice. Students deserve to see themselves in their studies

SACRAMENTO – California on Friday became the first state to require students to have at least one semester course credit in ethnic studies that meets specified requirements in order to receive a high school diploma. Governor Gavin Newsom signed Assembly Bill 101, sponsored by Assemblymember Jose Medina (D-Riverside), as part of a suite of bills to increase K-12 student support.
"Thank you to Governor Newsom for signing AB 101. The inclusion of ethnic studies in the high school curriculum is long overdue. Students cannot have a full understanding of the history of our state and nation without the inclusion of the contributions and struggles of Native Americans, African Americans, Latinos, and Asian Americans," Medina said in a statement.
"I want to acknowledge the countless young people, high school and college students, teachers and professors, who have organized, demonstrated, boycotted classes, and gone on hunger strikes to demand a more equitable and inclusive educational system. The signing of AB 101 today is one step in the long struggle for equal education for all students," he added.
AB 101 is the latest state effort to mandate ethnic studies in high schools. Beginning in the academic year 2025-26, high schools across California will offer ethnic studies courses and make it a graduation requirement commencing in 2029-2030. With the Governor's signature, AB 101 will now become law.
Newsom, commenting in his signing message to the Assembly noted:
Ethnic studies courses enable students to learn their own stories, and those of their classmates, and a number of studies have shown that these courses boost student achievement over the long run – especially among students of color. I appreciate that the legislation provides a number of guardrails to ensure that courses will be free from bias or bigotry and appropriate for all students.
The bill also expresses the Legislature's intent that courses should not include portions of the initial draft curriculum that had been rejected by the Instructional Quality Commission due to concerns related to bias, bigotry, and discrimination.
America is shaped by our shared history, much of it painful and etched with woeful injustice. Students deserve to see themselves in their studies, and they must understand our nation's full history if we expect them to one day build a more just society.
The bill was also championed by California Secretary of State, Dr. Shirley Weber, was previously a member of the Assembly representing the 79th Assembly District. Dr. Weber also served on the San Diego Board of Education, and as a Professor of African-American Studies at San Diego State University.
During her tenure in the Assembly, Dr. Weber authored Senate Bill 3121, which created a reparations task force to study how to redress slavery in the state.
"At a time when some states are retreating from an accurate discussion of our history, I am proud that California continues to lead in its teaching of ethnic studies," said Weber. "This subject not only has academic benefits, but also has the capacity to build character as students learn how people from their own or different backgrounds face challenges, overcome them and make contributes to American society. I want to thank Assemblymember Medina for his persistence in moving this this bill forward and Governor Newsom for his support and for making ethic studies a reality in our schools. This is a great day for California."