National Trans Visibility March steps off in Orlando on its way to L.A.
The organizers of the third annual celebration moved the march out of Washington, D.C. for the very first time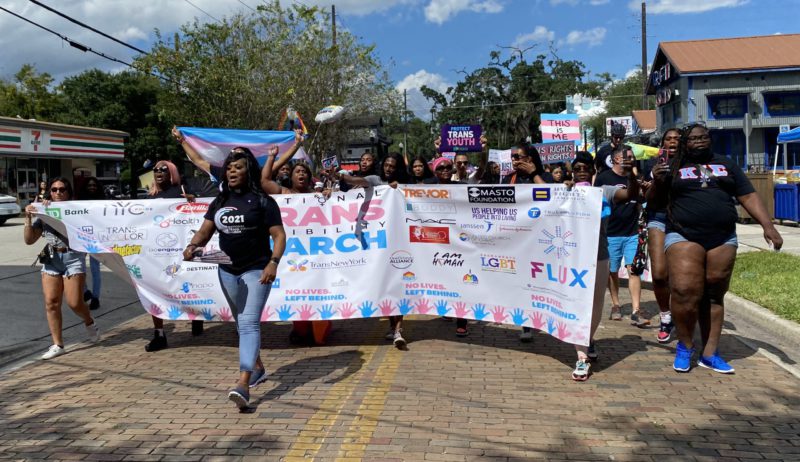 ORLANDO – Hundreds of out transgender people and allies from across Florida and from as far away as Southern California gathered in Orlando Saturday to rally and to march, demanding justice, equality and acceptance.
Chanting, "Trans Solidarity," and "Hey Hey, Ho, Ho, Transphobia Has Got To Go!" participants in the 3rd annual National Trans Visibility March stepped off for their first march to be held outside Washington, D.C. This was also the first in-person parade since last year's march was held mostly virtually, on account of the COVID-19 pandemic.
"There are so many of us who feel excluded from our cities and our communities," said Ariel Savage of Riverside, Calif.
"Visibility and support is crucial," declared Savage, 24, in one of the stirring speeches to the crowd at a rally on the shores of Orlando's Lake Eola, just prior to the march. "We are here today at the National Trans Visibility March because we are real and we have had enough!"
"It just goes to showcase the collective love that we, as trans people, have for each other, and that even in a world that excludes us and locks doors on us, we keep marching and we keep breaking those doors down every day," Savage later told the Los Angeles Blade. She's the policy director at TruEvolution, a Riverside-based nonprofit focused on racial justice and providing health services and emergency housing for LGBTQ+ people. "The Inland Empire has a lot of work to do," she said, calling it "not necessarily the most accepting environment." This was her first visit to Orlando.
"I don't think I've ever seen this many trans people in one place before," Savage said. "It feels very beautiful to be in a place where I'm not scared and I just feel excited and happy and at peace."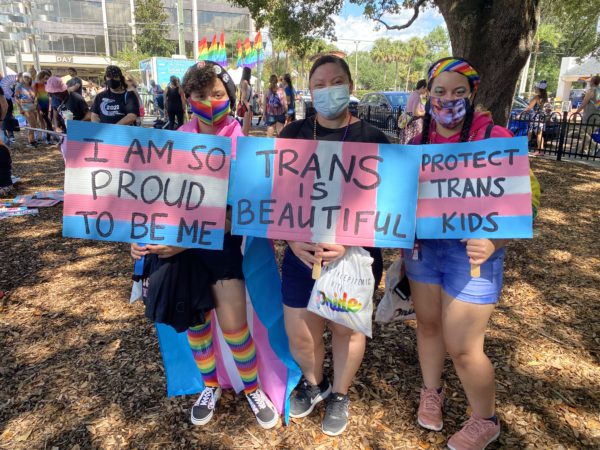 Flynn, who is 14 and from Orlando, held a sign decorated in the blue, white and pink colors of the transgender flag that said, "I'm so proud to be me." He marched with his mother, Michelle, and her cousin Rochelle, who is lesbian. Flynn said he'd known he was a trans boy since sixth grade but only recently came out to his mom. "Of course, I was confused, at first," said Michelle, of Orlando. "But since then, I have educated myself and I've joined parent groups and I support him fully."
Florida's ban on trans student-athletes and similar laws in eight other states are worrisome for Flynn's family, his mother said. "It does worry me as a mom, because I want to protect my kids. But I also want him to be who he is. I think it's really important as parents to support our children."
March organizers say they chose both this location, and the weekend of Orlando Pride, to show unity with the larger LGBTQ community. "Orlando has a spirit of heart and love, and we wanted it to be here to celebrate with them," said NTVM executive director, CEO and founder Marissa Miller.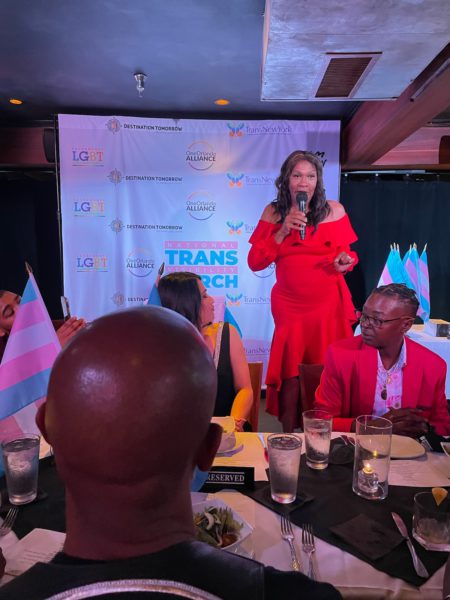 Following the march, members of the transgender community and allies formed a special contingent in the annual LGBTQ Pride Parade through Downtown Orlando, holding aloft a huge Trans Pride flag.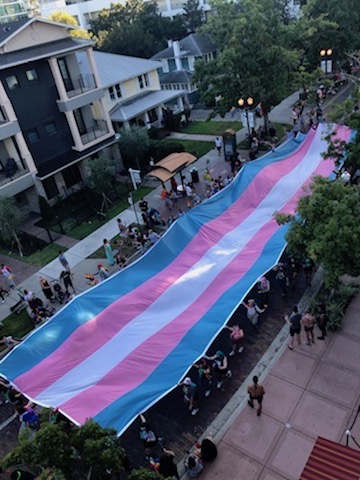 Next year, the march moves to Los Angeles, according to Come Out With Pride's communications director, YouTuber Melody Maia Monet, who first brought the idea for combining the Orlando events to her board of directors. She's been out 11 years and said she's excited to see how Pride has evolved in her adopted hometown of Orlando.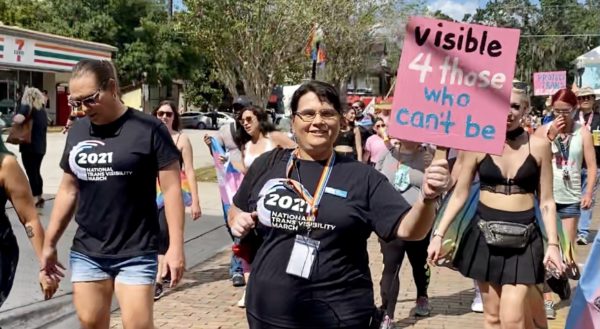 "What I really love is that we're kind of moving away from the binary," Monet said. "When you walk around this place, not just the National Trans Visibility March area, but all around Lake Eola Park, where we're having Come Out With Pride, you'll see people of basically every stripe under the rainbow, you know? So I think that is that is a great thing to see."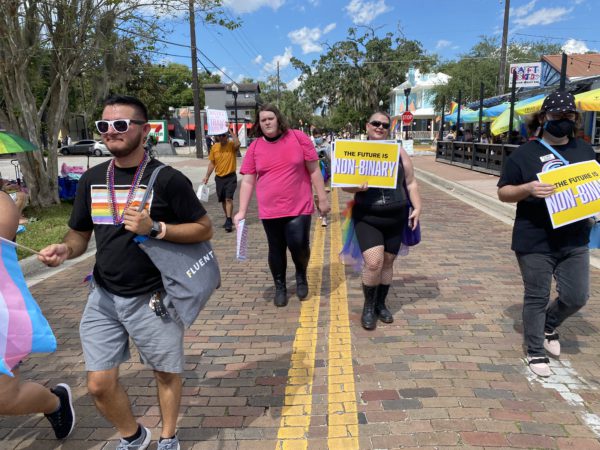 Black & LGBTQ+ inclusive wall mural cited for multiple code violations
The idea was to make a mural that addressed pending legislation in Tallahassee that would affect the rights of minorities & the LGBTQ+ people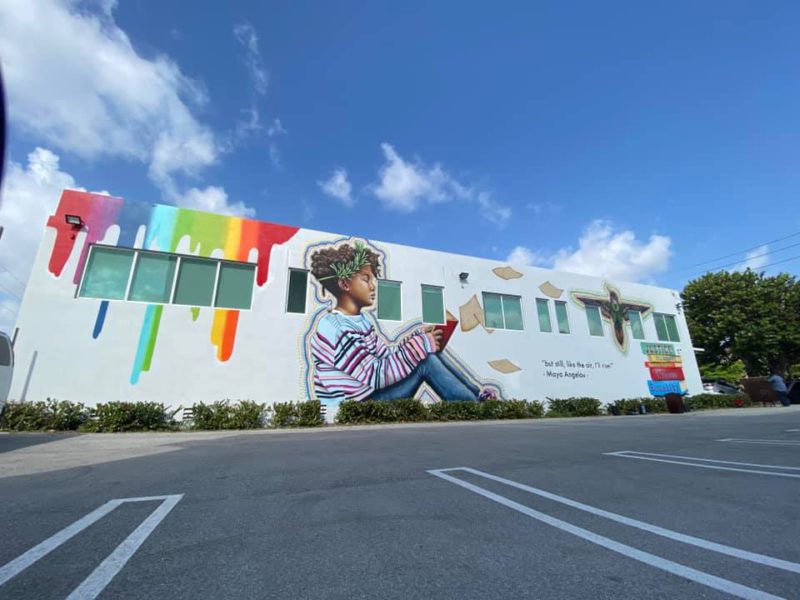 MIAMI SPRINGS, Fl. – A colourful wall mural in Dade County has attracted the ire of municipal authorities who say the mural, which includes a child of color reading a book, a verse from a Maya Angelo poem, and an LGBTQ Pride rainbow symbol, violates building codes.
The United Teachers of Dade union has been cited by Miami Springs for code violations after it unveiled the mural on its office building the Miami Herald reported this past week.
"If you do not see the word mural on an ordinance this does not mean it's allowed, means you should make an inquiry with the Building & Zoning department first and present your mural," Miami Springs Councilwoman Jacky Bravo said in an email to the Herald. "We are not talking about a small stamp on the wall. Seems like they took a blind eye on this one, and unfortunately has caused an issue to be dealt with."
The Herald reported that was it unveiled last March, and was titled 'Rise' to send a message to lawmakers in Florida's capitol in Tallahassee as a series of laws were being introduced that negatively impacted the minority and LGBTQ+ communities in the state.
Today, we unveiled "RISE", an art mural that depicts the importance of #publiceducation and its crucial role to ensure a functioning #Democracy; it symbolizes the resilience of our community and their continuous fight for #justice and #equality. Stop by UTD and check it out ! pic.twitter.com/hfS94WoYhl

— United Teachers of Dade (@UTD_AFT1974) March 19, 2021
Luis Valle, a Miami-based artist who was commissioned by the United Teachers of Dade union to paint the mural told the paper, "The idea was to make a mural that addressed pending legislation in Tallahassee, at the time, that would affect public schools, as well as the rights of minorities and those in the LGBTQ+ community. It is about inclusivity for all people and all cultures."
Although the UTD Union had submitted and paid for a permit, the Miami Springs City Code Compliance Department, which requires permits be obtained before work commences, had already issued a "notice of violation" on March 25 to the union site's property owner, UTD Building Corp., for violations that included:
–improper size of wall sign
–improper placement and/or width of wall sign
–improper construction of sign
–failure to comply with applicable color palette
"Failure to correct the violations by the time due shall cause this case to be set for hearing before the code compliance board and may result in fines, costs and/or a lien levied against you and the property," the notice said. "Fines imposed shall not exceed $250 per day for a first-time violation."
The city gave UTD until April 24 to correct the violations, according to the notice. Potential fines, as of Oct. 13, could run as high as $43,000 the Herald noted.
Currently discussions are ongoing. "UTD reviewed all the codes before contracting our mural artist in order to perform our due diligence," United Teachers of Dade President Karla Hernandez-Mats said in an emailed statement to the Herald on Oct. 11. "Additionally, we spoke to a former council member to double check our findings and that individual also concluded that the Miami Springs City Codes did not address this topic."
"The art piece is not a sign for the building or our organization; it has no logo or company name on it because it is an artistic expression in the form of a mural with no other intent," Hernandez-Mats' added.
Attempts by the Miami Herald to reach Miami Springs Mayor Maria Mitchell, and City Council members had been unsuccessful by this past Thursday afternoon, however the next Miami Springs City Council meeting is at 7 p.m. on Monday, Oct. 25.
GOP introduces bill to criminalize Trans youth healthcare in Florida
"Rep. Sabatini has cultivated a reputation for extremist bills & GOP leaders in Tallahassee are increasingly embracing his extremism"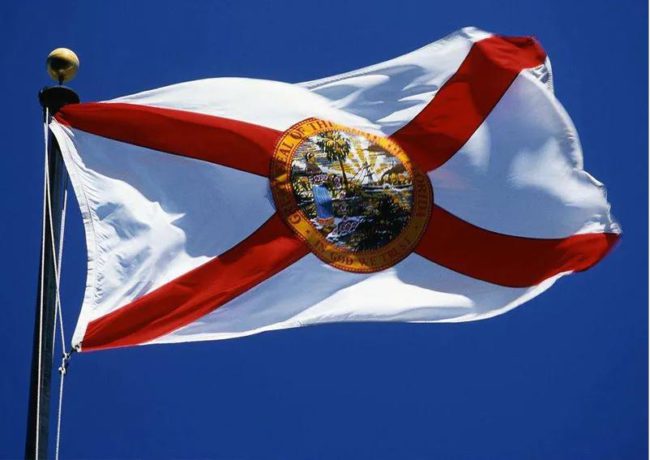 TALLAHASSEE – The Transgender Youth Medical Care Ban Bill, HB 211 filed Wednesday by State Representative Anthony Sabatini (R-Clermont) would criminalize doctors for providing life-saving care for transgender youth.
The language of the bill reads;
An act relating to youth gender and sexual identity; creating s. 456.0335, F.S.; providing a short title; defining the term "sex"; providing criminal penalties for health care practitioners who perform or cause to be performed specified practices on a minor under certain conditions; providing applicability […]
In response, Equality Florida's Executive Director Nadine Smith said;
"Make no mistake, this legislation has nothing to do with the health and safety of children. In fact, it gets in the way of doctors providing care and stops parents from doing what is best for their kids. The bill filed today by Representative Anthony Sabatini is cut and paste language from right-wing political strategy groups like the Heritage Foundation that seek to put a target on the backs of transgender youth as an election strategy to mobilize far-right voters.
Rep. Sabatini has cultivated a reputation for sponsoring extremist bills, and GOP leaders in Tallahassee are increasingly embracing his extremism. They're making passage of language first introduced by him a legislative priority, including last session's Transgender Youth Sports Ban.
Leadership has fired their first shot across the bow of LGBTQ equality for the 2022 legislative session and we will fight to protect the health and safety of every child they target."
Florida's Republicans have continuously legislated against the state's Trans community over the past year's legislative sessions.
Florida's Republican Governor Ron DeSantis signed Senate Bill 1028, a bill that bars Trans youth athletes from participating in sports on the first day of LGBTQ Pride Month 2021. One provision of the law stipulates that a transgender student athlete would have to affirm her biological sex by supplying proof such as a birth certificate.
The bill was an education bill amended to include a previous stand alone bill specifically targeting transgender girls and young women, banning them from playing on female sports teams. DeSantis signed the bill, which includes the so-called Fairness in Women's Sports Act, during a news conference at Trinity Christian Academy in Jacksonville.
A spokesperson for Equality Florida, Brandon J. Wolf wrote in an email to the Blade commenting on earlier anti-Trans efforts;
"Shame on every lawmaker who embraced discrimination at the expense of the state's most vulnerable youth. […] Only through fast-tracked backroom deals could GOP lawmakers maneuver this cruel assault on transgender kids to the Governor's desk.
This is not the end. To our transgender youth in Florida: we will never stop fighting for a Florida where you are loved and have every opportunity to thrive."
Florida lawmakers introduce bills to ban 'Gay/Trans panic defense'
If signed into law the bill would take effect July 1 of 2022 making Florida the 16th state to ban the use of "gay/trans panic defense"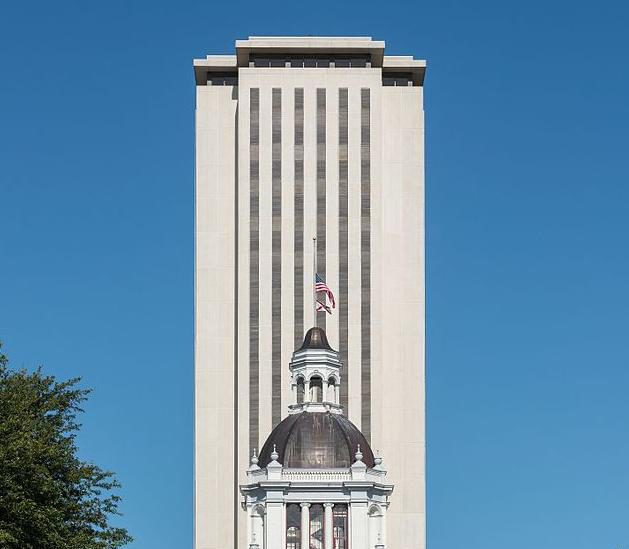 TALLAHASSE – Florida Democratic lawmakers Tuesday introduced a set of companion bills that would ban use of a legal defense strategy colloquially referred to as the "gay/trans panic defense" in criminal cases.
Introduced into the House by Out State Rep. Carlos Guillermo Smith, (D) who represents Orlando and the Senate by Senate Minority Leader Lauren Book, (D) who represents parts of Broward County, HB 205 and SB 374 contain nearly identical language that reads:
"Gay and Transgender Panic Legal Defenses; Prohibits individuals from using nonviolent sexual advance or specified perceptions or beliefs about another individual as defense to criminal offense, to excuse or justify conduct of individual who commits criminal offense, or to mitigate severity of criminal offense.'
"As a survivor of hate violence, I understand how gay or trans 'panic defense' can be used as a legal strategy to justify or excuse violence against the LGBTQ community," said Smith in a statement to Florida Politics.
"It happened to me. The continued use of panic defense in legal proceedings perpetuates anti-LGBTQ bias and shifts blame onto the victims of violent crimes rather than their perpetrators, which is why Florida must follow the lead of several states who passed laws prohibiting its use in court," he added.
"The Gay and Transgender Panic Defense is the epitome of institutionalized homophobia and transphobia in our legal system," said Jon Harris Maurer, the Public Policy Director for Equality Florida in a statement to the Blade.
"Shifting blame from a violent perpetrator to an LGBTQ person because of their sexual orientation or gender identity is shameful victim-blaming. Florida must join the 15 states that have already eliminated this twisted legal defense," Maurer added.
If signed into law, the bill would take effect July 1 of 2022 and would make Florida the 16th state to ban the use of "gay/trans panic defense"
Democratic lawmakers push to ban 'gay/trans panic defense'

Story: @byJasonDelgadohttps://t.co/mb1H37HJYd #FlaPol pic.twitter.com/f5dA3cyczT

— Florida Politics (@Fla_Pol) September 29, 2021