Las Vegas Raiders head coach resigns after homophobic emails surface
The emails were discovered in a workplace misconduct investigation into the Washington Football Team the New York Times reported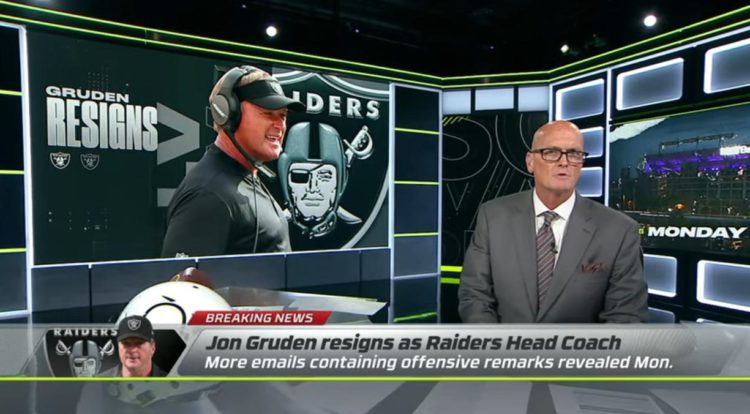 LAS VEGAS – The head coach of the Las Vegas Raiders, Jon Gruden resigned his post Monday after an article in the New York Times reported that he frequently used misogynistic and homophobic language directed at Commissioner Roger Goodell and others in the National Football League, (NFL).
The emails were discovered in a workplace misconduct investigation into the Washington Football Team the Times reported, but ended up costing Gruden his job when they also showed Gruden denounced the drafting of a gay player and the tolerance of players protesting during the playing of the national anthem among other issues.
In a statement released by the team late Monday, Gruden said; "I have resigned as Head Coach of the Las Vegas Raiders. I love the Raiders and do not want to be a distraction. Thank you to all the players, coaches, staff, and fans of Raider Nation. I'm sorry, I never meant to hurt anyone."
The sequence of events started last Friday when the Wall Street Journal reported that Gruden used a racist term to describe NFL union chief DeMaurice Smith in a 2011 email to the Washington team's former executive Bruce Allen.
According to the Associated Press, Gruden apologized for his "insensitive remarks" about Smith, saying they were made out of frustration over the 2011 lockout. But the latest emails sent from between 2011-18 when Gruden was an analyst for ESPN show his use of derogatory language went well beyond that.
A league source confirmed the accuracy of the emails to the Associated Press and said they were sent to the Raiders last week. The person spoke on condition of anonymity because the league hasn't made the emails public.
The New York Times and the Associated Press both noted that Gruden used a gay slur to insult Goodell and said he was "clueless" and "anti-football." He also said Goodell shouldn't have pressured the Rams to draft "queers," a reference to Michael Sam, who was the first openly gay player drafted by an NFL team.
Gruden's abrupt resignation was announced live on the Colts/Ravens "Monday Night Football" broadcast when the NFL ran multiple LGBTQ-inclusive advertisements, including one featuring an NFL logo wrapped in the colors of the Trans Flag and Rainbow Flag Gay City News Editor Matt Tracy reported.
Raiders owner Mark Davis issued a statement which only said that he accepted Gruden's resignation. In a separate statement the Raiders announced that special teams and assistant head coach Rich Bisaccia will serve as Interim Head Coach of the Las Vegas Raiders, effective immediately.
"Coach Bisaccia will meet with the media at the regularly scheduled media availability on Wednesday," the team said.
According to ESPN and the Associated Press, Bisaccia has been a special teams coordinator in the NFL for 19 seasons with the Raiders, Chargers, Dallas and Tampa Bay. He has no head coaching experience but his elevation will allow other assistants in the Raiders organization such as defensive coordinator Gus Bradley to stay in their current roles.
Jon Gruden resigns as Raiders head coach | SC with SVP
Gay men stand up to Qatar & denounce its death penalty
In advance of World Cup: "I'm a man and I love men," a representative of soccer fans told Qatar's ambassador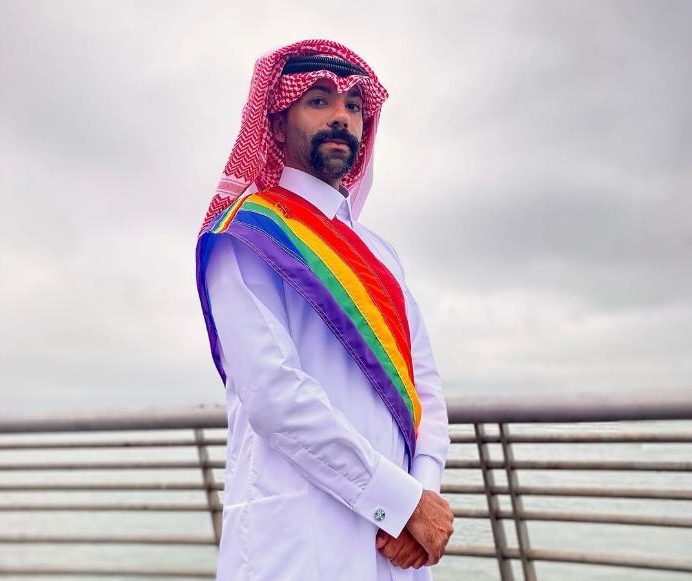 FRANKFURT, Germany – Gay men are blowing the whistle now, two months before the World Cup, demanding the host nation of Qatar change its anti-LGBTQ ways.
The Middle Eastern country where Islam is the state religion will welcome soccer players, coaches and fans from all around the planet, beginning Nov. 20, for matches that will pit nation against nation.
Qatar has promised to welcome LGBTQ foreigners, even as its own people are tortured and put to death for being who they are.
On Monday, Qatar's ambassador to Germany got an earful from one of those men at a human rights conference in Frankfurt, hosted by the German Football Association, according to a report by the Associated Press.
Fan representative Dario Minden spoke in English directly to Abdulla bin Mohammed bin Saud Al Thani, about who he is and who he loves, Minden told him to "abolish the death penalty" for homosexuality.
"I'm a man and I love men. I do — please don't be shocked — have sex with other men. This is normal," Minden told Al Thani. "So, please get used to it, or stay out of football. Because the most important rule in football is, football is for everyone. It doesn't matter if you're lesbian, if you're gay. It's for everyone. For the boys. For the girls. And for everyone in between.
"So, abolish the death penalty. Abolish all of the penalties regarding sexual and gender identity," he said. 
Although organizers promised Al Thani an opportunity to respond, the Associated Press reports that portion of the conference was closed to the public and the news media and was not televised. 
Earlier, Al Thani reportedly complained to those assembled that the issue of human rights was a distraction from the World Cup, even though the event was titled, "Sport and Human Rights."
"We all care about human rights," said Al Thani. "But I would have enjoyed (it) more if I saw some concentration not only on just one subject, but the enjoyment of football and the football effect on people around the world."
More than five-thousand miles away in San Francisco, a gay Qatari physician has organized a petition to tell the land of his birth: Love Is Not A Crime.
Dr. Nasser Mohamed decided to come out in 2010 following a visit to the U.S., and spent his residency in Connecticut before moving to California in 2015.
Mohamed wrote in an op-ed published by Outsports last month that he has spent the last decade caring for the LGBTQ community in outpatient settings and growing as an activist. 
"Being an LGBT person is a criminal offense in the legal system in Qatarm as is sex between two men. There are state-sponsored conversion-therapy practices, and LGBT-affirming psychotherapy is not offered." He wrote how law enforcement uses media and chat rooms to find, jail and punish people for being LGBTQ.
"Visibility of the local LGBT community in Qatar, and the exposure of their treatment, are absolutely essential," Mohamed wrote. "I am doing my part by speaking up."
Editor's note: Find out about Mohamed's petition by clicking here. He is also raising money through a GoFundMe account to provide him with funding for his activism as well as security and protection.