Texas House approves anti-Trans youth sports bill 76-54, heads to Senate
Under HB25 all Trans student athletes in grades K-12 will be prohibited from competing on sports teams aligned with their gender identity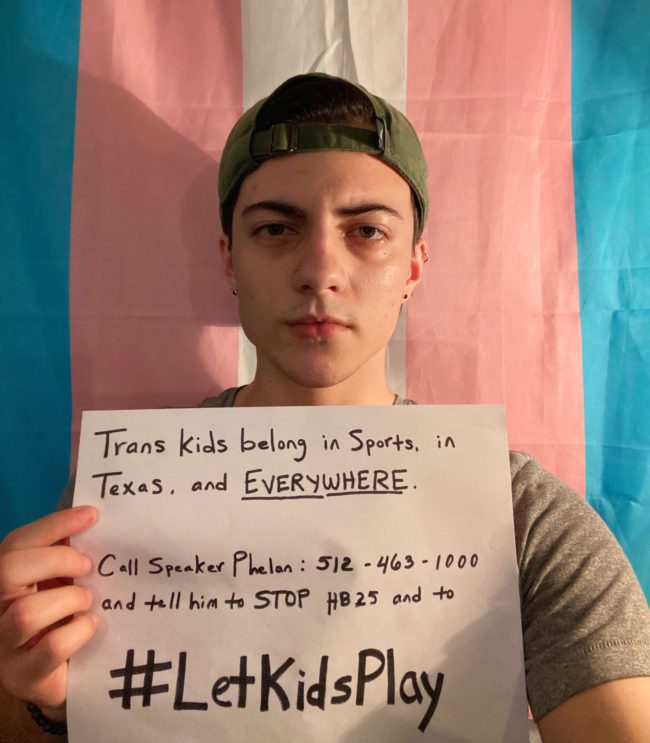 AUSTIN – Texas House Republicans were able to push through the anti-Trans youth sports measure Thursday evening after hours of emotional and at times rancorous debate, passing the bill in a 76-54 vote along party lines.
Under the provisions of Texas House Bill 25, all Trans student athletes in grades K-12 will be prohibited from competing on sports teams aligned with their gender identity. The bill will now head to the Senate, where it is expected to pass.
The Texas Tribune reported that the University Interscholastic League, which governs school sports in Texas, already requires that an athlete's gender be determined by the sex listed on their birth certificate. Republican Rep. Valoree Swanson, R-Spring, the author of HB25 has said the bill would simply "codify" existing UIL rules.
However, UIL recognizes any legally modified birth certificates. That policy could accommodate someone who may have had their birth certificate changed to match their gender identity, which can sometimes be an arduous process.
HB 25 would not allow recognition of these legally modified birth certificates unless changes were made because of a clerical error. It's not clear though how it will be determined if a birth certificate has been legally modified or not. According to the UIL, the process for checking student birth certificates is left up to schools and districts, not the UIL the Tribune reported.
"To say that tonight's passage of HB 25 is devastating is an understatement. For the past 10 grueling, exhausting, and deeply traumatic months, trans youth have been forced to debate their very existence — only to be met by the deaf ears and averted eyes of our state's leaders," Landon Richie, a GenderCool Project leader, University of Houston student and Transactivist told the Blade after the vote.
"Make no mistake: this bill will not only have detrimental impacts on trans youth, who already suffer immense levels of harassment and bullying in schools, but also on cisgender youth who don't conform to Texas's idea of "male" or "female." To trans kids everywhere: you belong, you are loved, you are valued, you are deserving of dignity, respect, care, and the ability to live freely as your true and authentic selves, no matter where you are. We will never stop fighting for trans lives and a future where trans kids are unequivocally and unwaveringly celebrated for who they are," Richie said.
"The cruelty of this bill is breathtaking, and the legislators who are pushing it forward are doing irreparable harm to our state. Texas is a place where people value freedom and respect for diversity. This bill is a betrayal of those cherished values, and future generations will look back on this moment in disbelief that elected officials supported such an absurd and hateful measure," Shannon Minter, Legal Director for the National Center for Lesbian Rights told the Blade. "The families of these kids deserve better, and the burden is now on the rest of us to do everything in our power to stop this dangerous bill now," he added.
During the debate on the measure, State Representative James Talarico, (D-Round Rock), a former middle school teacher, began his remarks by apologizing to the trans kids and families who have gone to the Capitol time and time again this year. He tells the chamber he speaks now as a legislator, and educator, and a Christian.
He quoted Republican Rep. Valoree Swanson, R-Spring, the author of HB25 who said "if one girl wins a game, it's worth it." He says he has a different moral yardstick. "If one trans kid dies for a trophy, this bill is grotesque."
He ended speaking to his "fellow believers" in the chamber. "The worst part in these hearings have been in hearing the Bible used against trans kids to support these bills. Even tonight, "God's law" was used to present an amendment." He then quoted the first 2 lines of the Bible, where God is referred to with two different Hebrew words, one masculine/one feminine. "God is nonbinary." He then prevented an interruption in the chamber and continued telling trans kids that he loves them.
Fellow Democratic State Representative Jessica González, (D- Dallas County), Vice-Chair of the Texas House LGBTQ Caucus asked the chamber how many trans Texas kids they are willing to hurt. She reminded her fellow representatives that cisgender women and girls will also be hurt by the bill. She shared a personal story about being outed in high school by a friend, having her locker, home, and car vandalized and losing all of her friends. "Kids are cruel."
González told lawmakers that her brother encouraged her to try out for soccer, and she was bullied with comments like "shouldn't she be trying out for the boys' team." She went from feeling a bit accepted to being an outsider again. She then reflected on carrying those feelings into adulthood and said that this bill will have long-term affects on trans kids. She asked legislators to listen to the stories of the trans kids who have bravely testified, saying kids will contemplate suicide or complete suicide.
Representative Diego Bernal, (D-San Antonio) told the chamber that some Representatives can't wrap their heads around knowing that there is no problem but there is *real* harm to trans kids, and for whatever reason, that's not enough it seems to stop moving these bills.
He said that he has heard "if they already have mental health issues and suicide ideation, this can't make it worse" and "if the debate is harming them, let's just vote." The he breaks down the Texas statute's definition of bullying, telling lawmakers, "The bullying statute doesn't have an intent requirement. It doesn't matter if you don't mean to cause them harm. We are bullying these students. Know that by law…our own definitions and our own words, we are. And we don't have to."
"Texas lawmakers voted today to deliberately discriminate against transgender children. Excluding transgender students from participating in sports with their peers violates the Constitution and puts already vulnerable youth at serious risk of mental and emotional harm," Adri Perez, policy and advocacy strategist at the ACLU of Texas said in a statement to the Blade.
"There is no evidence that transgender kids pose any threat. It is indefensible that legislators would force transgender youth and their families to travel to Austin to defend their own humanity, then blatantly ignore hours of testimony about the real damage this bill causes. Trans kids and their families deserve our love and support — they've been fighting this legislation for months. Texans will hold lawmakers accountable for their cruelty," Perez added.
The statewide LGBTQ+ advocacy group Equality Texas in a tweet after the vote said; " We will not stop fighting to protect transgender children." Then added "We'll continue to educate lawmakers — replacing misinformation with real stories — and demand the statewide and federal nondiscrimination protections we need to prevent further harms."
We'll continue to educate lawmakers — replacing misinformation with real stories — and demand the statewide and federal nondiscrimination protections we need to prevent further harms.

— Equality Texas (@EqualityTexas) October 15, 2021
Prominent anti-LGBTQ+ activist running for Texas House
Woodfill has for years been at the helm of conservative Christian and anti-LGBTQ+ movements in Houston and Texas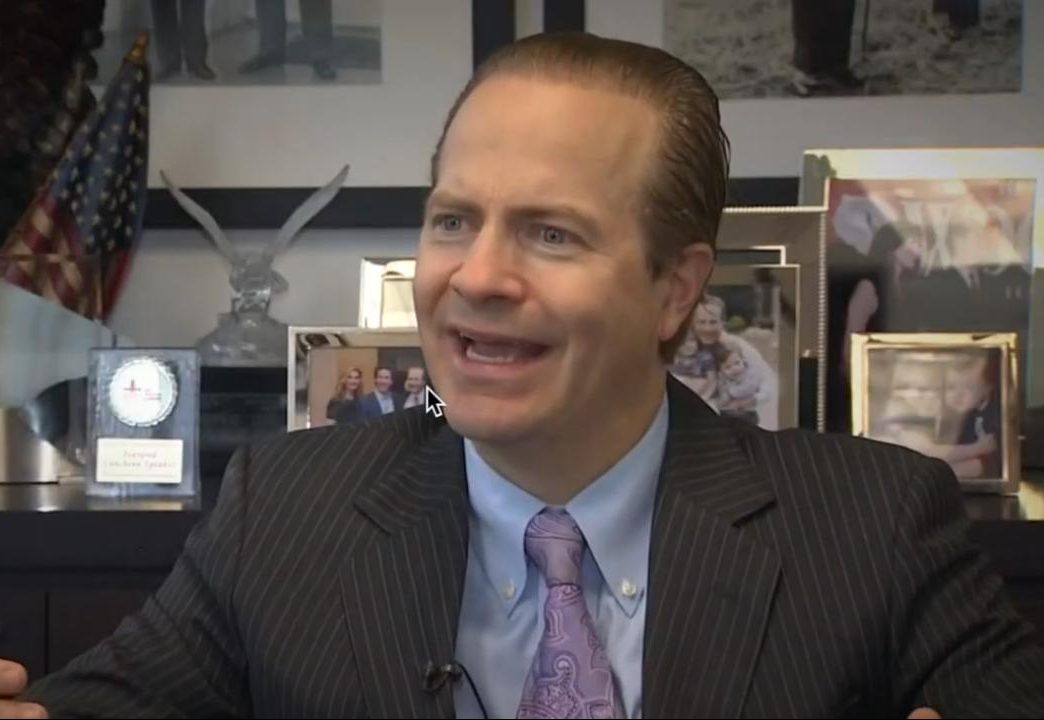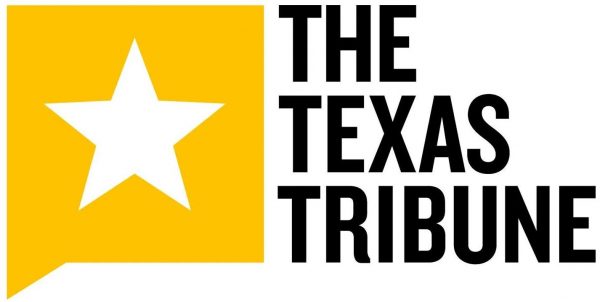 By Robert Downen | HOUSTON, Texas – Prominent anti-LGBTQ+ attorney and former Harris County GOP chair Jared Woodfill is running for the Texas House and to replace House Speaker Dade Phelan.
Woodfill announced his candidacy for House District 138 this week, touting his legal challenges to COVID-19 mandates and LGBTQ+ legislation, and the four "Republican sweeps" that Harris County Republicans saw during his tenure as the local GOP's leader from 2002 to 2014.
He's running against incumbent Republican Rep. Lacey Hull, who was first elected to represent the northwest Houston district in 2020 with backing from Gov. Greg Abbott and U.S. Rep. Dan Crenshaw, R-Houston. Hull was ranked as one of the most conservative members of the Texas House this year based on an analysis of voting records by Rice University political scientist Mark Jones.
Woodfill's campaign has already tried to frame Hull as a Republican in Name Only — RINO — by citing D ratings from two conservative activist groups. His campaign also accuses her of conspiring with Phelan — a longtime nemesis of Woodfill and other ultraconservative Texas Republicans — to "undermine" conservative legislation and impeach Attorney General Ken Paxton.
"The entire episode was an example of why 'RINOs' in Austin must be voted out of office," Woodfill's campaign website states. "Woodfill will be ready on Day 1 to bring decency back to HD 138, and return our conservative grassroots values back to the Texas House of Representatives."
Woodfill and Hull could not be reached for comment Friday.
Woodfill has for years been at the helm of conservative Christian and anti-LGBTQ+ movements in Houston and Texas. In 2015, he and well-known Houston GOP powerbroker and anti-gay activist Dr. Steven Hotze played key roles in the defeat of an ordinance that would have extended equal rights protections to LGBTQ+ Houstonians, during which they compared gay people to Nazis and helped popularize "groomer" rhetoric.
The two have remained close, leading a pro-Paxton fundraising group during the attorney general's impeachment this summer and spearheading legal challenges to COVID-19 closure mandates and election results in Harris County. Woodfill is also representing Hotze in a criminal investigation stemming from a 2020 incident in which a private investigator, allegedly acting at Hotze's behest, held at gunpoint an air-conditioning repairman who he believed was transporting fake ballots.
Woodfill has faced his own legal issues: He has for years been at the center of an ongoing lawsuit in which a man accuses Woodfill's former law partner and Southern Baptist leader Paul Pressler of decades of sexual abuse. In March, The Texas Tribune reported that Woodfill testified under oath that he was alerted in 2004 about child sexual abuse allegations against Pressler, who Woodfill was representing at the time in an assault lawsuit that was settled for $450,000. Despite that, Woodfill continued to work with Pressler, providing him with a string of young, male personal assistants who worked out of Pressler's home. The lawsuit is set for trial early next year.
In 2018, Woodfill was also investigated for money laundering by the Harris County District Attorney's Office after being accused of misappropriating funds from two clients of his law firm, though no charges were filed.
Hull cruised to reelection in HD 138 last year, beating her Democratic opponent Stephanie Morales by 15 percentage points — or about 8,000 votes.
Disclosure: Rice University has been a financial supporter of The Texas Tribune, a nonprofit, nonpartisan news organization that is funded in part by donations from members, foundations and corporate sponsors. Financial supporters play no role in the Tribune's journalism. Find a complete list of them here.
****************************************************************************************
Robert Downen is a reporter covering democracy and the threats to it, including extremism, disinformation and conspiracies. Before joining the Tribune in 2022, he worked for five years at the Houston Chronicle. As a Hearst Media fellow, he developed what would become "Abuse of Faith," a landmark investigation into child sexual abuse in the Southern Baptist Convention that prompted a Department of Justice investigation.
Before coming to Texas, Robert was a business reporter in New York's capital region, and the managing editor of six newspapers in his home state of Illinois. He is a 2014 graduate of Eastern Illinois University.
The preceding article was previously published by The Texas Tribune and is republished by permission.
**********************
Quality journalism doesn't come free
Perhaps it goes without saying — but producing quality journalism isn't cheap. At a time when newsroom resources and revenue across the country are declining, The Texas Tribune remains committed to sustaining our mission: creating a more engaged and informed Texas with every story we cover, every event we convene and every newsletter we send. As a nonprofit newsroom, we rely on members to help keep our stories free and our events open to the public. Do you value our journalism? Show us with your support.
Donation Link Here: (Link)