H.S. students steal Pride flag, defecate on it & post video to TikTok
"It was definitely an act of hate directed at the LGBTQ community and a lot of students felt it, you know, felt that attack very acutely"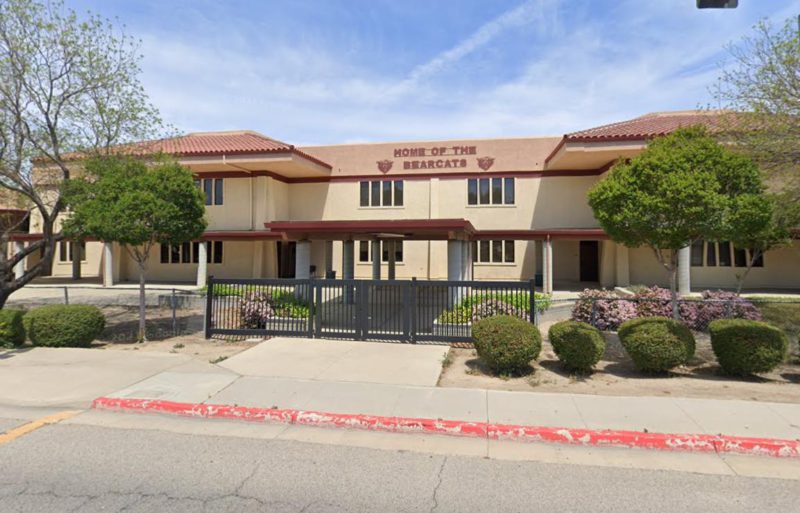 PASO ROBLES, Ca. – Earlier this school year two students walked into a science teacher's classroom at Paso Robles High School, they proceeded to rip down the LGBTQ+ Pride flag hanging in the room and fled out the door. The theft took place as there was a classes break and as science instructor Evan Holtz took out after them he lost them in the throng of students in the hallway.
Holtz, who is a chemistry teacher, tutor, and swim coach, has been teaching at Paso Robles since 2019. In an interview with the San Luis Obispo Tribune, Holtz told the paper he had displayed the Pride flag to show solidarity with the school's LGBTQ students, making sure that they knew they were welcome and safe in his classroom.
What happened immediately after the theft has left the high school's LGBTQ+ students angered and alarmed. First, the Tribune reported, a video surfaced on TikTok of students attempting to flush the rainbow Pride flag down a toilet. Then, the video showed one student defecating on the flag in the toilet, according to those who had seen and heard about the video.
"It was definitely an act of hate directed at the LGBTQ community," Geoffrey Land, a social sciences teacher told the paper. "And a lot of students felt it, you know, felt that attack very acutely."
The Paso Robles Joint Unified School District said that administrators at the high school had taken "disciplinary action" after being alerted to the situation and the TikTok video by students. The next action undertaken on October 1st by the school district has left LGBTQ+ students disillusioned and further upset.
District Superintendent Curt Dubost sent a memorandum letter to faculty that read:
"The Paso Robles Joint Unified School District has received multiple concerns about certain flag displays in teacher classrooms, including those that are large and distracting and those that alter the American flag.
I want to start by reiterating my statement from last year that rainbow flags mean different things to different people but to many are a symbol of safety, inclusion and equity. All students deserve protection against bullying and harassment. A safe, caring learning environment is essential if students are to achieve their academic potential.
We have a duty as a school district to ensure that hate speech and bullying conduct does not create an unsafe campus environment. Students in protected classes are often among the most vulnerable and susceptible to bullying and discrimination."
Superintendent Dubost then laid out the new district policy: No flags bigger than 2 feet by 2 feet may be displayed in classrooms, and no flags that are "alterations of the American flag" may be displayed in classrooms.
In a follow-up interview with the Tribune Dubost justified his actions telling the paper, "We don't want to turn it into a politicized issue where a student enters a classroom and looks up, 'Oh, there's a rainbow flag here, or there's a blue lives matter flag here — that determines what the partisanship is of my teacher.' We think that that's a real slippery slope. And so we continue to believe that this is a very reasonable compromise solution that allows rainbows, but within reason."
In an op-ed written by PRHS students on National Coming Out day last week, they expressed their dismay over Dubost's actions.
October 11 is National Coming Out Day, when lesbian, gay, bisexual, transgender and queer people can celebrate support for LGBTQ equality. But in Paso Robles, where we attend high school, we cannot celebrate. Too often, LGBTQ students feel unwelcome, unsafe and targeted by hate.
After briefly mentioning the theft, video, and the action to ban flags other than a U.S. National flag taken by Superintendent Dubost they added:
Eventually, the school imposed minor discipline upon the offenders, and nearly two weeks later issued a policy statement that includes a ban on rainbow flags larger than 2' x 2'. As the standard flag size is 3' x 5', the school purposefully banned the very flag that was desecrated. What message does this send to students? The flag ban means the school has allowed the haters to win, while LGBTQ students feel punished for wanting to be seen and supported.
The students cited a 2018 oral history project at PRHS which interviewed students in the Paso Robles Joint Unified School District area high schools of Templeton, Atascadero and Paso Robles.
They found that offensive slurs and open hostility directed at LGBTQ+ individuals were commonplace in classrooms. LGBTQ+ students reported not feeling included in their school culture. Students interviewed reported that teachers who wore rainbow colored pins or posted supportive flags or posters in their classroom walls helped create welcoming, safe spaces. Over the years, PRHS has witnessed loss of life, violence and intimidation — all in the name of anti-LGBTQ hate.
In their call to action the students stated that; "Enough is enough. How many more students will be traumatized by systems and people who fail to embrace the beauty and diversity of their students? The school's response is a collective slap in the face of all LBGTQ students at PRHS. From our perspective, the school's flag ban means they're more interested in appeasing the bullies than protecting the safety of the victims of hate."
There is a community forum event scheduled for Wednesday, October 20 from 6 to 8 p.m. at the PRHS performing arts center. Organized by students, the event, "Coming Out Against Hate," is an opportunity for students to "share their experiences and visions for a more welcoming, inclusive educational environment," and it's the first forum of its kind in Paso Robles, according to a news release sent out about the event.
"With the forum, we're hoping that things change and they stop normalizing hate against us," a senior told the Tribune, "I'm really proud of the fact that so many people are brave enough to come up against the adversity that is very obvious here. We might get a ton of hate for this. We might get hate-crimed ourselves.
"But we can't let this continue. We have a culture of homophobia here. We literally have no other option than to put ourselves kind of at risk and in danger. Because we can't let this continue."
Black Trans woman shot in Oakland, 50th violent death of this year
Black and Latinx transgender women make up the majority of the victims- "The people who kill them feel that they're not worthy"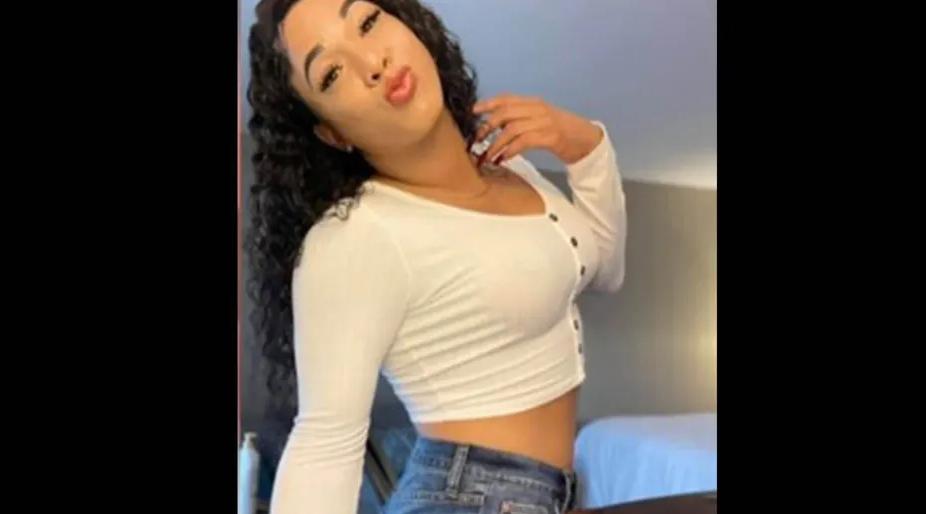 OAKLAND – Police units responding to reports of a shooting on Castro Street in West Oakland early this past Saturday morning Dec. 4, 2021, found Nikai David, a 33-year-old Black transgender woman, suffering from gunshot wound to the head. She died at the scene.
Her death is at least the 50th violent killing of a transgender or gender non-conforming person in 2021 according to the Human Rights Campaign.
The shooting marks Oakland's 129th homicide so far this year. At this time, the Oakland Police investigators said there is no evidence of a hate crime. Anyone with information about David's case is asked to call the Oakland Police Department's Homicide Section at 510-238-3821 or the department's tip line at 510-238-7950.
Speaking with local Oakland media outlet, KTVU Fox 2, Joe Hawkins, co-founder and CEO of Oakland LGBTQ Community Center, said transgender homicides are on the rise. "In general, people are ready to attack transgender people, just because they're transgender," he said.
Reflecting on the disturbing trend of violent crime this year against Trans people, Hawkins said Black and Latinx transgender women make up the majority of the victims. He said discrimination in housing and employment are factors putting their lives at risk.
"The people who kill them feel that they're not worthy. Who's gonna care," said Hawkins, "Black transgender people deserve and need the support that they have not been given."
Nikai David, a model and aspiring social media influencer who dreamed of opening her own clothing boutique was well-known at the Oakland LGBTQ Community Center and they are planning to honor her life. For more information on the memorial, follow their Facebook page. Ashlee Banks, a friend of David, remembered her as being "really sweet. She was a happy, fun person." Banks said she was "really devastated" to find out about David's death.
"Every time we step out the door, we are at risk, of never returning home again. Sometimes we don't even have to leave the house; there is no safe space for transgender people in America. We live in a different world that most couldn't comprehend. 
I'm devastated by this news; this young lady deserves to model like she wanted to. She deserves all the good life has to offer. But here we are again, grieving another young Black trans woman murdered," Ebony Harper, the Executive Director of Sacramento-based California TRANscends told the Blade Tuesday.
"To go through all the crap that we have to endure in this society and then be murdered hits me right in the heart. We are strange fruit. The 2012 murder of Brandy Martell is replaying in my mind and how they were debating if it was a hate crime. Here we are almost ten years later, and they are still discussing whether it was a damn hate crime? We won't stop until our babies can walk, talk, and have relationships divinely trans. Justice for Nikai David and praying for the hearts of her family and friends," Harper added.
"Learning about Nikai David's death is disheartening and alarming. In the year that we've marked as the deadliest year on record for our community, we continue to see a frightening rate of fatal violence against transgender and gender non-conforming people. We must all continue to demand that the violence cease. David was a young person with so much life ahead of her. For her future to have been violently taken away from her serves as a reminder that we remain with so much work ahead of us to ensure a safe and loving world for all," Tori Cooper, HRC Director of Community Engagement for the Transgender Justice Initiative said in a statement.
California expands broadband infrastructure & internet access across state
The initial project locations based on unserved/underserved areas that don't reliably have download speeds of at least 25 Megabits per second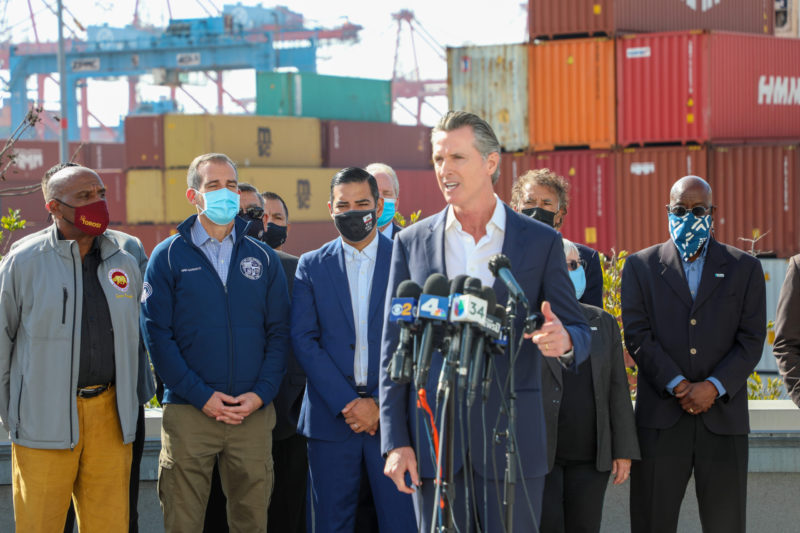 SACRAMENTO – Advancing California's commitment to bridge the digital divide, Governor Gavin Newsom announced that the state has identified 18 projects to begin work on an open-access middle-mile network that will provide missing infrastructure paths to bring broadband to all communities.
As part of the historic $6 billion broadband investment advanced in partnership with legislative leaders earlier this year, the initial project locations are based on known unserved and underserved areas across the state. The projects will connect to the core of the global internet and interconnect to last-mile infrastructure, which is the final leg that provides internet service to a customer.
"California is committed to taking on the challenges laid bare by the pandemic, including the digital divide holding back too many communities across the state," said Newsom. "These projects are the first step to delivering on our historic investment that will ensure all Californians have access to high-quality broadband internet, while also creating new jobs to support our nation-leading economic recovery."
The initial 18 projects represent a range of geographic locations and technical approaches. Projects are being initiated in the following tribal communities, counties and cities: Alpine County; Amador County; Calaveras County; Central Coast; Coachella Valley; Colusa Area; Inyo County; Kern County; Kern/San Luis Obispo Area; Lake County Area; Los Angeles and South Los Angeles; Oakland; Orange County; Plumas Area; Riverside/San Diego Area; San Bernardino County; Siskiyou Area; and West Fresno.
Evaluation of project areas included consideration of public comments, prioritization of unserved or underserved areas of the state, and inclusion of tribal communities, cities and counties. An unserved or underserved area has households that do not reliably have download speeds of at least 25 Megabits per second (Mbps) and upload of at least 3 Mbps.
"Core to our success will be the deep partnerships we've built with a diverse set of community organizations and last mile providers. Through many years of engagement with metropolitan planning organizations, CPUC-supported broadband consortia, Tribal organizations, community-based broadband advocacy groups, and organizations like the Rural County Representatives of California, the NAACP, and the California Emerging Technology Fund, we are now ready to take this historic step towards broadband equity for California," said Louis Fox, Founder and Chair of GoldenStateNet, the state's third-party administrator.
State partners implementing the middle-mile initiative include the California Department of Technology, California Public Utilities Commission (CPUC) and Caltrans. GoldenStateNet was selected as the Third-Party Administrator (TPA) to manage the development, acquisition, construction, maintenance and operation of the statewide open-access middle-mile broadband network. As the TPA, GoldenStateNet will partner with key stakeholder groups across the state to investigate the best technical, financial and operational models to meet the needs of the project sites.
A map and additional information on the initial projects can be found here.
"A reliable broadband connection makes the difference between having access to full-service health care, education and employment or sometimes going without," said State Chief Information Officer Amy Tong. "Through a historic partnership between our Governor, the Legislature, state agencies and a third-party administrator, we are taking immediate action to improve connectivity for Californians in the northern, central and southern parts of the state."
"These initial routes have been identified to accelerate projects in areas of the state that are unserved because of the lack of open middle mile infrastructure to serve them. We are accelerating the selection of a diverse set of routes — those that are ready to build and those that are not ready to build. This allows the state to partner with locals on these diverse projects and learn by doing, as we concurrently work to finalize all the needed routes in the State. There are many more communities like those in Phase I that will be included in the final map," said Martha Guzman Aceves, Commissioner at the CPUC.
Names of Trans dead projected onto Netflix HQ
2021 was the deadliest year of violence against LGBTQ+ people since records began- greatest harm to Black Trans women, migrants & sex workers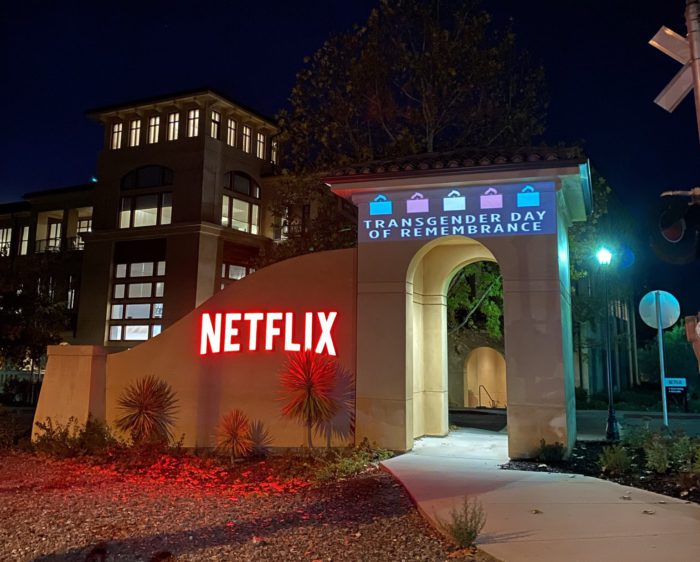 LOS GATOS – On the Trans Day of Remembrance, the names of trans people who died this year were projected onto Netflix's Silicon Valley headquarters.
The words of light were visible from Winchester Boulevard, over the archway entrance to the headquarters. Earlier this year, Netflix was criticized for spreading transphobia as well as for firing a trans, Black, pregnant employee for organizing a walkout.
Local trans activist Gwendolyn Ann Smith said of the projection, "The CEO of Netflix, Ted Sarandos, spoke earlier this year in defense of Dave Chappelle's comedy special, 'The Closer,' stating that, 'We have a strong belief that content on screen doesn't directly translate to real-world harm.' It is a fitting rebuttal, therefore, that the names of those who were murdered in the name of anti-transgender violence end up projected on the walls of Netflix's offices. Perhaps this will serve as a reminder that there are, indeed, real world consequences to consider when you platform transphobia disguised as comedic expression."
2021 was the deadliest year of violence against gender-diverse people since records began, with the greatest harm done to Black trans women, migrants, and sex workers. The recorded number of 375 deaths is likely also severely underreported, according to Transrespect Versus Transphobia Worldwide.
"I cancelled my Netflix account," said local projection activist Alan Marling, "but I'll be happy to renew it once the company meets the demands of the walkout."
The demands include investment in trans and non-binary voices, acknowledging the harm done, and hiring of a trans executive.
The full list can be found here.
Video by Alan Marling