A Black Trans Woman's fight for Transgender health equity
Jasmine is one of very few Black trans women who is an Executive Director of a clinic with such broad-ranging direct services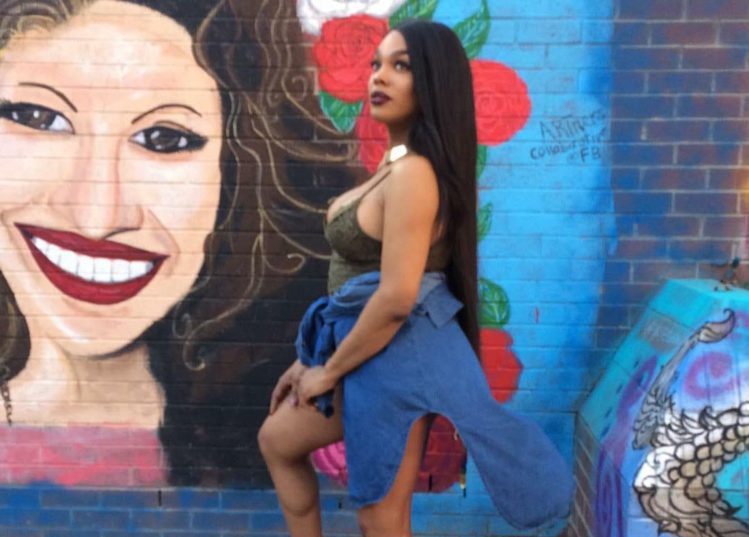 By Ebony Harper | SACRAMENTO – If you know Jasmine Bright, you know she is a force to be reckoned with. Jasmine is a mother to the rejected, a sister to those that need a shoulder, and a warrior queen for our trans babies (and adults). Don't let the pretty face fool you. She turns into a momma bear when her community is under any threat of harm.
Jasmine's experience of being both a healthcare administrator and one that has faced her trauma and hurdles as a Black trans woman gives her a unique mantle of leadership.
Jasmine just received the promotion she deserves after serving as the Director of the Hormone Clinic of Sacramento's Gender Health Center (GHC) for the past few years. Now, we will know Jasmine as the new GHC Co-Executive Director alongside Lauren Pulido, a former California State Capitol employee. Jasmine is one of very few Black trans women who is an Executive Director of a clinic with such broad-ranging direct services. This is huge!
When you first meet Jasmine Bright, you will be immediately captivated by her beauty. Once you have a conversation with her, you recognize that Jasmine is not just a gorgeous face – she's beauty, brains, and a whole lot of compassion. Raised by her mother, Jasmine's journey started in Pittsburg, California, until the family relocated to Sacramento. Jasmine became a caretaker from the start; she loved taking care of her younger siblings and continues to be the family protector.
Jasmine came out at a young age when she was in junior high school. Jasmine's mother did not know much about being trans. As a Black mom, she loved and protected her daughter. Jasmine's mom was a trans advocate before it was hip as she took on Jasmine's school for denying her daughter the right to use the girl's bathroom. Mother wasn't playing that! Her mom immediately stepped into an advocacy role for her young trans daughter to prevent Jasmine from experiencing the same traps other Black trans people fall into. She was going to love her child regardless AND dare somebody to say something! She was ready to risk it all for her child.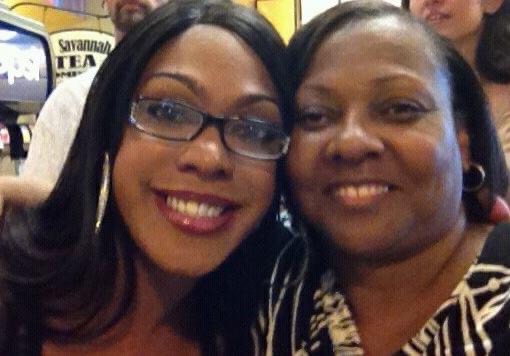 Jasmine's mother understood the safety risk and emotional trauma behind making Jasmine use a bathroom she didn't belong. Jasmine's mom took on the school and won! Jasmine's mother demonstrated the strength and compassion of a supportive Black parent of a trans child. Jasmine learned how to be nurturing, strong, and resilient from her mother and transplanted these family values to Sacramento's LGBT community as the new GHC Executive Director.
Jasmine's dedication and perseverance are inspiring. Alongside Lauren, the two GHC Executive Directors imbues transgender health and wellness services with new life, passion, and grit while modeling how Sacramento can effectively administer trans healthcare. Their vision is to co-create a world where "trans people are unbound from all facets of structural marginalization; manifesting a world where people recognize trans people as experts of their own lives and gender-affirming care."
As a Black trans woman with over fifteen years of experience as a healthcare provider, Ms. Jasmine Bright weathered her fair share of storms- only to come out triumphant on the other side unscathed. It takes grit not to be deterred and forge a bright path for a new future while building a legacy for those who will come after her. We see you, Jasmine! We thank you!
Ever since Jasmine Bright was a little girl growing up in Pittsburg, she dreamed of providing support to those in need. Well, dreams do come true!!!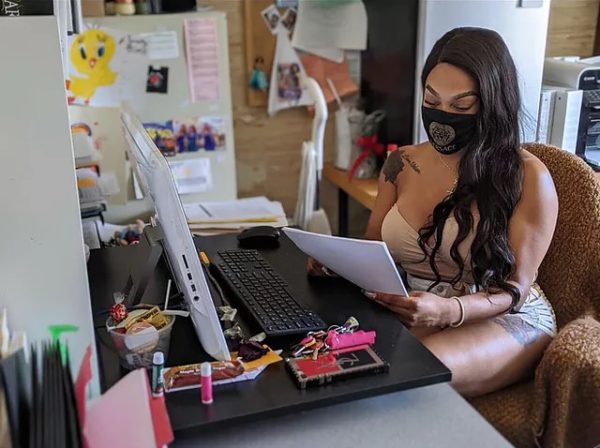 If you want to learn more about Gender Health Center and how you can support their work, go to www.genderhealthcenter.org
********************
Ebony Harper is the Executive Director of California TRANscends, a statewide initiative that promotes the health and wellness of transgender people throughout California with a focus on Black and Brown transgender communities.
The California legislature recognized Ms. Harper for her work. Harper sits on the State of California Transgender Advisory Council, the board of Mirror Memoirs, and serves as the newest board member for the Transgender Law Center and Borealis Philanthropy. 
Twitter @ebonyavaharper
Names of Trans dead projected onto Netflix HQ
2021 was the deadliest year of violence against LGBTQ+ people since records began- greatest harm to Black Trans women, migrants & sex workers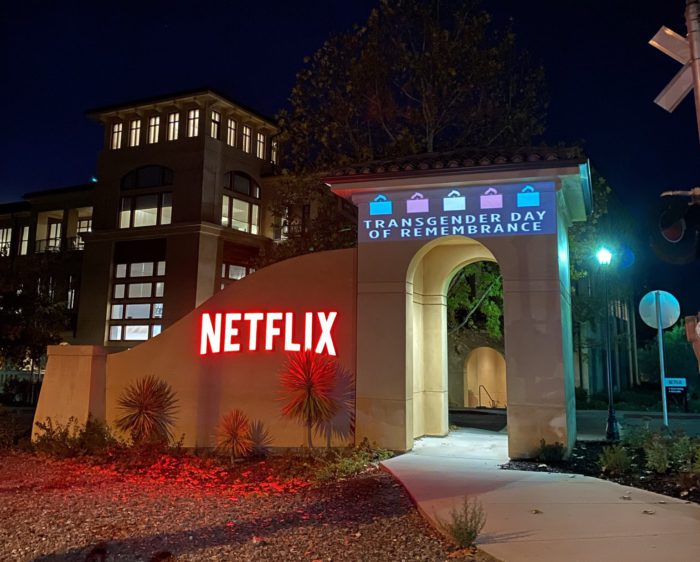 LOS GATOS – On the Trans Day of Remembrance, the names of trans people who died this year were projected onto Netflix's Silicon Valley headquarters.
The words of light were visible from Winchester Boulevard, over the archway entrance to the headquarters. Earlier this year, Netflix was criticized for spreading transphobia as well as for firing a trans, Black, pregnant employee for organizing a walkout.
Local trans activist Gwendolyn Ann Smith said of the projection, "The CEO of Netflix, Ted Sarandos, spoke earlier this year in defense of Dave Chappelle's comedy special, 'The Closer,' stating that, 'We have a strong belief that content on screen doesn't directly translate to real-world harm.' It is a fitting rebuttal, therefore, that the names of those who were murdered in the name of anti-transgender violence end up projected on the walls of Netflix's offices. Perhaps this will serve as a reminder that there are, indeed, real world consequences to consider when you platform transphobia disguised as comedic expression."
2021 was the deadliest year of violence against gender-diverse people since records began, with the greatest harm done to Black trans women, migrants, and sex workers. The recorded number of 375 deaths is likely also severely underreported, according to Transrespect Versus Transphobia Worldwide.
"I cancelled my Netflix account," said local projection activist Alan Marling, "but I'll be happy to renew it once the company meets the demands of the walkout."
The demands include investment in trans and non-binary voices, acknowledging the harm done, and hiring of a trans executive.
The full list can be found here.
Video by Alan Marling
At West LA VA Medical Center, Newsom announces new partnership
Governor Newsom also issued a proclamation that declared November 11, 2021, as Veterans Day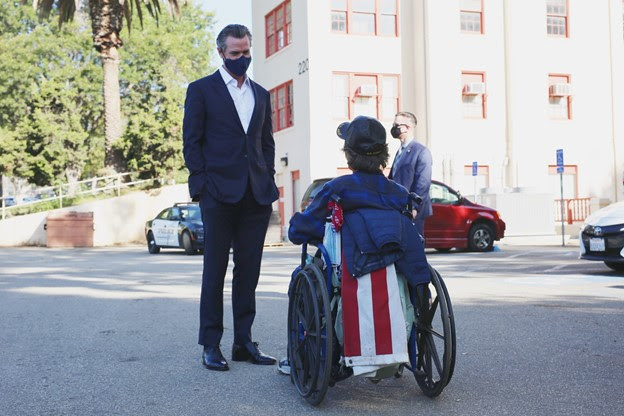 LOS ANGELES – Ahead of Veterans Day, California Governor Gavin Newsom visited veterans receiving COVID-19 vaccines and flu shots at the West Los Angeles Veterans Affairs Medical Center Wednesday, where he highlighted the state's ongoing efforts to increase vaccination rates and promote booster shots for eligible populations and investments to address veterans' homelessness.
Joined by California's U.S. Senator Alex Padilla, California Department of Veterans Affairs Secretary Dr. Vito Imbasciani, and California Health and Human Services Agency Secretary Dr. Mark Ghaly, the Governor also announced a $750,000 donation from Lennar Homes and Five Point Communities that will purchase 86 tiny homes for veterans on the West Los Angeles Veterans Affairs campus to help ensure that veterans have a safe and dignified place to live. Most of the veterans from the "Veterans Row" encampment at San Vicente and Wilshire recently moved onto the campus.
"California is home to over 1.6 million veterans, the most of any state in the nation. We're continually working to ensure that our veterans and their families receive the resources and support they need and have earned many times over," said Newsom. "Thanks to a partnership between California, the VA and Los Angeles County, more veterans in the region have a safe place to go to receive mental health services and health care, including their COVID-19 vaccines. Vaccines are how we end this pandemic, and boosters are how we keep our immunity strong."
The Governor also issued a proclamation declaring November 11, 2021, as Veterans Day.
The West LA VA Medical Center administers 90 to 100 boosters on-site daily through walk-ins or by appointment, and is still administering first and second vaccinations regularly. The VA Greater Los Angeles Healthcare System (VAGLAHS), which includes the West LA center, is one of eight VA Healthcare Centers in California and offers services to veterans residing in five counties in Southern California. VAGLAHS is organizing a number of outreach events and efforts to vaccinate all veterans and eligible individuals.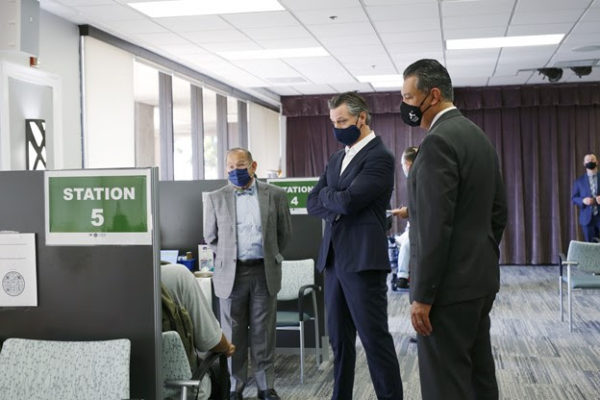 The Governor today also announced a partnership with the Hilton Foundation on a $69,000 grant to provide coordinated services to veterans to find more permanent housing. The announcements build on the Governor's unprecedented $22 billion investment to address housing and homelessness, including $12 billion for homelessness and behavioral health services to help get tens of thousands of people off the streets or avoid homelessness altogether. This package includes $25 million specifically for homeless veterans services and $20 million to support the West LA Veterans Affairs campus.
Administered by the California Department of Housing and Community Development in collaboration with the California Department of Veterans Affairs and the California Housing Finance Agency, the Veterans Housing and Homelessness Prevention Program (VHHP) finances the development of a variety of rental housing for veterans and their families, and has announced three awards today that are part of the West LA campus. VHHP will fund 189 of the 192 units, with awards for the three programs totaling $39.6 million.
Equality California Safe & Supportive Schools LGBTQ+ survey launches
To ensure the future success of LGBTQ+ youth in schools and the workforce, communities need policy that addresses equitable education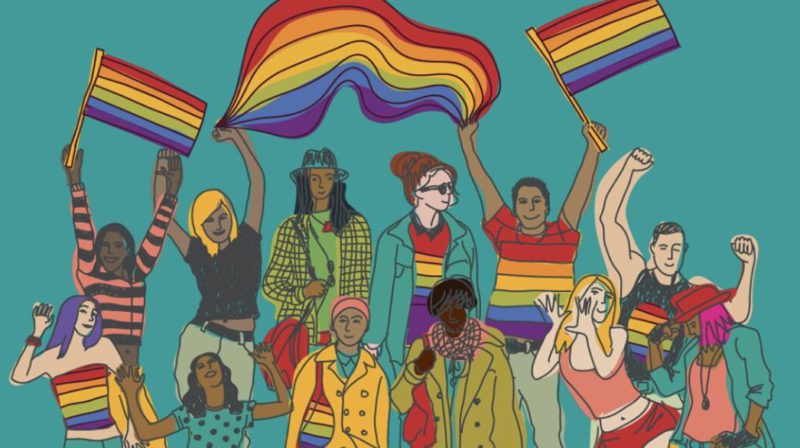 LOS ANGELES — As students across California settle back into the routine of in-person learning, Equality California Institute sent its second Safe and Supportive Schools Survey  to each of California's 330 unified school districts.
Backed by State Superintendent of Public Instruction Tony Thurmond and with pro bono support from Latham & Watkins LLP, the Survey will evaluate the efforts of unified school districts to implement laws and policies that support lesbian, gay, bisexual, transgender and queer+ (LGBTQ+) students; to develop programs to protect LGBTQ+ students from bullying and violence; and to serve at-risk LGBTQ+ students.
Results from the survey will be published in Equality California Institute's second Safe and Supportive Schools Report Card in Fall 2022. The 2019 Safe and Supportive Schools Report Card be accessed online at safesupportiveschools.org.
"We created the Safe and Supportive Schools Survey to help shine a light on the successes and challenges that California schools say they are experiencing when implementing LGBTQ+ inclusive programs and policies," said Equality California Institute Executive Director Tony Hoang. "Equality California has sponsored a number of laws in California designed to protect LGBTQ students. However, we know laws must be implemented in order to be effective, and we must meet more than the basic legal requirements to achieve schools that are safe and supportive and that give every student — regardless of background, zip code, sexual orientation or gender identity — a shot at success."
Across California, LGBTQ+ people are experiencing a crisis in health and wellbeing, and these disparities often take root in childhood. LGBTQ+ youth are up to four times more likely to attempt suicide than their non-LGBTQ+ peers, and are 120% more likely to become homeless than their straight peers. They also experience higher rates of violence, harassment and bullying, contributing to decreased school attendance and higher school drop-out rates.
These inequities affect LGBTQ+ people across their lifetime, making it more likely that they will experience poverty, ill-health, homelessness, substance use, and other challenges.
To ensure the future success of LGBTQ+ youth in schools and the workforce, our communities need policy and programming that addresses equitable education, increases LGBTQ+ acceptance through cultural competency, promotes youth leadership and prevents bullying and harassment for all students, regardless of sexual orientation or gender identity.
The survey, which is comprised of 88 questions, gathers critical information on school climate, teacher training, curriculum, anti-bullying, suicide prevention and other policies essential to providing a welcoming and affirming learning environment to all students, including those who identify as LGBTQ+.
Responses are due by March 25, 2022. The final Safe and Supportive Schools Report Card will serve as a resource to all community members who seek to advocate for inclusive programs and policies that benefit all students.
Parents, teachers, students and community members can help support this effort by writing to their school districts and urging them to complete the survey.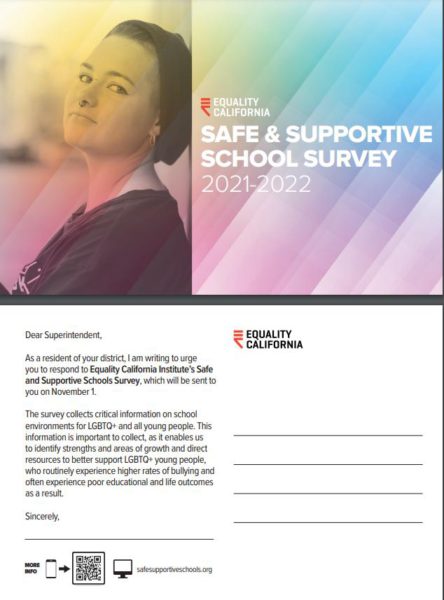 A sample postcard is available for download at eqca.org/schoolspostcard.