Georgia prison refused to investigate sexual assaults of trans woman
Over two periods of incarceration, Diamond has been sexually assaulted 18 times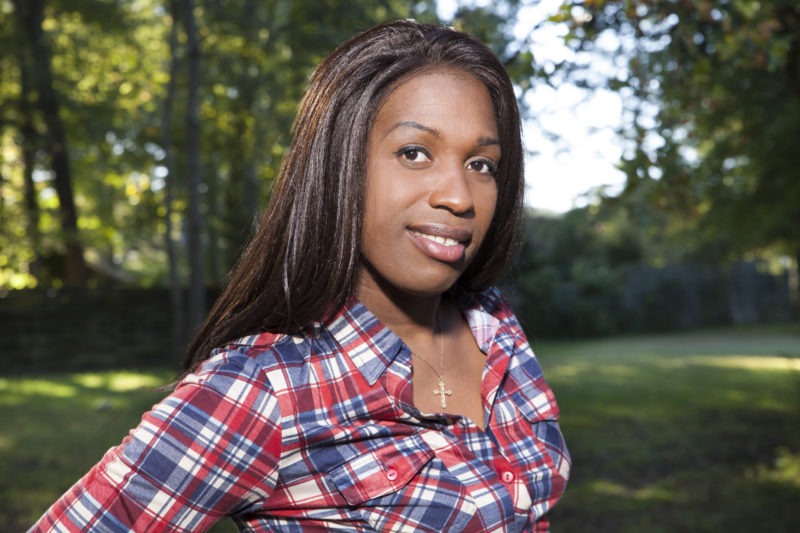 MACON, Ga. – Ashley Diamond, a Black transgender woman, submitted new evidence to the court overseeing her case against the Georgia Department of Corrections (GDC) Tuesday and once again asked the court to order a transfer from the male prison where she has endured repeated sexual assaults and relentless sexual harassment.
Since a hearing in May, where Diamond detailed abuse by both incarcerated men and prison officials, she has suffered two more sexual assaults, including one by multiple men. Conditions have grown so dangerous that Diamond, an activist who for years has championed the rights of incarcerated and trans people, recently attempted suicide. 
"As a result of the retaliation I've described, and because all of my efforts to report sexual abuse and mistreatment have been disregarded, reporting sexual assaults within GDC continues to feel dangerous as well as pointless," said Diamond. "I still fear for my life if I report assaults and sexual misconduct by gang-affiliated aggressors, of which there are several. And although I'm sexually harassed so often it is impossible for me to document each incident, my complaints to GDC staff have also gone nowhere."
Exactly one year after Ms. Diamond filed her lawsuit, lawyers from the Southern Poverty Law Center and the Center for Constitutional Rights today filed a renewed request for emergency relief on Ms. Diamond's behalf. Since the May hearing, they say, GDC has refused to take any responsive or corrective measures or to transfer her to a female facility, where she would be safer. Evidence recently released by GDC shows that it has summarily dismissed all of Ms. Diamond's reports of sexual assault, refusing to review camera footage and dismissing eyewitness accounts.
"Contrary to defendants' arguments, prison officials cannot justify the failure to protect Ms. Diamond from sexual assaults by failing to properly investigate more than a dozen assaults under their watch," said Beth Littrell, SPLC Senior Attorney.
"Intentional ignorance is not a constitutional excuse."
The need to take protective measures could not be more urgent, attorneys say. In Coastal State Prison, where GDC insists on keeping Ms. Diamond, she faces ubiquitous dangers. Beyond the numerous sexual assaults, the times she has been grabbed, groped, propositioned, threatened, and harassed are too numerous to count, according to the court filing. She is routinely threatened with death if she so much as looks in the direction of certain men and once narrowly escaped when a group of men with knives stormed her dorm.
"Placing transgender women in mens' prisons where they are certain to face sexual abuse and assault is the definition of cruel and unusual punishment under the Eighth Amendment,"  said Chinyere Ezie, a Senior Attorney at the Center for Constitutional Rights.
Over two periods of incarceration, Diamond has been sexually assaulted 18 times. Based on her history of activism – her first lawsuit resulted in a defeat for the department, and both lawsuits have led to DOJ investigations into their failures, her attorneys say GDC's refusal to protect or transfer her is beyond negligence, it seems more like revenge.
First incarcerated in 2012 and sentenced to 12 years in prison after pawning a saw her boyfriend had stolen, she was housed in a series of medium- and maximum-security prisons for men where she faced repeated sexual assaults while officials ignored her pleas for protection. Officials also denied critical hormone therapy that she had been receiving for 17 years and placed her in solitary confinement for "pretending to be a woman." 
Diamond brought a lawsuit demanding that GDC provide both safe placement for transgender prisoners and medically necessary care. In February 2016, after she had been released, she reached a landmark settlement that led to significant reforms; GDC agreed, for example, to provide hormone therapy. But little changed for transgender people in Georgia's prisons, as Diamond discovered firsthand when she was reincarcerated on a technical parole violation in 2019.
In 2020, she filed a second lawsuit against GDC, demanding transfer from a male prison and adequate care for gender dysphoria.
In response to her legal advocacy, GDC launched what her lawyers call a "smear campaign" to punish her and diminish her chances of early release by charging her with a barrage of specious infractions. The recent summary dismissals of her complaints of sexual assaults, say her attorneys, are part of that pattern of retaliation.
Although her 2016 settlement secured important reforms, Diamond has essentially been fighting the same legal fight for years, and the risks she faces have only grown more acute. The motion filed today asks the court to protect Diamond by transferring her to a women's facility and otherwise instituting measures to keep her safe from the onslaught of sexual assault and abuse.
Georgia Tech settles lawsuit in case of LGBTQ+ student killed by its cops
William and Lynne Schultz alleged that one of the responding campus police officers was inadequately and improperly trained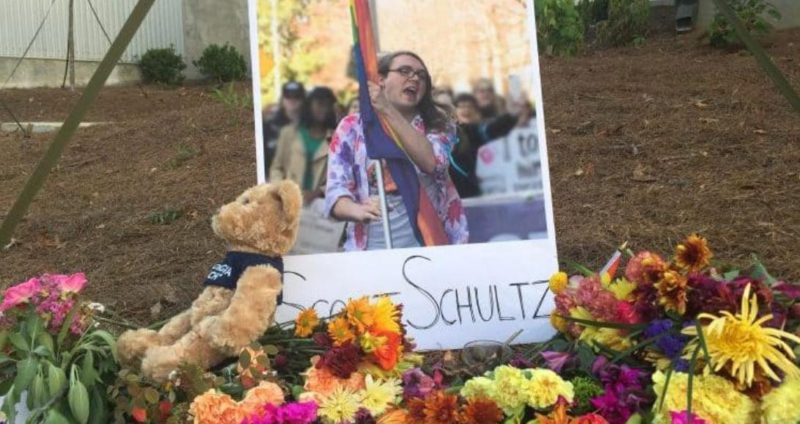 ATLANTA – The family of a non-binary LGBTQ+ student leader shot to death in 2017 by university police officers during a call over a mental health breakdown crisis situation, has agreed to a settlement in a wrongful death lawsuit that the family had filed against Georgia Tech.
The family of 21-year-old Scout Schultz, who was intersex, non-binary and bisexual, a fourth-year student and head of Georgia Tech's LGBTQ+ Pride Alliance, settled this week after the university agreed to pay the family a $1 million settlement in their case.
The lawsuit, filed in September of 2019 by the parents of the slain student, William and Lynne Schultz in the U.S. District Court for the Northern District of Georgia, alleged that one of the responding campus police officers was inadequately and improperly trained.
In the suit, the Schultze's alleged that Tech campus police officer Tyler Beck, 23, "had received no training in crisis intervention." The suit goes on to say that the other responding officers "remained calm and followed standard de-escalation techniques without initiating physical force directed" at Schultz, but Beck "did not de-escalate and instead used deadly physical force."
Schultz called 911 on Sept. 16, 2017. Campus police responded and found Schultz in a residential area of campus holding what appeared to be a knife. Schultz approached the officers in what later characterized in the official report of the incident as a 'menacing manner.' One officer told Schultz that "nobody wants to hurt you" and another told the distraught student to "relax."
But as Schultz continued to advance, one of the officers, Beck, shot Schultz once in the heart and they died about 30 minutes later at Grady Memorial Hospital.
During a subsequent investigation by the Georgia Bureau of Investigation found three suicide notes and Schultz's parents confirmed he suffered from depression and tried to kill himself two years earlier the Associated Press reported.
The Schultz's claimed that the university, the Georgia Bureau of Investigation, the City of Atlanta and Fulton County prosecutors had kept details of the case from the family, Attorney Chris Stewart, who represents Schultz's parents said in a press conference when the lawsuit was first announced.
"Schultz's death was the result of Georgia Tech's and the state of Georgia's failure over time to properly train their personnel to act in such a way as to prevent the exclusion of persons such as Schultz from the safety to which all students were entitled on the campus of Georgia Tech," the lawsuit stated. The Schultze's filed the lawsuit against the school, Beck and the Board of Regents of the University System of Georgia.
The Atlanta Journal-Constitution later reported that now former Fulton County District Attorney Paul Howard said Beck won't face criminal charges in Schultz's death. Howard said two use-of-force experts concluded the shooting was justified.
According to Project Q Atlanta, the university has assigned $1 million to mental health and wellness initiatives for LGBTQ+ students, has awarded Schultz's degree posthumously to their family, and now requires all Georgia Tech campus police officers to carry tasers as well as guns and complete 40 hours of crisis intervention training.
Liliana Bakhtiari wins runoff for Atlanta City Council
First LGBTQ Muslim elected in the state of Georgia and will be only Non-Binary Councilmember in a major U.S. city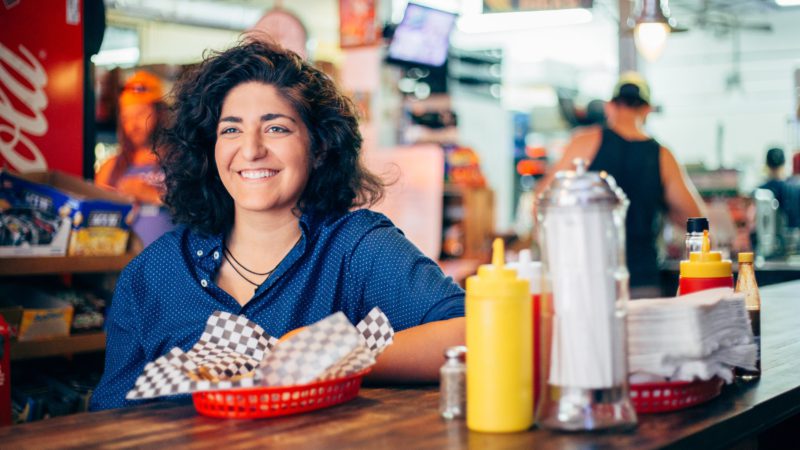 ATLANTA – Liliana Bakhtiari won her runoff election on Tuesday to represent District 5 on the Atlanta City Council, becoming the first out LGBTQ Muslim elected in the state of Georgia and one of less than five currently serving in the entire country.
Bakhtiari will also be the only non-binary person currently serving on the city council of a major U.S. city. During the general election on November 2, Bakhtiari competed in a field of five candidates and received 49.5 percent of the vote, just short of the 50 percent needed to win outright and avoid a runoff. The LGBTQ Victory Fund endorsed Bakhtiari in the race for the seat.
Bakhtiari first ran for the District 5 council seat in 2017 – losing to the incumbent by just 2.6 percent of the vote.
Bakhtiari's election comes as anti-Muslim and anti-LGBTQ political rhetoric rises in recent weeks, including state legislative attacks on trans candidates and anti-Muslim remarks targeting Minnesota Democratic U.S. Representative Ilhan Omar.
"Liliana's victory is a milestone moment for Georgia, but also for non-binary people and LGBTQ Muslims across the country who want to make positive change through public service," Mayor Annise Parker, President & CEO of LGBTQ Victory Fund said in a statement.
"When in office, Liliana will humanize our issues and be a voice for the underserved communities that are too often ignored by elected leaders. Atlanta is already a beacon of hope for LGBTQ people throughout the South, but with more representation that reflects the entire LGBTQ community, it can become a model for the entire nation," Parker added,
Also in a runoff for an At-Large Post 3 Atlanta City Council seat is LGBTQ candidate Keisha Sean Waites, a LGBTQ Victory Fund endorsed candidate and former member of the Georgia House of Representatives, whose race has not yet been called as of Tuesday.
On November 2, another LGBTQ Victory Fund endorsed candidate, former Atlanta City Councilmember Alex Wan, who successfully represented District 6 from 2010-2018, was victorious in his bid to again represent the District. Wan garnered 79 percent of the vote (7,120 votes) and won election to the District 6 seat.
There are currently just 11 non-binary elected officials serving in the entire country. View all LGBTQ elected officials currently serving at outforamerica.org.
Justice served for Ahmaud Arbery- reactions to the guilty verdicts
"Ahmaud Arbery was a son, brother, friend- his life had meaning. We honor him best by continuing the fight for justice"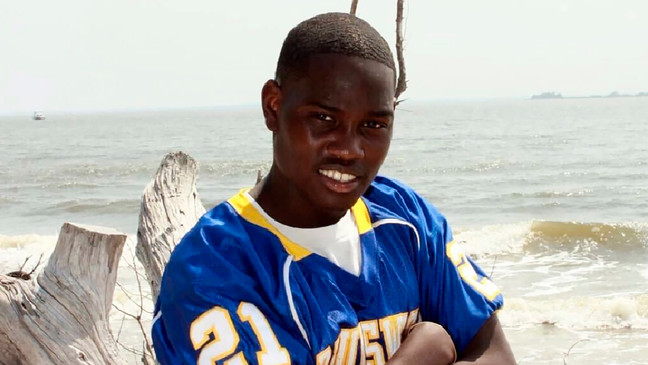 BRUNSWICK, Ga. – The jury in the Ahmaud Arbery trial reached a verdict in the trial of Travis McMichael and his father, Gregory, and their neighbor, William "Roddie" Bryan finding them guilty on multiple counts of felony murder, false imprisonment, and other felonies in the 2020 killing of Ahmaud Arbery in south Georgia, which led to a wave of racial justice protest and a resurgence of the Black Lives Matter movement in the nation.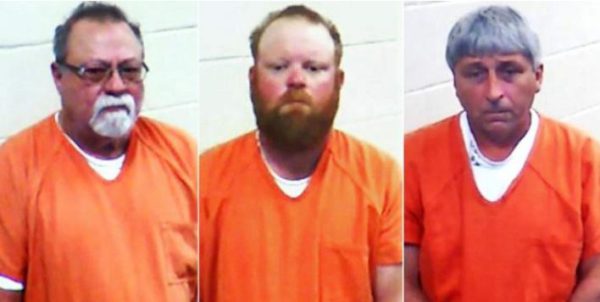 LGBTQ+ non-profit Lambda Legal Defense and Education Fund, better known as Lambda Legal issued a statement regarding the jury's decision;
"While we are relieved that justice was served today for Ahmaud Arbery and his family, no verdict can erase the pain and agony his family has endured. Our hope is that they can find the strength to carry forward in the wake of their unspeakable loss."
'It's Been A Long Fight': Ahmaud Arbery's Parents React To Guilty Verdict
Ahmaud Arbery's parents, Wanda Cooper-Jones and Marcus Arbery speak out at a press conference following a jury finding the three men involved in their son's murder guilty.
President Joe Biden, who along with his family are spending Thanksgiving on Massachusetts's Nantucket Island, issued a statement released by the White House regarding the outcome of the trial of the three men now convicted of murdering Arbry.
"Ahmaud Arbery's killing – witnessed by the world on video – is a devastating reminder of how far we have to go in the fight for racial justice in this country. Mr. Arbery should be here today, celebrating the holidays with his mother, Wanda Cooper Jones, and his father, Marcus Arbery. Nothing can bring Mr. Arbery back to his family and to his community, but the verdict ensures that those who committed this horrible crime will be punished.
While the guilty verdicts reflect our justice system doing its job, that alone is not enough. Instead, we must recommit ourselves to building a future of unity and shared strength, where no one fears violence because of the color of their skin. My administration will continue to do the hard work to ensure that equal justice under law is not just a phrase emblazoned in stone above the Supreme Court, but a reality for all Americans."
Vice-President Kamala Harris also issued a statement saying;
"Today, the jury rendered its verdicts and the three defendants were found guilty of murdering Ahmaud Arbery. Still, we feel the weight of grief. Ahmaud Arbery should be alive, and nothing can take away the pain that his mother Wanda Cooper-Jones, his father Marcus Arbery, and the entire Arbery family and community feel today. I share in that pain.

These verdicts send an important message, but the fact remains that we still have work to do. The defense counsel chose to set a tone that cast the attendance of ministers at the trial as intimidation and dehumanized a young Black man with racist tropes. The jury arrived at its verdicts despite these tactics.

Ahmaud Arbery was a son. He was a brother. He was a friend. His life had meaning. We will not forget him. We honor him best by continuing the fight for justice."
Jury Finds All Three Defendants ​Guilty In The Murder of Ahmaud Arbery