Trans non-binary visual artist & writer féi hernandez awarded grant
Define American, a culture change organization announced the winners of its 2021 Creative Fellowship project grant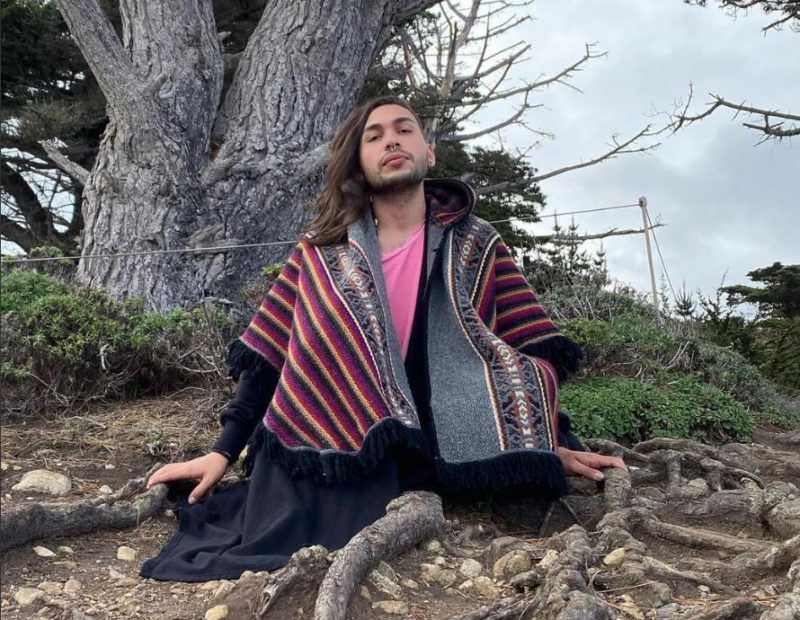 LOS ANGELES – An Inglewood raised immigrant trans non-binary visual artist, writer, and healer has been awarded a $5,000 grant to write and illustrate the first volume of a three-part children's book series.
Los Angeles-based féi hernandez will write and illustrate Heart of a Moth (Corazón de una Mariposa Nocturna), the first volume in the three-part children's book series. The story will center Iká, a mixed-race differently abled queer young spirit warrior, that protects their hood from shadow beasts bred from corrupted hearts.
The Books are anticipated to be distributed in multi-accessible formats including: audio books, Braille format, and plushies for kinesthetic readers to enrich a new generation of differently abled, queer and trans, Black, Indigenous, youth of color to embrace what makes them powerful.
Define American, a culture change organization that uses the power of narrative to humanize conversations about immigrants, announced the winners of its 2021 Creative Fellowship project grant.
The organization's Creative Fellowship, which awards a $5,000 grant to each recipient, is one of the few U.S. artistic fellowship opportunities that welcomes applicants regardless of immigration status, including undocumented creatives.
The other awardee is New York-based filmmaker Ash Goh Hua who will produce an abolitionist political cultural event around political prisoner liberation, focusing on the movement to free Mumia Abu-Jamal. Free Mumia.
Free Them All! will screen two short films, I'm Free Now, You Are Free and By Your Side; feature a panel conversation between the filmmakers, Ash Goh Hua, Mike Africa Sr and Debbie Africa and cultural worker Kazembe Balagun, and host a teach-in by Campaign organizer Johanna Fernández.
Abolition is a political vision with the goal of eliminating imprisonment, policing, and surveillance and creating lasting alternatives to punishment and imprisonment. By engaging the issue through art and films, it allows a story/narrative shift that moves people emotionally into the humanistic, cultural dimension of this struggle, which is crucial in political organizing, and thus will bring people closer to the issue at hand.
Past winners of Define American Creative Fellowship include Danyeli Rodriguez Del Orbe (2020), a community organizer with UndocuBlack, spoken word poet, and writer who is based in Los Angeles and New Orleans art duo Karla Rosas and Fernando Lopez (2019).
The Define American Creative Fellowship supports immigrant creatives working in narrative art forms as they build their professional practice and network. Recognizing the unique hurdles that immigrant creatives in these fields may face, the fellows selected for the Define American Creative Fellowship participate in workshops and conversations geared towards furthering their network and impact, connecting with additional resources, and supporting their community engagement efforts.
The Define American Creative Fellowship has been supported by the Kresge Foundation. This year,  the CAA Foundation, the philanthropic arm of talent and sports agency Creative Artists Agency, also joined as a supporting partner as part of its Full Story Initiative efforts.
"At least 95% of artists have lost income due to COVID-19. Additionally, the immigrant community in the U.S. has been largely overlooked by pandemic aid and stimulus checks," said Define American Founder Jose Antonio Vargas. "Many immigrant artists pursuing a creative career now find themselves in an untenable situation. Their perspective and creative practice are more important than ever as we work to ensure our culture truly reflects the diversity of our country. As the creative community rebuilds post-pandemic, we want to make sure immigrant creatives have a prominent role in that conversation."
"The CAA Foundation is honored to include Define American as partners in the Full Story Initiative, and to support their Creative Fellowship," said CAA Foundation Executive, Maddy Roth. "The fellowship embodies our mission of driving forward authentic narratives in television and film for a more equitable future. We are thrilled to help support these brilliant storytellers in their creative journeys."
The Define American Creative Fellowship is open to creatives in narrative-oriented art forms (writing, filmmaking, visual storytelling, theater, illustration, spoken word, digital journalism, etc.) with at least some experience (professional or amateur) in their chosen medium. This program is uniquely suited to supporting artists who have a deep commitment to their local communities and further developing their creative practice as they shape narratives of American identity.
"Artists and culture bearers are playing profound roles in their communities each and every day," said Seth D. Beattie, Program Officer, Arts & Culture for The Kresge Foundation. "Despite enormous financial challenges, they're helping communities process grief, raise the visibility of resources and build a sense of community even when socially distant. Define American is helping to lift up and support that work by actively challenging structural biases that impede the community efforts of immigrant artists, including the extensive discrimination facing artists living without documentation."
Incoming HRC President Robinson warns: 'They are coming for us'
"They are launching an intersectional attack against us and trying to divide our power and we are going to fight back together"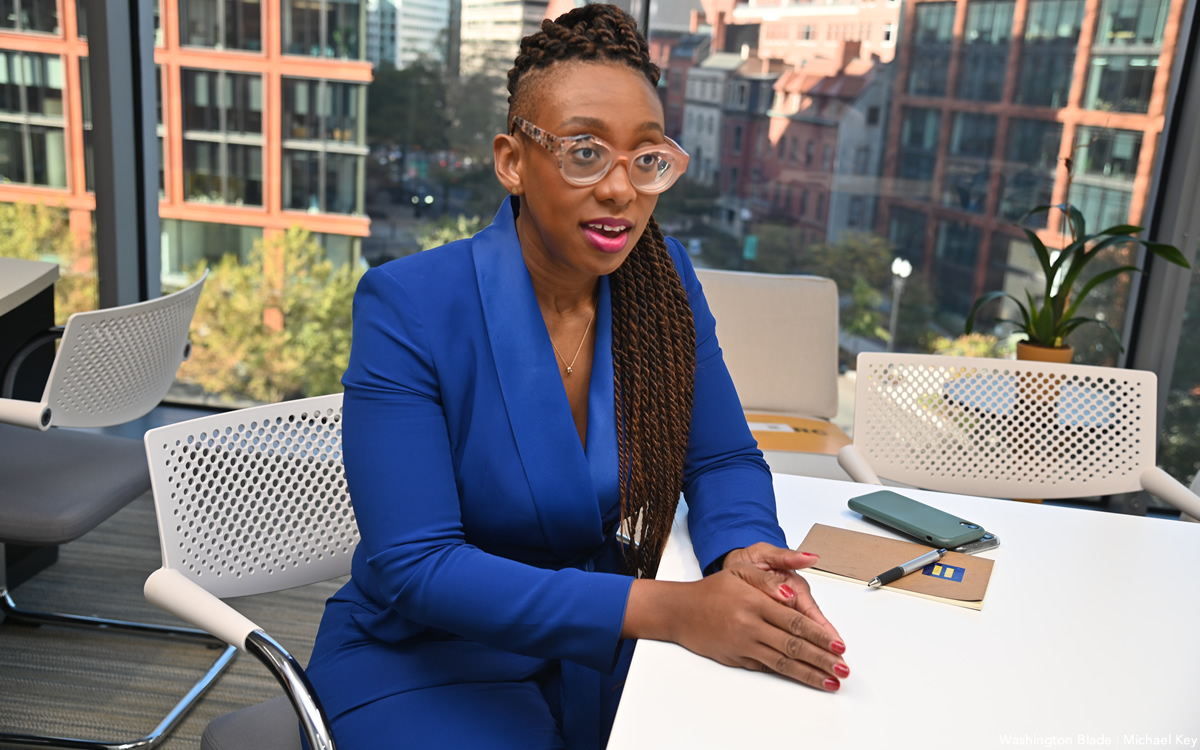 WASHINGTON – Kelley Robinson convened a press briefing on Monday with representatives from local and national LGBTQ advocacy groups and gun violence prevention organizations to discuss the deadly shooting over the weekend at an LGBTQ nightclub in Colorado Springs.
"We are, of course, having this call under the worst of circumstances," Robinson said, expressing her heartbreak and outrage in personal terms "as a wife, a mother, and a member of the LGBTQ community."
Around the same time, news outlets reported that hate crime charges were filed against the suspected gunman who killed five people and injured at least 19 others when he opened fire with an assault style rifle in Club Q late Saturday night.
Just a couple of weeks ago, when Robinson sat down for an interview with the Washington Blade, she was smiling for much of the conversation. For one thing, she was looking forward to the official start of her tenure as president of the Human Rights Campaign . On Nov. 28, she will become the first Black queer woman to serve in that role leading the nation's largest LGBTQ organization.
The interview also came on the heels of a midterm election cycle that had seen record turnout among LGBTQ voters and historic firsts for LGBTQ candidates. Additionally, by then it had become clear that by the year's end Congress would likely pass the landmark Respect for Marriage Act, which carries significant legal protections for same-sex couples.
Tone and tenor aside, however, there was little daylight between Robinson's words and actions following the mass shooting and her comments during that Nov. 10 interview, during which she pledged to lead HRC with an intersectional approach to the work, in a manner consistent with her prior leadership as executive director of Planned Parenthood Action Fund and professional background as a community organizer.
On Monday, Robinson – along with the other speakers – urged collective, decisive action to stem the escalating tides of hateful rhetoric, online misinformation and disinformation, and violence and threats of violence directed at LGBTQ people. They focused their comments on how these factors work together to raise the likelihood of violent attacks like that which happened on Saturday.
Likewise, they said solutions must involve a diverse array of stakeholders: lawmakers and social media companies tasked with fighting online hate, misinformation, and disinformation; law enforcement agencies responsible for enforcing existing gun laws; and groups representing vulnerable communities that are disproportionately impacted, like trans women of color and LGBTQ youth.
"What we saw this past year is that our opposition gets intersectionality," Robinson told the Blade. "They are coming for us, for all of us," she said, citing as examples the Supreme Court's decision revoking Americans' constitutional right to abortion, the hateful rhetoric of Fox News host Tucker Carlson, and recent spate of statewide anti-LGBTQ bills.
"They are launching an intersectional attack against us and trying to divide our power," she said. "And we are going to fight back together, because ultimately we are stronger together."
From her vantage point as a queer Black woman, Robinson said intersectionality is not just a theory relegated to academia but rather a fact of life. It also happens to also be exceptionally effective in engendering concrete change through movement building and coalition building, she said.
For these reasons, Robinson said HRC is focused on political advocacy at the federal, state, local, and grassroots levels. And the organization is expanding its programs in other areas that are designed to, for example, make schools more welcoming environments for LGBTQ youth, empower trans people in the workplace, and hold employers as well as municipalities to account for their policies concerning treatment of, respectively, LGBTQ employees, residents, and visitors.
Likewise, with respect to the organization's impact litigation work, intersectionality is front and center, Robinson said. HRC's attorneys are working with other legal actors and entities in the movement ecosystem on cases involving everything from protecting the rights of the incarcerated to fighting back against anti-LGBTQ state laws, she said.
Still, Robinson said she is realistic about the challenges that lie ahead. Asked what keeps her up at night, she said it's how high the stakes are: "This is truly a matter of life and death for so many people," she said.
"People are hurting right now. We may be in a different phase of the pandemic, but it's not over for people. The impact that it's had for people's work lives, the impact it's had for our mental health, all of that lingers and is present…I can't tell you the number of people that have come up to me in tears about their kids, worrying about their kids, worrying about their trans kids who are getting kicked out of sports and told they're different when they're five, six, seven, eight years old. They're worried about their gay kids and if they'll be able to love the people that they choose to love and still live in the states that they call home."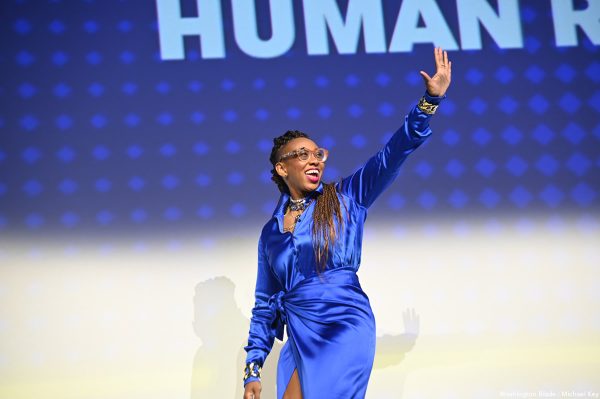 However, Robinson said, "there's a unique opportunity for us to do something about it right now. We've built the political power. We have the organization. We're so close to having the political leadership that we need in office to get some stuff done. So, this is one of those moments where it just feels like there's so much on the line, there's such a sense of urgency. But the hope and optimism is coming from the fact that we're not done."
Dr. Martin Luther King Jr. famously proclaimed that "the arc of the moral universe is long, but it bends toward justice," but "that doesn't happen by accident," Robinson said. "We've got to pull it and push it and prod it, and I'm proud to be part of that struggle and that legacy fighting for freedom; fighting for change."