Commonwealth Games head wants to meet with Olympian Tom Daley
"I want to make it my mission […] countries that criminalize and make it punishable by death for LGBTQ people are not allowed to compete…"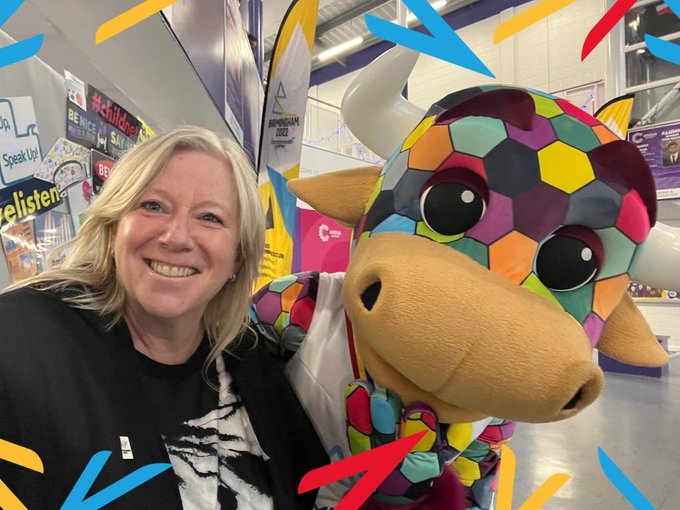 LONDON – Katie Sadleir, the chief executive of the Commonwealth Games Federation (CGF) told British media outlets this week that she would be 'happy' to meet with British Olympic Gold medalist Tom Daley, to discuss the diver's outspoken opposition to anti-LGBTQ+ countries participating in global athletic completions.
As the Federation gears up for the 2022 Birmingham Commonwealth Games, Pink News UK reported that being LGBTQ+ is still illegal in 36 of the 72 nations and territories that will be in Birmingham for the games.
In his speech in October accepting the 2021 Attitude Magazine Foundation's Virgin Atlantic Attitude Sport Award, the 27-year-old British Olympic Gold Medalist and champion diver took aim at 10 countries that have death penalties for people who are LGBTQ+.
Daley told the audience at the Virgin Atlantic Attitude Awards held at The Roundhouse Theatre in Central London that the Olympic Games should ban those nations.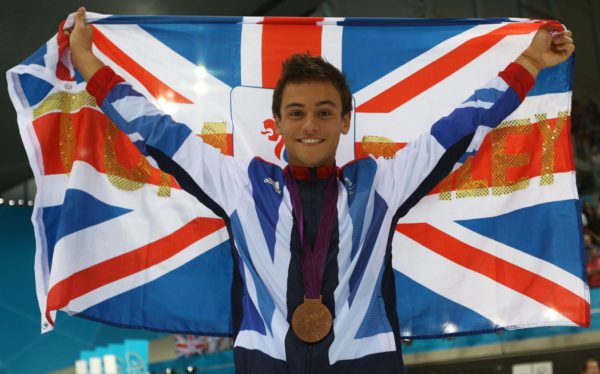 "These past Olympic Games there were more out LGBT athletes than at any of the previous Olympics combined, which is a great step forward," Daley said. "Yet there are still 10 countries that punish being gay with death that were still allowed to compete at the Olympic Games."
Reflecting on the fact that the Tokyo Olympics had for the first time ever more LGBTQ+ athletes competing, Daly said, "It's all well and good speaking about those things but I think it's really important to try and create change rather than just highlighting and shining a light on those things."
The Olympian champion diver went on to tell those in the audience at the Jaguar Motorcars co-sponsored event he was going to make it his mission to effect change.
"I want to make it my mission before the Paris Olympics in 2024 to make it so that the countries that criminalize and make it punishable by death for LGBT people are not allowed to compete at the Olympic Games," Daley said.
He then pointed out that those same countries shouldn't be able to host Olympic games either- then he called out the upcoming World Cup in Qatar;
"The World Cup coming up in Qatar has extreme rules against LGBT people and women and I think it should not be allowed for a sporting event to host in a country that criminalizes against basic human rights," he said.
Sadleir said she would be "happy to meet" with Daley to see how the foundation can "create an opportunity to raise issues in a safe environment".
But she admitted she can't "go into the countries" that criminalise being LGBTQ+ and "change their laws at this stage," Pink News UK noted.
"We don't set the rules for all the countries but what we do is to create a platform to discuss things that we think are important," Sadleir said.
She added that the CGF has been "working on the concept" for a Pride House in Birmingham which will create a "safe space" for queer athletes to "come and discuss issues, to raise the profile of the community".
Pink News also reported that the Pride House in Birmingham will promote LGBT+ participation in sport while also hosting a packed programme of entertainment before and after the games.
Carrying a Pride flag- protester interrupts World Cup game
Qatar's laws against gay sex and treatment of LGBTQ people were flashpoints in the first World Cup to be held in the Middle East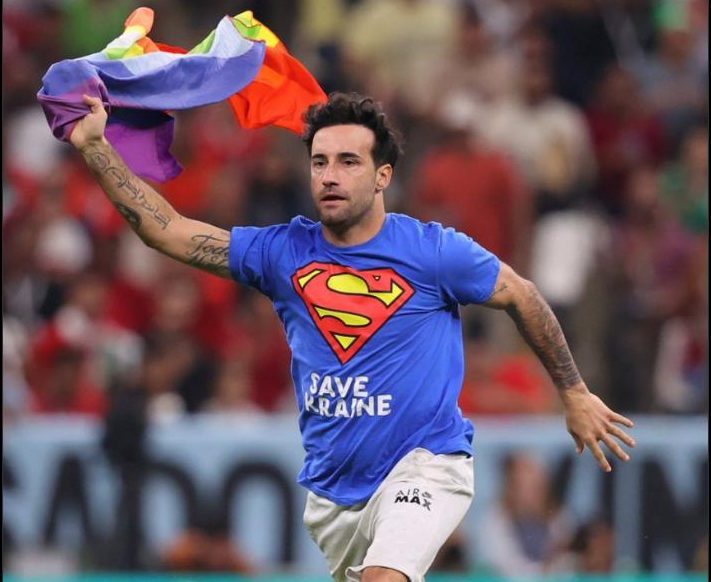 LUSAIL, Qatar – During a World Cup match between Portugal and Uruguay Monday, a lone protester ran across the field waving a LGBTQ+ Pride flag moments after the second half kickoff.
Video and still images show the man wearing a blue T-shirt emblazed with the Superman symbol and the phrase "SAVE UKRAINE" on the front and "RESPECT FOR IRANIAN WOMAN" on the back.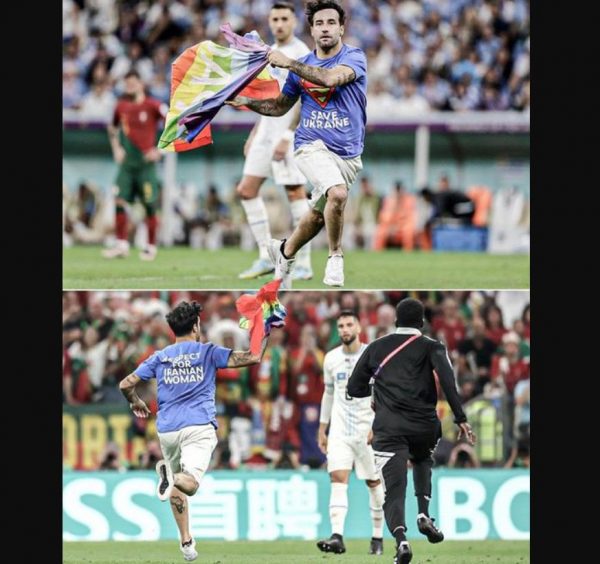 Qatari security personnel chased him down and then frog marched him off the playing field. Israeli Public Radio correspondent Amichai Stein tweeted video clips of the incident:
World Cup: A protester ran into the game holding a rainbow flag – with a 'Save Ukraine' and 'Respect For Iranian Women' shirt – @OrryLavie pic.twitter.com/s6dIcZLkQz

— Amichai Stein (@AmichaiStein1) November 28, 2022
FIFA had no immediate comment on the incident the Associated Press noted reporting that in the first week of the tournament in Qatar, seven European teams lost the battle to wear multi-colored "One Love" armbands during World Cup matches. Fans also complained they weren't allowed to bring items with rainbow colors, a symbol of LGBTQ rights, into the stadiums of the conservative Islamic emirate.
Qatar's laws against gay sex and treatment of LGBTQ people were flashpoints in the run-up to the first World Cup to be held in the Middle East. Qatar has said everyone was welcome, including LGBTQ fans, but that visitors should respect the nation's culture.