Commonwealth Games head wants to meet with Olympian Tom Daley
"I want to make it my mission […] countries that criminalize and make it punishable by death for LGBTQ people are not allowed to compete…"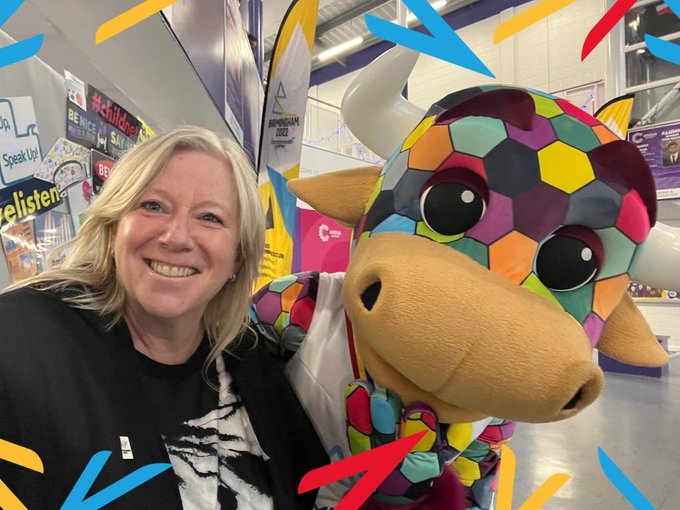 LONDON – Katie Sadleir, the chief executive of the Commonwealth Games Federation (CGF) told British media outlets this week that she would be 'happy' to meet with British Olympic Gold medalist Tom Daley, to discuss the diver's outspoken opposition to anti-LGBTQ+ countries participating in global athletic completions.
As the Federation gears up for the 2022 Birmingham Commonwealth Games, Pink News UK reported that being LGBTQ+ is still illegal in 36 of the 72 nations and territories that will be in Birmingham for the games.
In his speech in October accepting the 2021 Attitude Magazine Foundation's Virgin Atlantic Attitude Sport Award, the 27-year-old British Olympic Gold Medalist and champion diver took aim at 10 countries that have death penalties for people who are LGBTQ+.
Daley told the audience at the Virgin Atlantic Attitude Awards held at The Roundhouse Theatre in Central London that the Olympic Games should ban those nations.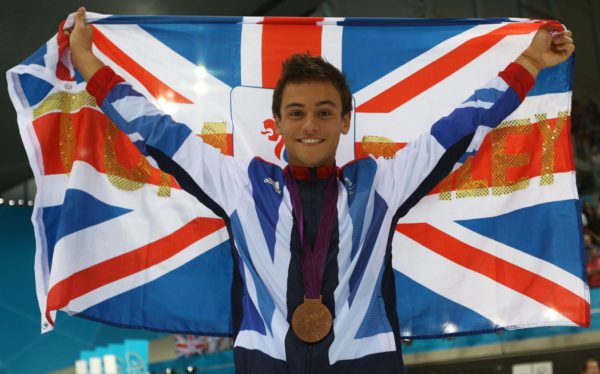 "These past Olympic Games there were more out LGBT athletes than at any of the previous Olympics combined, which is a great step forward," Daley said. "Yet there are still 10 countries that punish being gay with death that were still allowed to compete at the Olympic Games."
Reflecting on the fact that the Tokyo Olympics had for the first time ever more LGBTQ+ athletes competing, Daly said, "It's all well and good speaking about those things but I think it's really important to try and create change rather than just highlighting and shining a light on those things."
The Olympian champion diver went on to tell those in the audience at the Jaguar Motorcars co-sponsored event he was going to make it his mission to effect change.
"I want to make it my mission before the Paris Olympics in 2024 to make it so that the countries that criminalize and make it punishable by death for LGBT people are not allowed to compete at the Olympic Games," Daley said.
He then pointed out that those same countries shouldn't be able to host Olympic games either- then he called out the upcoming World Cup in Qatar;
"The World Cup coming up in Qatar has extreme rules against LGBT people and women and I think it should not be allowed for a sporting event to host in a country that criminalizes against basic human rights," he said.
Sadleir said she would be "happy to meet" with Daley to see how the foundation can "create an opportunity to raise issues in a safe environment".
But she admitted she can't "go into the countries" that criminalise being LGBTQ+ and "change their laws at this stage," Pink News UK noted.
"We don't set the rules for all the countries but what we do is to create a platform to discuss things that we think are important," Sadleir said.
She added that the CGF has been "working on the concept" for a Pride House in Birmingham which will create a "safe space" for queer athletes to "come and discuss issues, to raise the profile of the community".
Pink News also reported that the Pride House in Birmingham will promote LGBT+ participation in sport while also hosting a packed programme of entertainment before and after the games.
First Out gay active NFL player Carl Nassib announces retirement
The NFL player says his 'Next Chapter' is to focus on his mobile platform- 'I really feel like the luckiest guy on the planet'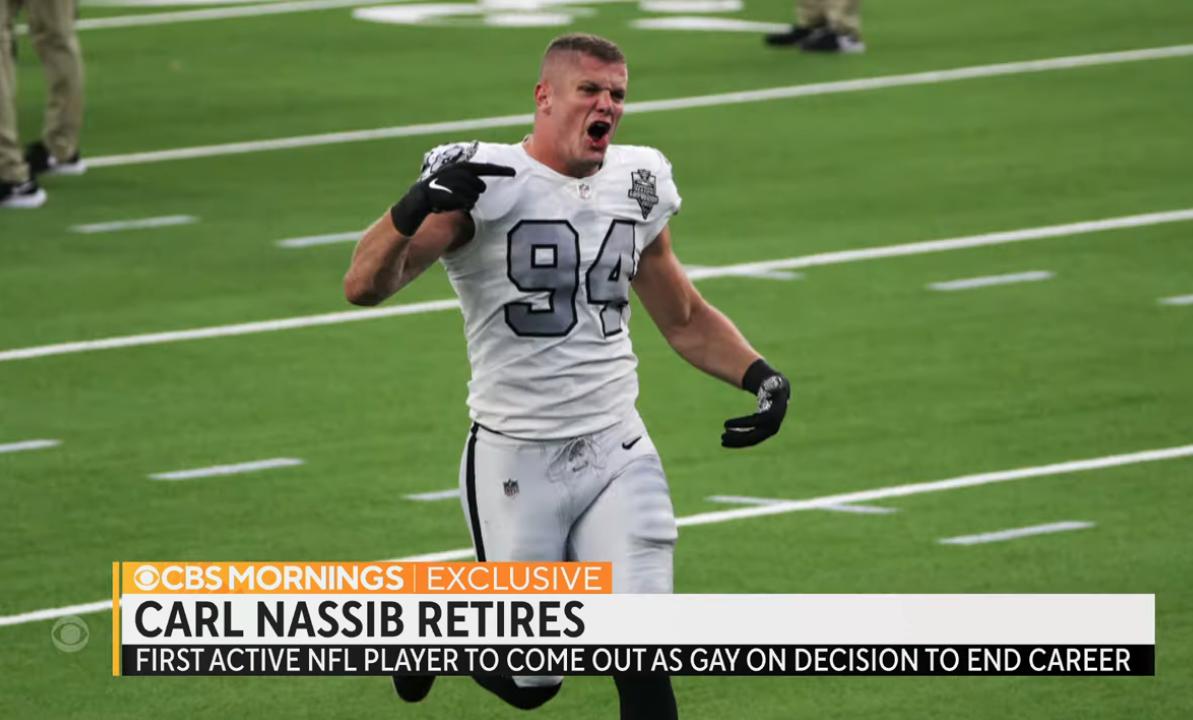 WEST CHESTER, Pa. — Carl Nassib, who made history in 2021 when he became the first active player in the National Football League to come out as gay, announced Wednesday he is retiring at age 30.
"This is a bittersweet moment for me," the free agent wrote in a post on Instagram. "But after seven seasons and just over 100 NFL games I am officially retiring from football to focus on my company Rayze."
Rayze is a mobile platform that connects people willing to give of themselves with those who need it most, born of an experience in Tampa, Fla., where Bucs players volunteered as mentors to kids being held in a nearby juvenile detention center. Rayze's website says the company serves to "shine a light on opportunities that need volunteers, while making nonprofit engagement, volunteer recruitment, and donating as simple and intuitive as possible."
"It really feels like just yesterday starting out as a walk-in at Penn State," Nassib wrote in his post. "Football has given me more than I ever could have imagined. I can truly hang up my helmet for the last time knowing I gave it everything I had." 
Ever since he came out in 2021, the former defensive end for the Tampa Bay Buccaneers has become a philanthropist for the LGBTQ+ community, especially for queer youth, personally donating $100,000 to the Trevor Project. That year, the NFL matched his donation, and in 2022, Nassib himself matched donations dollar for dollar, up to $100,000. 
According to the Bucs, Nassib played in 99 regular-season NFL games with 38 starts, recorded 187 tackles, 25.5 sacks, 45 tackles for loss, 59 quarterback hits, four forced fumbles, three fumble recoveries, one interception and 19 passes defended. In 2016, he the Cleveland Browns drafted him with the second pick in the third round. At Penn State, Nassib was a star player, leading the nation in sacks and forced fumbles during his senior year with the Nittany Lions in 2015.
"It was not an easy decision. It really, really wasn't," Nassib told People magazine in an exclusive interview timed to coincide with his Instagram.
"This would have been my 23rd football season. I've been playing football since I was eight years old, and I'm really excited to move on to the next chapter of my life," he said.
Nassib says he began considering retirement last season before becoming a free agent, when he said he was "staying at the Bucs facility until 9 p.m. every night working on Rayze."
"I feel like it's my calling and it's what I'm meant to do," Nassib says of the app. "I'm really excited to move on to the next chapter of my life and to give Rayze everything that I have."
In July, he posted that he had accepted an appointment to the board of directors of the local United Way chapter in his hometown of West Chester, Pa.
Nassib said he is also going to work with the NFL in a new role, in matters related to the league's philanthropic endeavors and its "diversity, equity, and inclusion."
"I think that I can provide a very rare and specific view of how life is for an out gay player, and I think that there are some amazing opportunities that I can also learn," he told People.
"Maintaining that relationship shows that the NFL is continuing to support me. They've supported me so much over the last two years, and I really couldn't have done it without that support," he said.
Nassib said the NFL's offer to utilize him in this new role "continues to show people that you can be yourself and compete at the highest level."
But what he's most excited to do with his time now, he told People, is to spend the holiday season with his family and his boyfriend, retired Olympian Søren Dahl. 
"I've spent 11 out of 12 Christmases away from my family, many of them alone in my apartment," said Nassib. "I haven't spent Thanksgiving with my family since 2010, so I am really, really looking forward to spending time with my family, my friends, and those special moments. And that's something that I've been looking forward to for years." 
That's one of the many reasons why he wrote on Instagram: "I really feel like the luckiest guy on the planet."
Related: