Victory Fund honors Maine House speaker in D.C.
Ryan Fecteau is gay Catholic University alum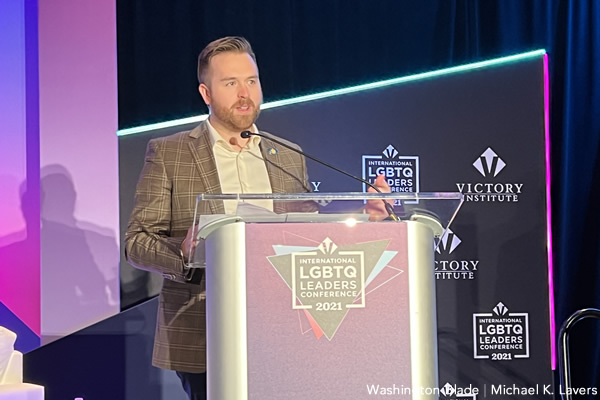 WASHINGTON — The Victory Fund on Saturday honored Maine House Speaker Ryan Fecteau on the last day of its International LGBTQ Leaders Conference in D.C.
Fecteau — an openly gay Catholic University of America alum — won a seat in the Maine House of Representatives in 2014. He became the chamber's speaker in 2020.
"Hate and intolerance will not derail us," said Fecteau after Florida state Rep. Carlos Guillermo Smith presented him with the Tammy Baldwin Breakthrough Award, which is named after U.S. Sen. Tammy Baldwin (D-Wis.). "Our community will not be intimidated."
The Victory Fund on Friday honored Guatemalan Congressman Aldo Dávila, a gay man who is living with HIV. The organization at its 30th anniversary gala on Saturday honored former Massachusetts Congressman Barney Frank, Oregon Gov. Kate Brown, Minneapolis City Council Vice President Andrea Jenkins and former Irish Prime Minister Leo Varadkar.