Ahmanson returns to live performance with 'Christmas Carol'
Bradley Whitford in 'Christmas Carol' at the Ahmanson is a fresh perspective and new approach to a time-worn classic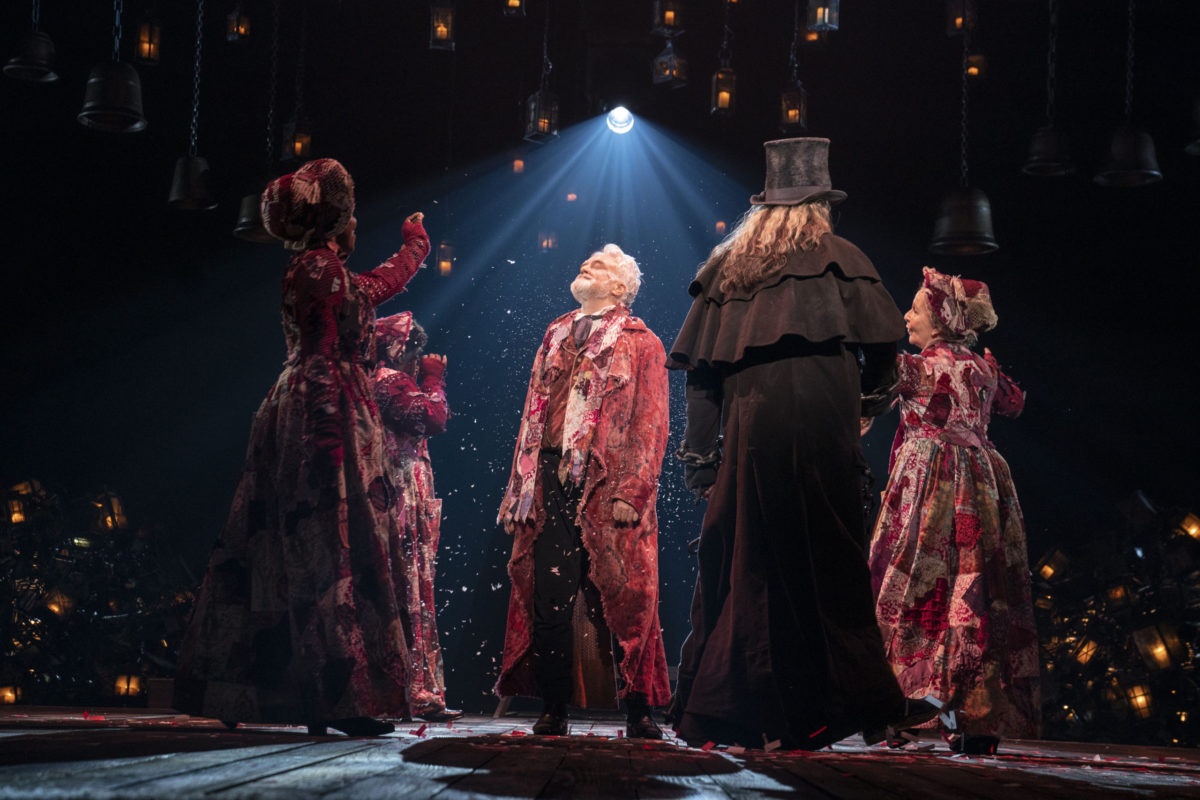 When Charles Dickens wrote "A Christmas Carol" in 1843, he was inspired as much by a need to make money as he was a love for the holidays. His latest novel was being published in serial form, but sales were disappointing, so he hit upon the idea of a novella capitalizing on the seasonal fervor of readers to ensure himself a nice boost in income. It was a hit, and most of Western culture is still embracing the traditions immortalized within it, 178 years later.
Given the intent of its original author to use the story as a cash cow – something he would continue to do with live readings of the manuscript at nearly 200 public performances over the remaining course of his life – it seems fitting, or at least unsurprising, that "A Christmas Carol" has continued to be reinterpreted, restructured, remounted, re-invented, and recycled across every conceivable medium over the years. This year, Angelenos are getting the opportunity to see one of the most lauded of its recent incarnations, which has arrived at the Ahmanson to celebrate not only the Christmas season, but also the return to live performances after more than a year-and-a-half of shutdowns.
Playwright Jack Thorne – who rose to international acclaim for writing "Harry Potter and the Cursed Child" – adapted the Dickens novella in 2017, for London's Old Vic Theatre. It proved so successful that it has returned for an encore each subsequent year (including virtually, during the pandemic), and was mounted on Broadway in 2019 for a production that, despite its run being cut short by COVID-forced closure, snagged Tony Awards for the design of its lights, sets, costumes, and sound, as well as for its original score. It's this version that's now playing on the Ahmanson stage, a briskly paced, high-energy enactment of the Christmas classic that pares Dickens' story down to its most essential elements while leaning heavily into the "magic of the theatre" to evoke the necessary sense of wonder. Thanks to those Tony-winning technical designs, it succeeds unequivocally in achieving the latter – but how well it succeeds in delivering "A Christmas Carol" to audiences eager for the comforting familiarity of a well-loved traditional experience is not quite so clear-cut.
In Thorne's vision of the classic tale, we are transported to early Victorian London via a somewhat minimalistic scenic design, made up mostly of old-fashioned lamps – piled below as well as strung above, in a dazzling and immersive sea of light that extends out well above the audience – and a few modular components (all branded "Scrooge and Marley") that can be variously assembled to suggest different locations, with a central playing area delineated in a square by four rectangular archways, which rise and lower as needed to suggest structures.. Abstract, cold, and industrial as this setting might sound, it is given ample warmth not just by the amber glow of the lighting, but by the music (most of which is played and sung live onstage) which accompanies the action throughout. Calling to mind, perhaps, an encampment in some urban junk yard where itinerant souls have gathered to share some holiday cheer despite their hardships, it provides a surprisingly effective environment for a tale which, like all of Dickens' work, runs deep with a humanitarian undercurrent of social consciousness.
Within this evocative space, the players endeavor to tell the story of miserly old Ebenezer Scrooge and his supernaturally facilitated redemption, banding together to recite the familiar words of Dickens' narration in a style that falls somewhere between Greek Chorus and Carnival Busker. Individuals step out from this group to assume particular roles – Fezziwig, Bob Cratchit and the Ghosts, for instance – but Scrooge himself (Bradley Whitford, in a characteristically audacious performance) is set up from the beginning as a man apart, and for most of what transpires during the play's short running time, he essentially serves as a foil for the rest of the ensemble – and the old-fashioned but dazzling theatrical trickery they employ as an aid – as they barrel through the iconic narrative and lead him against his will to his own salvation. It's a boisterous ride, an inherently performative rendition that takes for granted we already know the story by heart and elides its way past most of the expository details so it can get to the key points faster and spend more time lingering there.
In description, perhaps, the show's effect may seem like a bullet-pointed list, but in reality it plays out like a ceremonial presentation – and aptly so, given that its source material has become woven into the fabric of one of the cornerstone events of the Christian calendar. In the orchestrated blend of language and movement that take us through the paces of Scrooge's road to transformation, the beloved high points – the introductions of the ghosts, the visits with nephew Fred, and of course the heart-tugging saga of Tiny Tim – become scenes for contemplation, like a secular version of the Stations of the Cross; and within that heightened sense of import, Thorne's script takes the opportunity to expand upon some of Dickens' time-honored storytelling with a few flourishes dictated by a decidedly modern perspective.
In this "Christmas Carol," the Cratchit family drama that usually occupies so much of our attention takes a back seat to unpacking the history of trauma that turned Young Ebenezer into Old Scrooge in the first place. Taking leaps with ideas merely suggested in the story's original text, Thorne gives us harrowing insight into the old man's upbringing, reveals the ahead-of-its-time "wokeness" of Fezziwig's worldview, and allows for some healing and closure in the thwarted love story with abandoned fiancée Belle. He also introduces moments of particularly harsh reality – like letting us see the death of Tiny Tim instead of merely learning about it after the fact – that take us by surprise and thereby forces us to confront them more directly than in Dickens' kinder, gentler original; finally, he diverges from tradition in his depiction of the ghosts (particularly the last one) and gives them all a more personal relationship to Scrooge than is suggested in the original.
All of this makes for stimulating theater, and Thorne, along with the entire creative team, deserve kudos for bringing a fresh perspective and new approach to a time-worn classic. But the problem with new approaches is that, by changing focus, they also change effect, and theatre-goers hoping for the kind of familiar, comforting holiday experience they normally expect from "A Christmas Carol" may well find this one jarringly UN-familiar. That's not a bad thing, by any means, but when your heart is set for figgy pudding, anything else is bound to be a disappointment.
With that in mind, it's safe to say that this new production is absolutely worth seeing, for its creativity, its energy, and its willingness to shed some fresh light on some corners that have always remained dark in the past. It just might not be the Dickens you were looking for, and if you can manage that expectation, you're likely to have a festive time, indeed.
Captivating topic, great cast, but falls short on real issue
Rogue Machine Theatre's recent run of "A Great Wilderness" is reviewed by the founder of the Conversion Therapy Dropout Network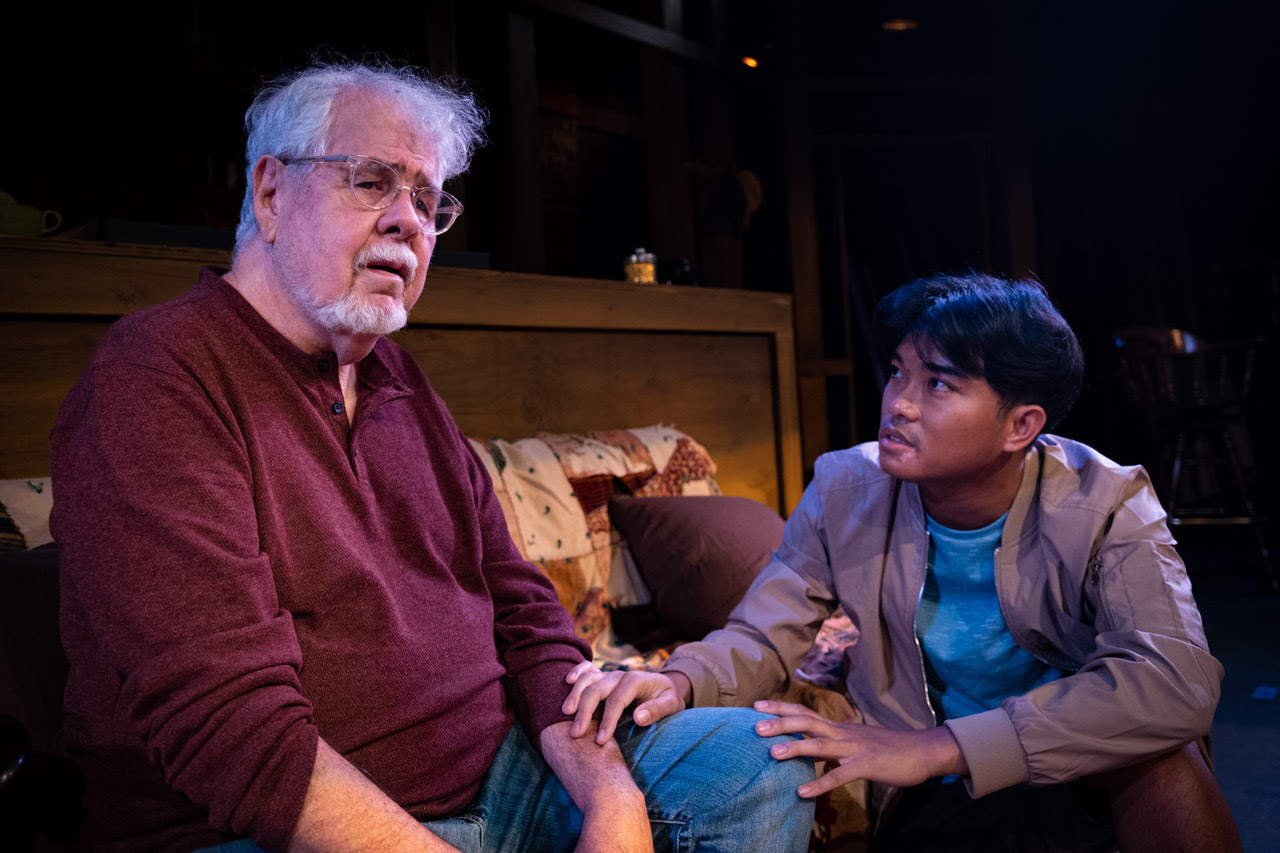 By Curtis Galloway | LOS ANGELES – Rogue Machine Theatre's recent run of "A Great Wilderness", written by Samuel D. Hunter and directed by Elina de Santos, was a harrowing story, to say the least. It explores the complex ideas behind conversion therapy or sexual orientation and gender identity change efforts.
As a conversion therapy survivor, I knew that I needed to see this production as I am always more than happy to see conversations about this topic. While the cast was excellent and the overall theatrical presentation was entertaining and very engaging, I feel that the script itself lacked direction and proper handling of the main topic, conversion therapy.
The show opens in an old cabin, which we will stay in for the duration of the story, with the two main characters, Daniel & Walt, standing off in silent opposition. Daniel, a teenager, has just been sent away to a remote cabin run by Walt, an elderly man that is about to be moved into an assisted living home. We learn quickly that Daniel was sent there by his mother after he was caught watching homosexual pornography, and Walt is known for "helping" kids change their sexual orientation through religious means. To be plain, Walt is a "conversion therapist" and has been running a conversion camp with his friend Tim and ex-wife Abby.
Over the course of two hours, Daniel goes missing in the woods, Abby and Walt reveal that their son was gay and committed suicide due to their attempts to have his sexual orientation changed, and Daniel's mother seemingly prefers her son stay missing rather than face the world that she knows is unkind to "people like him".
There is no doubt, that the show had a fantastic cast. The six characters were neatly defined as their own individuals with distinct personalities and lives of their own. Each action was meaningful and thought out, to the smallest detail. The emotion brought through each character enticed you to believe that it was actually happening before your eyes. It was everything good casting should be.
My main issue with the production sat in the script, specifically the sympathy it garnered for Walt as a conversion therapist.
From personal experience, when talking about conversion therapy and specifically the conversion therapist, we need to be careful not to create a sympathetic tone. A Great Wilderness focused too much on the life and struggles of a conversion therapist that, in his old age, is trying to come to terms with his life, the mistakes he has made, and his past attractions.
This brings feelings of sympathy and emotional connection to the character, that does not deserve sympathy. One character notes that they knew Walt through the community as a weird old man that abuses children in his cabin by trying to make them straight. They noted that as they grew to know him they realized that people will say what they want, but they knew he "never harmed those kids".
Toward the end of the show, we get the initial beginnings that Walt is starting to doubt the conversion therapy he has been providing his whole life, but we never really get to him denouncing it or talk directly about it.
At the end, we finally get to see Daniel stumble back into the cabin after being missing in the woods. He describes seeing flames (from a wildfire nearby) and having a revelation from God that he can change and that he wants to pursue what Walt initially set out to do, make Daniel straight.
For me, this left the door way too open for interpretation that, yes, conversion therapy is bad, but what this guy did really wasn't. It misses the whole point and ideology behind why conversion therapy exists in the first place. Anti-LGBTQ sentiments that something is wrong with the individual are at the heart of all of it, and no amount of feel good cabin, "I just want to help" can cover that up.
Overall, the production of "A Great Wilderness" was captivating and fantastic. The cast did an amazing job and they should all be proud, as should the theatre. I left having mixed feelings, as you have now read, but I stand by my evaluation that it casts too much sympathy on a character that has spent his life making other's lives worse and more confusing.
************************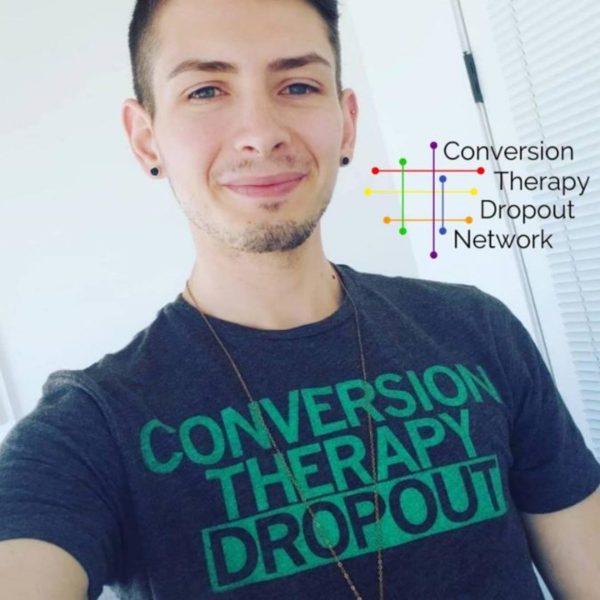 Curtis D. Galloway is the Founder & President of Conversion Therapy Dropout Network in Los Angeles, California. Curtis grew up in a small town in Southern Illinois. When he was 16 years old he was subjected to conversion therapy; an experience he was later able to use to ban conversion therapy in his home state.
Now living in L.A., Curtis has taken his activism to the next level and founded the Conversion Therapy Dropout Network to bring survivors of conversion therapy together in community and solidarity.