Jinkx and DeLa deliver pitch-perfect holiday comedy
The Return of The Jinkx & DeLa Holiday Show, LIVE!" comes to LA for one show only: Saturday, December 18, at The Theatre at Ace Hotel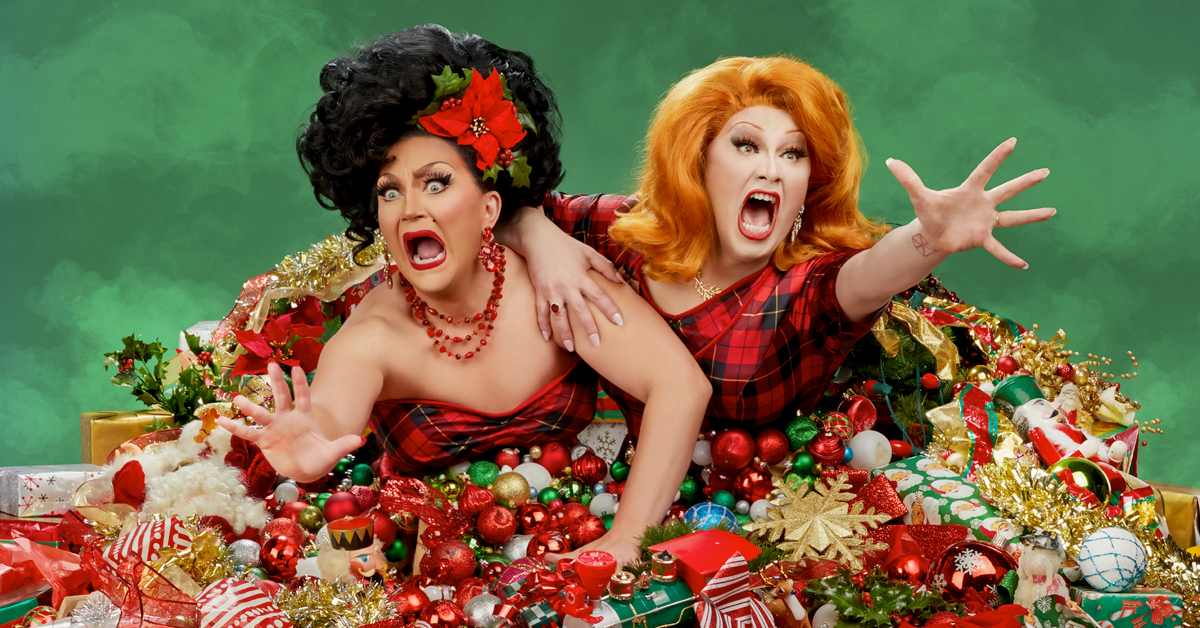 NEW YORK – Touring through December 30 with a new, essential viewing installment of their annual holiday stage show (skipped last year because of COVID-Number-You-Know), drag queens Jinkx Monsoon and BenDeLaCreme need about five minutes of stage time to prove they've earned their place in the pantheon of mismatched comedy duos.
From the time they set up the show's premise to the moment they send their swooning audience back into the larger world hoarse from excess laughter, the writer/performers work a binge-worthy buddy dynamic informed by the kinetic stage antics of Martin and Lewis, the pitch-perfect timing of Bob and Ray, the contempt-breeding familiarity of Eunice and Mama, and the fourth wall-breaking rivalry of Looney Tunes characters. ("Duck Season," insists DeLa's Bugs, answered by a "Rabbit Season!"-spouting Jinkx, in full-on Daffy mode.)
If some of the above pairings don't ping your radar, no worry. Rest assured the carefully calibrated Christmas concoction created by DeLa and Jinkx knows its herstory. You can see it clear as day, in the DNA of each character: DeLa is stick-up-posterior organized and proper—the rigid product of too many traditional Christmases in Connecticut. Jinkx is a vulgar vixen whose idea of decking the halls is hitting the bars—and the back alley after last call.
Each bristles at the other's extremes, oblivious to their own. Thus, the show is a series of escalating scenarios, where their oil and water makeup threatens to fracture the friendship beyond repair.
But how did things get to such a point? After entering the stage to raucous applause (seen by this scribe on Dec. 4, the second of two shows at NYC's Town Hall), Jinkx and DeLa acknowledge the down time ("two years gone") between these annual Yuletide stage shows, during which each gives their own take on the bill-paying indignities of Cameo bookings.
All is well—but soon enough, we're introduced to an all-new character whose chemistry with DeLa does not sit well, at all, with Jinkx (a study in delayed or devoured pleasure, depending upon whether she stops short or imbibes from her omnipresent cocktail glass). It doesn't help at all that the budding new bestie is a saccharine-sweet, larger than life, anthropomorphic peppermint retrieved from the bottom of DeLa's comedically oversized purse.
Peppi the Peppermint (puppeteered by DeLa) is a bottomless well of mint-based puns and newborn-innocent questions about the meaning of words. The script hands Jinkx a half-dozen or so chances to stew in her juices before boiling over, when Peppi's vocabulary comprehension skills are portrayed as wildly inconsistent (multisyllabic words are understood perfectly, while the meaning of simple ones prove elusive).
For fans of 2020's subversively sincere and heroically explicit "The Jinkx & DeLa Holiday Special" (currently available on HULU), Peppi the Peppermint is to this show as Nanog (DeLa's "dairy nogmother" puppet) is to that one—a seemingly harmless confidant who transfixes DeLa while alienating Jinkx. In addition to this forward-moving narrative device, "The Return of The Jinkx & DeLa Holiday Show, LIVE!" benefits from mounting several of the production numbers from "Holiday Special," complete with a six-person dance ensemble drawn from that show's cast.
Benefitting from on-point costumes that crystallize the essence of their character, the ensemble is especially effective in DeLa's dense little ditty about all the essential elements of a Connecticut Christmas. Later on, in a number that takes jabs at the story of the virgin birth and its 33-year aftermath, one dancer—as the adult Jesus—becomes the cross that the Christ child is crucified on. Played as a seconds-long tableau within the song's fast-paced choreography, it's long-lasting satire at its most devastating and damning.
That's only one of several WTF? moments in the show, the best of which they save for late in the game. Having earned sustained hoots and hollers throughout the nearly two-hour show, the broad comedy gets toned down a few dozen notches, with our freshly reconciled Jinkx and DeLa in an exchange about the gift of friendship and the power of community. There's a grounded sincerity to that moment, with no expectation, or delivery, of a punchline. That's a tough act to sell when you've been playing to the back of the house all night—but it works, and it's wonderful. 
"The Return of The Jinkx & DeLa Holiday Show, LIVE!" comes to the Los Angeles area for one show only: Saturday, December 18, at The Theatre at Ace Hotel. Produced and directed by BenDeLaCreme, co-written and co-created by BenDeLaCreme and Jinkx Monsoon, and associate produced by Kevin Heard. For more information and to purchase tickets, visit jinkxanddela.com.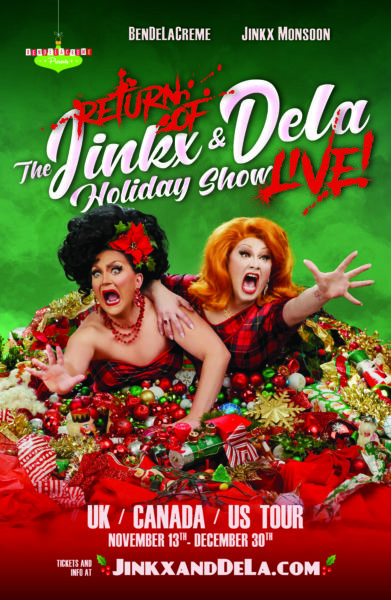 Saturday, December 18 – Los Angeles, CA (The Theatre at Ace Hotel)
Sunday, December 19 – San Francisco, CA (The Palace of Fine Arts Theatre)
Tuesday, December 21 – Seattle, WA (The Neptune)
Wednesday, December 22 – Seattle, WA (The Neptune)
Thursday, December 23 – Seattle, WA (The Neptune)
Friday, December 24 – Seattle, WA (The Neptune)
Sunday, December 26 – Seattle, WA (The Neptune)
Tuesday, December 28 – Vancouver, BC (Vogue Theatre)
Thursday, December 30 – Portland, OR (The Newmark)
Charles Busch reflects on the paths he didn't take in new book
'Leading Lady' a riveting memoir from legendary entertainer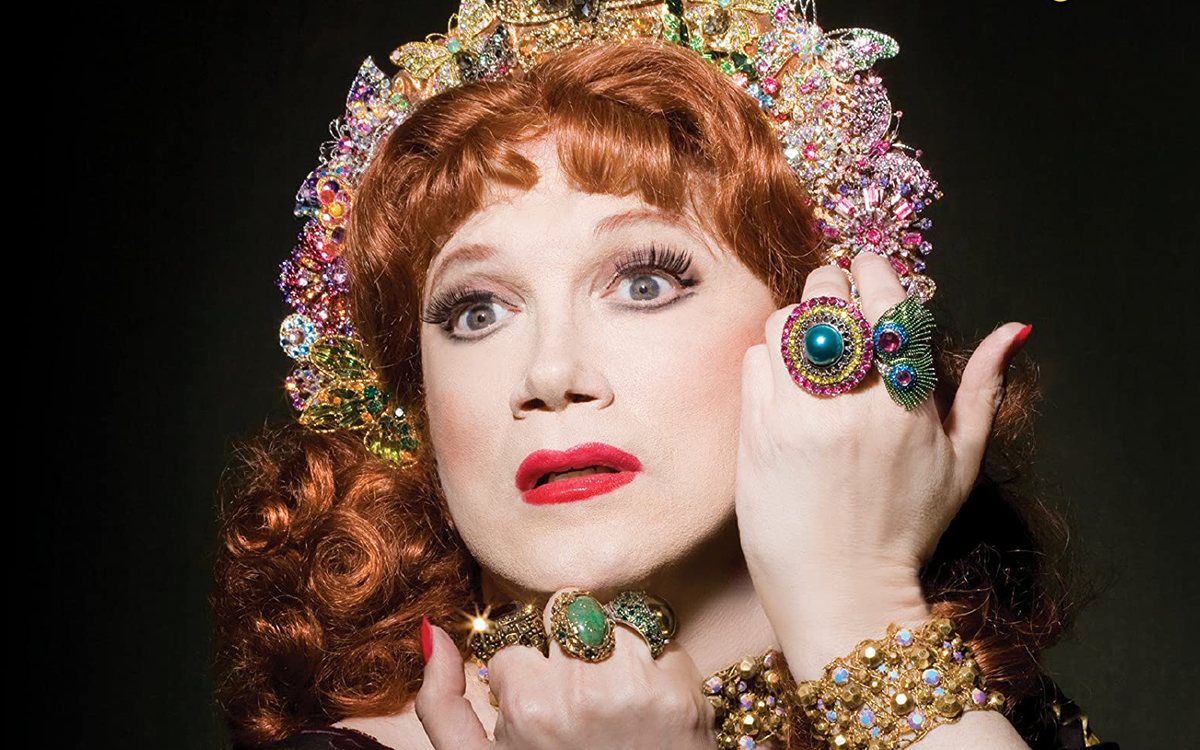 "Charles, I'm telling you, I go to plays in rat-infested basements where I'm the only one who shows up," the late queer icon Joan Rivers once told the queer, legendary playwright, actor, director, novelist, cabaret performer and drag icon, Charles Busch. "I can see the actors peeking through the curtain and groaning, 'Oh God, that old bitch in the fur coat is here. Does that mean we've gotta go on?'"
Busch reminded Rivers that she'd seen him perform in a rat-infested basement.
This is just one of the many stories that Busch, born in 1954, tells in his riveting memoir, "Leading Lady: A Memoir of a Most Unusual Boy," which comes out on Sept. 12.
"Leading Lady" is a page-turner. Some of its tales of Busch's life and career, such as his account of a Christmas party with Rivers as a guest, are dishy. Others, like his memories of trying to care for his beloved Aunt Lil, when he knew she was dying, would make even the Wicked Witch in Oz tear up.
The memoir, is, as Busch says on his website (charlesbusch.com), the story of "a talented artist's Oz-like journey."
"Leading Lady" isn't linear. This isn't a detriment. Busch deftly intertwines memories of his life and career from his mom dying when he was seven to being raised by his loving Aunt Lil to being the author and star of the cult classic "Vampire Lesbians of Sodom" to watching Kim Novak handle fans to being the Tony-nominated writer of "Tales of the Allergist's Wife" to being creative during the pandemic.
"Storytelling is a huge part of my life," Busch told the Blade in a lengthy phone interview, "I get into various adventures and, I think, this could be a good story to tell."
Interviewing Busch is like chatting with a fab storyteller over coffee or a glass of wine. Except that you're talking to a legend who's entertained and inspired queers (and discerning hetero audiences) for decades. (I'm wearing my "Vampire" T-shirt as I write this.)
As a playwright, Busch writes "linear" plays, with a beginning, middle and an end, he said. As a cabaret singer, "the way I sing songs is telling a story," Busch said.
Since childhood, he's been creating vivid scenes in his imagination. From early on, Busch has felt as if he's both a spectator and star in the movie of his life.
It seemed inevitable that he'd write a memoir. It's the ultimate form of storytelling. "You reach a certain point in your life," Busch said, "where you're more reflective and see your life as a whole."
"You reflect on the paths you didn't take," he added.
Busch spent his childhood in Hartsdale, N.Y. He had two older sisters, Betsy and Margaret. His mother's death was devastating for Busch. His Aunt Lil and Joan Rivers have been among the women who have been "mothers" to Busch since his mom died.
Once, Busch said he and Rivers dined with friends. "Joan Rivers said 'I wish I had a gay son I could phone at midnight and discuss whatever movie was on TCM,'" he recalled.
Busch would have loved to have been Rivers's "gay son."
Life in Hartsdale was hard for Busch after his mother passed away. His father was often absent and showed little interest in his children.
Things were miserable for Busch when his grandmother, for a time, cared for the family. He knew, as a boy, that he was gay and hated going to school where a movie-and-theater-loving kid who liked to draw wasn't one of the cool kids.
Yet Busch forgave his "father's failings," he writes in "Leading Lady, "because he gave me the theater."
Busch became entranced with the theater when his father, an aspiring opera singer who performed in summer stock, took him to the old Metropolitan Opera House in New York City to hear Joan Sutherland sing the role of Amina in Bellini's "La Sonnambula."
Busch was saved from a life of boredom and bullying when Aunt Lil, his mother's sister, took him to live with her in Manhattan. There, like Auntie Mame, she raised him. She prodded him into applying to the High School of Music and Art in New York City. He was accepted there.
After high school, Busch graduated with a bachelor's degree in drama from Northwestern University in 1976.
"My Aunt Lil is the leading lady [of the title of his memoir]," Busch said, "she was the most influential person in my life."
One of the reasons why Busch wrote "Leading Lady" was to paint a full portrait of her. "It was important that it not be this kind of gauzy, sentimental memory piece," he said, "making her out to be a saint."
Aunt Lil adopted Bush when he was 14. Her goal was that he would go to college, become independent, be a survivor – make a place for himself in the world.
"I don't know what would have happened if she hadn't stepped in," Busch said.
"She was very intellectual," he added, "I've never met anyone [else] with such a pure devotion to thinking. It was a little intimidating."
Aunt Lil's standards for caring – for giving of oneself – were so high that it was almost impossible to meet them. "She believed that you should anticipate what people would need," Busch said, "before they told you."
Looking back, Busch is most proud of himself when, "I've gone past my natural self-absorption," he said, "when I've thought of someone else."
Busch is being too hard on himself. In "Leading Lady," and when interviewed, he's caring and curious as well as witty, savvy, and as you'd expect, a bit campy.
His sister Margaret died recently. "She declined gradually over nine months," Busch, said, choking up, "I gave her my bedroom and I slept on my sofa."
Like many of her generation, Aunt Lil didn't understand queerness or drag. But she loved Busch. She didn't go to see his productions, he said. "She could have gone like other parents," he said, "and been tight-lipped. And said something nice that she didn't believe."
But "she didn't want to lie or be hurtful," Busch added, "so, for her, it was: can't I just love and support you, and not go?"
Aunt Lil didn't get Busch's sexuality. But she knew about secrecy. Busch learned of a terrifying secret that his aunt had long kept hidden. In the 1930s, during the Depression, Aunt Lil worked as a nurse. One day, when she worked overtime, one of the patients suffered a burn. She had to leave nursing. "Her sister in a nasty mood revealed this," Busch said, "Aunt Lil never discussed it."
In the 1970s, Busch had trouble getting into theater because there were only roles for actors playing straight male characters. "The only way I could get on stage was to write my own roles," he said, "I have a rather androgynous nature."
Busch found that the feminine within him was a place of authority and strength. "I'm fine when I play male characters," he said, "but I'm better when I play female characters."
Why this is so liberating for him is a bit of a mystery to Busch. "But I accept and love it," he said.
Times have changed since Busch made his first big splash with "Vampire Lesbians of Sodom." "In 1985, being a drag queen was considered a negative," Busch said, "my generation of drag performers bristled at being referred to as drag queens."
Busch no longer bristles. "I feel like the characters," he said, "I enjoy costumes and getting the right wig."
"But, I go from male to female not through trickery or anything visual, I transfer through my soul."
In "Leading Lady," Busch recalls AIDS and other dark moments from the past. Many of his friends and colleagues died from AIDS. "AIDS was the World War II of our generation," he said.
But Busch, in his memoir and in his life, isn't only looking back. He's very much in the present. Busch is embarrassed to say he was lucky. During the pandemic, devastating to many, he made art. He did play readings on Zoom and finished writing "Leading Lady" which he'd worked on for 14 years.
During the pandemic, Busch with Carl Andress co-wrote and co-directed the movie "The Sixth Reel." The film's cast includes Busch, Julie Halston (Busch's longtime muse), Margaret Cho and Tim Daly.
Busch describes the film, an homage to the Hollywood madcap movies of the 1930s, as "a comic, caper movie."
"I play a disreputable dealer in movie memorabilia," Busch said, "a legendary lost film is found, and I see it as my ticket out of debt."
The "Sixth Reel" is playing from Sept. 21 to Sept. 27 at the LOOK Dine-In Cinema West 57th Street in New York City.
"I hope the run in New York will encourage people to distribute this little movie," Busch said.