Surge in high profile crime is targeted by Newsom in new funding plan
The California Highway Patrol would also coordinate with local law enforcement to target organized retail and auto theft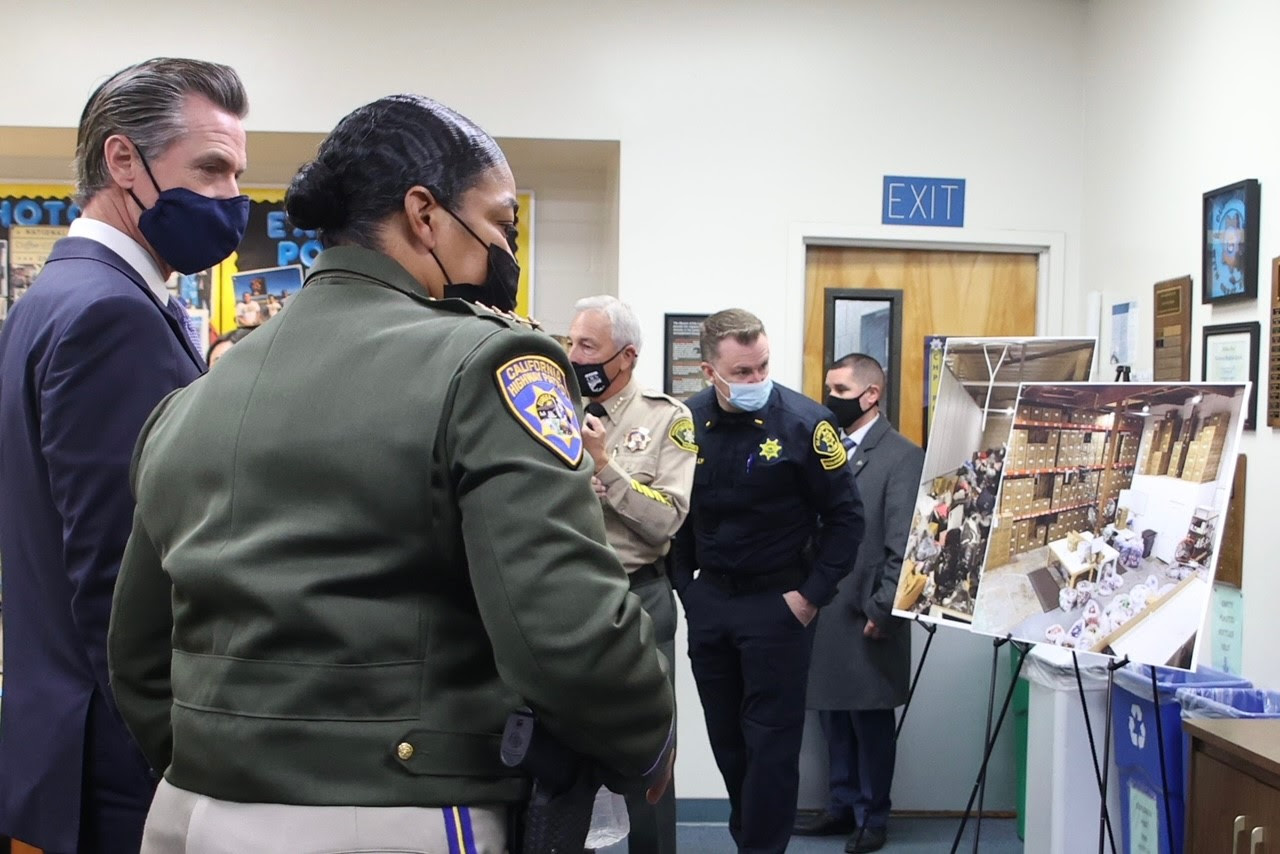 DUBLIN – Governor Gavin Newsom unveiled a multipronged plan to fight and prevent crime in California Friday. Referring to the recent surge in high-end retail smash and grab thefts, the governor said that he will seek more than $300 million in state funding over three years to boost law enforcement efforts to combat retail theft.
The announcement was made alongside California Attorney General Rob Bonta, California Highway Patrol, (CHP), Commissioner Amanda Ray, Alameda County District Attorney Nancy O'Malley, CAL OES Director Mark Ghilarducci and other state and local leaders at the CHP's Dublin Area Office.
"The issue of crime and violence is top of mind all throughout not only the state of California but across the United States, highlighted recently by some high-profile retail theft operations," Newsom said.
He added that "these organized retail mobs … (have) a profound impact on our feelings of safety here in this state, this region and as I note, this country."
The Governor's Real Public Safety Plan focuses on new investments that will bolster local law enforcement response, ensure prosecutors hold perpetrators accountable and get guns and drugs off the state's streets.
"We're doubling down on our public safety investments and partnerships with law enforcement officials up and down the state to ensure Californians and small businesses feel safe in their communities – a fundamental need we all share," said Newsom. "Through robust new investments and ongoing coordination with local agencies, this plan will bolster our prevention, deterrence and enforcement efforts to aggressively curb crime, hold bad actors to account and protect Californians from the devastating gun violence epidemic."
Retailers in California and in cities elsewhere around the U.S., including Chicago and Minneapolis, have recently been victimized by large-scale thefts when groups of people show up in groups for mass shoplifting events or to enter stores and smash and grab from display cases the Associated Press reported.
Solo shoplifters and retail thieves have also been a growing problem for California retailers, who have said the criminals face little if any consequences after they are caught, the AP noted.
Earlier this month, Newsom criticized local prosecutors for not doing enough to crack down on the criminals by using existing state laws. also He defended a voter-approved 2014 initiative that reduced certain thefts from felonies to misdemeanors, though prosecutors said it left them without enough legal tools.
In Newsom's plan unveiled Friday, the Real Public Safety Plan's three core areas of focus crack down on crime to keep communities safe by:
Bolstering Local Law Enforcement Response to Stop and Apprehend Criminals
Increased Local Law Enforcement to Combat Retail Theft: The Real Public Safety Plan includes $255 million in grants for local law enforcement over the next three years to increase presence at retail locations and combat organized, retail crime so Californians and small businesses across the state can feel safe.
Smash and Grab Enforcement Unit: Governor Newsom's Plan includes a permanent Smash and Grab Enforcement Unit. Operated by the California Highway Patrol, the unit will consist of enforcement fleets that will work with local law enforcement to crack down on organized retail, auto and rail theft in the Bay Area, Sacramento, San Joaquin Valley, Los Angeles and San Diego regions.
Keeping Our Roads Safe: With the Real Public Safety Plan, CHP will now be able to strategically deploy more patrols based on real-time data to help keep our roads safe. Governor Newsom will also work with the Legislature to upgrade highway camera technology to gather information to help solve crimes.
Support for Small Businesses Victimized by Retail Theft: Governor Newsom's Plan will create a new grant program to help small businesses that have been the victims of smash-and-grabs to get back on their feet quickly.
More Prosecutors to Hold Perpetrators Accountable
Dedicated Retail Theft Prosecutors: The plan will ensure District Attorneys are effectively and efficiently prosecuting retail, auto and rail theft-related crime by providing an additional $30 million in grants for local prosecutors over three years.
Fighting Crime Statewide: The Real Public Safety Plan will allow the Attorney General to continue leading anti-crime task forces around the state, including High Impact Investigation Teams, LA interagency efforts and task forces to combat human trafficking and gangs.
Statewide Organized Theft Team: Governor Newsom's plan includes $18 million over three years for the creation of a dedicated state team of special investigators and prosecutors in the Attorney General's office to go after perpetrators of organized theft crime rings that cross jurisdictional lines.
Getting Guns and Drugs Off Our Streets
The Largest Gun Buyback Program in America: The Governor's plan will create a new statewide gun buyback program, working with local law enforcement to provide matching grants and safe-disposal opportunities to get guns off our streets and promote awareness of gun violence.
Holding the Gun Industry Accountable: In light of the recent U.S. Supreme Court decision, the Governor is working with the California Legislature to propose a nation-leading law that would allow private citizens to sue anyone who manufactures, distributes or sells unlawful assault weapons, as well as "ghost guns," ghost gun kits or their component parts.
Leading the Nation's Gun Violence Research Efforts: When Congress refused to allow America to study the impacts of gun violence, California stepped up. The Real Public Safety Plan includes additional funding for California's nation-leading gun violence research center at UC Davis.
Intercepting Drugs: The Governor's plan will keep drugs off our streets and includes $20 million to support the National Guard's drug interdiction efforts, targeting transnational criminal organizations.
"Every family in every neighborhood in California deserves to feel safe and be safe as they live, work, and play in their communities," said the Attorney General Rob Bonta. "That's what the Real Public Safety Plan is about – keeping Californians safe by doubling down and allocating additional resources to fight and prevent crime. My office is proud to partner with the governor in this effort, and build upon our existing work to combat organized retail crime, dismantle gangs, defend our commonsense gun laws, and hold those who commit crime accountable."
Newsom also said that he also plans to turn an existing retail theft task force into a permanent "smash and grab enforcement unit."
Working under the task force, California Highway Patrol "enforcement fleets" would coordinate with local law enforcement departments to target organized retail and auto theft in the San Francisco Bay Area, Sacramento, San Joaquin Valley, Los Angeles and San Diego regions.
"On behalf of retailers across California, I want to thank Governor Newsom for his commitment to addressing the growing problem of organized retail crime," said President and CEO of the California Retailers Association Rachel Michelin. "The Smash and Grab Enforcement Unit and other state- level theft teams will provide more regions of the state with the vital expertise necessary to bring resolution to these often challenging and complex crimes without further compromising local resources."
After a series of recent violent 'smash & grab' crimes along with a rise in physical assaults and robberies, the City of Los Angeles is installing automated license plate recognition cameras in the Melrose business corridor and surrounding neighborhoods.
Los Angeles City Councilmember Paul Koretz announced that the city partnered with community organization Melrose Action and is implementing the installation of 12 cameras.
"It's just another step to send a message that if you commit a crime on Melrose we're gonna stop you, we're gonna catch you, and we're gonna prosecute you," Koretz said and added the cameras being installed will "provide a next level of surveillance."
If Temecula school board won't do its job, state will says Newsom
"State will deliver the books — and we'll send the district the bill and fine them for violating state law"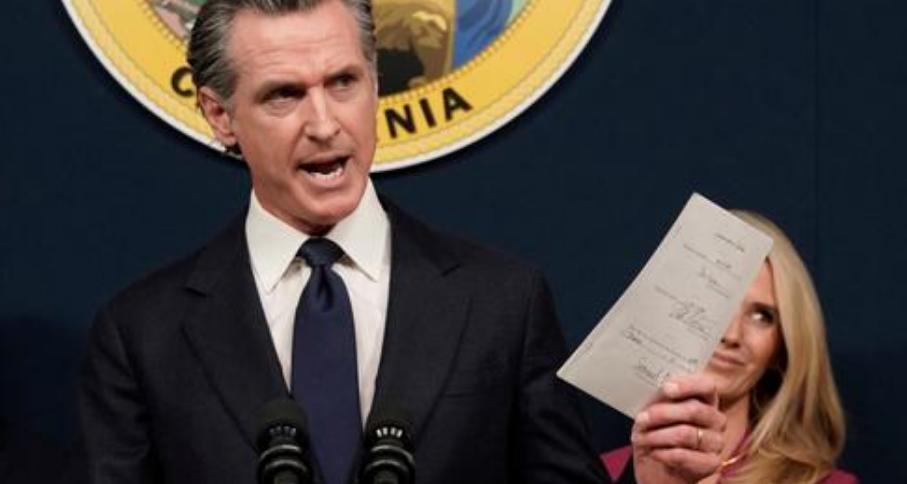 SACRAMENTO – Governor Gavin Newsom, joined by Superintendent of Public Instruction Tony Thurmond, Senate President pro Tempore Toni G. Atkins, Assembly Speaker Robert Rivas, and Assemblymember Dr. Corey Jackson today announced the State of California will begin the process of securing textbooks for students in the Temecula Valley Unified School District and enact legislation to fine school districts for failure to provide adequate instructional materials.
Elementary students in Temecula are slated to begin the school year on August 14, 2023, without enough textbooks for every student because of the school board's decision to reject a widely used social studies curriculum. 
"Cancel culture has gone too far in Temecula: radicalized zealots on the school board rejected a textbook used by hundreds of thousands of students and now children will begin the school year without the tools they need to learn," said Newsom. "If the school board won't do its job by its next board meeting to ensure kids start the school year with basic materials, the state will deliver the book into the hands of children and their parents — and we'll send the district the bill and fine them for violating state law." 
"I am glad to join in this action with Governor Newsom today and thank him for his leadership in calling for Temecula's school board to reverse course to prevent further harm to students," said State Superintendent Thurmond. "Inclusive education promotes the academic achievement and social development of our students.  School Districts should not ban books in California, especially as it harms students of color and LGBTQ+ youth.  AB1078 lays out the structure for today's action and I am proud to have sponsored this bill to protect our students from the harmful effects of book banning, exclusion of inclusive textbooks and discrimination." 
"Censoring learning materials based on bigotry and ignorance prevents our students from getting a good education," said Senate President pro Tempore Toni G. Atkins (D-San Diego). "Culture war extremism doesn't belong in the debate of how to teach our children and school districts should always put students first. That's why I'm pleased the Governor is stepping in to make sure the children in Temecula have textbooks to start the year, and I look forward to working with the Governor and the assembly on a clear legislative solution. We have a duty to help eliminate ignorance in all its forms."
"The antics of the Temecula Valley Unified School District are intolerable and damaging to its students' opportunities to grow, prosper, and succeed," said Assembly Speaker Robert Rivas. "Book bans betray the most basic of California's core values. I hope the members of the school board are able to reflect on their decisions and come to make better decisions for our children's futures."
"Book banning is not acceptable and will not stand in California," said Assemblymember Dr. Corey Jackson. "It is my honor to have the Governor's support of Assembly Bill 1078. This sends a clear message that such actions will not be tolerated. We stand united in our commitment to protect our students' access to diverse educational materials and ensure an inclusive educational environment. We will not go backward. We will meet this historical moment."
Temecula Valley Unified School District's current curriculum is outdated and in violation of state law. Students in the district are forced to use a textbook published in 2006. In the process of acquiring updated textbooks for students in grades one through five on May 16, 2023, school board President Joseph Komrosky asserted false claims about the instructional materials. The board voted by a 3-2 majority to reject the adoption of the new social studies curriculum that was recommended by teachers representing every elementary school in the district and overwhelmingly supported by parents and community members. The textbook, one of four standard programs approved by the state, is routinely and widely used across hundreds of school districts in California.
Following the school board's decision, Governor Newsom and state leaders wrote a letter to school districts statewide highlighting the legal obligations of districts and joined California Attorney General Rob Bonta in demanding information and answers from the board. The administration also began working with the Legislature and Superintendent Thurmond to advance AB 1078 (Jackson) to strengthen state law to ensure students in California have access to adequate instructional materials. Among other provisions, AB 1078 would:
Require a two-thirds supermajority vote for a school board to remove instructional materials or curriculum;
Establish a process for the California State Department of Education to purchase adequate standards-aligned instructional materials for a district, if the district has failed to provide them for students; and
Institute a funding penalty for school districts that do not sufficiently provide standards-aligned instructional materials.
California provides instruction and support services to roughly 5.9 million students in grades transitional kindergarten through twelve in more than 1,000 districts and over 10,000 schools throughout the state. Under Governor Newsom's leadership, education funding is at a record high in California, totaling $129.2 billion in the 2023-24 budget.
Governor Newsom released a video to Temecula parents that can be viewed here. 
Temecula's school board rejected a textbook used by thousands of students & now kids will begin the school year without the tools they need.

If the school board won't do its job, we'll get the book to kids & parents – then bill the district & fine them for violating state law. pic.twitter.com/gpN1TT7AVp

— Office of the Governor of California (@CAgovernor) July 13, 2023
Related: